Fruity PEBBLES Crispy Bars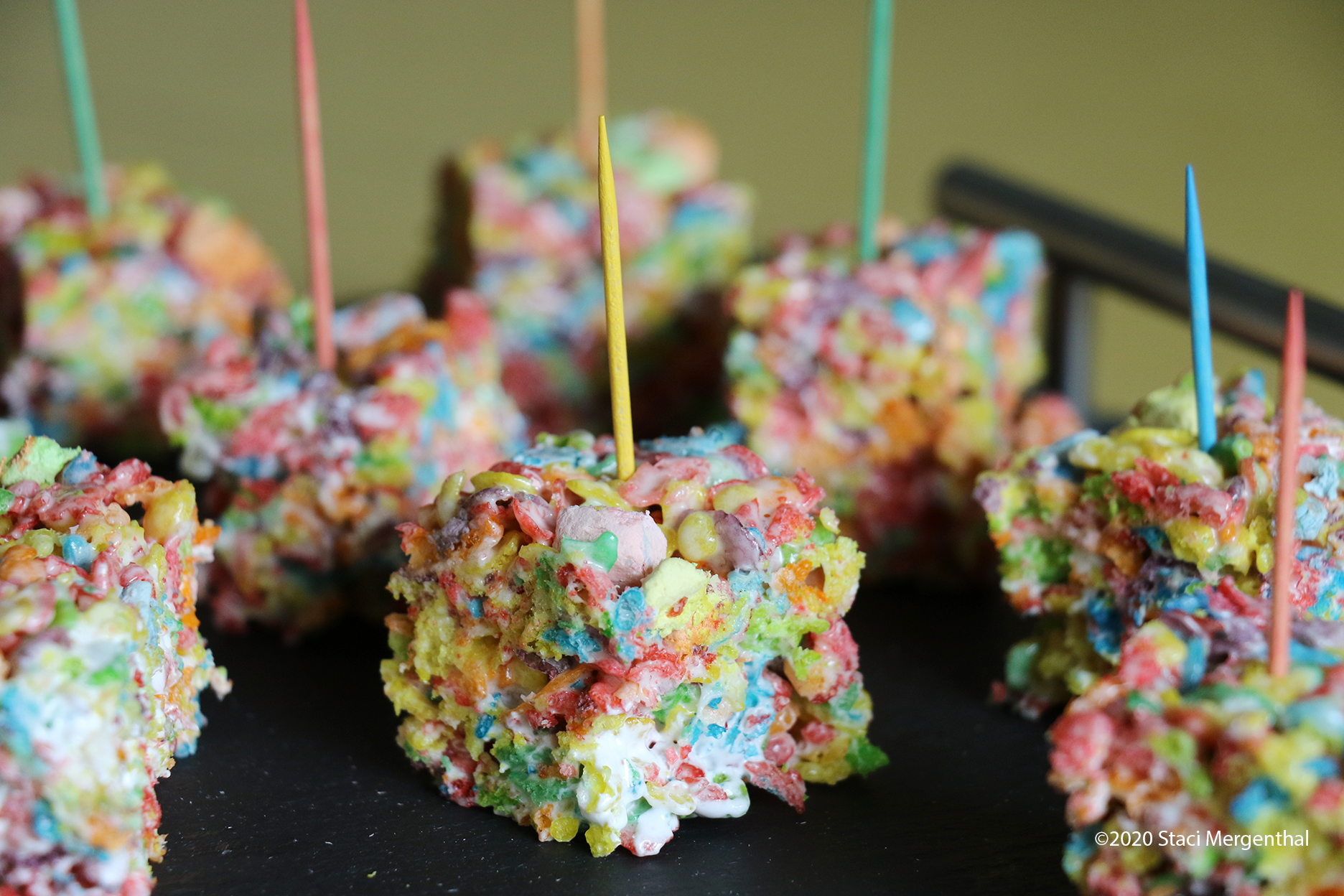 When did you stop loving sugary, rainbow-flecked kid cereal? You're all grown up now and your grocery app favorites are full of probiotic, fiber-packed, flax plus healthy cereals. That's fine for breakfast. But what about afternoon snacks? Treat yourself and your kids to a mouthful of childhood morning nostalgia with Fruity PEBBLES Crispy Bars.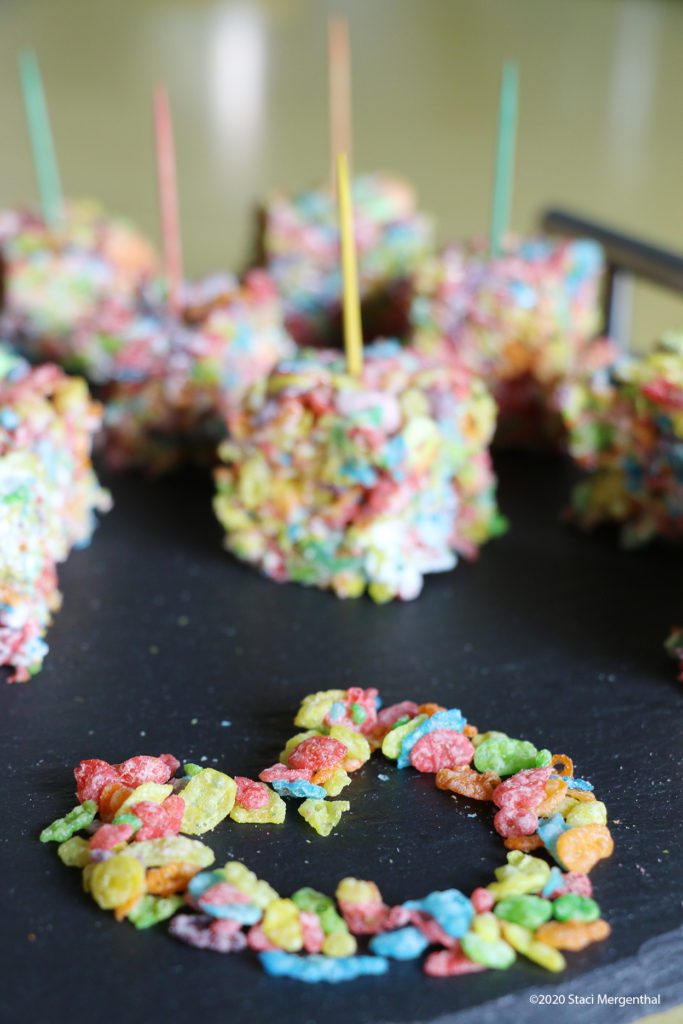 If you are going to a party, it's fun to cut the treats into two-bite sized pieces and stick colored toothpicks in them so they don't get your fingers sticky.
I try to always keep a box of fun cereal and a bag of marshmallows in my pantry because marshmallow and cereal treats are the simplest and quickest treats I know to make. And just like when I make Rice Krispies treats, if I have a jar of marshmallow creme on hand, I also stir in about 1/2 to 1 cup after I add the cereal.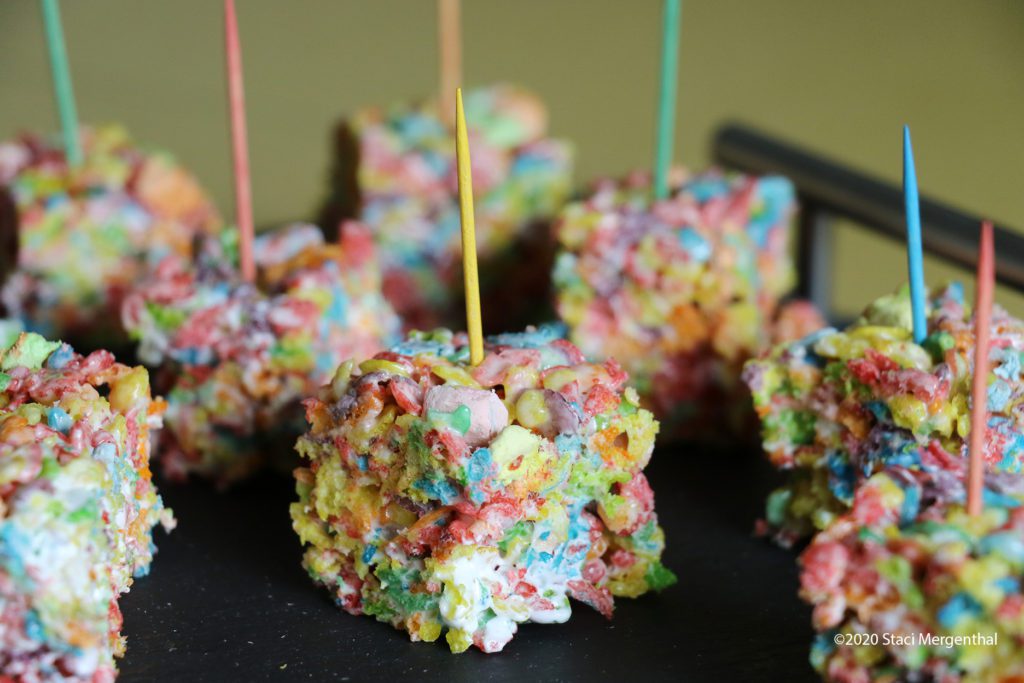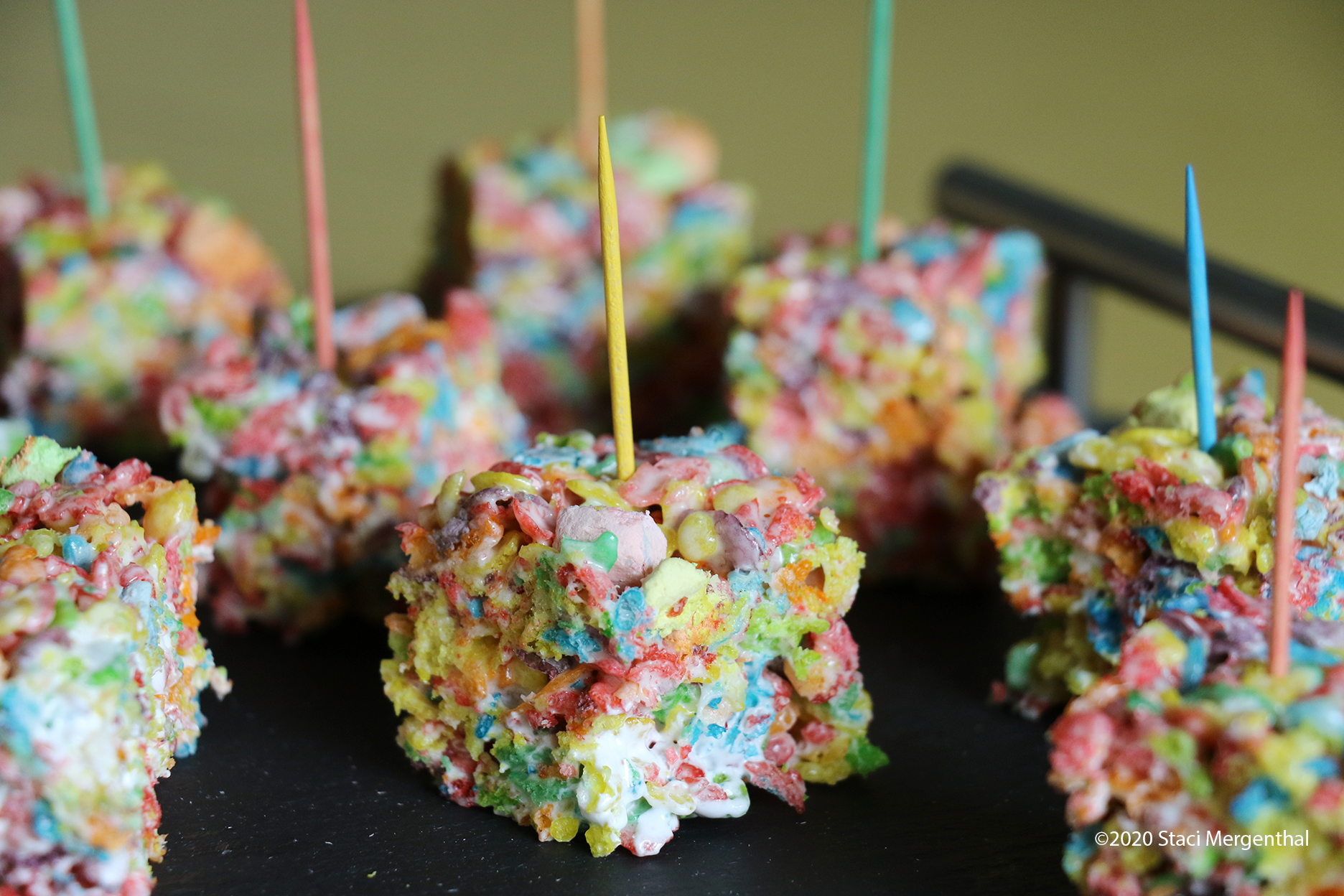 Have you made Fruity PEBBLES Crispy Bars? What other cereals have you made "Krispies treat" with? Back in 2013, Special K had a blueberry cereal that I loved so much I made it into treats. Here's the story behind that.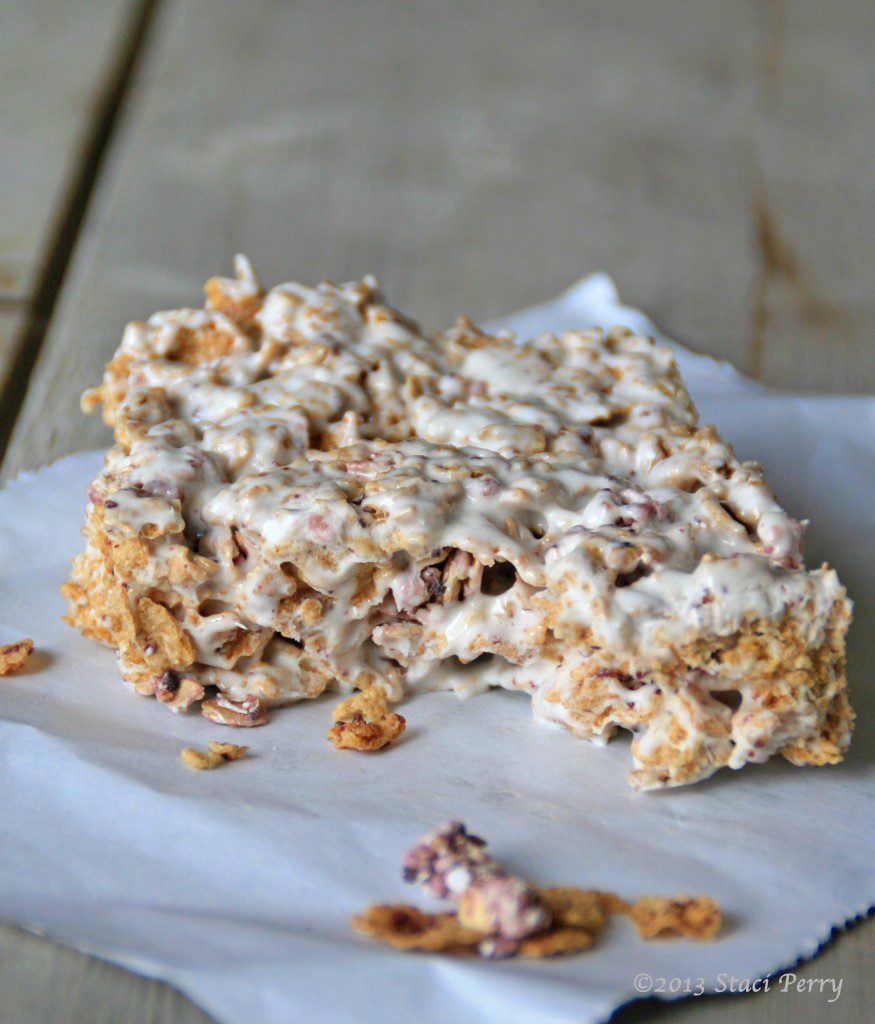 Here's another fun story about making sweets with cereal at the beginning of the COVID-19 pandemic when it was hard to find flour, sugar, and eggs.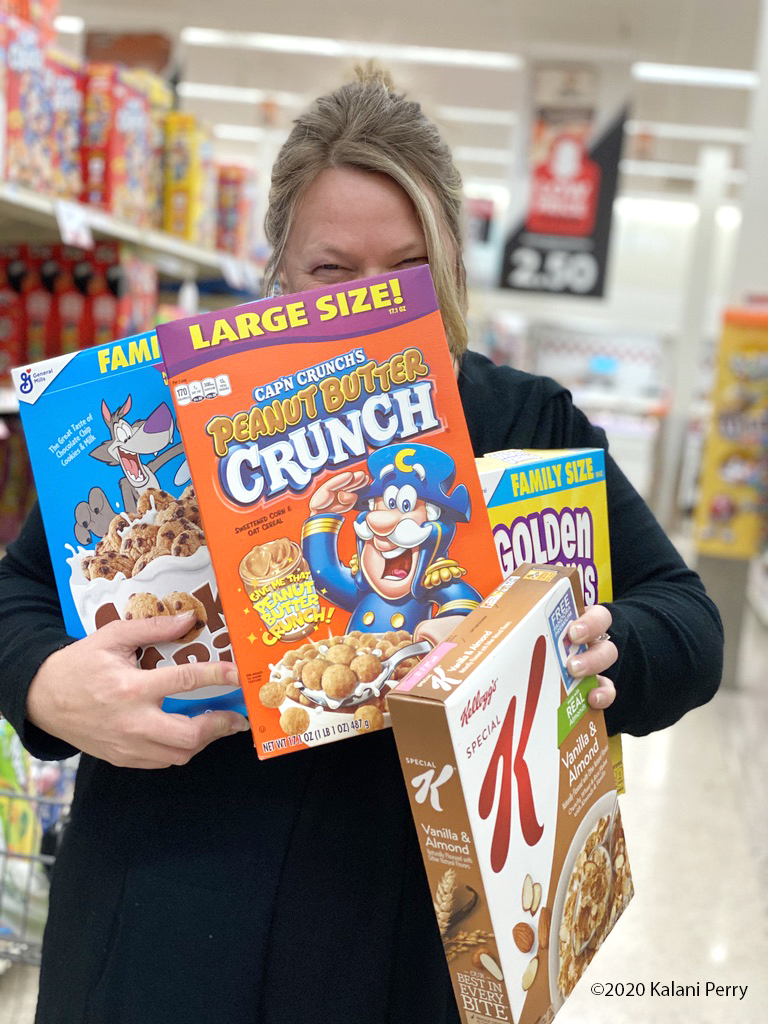 Do you remember General Mills Cocoa Puffs Brownie Crunch Cereal from back in 2011? I made that into Brownie Crunch Mint Crispy Bars by adding Andes Crème de Menthe Baking Chips. Then the cereal went away for a very long time. But guess what? It's back!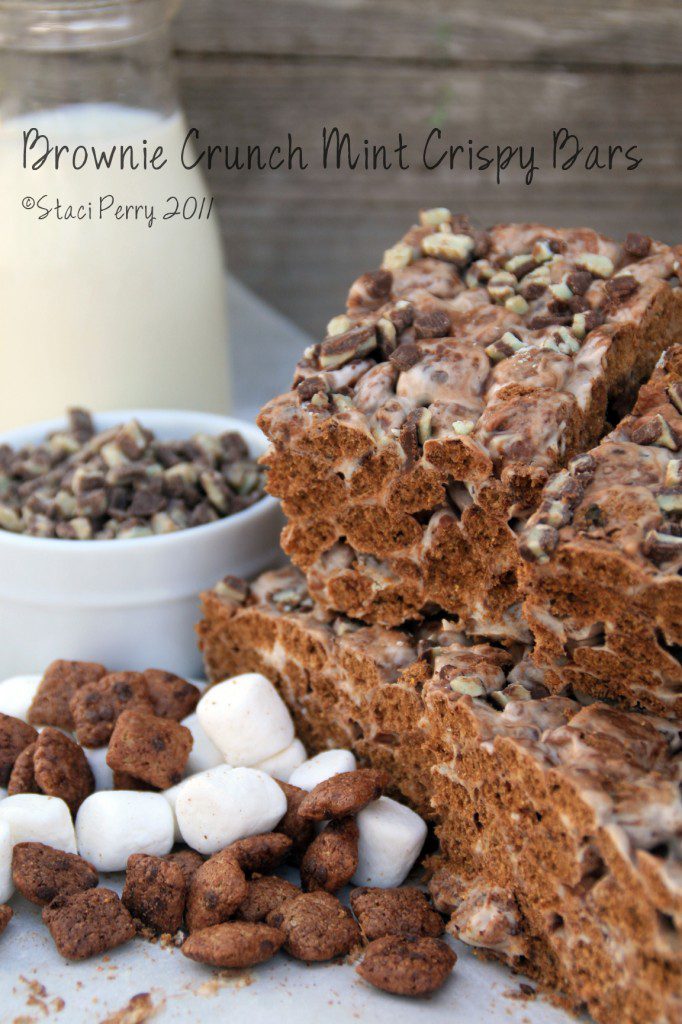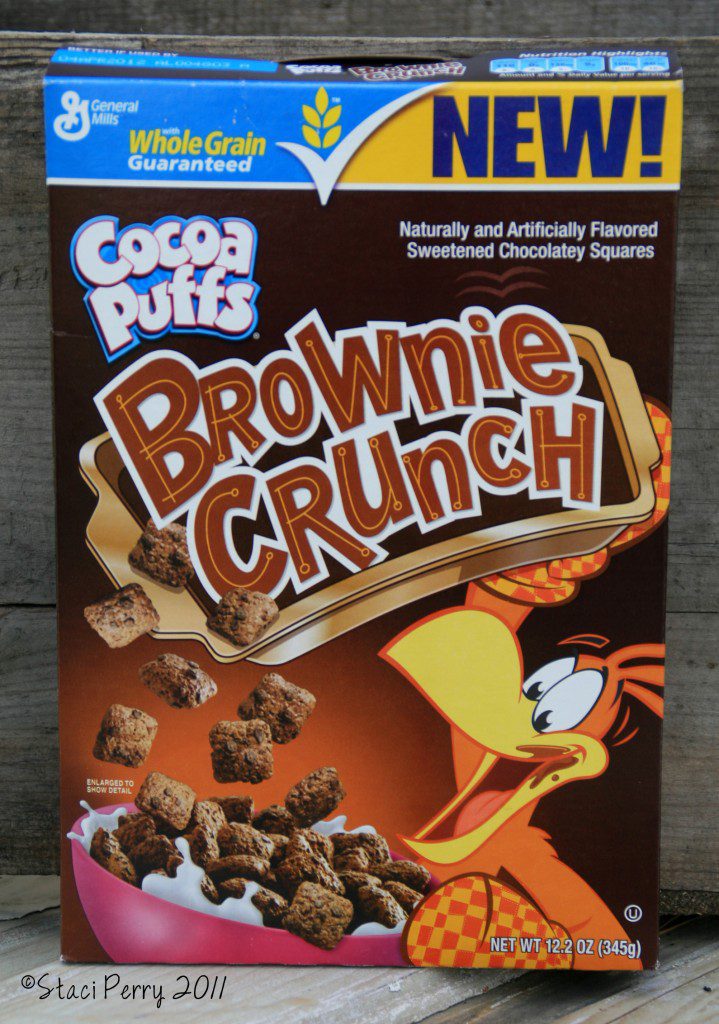 What are some of the cereals you use to make treats with? Have you used the flavored mini marshmallows? Have you ever mixed cereals? For example, I'm thinking I could mix the Brownie Crunch with Cookie Crisp. Or Rice Krispies with Cocoa Krispies. Maybe even Golden Grahams and Cap'n Crunch cereals. Share in the comments below!
Sweet wishes,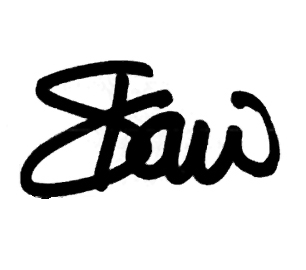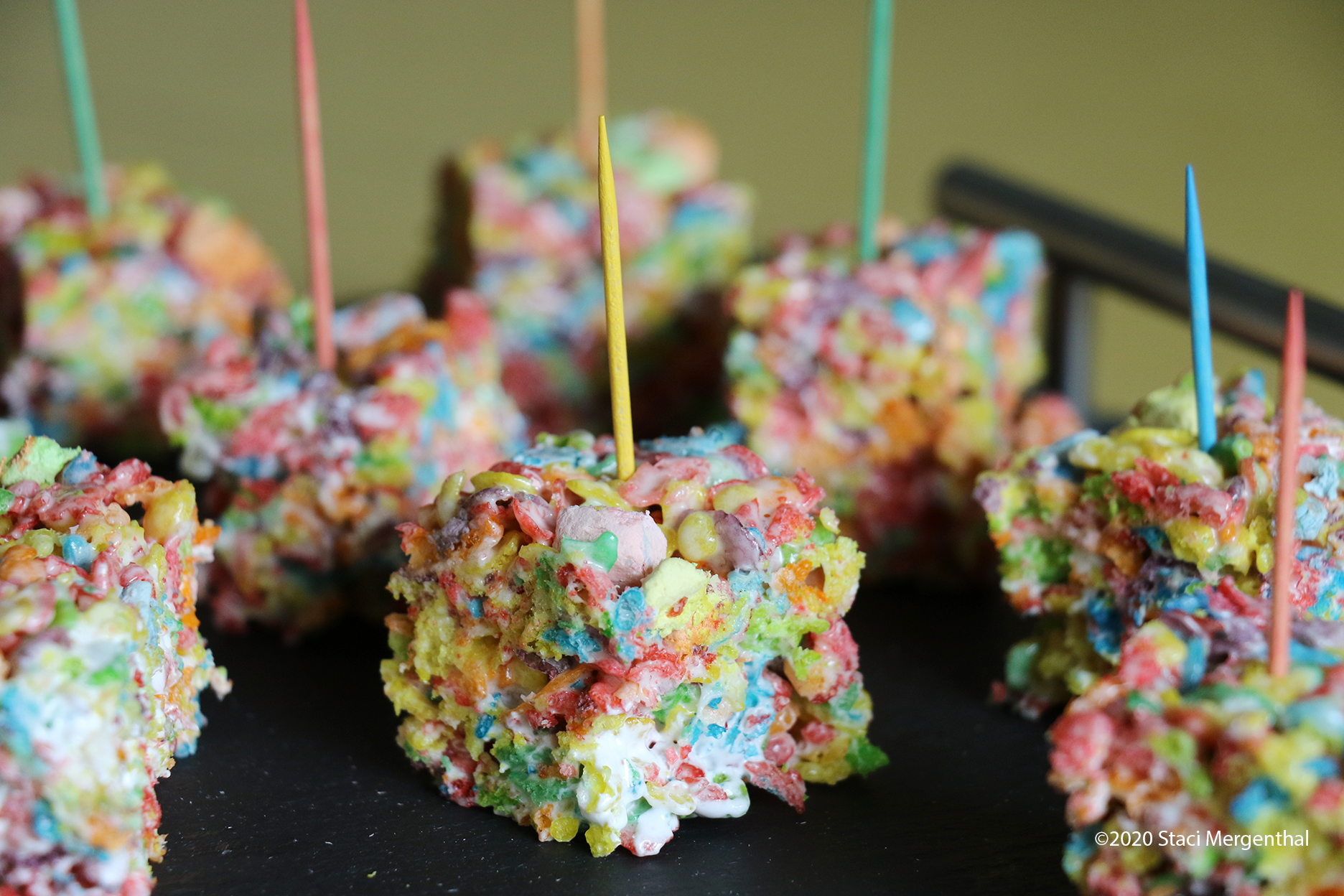 Email this recipe
Fruity Pebbles Crispy Bars
From our childhood cereal cupboard, everyone loves a marshmallowy cereal treat.
Ingredients
6

tablespoons

unsalted butter

8

cups

mini marshmallows

10

cups

Fruity Pebbles cereal

1

cup

marshmallow creme, optional
Instructions
Lightly grease a 9×13 pan with butter.

Melt butter in large saucepan over medium heat. Add mini marshmallows and stir until melted. Remove from heat.

Add cereal. Stir until incorporated. (It helps to spray your spoon/spatula with cooking spray.)

If desired, add by tablespoons full of marshmallow creme and stir slightly. You want to see pockets of fluff.

Spread in 9×13 pan. Cool to room temperature. Cover. Store at room temperature.
Nutrition
Calories:
161
kcal
Carbohydrates:
32
g
Protein:
1
g
Fat:
4
g
Saturated Fat:
2
g
Polyunsaturated Fat:
0.1
g
Monounsaturated Fat:
1
g
Trans Fat:
0.1
g
Cholesterol:
8
mg
Sodium:
102
mg
Potassium:
14
mg
Fiber:
0.1
g
Sugar:
19
g
Vitamin A:
504
IU
Vitamin C:
4
mg
Calcium:
5
mg
Iron:
1
mg
All text and images © Staci Mergenthal • Random Sweets