Road Trip Snacks and How To Get a Rental Car During the Shortage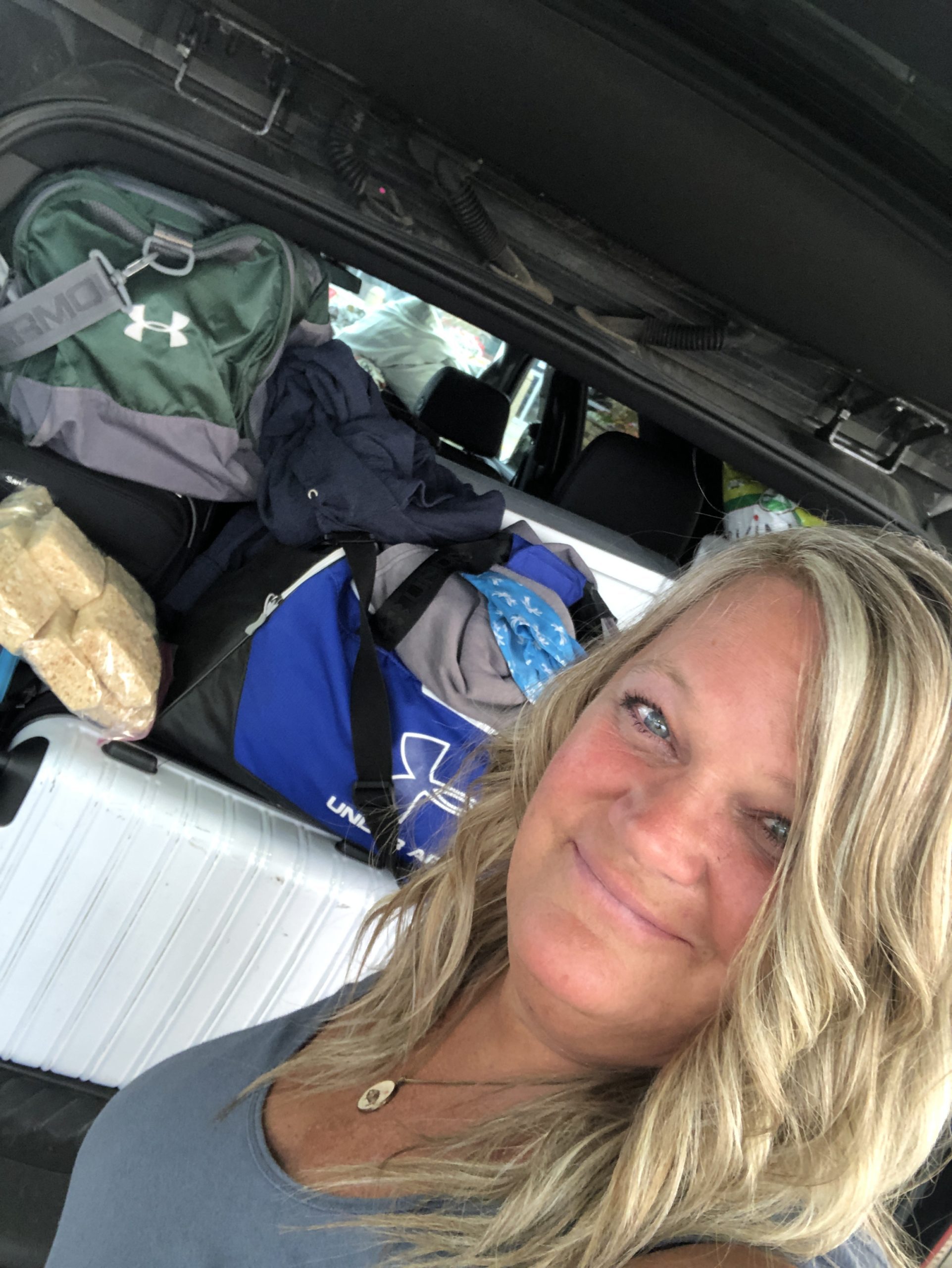 The travel industry is booming. People are vaccinating against COVID-19 and are eager to bust out of the confines of their homes. Many leisure travelers are hitting the road instead of taking to the air fully masked. Chances are, you've heard about the rental car shortage—a crisis only to those who need to rent a vehicle.
We were such people in need. More specifically, we required a Chevy Suburban to haul six adults, three tons of luggage, and way too many road trip snacks from South Dakota to my brother-in-law's wedding in Salt Lake City. Jason reserved the vehicle through Enterprise in March.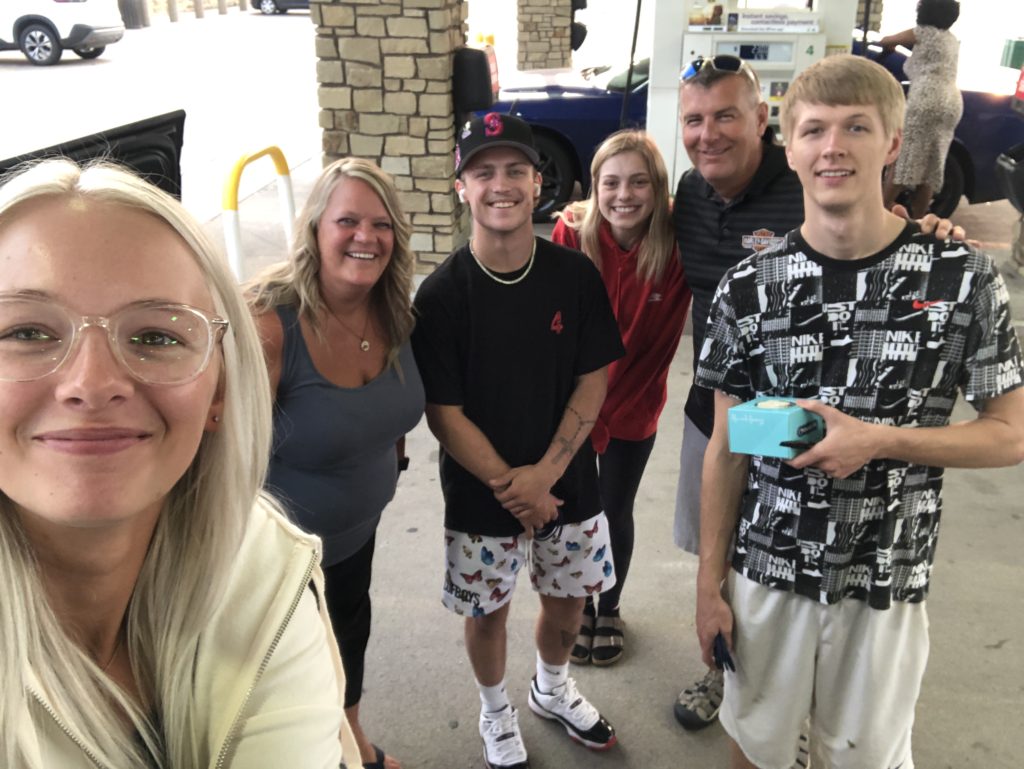 As the July wedding date loomed, we started hearing nightmare stories about vehicles not being available when renters went to pick them up. So, in May Jason tried calling the Sioux Falls 41st Street location where we were scheduled to pick up our Suburban. The phone lines rang for three days without an answer. We started to panic, thinking we were doomed to drive two of our personal vehicles to Utah, or Plan B—buy a new Suburban at a ridiculous price.
On day four, I went in personally only to learn their phone lines had been down. The nice guy confidently confirmed our reservation but emphasized, "we cannot guarantee the exact model of your reservation, but we will provide you with a comparable passenger room vehicle." Oh great. A minivan for 2,120 miles.
The short supply of available rental cars is a culmination of factors—rental companies sold off inventory during the pandemic with the expectation the industry would come back slower than it has. And they can't replace inventory with new vehicles because car manufacturers can't build them fast enough due to the chip shortage (semiconductor chips, not Doritos). On top of that, automobile repair shops are experiencing parts and labor shortages, therefore lengthening the time it takes for minor repairs. Watch Rental cars are hard to get: Here are some alternatives from the TODAY show.
Our Memorable Rental Experience with Enterprise
The week prior to our scheduled pickup day from Enterprise, Jason called and was relieved to learn they currently had a Suburban in their fleet. Whew! It was being used, with an expected return on Sunday, 48 hours before we were to pick it up. The Enterprise guy mentioned there was a chance the people who had it could extend their trip and not have it back in time. So yes, Jason drove to Sioux Falls on Monday to see with his own eyes the Suburban had made its return to their tiny parking lot.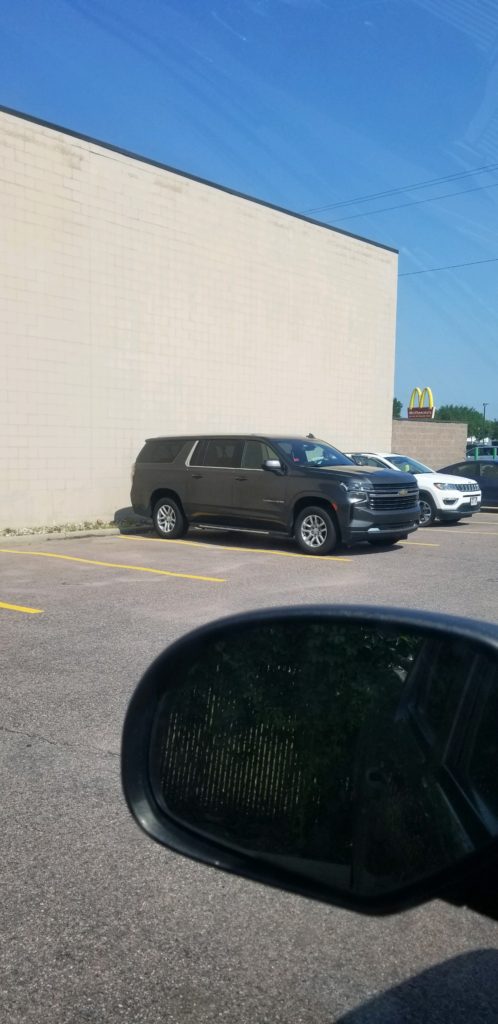 At this point, the guys down there knew him by name. The next day, we drove down to pick it up. The Suburban was nowhere in sight. Jason's hopeful expression turned to peril. It wasn't in the wash bay. There was nowhere else it could be except gone. We walked inside. The guy behind the counter was waiting with a jesting grin. He'd hid it in the garage. He took a chance that Jason has a sense of humor.
If you ever get a 2021 Chevy Suburban with Michigan license plates with a Snowbird ski resort sticker on the back window [from Enterprise], let's just say it is Jason's payback token of humor.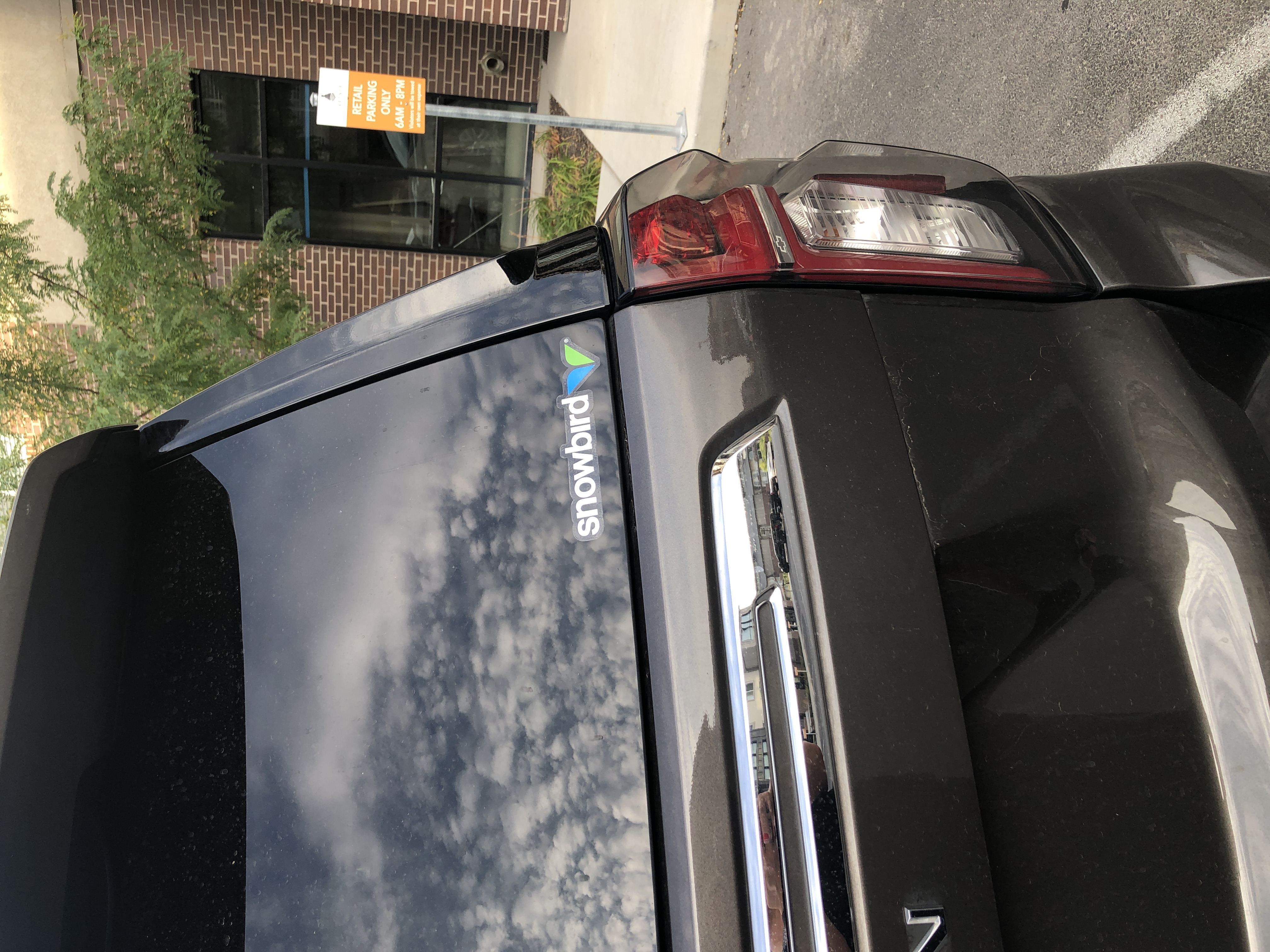 Tips for Renting a Car
Watch the TODAY video I mentioned earlier.
Book in advance. As in, the minute you know you need a rental.
Confirm the booking with the physical pickup location often. Be relentless but BE KIND.
Be prepared for plan B because there are no guarantees.
Prepare for sticker shock. (The rental price for our vehicle has increased nearly 200% from what we locked in when we booked in May.)
Alternatives
Fly if you don't need to worry about renting a car on the other end.
Rent a U-Haul if you only have a couple passengers.
Car sharing services (explained in the TODAY video).
Check a car dealership for rental programs.
Rent a camper or campervan. Or use an RV Share service.
Buy a car. Although, prices are astronomical now, plus inventory is scarce.
Road Trip Snacks
I'm not an expert at car rentals, but I know snacks. When considering what to bring on a road trip, there are a few things I consider when deciding what makes the cut:
Temperature – I'm fine packing chocolate on a winter road trip. But in the summer, a hot car will only lead to a melted mishmash of sugar.
Crumb factor – no one wants to spend the week in a seat full of crumbs. If they make a mess on your kitchen table, they'll make a mess in your car.
Gooey and sticky – leave the caramel rolls to the roadside bakeries.
Bring hand wipes – the inevitable will happen. Especially with orange Cheetos fingers, and even though I said no gooey and sticky, some of the best road trip snacks are homemade Rice Krispies treats.
Wrap individually – wrap bars individually in plastic wrap and store them in a big Ziplock. For snack mixes like Chex Mix, scoop them into mini bags for people to grab for their own serving.
For our recent road trip, I made single batches of marshmallow Fruity Pebbles and Cosmic Brownies cereal treats.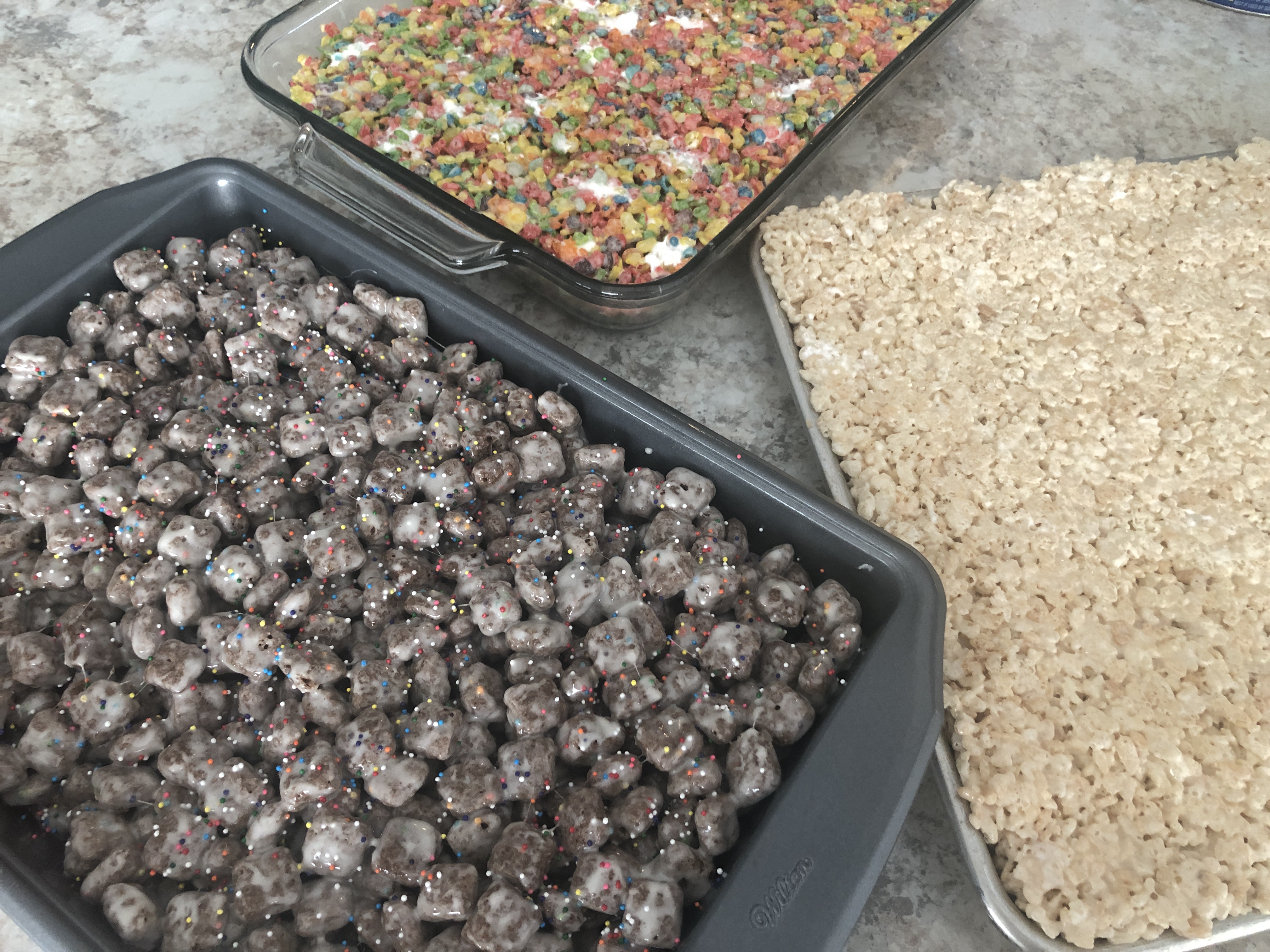 I'm a sucker for a new cereal and my family likes Little Debbie Cosmic Brownies. They made it into a cereal now! I added my own sprinkles because you can't really see the ones in the cereal.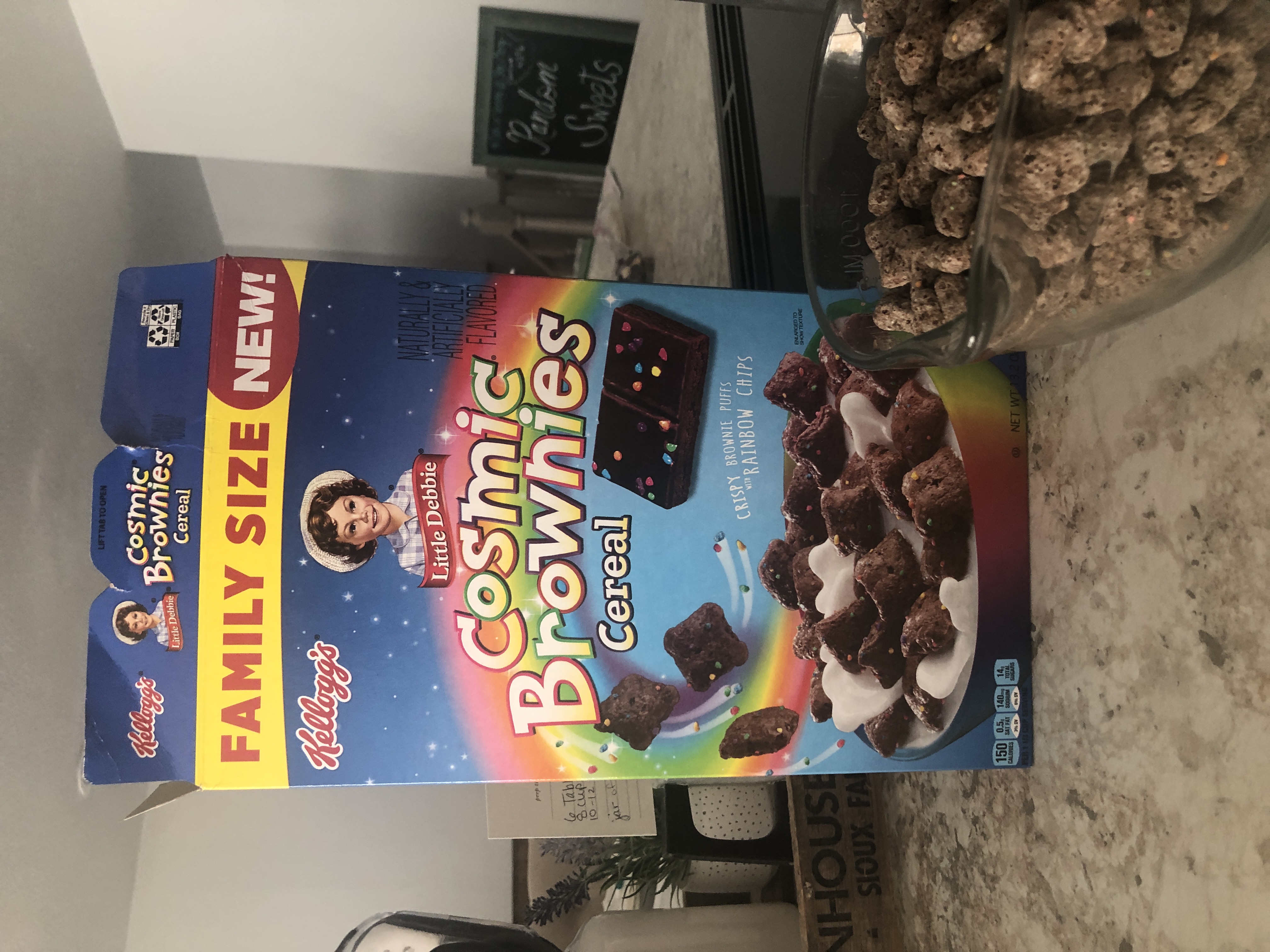 Plus I made a double batch of traditional Rice Krispies treats. In the end, it was probably two batches too many because we had a lot left when we came back.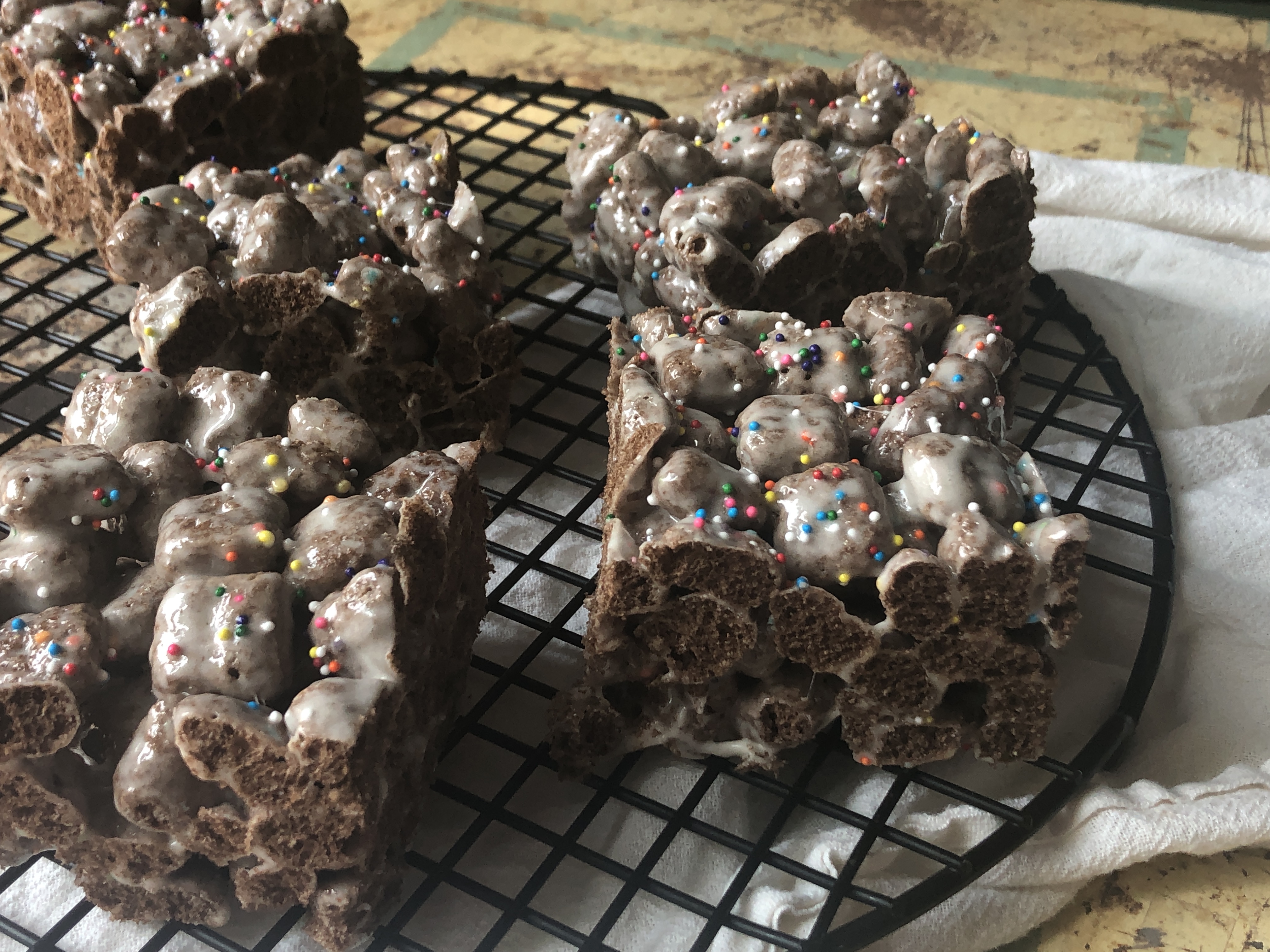 One of my all-time favorite road trip snacks is my Make It Like You Mean It Chex Mix.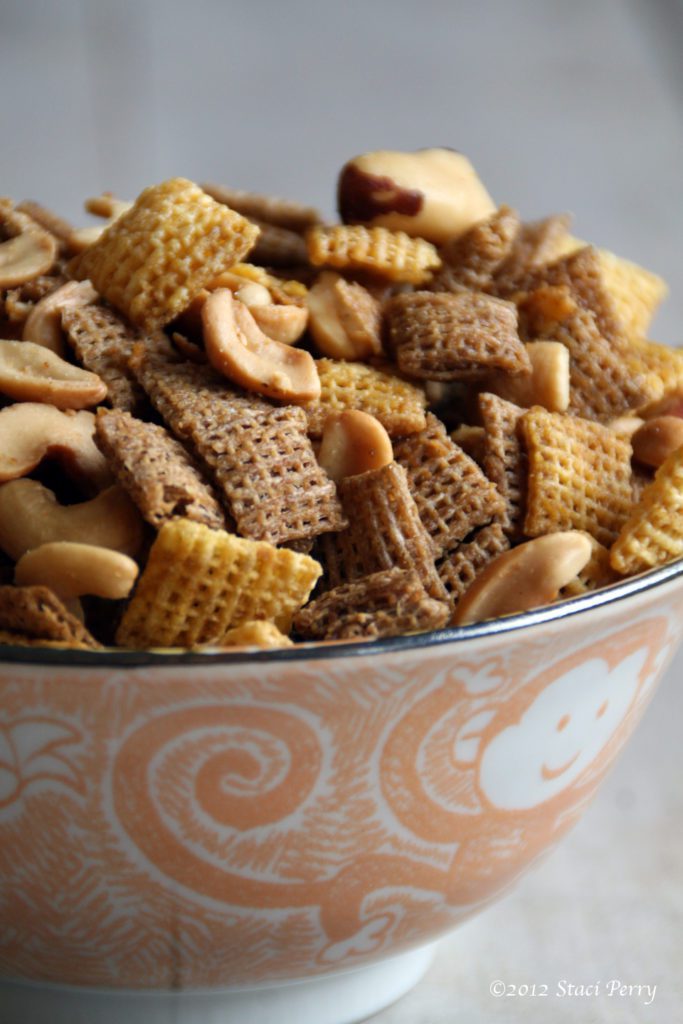 Spicy Ranch Pretzel Mix is also a good one to bring. It helps to eat it when you are tired while you're driving.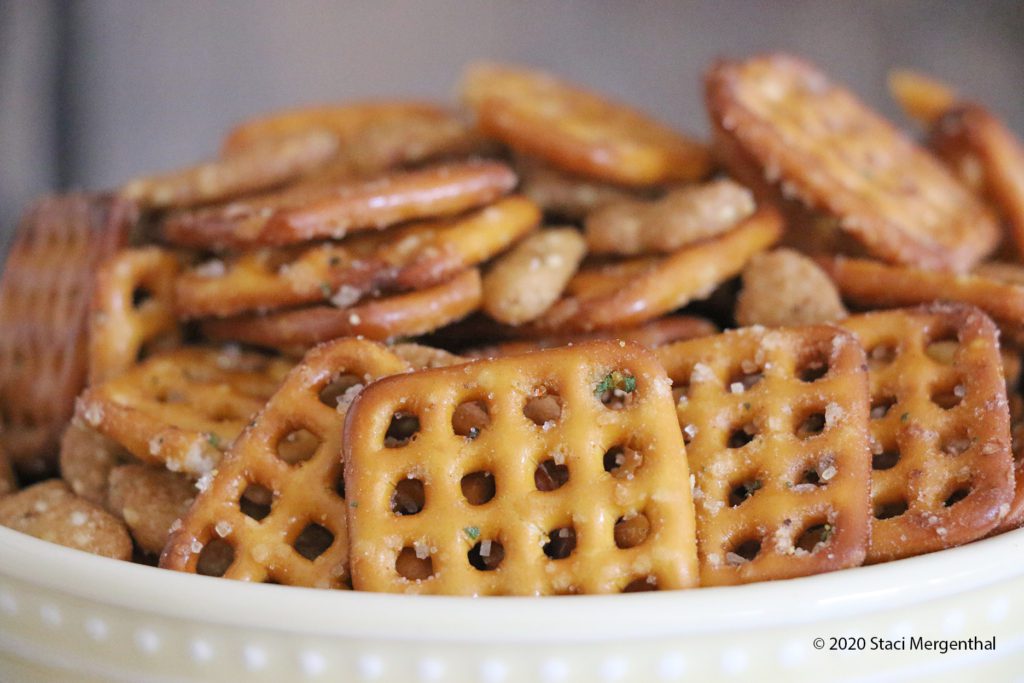 What are your favorite road trip snacks?
Sweet summer wishes,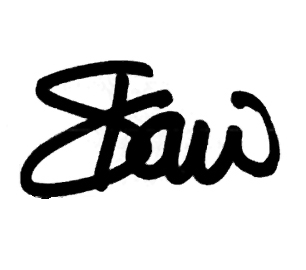 This post is not endorsed by the Enterprise company. It's just our way of sharing appreciation to them for their positive and memorable customer service.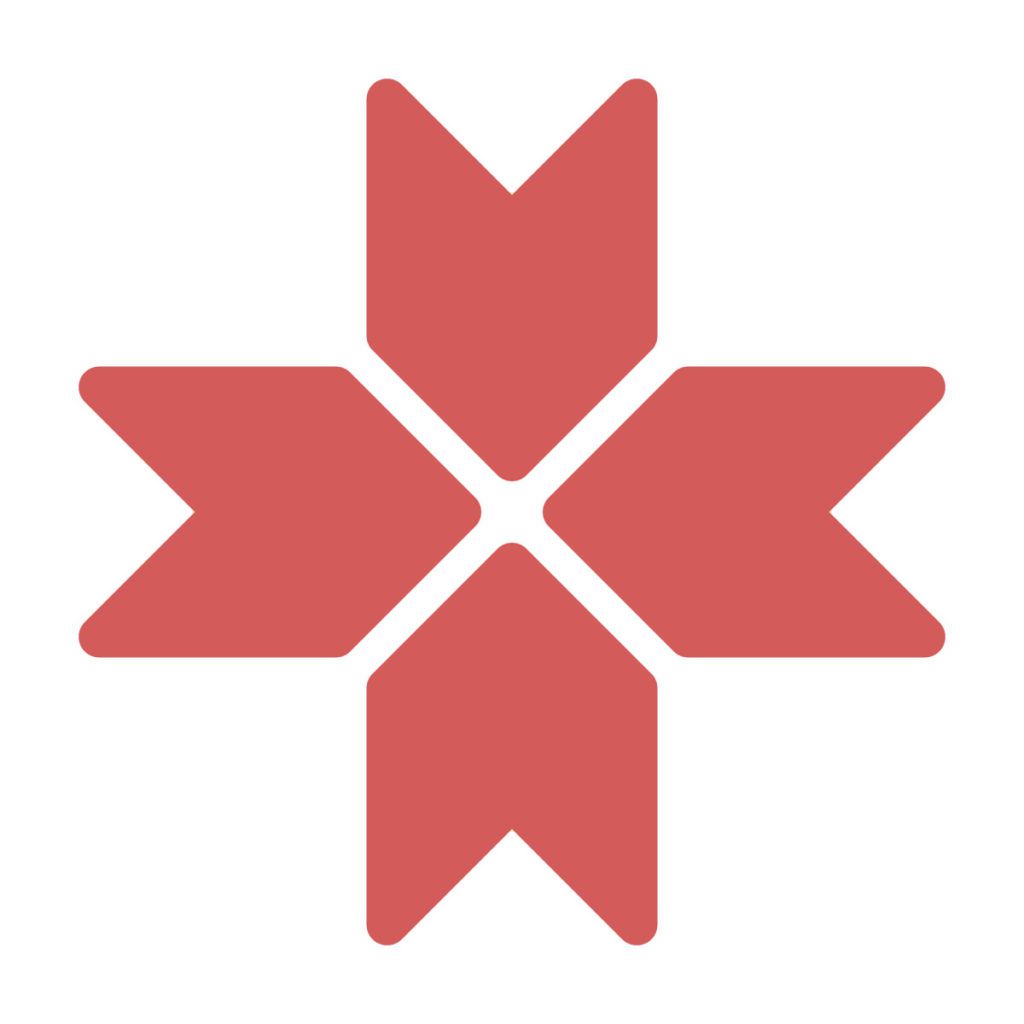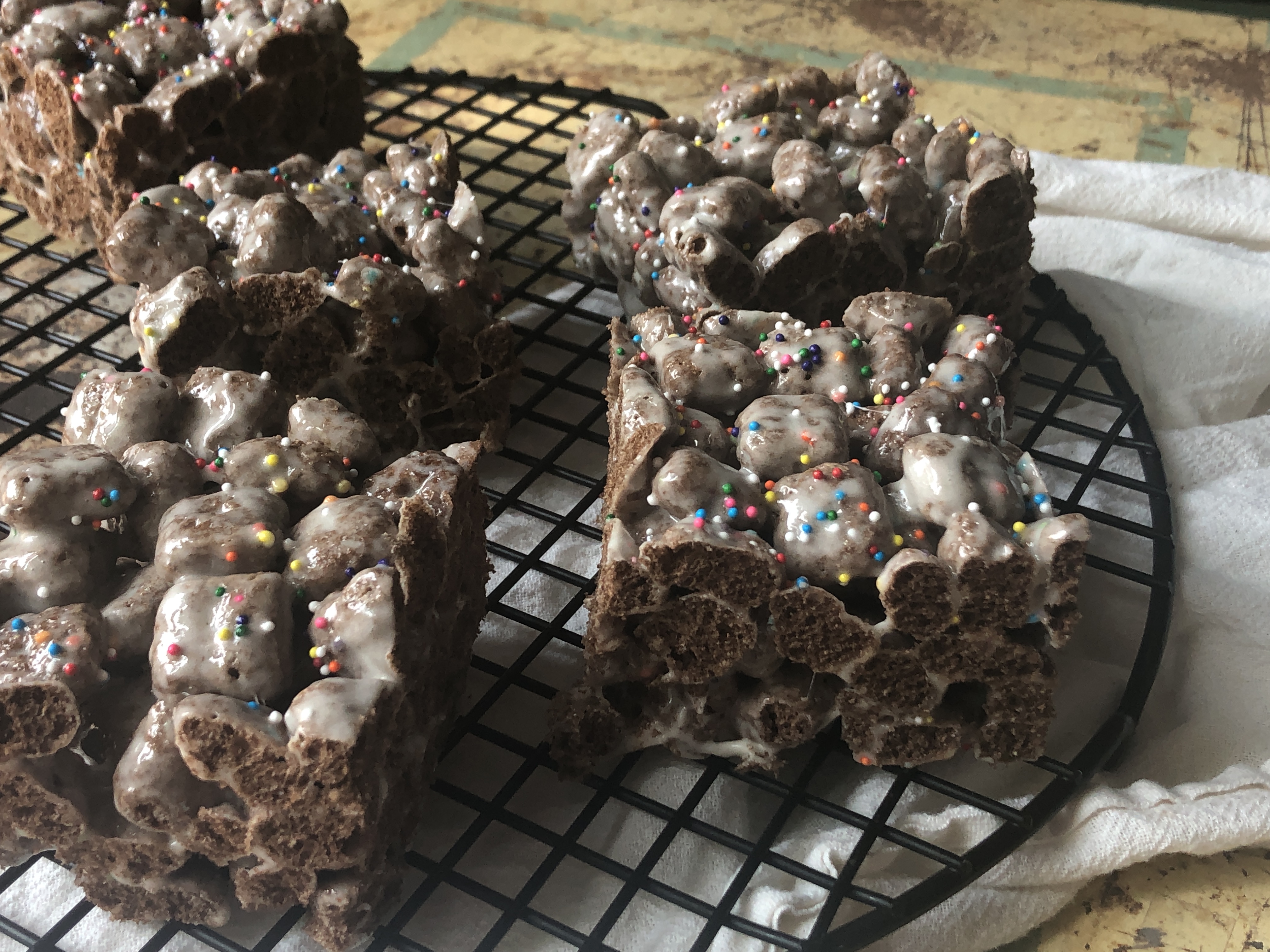 Email this recipe
Cosmic Brownies Cereal Treats
Use Little Debbie Cosmic Brownies cereal to make a new spin on traditional marshmallow treats.
Ingredients
7

tablespoons

unsalted butter

,

divided

8

cups

mini marshmallows

10-12

cups

Cosmic Brownie cereal

,

13.2 ounce box

½

cup

marshmallow creme

,

optional

sprinkles for the top, optional
Instructions
Lightly grease a 9×13 pan with 1 tablespoon of butter.

Melt butter in large saucepan over medium heat. Add marshmallows and stir until melted. Remove from heat.

Add cereal. Stir until incorporated.

If desired, add by tablespoons full of marshmallow creme and stir slightly. You want to see pockets of fluff.

Using the back of a large spoon sprayed with cooking spray, spread cereal mixture into a 9×13 pan. Cool to room temperature. Cover. Store at room temperature.
Nutrition
Calories:
144
kcal
Carbohydrates:
28
g
Protein:
1
g
Fat:
4
g
Saturated Fat:
2
g
Polyunsaturated Fat:
1
g
Monounsaturated Fat:
1
g
Trans Fat:
1
g
Cholesterol:
8
mg
Sodium:
98
mg
Potassium:
42
mg
Fiber:
1
g
Sugar:
17
g
Vitamin A:
365
IU
Vitamin C:
3
mg
Calcium:
57
mg
Iron:
3
mg
All text and images © Staci Mergenthal • Random Sweets