The Real Housewives of Pipestone and Lincoln Counties: Heidi's Secret Special K Bars Recipe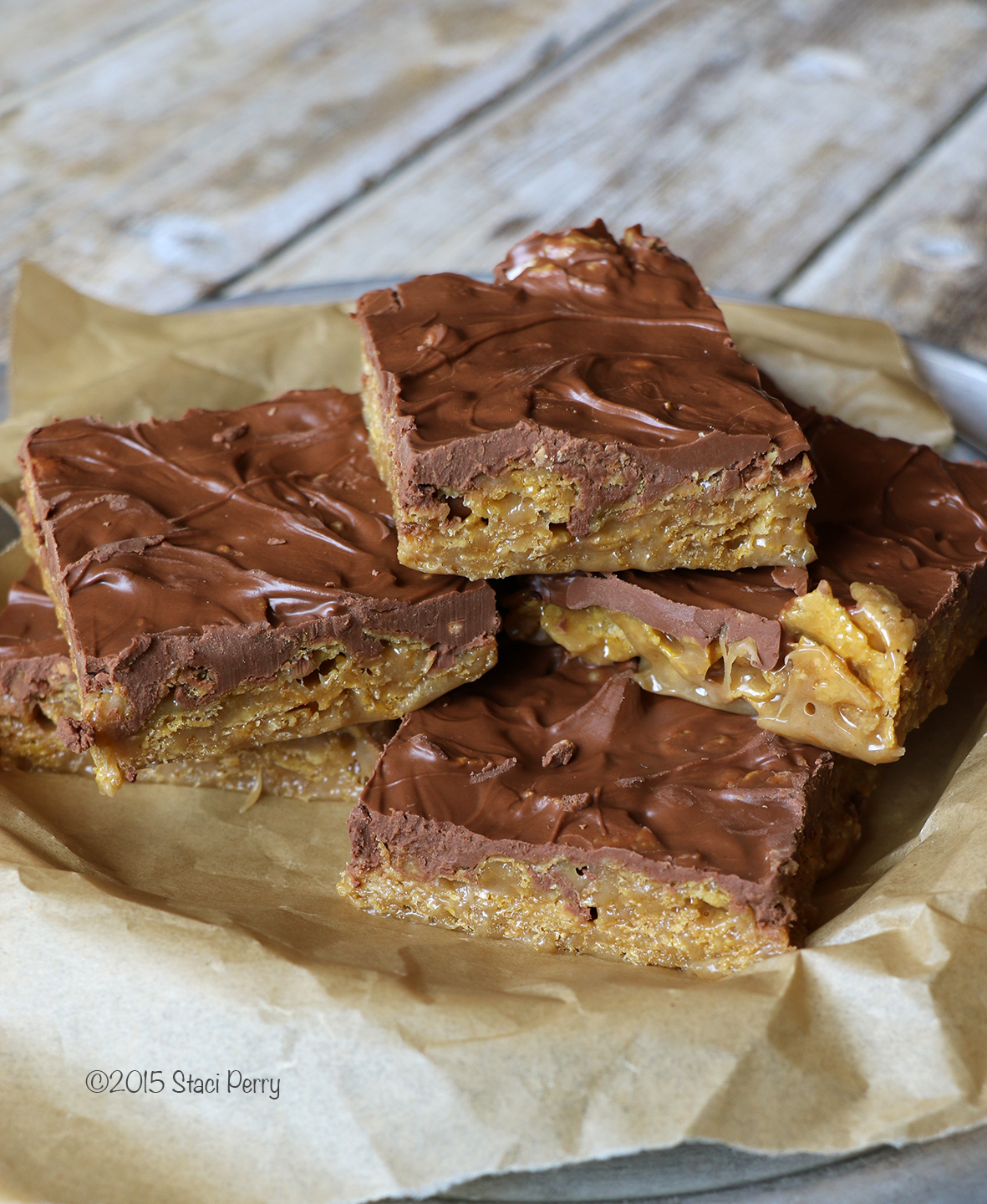 This is a true story.
There's a border battle between two Minnesota housewives and for that reason, I am sworn to secrecy and cannot share my sister's super-secret better-than-everyone-else's Special K bar recipe. (Also known in the Midwest as scotcharoos.)
For years, Heidi has been knocking the socks off family and friends with her secret Special K bars. But there's this one housewife [Lincoln County Housewife] who is unkind (like cyber-bullying unkind) to my sister but that lady's husband and her sons (who are nice and friends of the family) love Heidi's bars. So she bakes them for the guys but won't share the recipe with anyone but her sisters. Ah, sweet revenge.
When I told Heidi I was writing this post and assured her that I would not share her secret recipe, she told me a few interesting facts about what happens when she makes a pan (or two) of her famous Special K Bars when they head out on motorcycle trips. [I didn't use the guys' names.]
Heidi: When I make these for them, there are rules. They are rationed between each other.
Me: LOL, what? Between Lincoln County Husband and Sons?
Heidi: I don't really know, but it is wild hog code of rules about who gets bars, when they get bars, what size bars each get. I stay clear!
Me: Oh it's wild hog rules amongst themselves – they're not your rules? Is that more than just Lincoln Co. Husband and his boys? Or is it Pipestone Co. Husband and the other guys too? You just toss them a pan and run??
Heidi: Yes. It's (Male), (Male), (Male), (Male), (Male), (Male), (Male) and (Male).
And the chivalrous "ladies first" rule does not apply.
It gets even better.
Here's an excerpt from a message from Lincoln Co. Housewife to my sister:
"Made my husband more bars, huh…I'd like to know what obsession you have about making bars for my men in my family…" blah, blah, blah something about the "fatning" bars… (her spelling not mine) "[Lincoln Co. Husband] told me today that he told you to stop making him bars…you better listen to him…"
Me to Heidi: Did he tell you to stop?
Heidi: Hell no!
Who knew a pan of bars could create such turmoil? We will forever refer to her secret recipe as Special K-iss My Ass Bars.
Because she swore me to secrecy, I'm sharing with you my standard, non revolution-provoking recipe. And yes, you can substitute corn flakes or crispy rice cereal for the Special K cereal.
Our Favorite
Butterscotch Recipes
Here's how I make Special K bars pretty. Once I spread the melted chocolate and butterscotch chips on top, I drag a fork upside down with a slight wave the length of the pan. Then I turn the pan around and do the same thing coming from the other direction.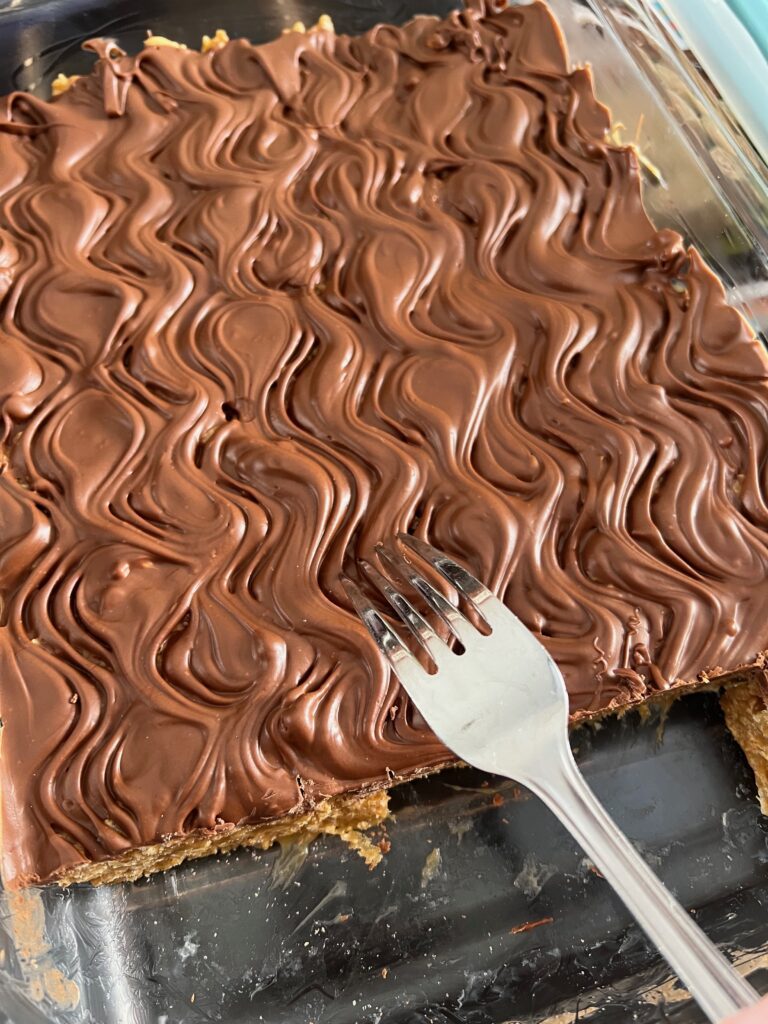 You can do this immediately, or wait about 10 minutes and then do it. If you do it right away, the melted chocolate swirl pattern is a little less defined.
Super secret sweet wishes,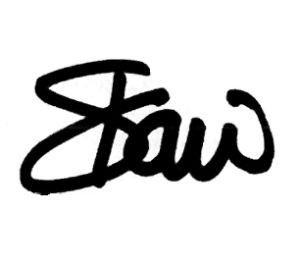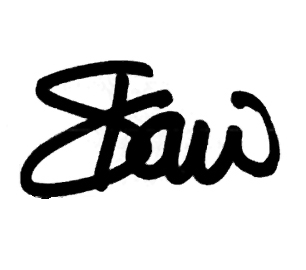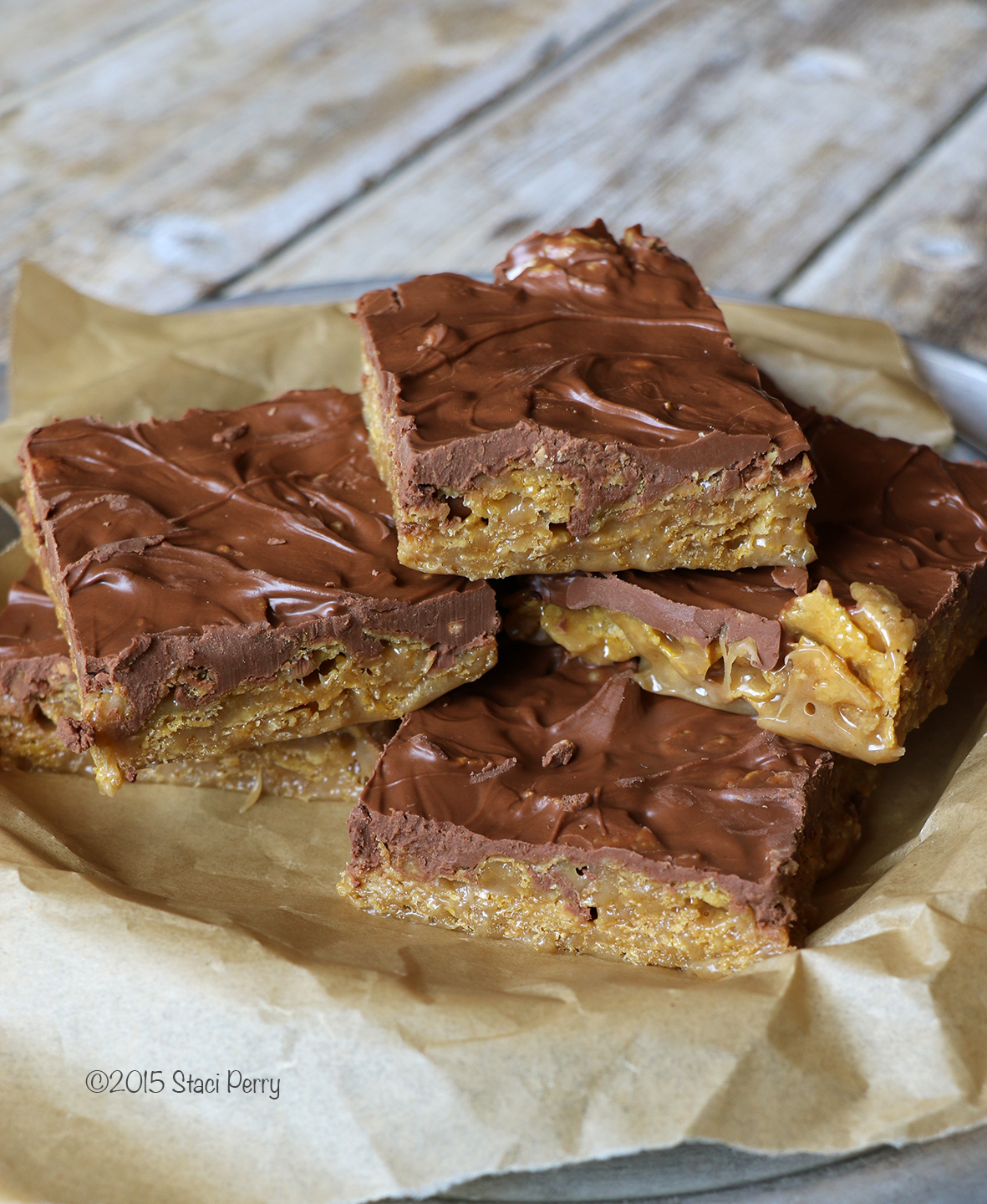 Email this recipe
Special K Bars
Iconic Midwest Special K bars, also known as scotcharoos, are a divine combination of peanut butter, chocolate and butterscotch.
Ingredients
1

cup

light corn syrup

1

cup

sugar

1

cup

creamy peanut butter

6

cups

Special K cereal

,

or corn flak cereal or crispy rice cereal

1

cup

semisweet chocolate chips

1

cup

butterscotch chips
Instructions
Butter or line parchment paper in a 9×13 cake pan.

In a large saucepan over medium heat bring corn syrup and sugar to a boil, stirring constantly.

Immediately remove from heat and stir in peanut butter until smooth.

Fold in cereal. Press into pan.

In a small saucepan melt chocolate and butterscotch chips over low heat, stirring constantly. Once smooth, pour over bars and spread evenly. Cool completely before cutting.
All text and images © Staci Mergenthal • Random Sweets