My Perspective on Fireworks, and It's Probably Not What You Think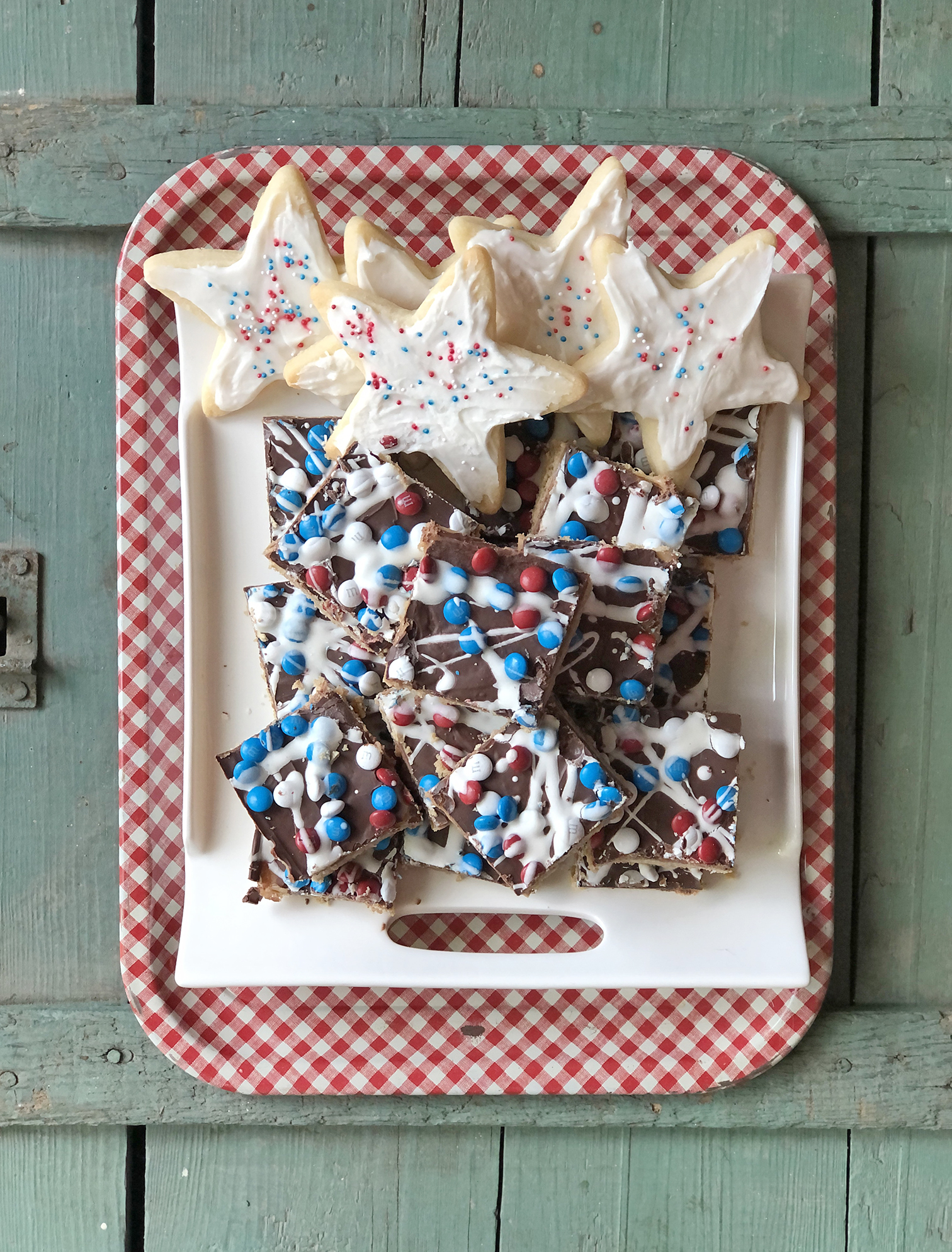 I don't often share my opinion about controversial topics. The "does pineapple belong on pizza" debate is as daring as I get.
Not that fireworks are widely controversial—scores of Americans celebrate our nation's freedom with sky-dazzling Fourth of July fireworks displays. But I've noticed lately an increasing number of harsh opinions and demands for a ban on pyrotechnics—forever.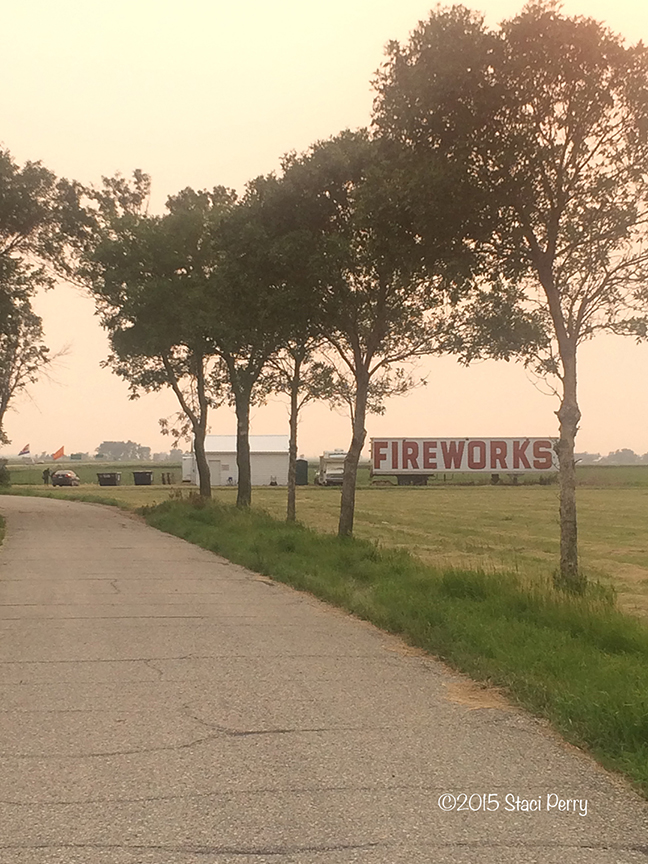 We all have a right to our opinions, and the right to share it. I respect that. I'm sharing my home-grown South Dakota perspective, with a twist, in the hopes maybe it will encourage softer edges to naysayer dictatorial commentary.
You know, just be a little bit nicer.
Plus, I'm sharing my recipe for red, white, and blue cosmic caramel oatmeal bars.
Perspective
I'm not insensitive to the adverse effects flashy and booming fireworks can have on people and pets.
I like people. And I love dogs.
I'm not ignorant to the fire hazard of ignited fireworks and their embers—especially in the drought conditions we are experiencing. If fireworks need to be banned in areas where fire safety is a concern, make that decision.
But let's also consider the livelihood of people who sell fireworks. In the Midwest at least, most pyrotechnic businesses are run by small business owners—people who contribute to the local economy, invite visitors and support tourism across the state, donate to your community's Main Street parades and Independence Day fireworks shows, along with youth sports teams.
In addition to their financial investment, there is also the economic impact of temporary employment, offering local hard-working people a boost in income, which they will likely spend as patrons in your local businesses.
The Twist
For my kids', it's a multi-generational business. Their great grandparents on their dad's side started a fireworks store in South Dakota in 1954. Their grandma took over in 1988 and runs that store today with the help of her sons, her grandchildren and her sister. Kalani and Sajen's dad created a fireworks business and has expanded to several locations in southeast South Dakota. It is part of their livelihood.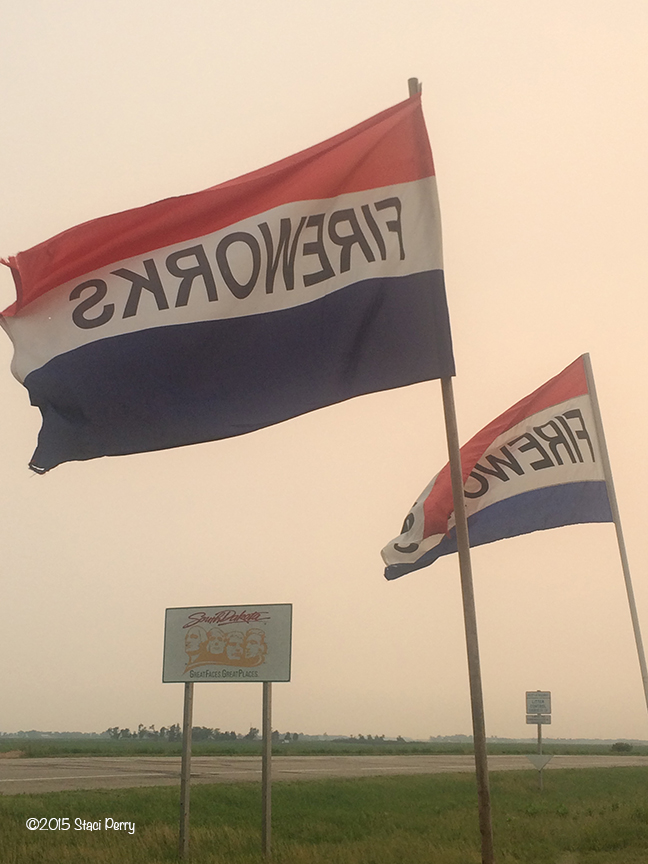 Since they were old enough, my kids have worked for their dad, and my niece and nephew have worked for Grandma Shirley. And a long time ago, my sister and her friend Barry worked at the family fireworks store on US Highway 14 on the border of South Dakota and Minnesota. It was tradition for me to bring them deviled eggs and cream cheese cookies as they set up the store.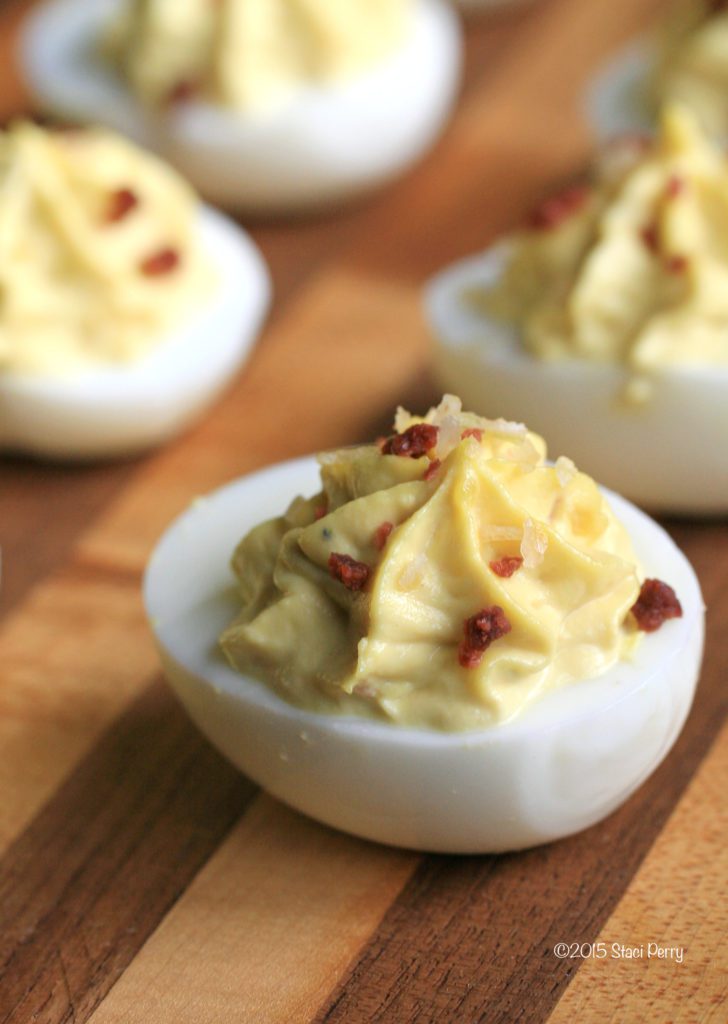 There are real people behind the business.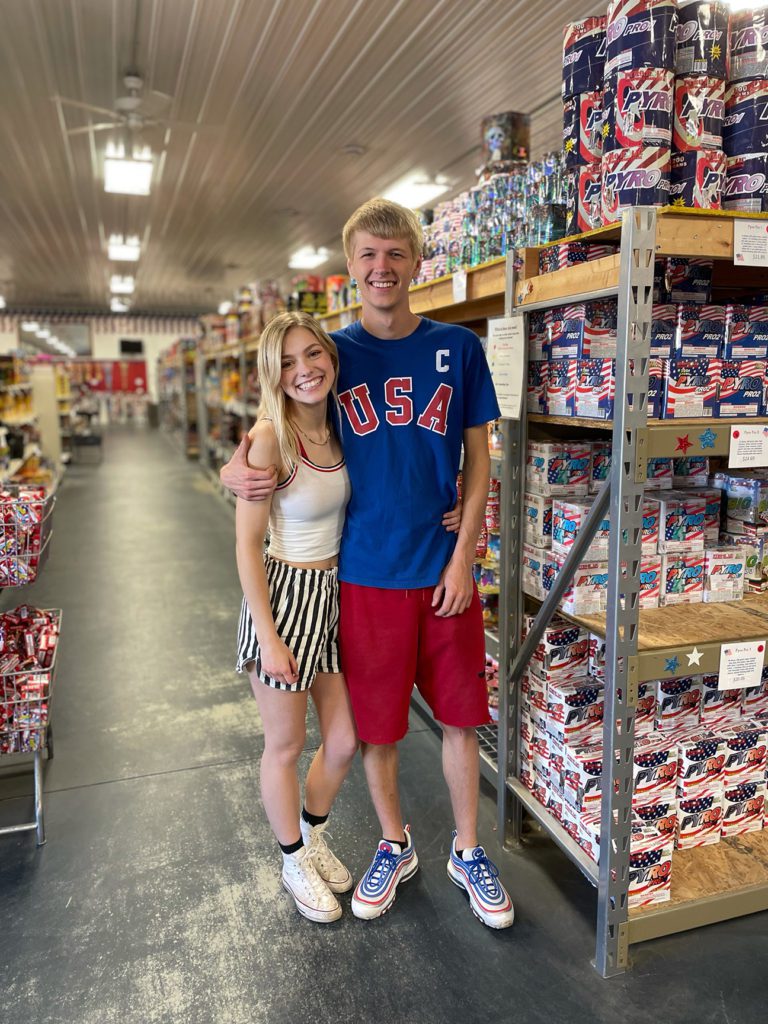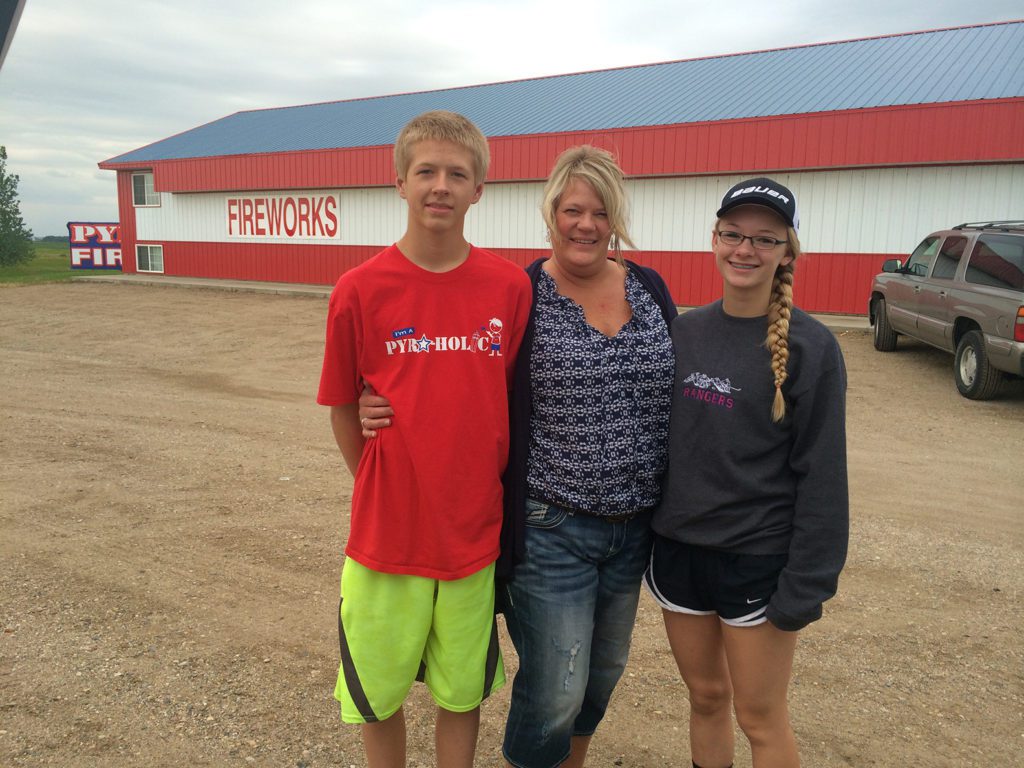 Anyway, it's more important to remember what Independence Day is all about for the United States. Thank you to the men and women who serve and sacrifice to protect our freedoms and our safety.
Celebrate with 1776 patriotic JELLO jars.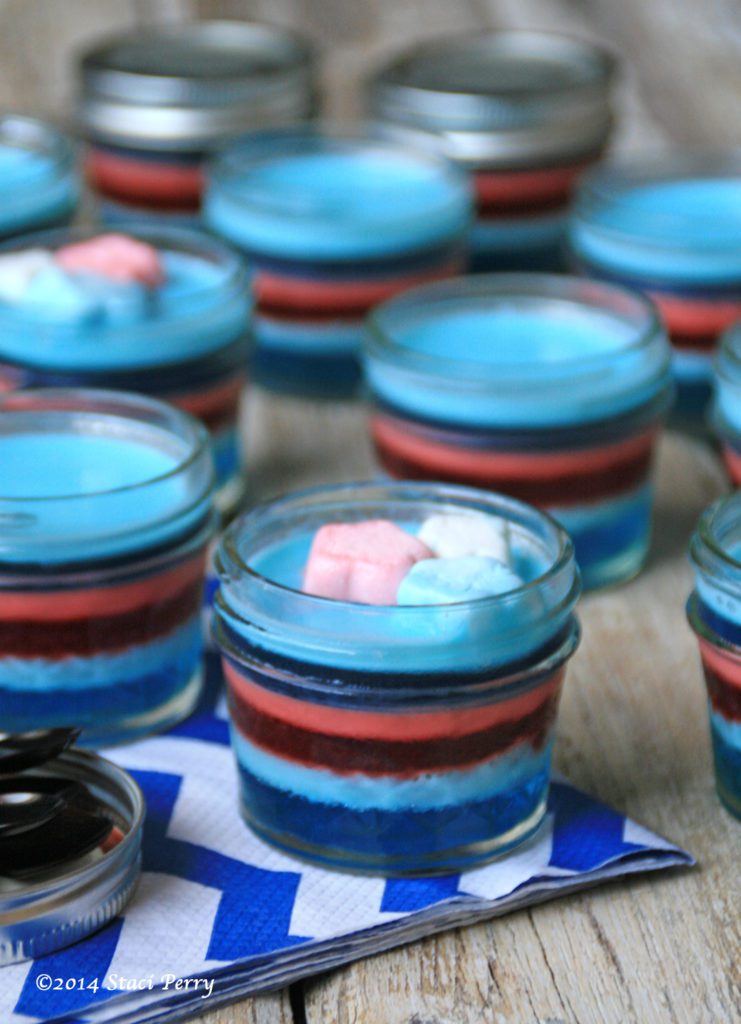 Enjoy the recipe for red, white, and blue cosmic caramel oatmeal bars.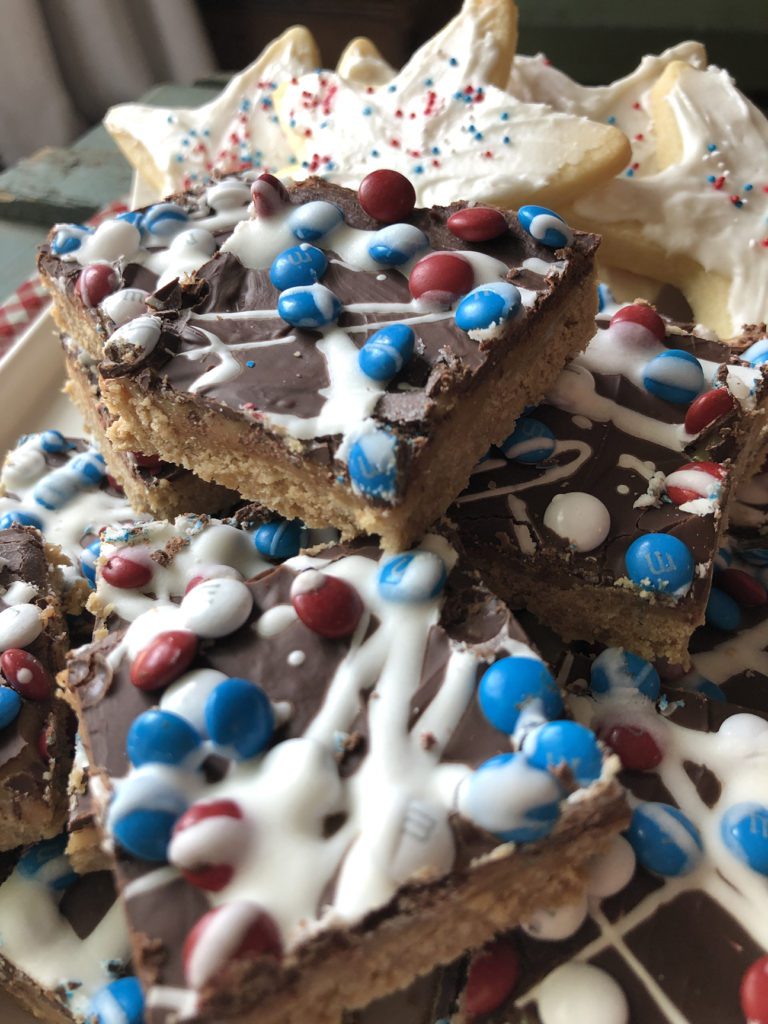 They started out as desk-hopping cosmic caramel oatmeal bars.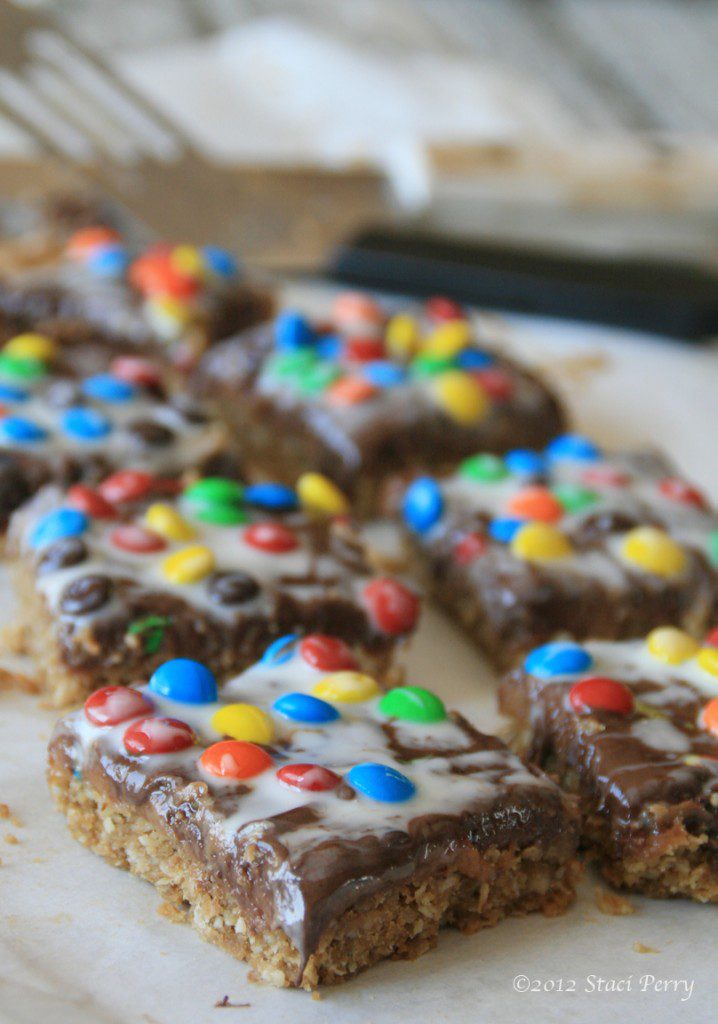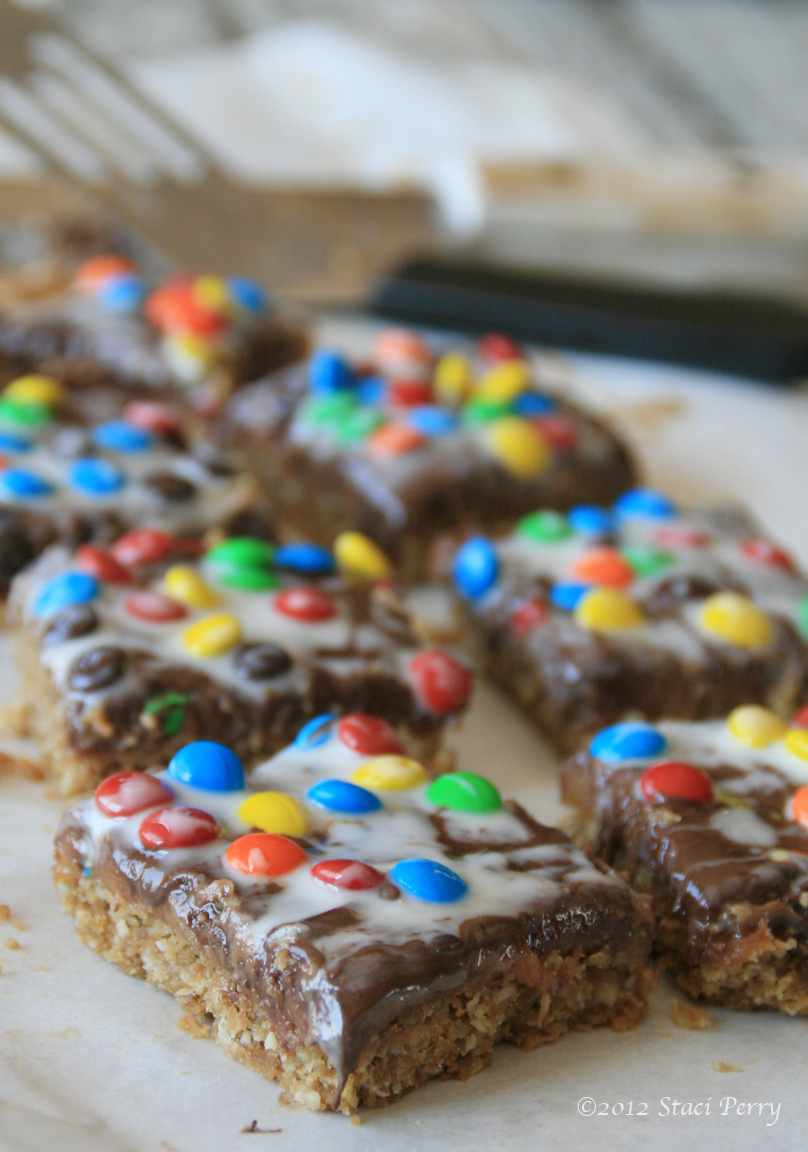 Happy Fourth of July!
Sweet & slightly snarky wishes,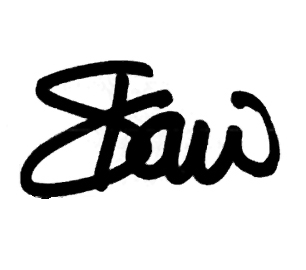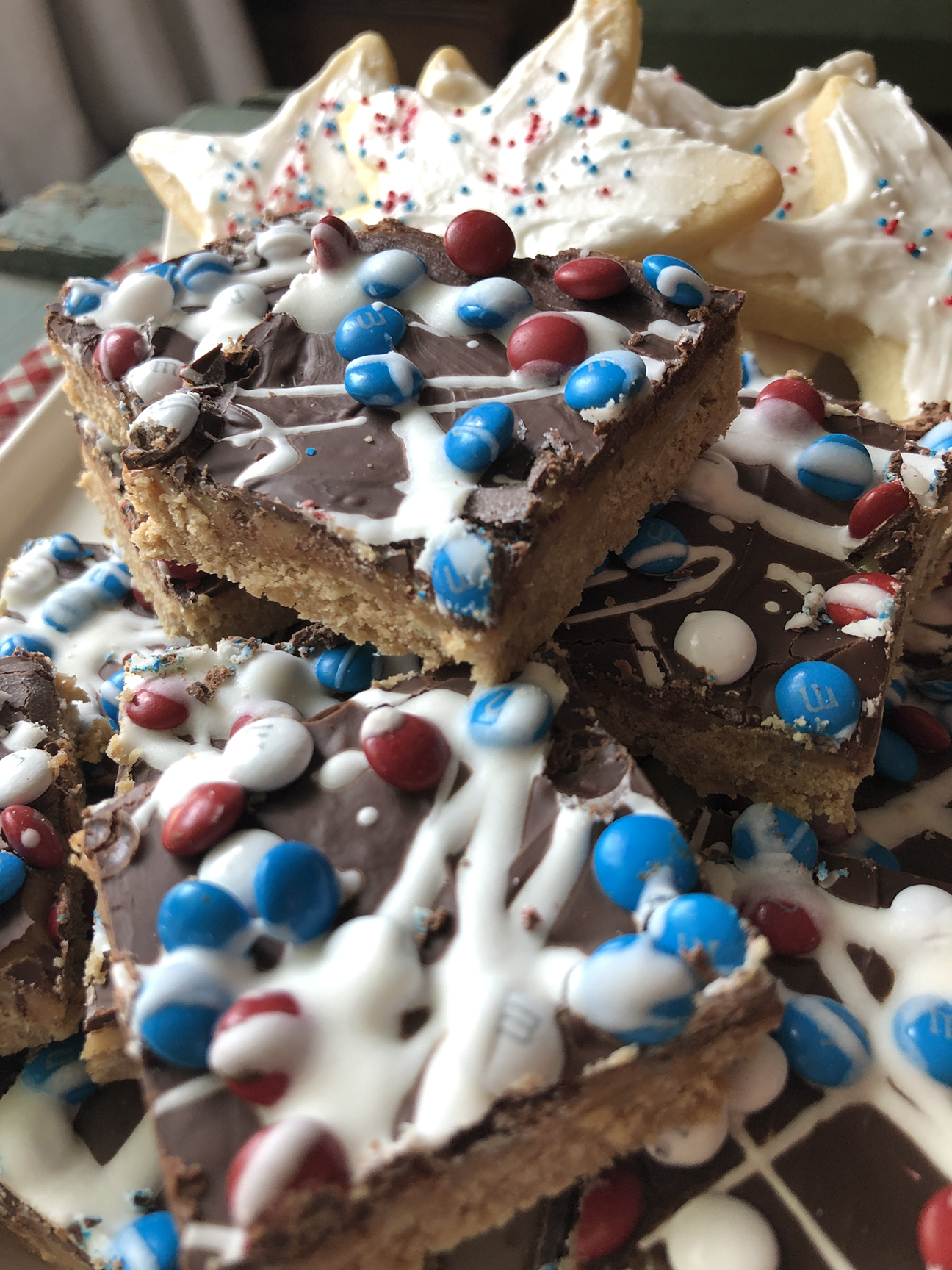 Email this recipe
Red, white and blue cosmic caramel oatmeal bars
Celebrate the Fourth of July with oatmeal bars layered with caramel, chocolate, and M&M's candies.
Equipment
jelly roll pan

approximately 15" x 10" x 1" high
Ingredients
1

cup

unsalted butter

,

softened

1

cup

brown sugar

½

cup

creamy peanut butter

1

teaspoon

baking soda

½

teaspoon

salt

1½

cups

all-purpose flour

2

cups

quick-cooking oats

11

ounces

caramel candies

14

ounces

sweetened condensed milk

1

cup

semi sweet chocolate chips

1

cup

red, white and blue M&M's candies

1

cube

vanilla almond bark

1

teaspoon

vegetable oil
Instructions
Heat oven to 350° Fahrenheit. Grease a jelly roll pan.

Unwrap caramels and place in a small saucepan. Set aside.

In a small bowl, combine soda, salt, flour, and oats. Set aside.

In a medium mixing bowl cream butter, peanut butter, and brown sugar. Gradually add flour mixture to butter mixture, beating until combined.

Press peanut butter mixture into greased pan.

Bake at 350° for 12-15 minutes or until golden brown. While it's baking, move on to the next step.

In a small saucepan over low heat, melt the sweetened condensed milk with the caramels. Stir constantly because it burns easily. Remove from heat once melted and creamy. When the crust is finished in the oven, pour the caramel over the crust.

Toss the chocolate chips onto the hot caramel. Let is sit for a couple of minutes, just until the chocolate is soft and then gently spread the chocolate over the bars. Top with mini M&M's.

In a small bowl, melt almond bark and oil in microwave, stirring until smooth. Drizzle with a fork over the bars. Let cool for a couple of hours before cutting. Store at room temperature in an airtight container.
Nutrition
Calories:
245
kcal
Carbohydrates:
32
g
Protein:
4
g
Fat:
12
g
Saturated Fat:
6
g
Polyunsaturated Fat:
1
g
Monounsaturated Fat:
3
g
Trans Fat:
1
g
Cholesterol:
19
mg
Sodium:
127
mg
Potassium:
131
mg
Fiber:
1
g
Sugar:
24
g
Vitamin A:
262
IU
Vitamin C:
1
mg
Calcium:
73
mg
Iron:
2
mg
All text and images © Staci Mergenthal • Random Sweets