How to Make Crazy, Wacky, Depression War Cake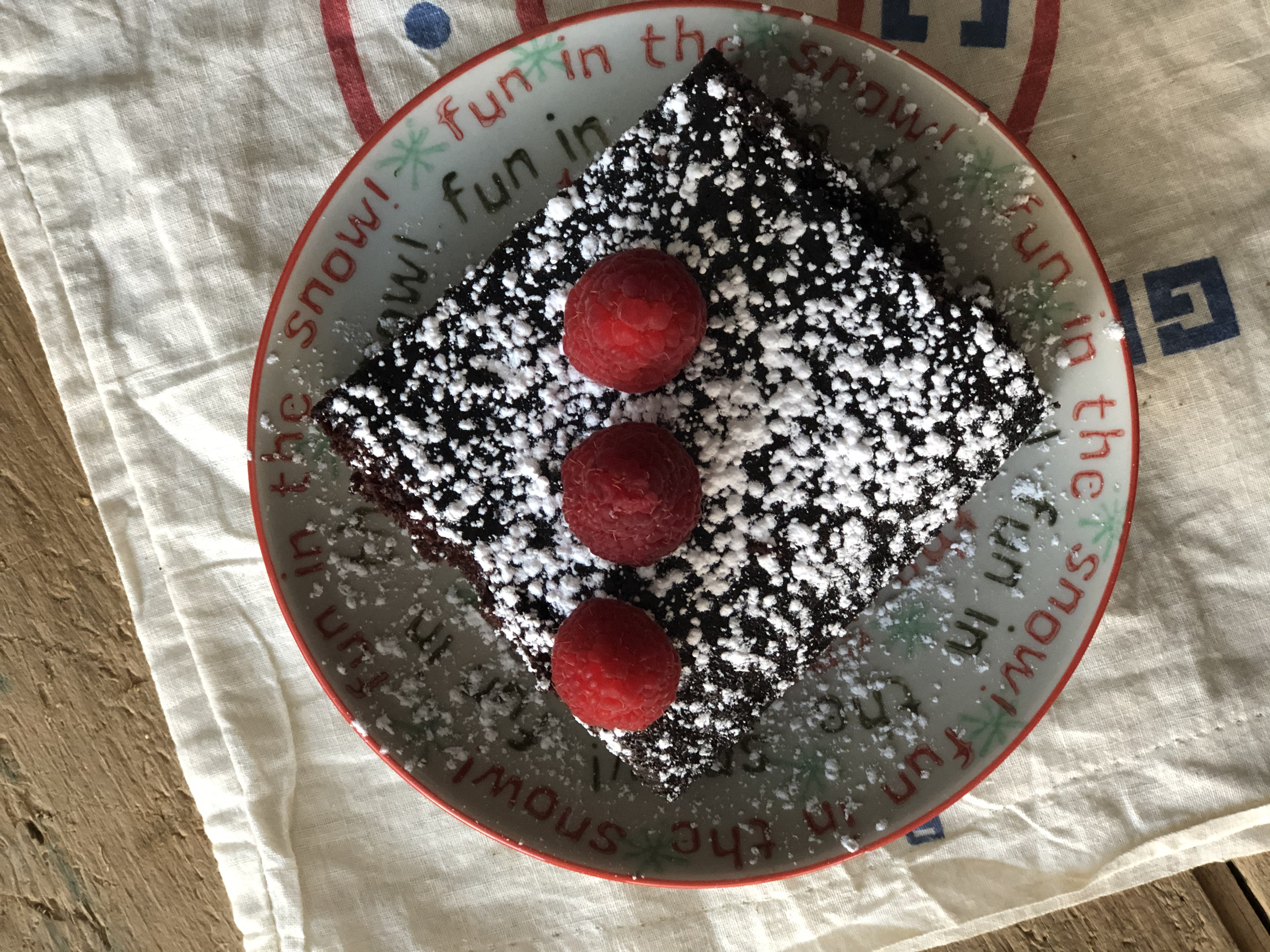 Do you remember when dessert was a luxury? It was the 1940s, wartime for the United States and many other countries, and baking ingredients like butter, eggs, milk and cream were not readily available and were too costly for American families to purchase. It was during this crestfallen time someone developed a delectable chocolate cake that does not use eggs, butter or dairy and it became known as crazy cake, wacky cake, depression cake, and war cake.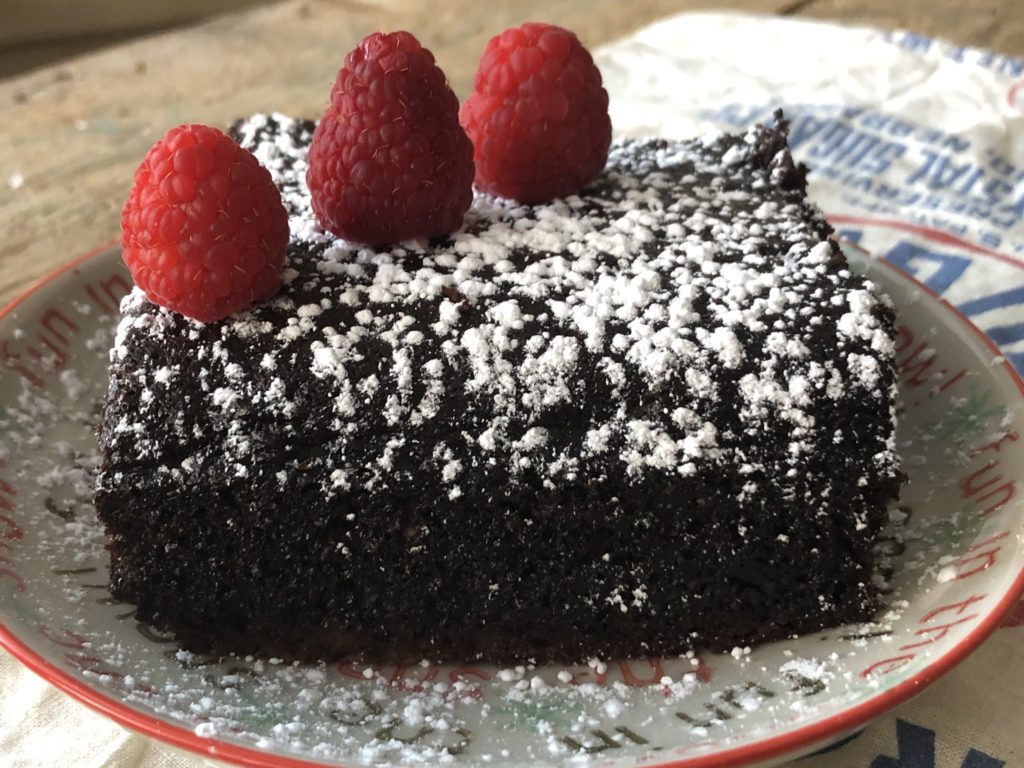 What's it like?
Crazy cake is moist, rich and chocolatey but surprisingly not too sweet. The top has a glossy, tackiness that makes it finger-licking good.
I'm sure I ate this cake when I was a kid. There is a recipe card for it in my family recipe box. But I'd never made it until someone asked me recently to make a dairy-free dessert for a birthday. (I'm not a dietician so I don't know if it is legitimately dairy-free.)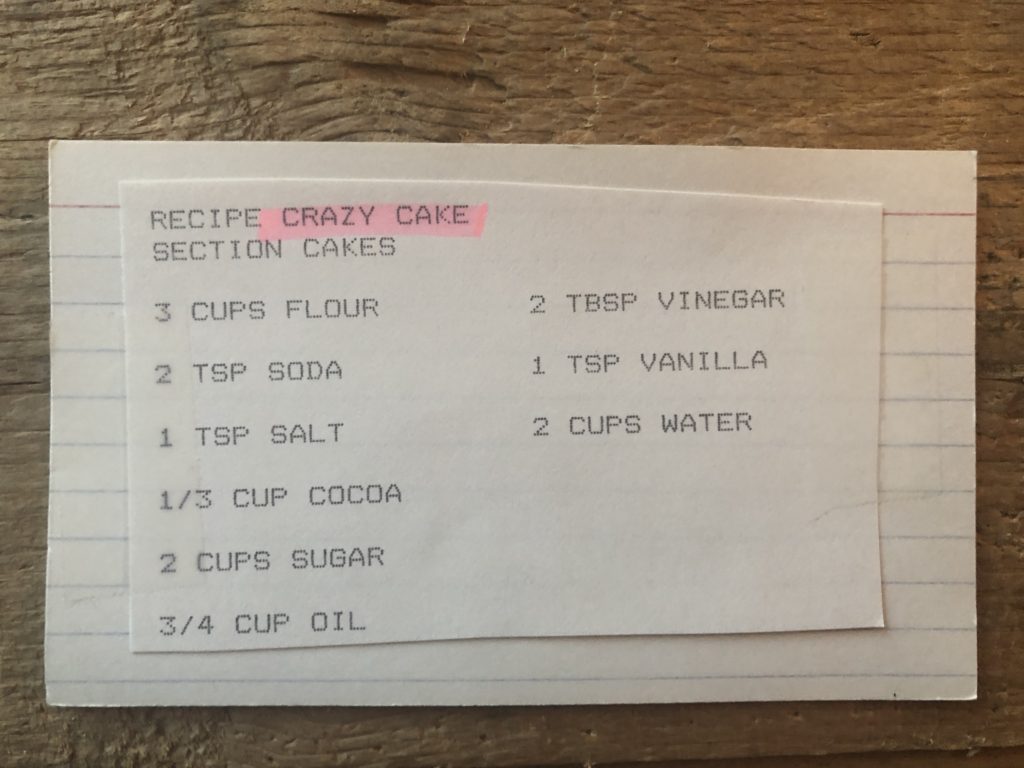 No bowls. Maybe that's the wacky part about making this cake. You stir all the ingredients in the pan.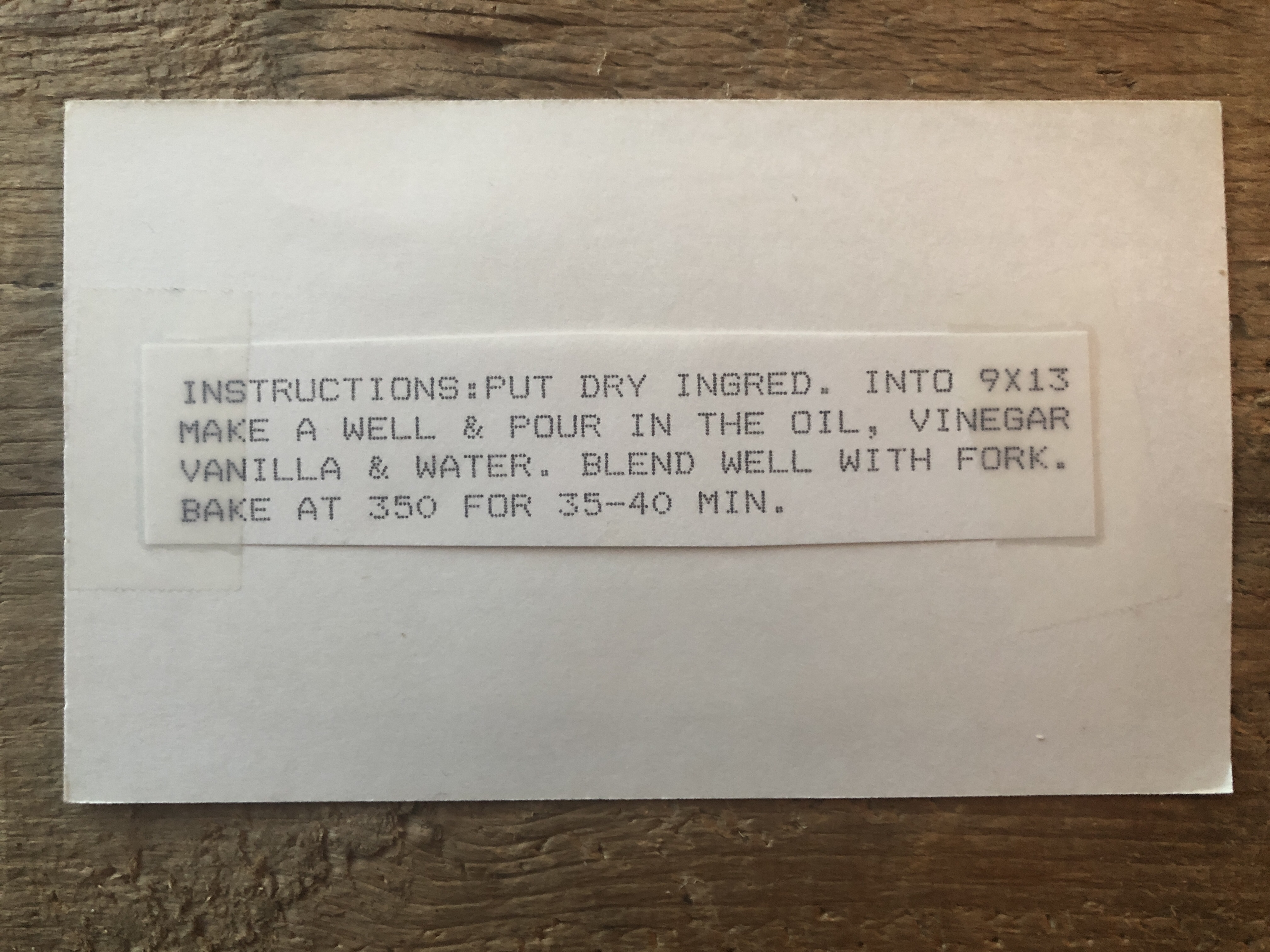 Some people frost crazy cake but I prefer a delicate sprinkling of powdered sugar.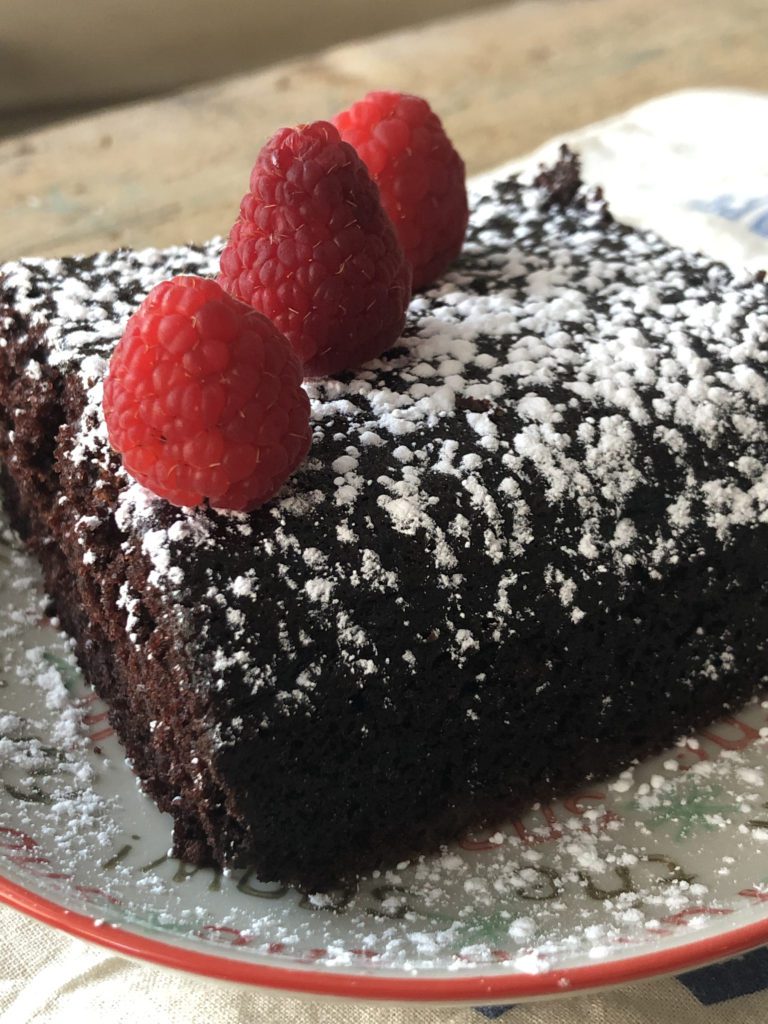 If you want frosting, I bet old-fashioned snow frosting would complement crazy cake nicely. Here's our family recipe. Bob's Red Mill has a recipe for gluten-free crazy cake if you need it.
Let's hope we continue making crazy, wacky, depression war cake out of desire, not necessity.
Sweet & crazy wishes,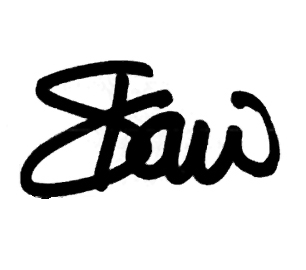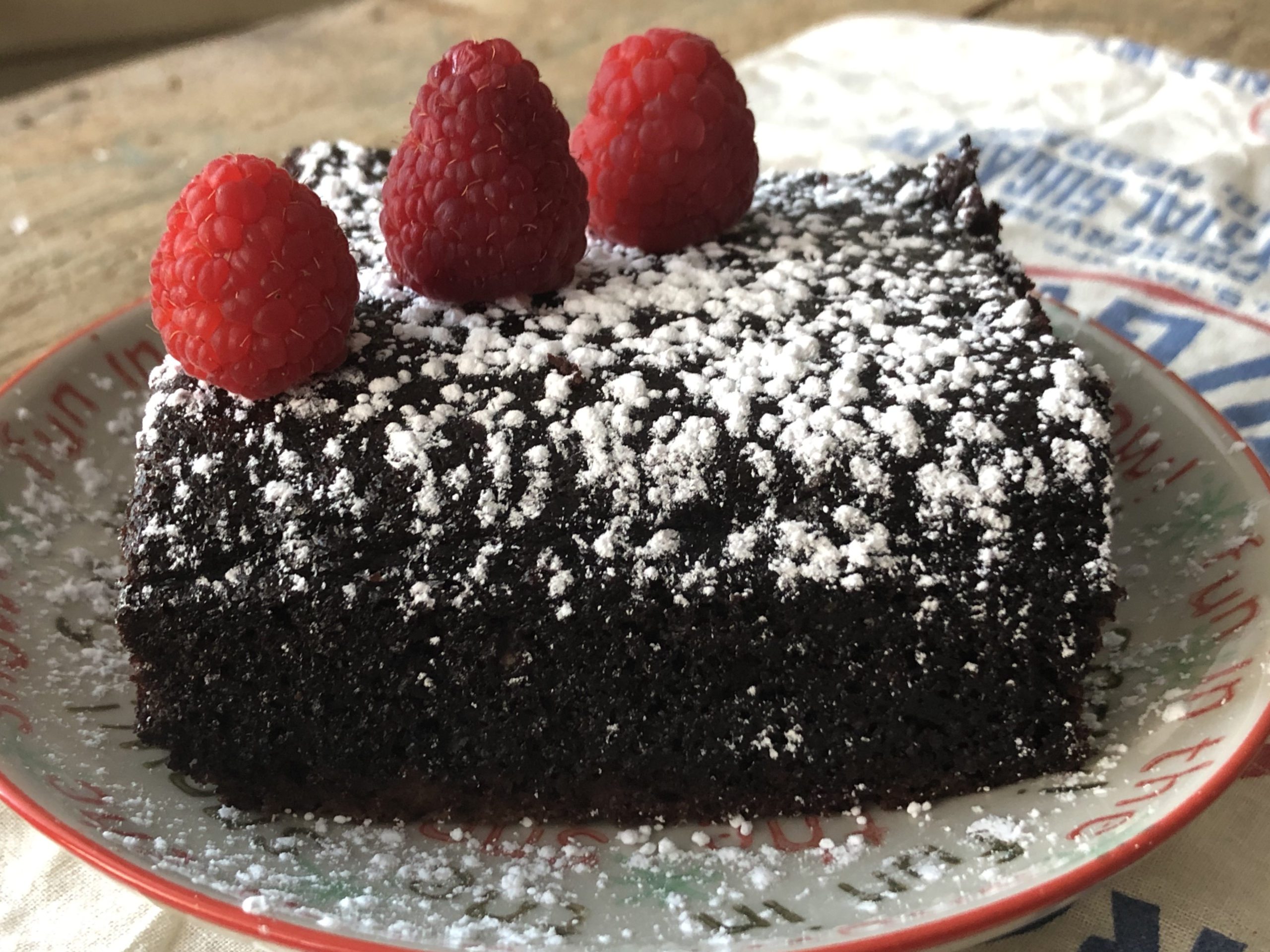 Email this recipe
Crazy Cake
Also known as wacky or depression cake, crazy cake is moist, rich, chocolatey and surprisingly not too sweet. The top has a glossy, tackiness that makes it finger-licking good.
Ingredients
3

cups

all-purpose flour

2

teaspoons

baking soda

1

teaspoon

salt

⅓

cup

unsweetened cocoa

2

cups

sugar

¾

cup

vegetable oil

2

tablespoons

white vinegar

1

teaspoon

pure vanilla extract

2

cups

cold water

1

tablespoon

powdered sugar for sprinkling on top

berries for serving, optional
Instructions
Heat oven to 350° Fahrenheit. Grab a 9×13-inch pan. Do NOT grease.

Put the flour, baking soda, salt, unsweetened cocoa and sugar in the pan and whisk them around with a fork to combine. Make three separate wells in the dry ingredients – a large one and two small ones.

In the large well, pour vegetable oil. In the second well, pour in vinegar. In the last well, pour in vanilla.

Pour the 2 cups cold water over all of it and mix with a fork.

Bake 35-40 minutes or until a cake tester or toothpick comes out clean. Cool to room temperature. Sprinkle with powdered sugar before serving. Serve with berries if desired. Store in airtight container.
Nutrition
Calories:
186
kcal
Carbohydrates:
30
g
Protein:
2
g
Fat:
7
g
Saturated Fat:
1
g
Polyunsaturated Fat:
4
g
Monounsaturated Fat:
2
g
Trans Fat:
1
g
Sodium:
190
mg
Potassium:
36
mg
Fiber:
1
g
Sugar:
17
g
Calcium:
5
mg
Iron:
1
mg
All text and images © Staci Mergenthal • Random Sweets