Rustic Kitchen Pantry Constructed with Reclaimed 100-year-old Barn Wood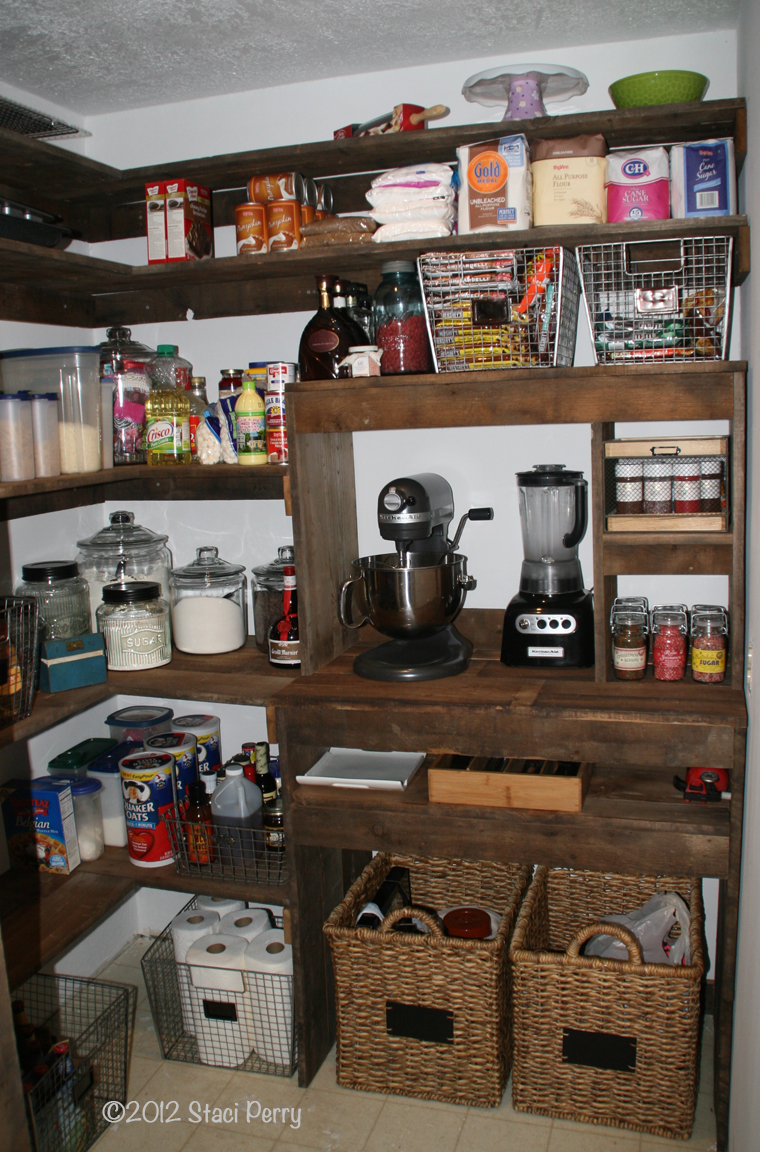 Barn-huggers — you know the kind. People who suddenly pull onto the side of the road, snapping photos of old, ramshackle barns held together by caked-on farm dust and cobwebs the size of hay bales. They dream of all the possibilities for repurposing the crumbling wood for their home or their photography props. And those photos they take? They are transformed into nostalgic black and whites with a ghostly softness of yesteryear. Truth is, I am one of them and because of it, I have a new kitchen pantry with shelves made from an old barn that was on our property.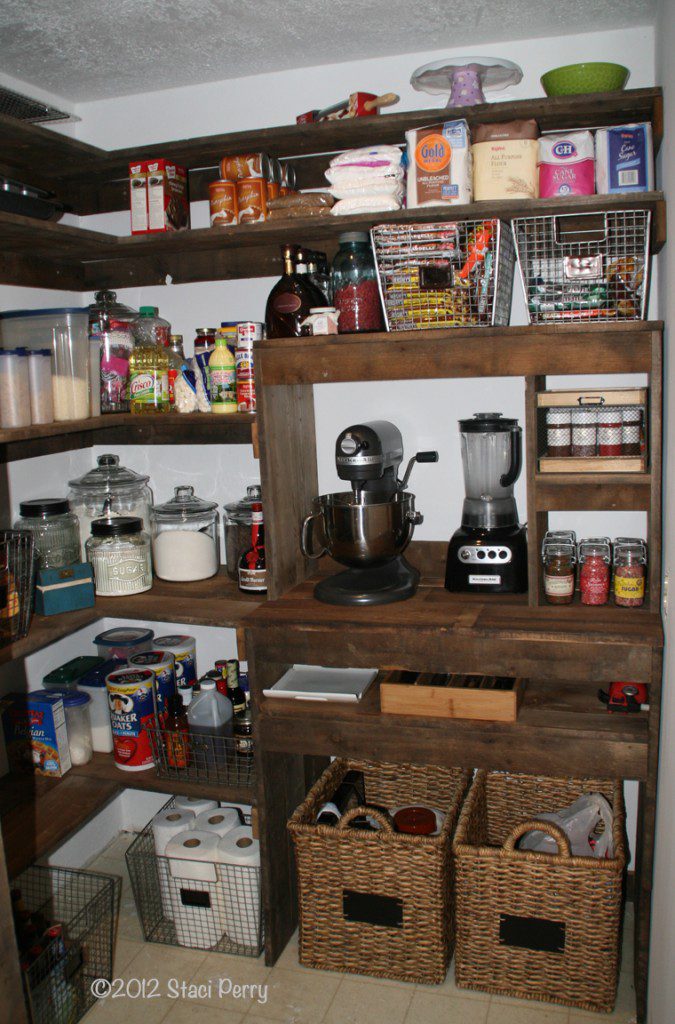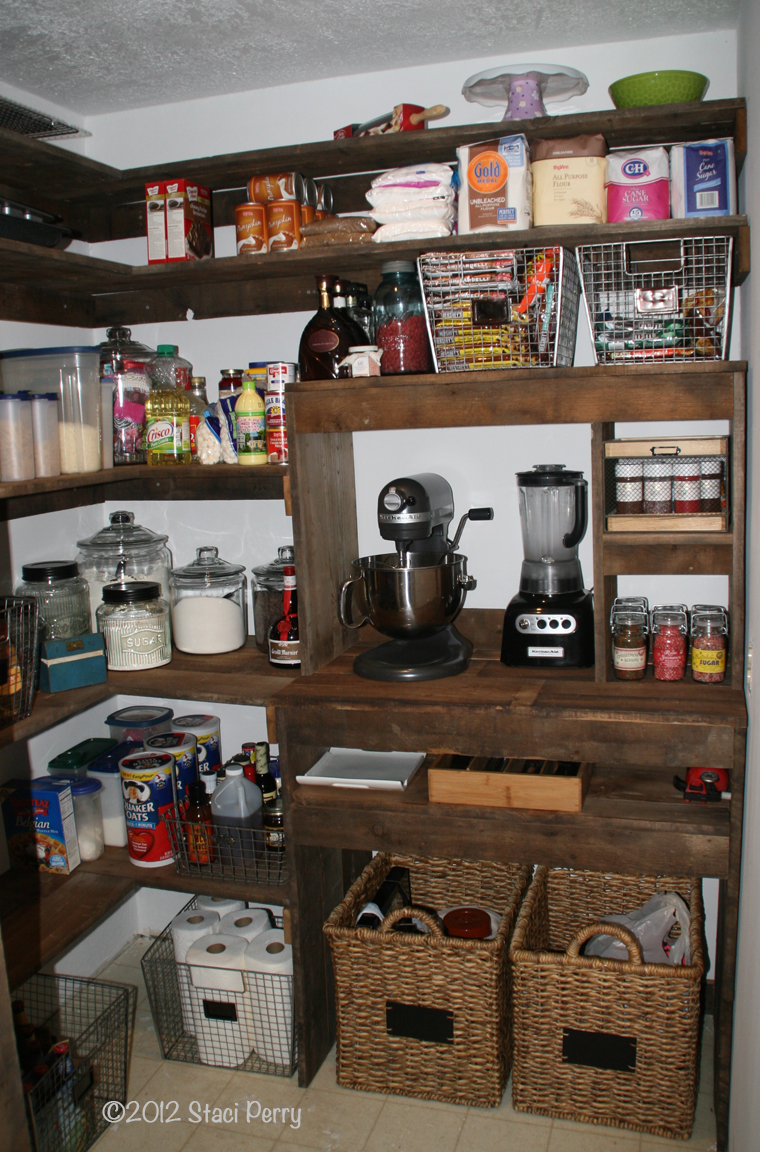 When a storm destroyed our 100-old dairy barn in 2011, we were devastated. Our home was built in 1915 so we assume the barn was built soon after. And although we only used it for storage, we often talked about all the cool things we could do with it. We dreamed of making a huge basketball court on the top level, booking it for weddings and other parties, opening up a steakhouse, and talked about how fun it would be to open a bakery and farmer's market.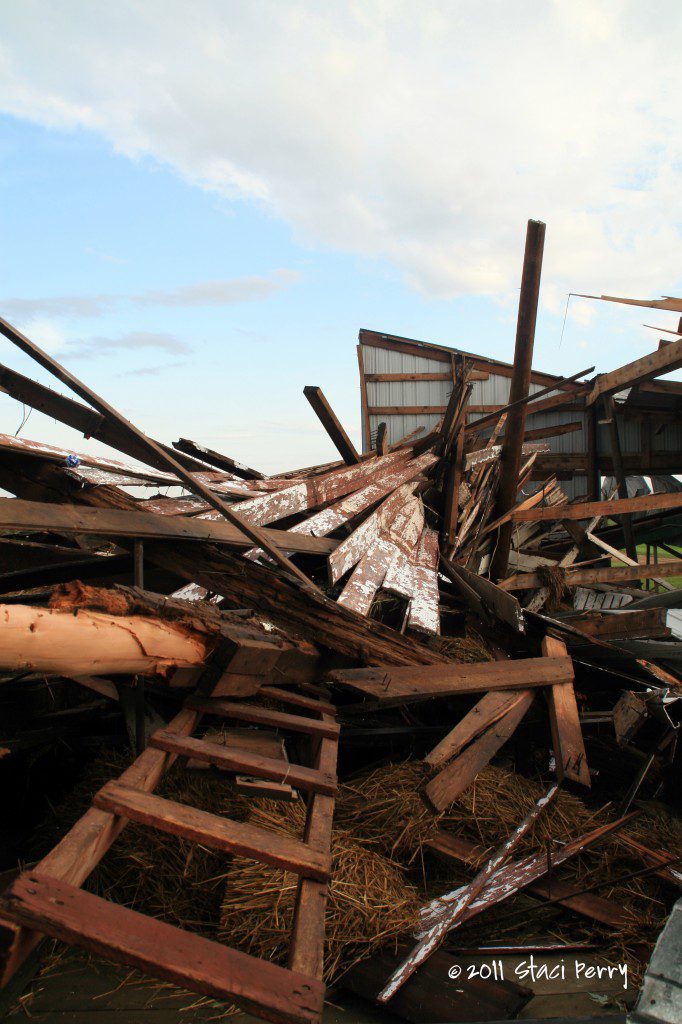 We have been rebuilding since July 2011. In addition to losing our barn, shop, and garage, our home needed a new roof, siding, front door, and many new windows. We took the opportunity to create a new roof line on the front entrance which enters into the kitchen. In the picture below, Jason is standing in the area that used to be a small coat closet that also served as a kitchen closet, recycling station, glorified junk drawer, winter boot storage, etc.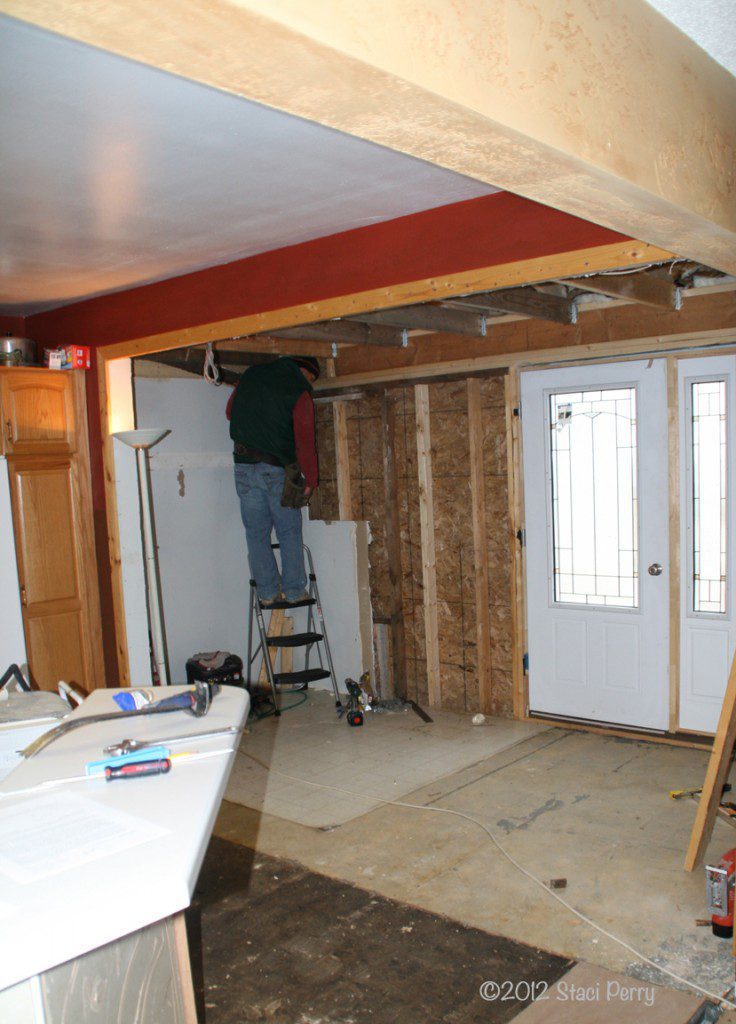 Since we were working on the front entrance anyway, we decided to reconfigure the entrance by moving the doorway over and building a kitchen pantry. I was more excited about that than anything! All the while, I kept begging Jason to use the old barn wood we salvaged to build something in the house. One day, he went to the home improvement store and loaded up $500 in shelving materials for the new pantry. But after a clerk told him they were out of the item he needed to strengthen the shelves, he walked away from his cart and headed home with a new plan.
The next day, he mined through the pile of wood we rescued from the barn, pulling out the weathered redwood that was once roof planks.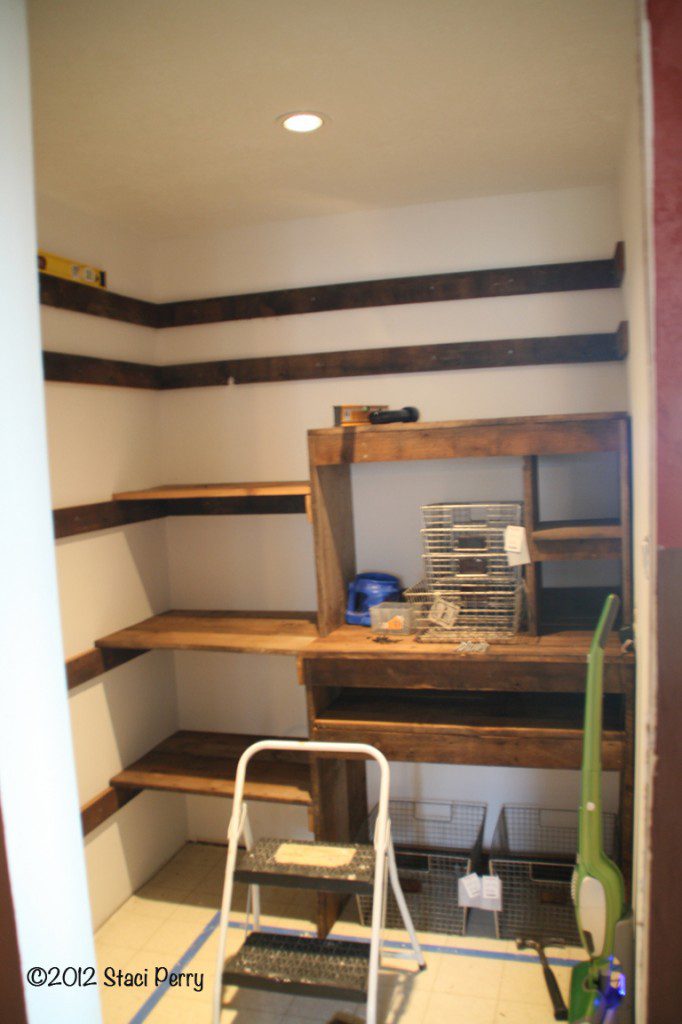 Yes, he is amazing and I am the luckiest girl in the world. When I asked him how he knew how to build the pantry, he said, "I took wood shop in junior high. Mr. Barato would be proud." He also credited his drafting and 3-dimensional class from high school. Seriously, though. Jason has done most of the rebuilding himself. He truly has skills. Be jealous girls.
The roof planks are rough-sawn on one side and smooth on the other. They were 14′-16′ lengths and he cut them down to use the best sections of each piece. He used a Kreg Jig to drill the screws in at an angle so you don't see them. We are also putting in new flooring so the old linoleum will be history.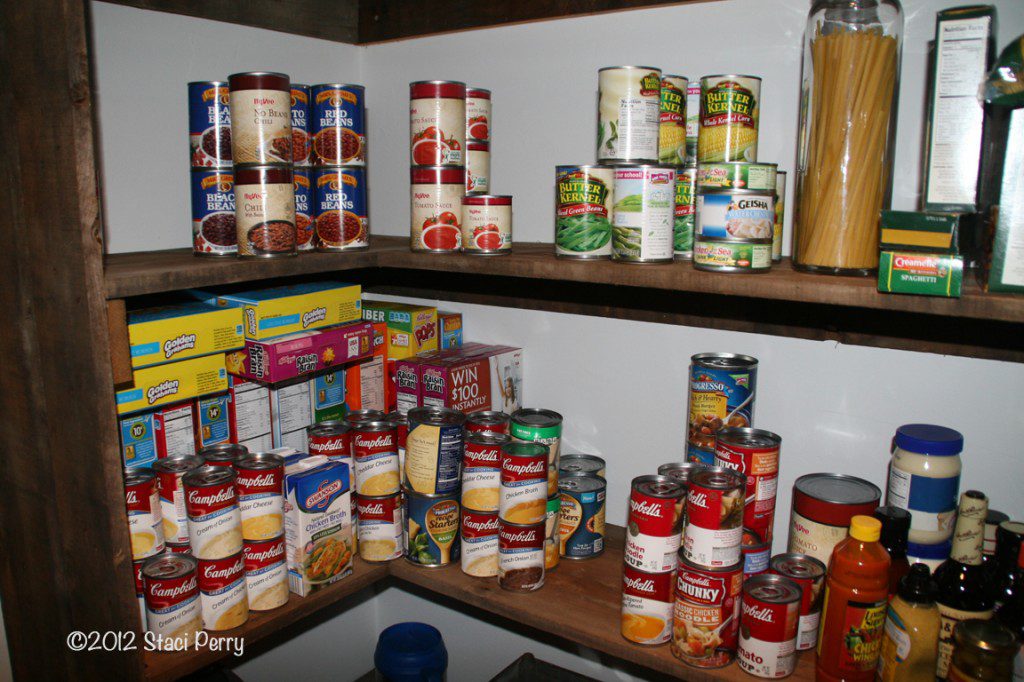 I've never had a kitchen pantry so I am not sure how to organize it. I started with canned goods, cereals, and condiments and organized it knowing I'll make improvements as we begin using the space.
Once I realized that I had more non-perishable items than I'd thought, I decided to create an inventory list. I haven't done anything with it yet so if you have templates for how you keep your pantry stocked and rotated, please share your methods with me.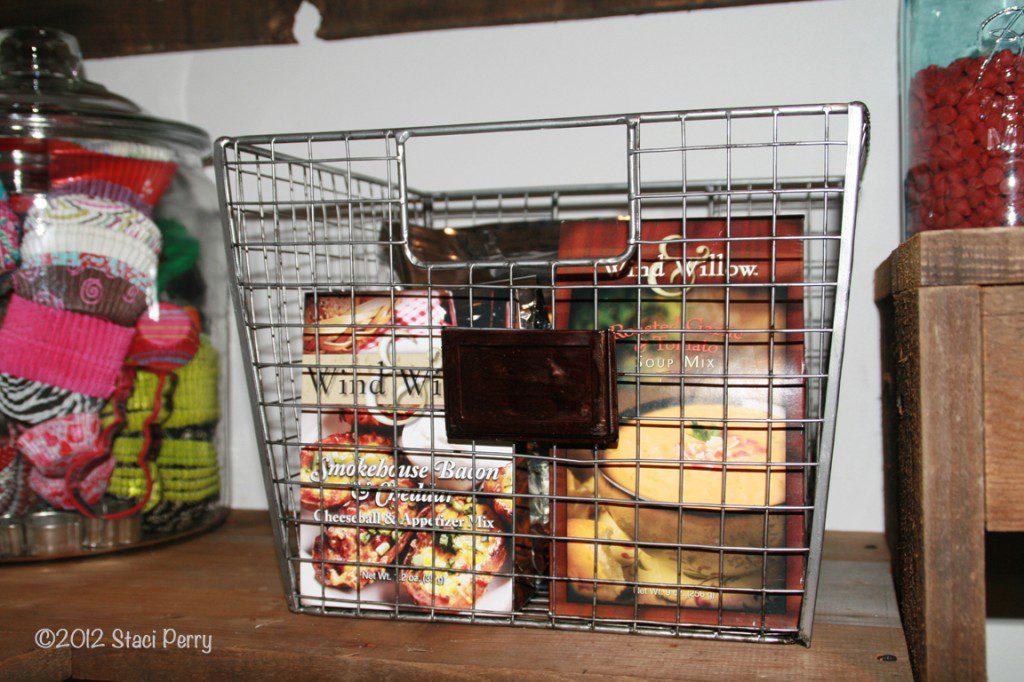 I filled baskets with like items. These wire baskets are from HomeGoods (one of my favorite stores on earth). See the big one below overflowing with chocolate chips? It makes me smile. I don't discriminate. There are bags of morsels from HERSHEY'S, Nestle, Ghirardelli, and Hy-Vee store brand. And if you look to the right, you'll see my stash of baking liqueur. To the top is a baker's dream stockpile of white, brown and powdered sugar, flour and pumpkin.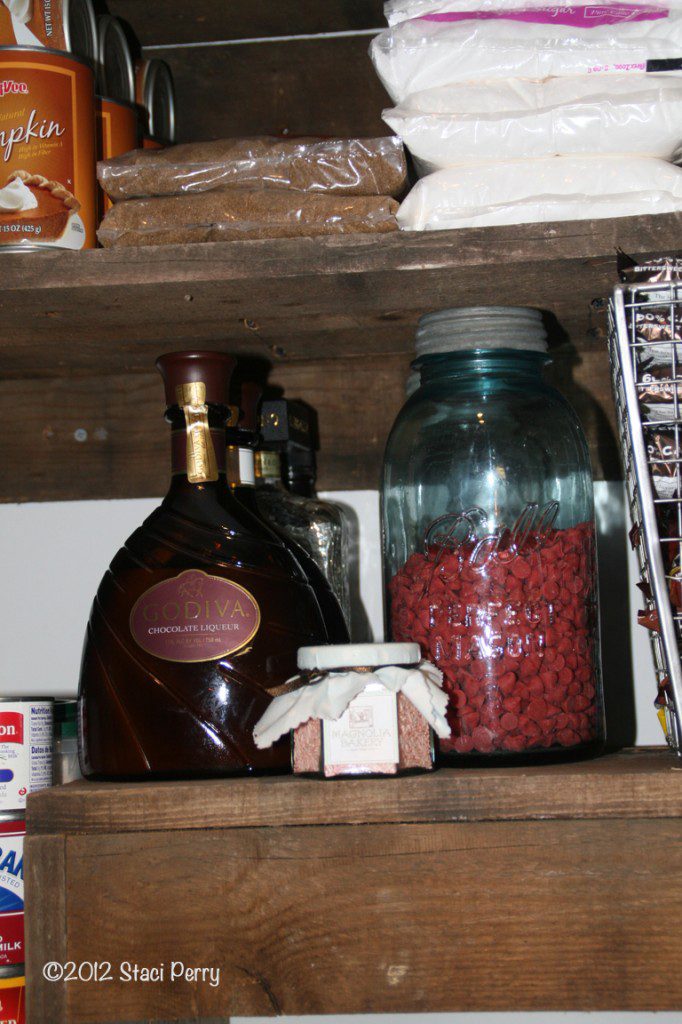 I've collected antique wooden crates and boxes from rummage sales, antique stores, GoodWill and boulevard days. This one holds my Jell-O and pudding.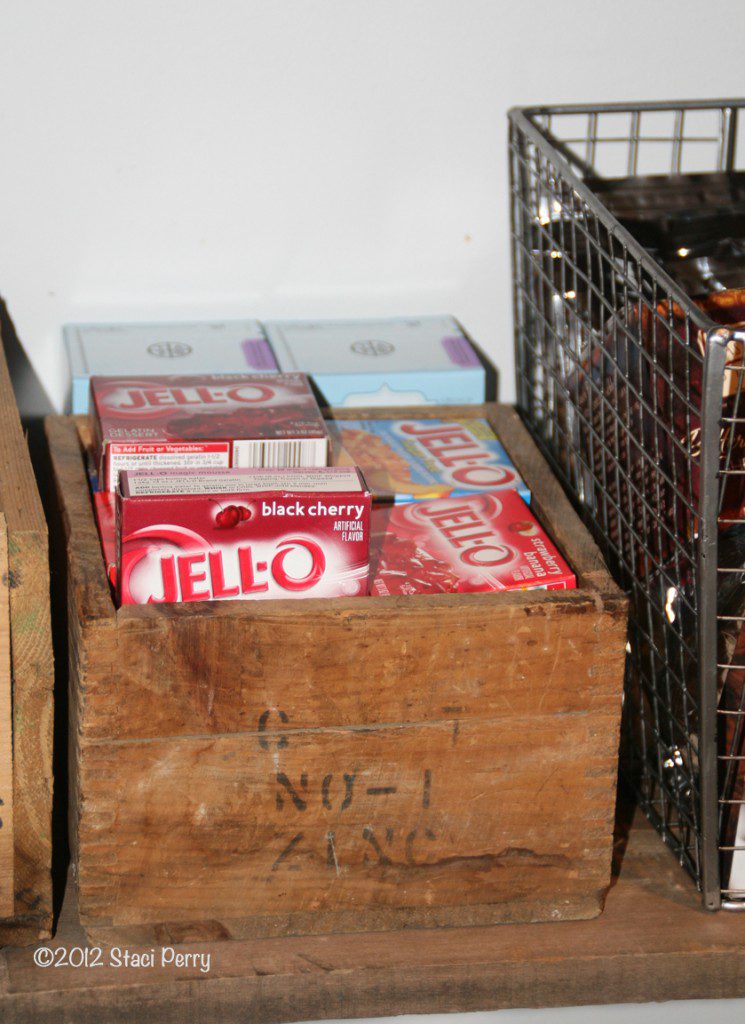 Big glass jars are great for cupcake liners and cookie cutters.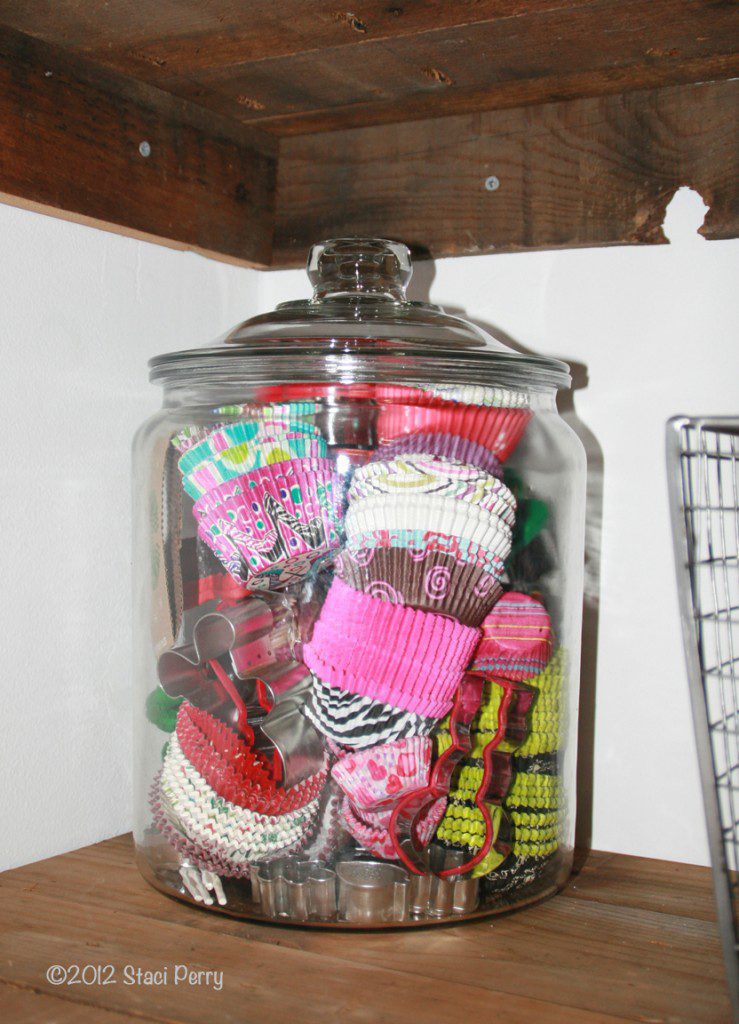 The cans and cereal aren't alphabetized, but at least they are organized and visible. Maybe I'll find it will help with overstocking items and food waste.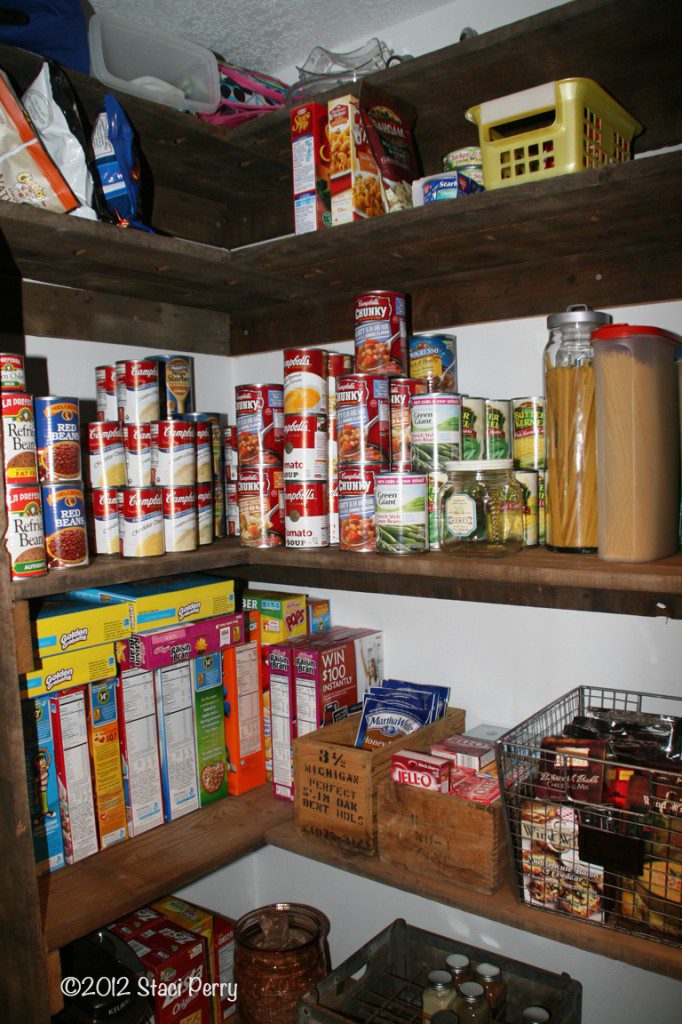 The heavy wicker baskets are from Target. One will hold paper recycling and the other will hold our plastic, glass and tin recycling. If you look closely, you can see the fire extinguisher on the narrow shelf. With the luck we have, we practice safety and prevention around here.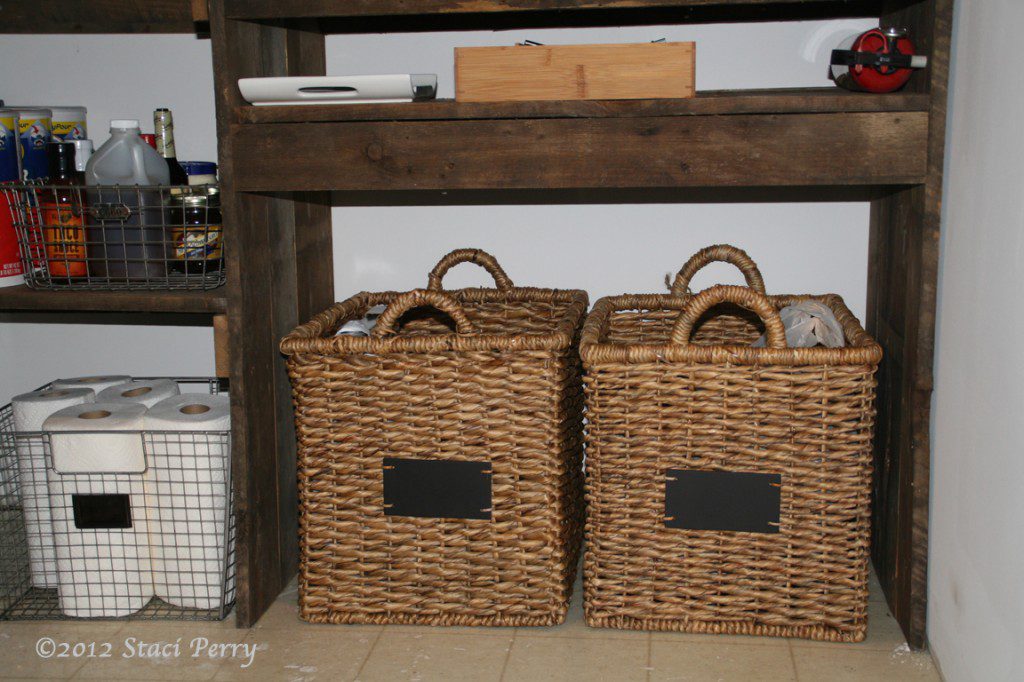 A bottle carrier from a long-gone dairy near Sleepy Eye, Minn. holds some of my spice jars. I found it at Depot Antiques in Sleepy Eye.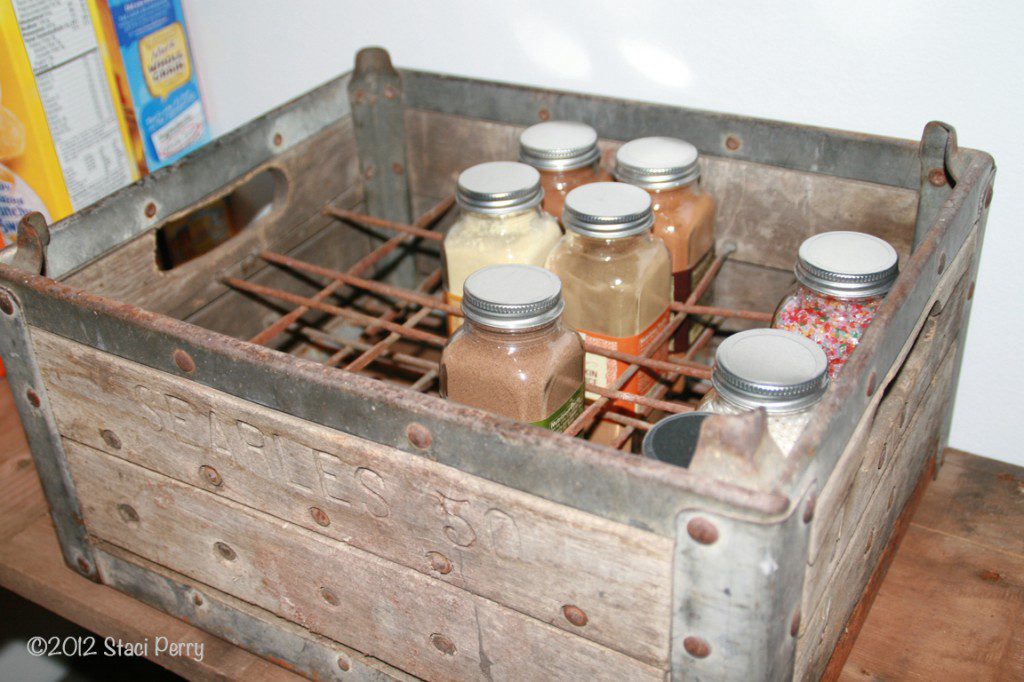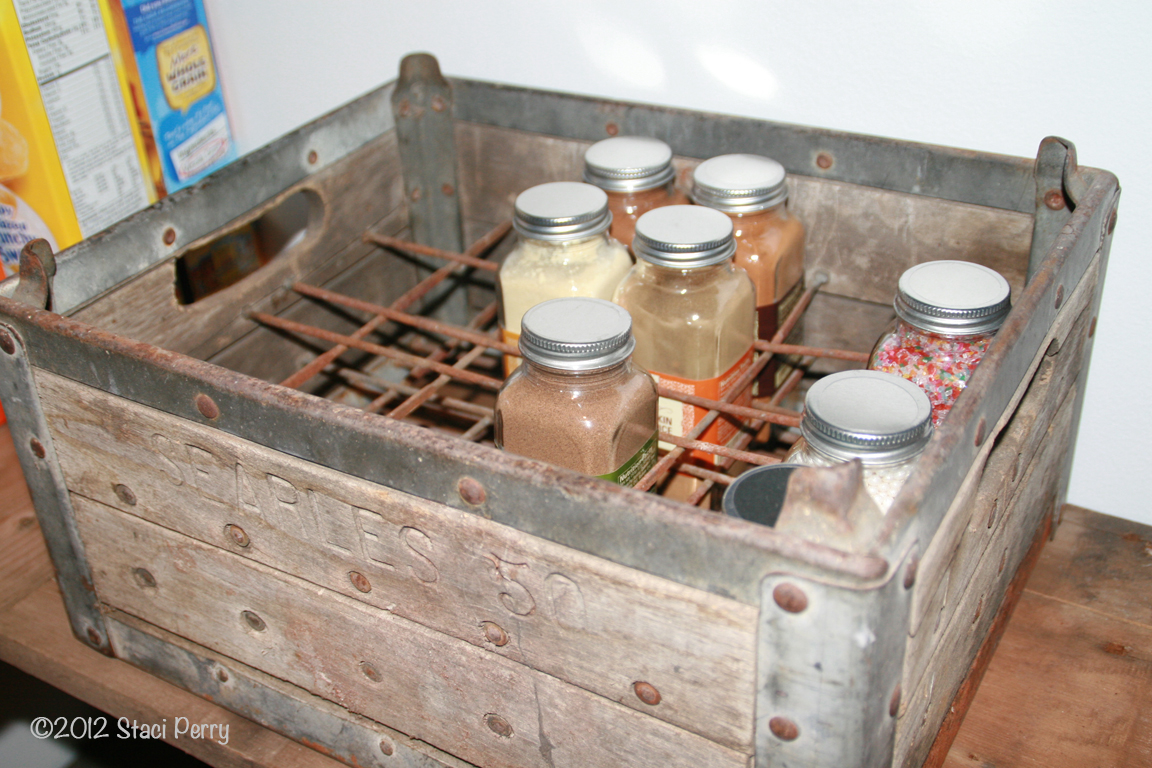 I've had this office organizer for a couple of years but never used it. My sugar sprinkle jars fit quite nicely. We also added an outlet which may come in handy.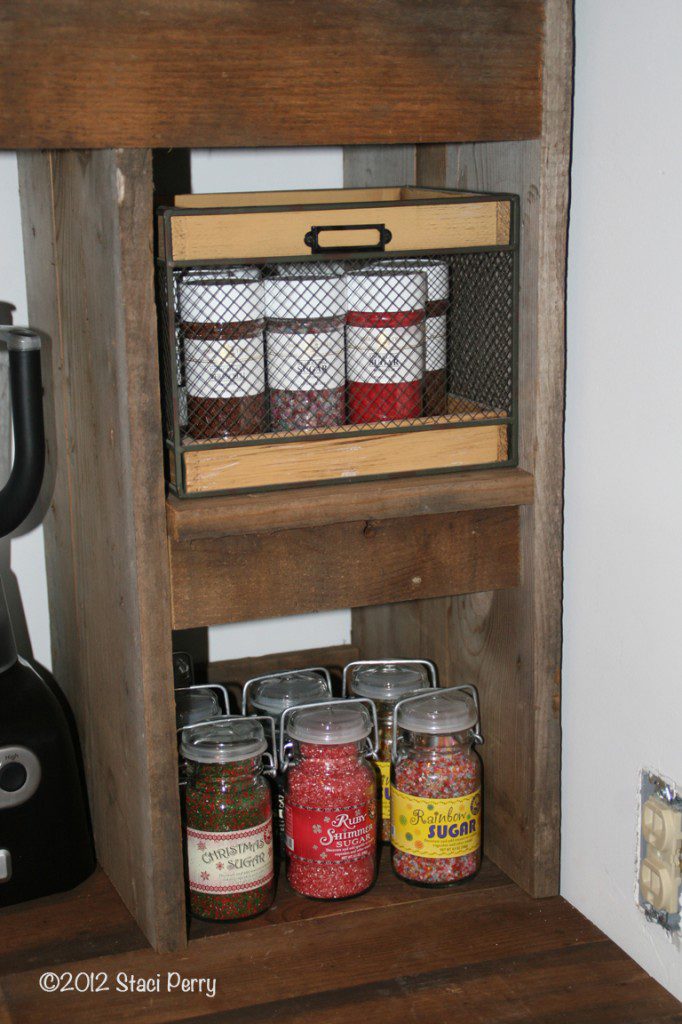 I wanted to display my cute jar of sprinkles that my sister, Kalli and niece, Katera brought back for me from the Magnolia Bakery this summer.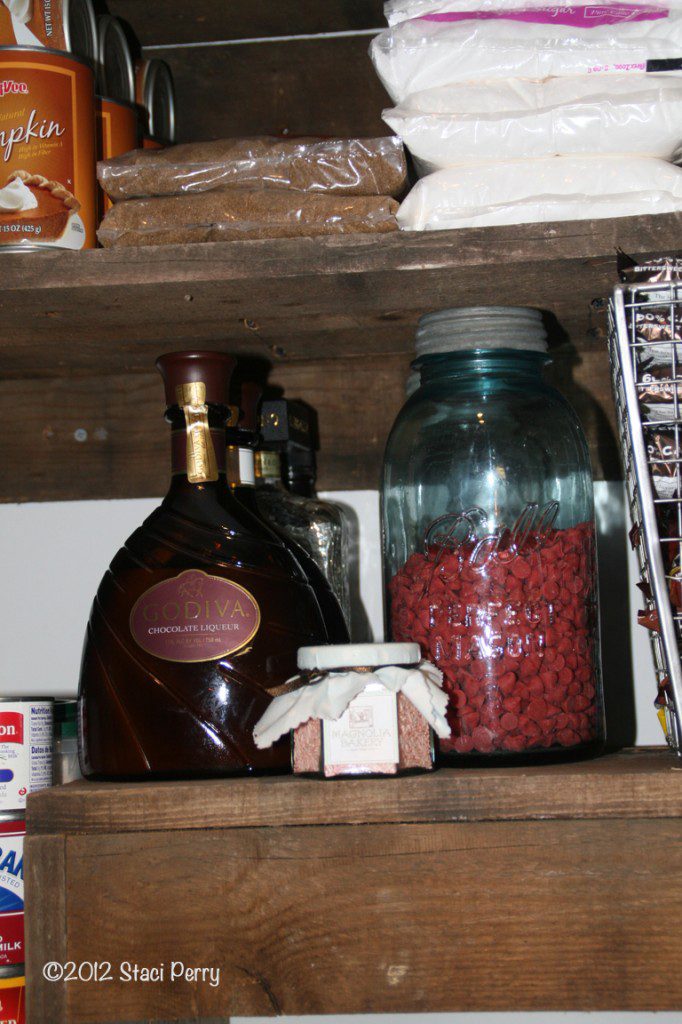 Cherry chips and Andes Mint Baking Pieces stored in old mason jars make me happy too.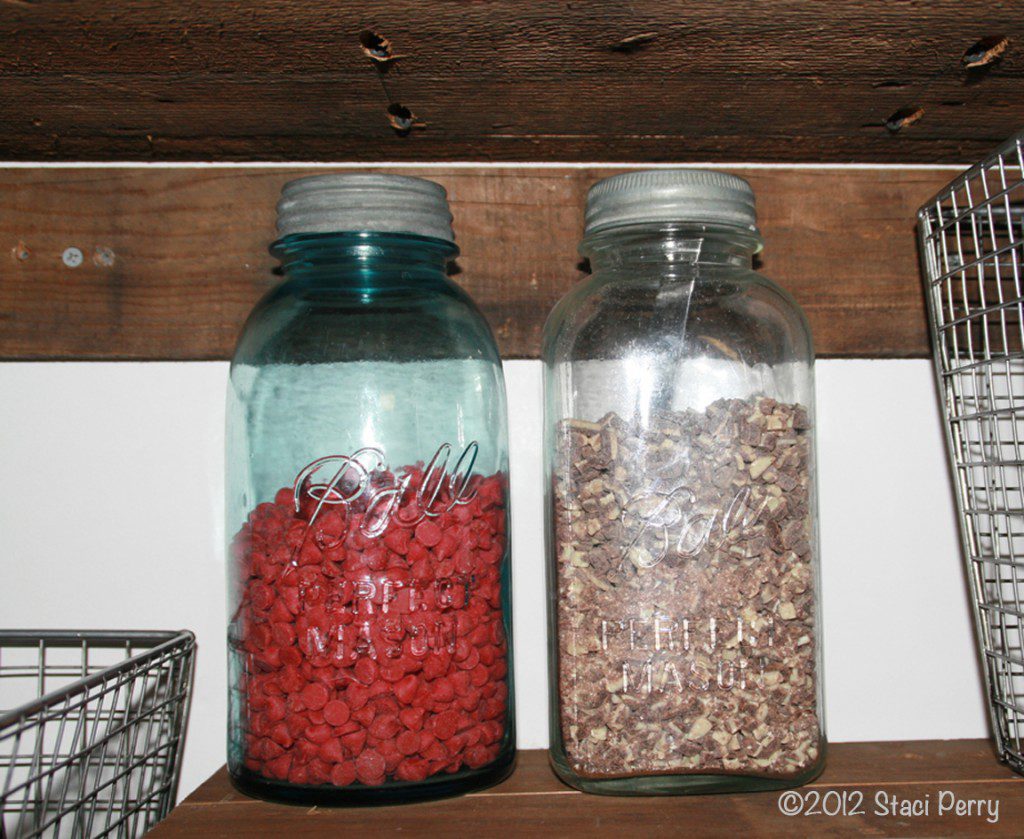 That's my baby underneath. The KitchenAid Pro Series stand mixer. It's like I've parked her in the garage. But I really want her out on the street (the kitchen counter) where everyone can see her. But, our kitchen and dining room flooded six weeks ago so our kitchen is under construction and I don't have all my counters in.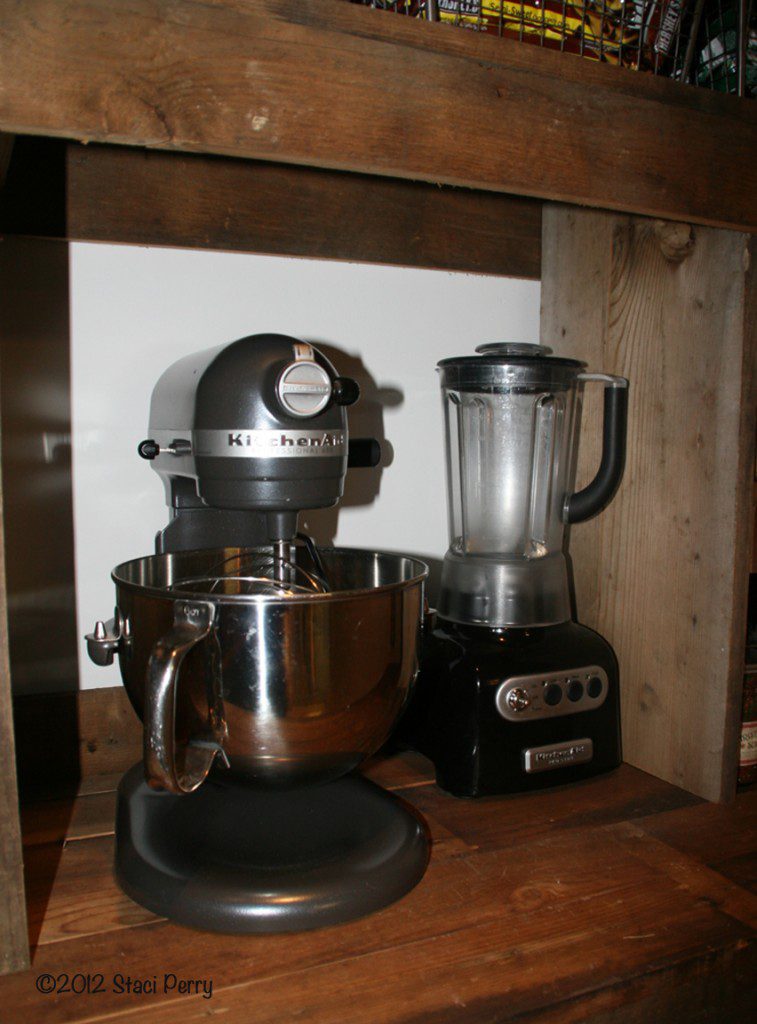 I love my glass jars. These usually sit on my kitchen counter too, which makes it super easy to scoop up the sugar or flour while baking. There's always one full of semi-sweet chocolate chips.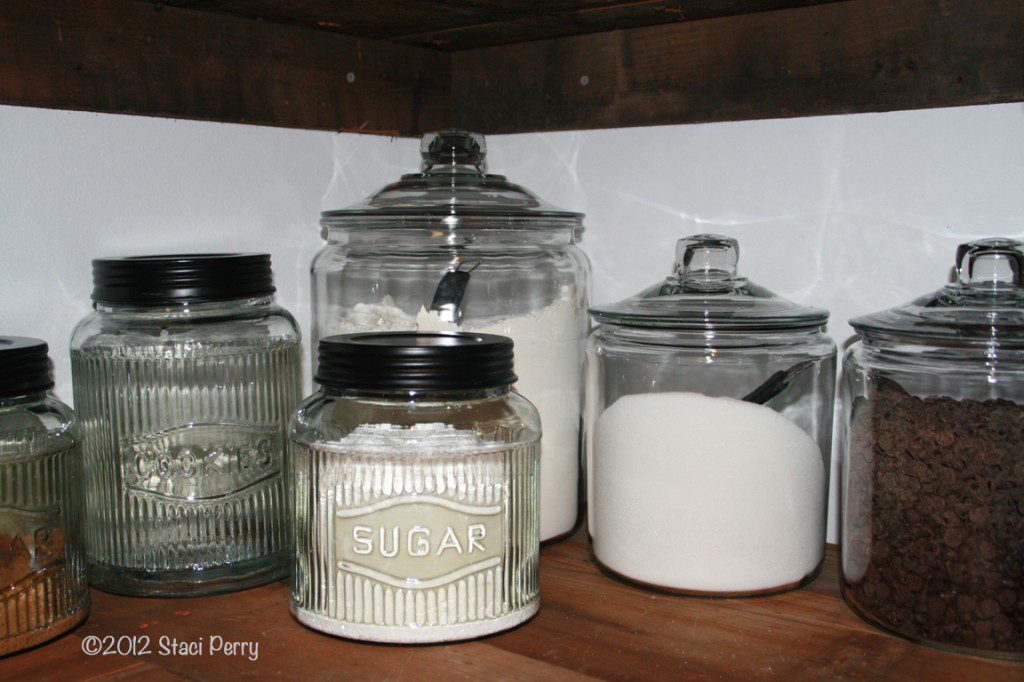 This old swim basket from Hunt & Gather holds my condiments. It even has the correlating pin. Remember when we'd throw our clothes in the basket and put the pin on our swimsuits? I suppose now they use QR Codes…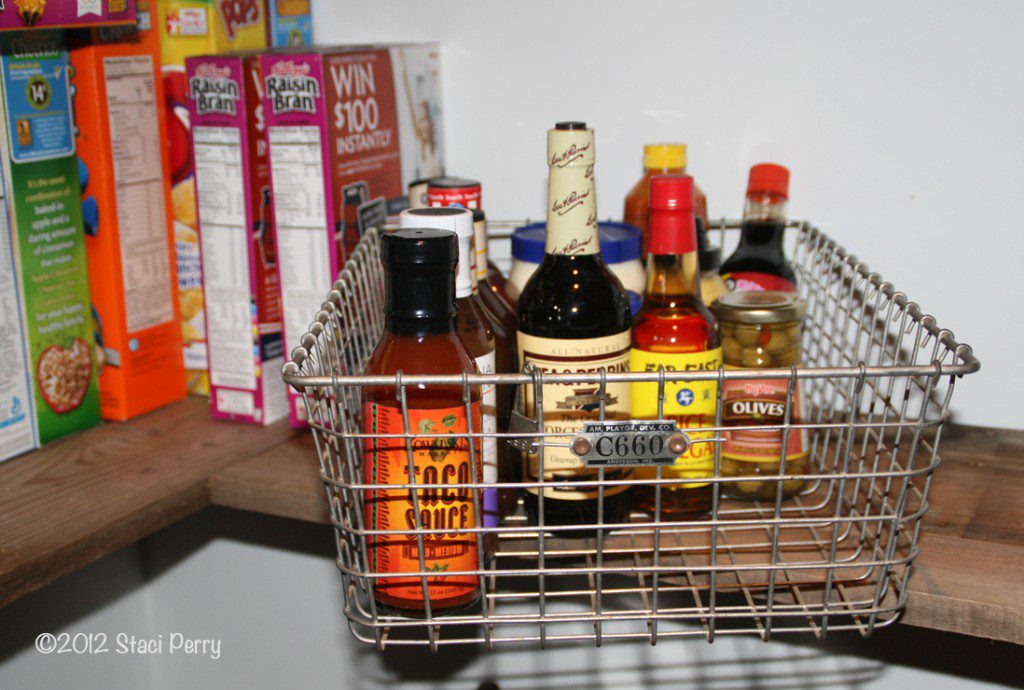 I picked up this old box at a rummage sale on my way to Junk Bonanza 2012.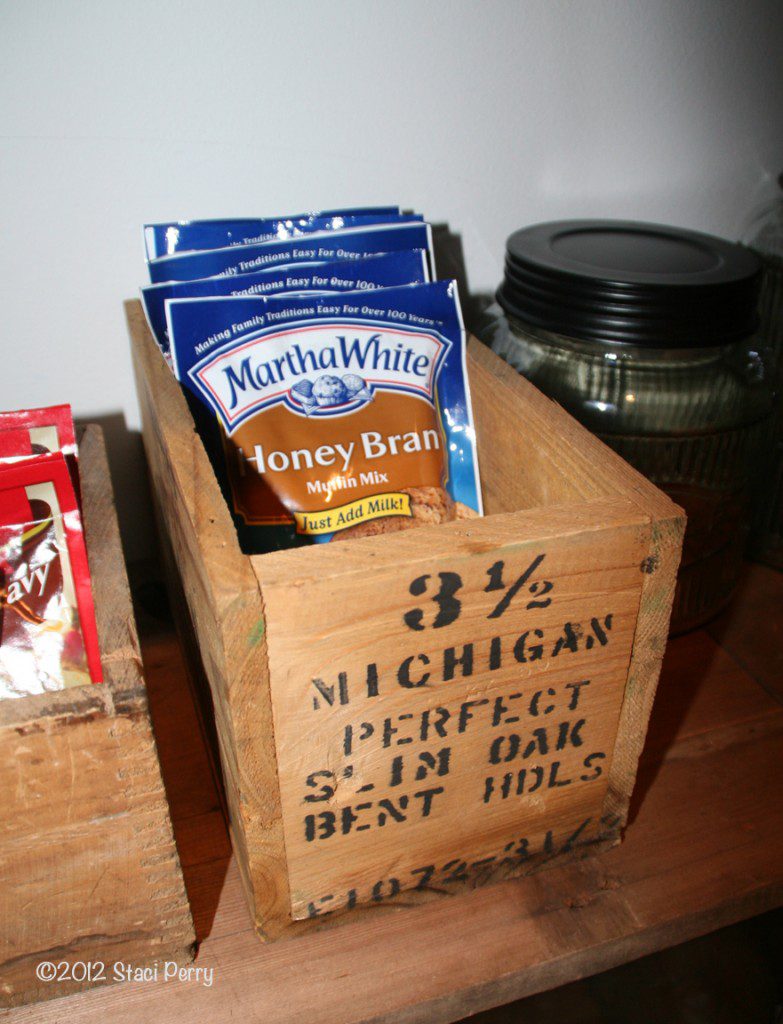 This Planters peanut jar is from an antique store in Pipestone, Minn. It was pretty cheap because it didn't have the lid. But in this case, I want quick, unfussy access to my grocery sacks so no lid is needed.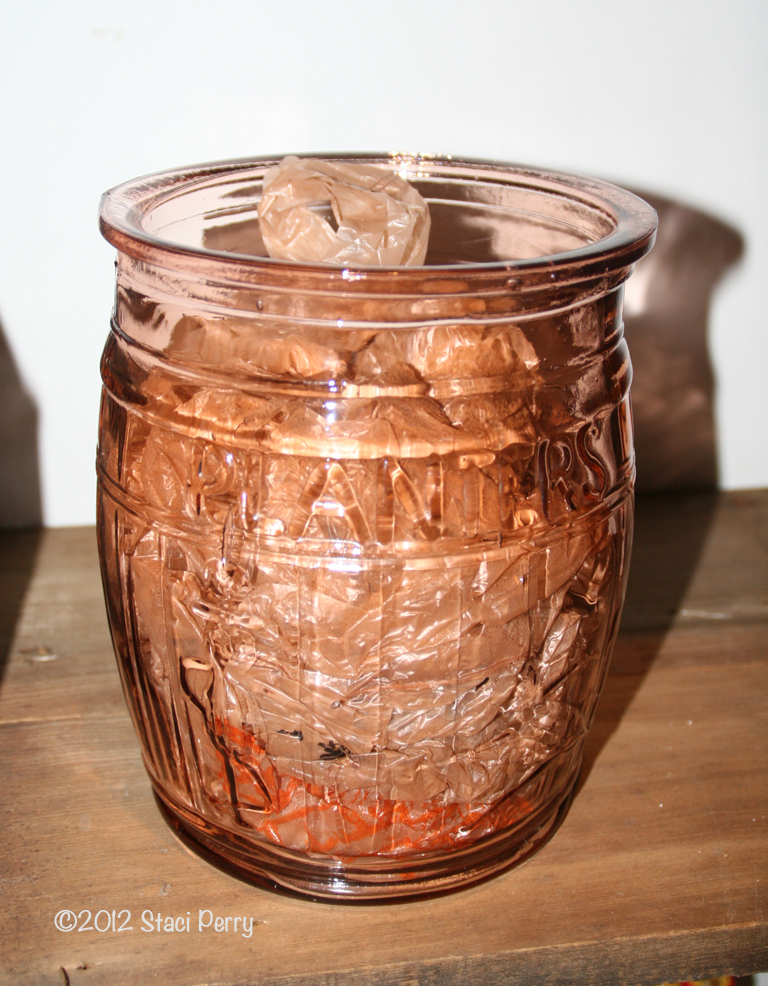 The Shiner Bock is for six meals of beer chili spaghetti.
Our next project — the dining room, kitchen and pantry floor needs to be replaced since it was ruined when a pipe under the sink broke and flooded. We're also installing new kitchen counter tops and a new cabinet because when the disaster restoration company came to clean up, they broke our counter and chipped our sink during the removal process.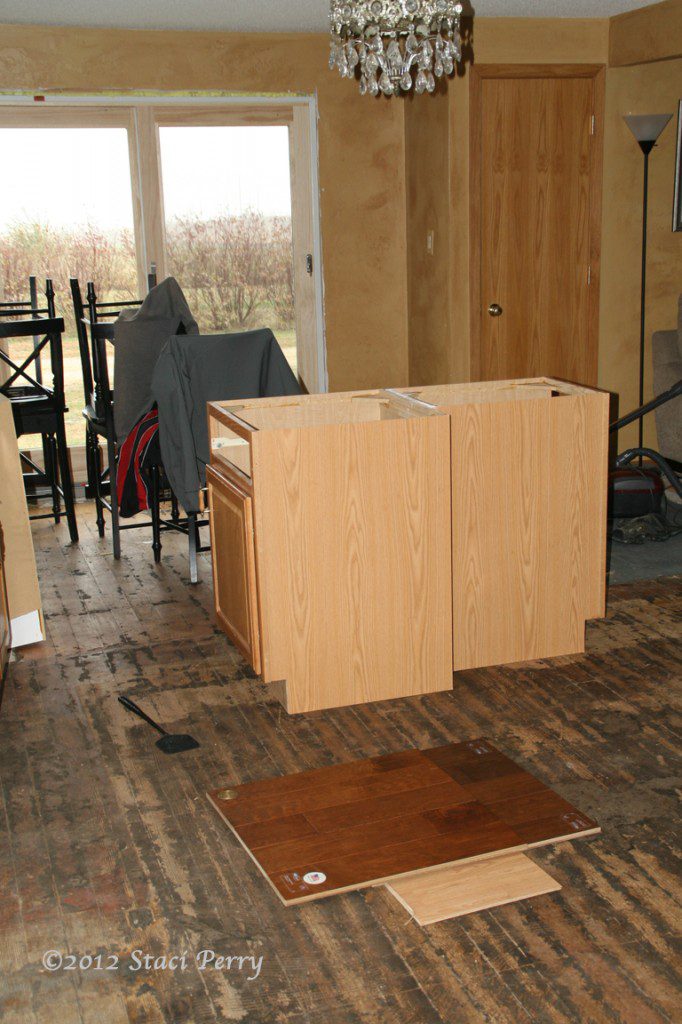 If you're wondering, yes, I already asked Jason if we can restore the old fir wood floor that was under the laminate. But it's a no-go. You just watch this winter though. I have a good feeling I'll have a post titled "Barn-huggers Build Mudroom Bench from Storm-stricken Wood." He built us a bench – see it here: Rustic Entryway Bench Constructed with Reclaimed 100-year-old Barn Wood. And if I'm super lucky, "Barn-huggers Build Kitchen Island from Storm-stricken Wood".
In the mean time, I'll be looking for you on Pinterest. If you love repurposing, give me a shout in the reply section with your Pinterest link. I've already repinned some fun ideas for old doors and barn wood on my For My Home, Outdoor Spaces and Garden, and Pieces of My Dream Kitchen boards.
This is proof that every storm cloud really does have a silver lining.
Sweet wishes,