Thanks for the Good Cry Starbucks. Twice.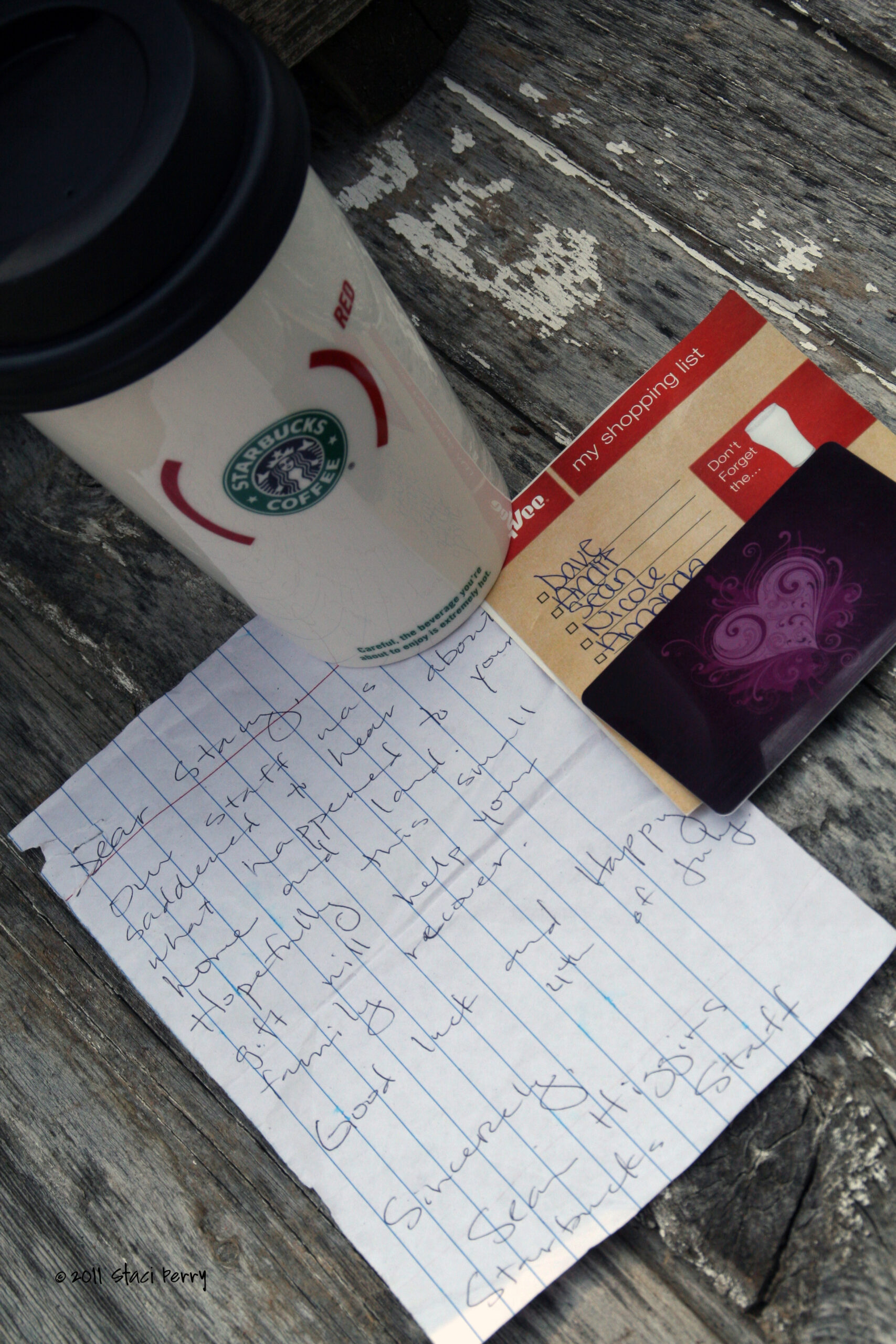 Dear Brooke, Dave, Andie, Sean, Nicole, and Amanda from the Hy-Vee Starbucks in Brookings, S.D.,
I hope your parents read this, and your managers and the store owners. Because they will be proud of you. Your parents will know they raised you well – well enough to go off into the world and make a difference. Your employers will know that the culture they instill in employees is worth every effort.
I am not part of the regular Saturday crowd at Starbucks so you didn't know me. I am part of the drop-the-kids-at-school-and-get Starbucks-before-you-go-to-work-crowd, and I can't wait to share with your manager (Karen Andersen) what you've done!
Thank you for the brownies that morning. Thank you for the $100 Hy-Vee gift card that you gave to my family.
You were moved by my story.
But I want people to be moved by yours. You taught my kids a lesson about thoughtfulness and unexpected gifts of compassion. And I am grateful.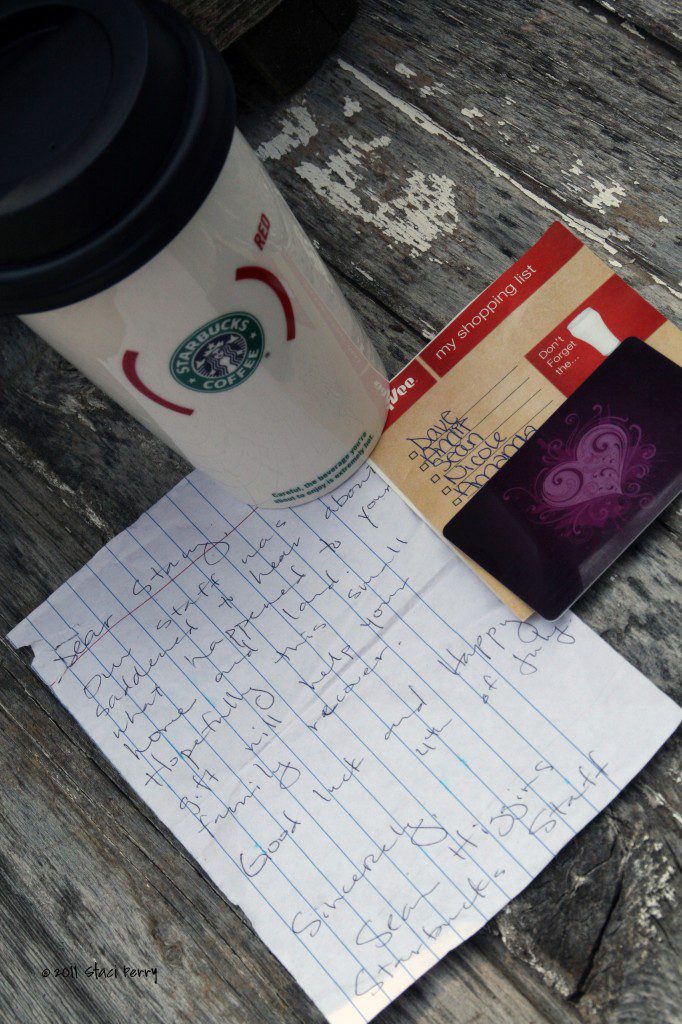 For those of you who are curious, here is a fairly short and sweet version of the story.
On Friday, 1 July, a severe storm ripped through our 22-acre, rural Minnesota property; demolishing most everything except our house. My kids and I were at home.
The car was in the garage. The roof is now in the grove and the garage doors are wrapped around trees.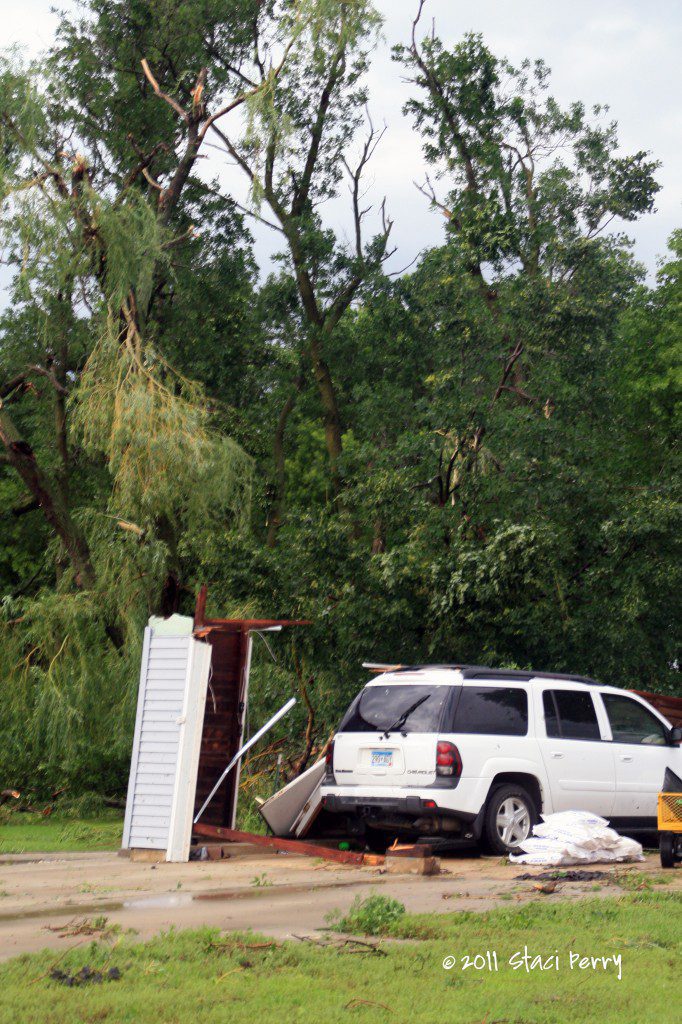 The barn crashed down. It was an earlier 1900s dairy barn.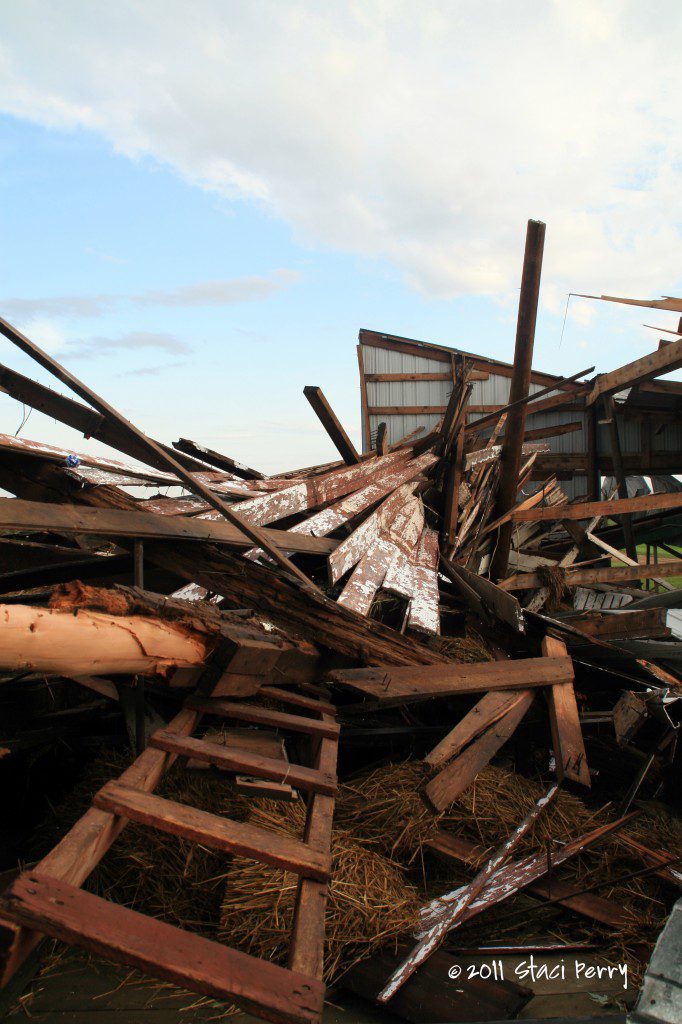 A silo toppled over onto a semi trailer.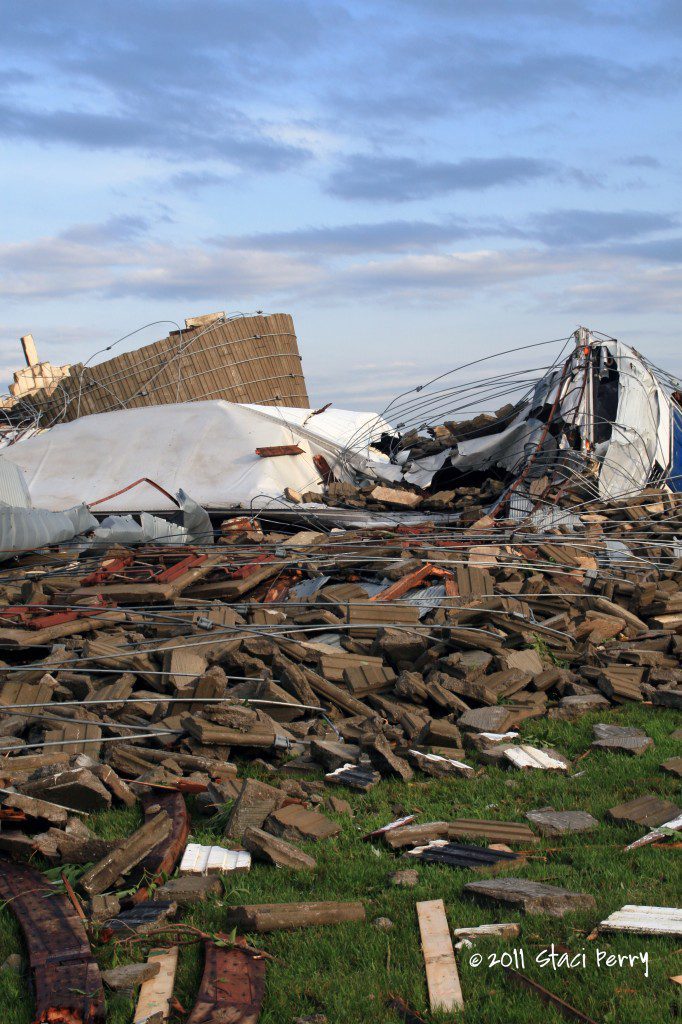 And another…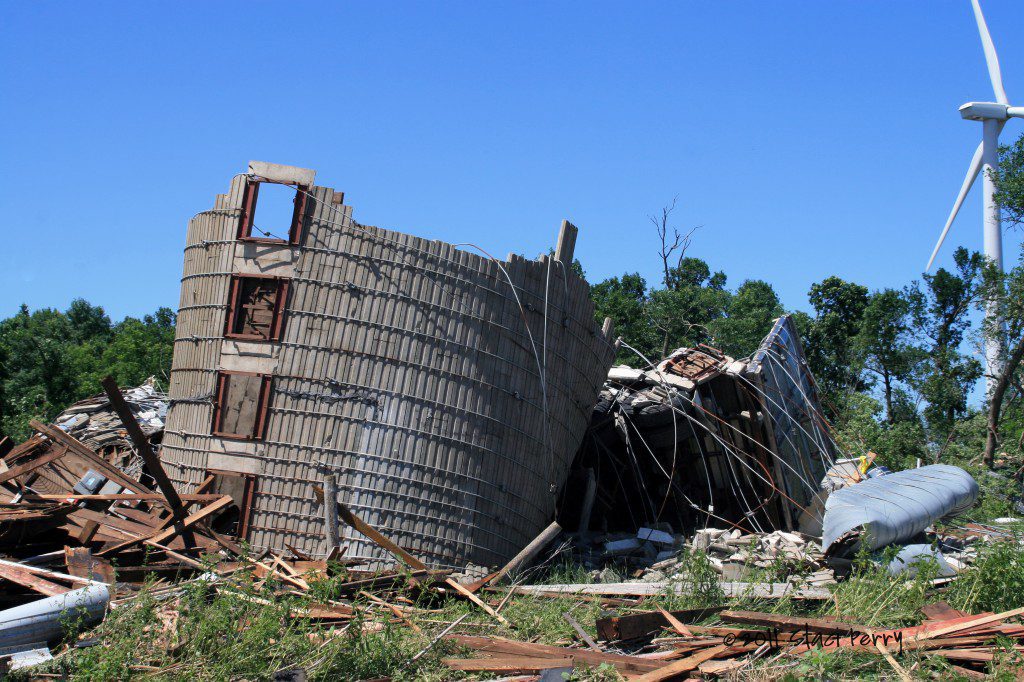 The workshop blew away.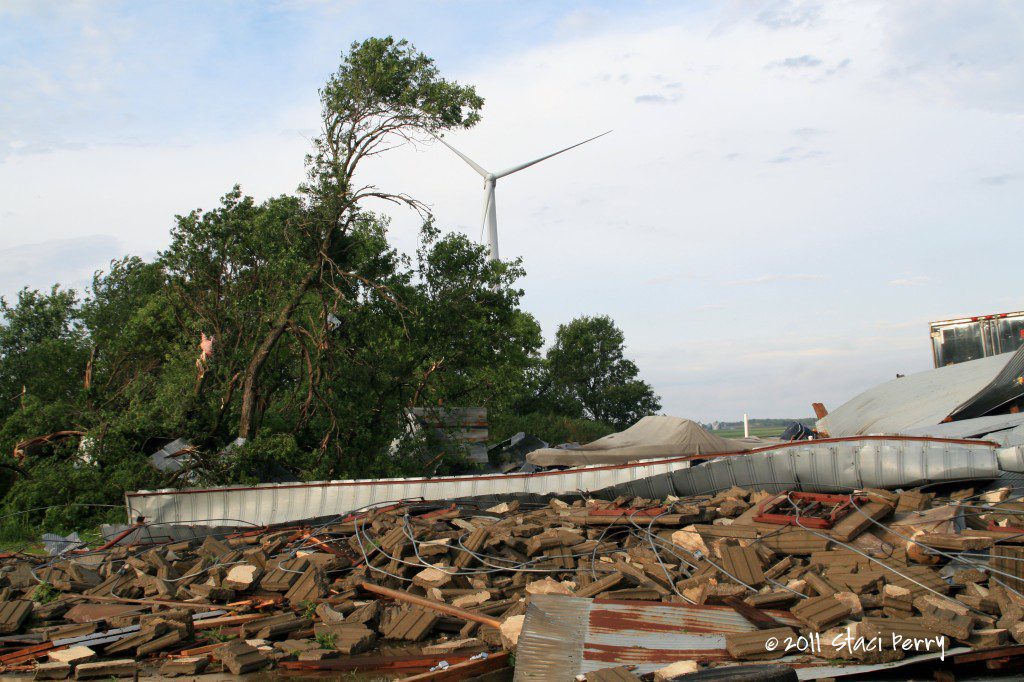 And the fallen silos crushed everything in the workshop. If you look closely below, you can see our buried ATV. (An Arctic Cat two-passenger that we LOVED and they don't make anymore.)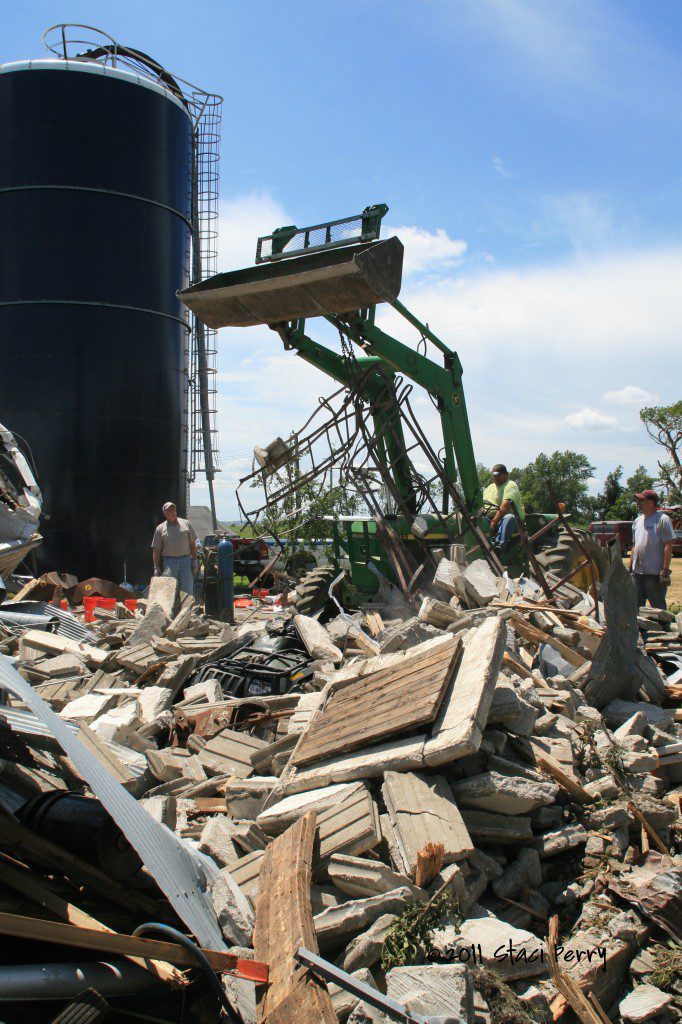 Oh, and one of my saddest moments was extracting my old Honda Shadow.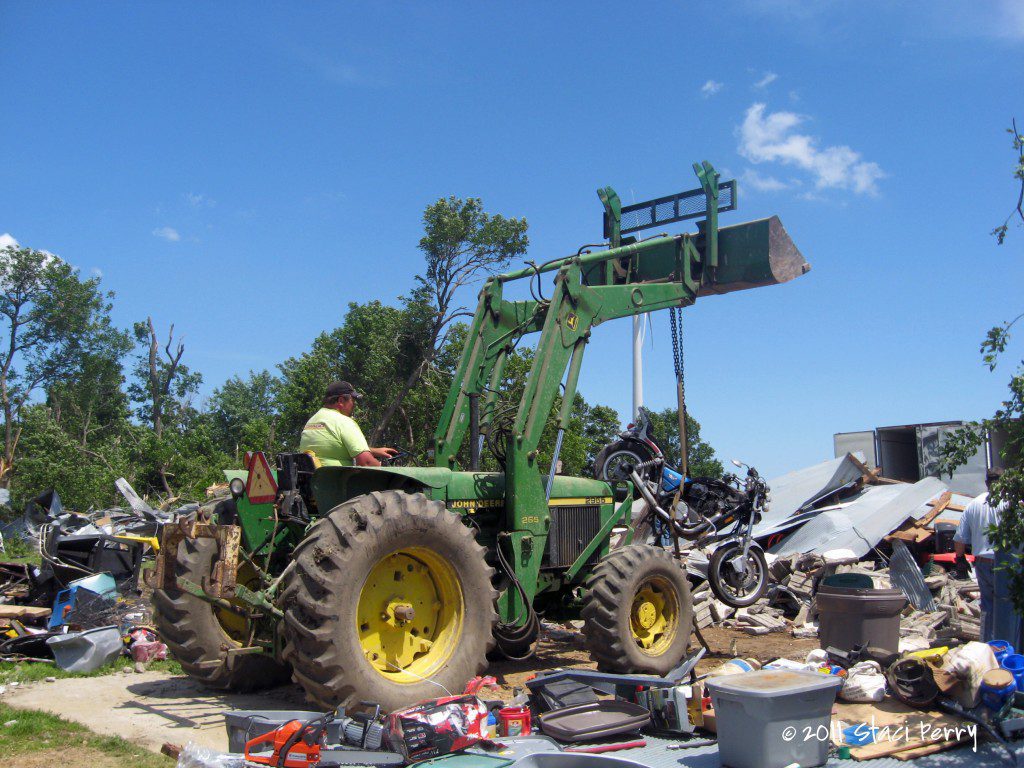 Here's where our heavenly "luck" came into play. Three large trees, any one of them would've crushed half of our house, were ripped out of the ground. But all three landed strategically around the house. One of them kicked over the propane tank, so that was super scary but other than the siding being cracked by debris and our front door shattering, the house is ok.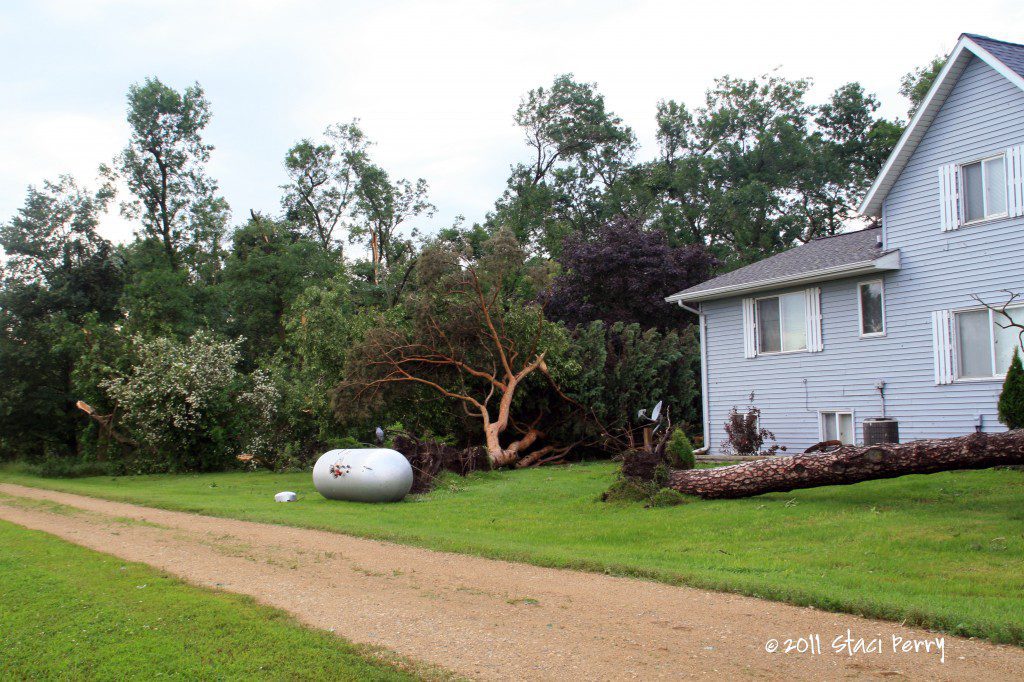 The good news: our beloved redneck (Intex) pool survived! The bad news: although it survived the winds, the pump and filter was powered from the garage so we ended up losing it anyway.
Back to the Starbucks crew. The storm happened late in the afternoon so we picked up what we could and salvaged items from the garage until it got dark. Since we didn't have power, Jason stayed at the house and the kids and I spent the night in Brookings.
In the morning, we stopped at Hy-Vee to get a few things for our morning clean-up crew (our amazing families) and we stopped at Starbucks on the way out. It was the beginning of the long Fourth of July weekend so everyone was buzzing about their plans at the lake, picnics, fireworks, etc.
When the barista asked us what fun things we had planned for the weekend, I calmly explained that we were beginning a very long clean-up process from a storm hitting our property. Other than being anxious to get my coffee and get out of there, I don't think I was very emotional but once the Starbucks employees heard what happened, they were very sympathetic and asked if they could give us some free brownies to brighten our morning. The sheer kindness from these young employees broke me and I cried. It was very touching and my kids were witness to a random act of kindness.
So why did I get all teary-eyed at Starbucks a second time? A few weeks later, the kids and I were making a rushed trip into Hy-Vee to grab a few items and get home. We buzzed passed the Starbucks kiosk and were headed to the dairy section when I thought I heard someone yelling my name. I finally turned back to see Brooke, from Starbucks, following us. She said they had been waiting for a long time to see us again and she was so happy we were there.
You see, Brooke, Dave, Andie, Sean, Nicole, and Amanda had been so touched by what had happened to our place that they put their money together to purchase us a gift card to the Hy-Vee grocery store. A $100 gift card! They didn't know my name so they had gone back through the garbage that morning to get my name off the receipt. You guessed it, teary-eyed again. That gift card was extremely appreciated. Cleaning up from a storm costs A LOT of money and this helped us pay for some gas and bottles of water and some food for the weekends when people were here helping us.
I'm not sure which of you gave us the card that day but I asked her to write the names down of the employees who contributed to the gift card. I found out it was Brooke who gave us the gift card that day but she hadn't included her name on the list. And although this comes a couple months later, I sincerely thank you. Your actions speak louder than words, and my kids and I will never forget the kindness you showed our family.
Thank you. Staci