No state fair? Make cinnamon sugar mini doughnuts at home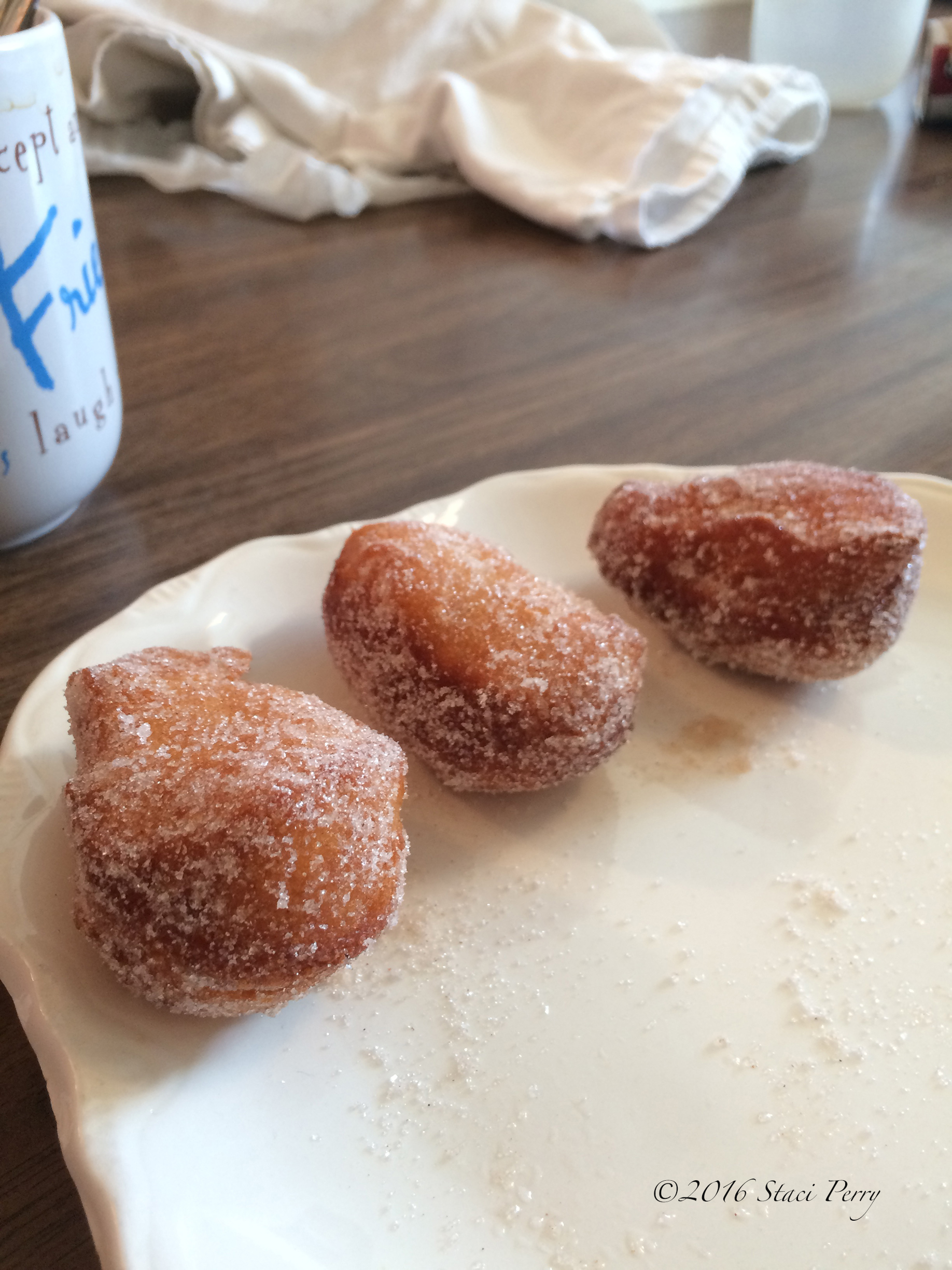 "Judy! This one's not done," squawked the old guy as he handed the sparkly donut back into the kitchen. As he shuffled back to his buddies at the community table, I heard, "There're three women in there and they still can't get it right."
Meanwhile back in the kitchen, the conversation about a common Midwest funeral sandwich meat spread made of roast beef (sometimes ham), relish, and mayo led to me saying, "It's not like you wish someone to die, but you look forward to funeral meat."
Although I live just a few dusty miles outside of this teensy town (population less than 200), this was my first time attending early morning community coffee at the Verdi Township Hall. We were at supper the night before and Grandma Judy, aka Country Grandma (also the Queen of Gravy), said she was making donuts at community coffee in Verdi in the morning. Her grandson (my nephew) Garritt and I agreed we needed to check it out. I mean, how often does an itty bitty town serve community donut holes?
Like any small town, the ladies in the kitchen had been watching out the window and already had the lowdown on Garritt and me when we walked in the door. They saw him drive up and pull away because Judy and I weren't there yet. Then I pulled up and sat in my car waiting for Garritt. Judy pulled up and went inside to start the morning's treats. When Garritt came back, we went inside together. If Verdi had a newspaper, I'm guessing our visit would have made the front page.
I'm not sure of the time details but it sounds like community coffee is available every weekday morning at the Township Hall, which also serves as the School Museum and the Community Center. The building was a schoolhouse back in the day and then it later served as the superintendent's house.
You can grab a cup of coffee from the lady in the kitchen and sit on a vintage school chair (from the deteriorating [closed] brick public school across the street [pictured below]) at one of two round tables. Judy's son, Will, was in one of the last classes to graduate from the Verdi school.
The donuts are a special occasion but people take turns bringing treats each day. There's a bowl on the table to drop your one-dollar bill to cover the cost of the coffee. And don't fret if you forget your reading glasses—a community pair dangles from the magazine rack on the wall.
The lively conversation included a lady talking about excellent meat they sell at a locker in the Belview and Seaforth area, Judy's addition of shredded carrots to ham and bean soup, and gossip about who owns a certain property in Verdi and some land for sale in nearby Lake Benton.
It's good that Garritt and I went to morning donuts because we found out how easy they are to make at home. (Recipe below)
Sure, the warm donuts, hot coffee, sparkly sugar, and old-timer conversation were worth going out early on a cold Minnesota morning. But the real emotion and meaning behind this day was about the blessing of Grandma Judy's life. Can you feel the happiness radiating from Judy and Garritt in their picture? Judy has NEVER liked having her picture taken (as-in she doesn't even allow them).
Judy has been a rock and a super special person to her only child's family (Will, Heidi, Cody, Garritt, and Trav) and to me and my younger sister, Kalli. But Judy had a life-threatening health scare last year that we didn't think her body, or her deficient will to live, would pull her through. She endured a lot but God let us keep her here with us. She is out doing things and enjoying the free spirit she has again, sharing her sprightly sense of humor wherever she goes. The true blessing is that God breathed beautiful life back into Judy—she can finally feel and believe how much people love her. Prayers answered.
Judy's cinnamon sugar doughnuts are made with refrigerated biscuit dough.
Read this article for Judy's ham gravy recipe: In the kitchen with the queen of gravy: Country Grandma's ham gravy recipe.
Sparkly morning blessings,