Don't let cheesecake scare you: start with a recipe easier than monster cookie dough cheesecake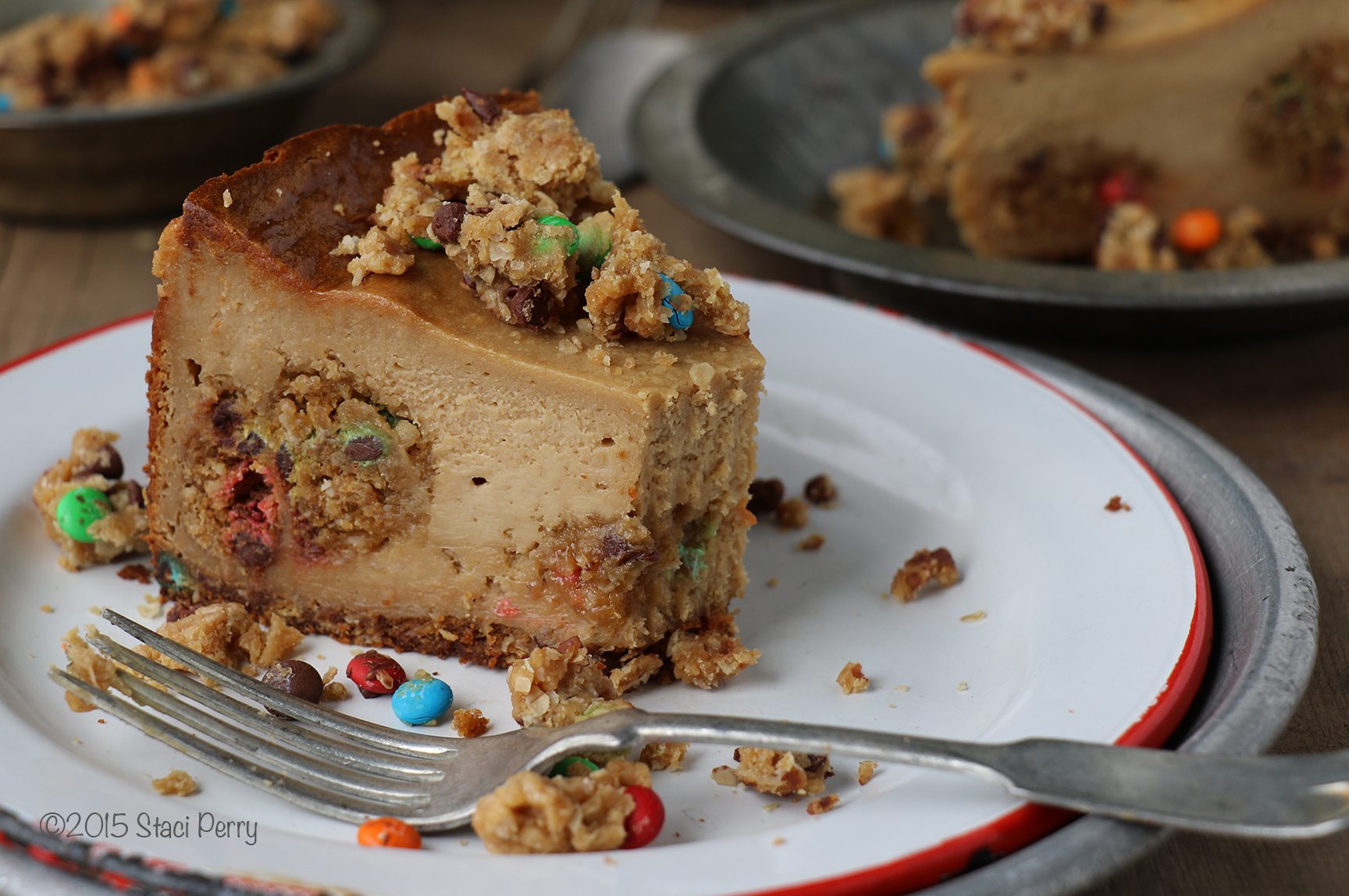 If I had a nickel for every time someone told me they "can't" make cheesecake, I'd advance my own cookbook and give my debit card to my favorite charities.
Their stories go one of two ways. They've either tried once, maybe twice, to make cheesecake and it didn't turn out as perfectly as they expected, or they've never tried to bake cheesecake because they assume it takes special skills.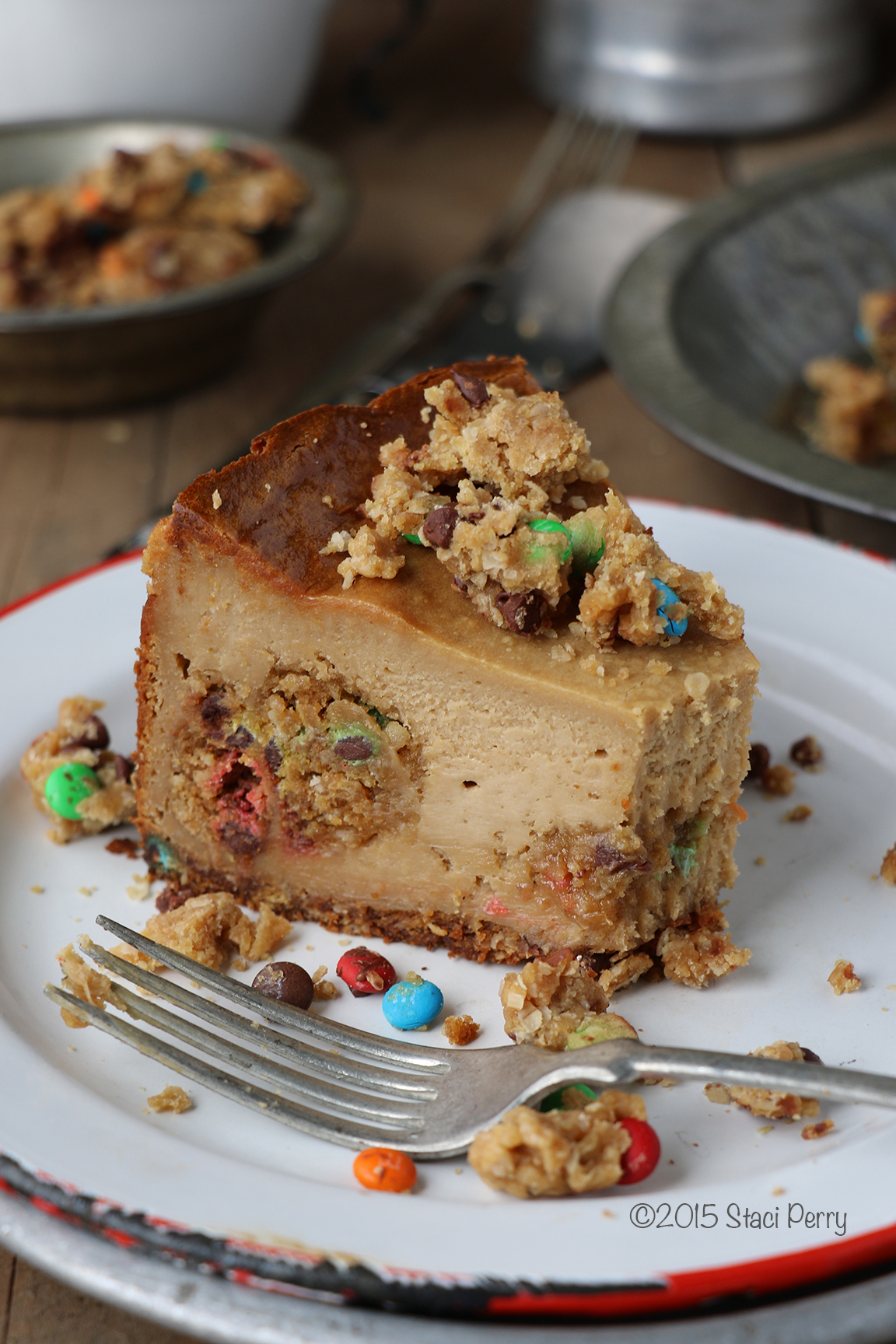 It is possible that your first cheesecake won't look like a Food & Wine centerfold. And it does take skills. But no different than basic skills to bake cookies or cake.
The patience to bring ingredients to room temperature. Using room temperature ingredients and adding the eggs last, and not overbeating once you add them, are the secrets to making cheesecake. Simple as that.
The availability to be at home for a few hours. (But you can run errands while the cheesecake cools to room temp.)
If you have these ordinary skills, you can make cheesecake. So let the big bad scary cheesecake out from under your bed and let's talk about how you can make extraordinary cheesecake at home. My suggestion is to start with the easiest and work your way up to making a more time-consuming cheesecakes like this monster cookie one. Start with Vanilla Cheesecake with Fresh Berries pictured below.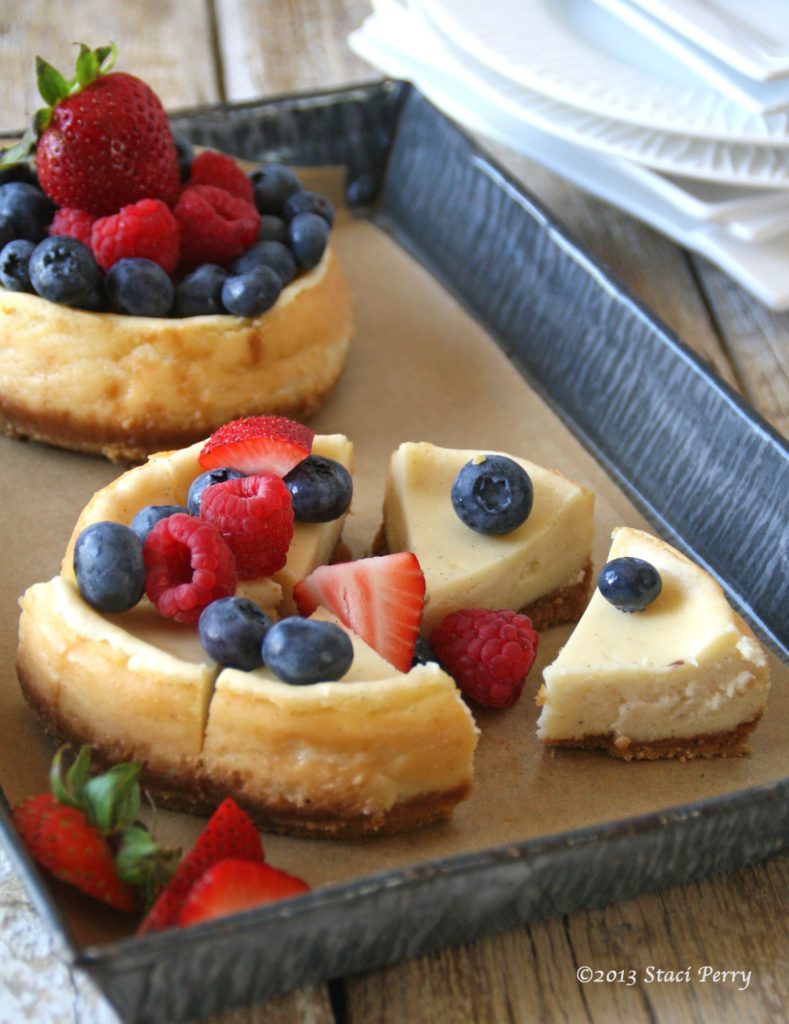 I know you can do this. In my early days of learning to make cheesecake, I undercooked a cheesecake and brought it to work. I was mortified. So I tried again.
And now I've mastered the art of making cheesecake but I'm just a home cook. My field of training is in communications and business, not culinary arts. I flunked art in middle school and the sweatshirt I sewed in home economics was crooked and too long. I once hot-glued wallpaper to cover a section of bedroom wall when I lived in a trailer house. And every once in a while, my cheesecakes have sinkholes, but so what? Did you know that a bad-looking cheesecake still tastes better than any pie or cake ever?
Then Try These
Once you rule the kitchen with vanilla cheesecake, you are ready to make any cheesecake. Because the same basic rules apply—use room temp ingredients and don't overbeat once you add the eggs to the batter.
Make Key Lime Cheesecake with Patrón Sauce, Andes Mint and Taco Cheesecake. Yes, savory cheesecake is a delicious make-ahead appetizer that will impress your friends.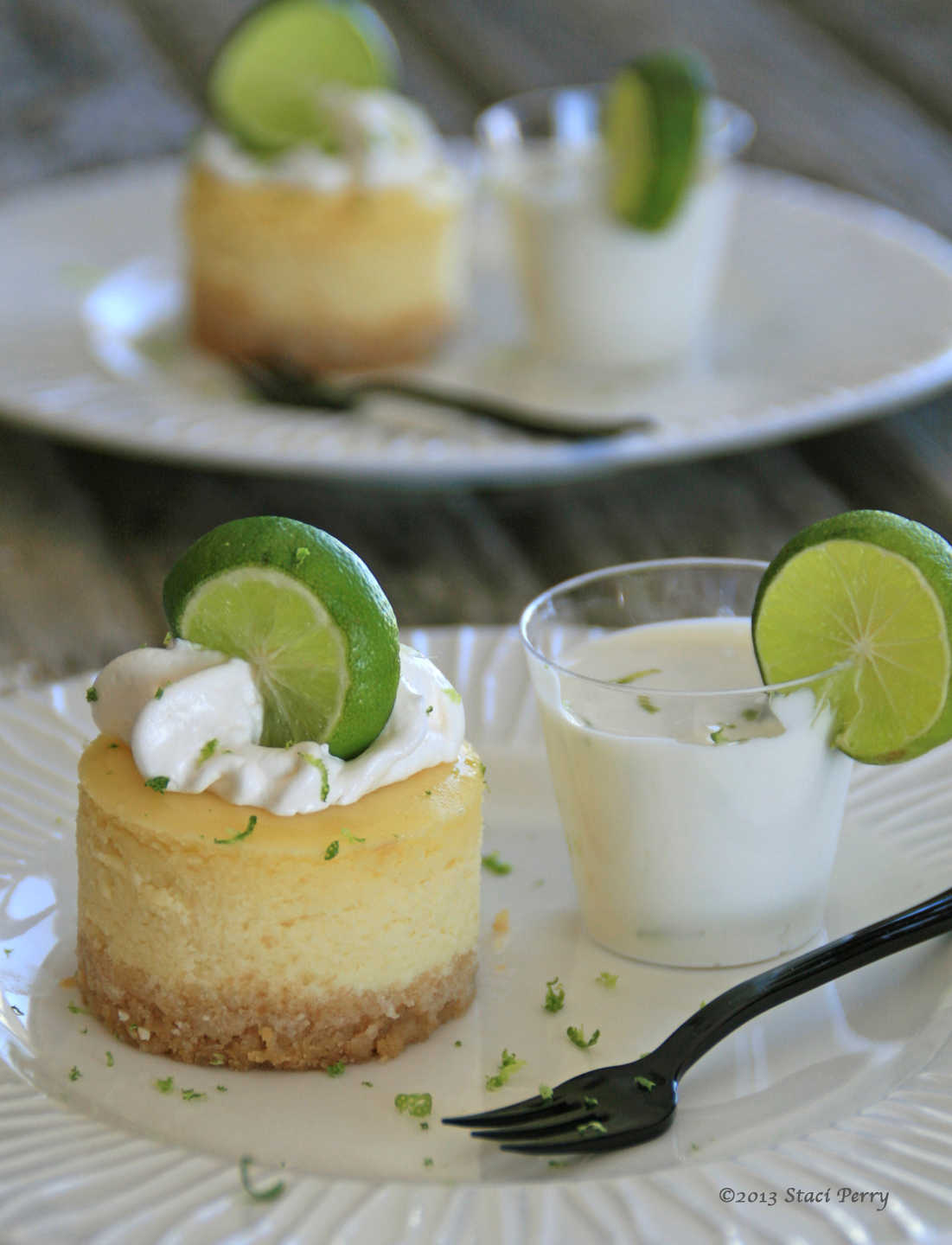 And then you are ready for Monster Cookie Dough Cheesecake, which is really quite easy, it just takes a little extra time to make the cookie dough balls.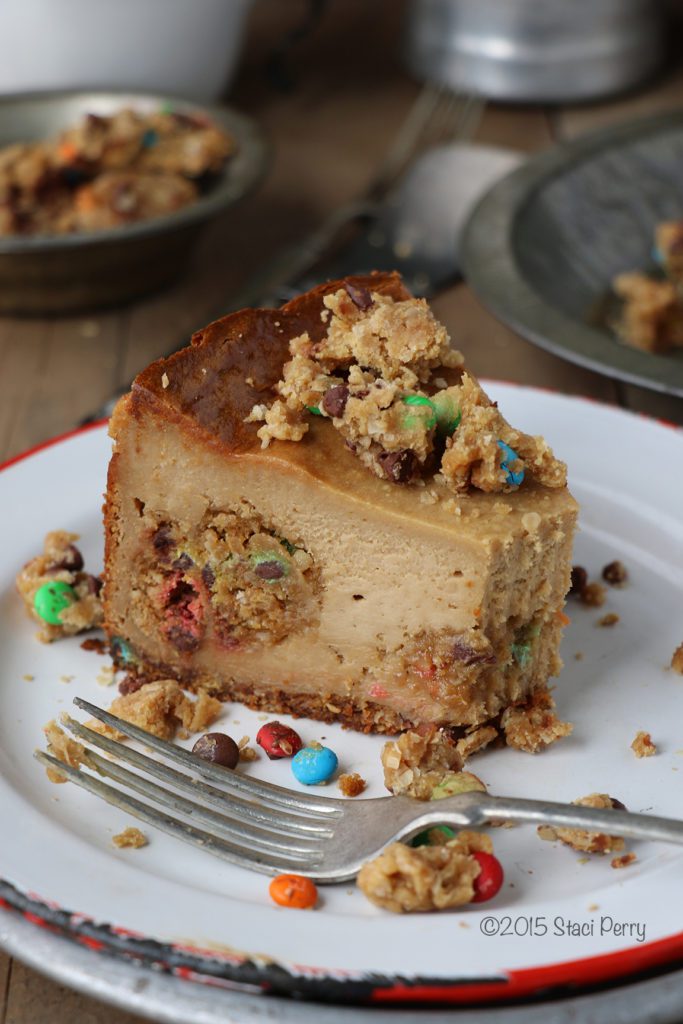 Give one of these a try and then come back and let me know how you did. I'll be your cheesecake cheerleader! Friends don't let friends eat store-bought cheesecake.
Sweet wishes,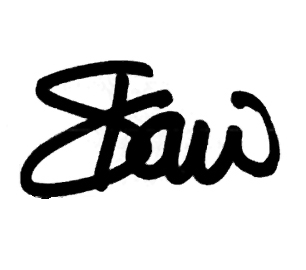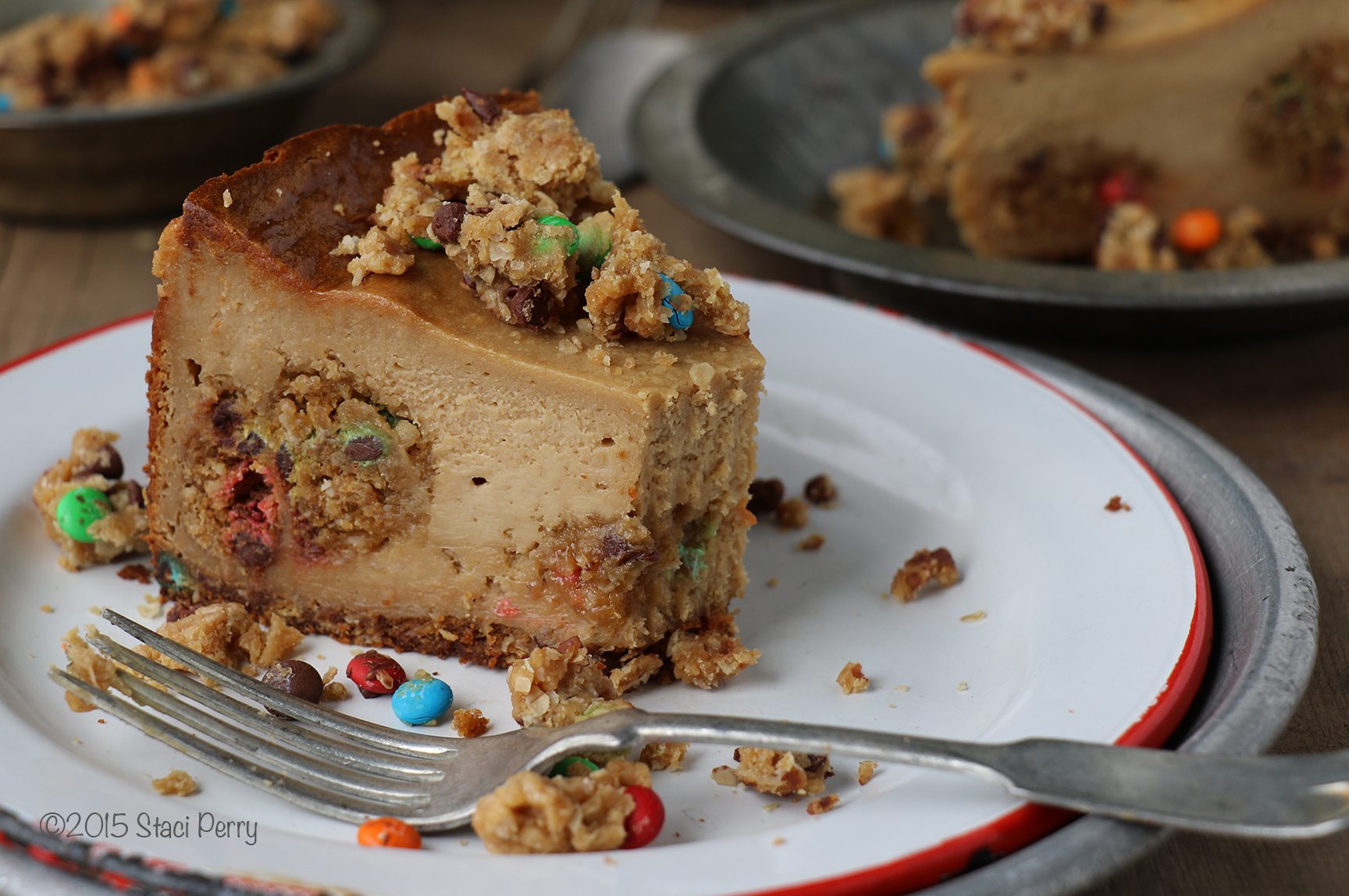 Email this recipe
Monster Cookie Dough Cheesecake
The beloved monster cookie now in a cheesecake.
Ingredients
17.5

oz

peanut butter cookie mix

,

pouch, and the ingredients to make the cookies

½

cup

mini M&Ms

½

cup

mini semisweet chocolate chips

¾

cup

quick-cooking oats

40

oz

cream cheese

,

5 (8oz each) packages, softened to room temp

¾

cup

sugar

¾

cup

brown sugar

¾

cup creamy

peanut butter

2

teaspoons

pure vanilla extract

3

eggs

,

large, room temperature
Instructions
Heat oven to 350°F. Grease 9-inch springform pan with baking or cooking spray.

Make cookie dough according to package directions.

Add the mini M&Ms, mini chocolate chips, and quick oats.

Press 1 cup of the cookie dough into the springform pan. Bake for 5 minutes.

Take 1 cup of the cookie dough and roll into tiny balls, about the size of a nickel, and set aside.

With the remaining cookie dough, break into pieces and put on a baking sheet. Bake for about 5 minutes, just until crunchy.

In a large mixing bowl, beat cream cheese until smooth.

Add white and brown sugars, beating until light and fluffy. Add peanut butter and vanilla; mix well.

Add eggs, one at a time, beating well after each addition. Do not over beat.

Pour 1/2 of the cheesecake batter into pan. Scatter the cookie dough balls on top and then cover with the remaining cheesecake batter.

Bake at 350°F 50-55 minutes or until the top starts to turn a light brown and the center still looks a little shiny.

Remove from oven and cool at room temperature 2 hours. Refrigerate at least 12 hours before serving. Top with baked cookie crumbs when ready to serve.
Nutrition
Calories:
825
kcal
Carbohydrates:
75
g
Protein:
15
g
Fat:
54
g
Saturated Fat:
26
g
Polyunsaturated Fat:
4
g
Monounsaturated Fat:
14
g
Trans Fat:
1
g
Cholesterol:
138
mg
Sodium:
733
mg
Potassium:
308
mg
Fiber:
3
g
Sugar:
56
g
Vitamin A:
1416
IU
Vitamin C:
0.1
mg
Calcium:
145
mg
Iron:
3
mg
All text and images © Staci Mergenthal • Random Sweets