Steak and Coffee Cake with Millennial Rancher Calli Williams of TW Angus
Calli and Tate Williams' love story began when they met at the South Dakota State Fair. Tate asked Calli to show his heifer. It was a piece of cake—having grown up on a farm with a small herd of cattle and a love for 4-H, she did it.
And that's all it took to begin their lives together building a family and pouring their hearts and hard work into TW Angus, their purebred Angus seedstock operation and direct to consumer beef business near Letcher, South Dakota.
Get to Know Calli Williams
Not only is Calli a boy mom to two, she's a first-generation rancher alongside her husband, beef entrepreneur, full-time livestock field agent, and many other roles that keep her days and nights filled with activity.
In the midst of a week that included sorting and weaning calves, a teething toddler, work for the Wyoming Livestock Roundup, soccer practice and game, filling semen tanks, planning for Harvest Night, writing a blog post for Ag Experience South Dakota, launching the new TW Angus website, and making beef deliveries, Calli carved out time to share her story with us. Thank you, Calli!
Season 2 of Funeral Potatoes & Wool Mittens
It's certainly a fun and totally Midwestern way to kick off season two of Funeral Potatoes & Wool Mittens podcast. Listen to Calli's episode (S2 E1) anywhere you listen to podcasts. Or listen below.
In addition to talking about her days on the ranch with their boys, Jack and Tommy, we discuss Angus marketing, selling bulls and genetics, their Angus seedstock operation, why they started their retail beef business and how you can buy it, challenges of being first-generation ranchers, agriculture organizations she and Tate support, children's books, coffee and restaurant recommendations in Mitchell and Sioux Falls, and what she loves about the Midwest.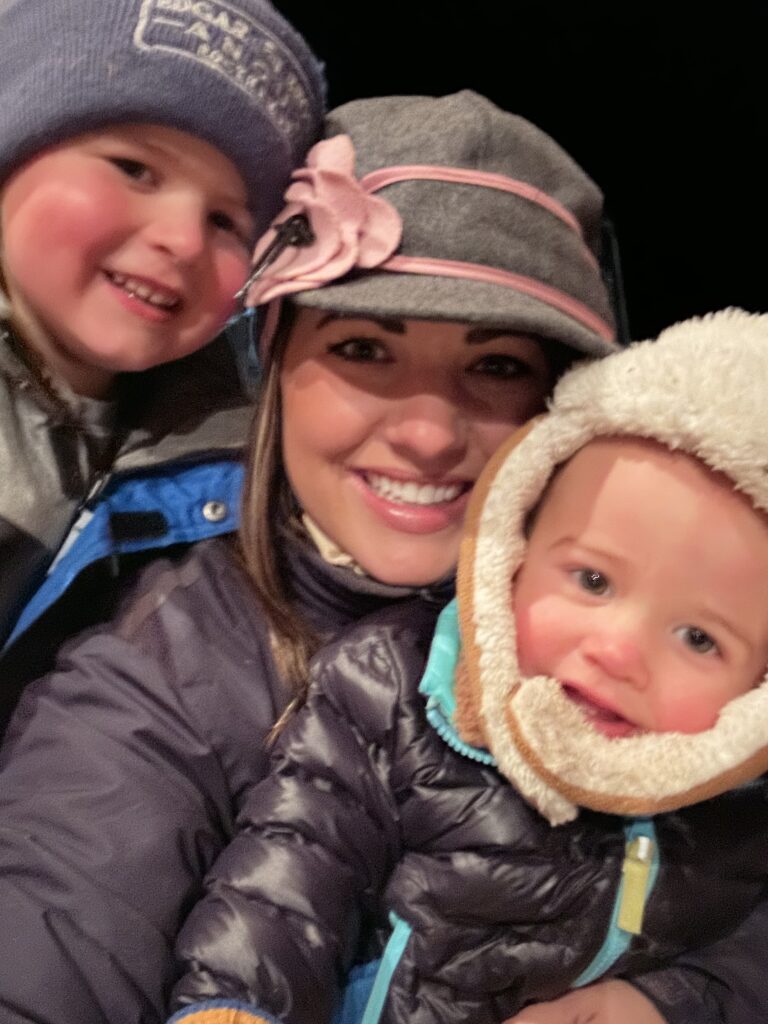 Of course, it wouldn't be a Funeral Potatoes & Wool Mittens episode if we didn't talk about food, like tacos and day-two (leftover) shredded beef chuck roast burritos. Calli reminisces about her grandma's coffee cake recipe that will now replace the one that I've used for years. The printable and Pinterest-friendly recipe is at the end of this post.
Plus she tells us what animal she is terribly afraid of and says it will never be on their farm. Can you guess what it is?
Supporting Agriculture Organizations
Calli and Tate Williams of TW Angus are involved in and support quite a few organizations. The few ag-related ones we discuss in this podcast episode are: South Dakota Cattlemen's Association and its foundation's annual Prime Time Gala fundraiser, Davison-Hanson Cattlemen's Association, Young Cattlemen of South Dakota, and Dakotafest.
Calli was nominated for the 2023 Dakotafest Women Farmer/Rancher of the year.
TW Angus Direct to Consumer Retail Beef
In addition to growing their heifer herd and selling bull calves to other producers, Calli and Tate offer retail beef via pickup or local delivery to consumers in Mitchell, Sioux Falls, and Watertown, South Dakota.
Because of our Midwestern culture to have an extra freezer, or at least a beer fridge/freezer in our garage, people can easily reserve a beef share—quarter, half, or full—from TW Angus. This option is popular because you decide what cuts of beef you get and how they are cut. As a result, there is a waitlist for their 2024 beef shares so get on the list soon.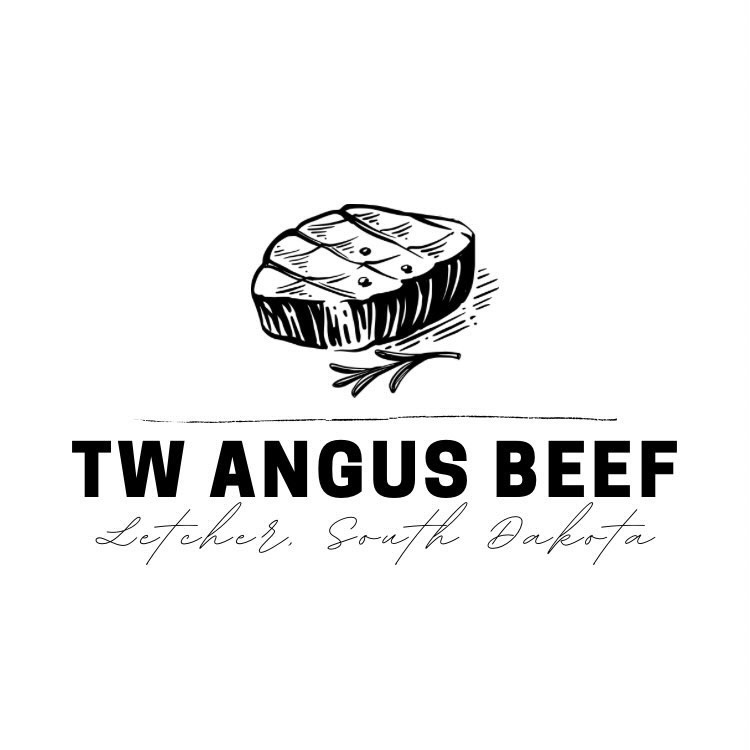 However, there's another excellent option for those of us whose freezers are nearly full of sweet corn, rhubarb, lefse, pizza, and ice cream. (Or are empty nesters like Jason and me.) Or both.
You can purchase TW Angus beef bundles—individual cuts of high quality Angus sirloin, ribeye, and T-bone steaks, ground beef, and rump, chuck and arm roasts.
Visit the beef page at TWAngus.com and contact Calli Williams at 605-695-1990 or callicwilliams@gmail.com to reserve beef shares or inquire about ordering beef bundles. (Orders are not placed directly on the website.)
Recipes
Protein-packed, ground beef tacos with lots of avocado are a quick go-to, weeknight meal at the Williams house.
For a heartier meal, Calli makes beef chuck roast. On day two, she shreds it and makes burritos, which Tate likes so much that Calli thinks he goes light on the roast the first night because he wants burritos from the leftovers.
Grandma Venita and Gram's Graham Streusel Coffee Cake Recipe
Here's the sweet and sad part of this story. When you listen to this podcast episode, love and admiration emanate from Calli as she tells us about her Grandma Venita Pritchard from Illinois. You can just feel that she is one of those special grandmas.
Calli tells us about Venita's snowplow molasses cookies and her recipe for graham coffee cake, which has subsequently become a favorite in Tate's family too. And it's clear that Venita loved hosting people in her home, serving them in her language of love—food.
Sadly, Grandma Venita passed away on September 21, just a couple of weeks after we recorded the episode.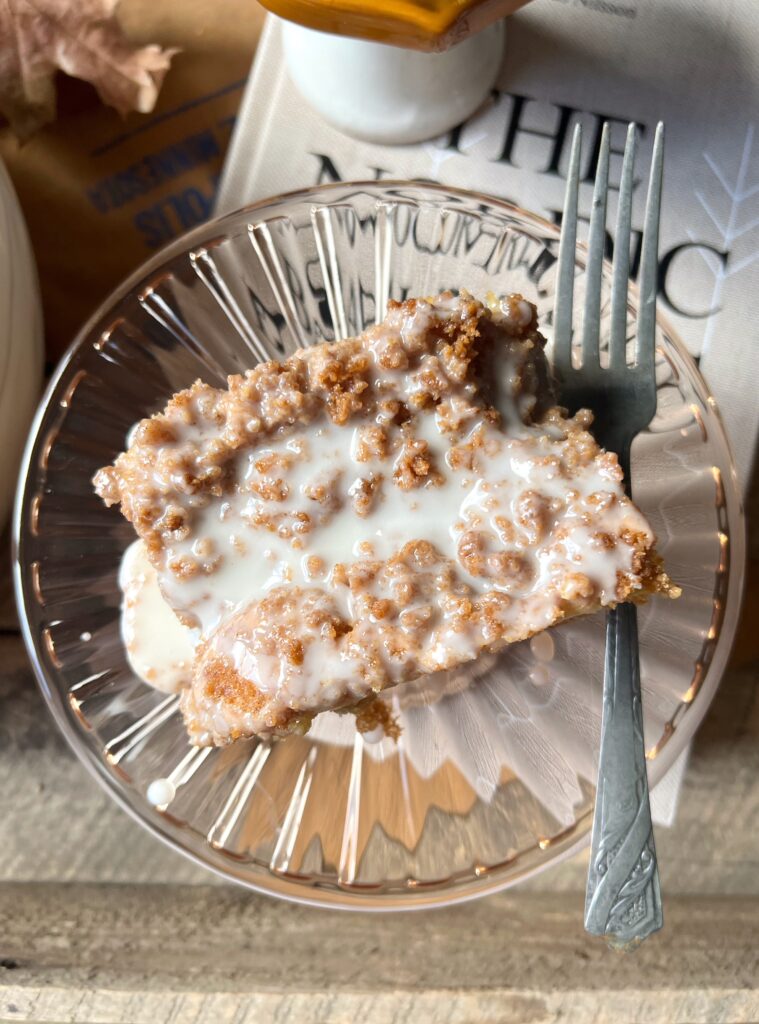 Tribute to Venita
On Venita's tribute wall, Marie Friedag wrote that Venita was part of Pampered Chef for 25 years. She went on to share, "She [Venita] claimed she got a lot of people "stoned" and hasn't been arrested yet! Baking stones that is."
The LeRoy Green family wrote, "The Green family lived just down the road from Venita and Harold 's family when we were growing up. We have many fond memories of Venita providing summer snacks for all of us – usually Kool-Aid and cookies, refereeing our numerous backyard sporting event/fights, and being a guardian angel to all the kids in our neighborhood. She was a strong woman who raised 5 kids, worked tirelessly at home and outside the home. She was always a giver to your faith, family and friends. We will miss her beautiful smile and contagious laughter. Thank you, Venita, for being a big part of our lives."
Evie Gardner shared, "She never hid her love for Jesus and for people. She always had a unique twist on just about everything that always made us laugh."
The Coffee Cake on the Table
Calli says her grandma always had this graham coffee cake on the table for guests to enjoy. And yes, she baked it in a 9×13 stone baking dish. So to honor her memory which Calli so generously shared, I baked Gram's Graham Streusel Coffee Cake in my Pampered Chef stone.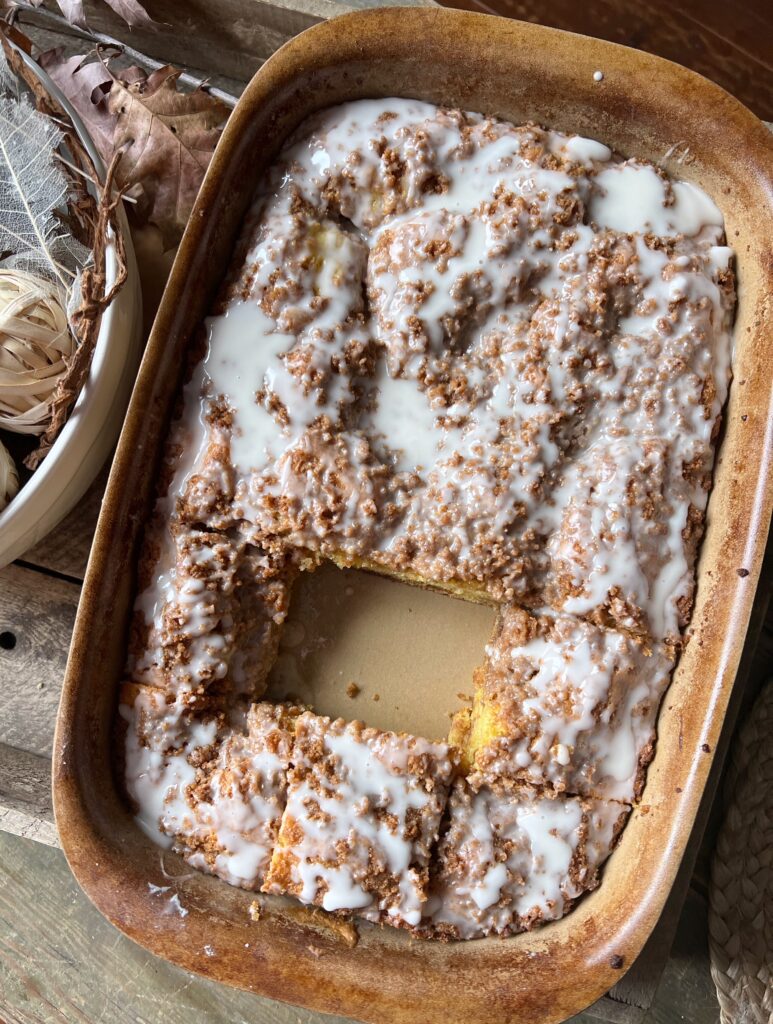 I like it so much that Venita's recipe will replace the coffee cake recipe I've been using for years. The addition of graham cracker crumbs just adds an extra element of flavor and texture.
Plus I used apple cider to make the powered sugar icing which gives another layer of flavor. When you make the icing, the recipe calls for water. You can also use milk or another liquid, like I did with apple cider. You could also addd a teaspoon of an extract like vanilla, maple or almond.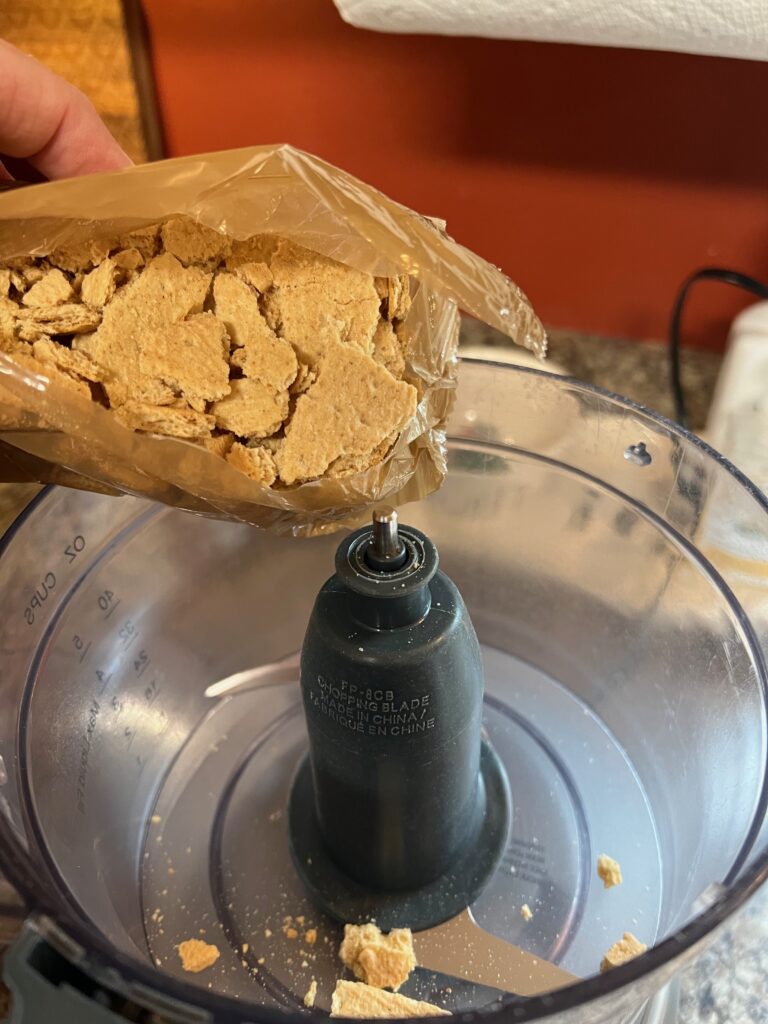 Coffee or not, nothing is better than gathering around the table with friends and family with a slice of coffee cake.
Calli's Recommendations
The Source Coffee Roastery + Taproom 421 N Phillips Ave, Sioux Falls, SD
The Back 40 511 N. Main, Mitchell, SD,
Mitchell Depot Pub & Grill 210 South Main Street, Mitchell, SD
Hot Shots Espresso 322 E Havens Ave, Mitchell, SD
Little Blue Truck by Alice Schertle. It's a full series of books—Little Blue Truck Goes to School, Little Blue Truck Makes a Friend, etc.
A is for Angus. Written and Illustrated by C.J. Brown.
Where to Find Calli, Tate and TW Angus
twangus.com
callicwilliams@gmail.com
605.695.1990
Instagram: @calli_williams
Facebook: TW Angus
I hope you make Gram's Graham Coffee Cake. Thank you again, Calli, for sharing a piece of your grandma with us.
Sweet wishes,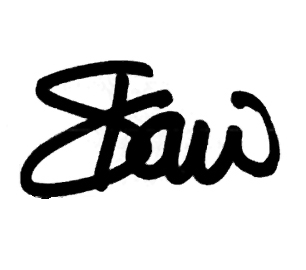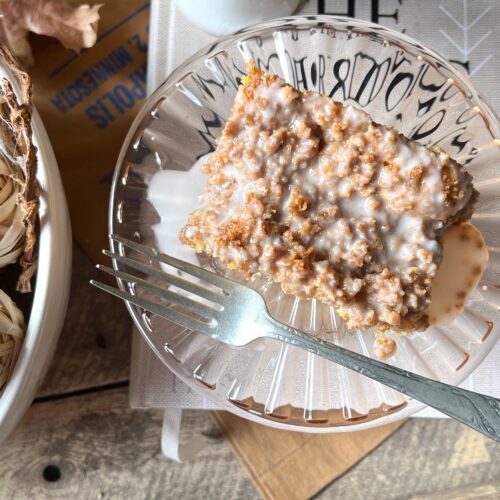 Email this recipe
Gram's Graham Streusel Coffee Cake
One bite of this bumpy, brown sugar and cinnamon coffee cake and you'll be taken back to grandma's kitchen. Calli says, "No need to wait for dessert to enjoy this, it goes great with your morning coffee!"
Ingredients
Streusel
2

cups

graham cracker crumbs

¾

cup

chopped nuts, pecans or walnuts, optional

¾

cup

brown sugar

1¼

tsp

ground cinnamon

¾

cup

unsalted butter, melted
Cake
15.25

ounce

dry yellow cake mix

,

Calli suggests Duncan Hines

¼

cup

vegetable oil

3

large eggs

1

cup

water
Icing (Calli usually doubles the icing)
1

cup

powdered sugar

1-2

Tbsp

water or milk (I used apple cider)
Instructions
Heat oven to 350℉. Lightly grease a 9×13 pan.
Streusel
In a medium bowl or a food processor, mix streusel ingredients together. This will make a "crumble" texture.
Cake
In a large bowl, beat the yellow cake mix, vegetable oil, eggs and water on medium speed for 3 minutes.

Pour half of the cake batter into the greased pan. Spread evenly.

Sprinkle half of the streusel crumbs over the batter. Repeat the process with the batter and top with the remaining streusel.

Bake at 350℉ for 40-45 minutes. Cool completely.
Icing (Calli usually doubles the icing)
Whip the powdered sugar and water (or apple cider) together to form icing. Drizzle over cooled coffee cake. Store in airtight container.
Notes
This recipe is from Calli Williams of TW Angus in South Dakota. Her Grandma Venita Pritchard in Illinois used to make it in a stoneware pan and keep it on the table for everyone to enjoy. 
Nutrition
Calories:
387
kcal
Carbohydrates:
52
g
Protein:
4
g
Fat:
19
g
Saturated Fat:
8
g
Polyunsaturated Fat:
4
g
Monounsaturated Fat:
6
g
Trans Fat:
0.5
g
Cholesterol:
57
mg
Sodium:
373
mg
Potassium:
84
mg
Fiber:
1
g
Sugar:
34
g
Vitamin A:
334
IU
Vitamin C:
0.1
mg
Calcium:
92
mg
Iron:
1
mg
All text and images © Staci Mergenthal • Random Sweets