Plan Your Coastal Getaway to Gulf Shores and Orange Beach Alabama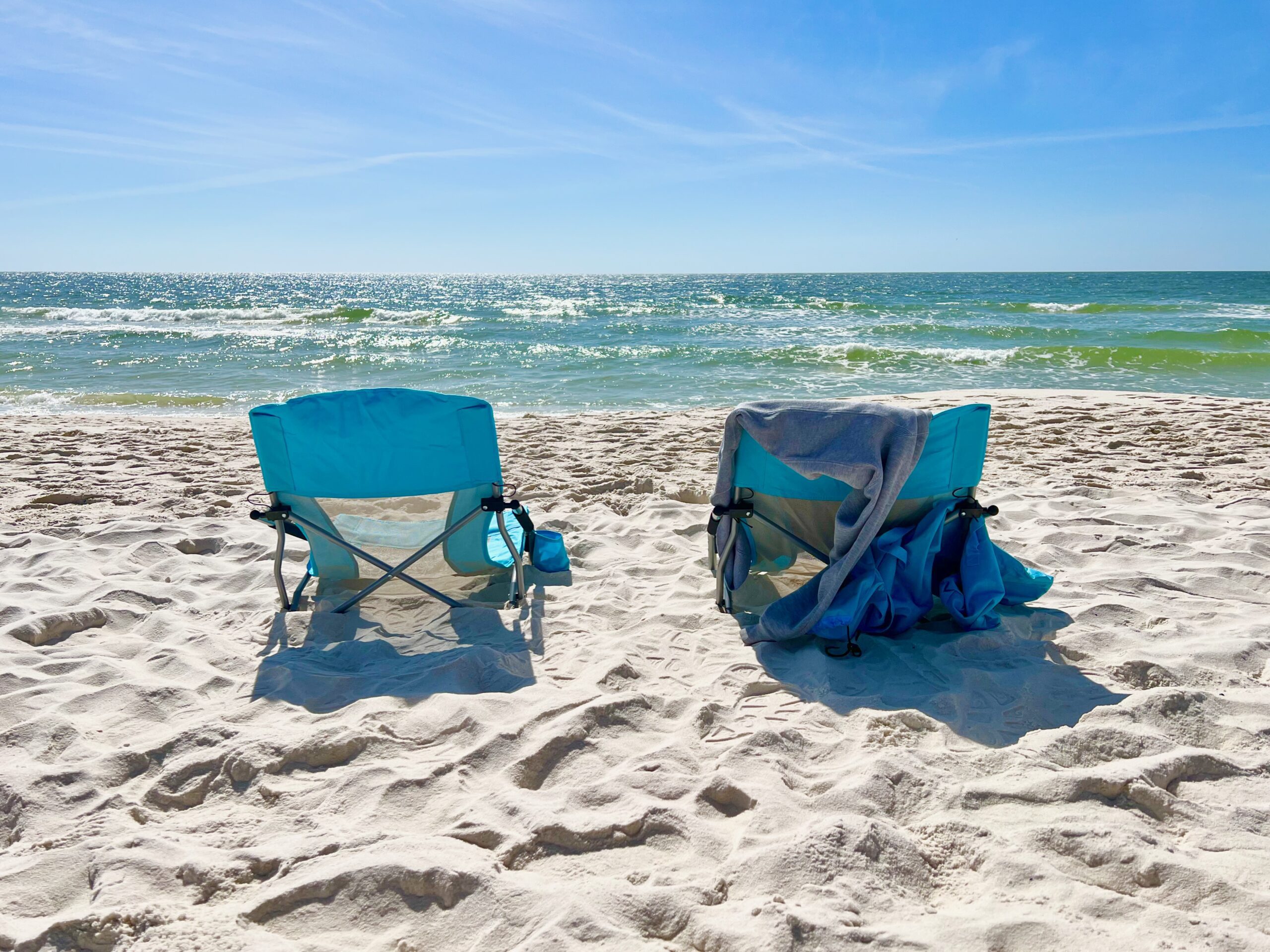 This post may contain Amazon or other affiliate links. As an Amazon Associate I earn from qualifying purchases.
Yearn for a sugary soft, white sand beach vacation, but prefer a destination within the United States? Submit your PTO request and get yourself to Gulf Shores and Orange Beach Alabama.
You'll find unforgettable (and forgettable) spring break fun, romantic getaways, activities with the kiddos or teens, snowbird adventures, or time away with your friends.
Jason and I took our first vacation there this past February and I am smitten with Gulf Shores. We talk about it on episode 16 of Funeral Potatoes & Wool Mittens podcast. Listen wherever you get your podcasts or clicking the box below.
Also available is Part 2, the food and dining episode (episode 17). See the photos and links to go with that episode on 22 Places to Eat in Alabama's Gulf Shores Area.
Located on a 32-mile stretch of beach along the Gulf of Mexico and Mobile Bay, Gulf Shores and Orange beach Alabama straddle Florida at Perido Key. Southern hospitality is in season all year long, while pine and palm trees wave in the salty sea air.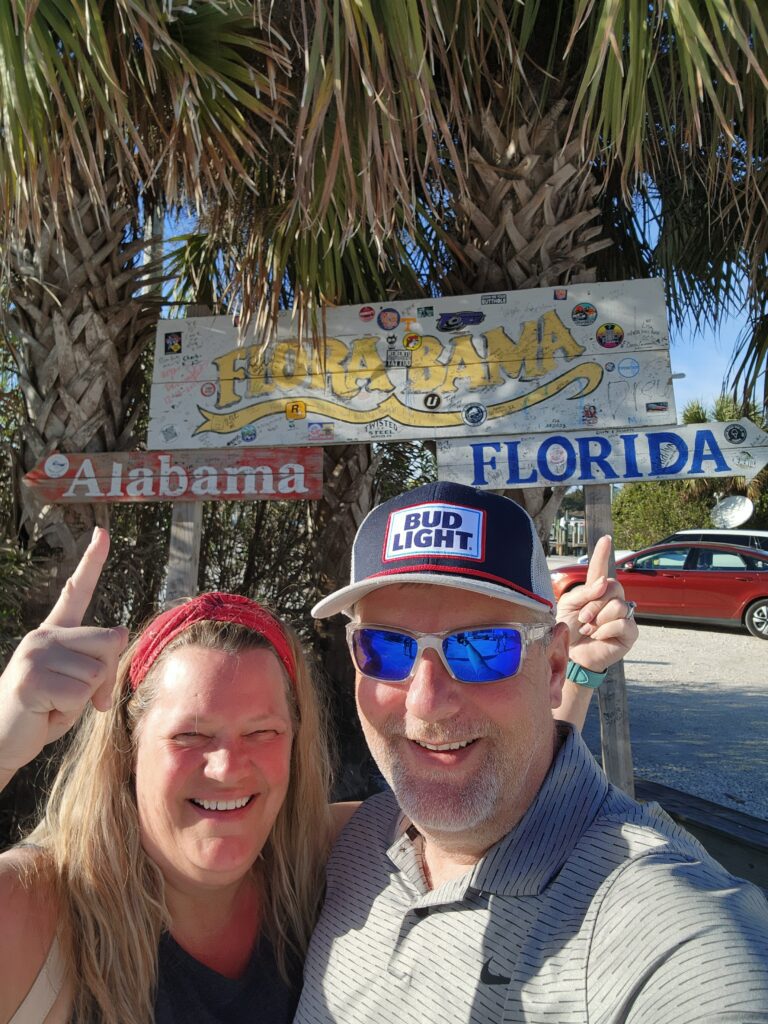 The community has somehow melded beautifully a mixture of old, historic, and new neighborhoods, homes, buildings, and resorts, even though hurricanes and coastal storms have choreographed much it throughout the years.
So here are resources Jason and I used to plan our February 2023 back-to-back birthdays vacation.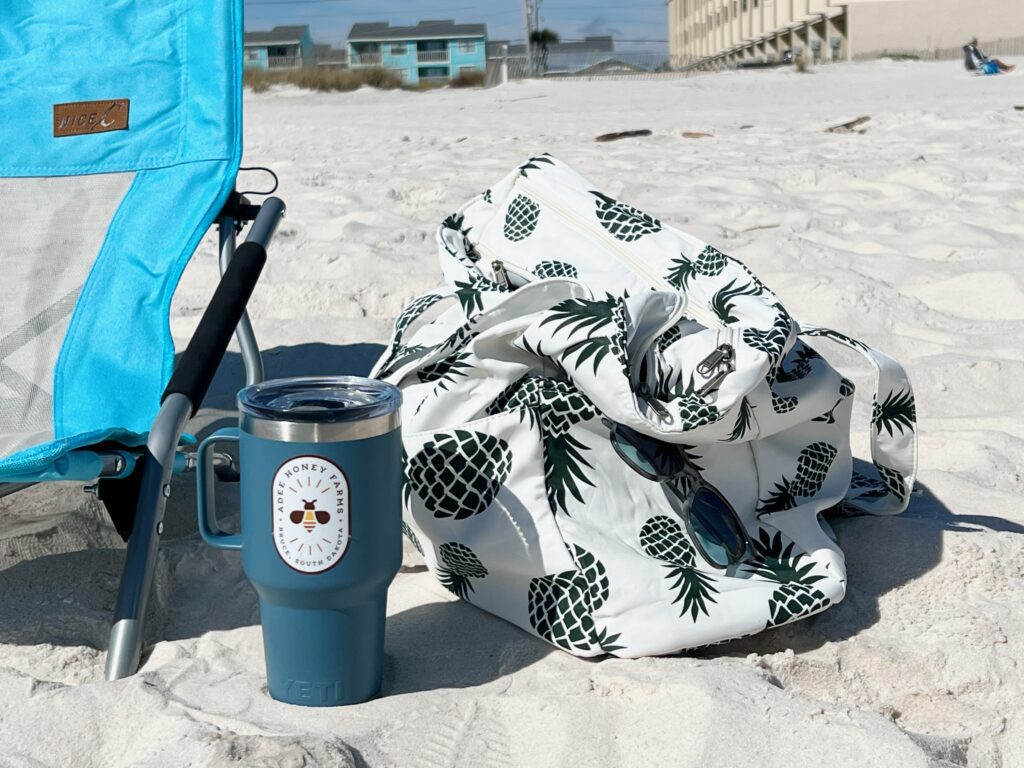 Tip: Get yourself a foldable/packable beach bag like this pineapple tote (affiliate link) with side pockets for your water bottles, front and back pockets, divided dual zipper inside pockets—one side is plastic-lined which I loved for my wet towel and the sandy seashells we picked up. The exterior fabric is a soft waterproof cloth, with lots of color and pattern options. Also, I kept a Ziplock bag in there for my phone to keep the sand off of it.
SMALL TOWN, BIG BEACH™

City of Gulf Shores, Alabama
Resources to Plan a Vacation to Gulf Shores Alabama
I'm not a travel agent so the best I can do is share with you a few resources we used to plan our trip and find things to do once we were in Gulf Shores Alabama. Depending on what type of vacation you want, you can take it from here. Have fun!
Gulf Shores and Orange Beach Tourism's website and blog have almost everything you need to learn about the area, find deals, and plan your trip. From articles like Should You Stay in Gulf Shores or Orange Beach? and Seven Tips for Planning a Beach Trip to Gulf Shores Orange Beach, you can easily spend a few hours reading and learning here.
Once you are in Gulf Shores, be sure to stop at one of its two welcome centers for brochures, maps, coupon book and free postcards. If you go to the Gulf Shores location, grab a cup of coffee at Beach Girl Coffee across the street first.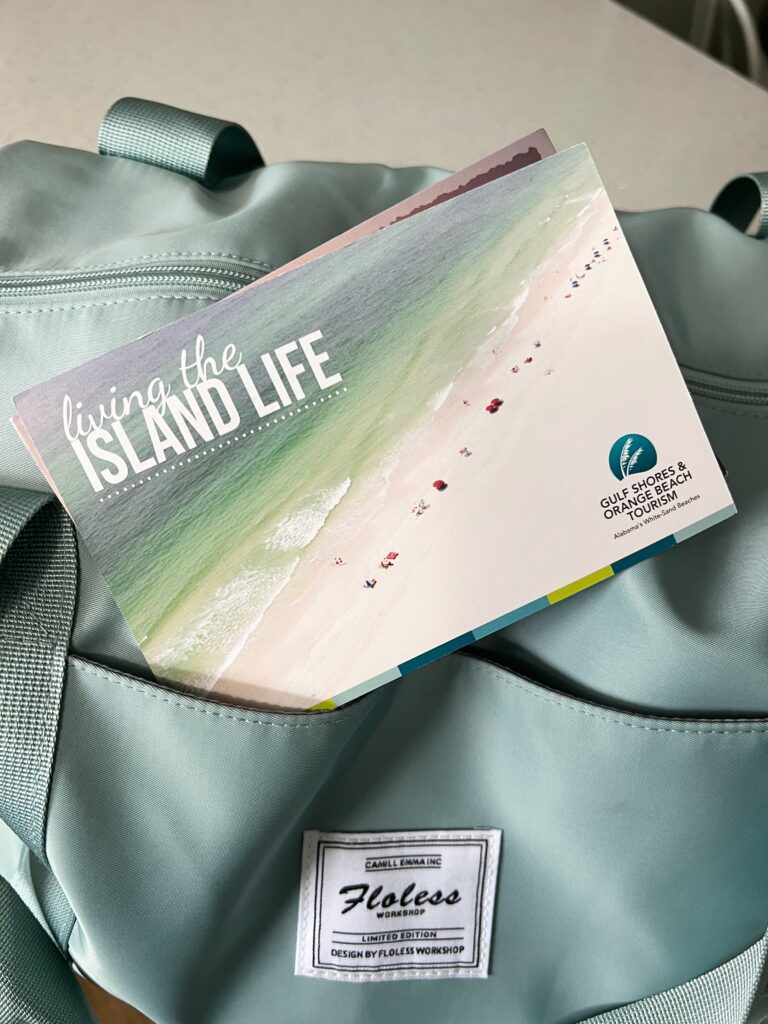 Here's the information to sign up for daily surf/beach flag conditions by text and weather alerts and warnings for the area.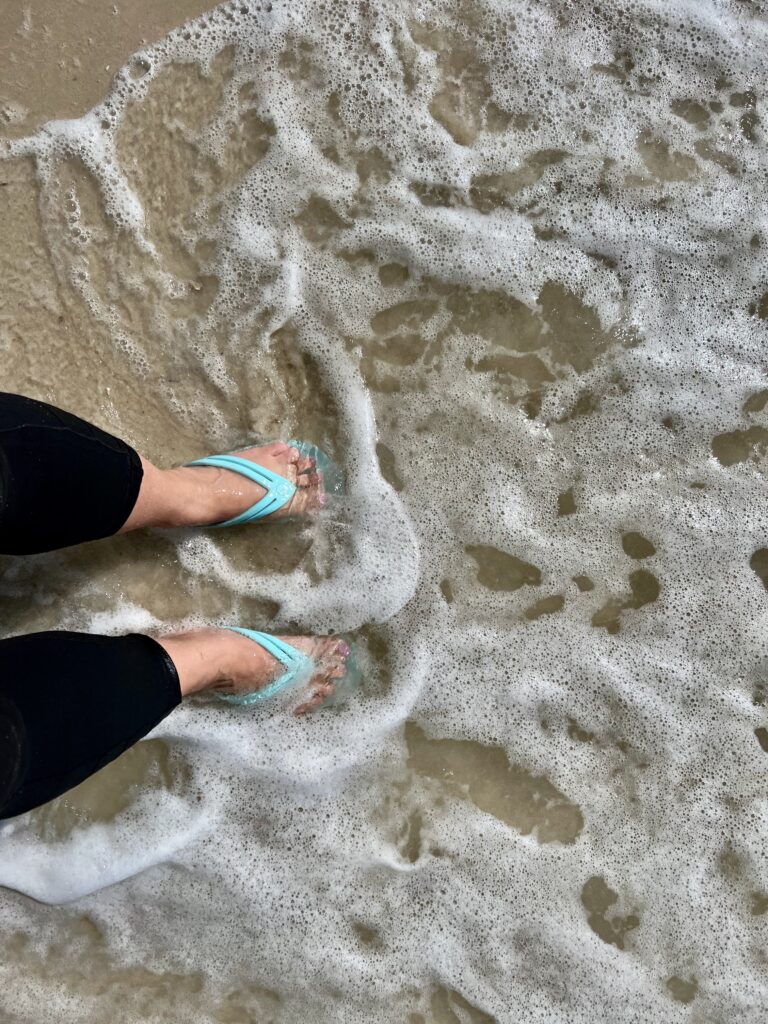 Gulf Shores and Orange Beach each have their own city government website where you can find information about public facilities and events, parks and trails, dog parks, maps, beach parking, rules and regulations, and much more.
You'll also want to spend time in Mobile so check out the Visit Mobile Alabama website.
Life Is Better Here

City of Orange Beach, Alabama
Getting There
Pensacola Regional Airport is the closest airport.
Nonetheless, we live in southwest Minnesota and we wanted to fly Allegiant Air. So for us, the most convenient route was to fly Allegiant Air from Minneapolis-St Paul (MSP) to Destin/Fort Walton Beach, FL (VPS). From there, we rented a Jeep Gladiator from Alamo and drove two hours along the coast to Gulf Shores.
For our recent trip to Arizona, we few Allegiant Air from Sioux Falls Regional Airport (FSD).
Beaches
Besides the beach access you may have at your lodging accommodations, there are 15 public beaches in Gulf Shores and Orange Beach. Here is the list.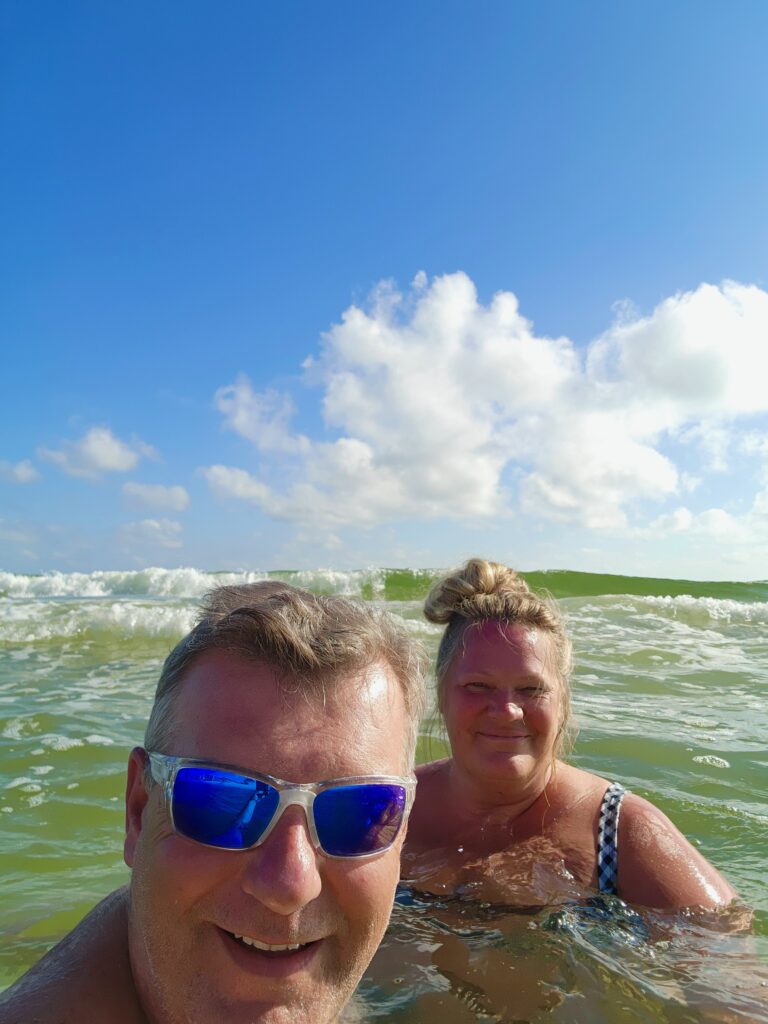 Where to Stay
You'll find just about any kind of accommodations you can imagine. From tiny beach cottages and boutique hotels, to high-rise hotels and resorts, fancy beachside homes, to across-town condos and rustic camping and luxury RV parks.
We found our condo on Airbnb. It can be stressful to find exactly what you will be happy with, especially in a town you've never been to. On the podcast episode, we talked about how I put myself in a time out during our hours-long search for accommodations. Uffda.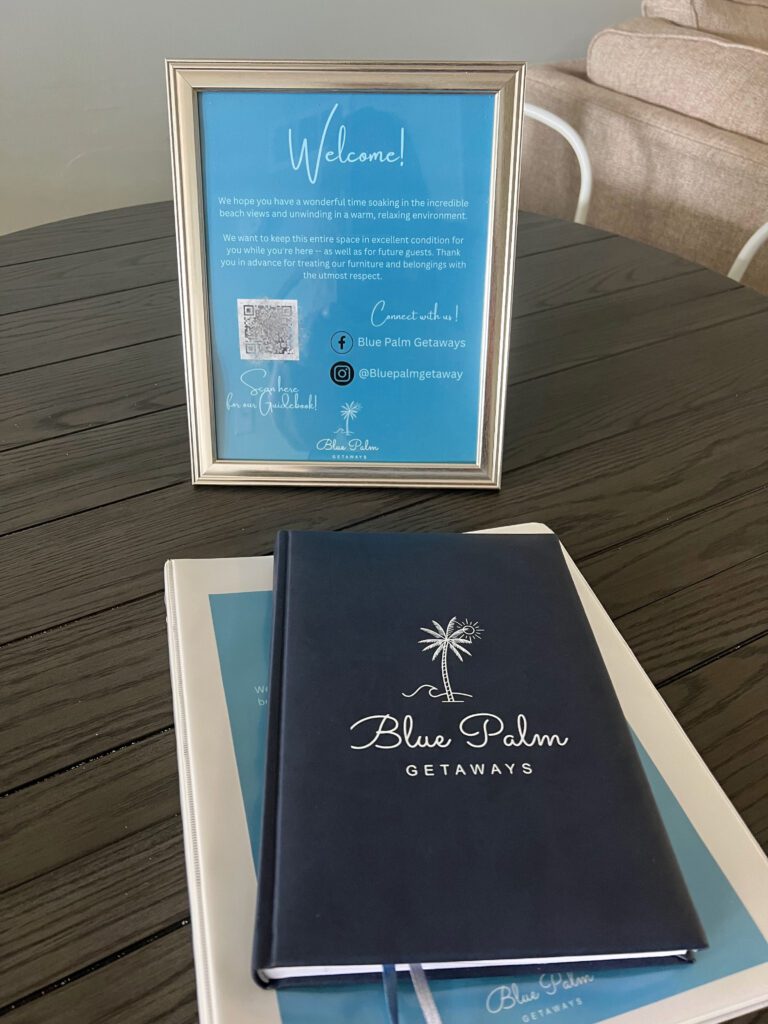 Luckily, Jason found Blue Palm Getaways at Lani Kai, hosted by Alicia. Even at the risk of it being booked the next time we want to stay there, I enthusiastically recommend it to anyone! Here's the link. If you have questions, let me know.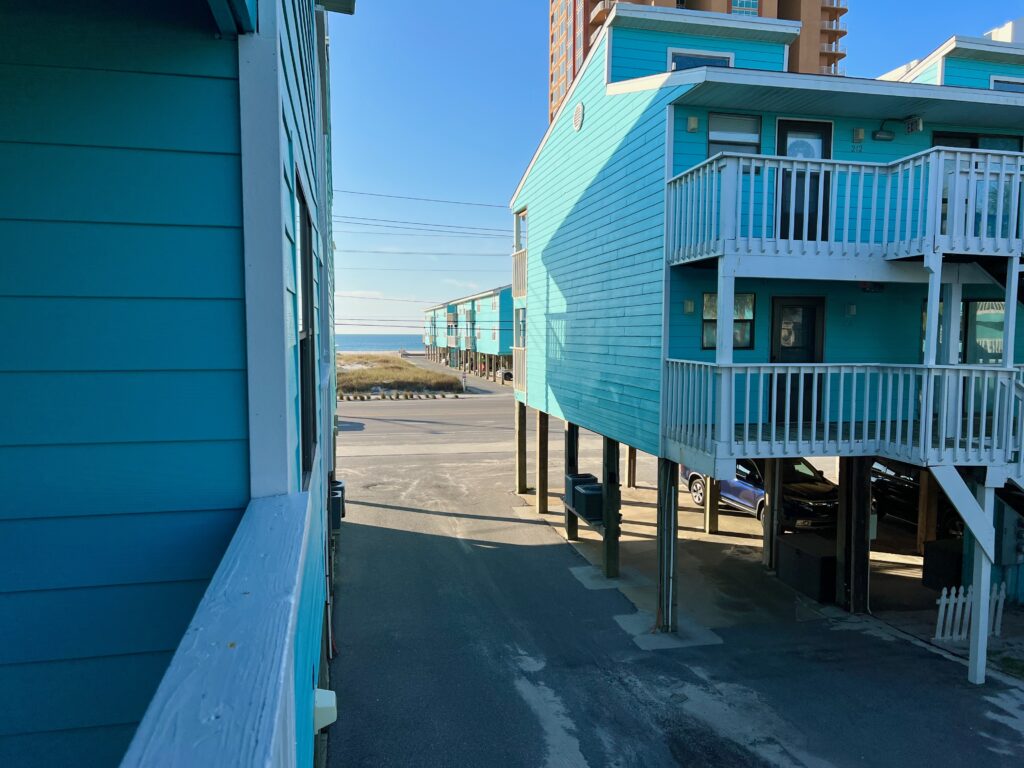 Even though we had a fully stocked kitchen, we didn't cook anything except microwave popcorn. But it was handy to have a full size refrigerator for our water, beer, desserts, the big-ass pizza box from Janino's Pizza, and leftovers from our dining adventures.
Tip: If you use one, remember to pack your white noise machine when you go on vacation. We've gotten so used to sleeping with our Dohm white noise (affiliate link) machine at home that we made sure to pack it in our luggage even though it adds a little more weight.
When we went to Arizona, we flew Allegiant Air and were unaware the checked baggage limit is 40 pounds so we had to rearrange a few items. So for this trip, I bought a handheld hanging luggage scale (affiliate link) and it saved us from being overweight both flying out and flying home.
Things to Do in and Around Gulf Shores, Alabama
Take one look around GulfShores.com and you'll quickly see there is something for everyone in Gulf Shores and Baldwin County. I'm talking golf to sand castle building to a Civil War Encampment and Siege of Fort Morgan reenactment.
Since I can't possibly list everything, the following are a few places we talked about on the podcast, plus places we went to or just want to point out.
Bars & Family Entertainment
Straddling the Florida/Alabama border, people know world-famous Flora-Bama for their five stages of live music, wild beach parties and good food. This place is right on the beach and has been rockin' the nightlife since 1964.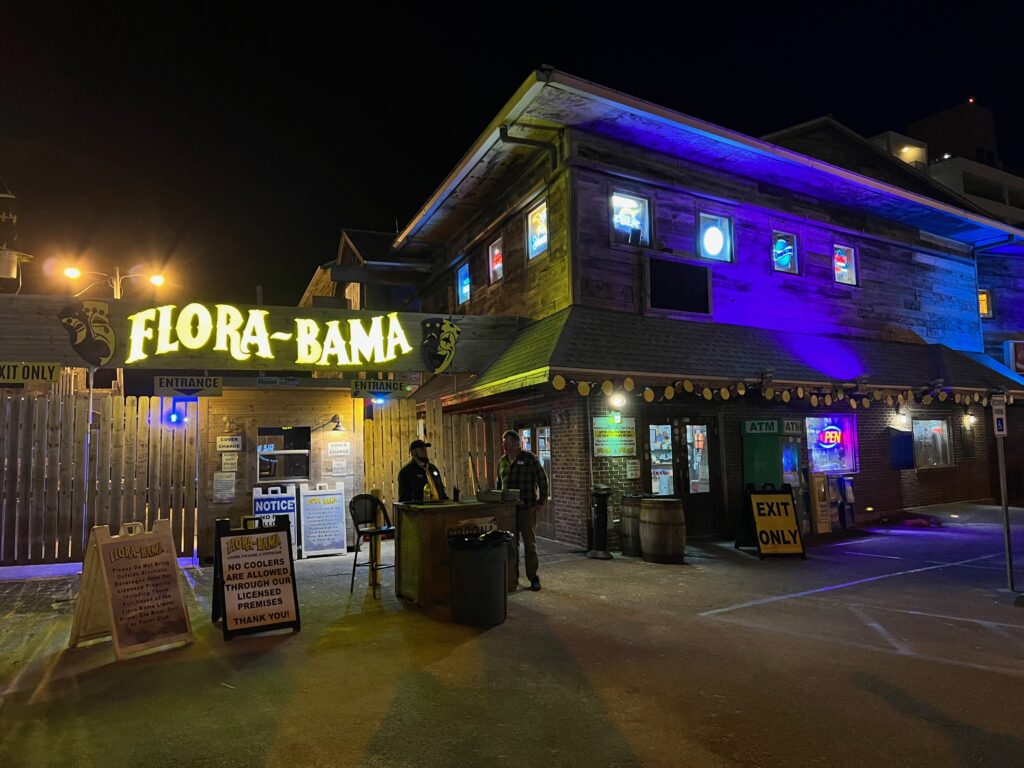 We talk about one of the restaurants here, Ole River Grill, in episode 17 and the companion blog post.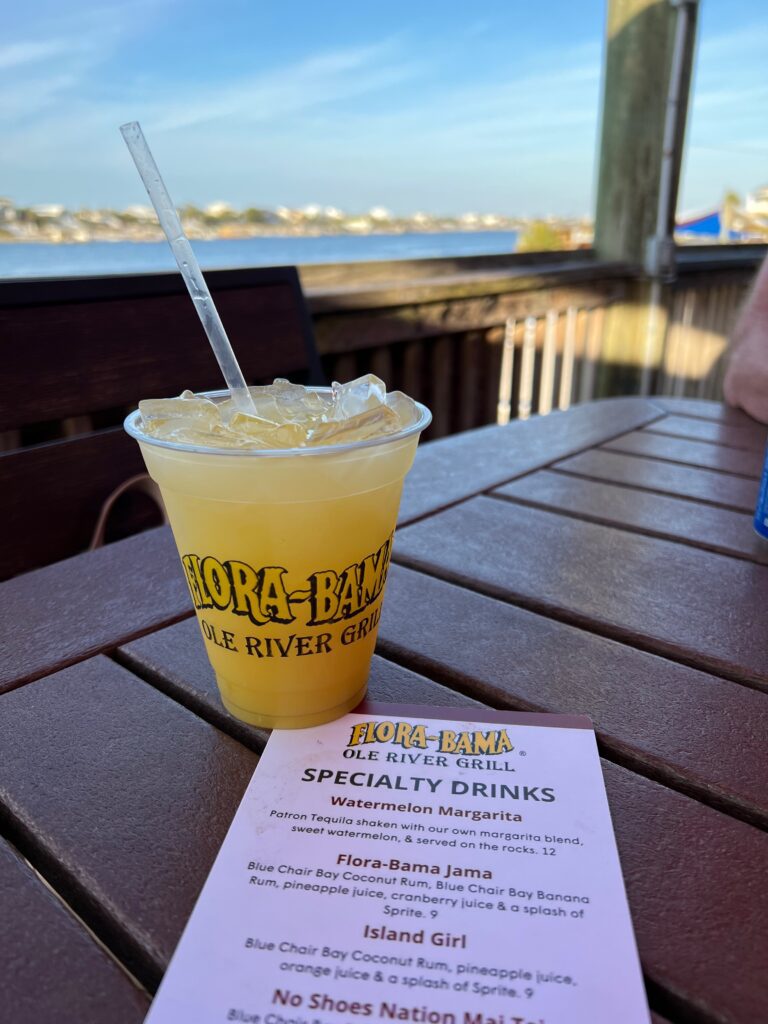 Container bars are all the rage but The Gulf on Orange Beach had its coolness figured out a long time ago. Jason and I both gazed around in awe, both of us saying this is exactly what we want our backyard to look like.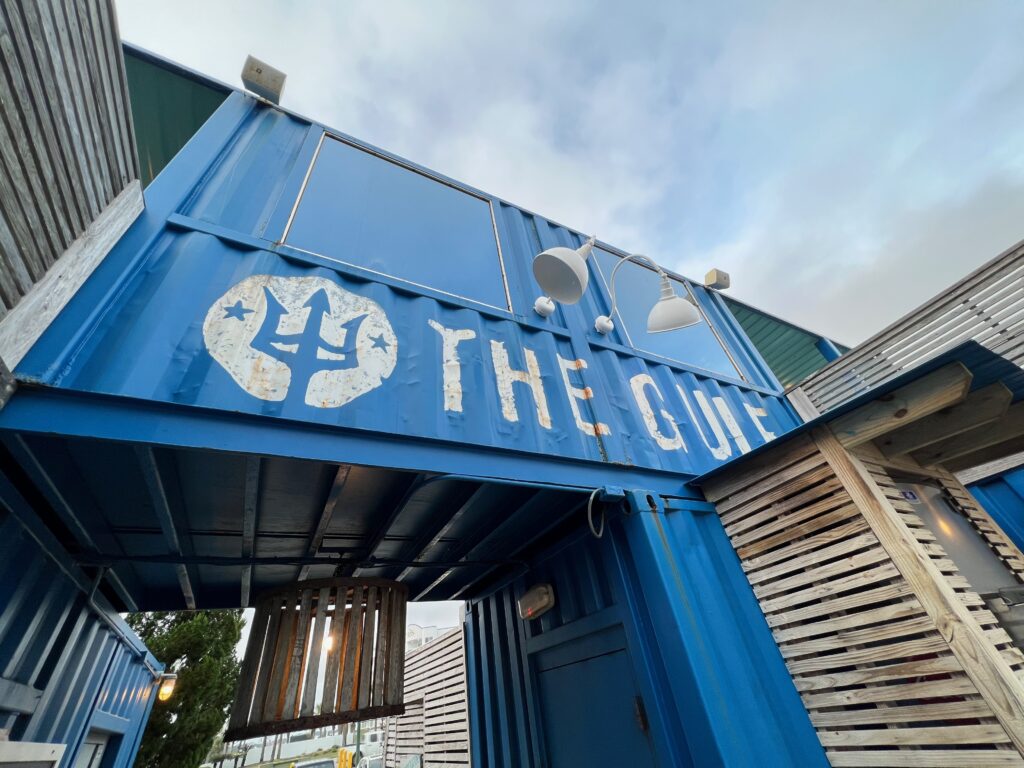 Outdoor sofas, tables, and beach furniture are situated throughout the space. The dangling bistro lights add to the seaside ambiance while enjoying cocktails, drafts, food and conversation.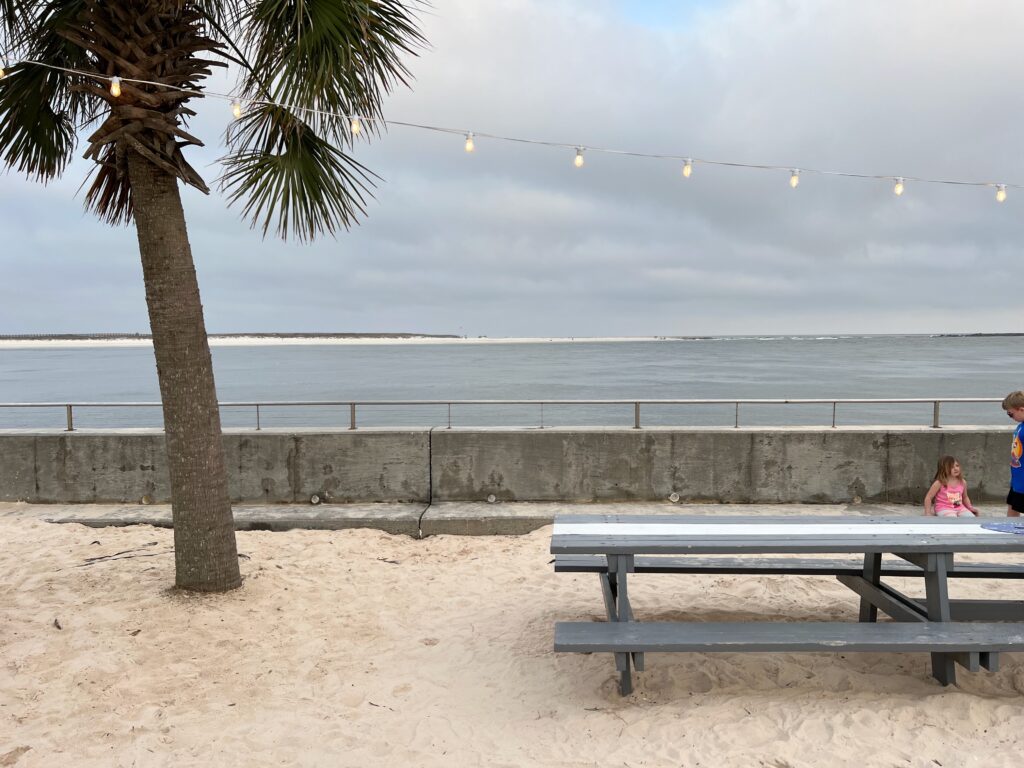 Plan to wear your party pants when you hit up The Hangout. Another bar and family restaurant on the beach with live music and tons of fun activities for the whole family (think foam parties for the kids), you may even find yourself dancing on the tables. I didn't take many pictures but take a look at its website and you'll get the gist of it. Quirky. Rubber ducks on the ceiling. PEZ dispensers on the DJ booth.
Tip: try the queso dip at The Hangout.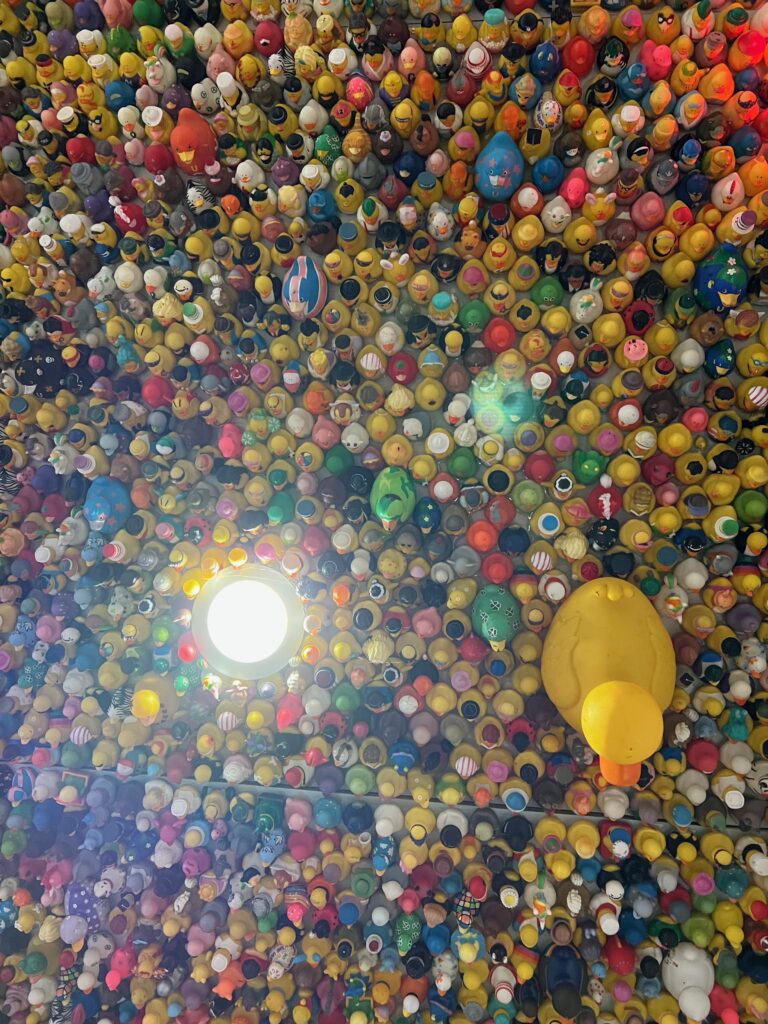 Another iconic Gulf Shores, Alabama bar/restaurant is the Pink Pony Pub.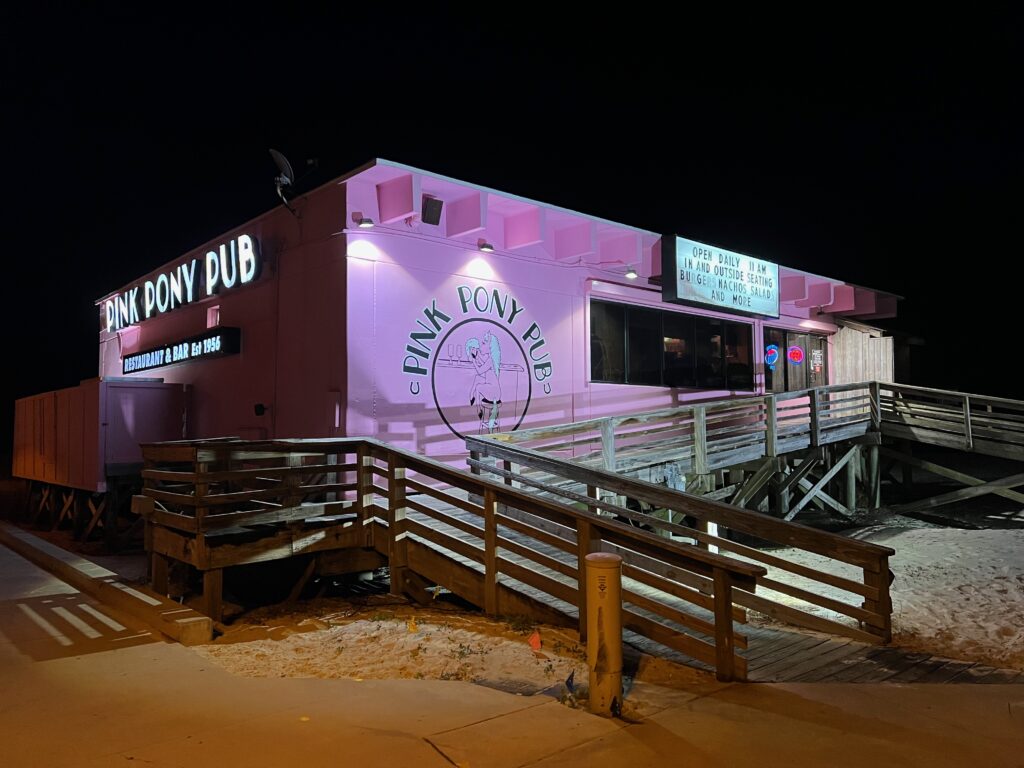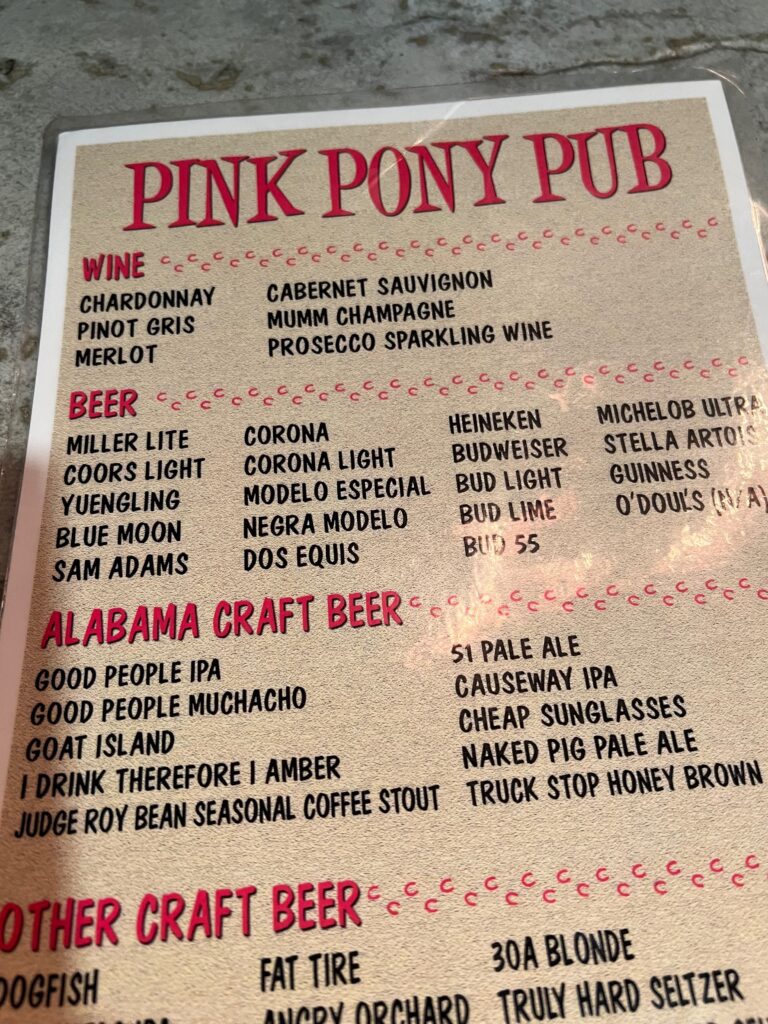 In addition to those four legendary spots for carousing, the beaches and neighborhoods are lined with interesting bars and restaurants. Therefore, we're doing an upcoming blog post and podcast to share the delicious food on our trip. One of which is our most memorable of a lifetime.
We'll also talk about our meal at Moe's Original BBQ Orange Beach in that upcoming episode and blog post, but I want to include it here as a fun spot to hang out. It's not right on the beach, but they have a lively outdoor entertainment area in back and we are assuming it's a good time.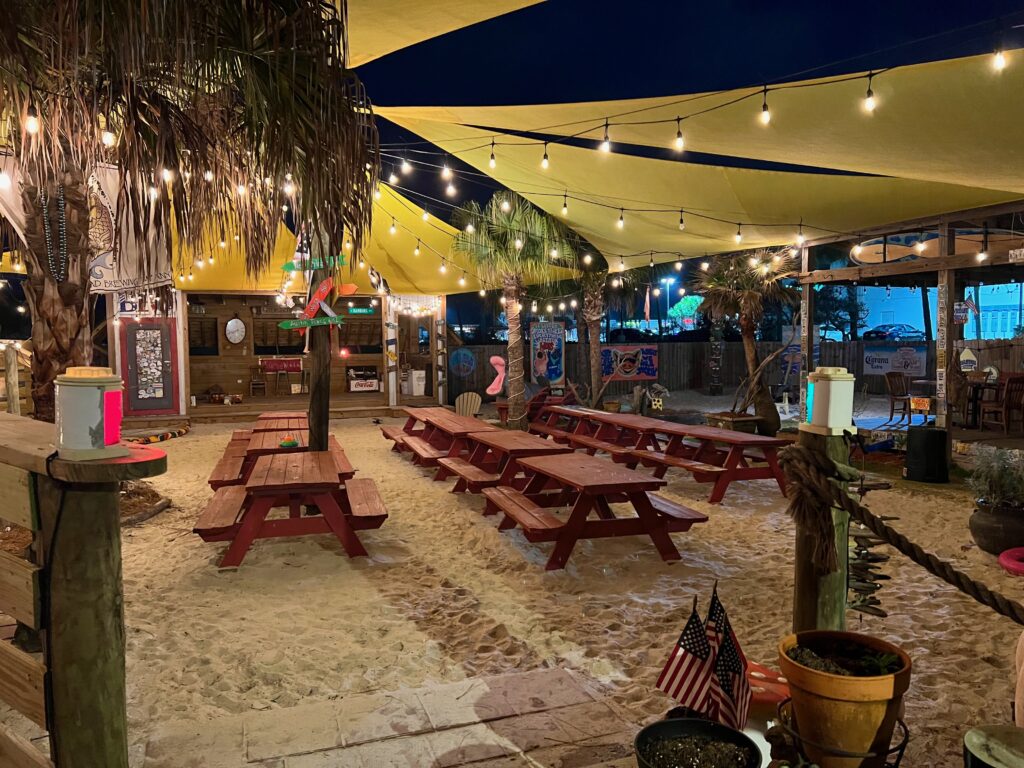 Mardis Gras
Although Mardi Gras is a very specific and short period of time to plan a vacation, if you happen to be in Gulf Shores, the towns in Baldwin County have parades on Fat Tuesday, as well as at least four days leading up to it.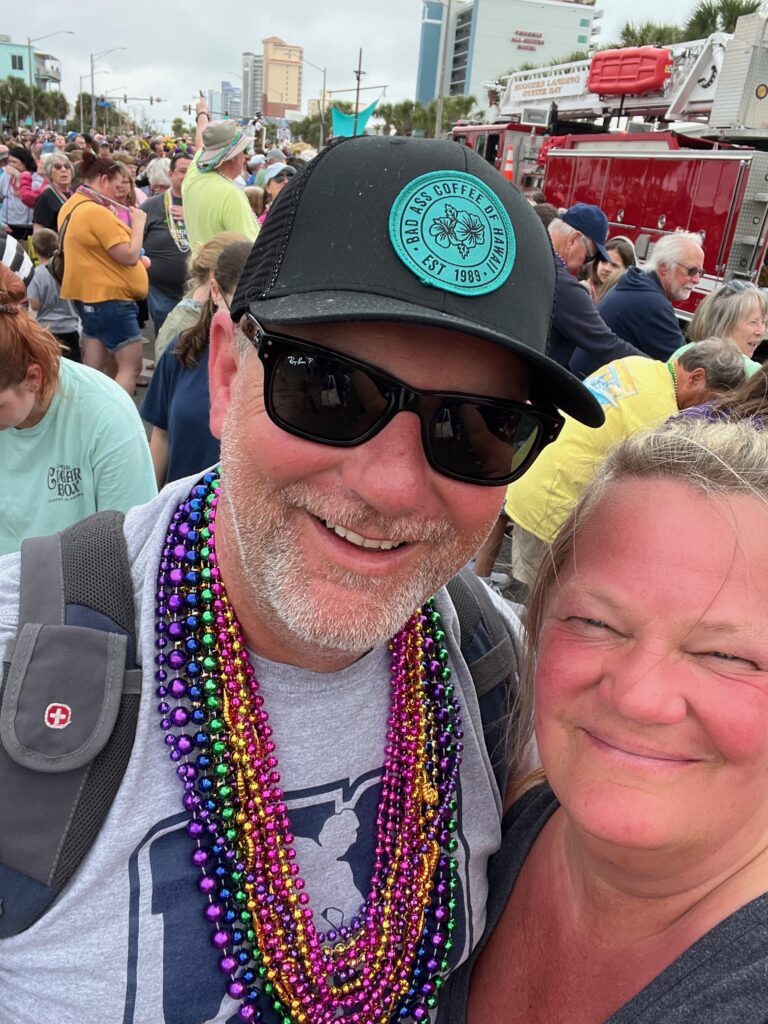 Family Fun Activities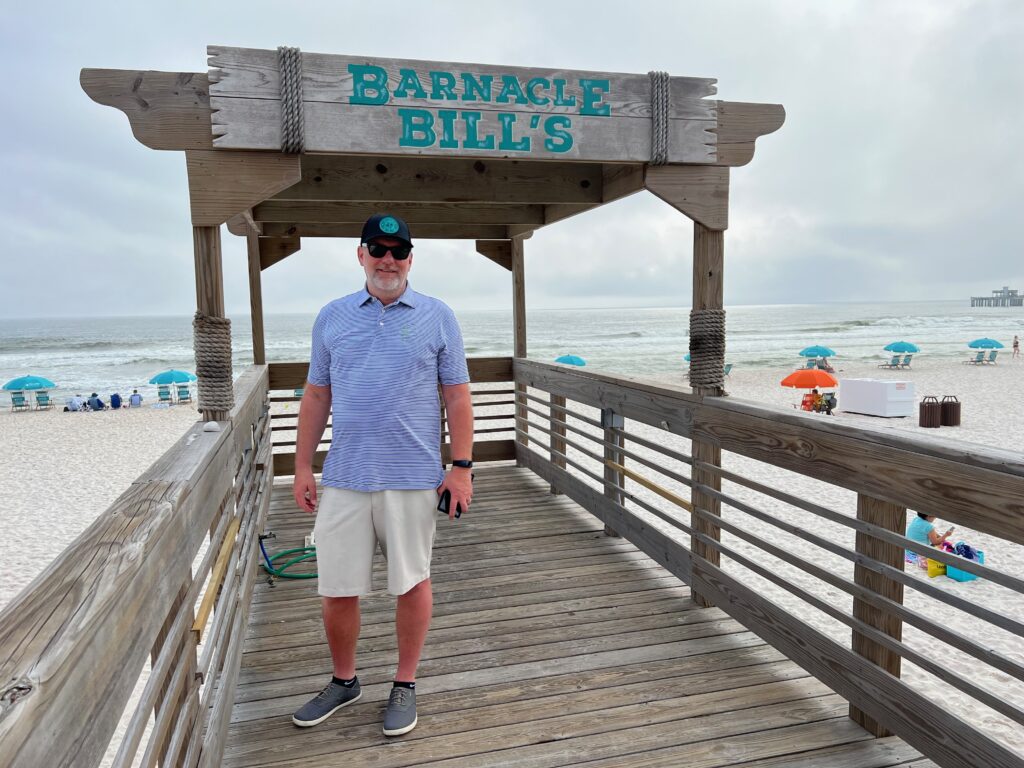 Explore in Mobile
Mobile Bay Ferry crosses Mobile Bay between Dauphin Island and Fort Morgan. We took it and then drove to Mobile for the afternoon and drove back to Gulf Shores.
Follow Mobile Bay Ferry on Facebook for schedule, cancelations, availability. Get there early. It BOOKS FAST and they do not sell tickets in advance. We got there a couple of hours prior to the departure and were lucky to get a spot.
Additionally, have a back-up plan for the return trip. Sometimes the ferry has to cease operations for the day unexpectedly due to winds, fog, etc. If you are riding the ferry with your vehicle, it's not really a problem. But some people ride with their bikes or as pedestrians.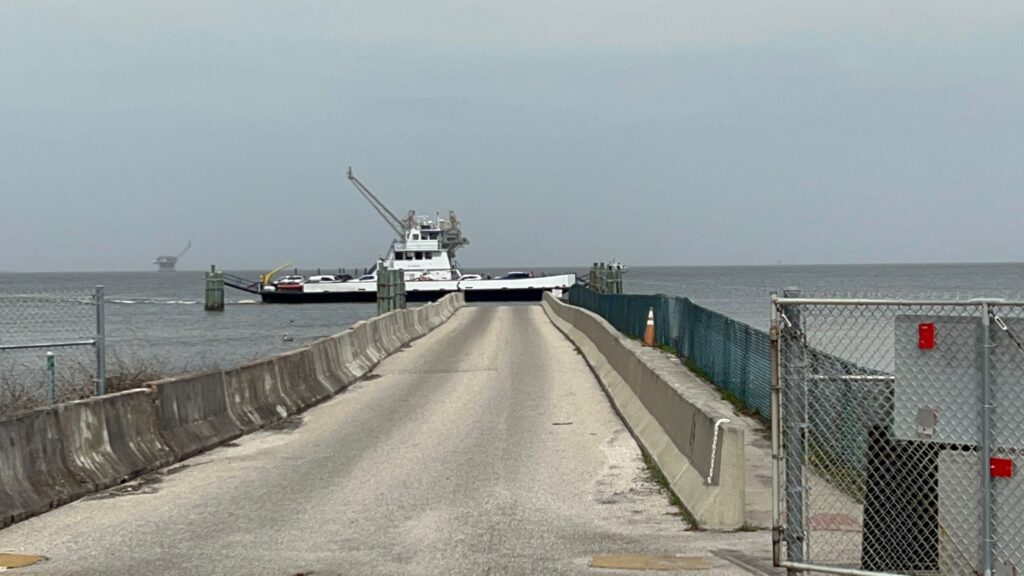 Although it wasn't open the day we went, Bragg-Mitchell Mansion offers tours of this exquisite 1855 antebellum mansion in Mobile. The live oak trees surrounding the property are magnificent.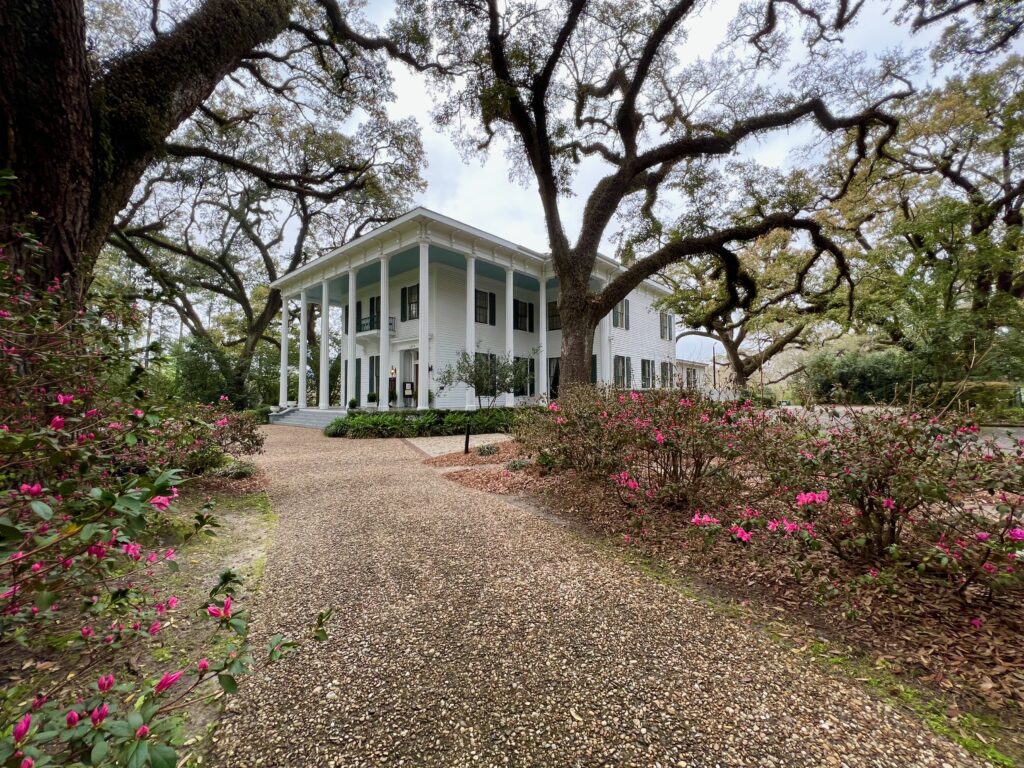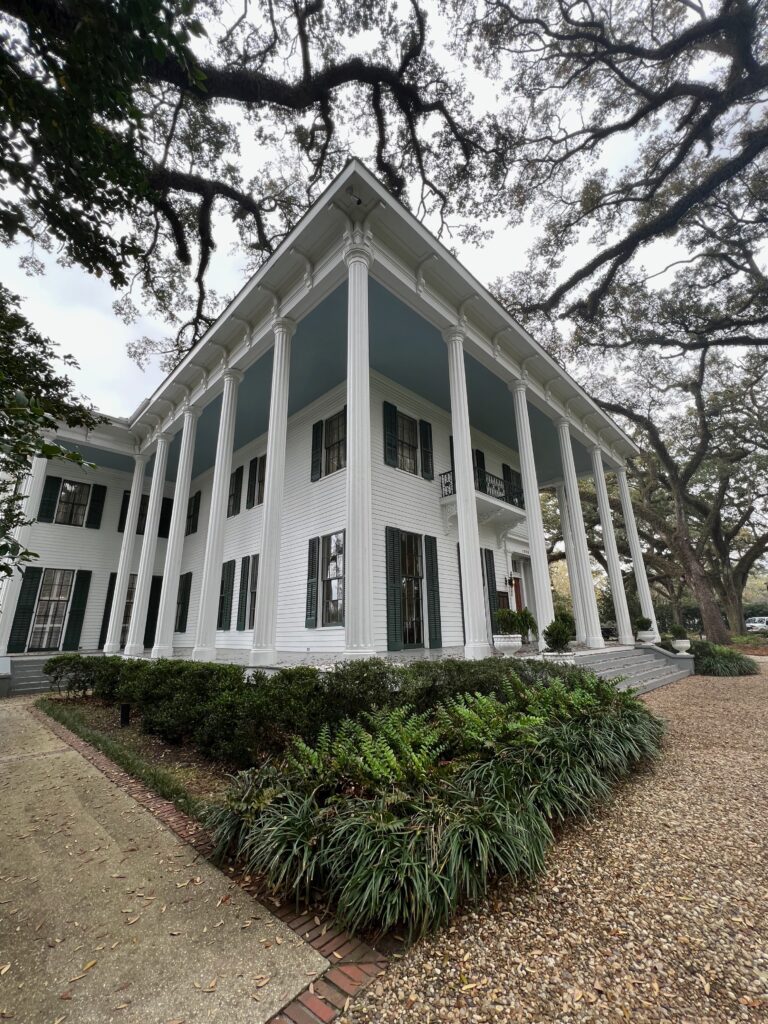 Cathedral – Basilica of the Immaculate Conception in Mobile.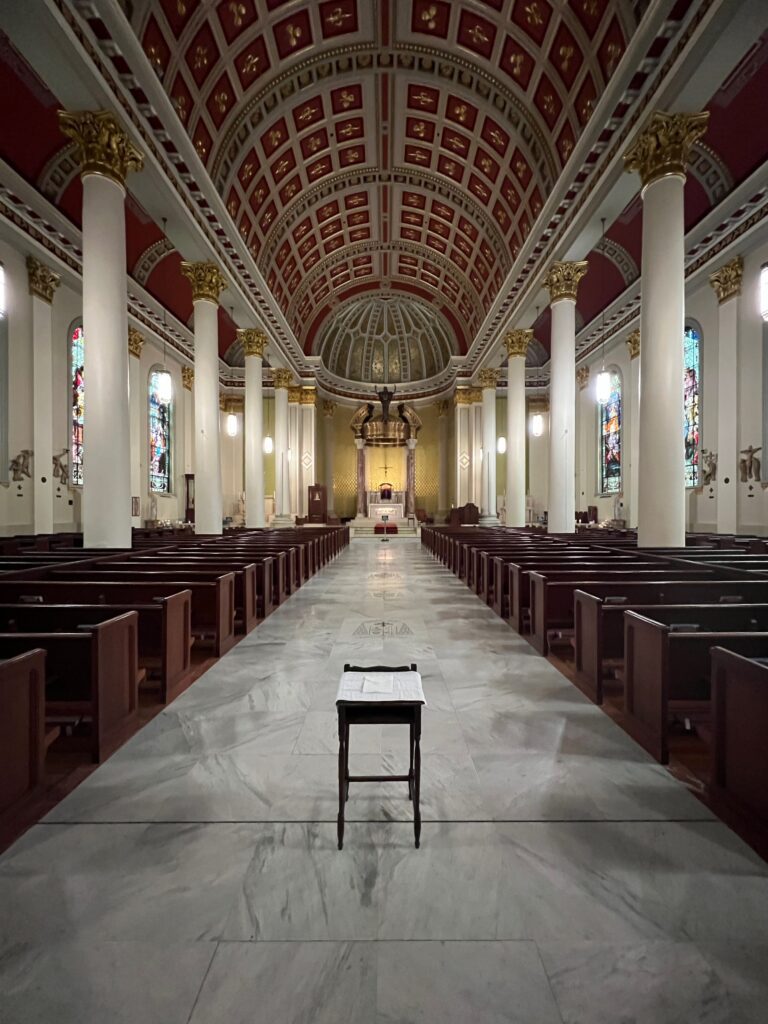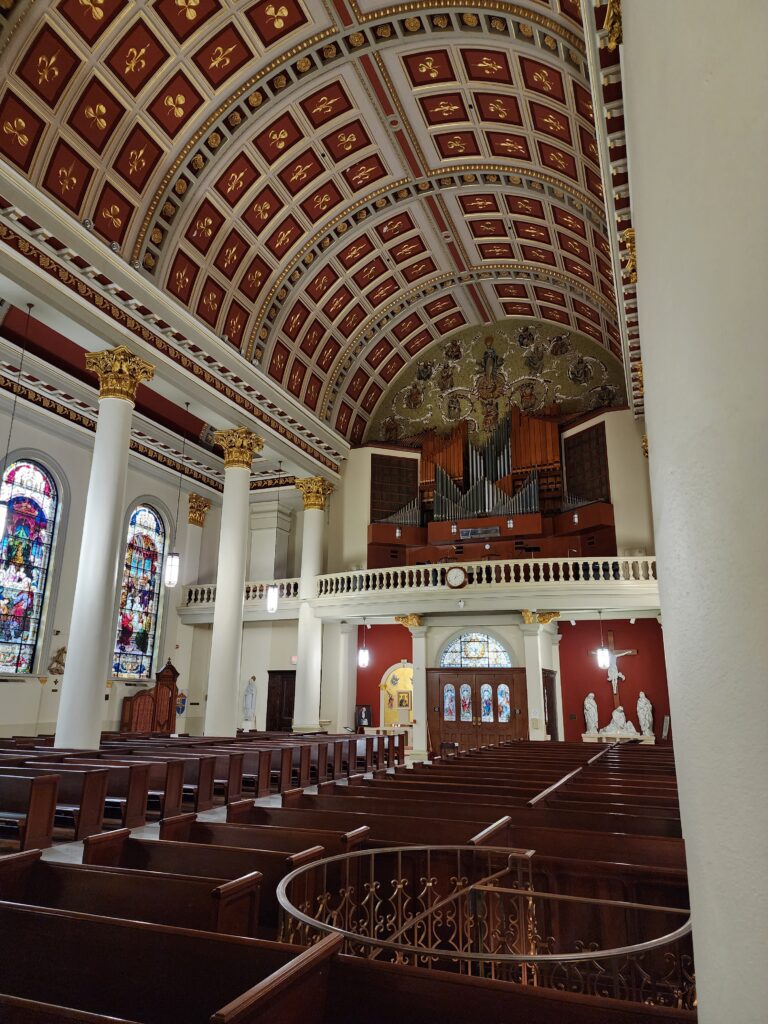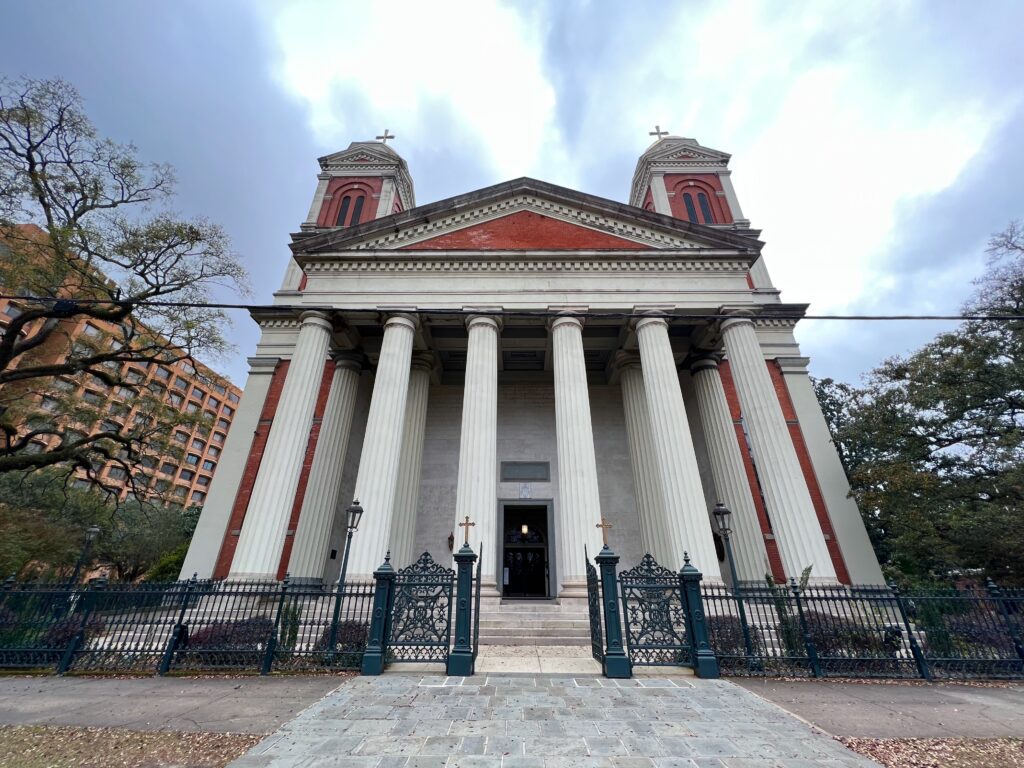 More to Explore Near Gulf Shores
If you're near Fairhope, be sure to pick up homemade pralines, fudge, candies, jams, pickles, local honey, Alabama Sunshine hot sauce, cheese straws and other goodies at Punta Clara Kitchen at Miss Colleen's House in Point Clear.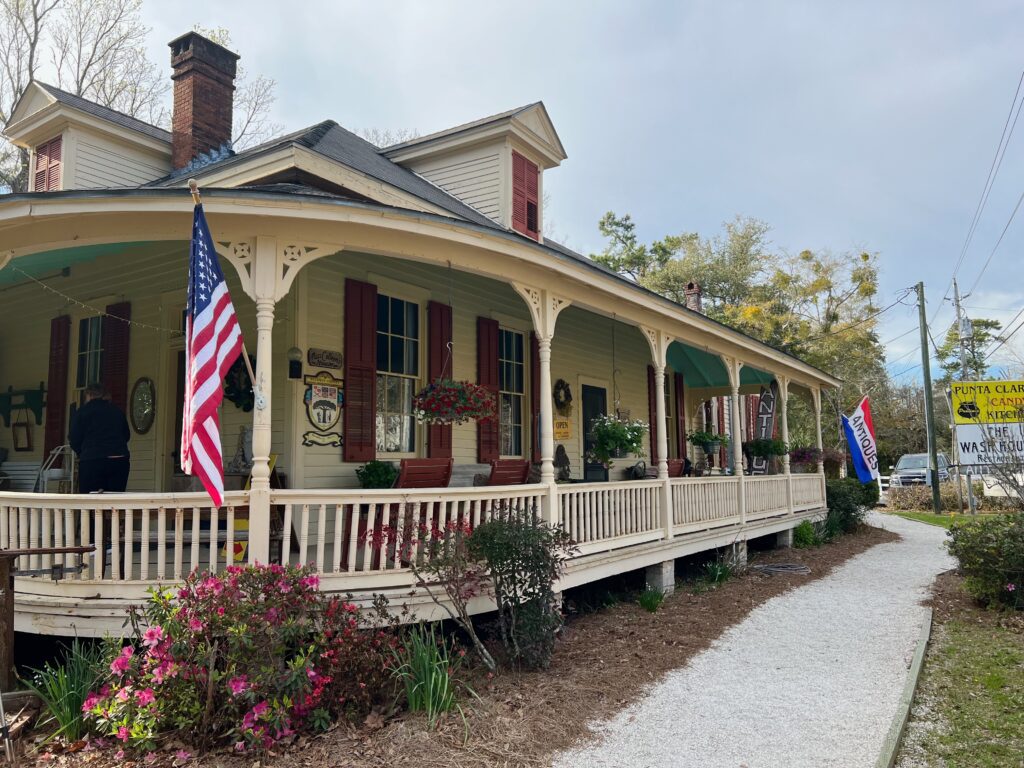 I especially appreciate the history of Miss Colleen Brodbeck of the 1897 Victorian home her father built.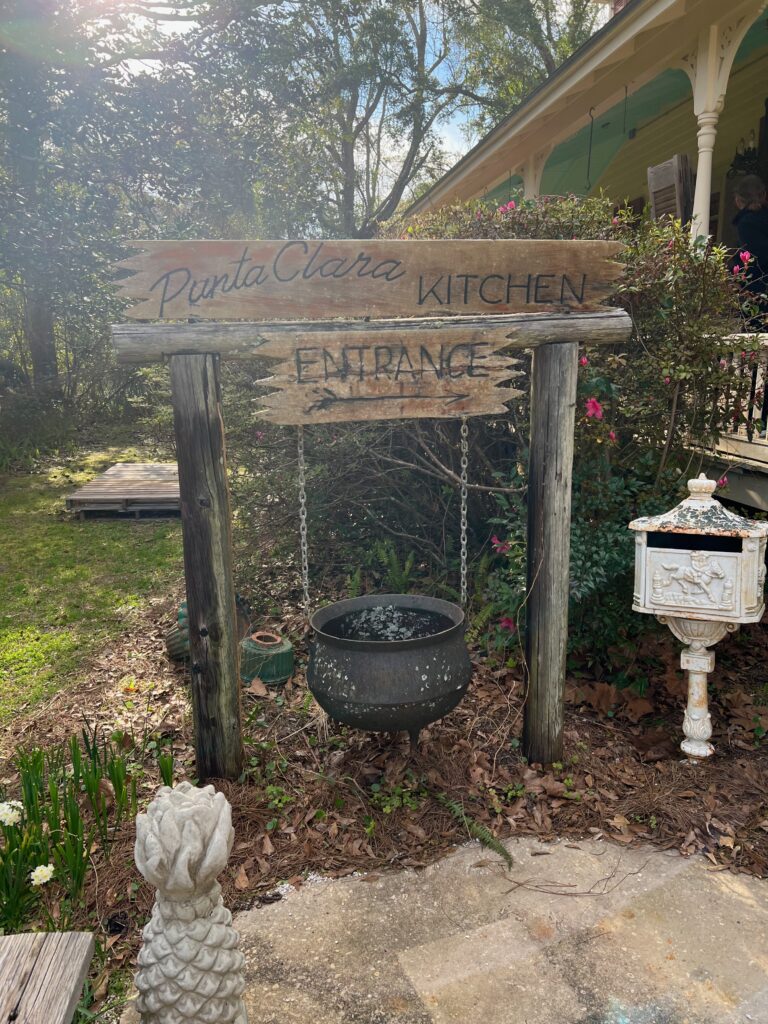 Plus, I found exactly what I wanted to bring home as souvenirs from our Gulf Shores Alabama vacation—a community cookbook!
And even more fun is the story about how the Magnolia Springs cookbook led us to go back to the sleepy river town a few days later for the best meal of our lives. Stay tuned for more about that in Funeral Potatoes Podcast episode 16 and upcoming episode 17.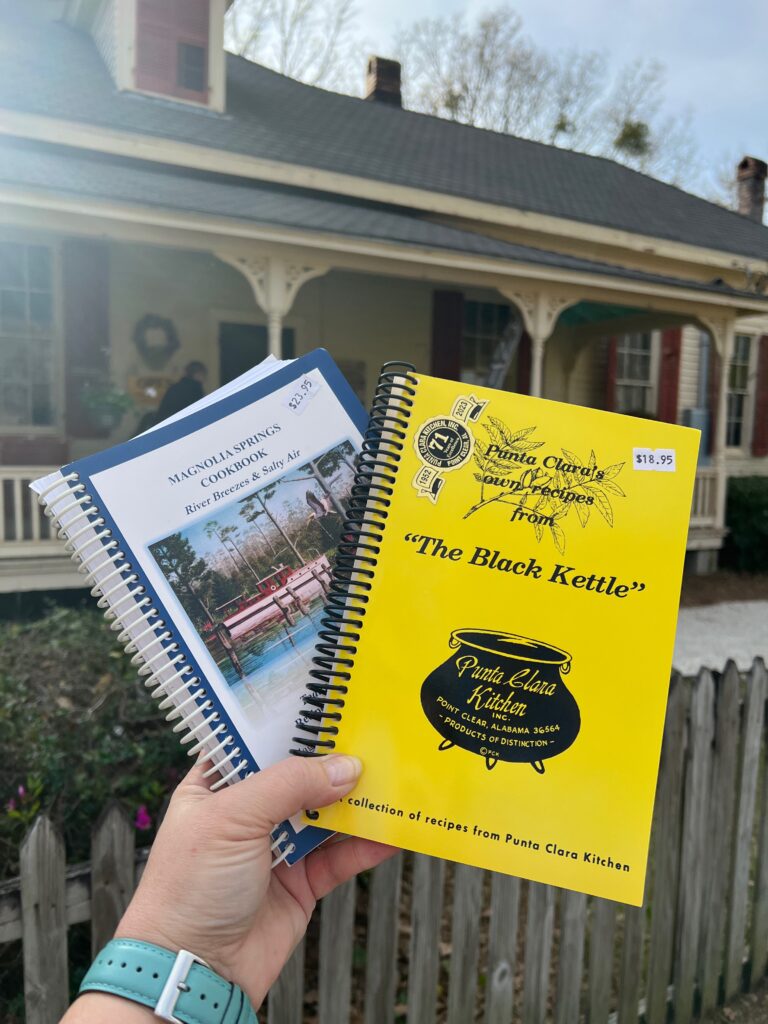 Speaking of Magnolia Springs, I can't explain why really, but there's just something special and calming about being in this town along Magnolia River.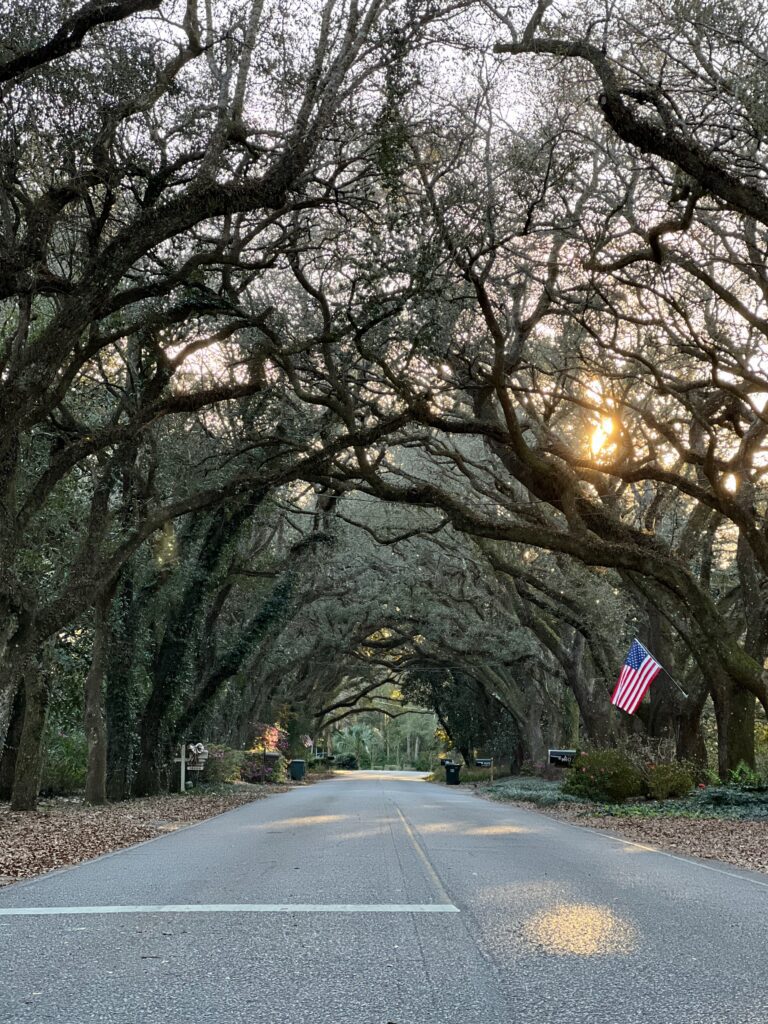 If you're driving around anyway, please visit Magnolia Springs to see the arch of live oaks along Oak Street (near the Magnolia Springs Bed & Breakfast).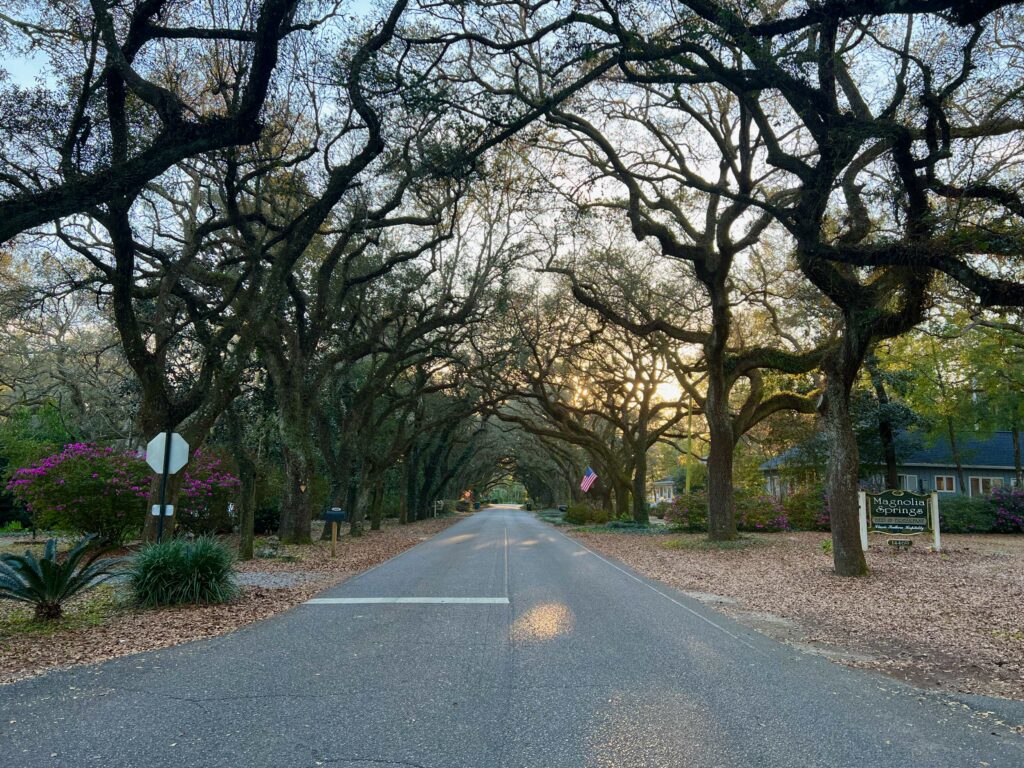 Fun fact: Magnolia Springs has the only year-around U.S. Postal Service river route mail delivery in the continental United States. Yep! They deliver the mail right to your mailbox out by the dock or your boathouse.
I hope you'll listen to the companion podcast episode for this post, Funeral Potatoes & Wool Mittens episode 16. This should be enough to get you started exploring Gulf Shores and Orange Beach, Alabama. If you go, let us know! Or, let me know if you've been there before and what YOUR favorite things to do are.
Ready to eat? Read 22 Places to Eat in Alabama's Gulf Shores Area.
As they say in the South, "Have a blessed day!"
Sweet wishes,