Homemade Strawberry Apricot Jam with Sydney Andera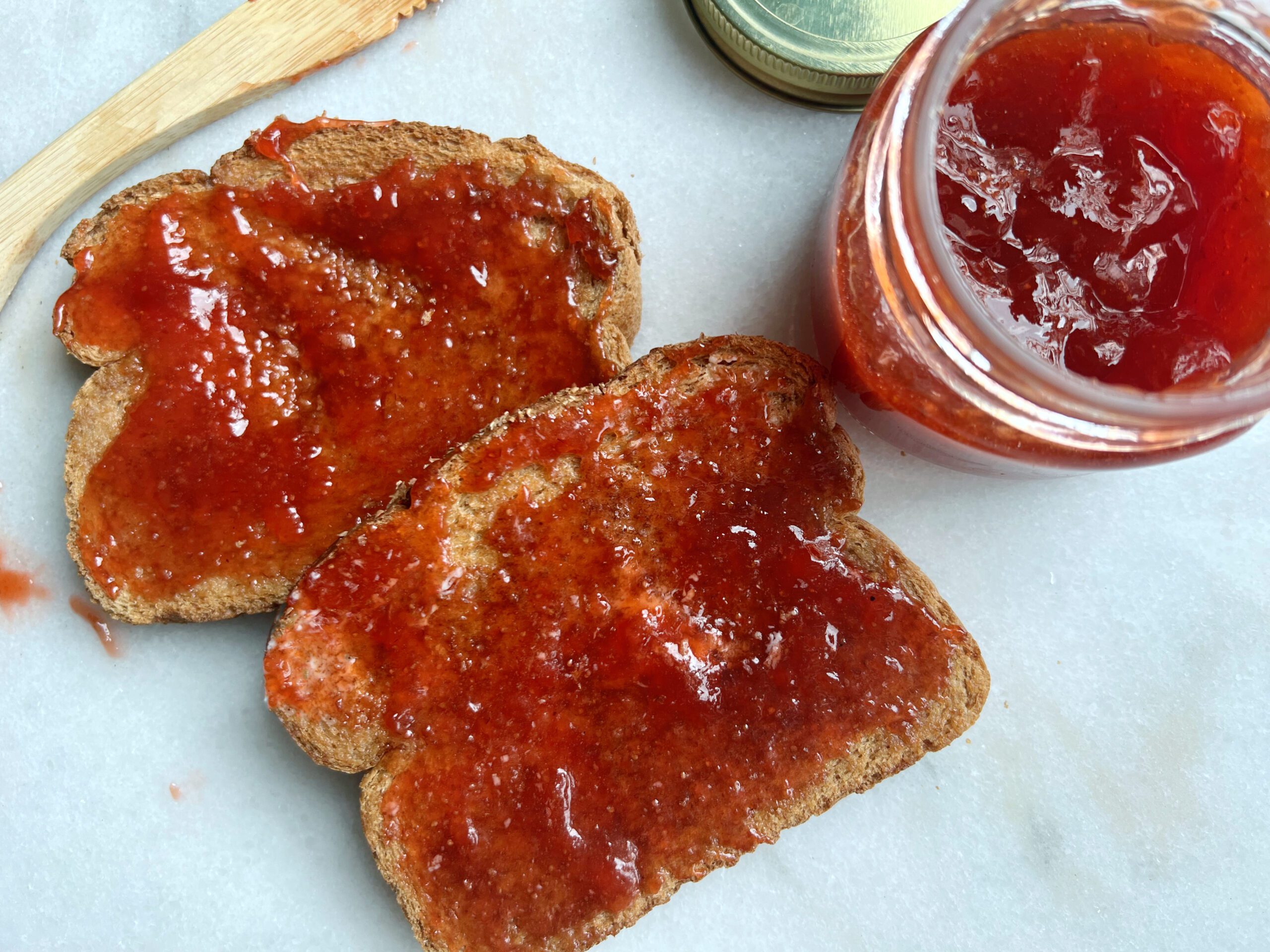 I don't know about you, but when I was 21, I certainly wasn't making homemade jam. But 21-year-old Sydney Andera makes it sound so easy, she's inspired me to get my jars out and make a batch of fresh fruit jam.
She recently shared a jar of her homemade strawberry apricot jam with me and it's incredibly fresh and flavorful—smooth and glossy, just like homemade jam should be.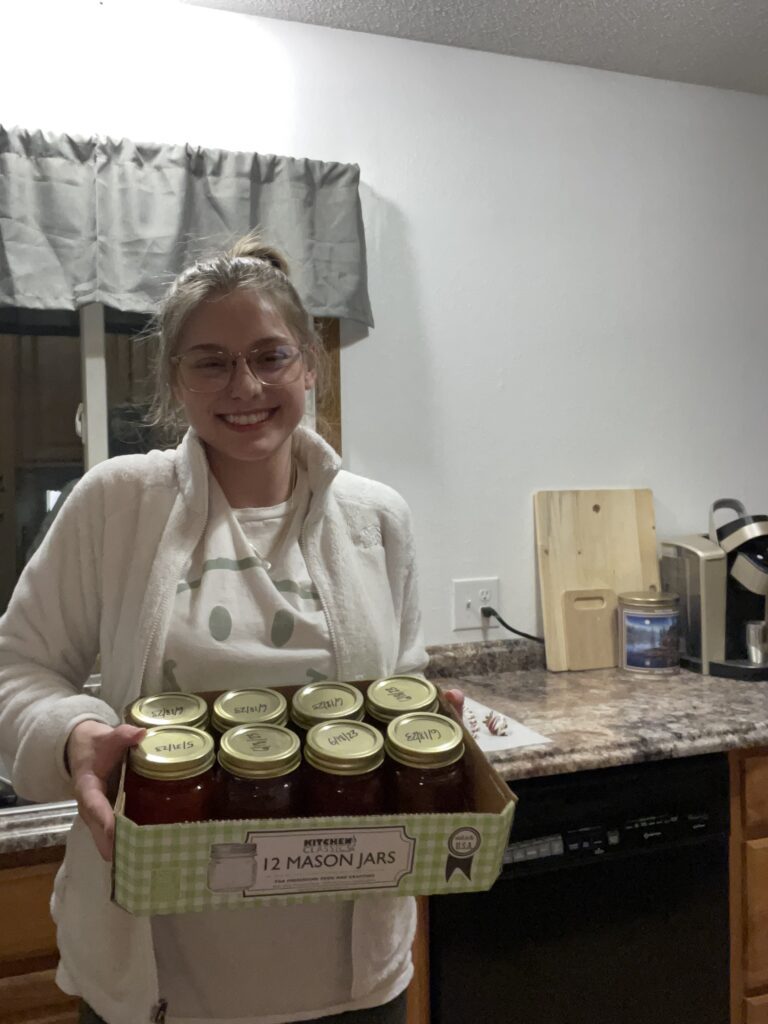 On this week's episode of Funeral Potatoes & Wool Mittens podcast, South Dakota native and my son's girlfriend, Sydney, talks about who inspired her to make homemade strawberry apricot jam (her recipe is below), her favorite flavor of birthday cake since she doesn't like chocolate, the meal she likes most that her mom, Michelle, makes, her Grandma Naomi's broiled parmesan potatoes, and a barbecue joint and a doughnut shop she and her boyfriend, Sajen, enjoyed on a recent trip to Colorado. All that, plus a funny story about how Sydney broke her electric hand mixer with potatoes.
Listen to episode 28 of Funeral Potatoes & Wool Mittens wherever you get your podcasts, or listen in the link below.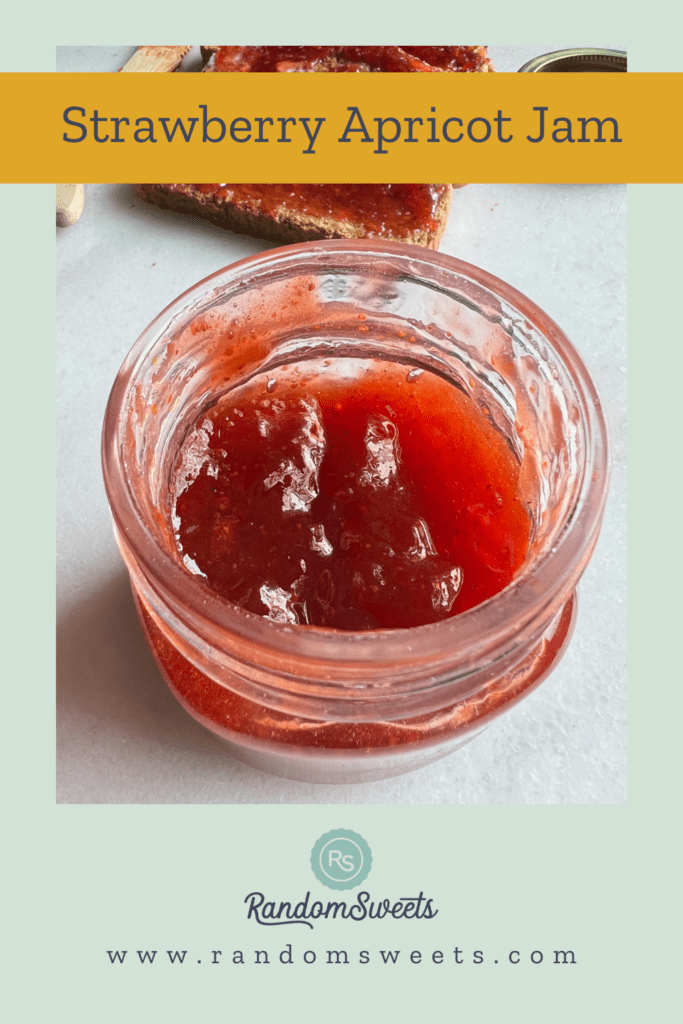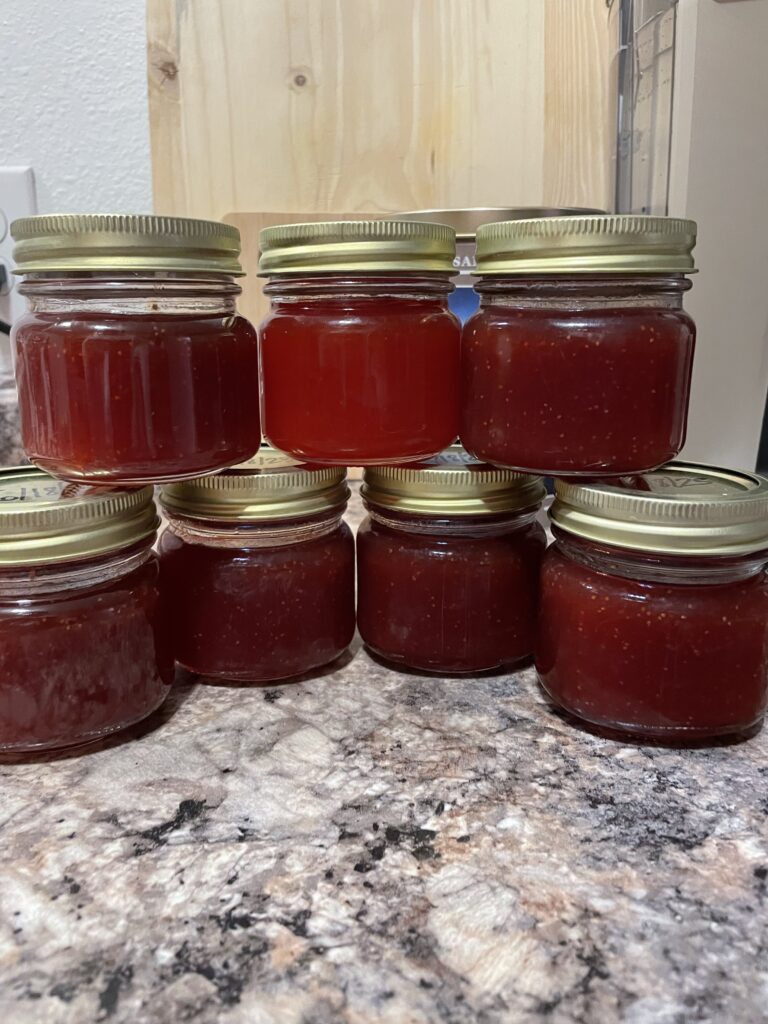 During the episode, their dogs Castaway and Rowdy can be heard pitter-pattering around the kitchen. So we also talked about making homemade dog treats and I'm sharing my recipe below for pumpkin and peanut butter cookie cutouts for your furry canine friends.
When making dog treats, be sure there is no Xylitol or other sweeteners that are poisonous to them. Read about it here on the U.S. Food and Drug Administration.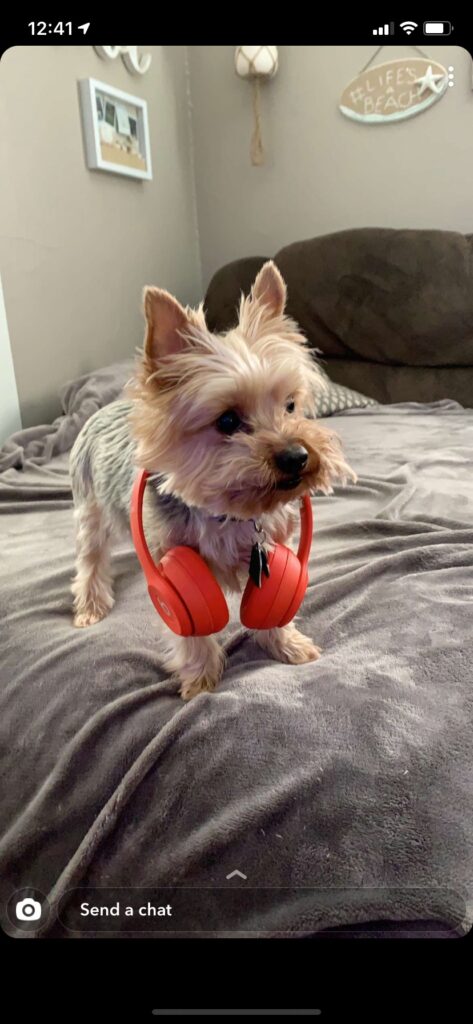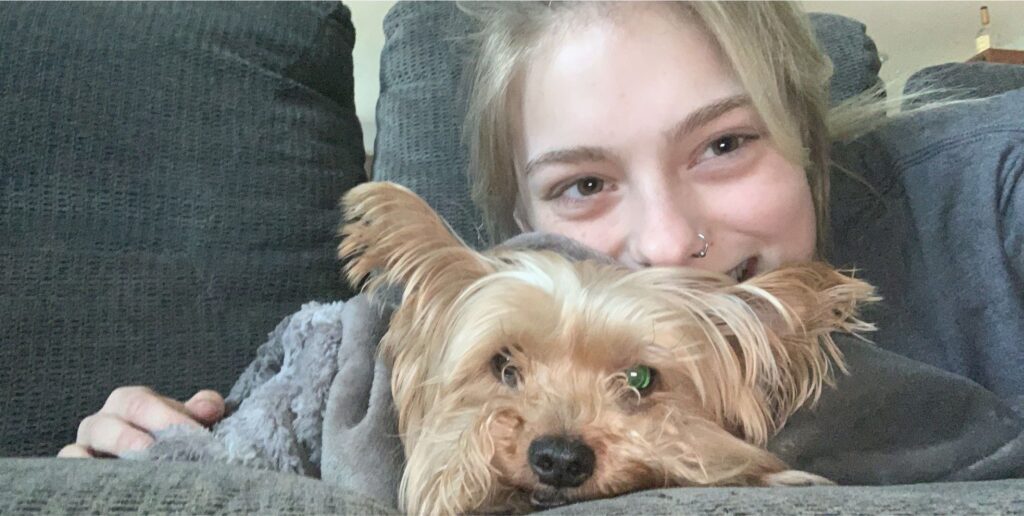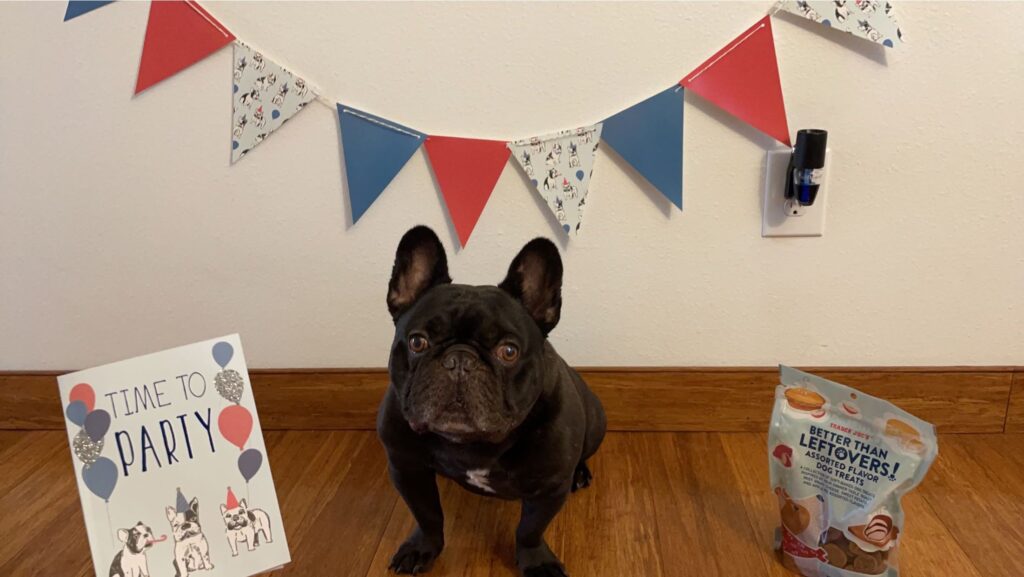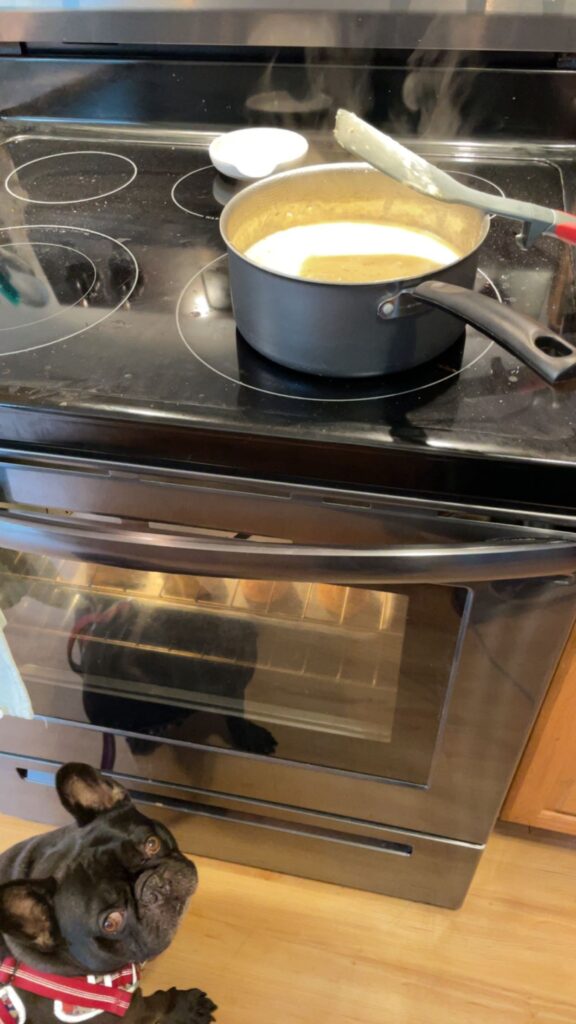 Family Time
Sydney loves her family. As a matter of fact, someone special in her family inspired her to make homemade jam because of the childhood memories she had of making it with him.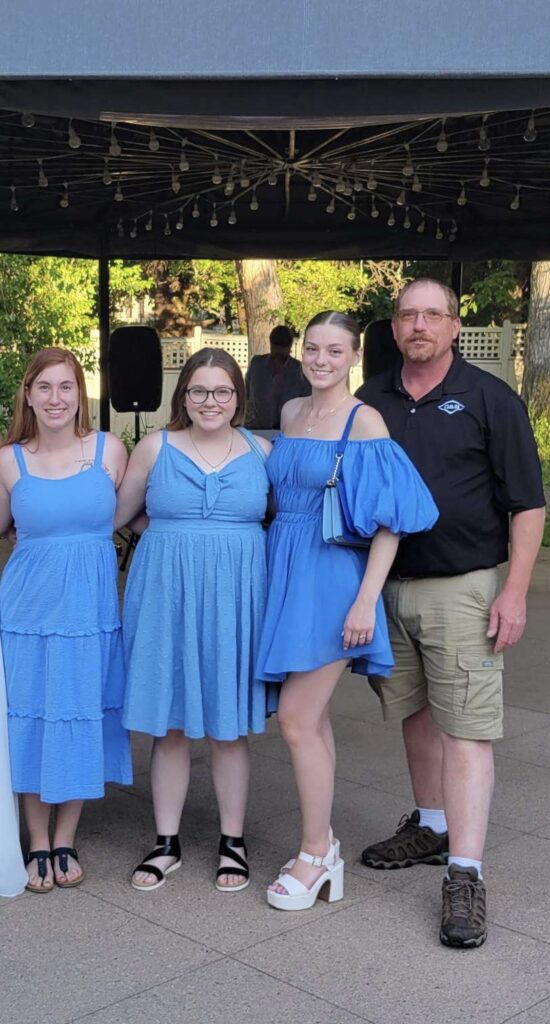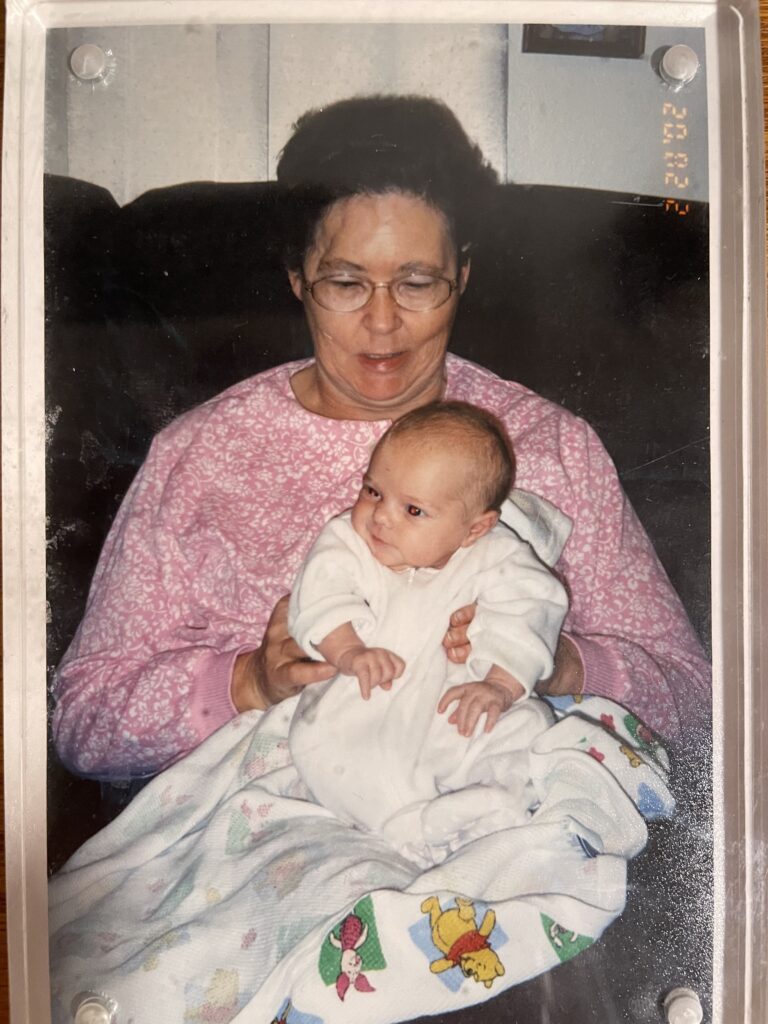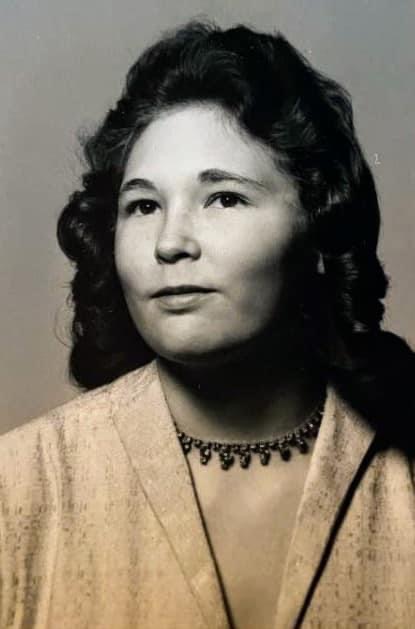 Sydney shares what meal she would request from her mom, and how her Grandma Naomi makes the best broiled parmesan potatoes (listen to how she does it in the podcast).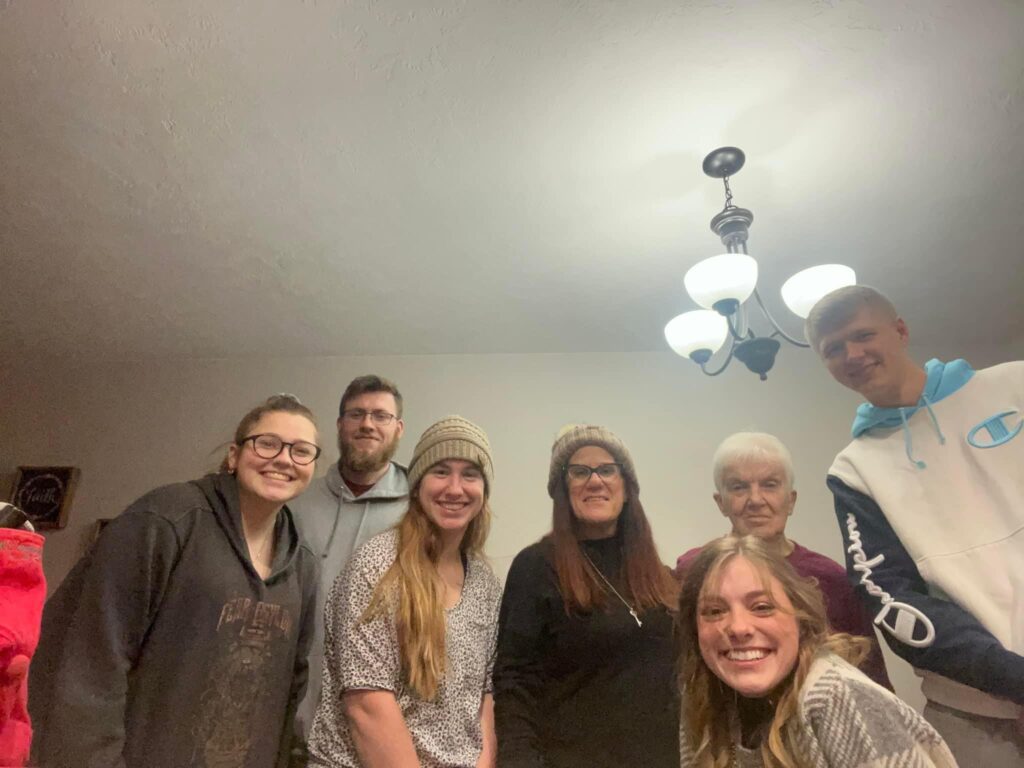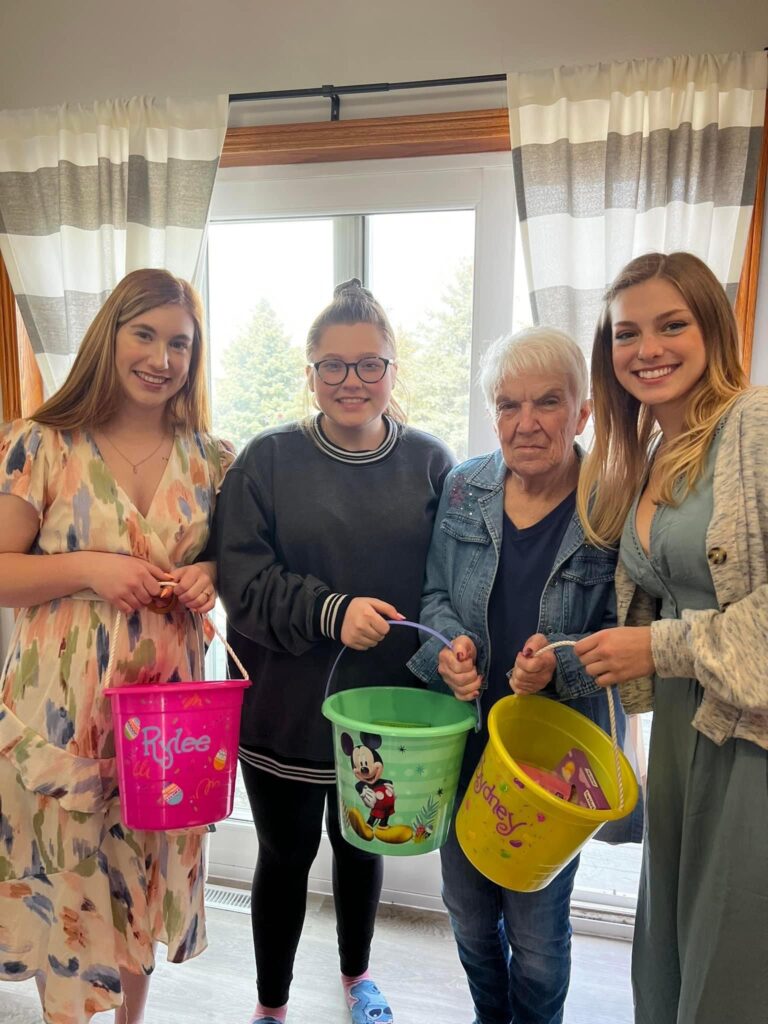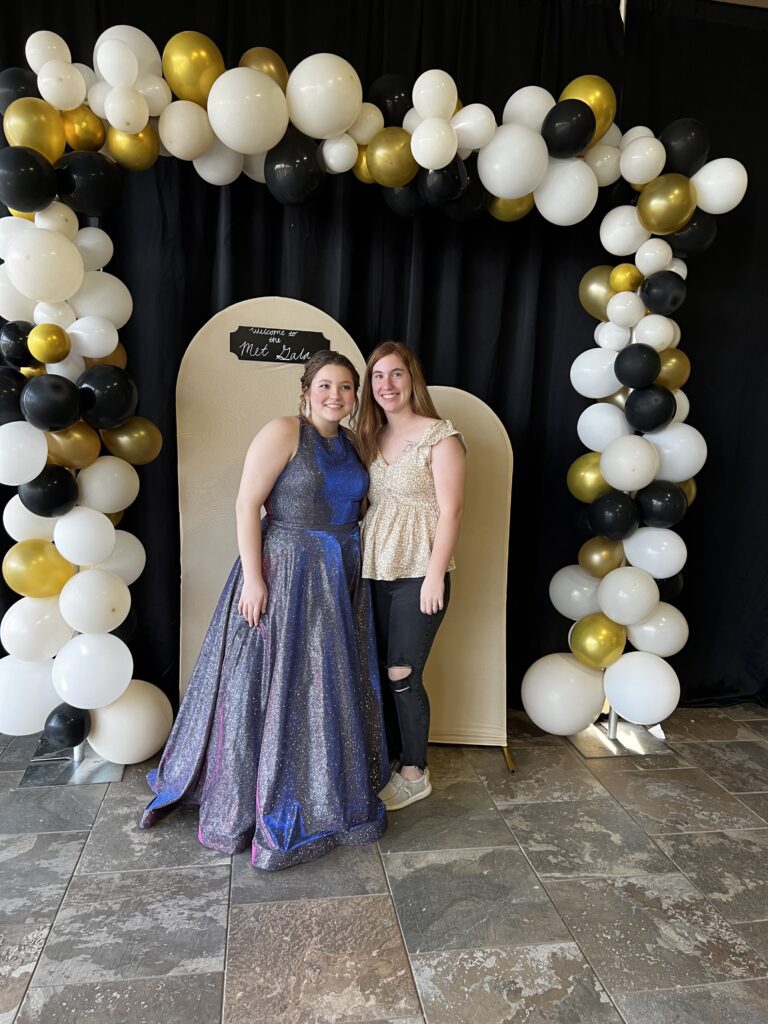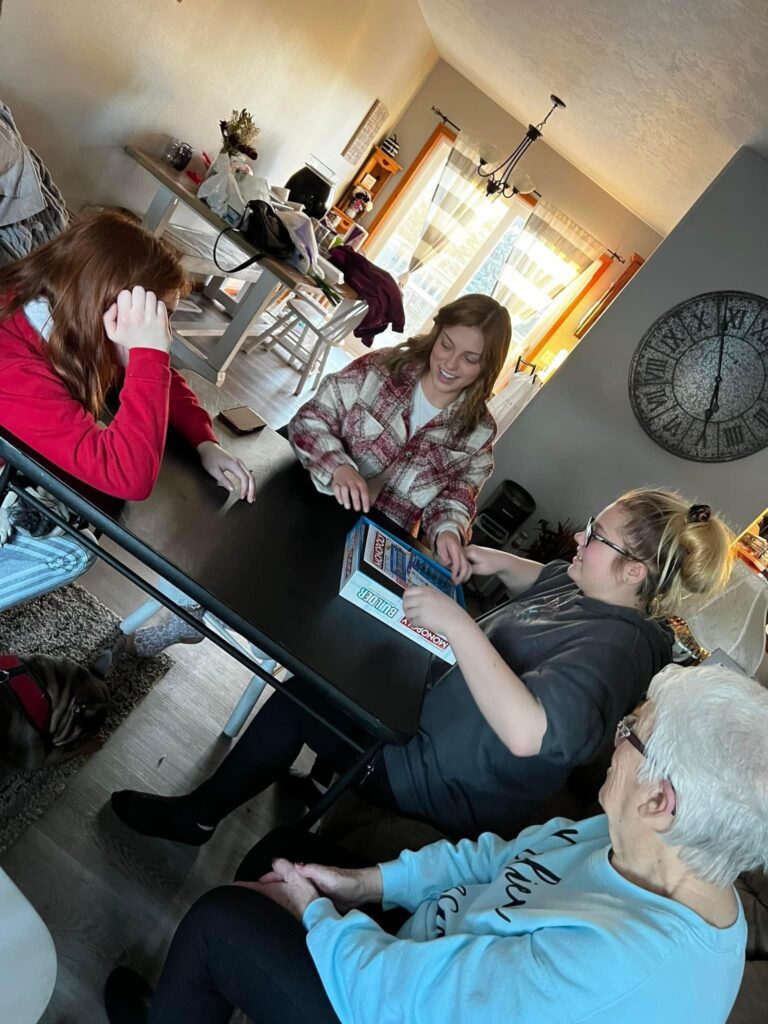 Doughnuts and Barbecue
On a recent trip to Colorado, Sydney and Sajen checked out two local eateries—Voodoo Doughnut and G-Cue Barbecue. On the podcast, she shares all about the warm, maple and bacon doughnut, plus the pink Homer doughnut.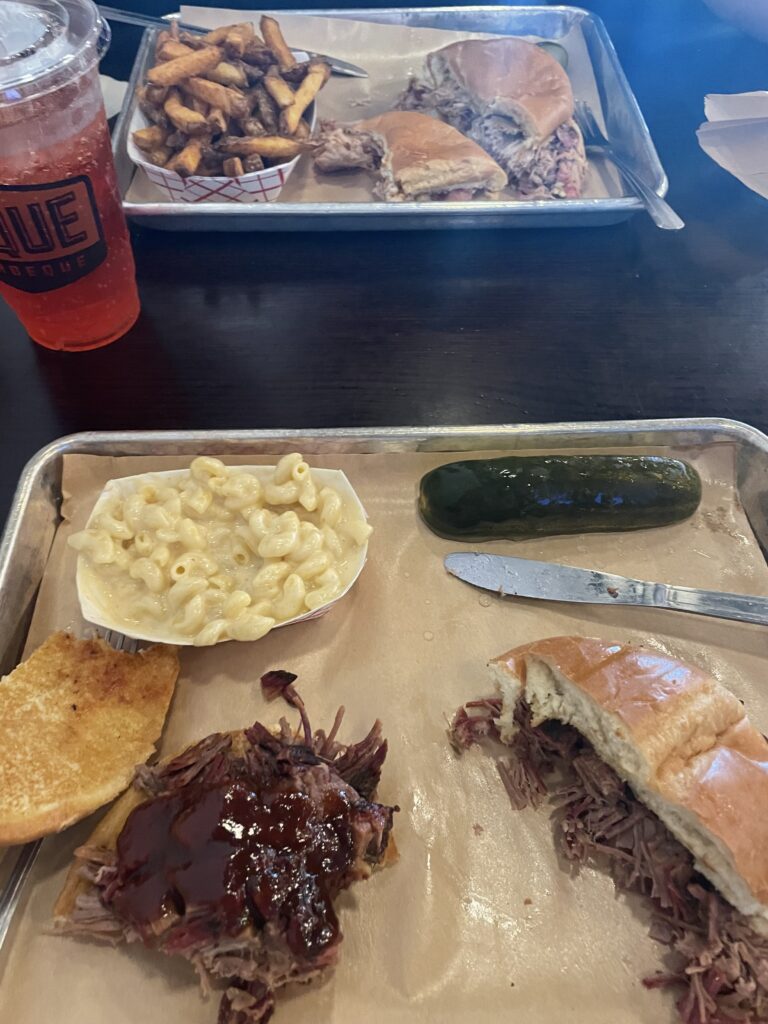 Love
Our family is blessed that Sydney is part of it. She and Sajen have been together for coming up on four years in October. They were so young when they started dating!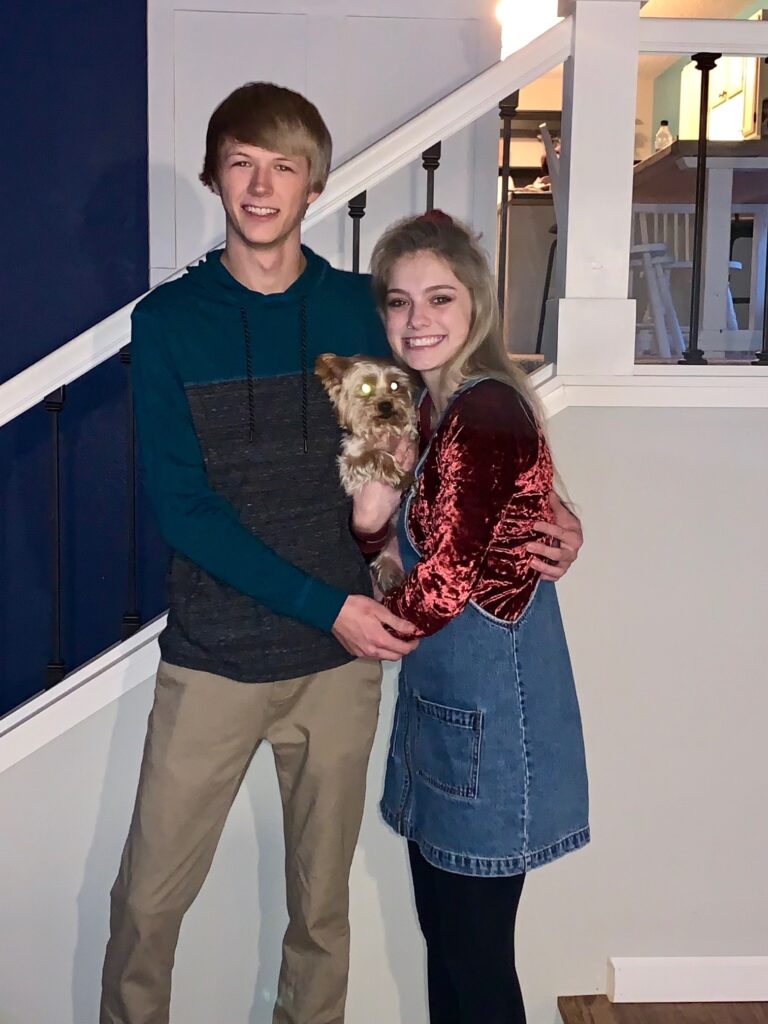 They missed out on going to Sydney's prom because of the pandemic but they dressed up and got their pictures taken. She is so pretty.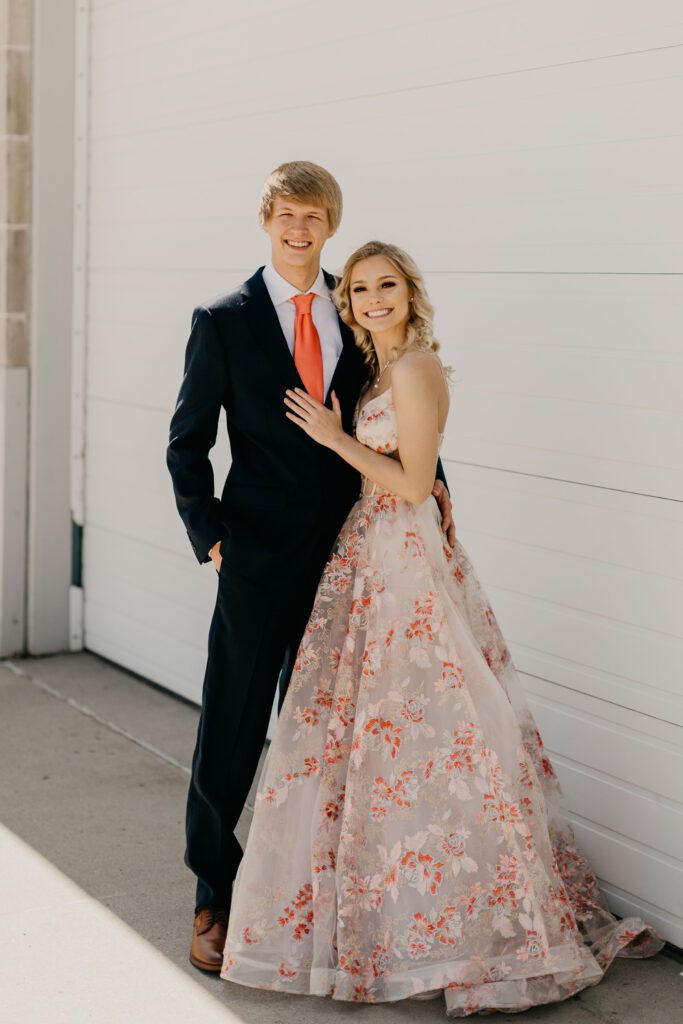 I hope they have a lifetime more of memories together.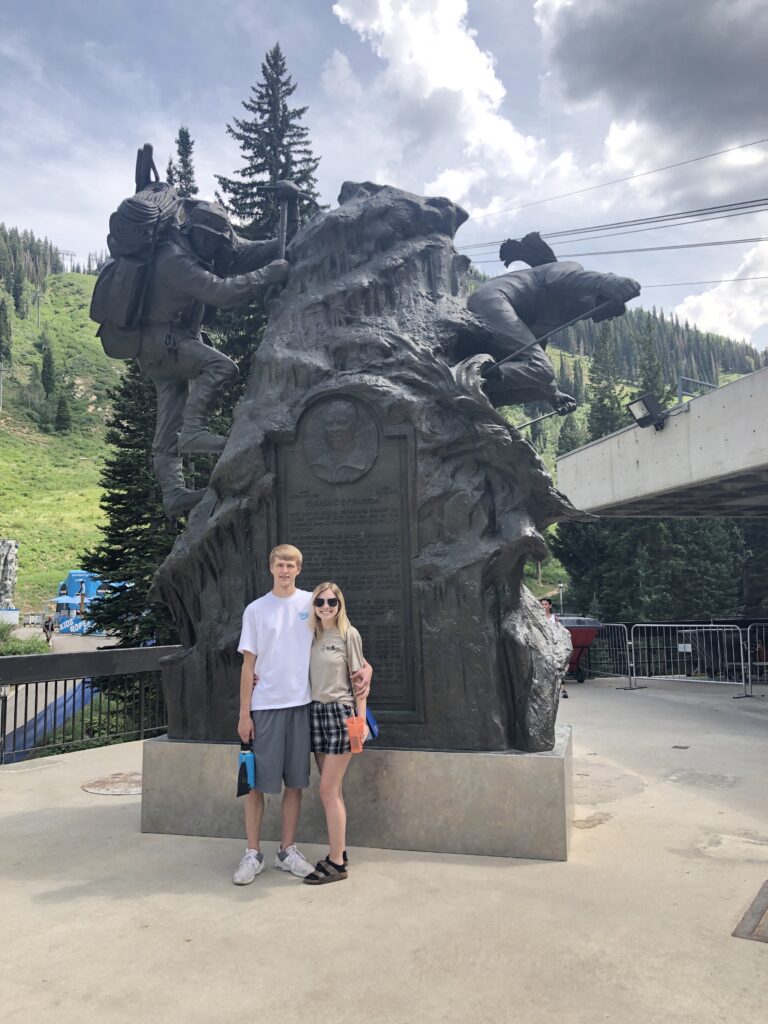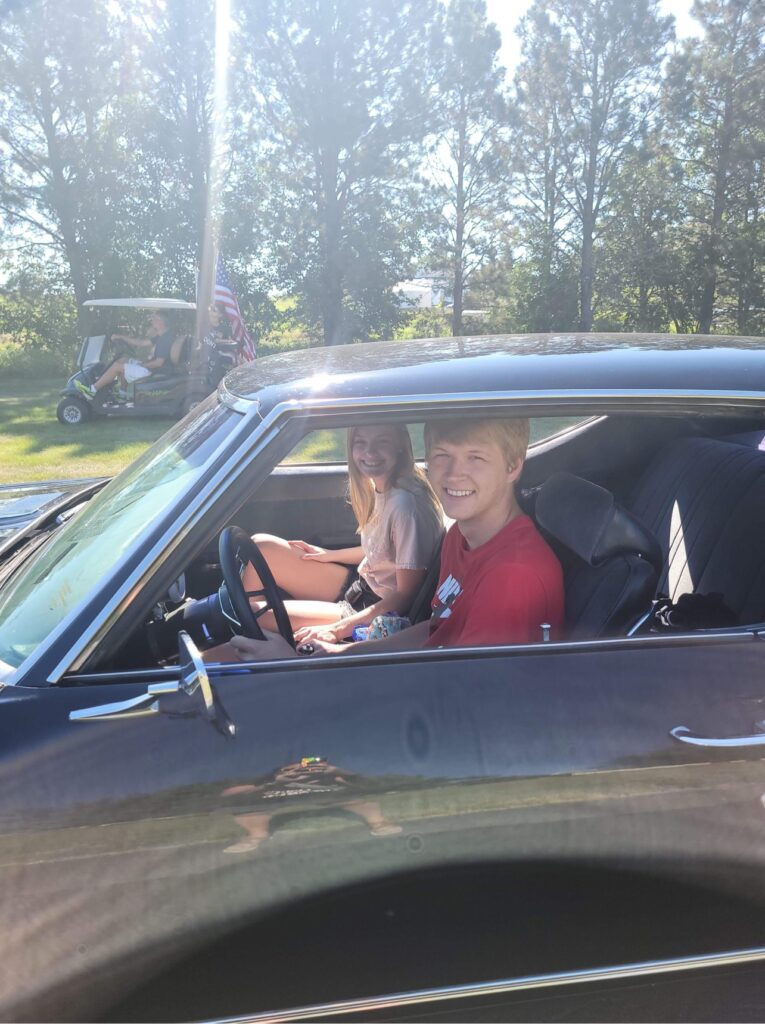 I hope you enjoy this episode. I'd love to hear what flavor of jam you make.
Sweet wishes,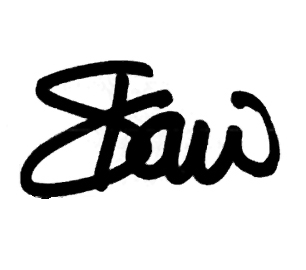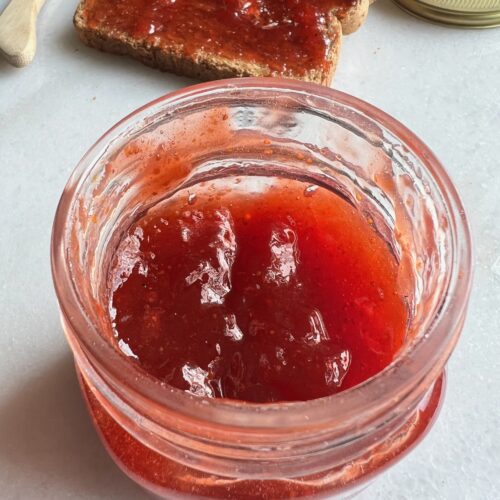 Email this recipe
Sydney's Strawberry Apricot Jam
Spread this jam on your toast, biscuits, English muffins or bake it into a cheesecake.
Equipment
11 8-ounce canning jars with lids
Ingredients
2½

pounds

ripe apricots, pitted and quartered

2½

pounds

fresh strawberries, hulled, washed and quartered

1.75

ounce

box fruit pectin

½

teaspoon

butter

7

cups

sugar

2

tablespoons

bottled lemon juice
Instructions
Wash canning jars and the screw lids with hot soapy water. Rinse and set aside. Place the flat lids in a pot of boiling water.

In a large stockpot, gradually add the 5 cups of fruit, mashing it as it's added.

Add the pectin to the fruit in the stockpot. Add the butter.

Over high heat, bring the mixture to a boil, stirring constantly. Once boiling, add and stir in 1 cup of sugar, one at a time, until all 7 cups are stirred in.

Add the lemon juice. Boil 1 more minute. Remove from heat. The butter should reduce the amount of foam but if there is any, skim it off with a metal spoon.

Ladle the jam into the jars, leaving one-quarter inch of headspace in each jar.

Cover jars with the flat lid and the screw lid and screw shut as tightly as possible.

Lower the jars into a large canner pot filled with enough water to cover the jars at least 1 or 2 inches over the tops. Cover the pot and bring water to a soft boil. Boil 10 minutes.

Remove jars from boiling water and place on a towel. Cool completely. The flat lids should pop/suck down. (If you press it down in the middle, it should not spring back.) If they aren't sealed properly, you'll need to refrigerate the jam to keep it safe for consumption. If they are sealed properly, these jars are shelf stable.
Nutrition
Calories:
24
kcal
Carbohydrates:
6
g
Protein:
0.1
g
Fat:
0.1
g
Saturated Fat:
0.01
g
Polyunsaturated Fat:
0.01
g
Monounsaturated Fat:
0.01
g
Cholesterol:
0.02
mg
Sodium:
1
mg
Potassium:
17
mg
Fiber:
0.2
g
Sugar:
6
g
Vitamin A:
80
IU
Vitamin C:
3
mg
Calcium:
1
mg
Iron:
0.04
mg
All text and images © Staci Mergenthal • Random Sweets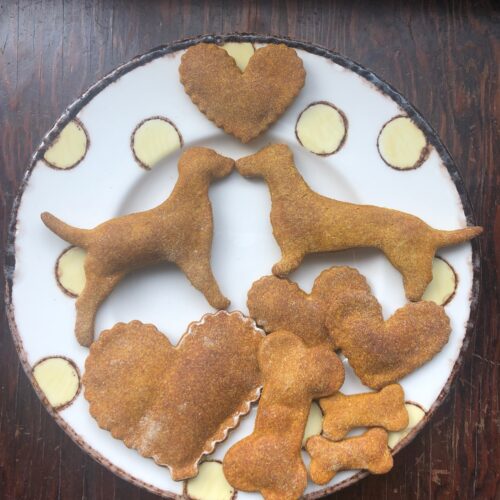 Email this recipe
Peanut Butter Pumpkin Dog Treat Cookies
Your pooch will do tricks for these treats. Be sure your peanut butter doesn't contain Xylitol or any other sweetener like it.
Ingredients
1

cup

pumpkin puree

2

eggs

⅓

cup

natural peanut butter, NO Xylitol as it is poisonous to dogs

½

teaspoon

ground cinnamon

2

cups

whole wheat flour
Instructions
In a large mixing bowl, combine pumpkin, eggs, peanut butter, and cinnamon.

Add whole wheat flour. Stir just until combined.

On a floured surface (use whole wheat flour), roll out the dough into about 4 flat squares, wrapping each one in plastic wrap. Place them in the refrigerator for 1 hour, or up to two days.

Heat oven to 350℉. Line a large baking sheet with parchment paper.

Roll out the dough and use cookie cutters to make cookie shapes. Use tiny for little dogs or large cookie cutters for larger dogs. Dip the cutters into whole wheat flour if they are sticking to the dough.

Place cookies on a large baking sheet. Bake 20-40 minutes, depending on the size of the cookie, and if you want it soft or harder.

Remove from oven and move cookies to a cooling rack to cool completely. Store in an airtight container at room temperature for up to two weeks or store in the freezer up to 6 months.
All text and images © Staci Mergenthal • Random Sweets