22 Places to Eat in Alabama's Gulf Shores Area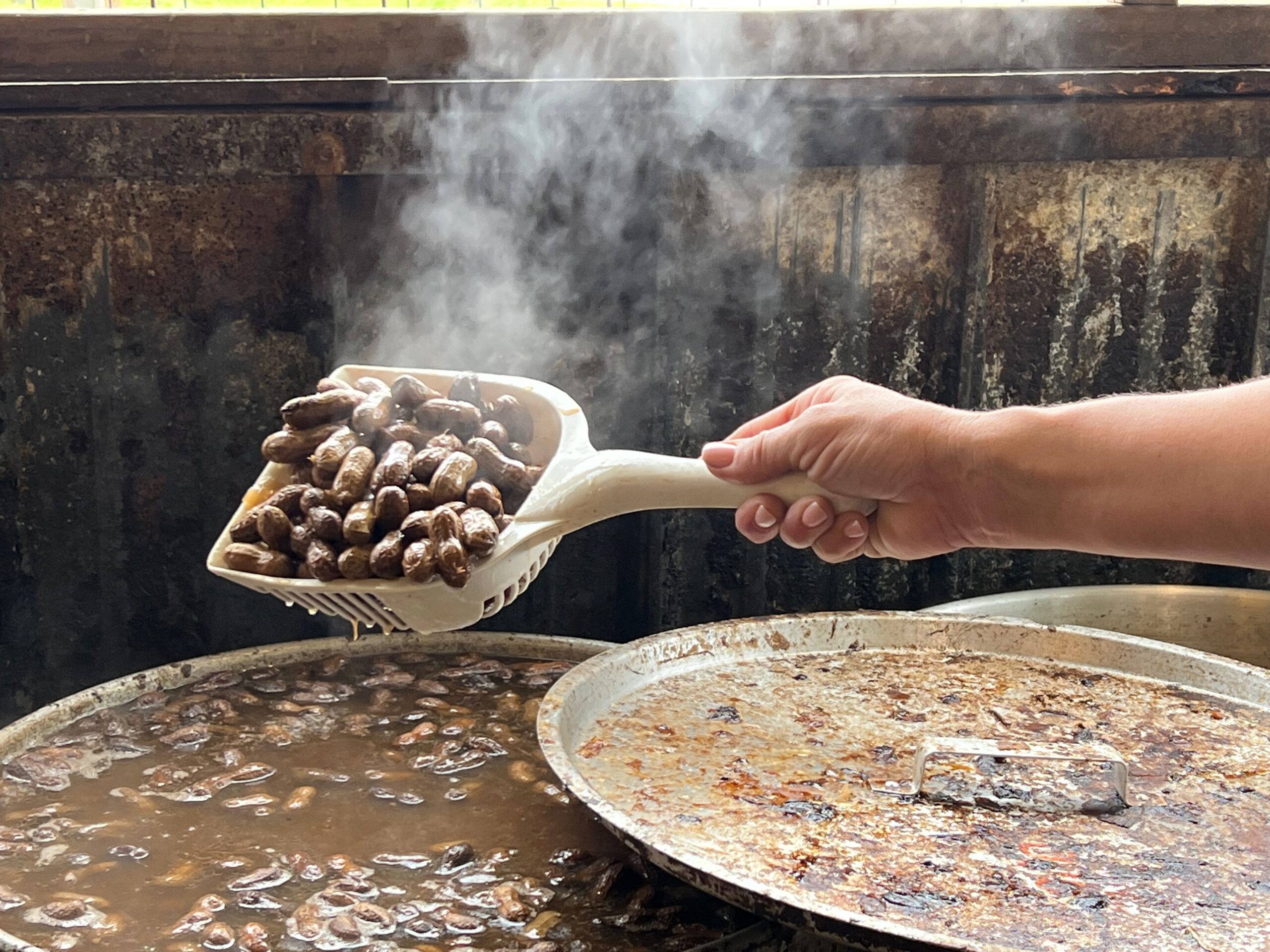 This post may contain Amazon or other affiliate links. As an Amazon Associate I earn from qualifying purchases.
Planning a trip to the Gulf Shores, Alabama, area? As promised in episode 16 of Funeral Potatoes & Wool Mittens podcast, Jason and I gathered our lists and we each ranked our top five favorite meals and restaurants from our Gulf Coast vacation in February.
From smoked turkey, dry aged Delmonico steak and Gulf grouper, to eggs Benedict atop a waffle, fried pickles and fried chicken, candied yams, fontina dip, mac and cheese, and key lime pie, we tried a lot of dishes.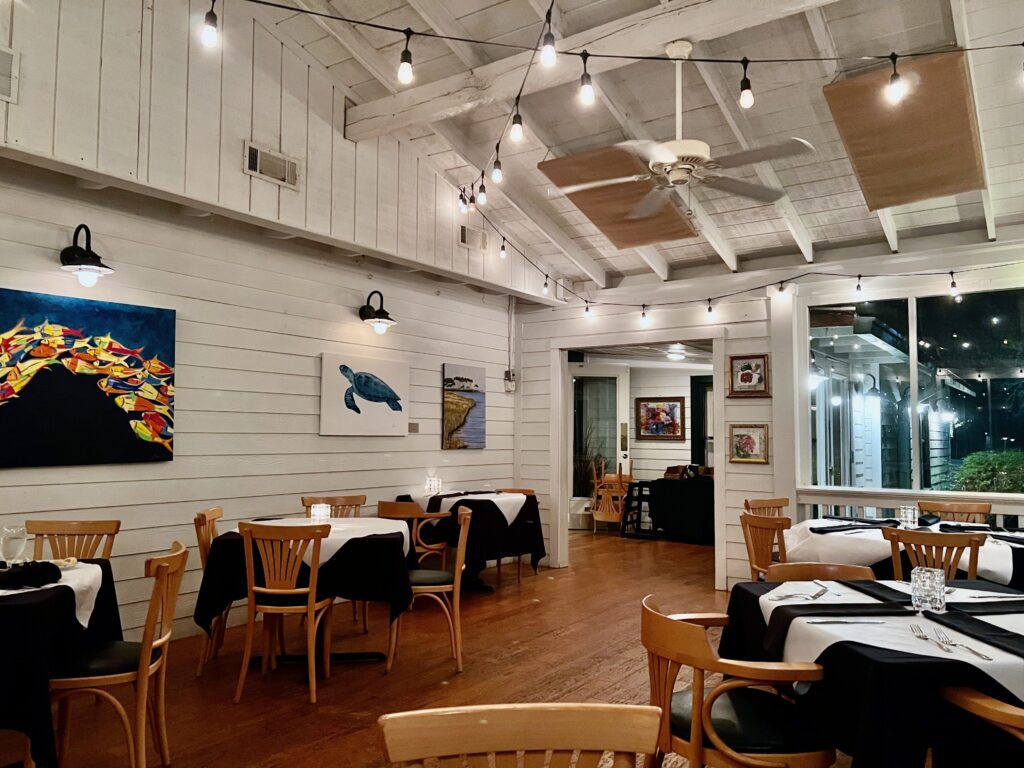 Listen to the food episode 17 here, click the link below, or queue it up in whichever podcast app you listen to your favorite shows.
Of course we didn't want to leave anyone out. Especially because our experience at every place we ate at was spectacular. Even Subway. So after we rank our top five most memorable and delicious dining adventures, we have a fun conversation about all the other establishments.
Below are the names and photos of the restaurants on our Gulf Shores trip. You'll want to listen to podcast episode 17 to hear which are our top five—one of which turns out to be one of our most memorable meals of our lifetime.
Breakfast & Coffee
Sunliner Diner 100 E. 2nd Ave., Gulf Shores, Ala., (also a location in Pigeon Forge, Tenn.) sunlinerdiner.com
All-day breakfast. So delicious, we ate at this 1950s themed Sunliner Diner twice. I mean, heart-shaped waffles AND they had peanut butter.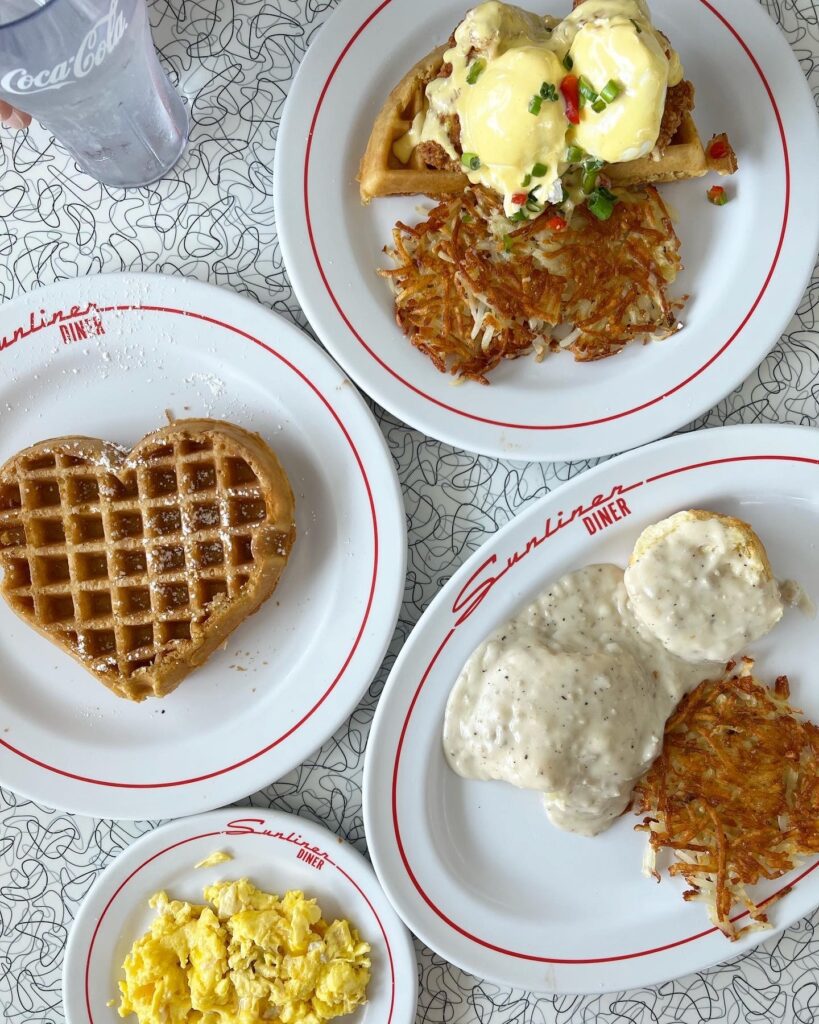 Jason really liked the eggs Benedict atop a waffle. The biscuits and gravy were so good, I added the gravy to my hash browns when we came back a second time.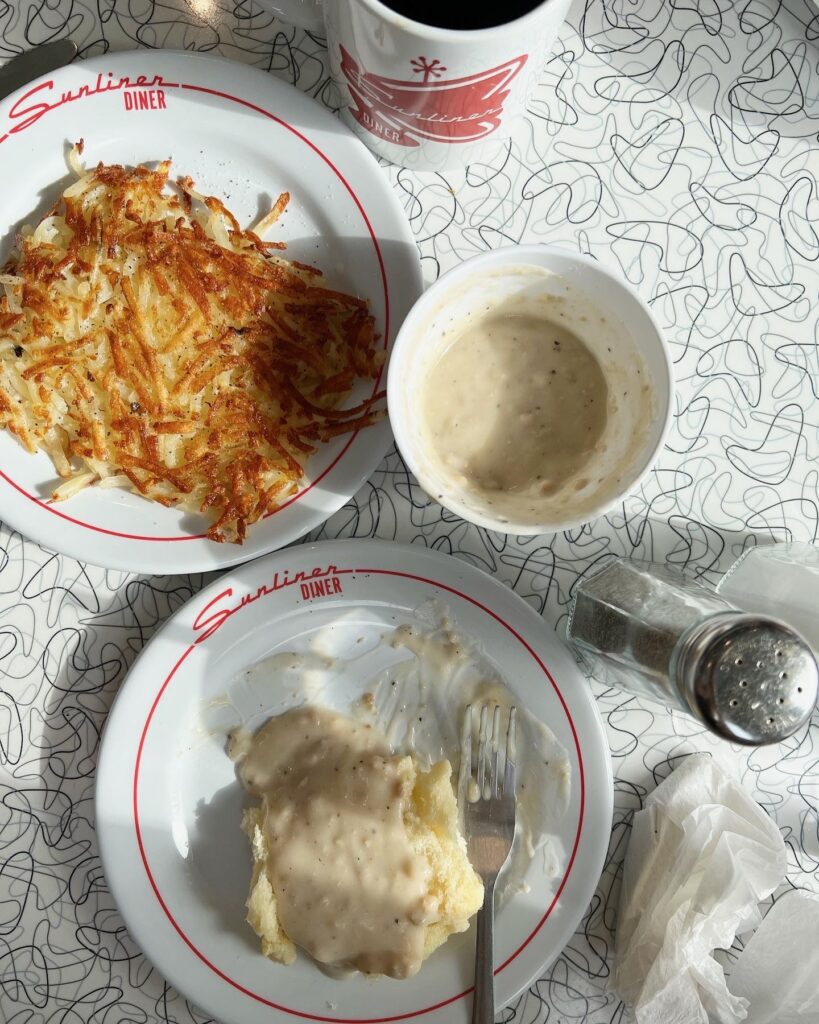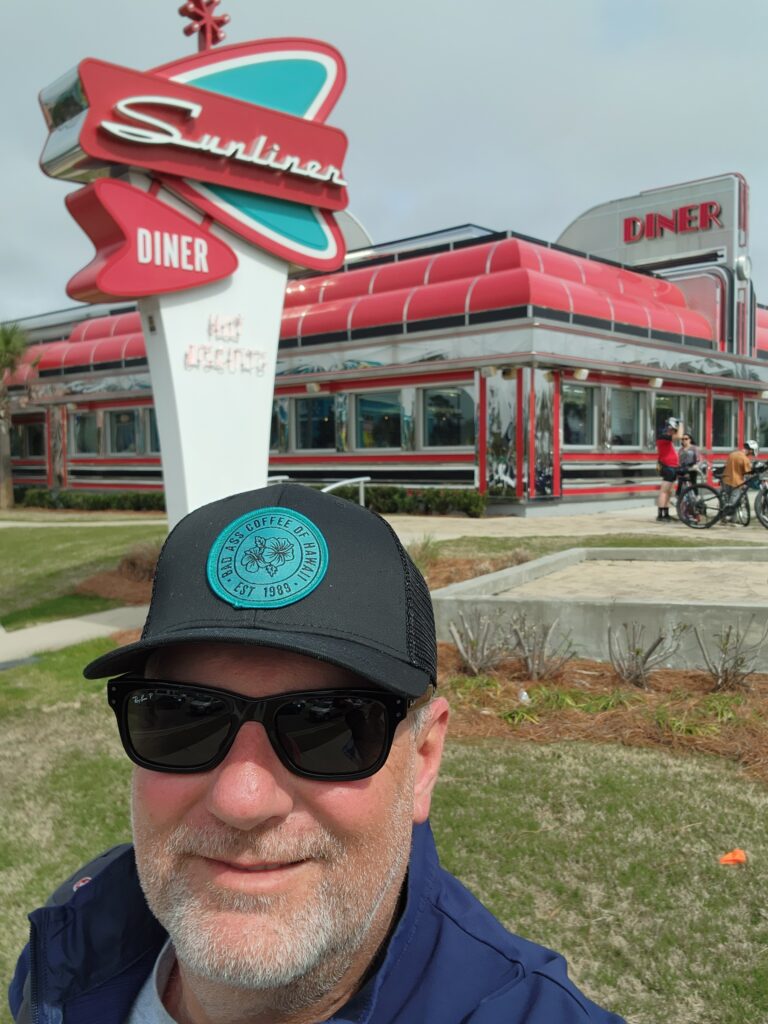 The Southern Grind Coffee House at Hotel Indigo 22843 Perdido Beach Blvd., Orange Beach, Ala. thesoutherngrind.com
Thank goodness Jason forgot his swim trunks hanging out to dry on the balcony at our condo when we left for the airport. Because, as we were leaving town, I saw The Southern Grind and remembered it was a place I'd wanted to try. But since we'd passed it, we didn't want to turn around.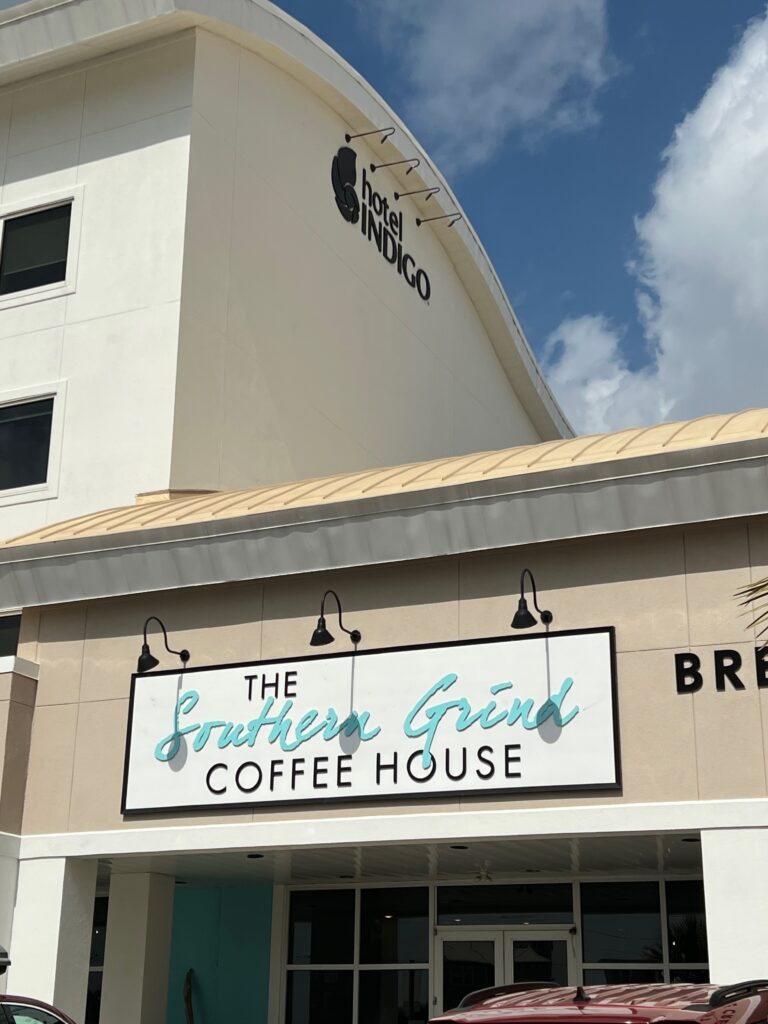 And then I got a text from our Airbnb hostess, Alicia, letting us know Jason left his swim trunks behind. Although she offered to ship them to us, we went back. Which also meant we'd be driving by Southern Grind again so we chose to stop. I'm so glad we did. Besides the delicious ham and cheese breakfast panini we ate, I did a little shopping in the boutique.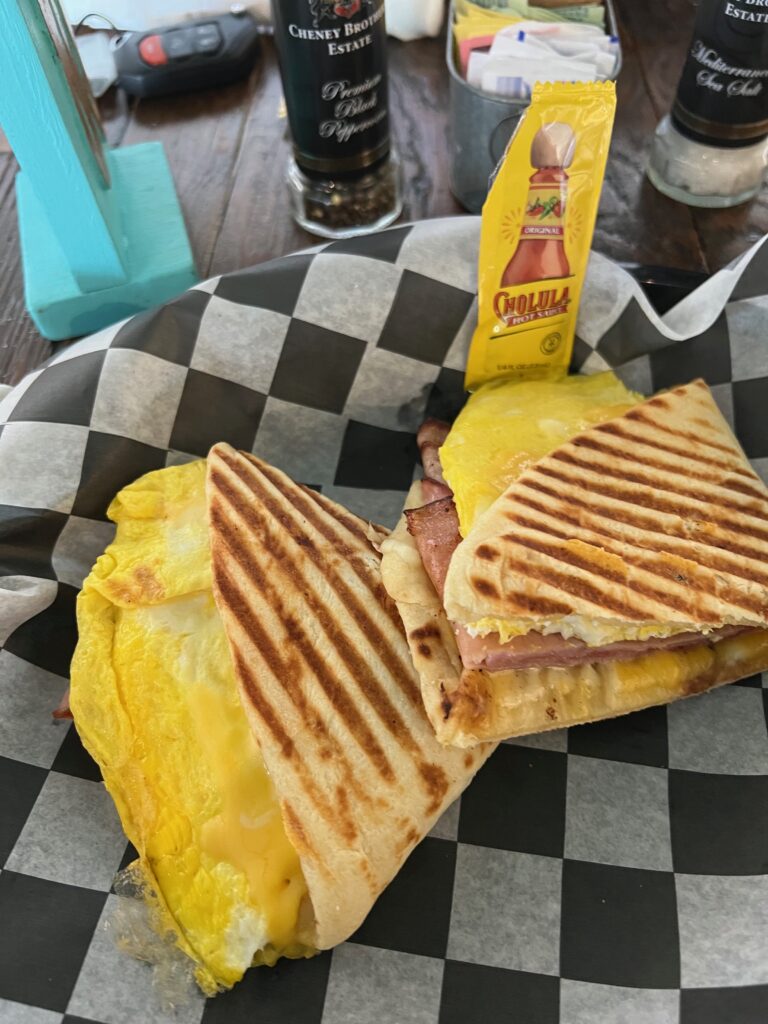 I had to choose the breakfast special that was written on the board because the menu has so many excellent choices that it would have taken me forever to order. They have another location at The Wharf.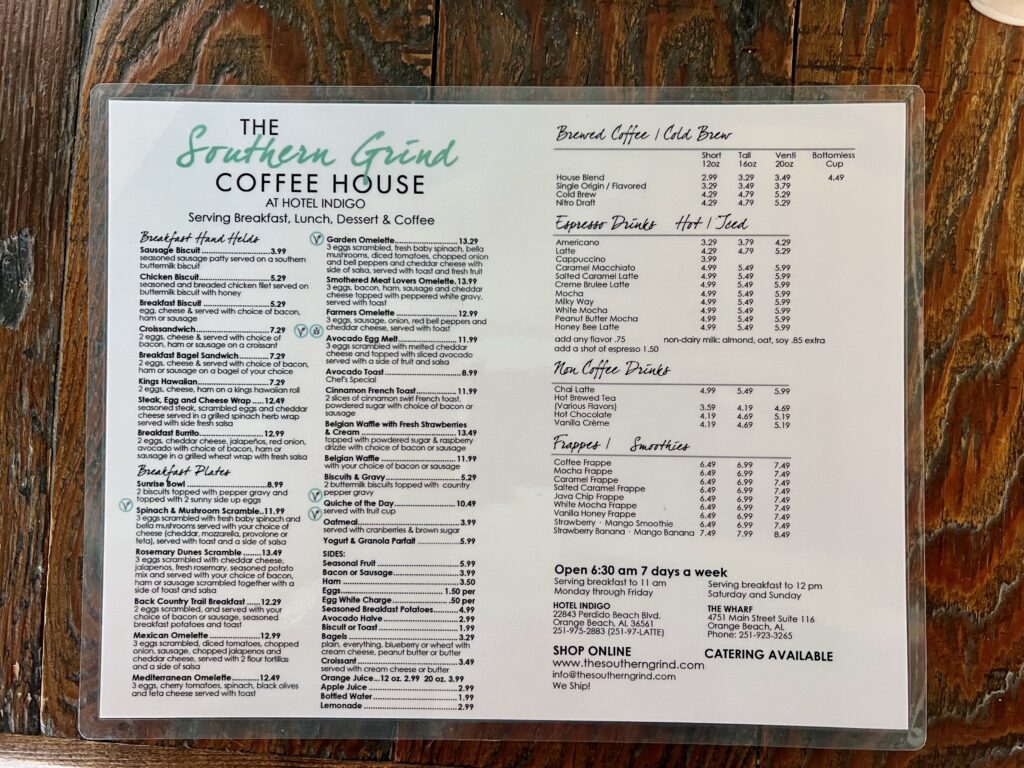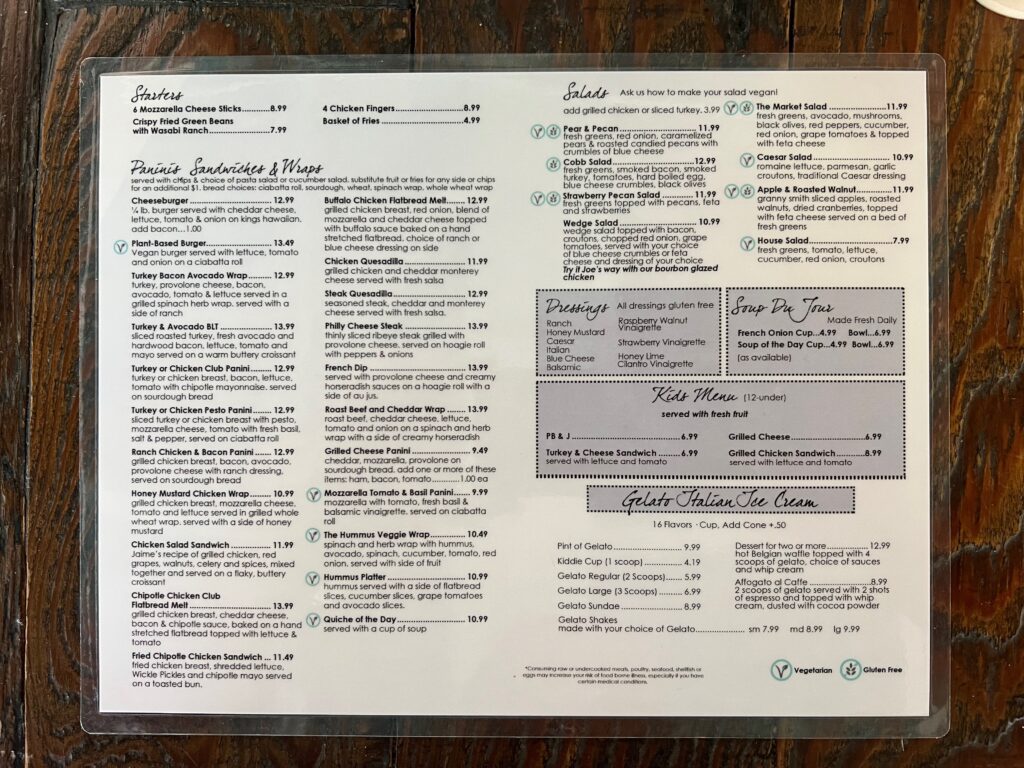 Waffle House multiple locations in Baldwin County, Ala., wafflehouse.com
This was my first time at a Waffle House! And we didn't even get kicked out.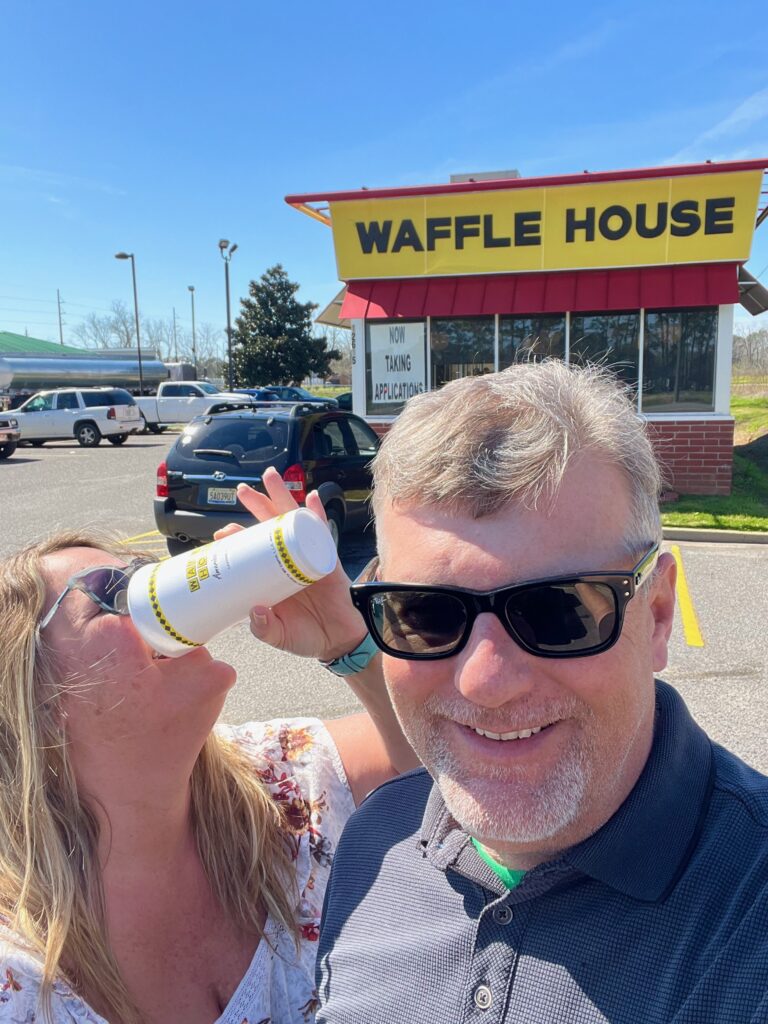 I don't know if they are all this way, but I ordered peanut butter (for my waffle) and she said they didn't have any. Maybe they were just out of it.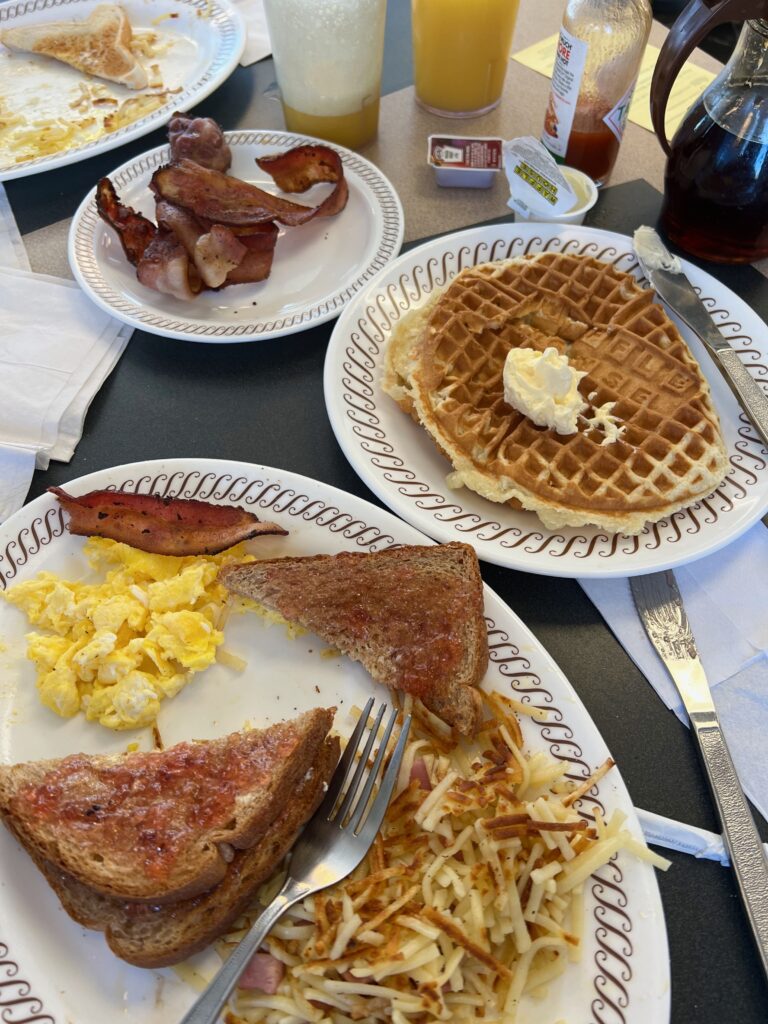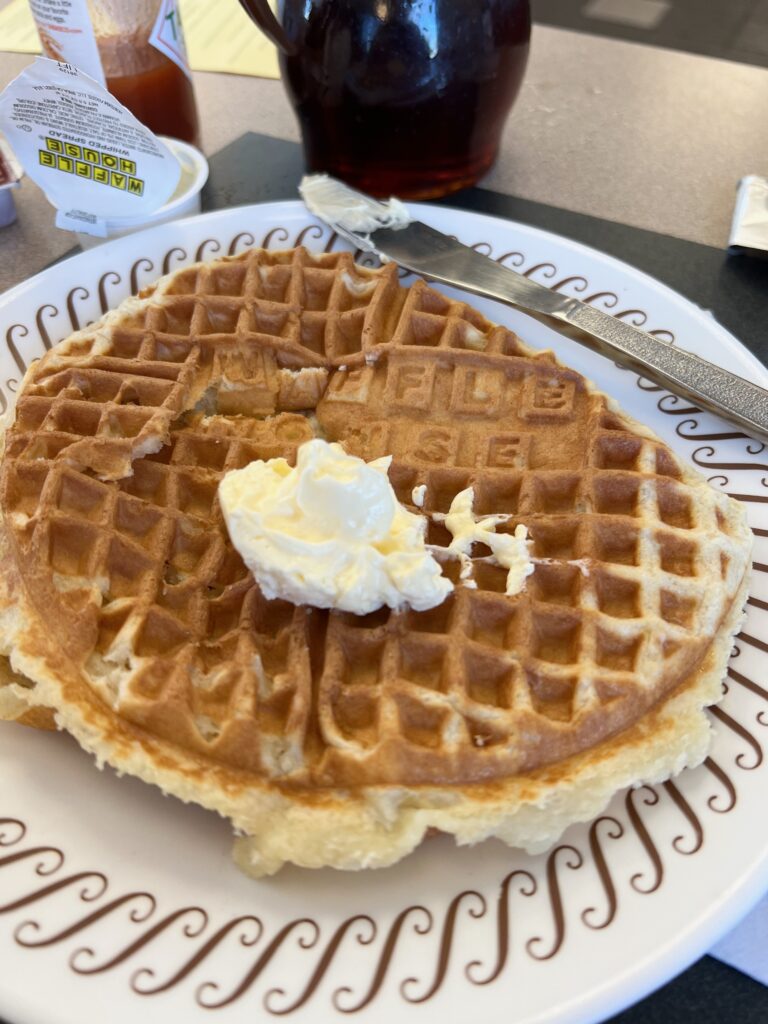 On our second visit to a Waffle House, I came prepared with my own peanut butter.
Bad Ass Coffee of Hawaii 24824 Canal Rd., Orange Beach, Fla., badasscoffee.com
When I traveled to Hawaii in the 1990s, I would stock up on coffee beans from Bad Ass Coffee of Hawaii. Imagine my jubilation when I came across a Bad Ass Coffee shop when our family traveled to Salt Lake City, Utah in 2021. So you can imagine how happy I was to find one in Orange Beach. Plus, I recently learned there's one in Rochester, Minnesota.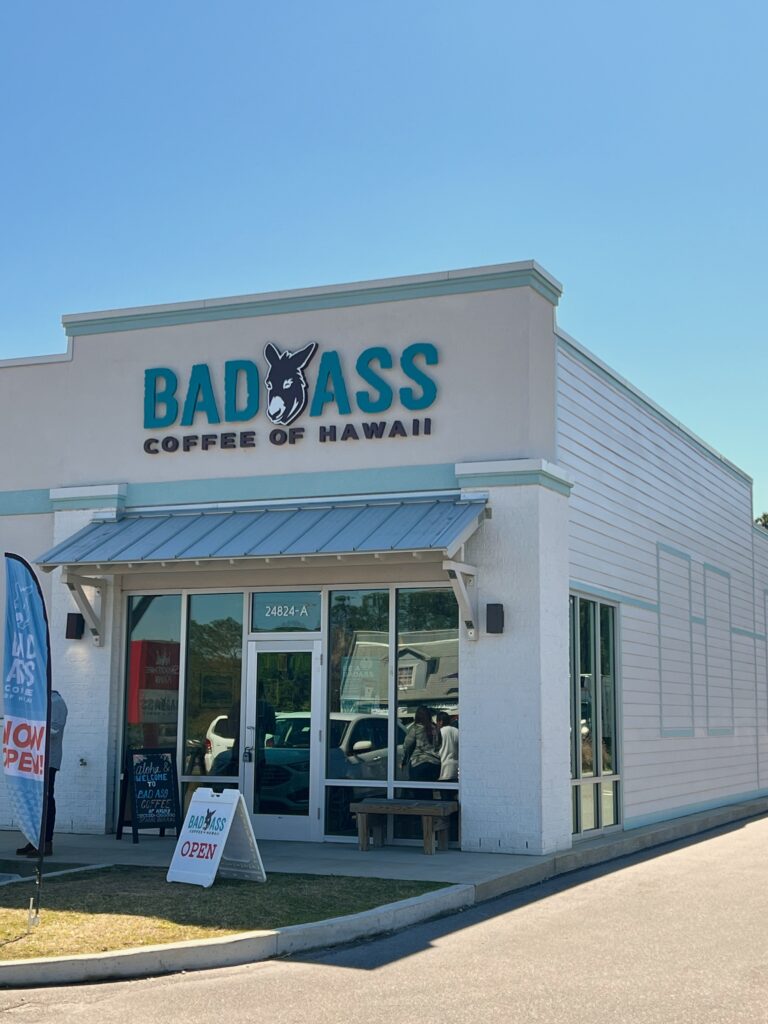 Lunch
Tacky Jacks 240 E. 24th Ave., Gulf Shores, Ala., tackyjacks.com
Your kids are going to think this place is so fun. Where else can they write their names on a piece of tape and slap it on the wall at a restaurant?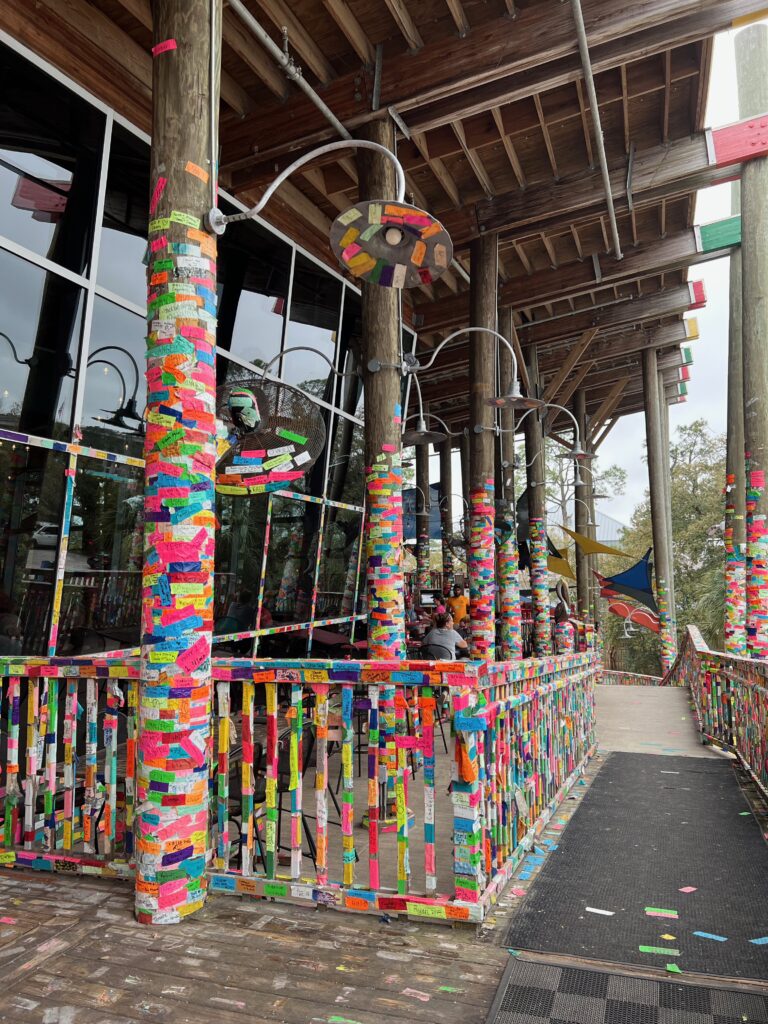 We went to the one in Gulf Shores but Tacky Jacks also has locations in Orange Beach and Fort Morgan. There was a fun little store on the lower level at the one in Gulf Shores.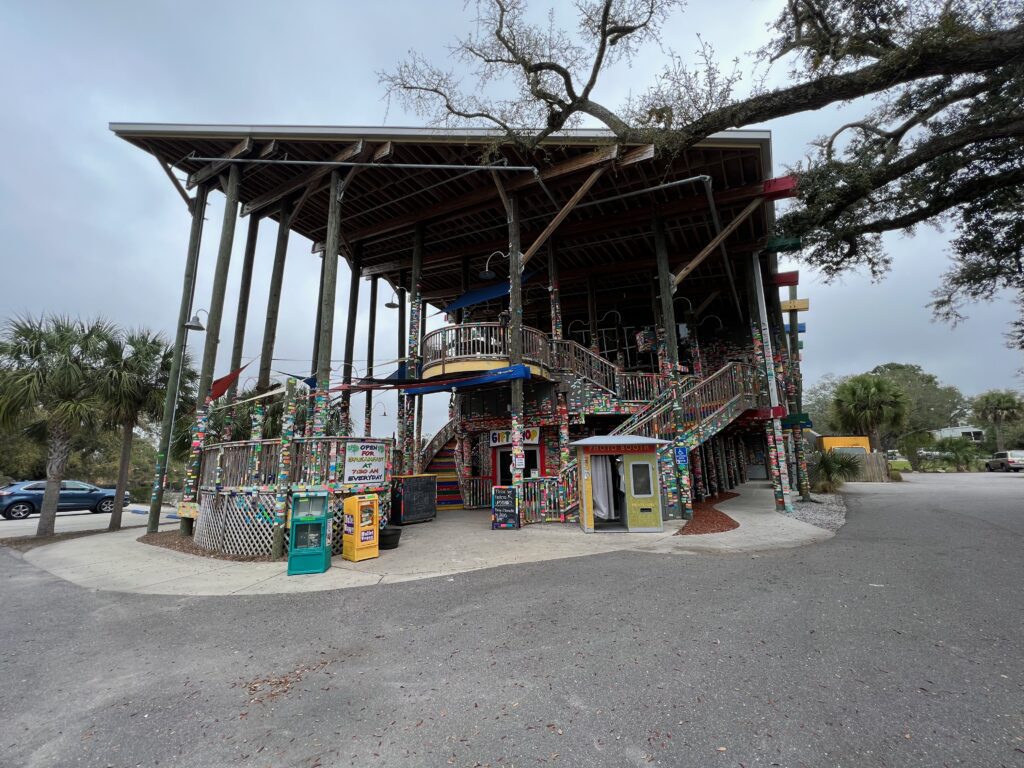 The fish sandwiches were really good, but what we are still talking about, and what we want to figure out how to make at home, is their tuna dip.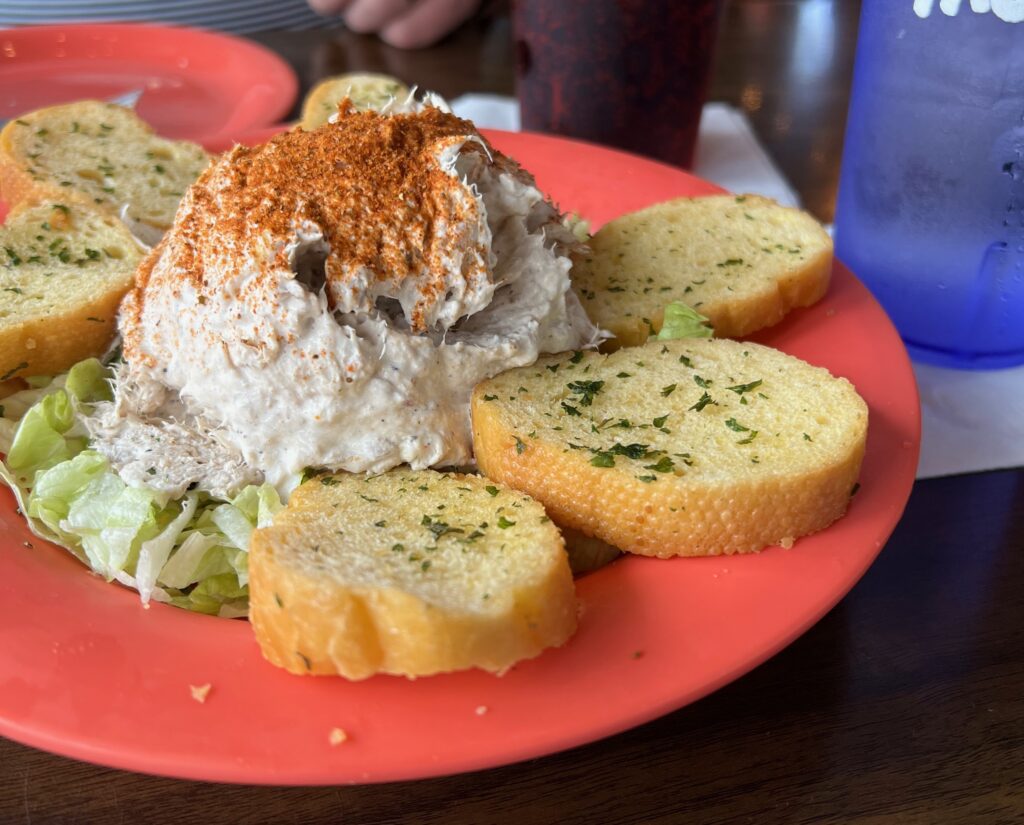 Picnic Beach Bar and Grill 128 E. 1st Ave., Gulf Shores, Ala., picnicbeach.com
Picnic Beach has a cheerful, outdoorsy vibe. Whether you sit indoors or on the balcony, you'll enjoy artificial turf and brightly colored seating on picnic tables, benches and hightop tables. It's just so refreshing here.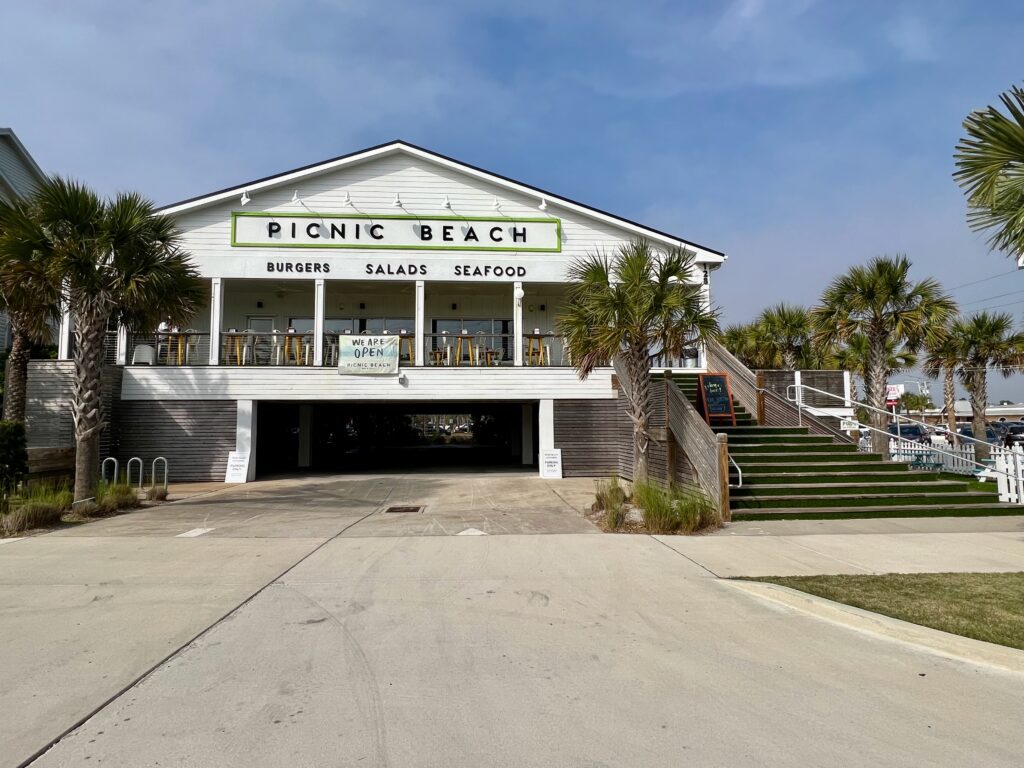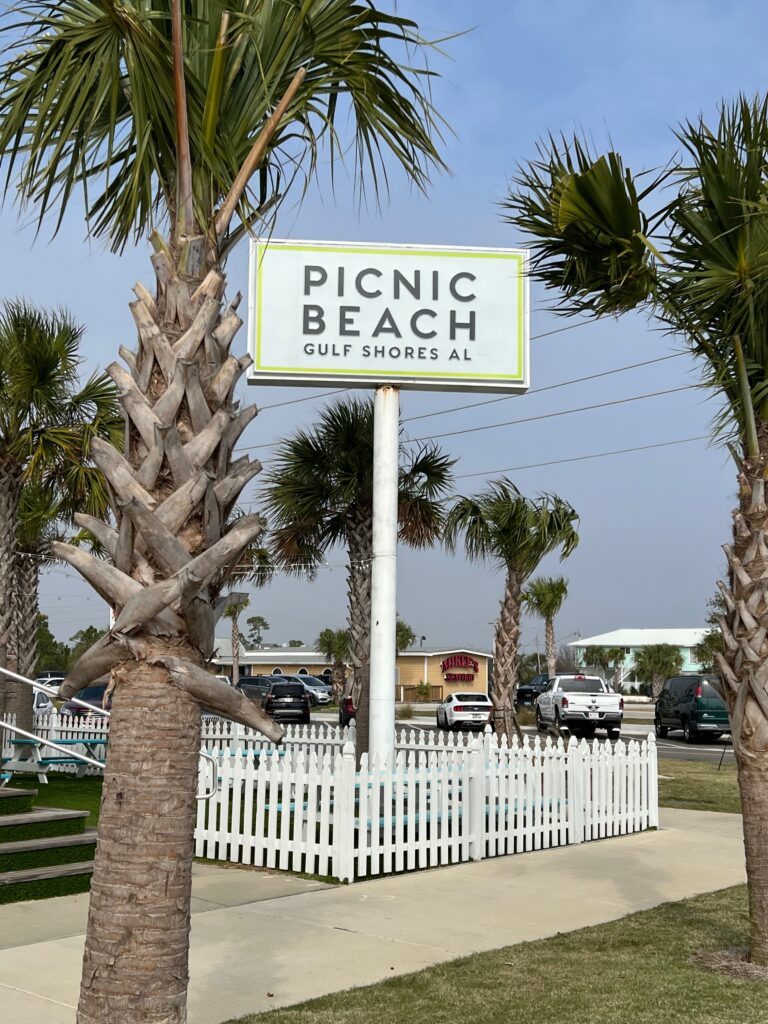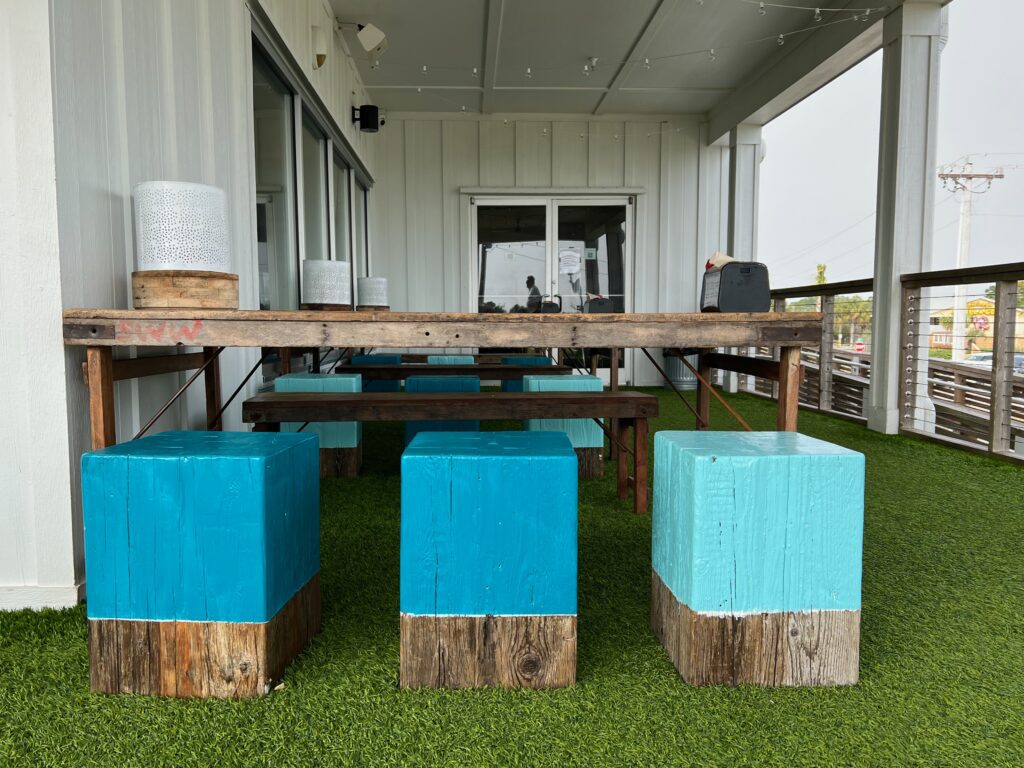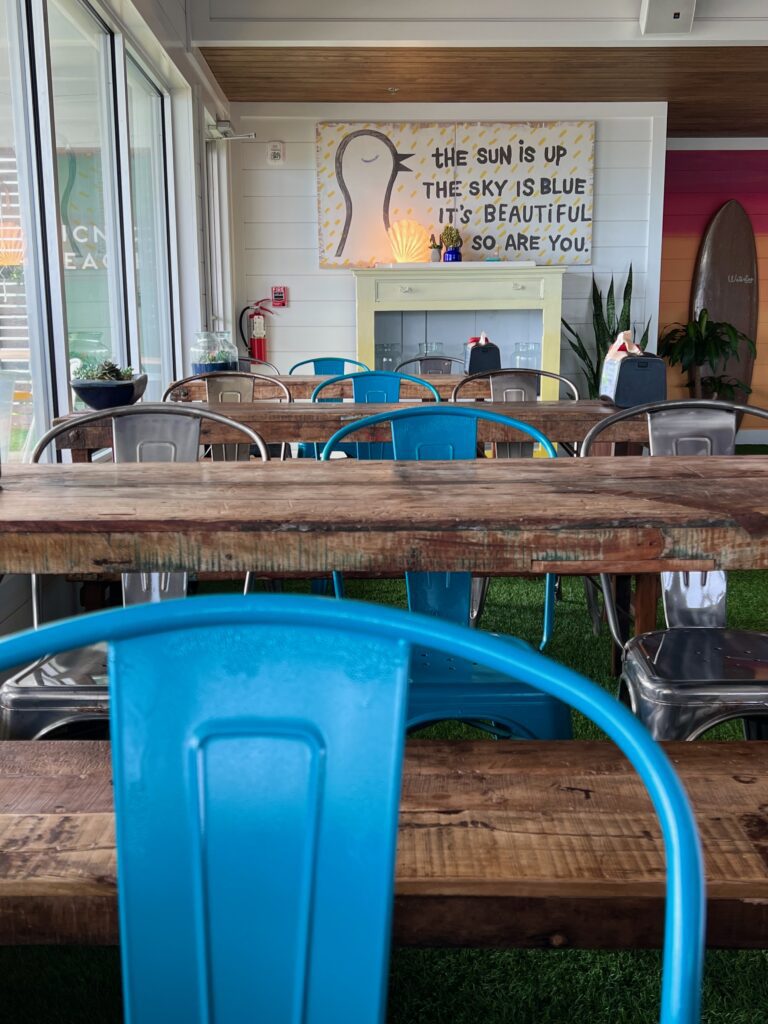 We ate at Picnic Beach after church on Ash Wednesday so we ordered fish sandwiches (grouper or mahi mahi, I don't remember).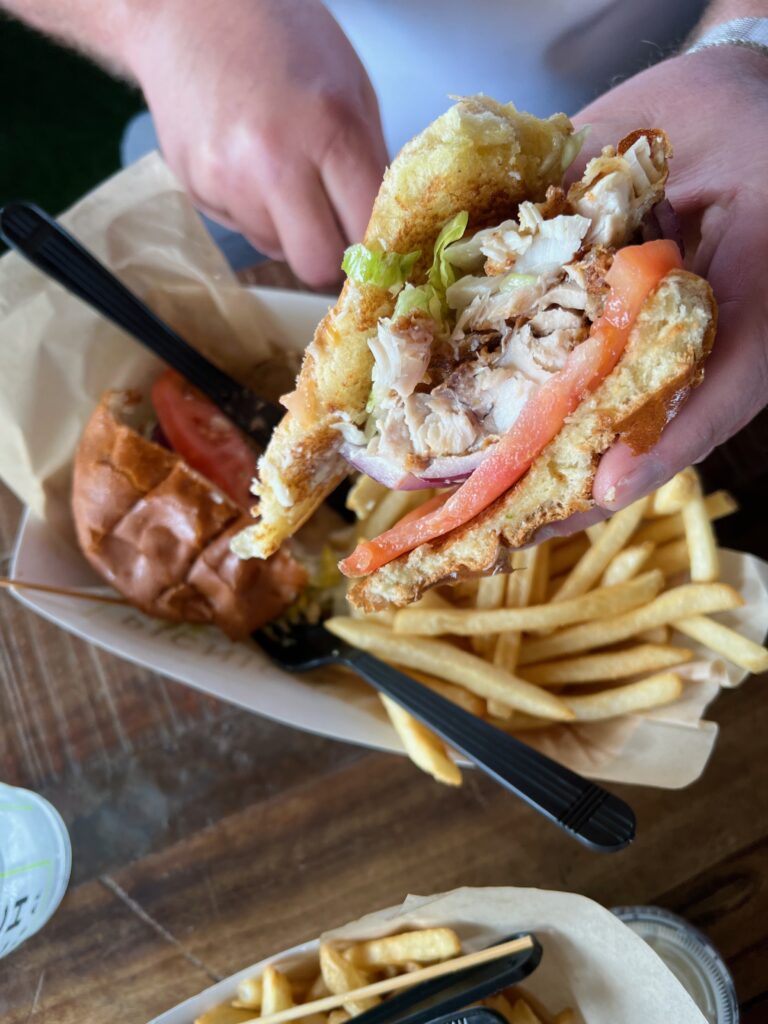 All I know is that by now I'm really wishing we could eat fresh fish back home more often. These were tasty sandwiches! Ask for extra tartar sauce because it's finger-licking good.
Go out on the porch and take a selfie with you and your bestie on the rope swings.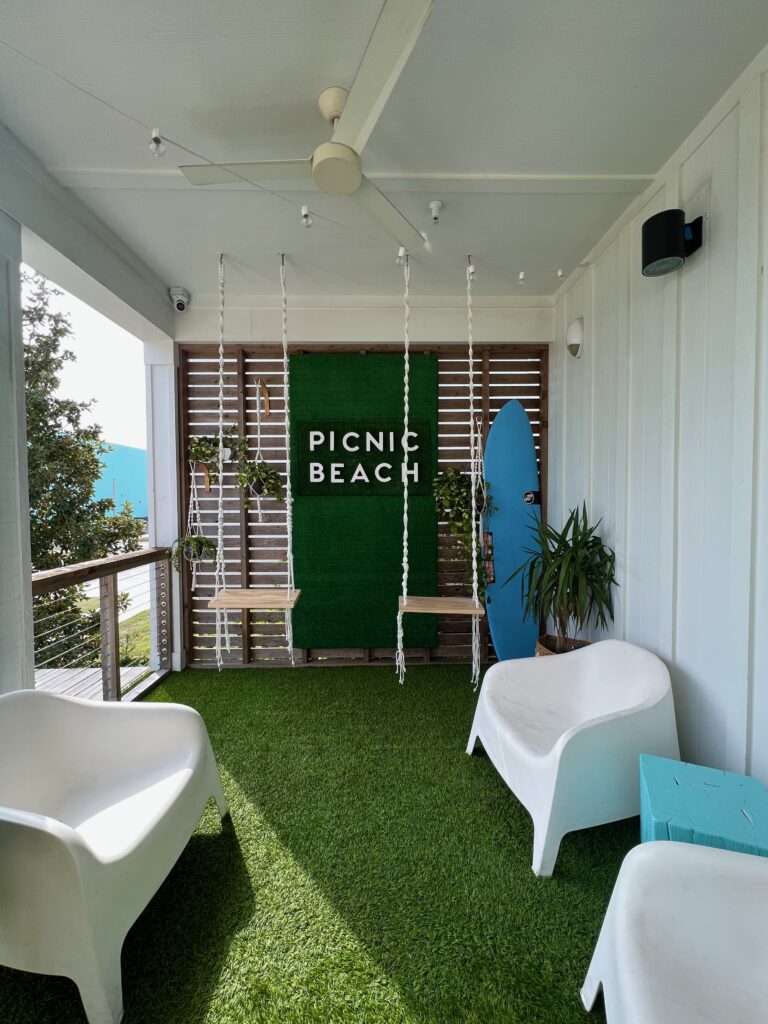 Spot of Tea 310 Dauphin St., Mobile, Ala., spotoftea.com
Spot of Tea was a neat place for lunch in historic downtown Mobile.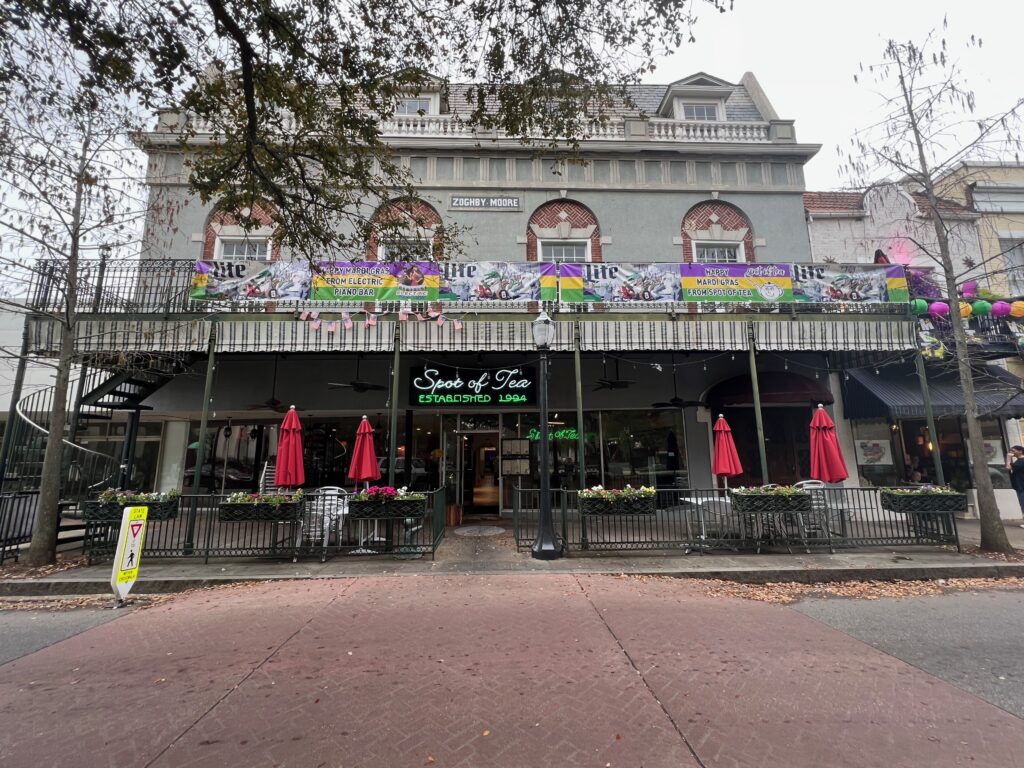 I was especially interested in the fact that they use Boar's Head deli meats on their sandwiches. (We don't have easy access to Boar's Head where we live.)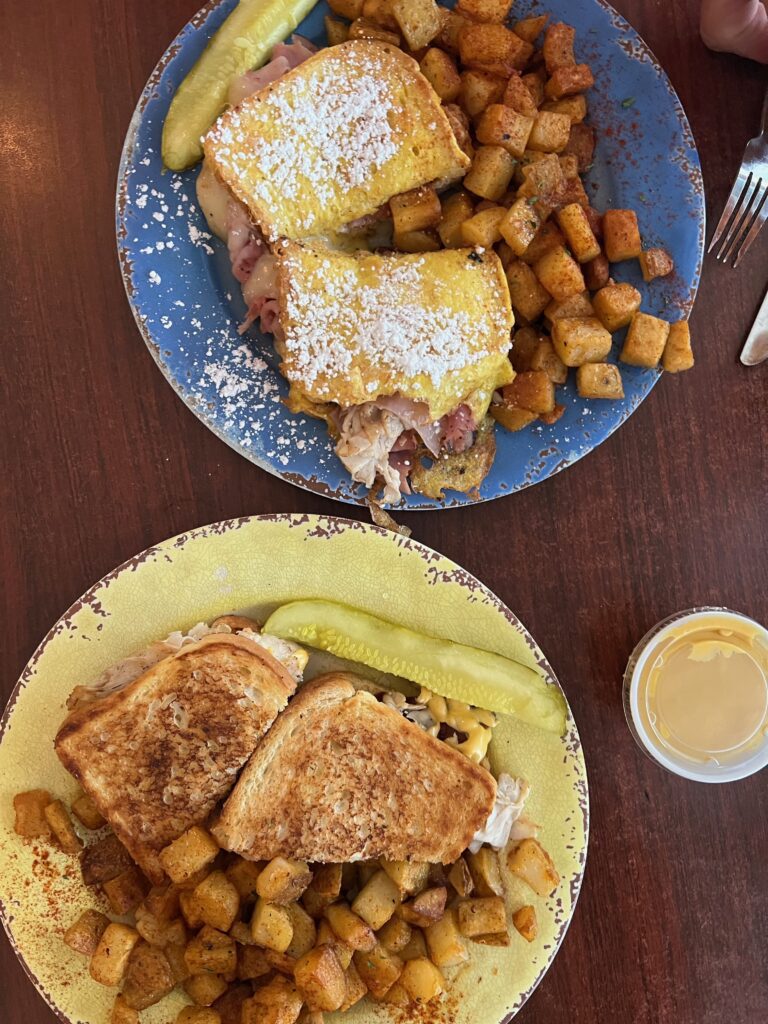 Once we finished lunch, we walked across the street and self toured Cathedral – Basilica of the Immaculate Conception.
Dinner
Moe's Original BBQ 25603 Perdido Beach Blvd., Orange Beach, Ala., moesoriginalbbq.com (multiple locations)
Maybe the fact that Moe is my mom's maiden name swayed me, but it's possible that Moe's Original BBQ made one of my top five meals. You'll find out when you listen to episode 17 of my podcast.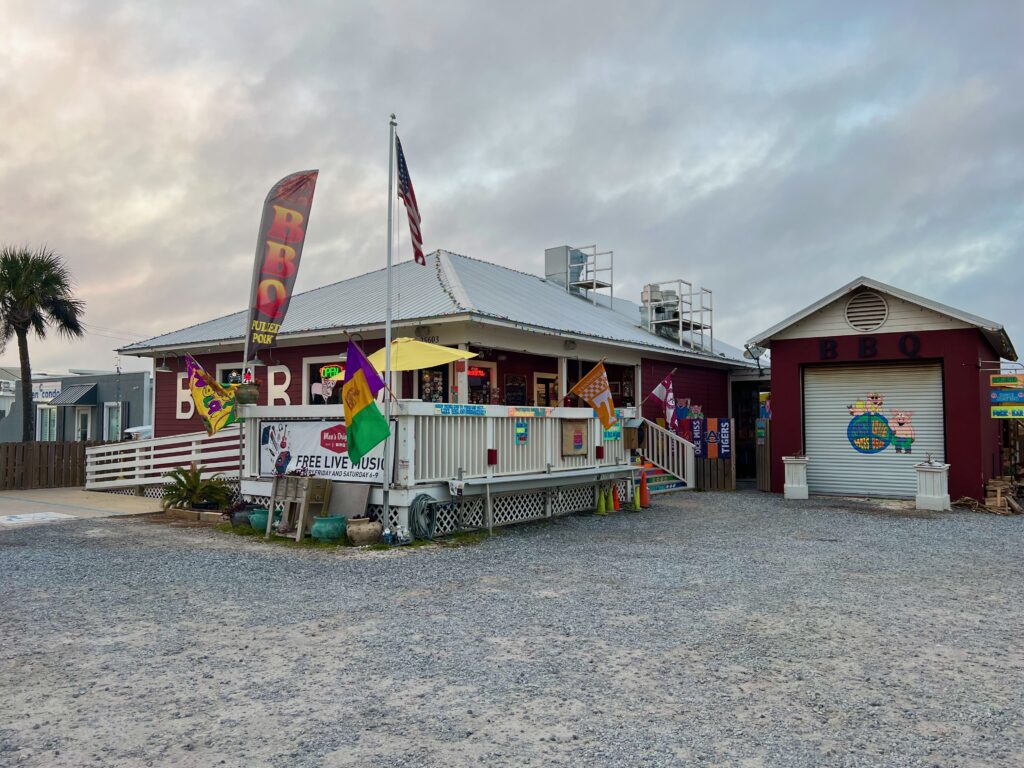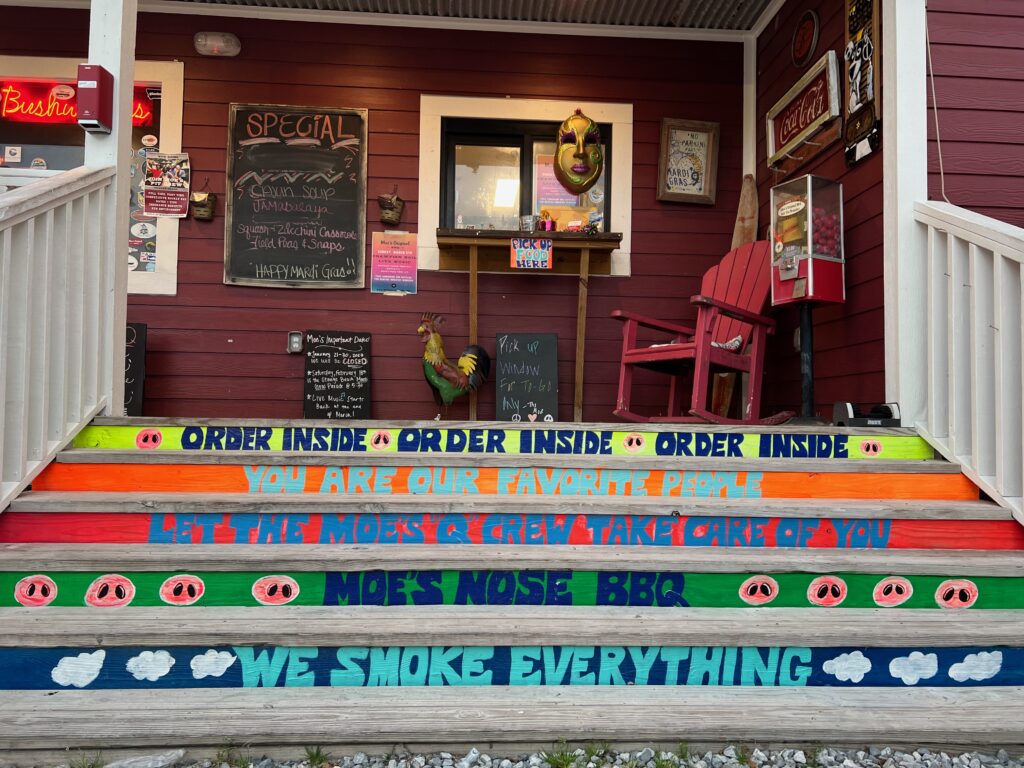 It doesn't hurt that I ate every single bite of my smoked turkey sandwich and although it was huge, Jason ate all of his smoked chicken too.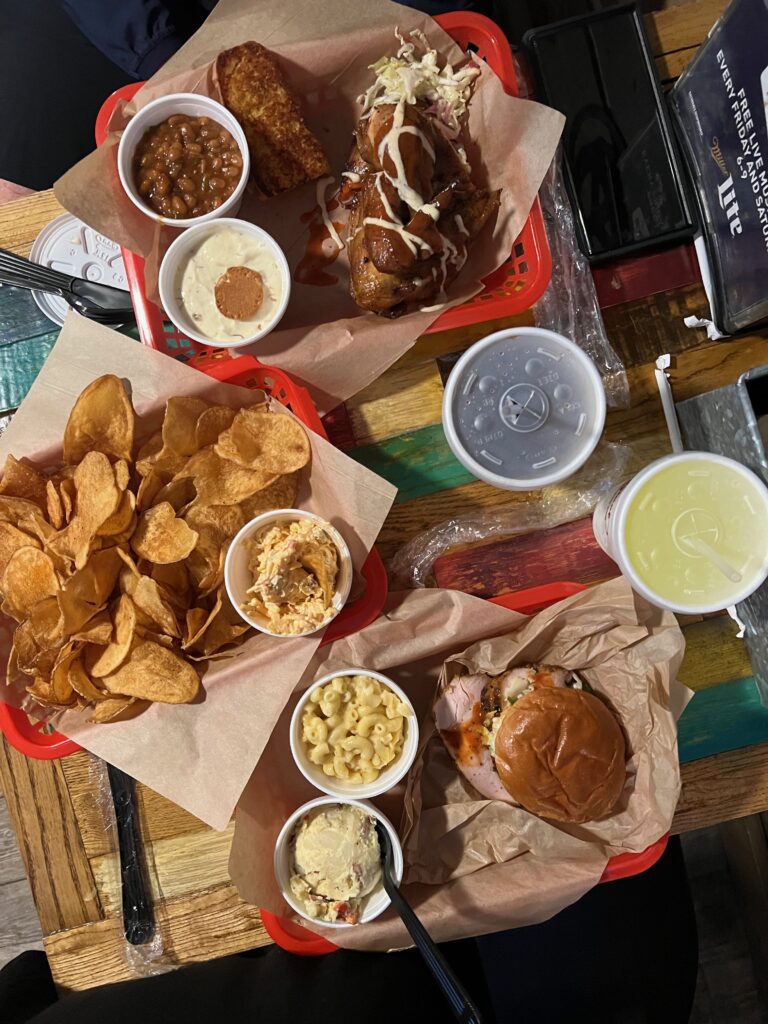 Or perhaps it's because I found my new favorite hat here.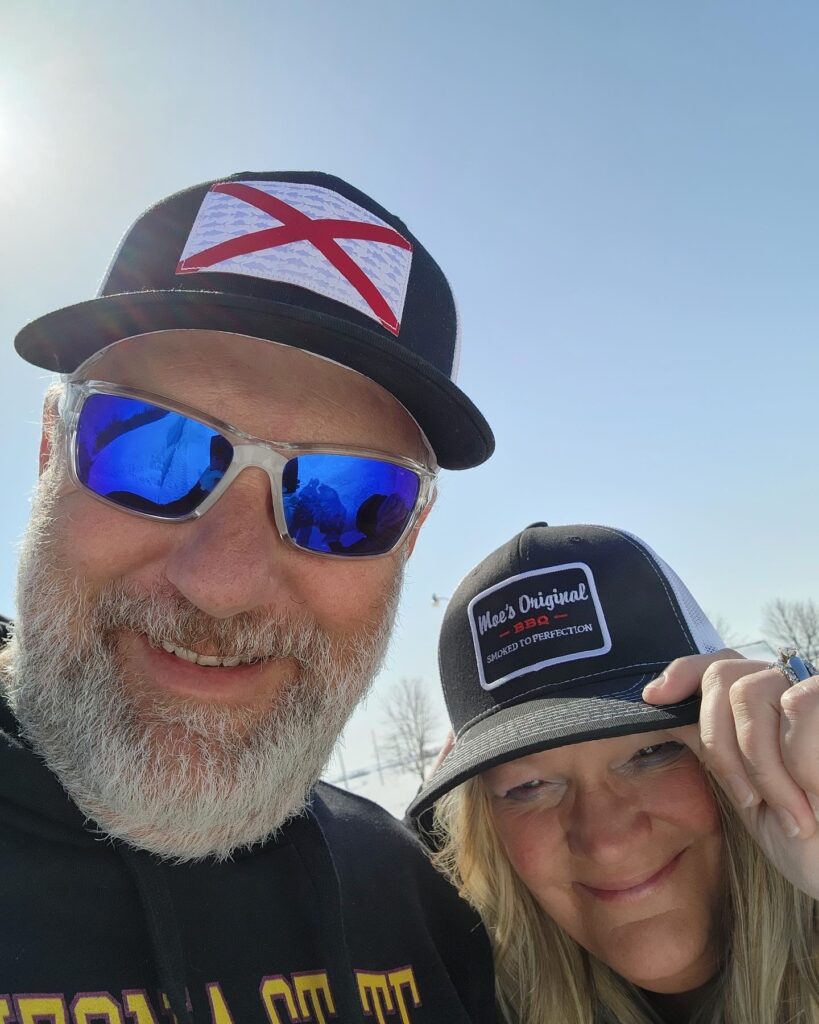 Jesse's Restaurant 14770 Oak St., Magnolia Springs, Ala., jessesrestaurant.com
You know the kind of dining experience that's so engaging, elegant and mouthwatering that you talk about it for years? Welcome to Jesse's Restaurant in Magnolia Springs.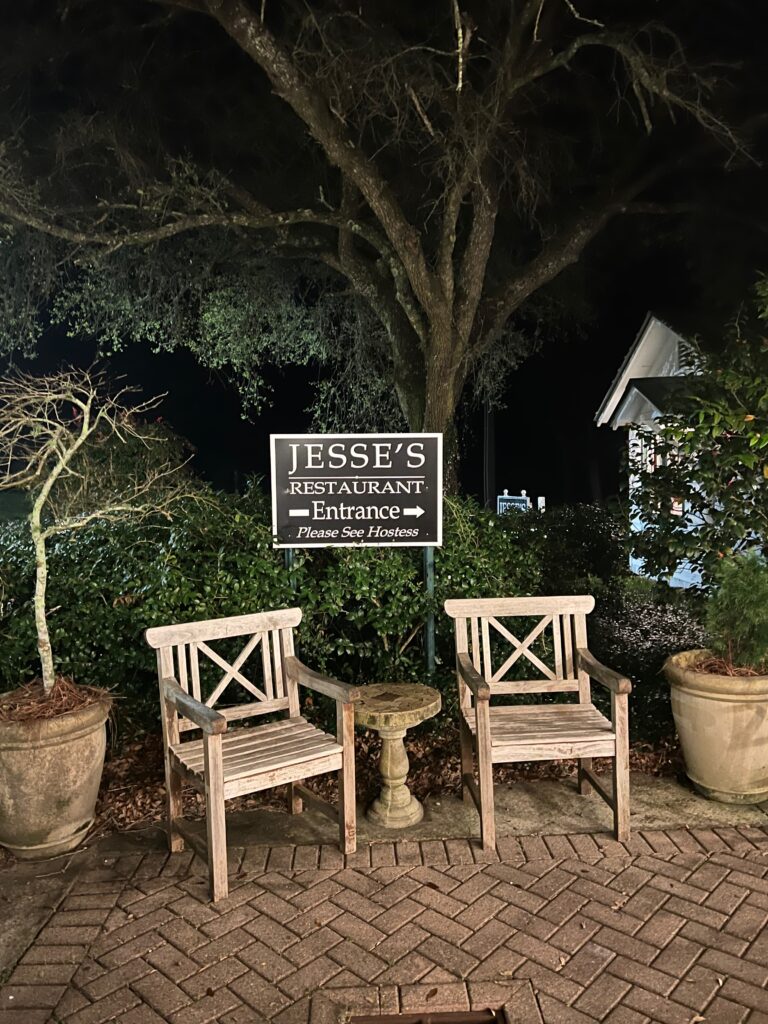 I don't want to give too much away, but there's a reason why the only food photos we took at Jesse's was a quick snapshot of our decadent desserts. Please, please, please listen to Funeral Potatoes & Wool Mittens podcast episode 17.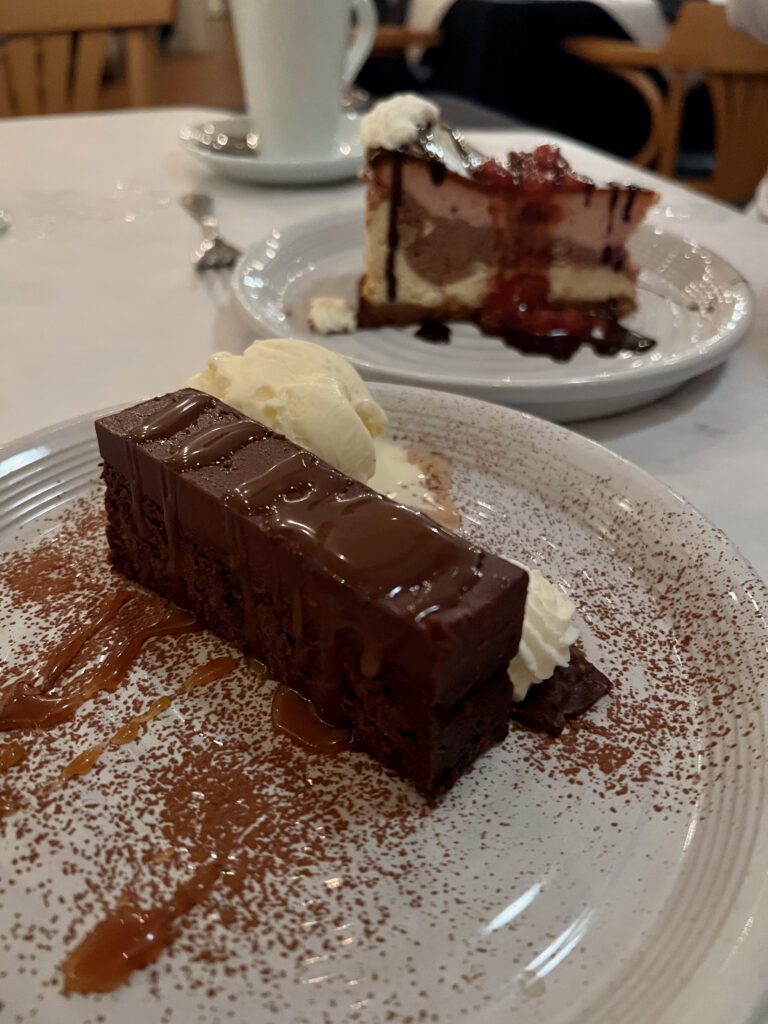 I waited until we were the only people left in the dining room to take a picture inside.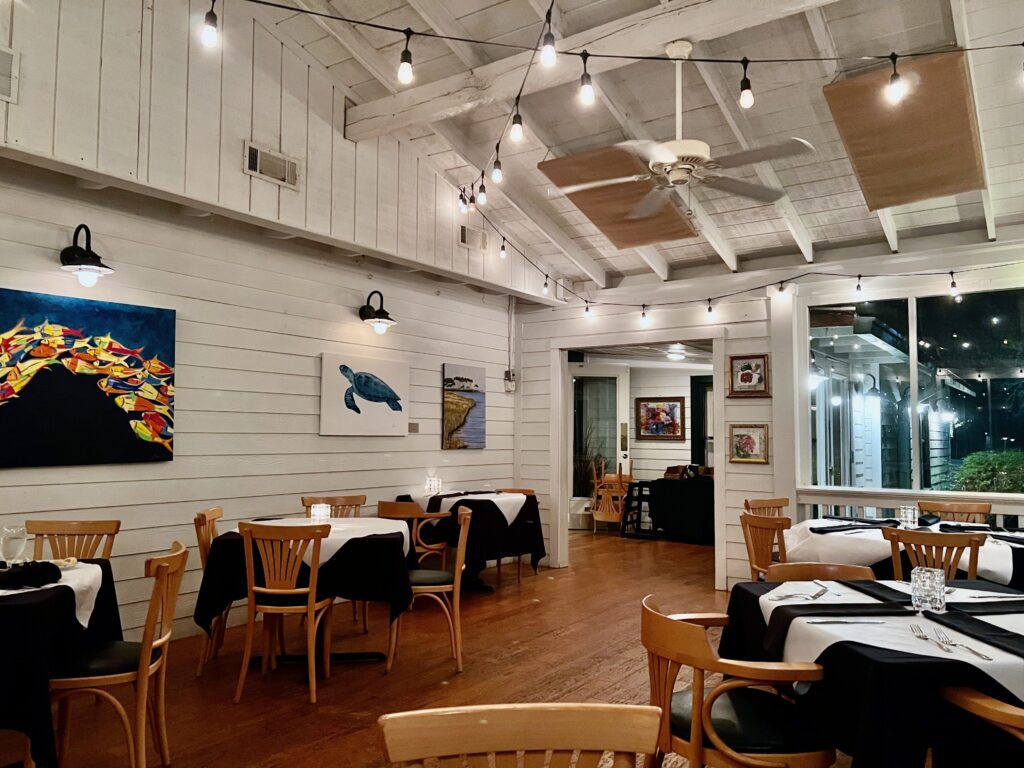 Tips: Make a reservation. Don't worry about the drive to Magnolia Springs. It's not that far. And it's 100 percent worth it. The dinner menu changes and they post it to their Facebook page each day at around 4 p.m. Below is the menu from the night we were guests there. (Yes, customers, but they make you feel like guests.) I ordered the Gulf Grouper and Jason ordered the Dry Aged Delmonico. Jesse's will soon open a second location on Fort Morgan Road in Gulf Shores.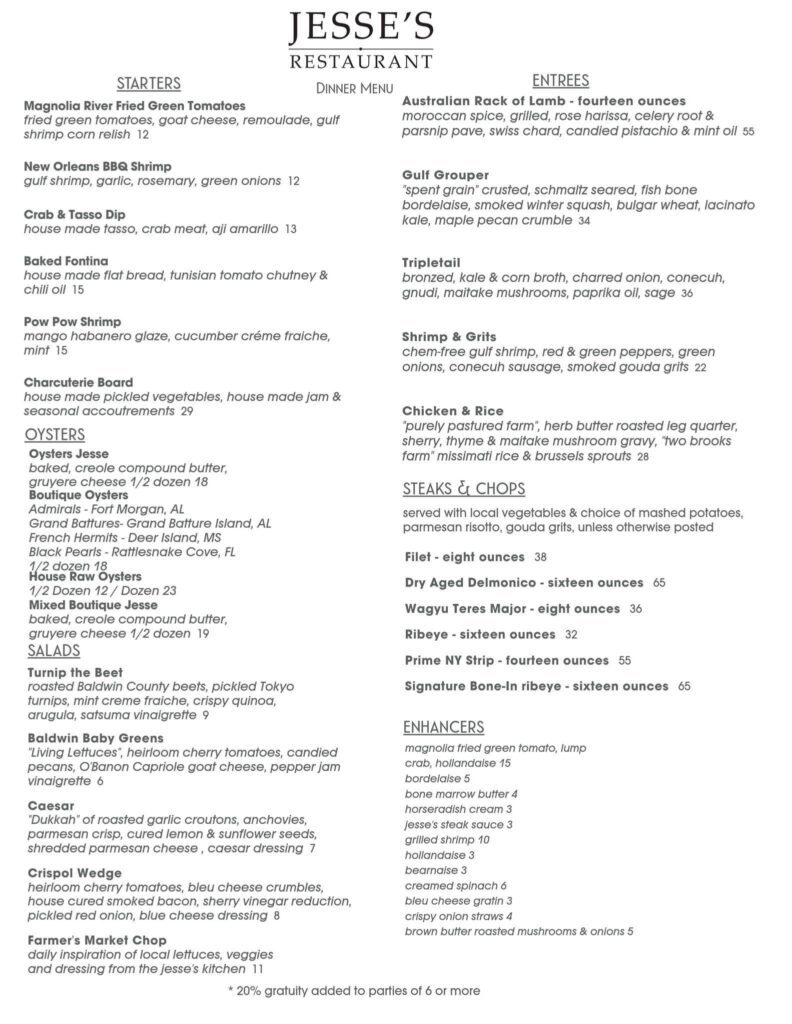 You probably remember Jason and I talking about Magnolia Springs in episode 16.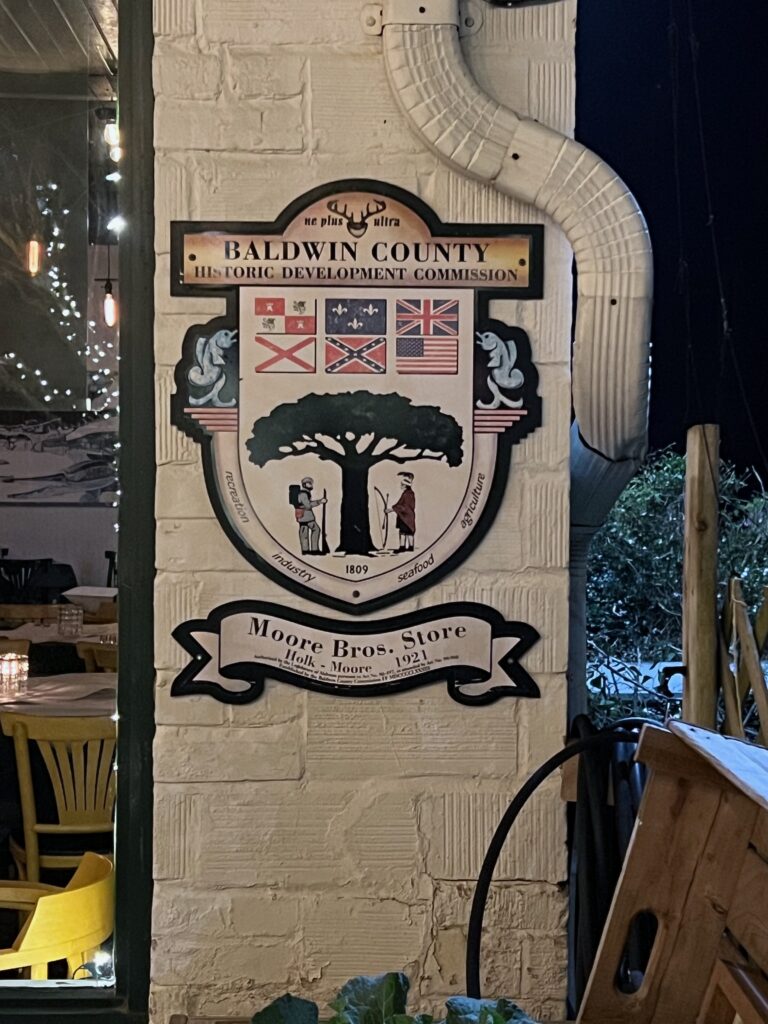 I have become slightly obsessed with the history of this town and the meaning behind the name and location of Jesse's Restaurant. Read a tiny bit about it here. The original restaurant building alone is cool. Built in 1922, it's registered as a historic site with the National Register of Historic Places.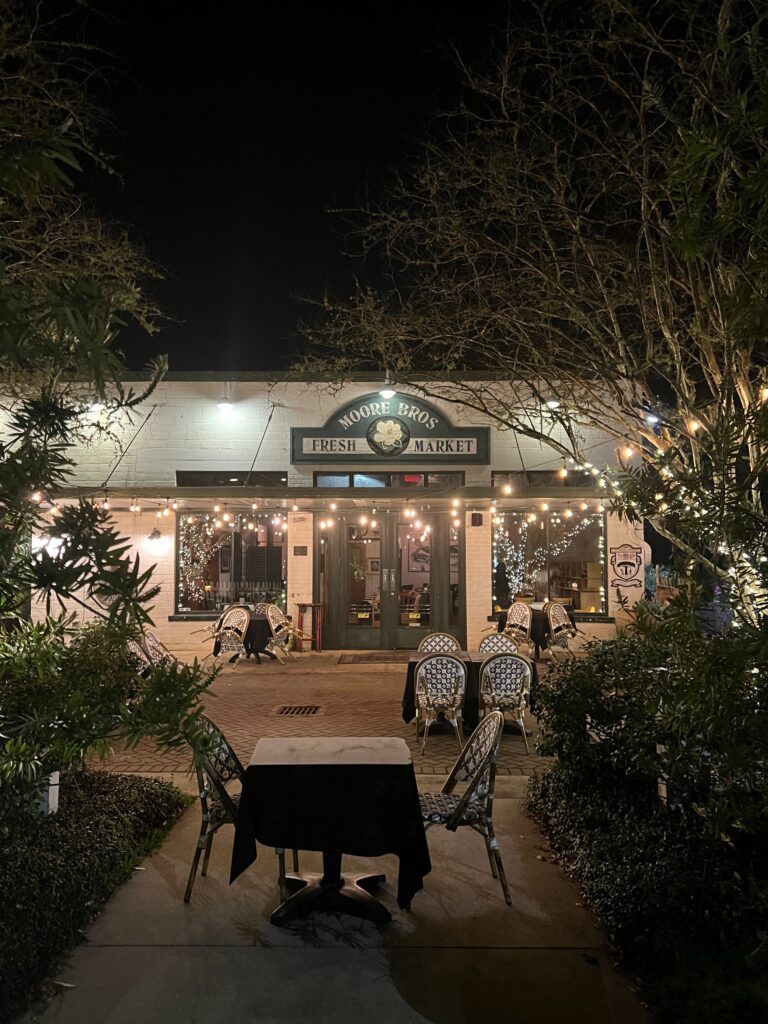 Jason and I just want to say thank you to owners Steve and Angie Coltharp and Executive Chef Laurence Agnew and his team for such a memorable experience. We can't wait to come back, and also dine at your new location when you open in Gulf Shores.
Paula Deen's Family Kitchen 203 N. OWA Blvd. #203, Foley, Ala., pauladeensfamilykitchen.com
Paula Deen knows how to make damn good comfort food. So it makes sense she would open a restaurant that serves meals family style. (I must have been entranced because I only took a picture of the biscuits.)
Like a page out of a Southern church cookbook, Paula Deen's Family Kitchen entree menu includes down-home meals like fried chicken, pot roast, chicken-fried pork chop, spare ribs, chicken and dumplings, fried catfish and shrimp 'n grits.
I will always remember this is the place I first ate candied yams. Will I ever find them as good anywhere else? Paula, will you share your recipe with me? And how about the recipe for creamed corn too?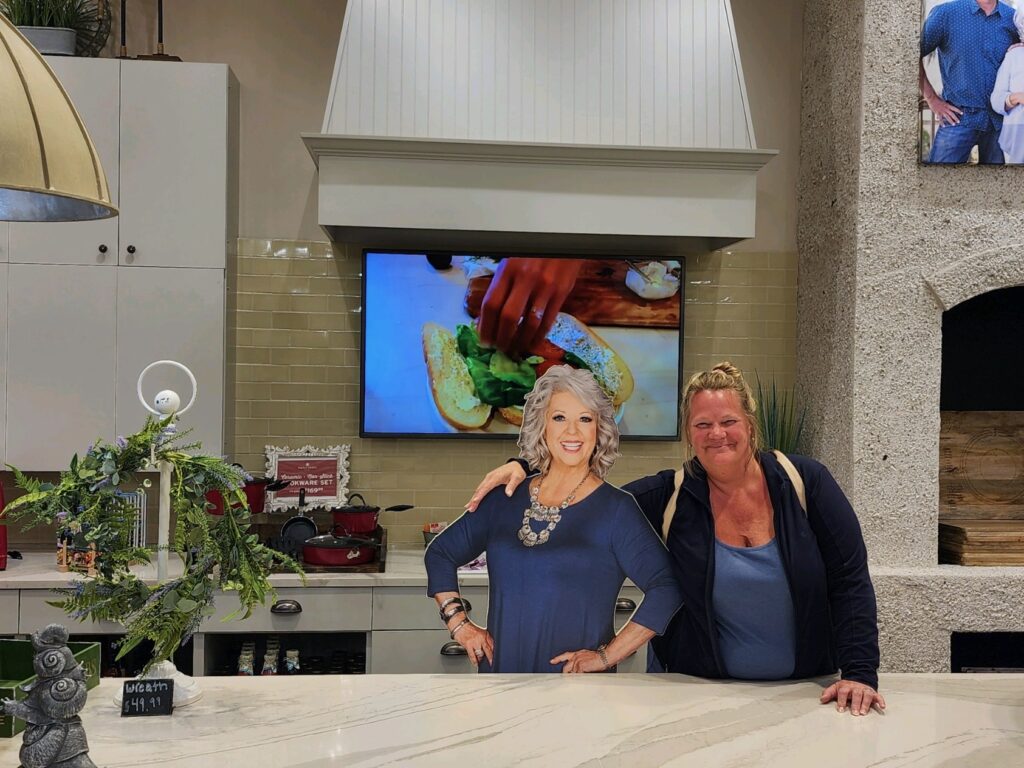 I bought Favorite Recipes of the Lady & Her Friends cookbook in the on-site retail shop at the restaurant. I'm really hoping the recipe for cheese biscuits on page 96 is the same as the biscuits we ate here. I could have easily made a meal of these biscuits and a little bit of ham.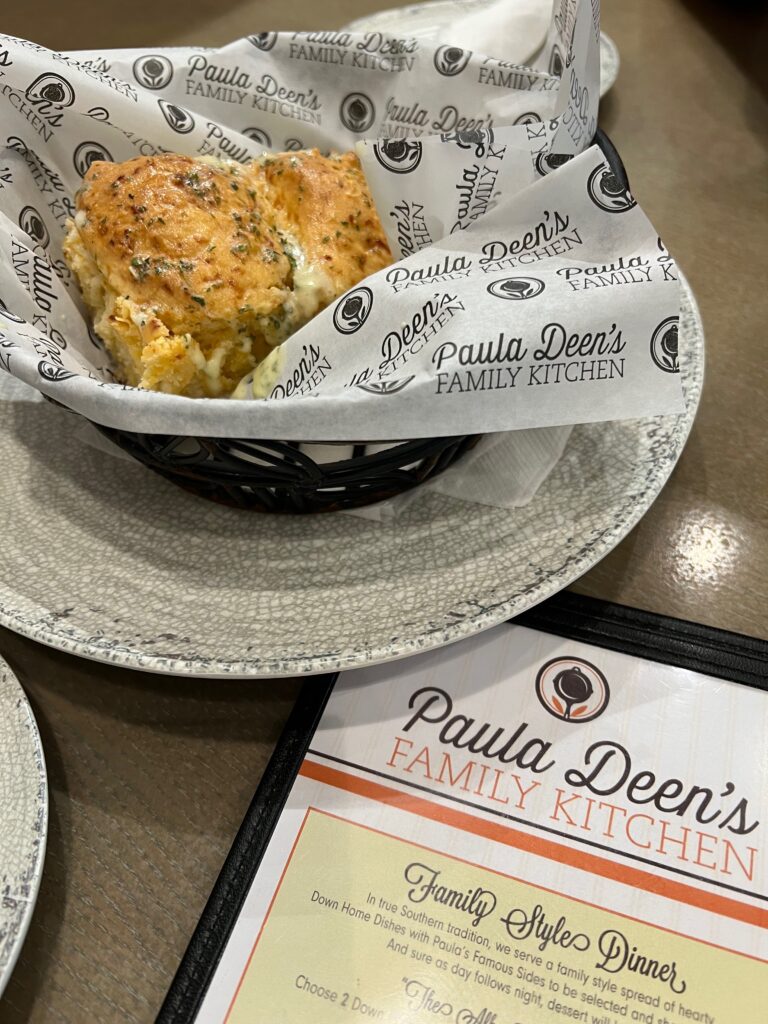 Ah, and the green beans. The green beans were so good, we ordered a second helping. And you bet your britches, I finally got to try gooey butter cake—chocolate and vanilla. Surprisingly, vanilla was my favorite.
The Garden at Palafox + Main 501 S. Palafox St., Pensacola, Fla., thegardenpensacola.com
Although this open-air food hall is in Florida, we included it on our list because Jason had a memorable and spicy meal here, which he told us about on episode 16 of Funeral Potatoes & Wool Mittens.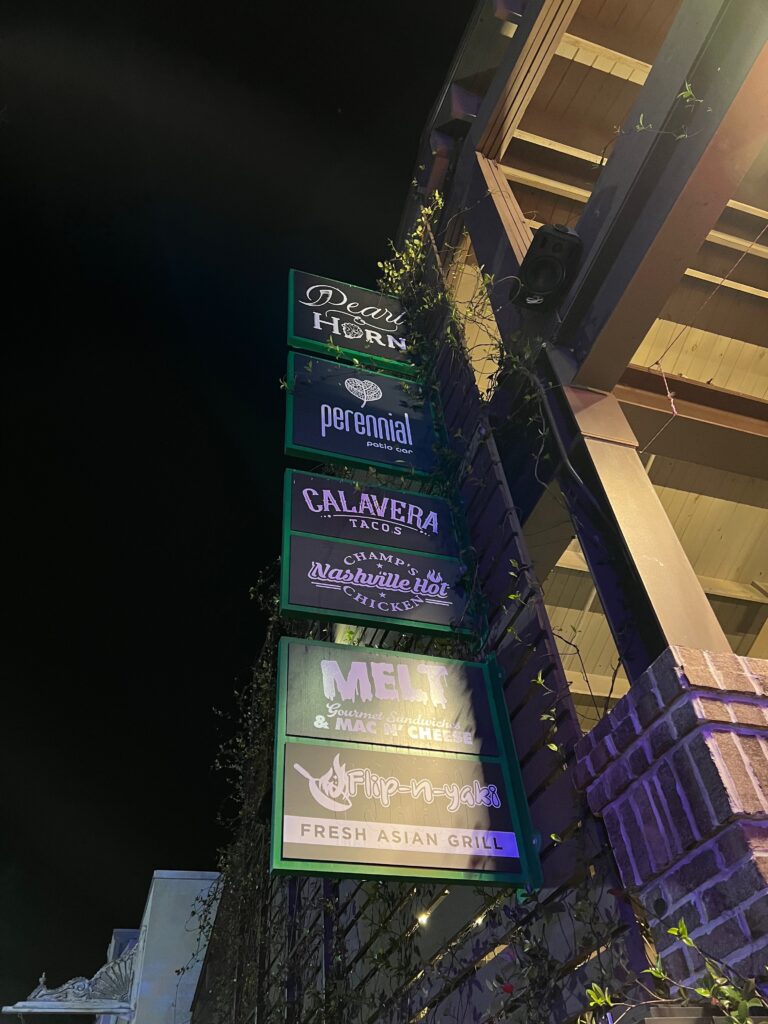 The Garden hosts four airstreams, five kiosks, one bar and one restaurant. It was nice that Jason and I could order from two different food trucks and grab a table together.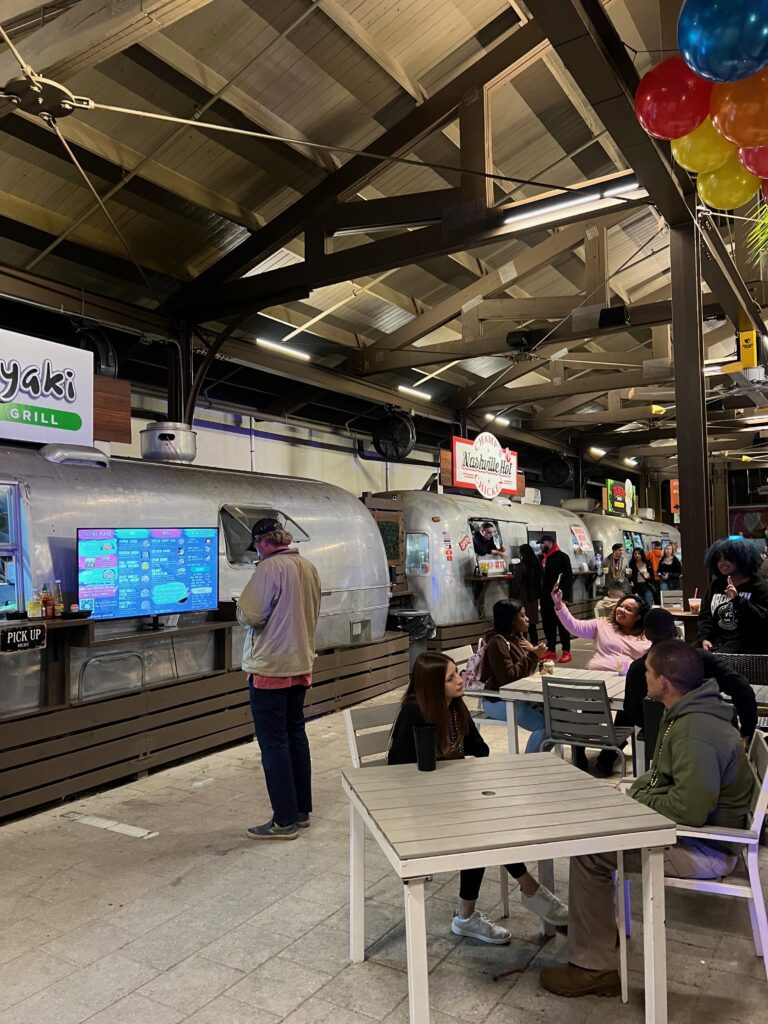 Jason thoroughly enjoyed his spicy fried chicken sandwich between two Eggo waffles from Champ's Nashville Hot Chicken. Even though it made him sweat and it cleared his sinuses.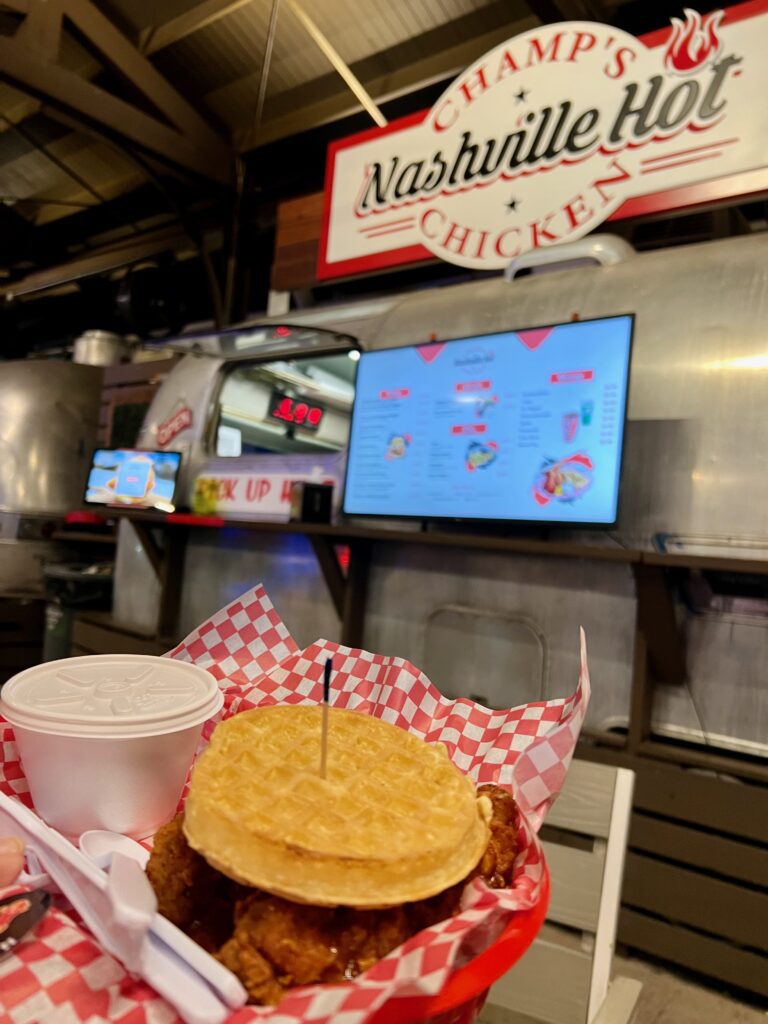 I ate a beef taco and a fried mahi mahi taco (the best!) from Calavera Tacos.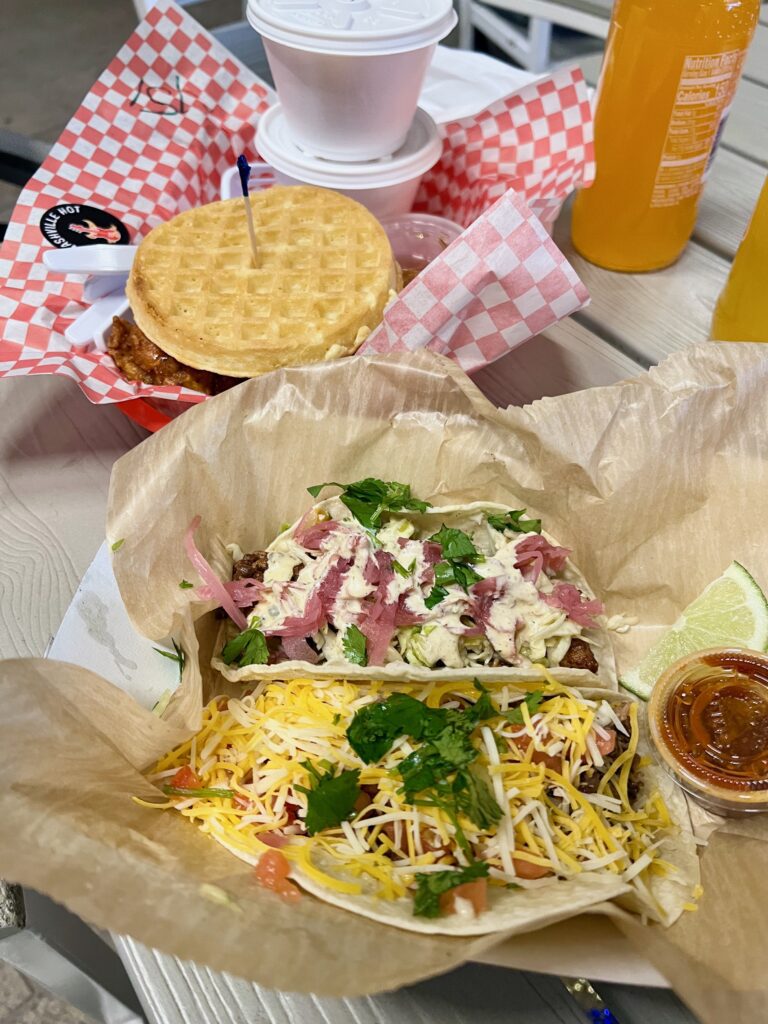 And bonus, when he was devouring a cup of banana pudding from Champ's because it was so good, I was able to go get my own. (It didn't even last long enough for a photo.)
Janino's Pizza 984 W. Beach Blvd., Gulf Shores, Ala., janinospizzagulfshores.com
Pizza is one of my favorite meals. More specifically, pepperoni pizza. Our first stop when we arrived in Gulf Shores was Walmart to stock our condo fridge with water and beer. Then, we ordered carryout from Janino's.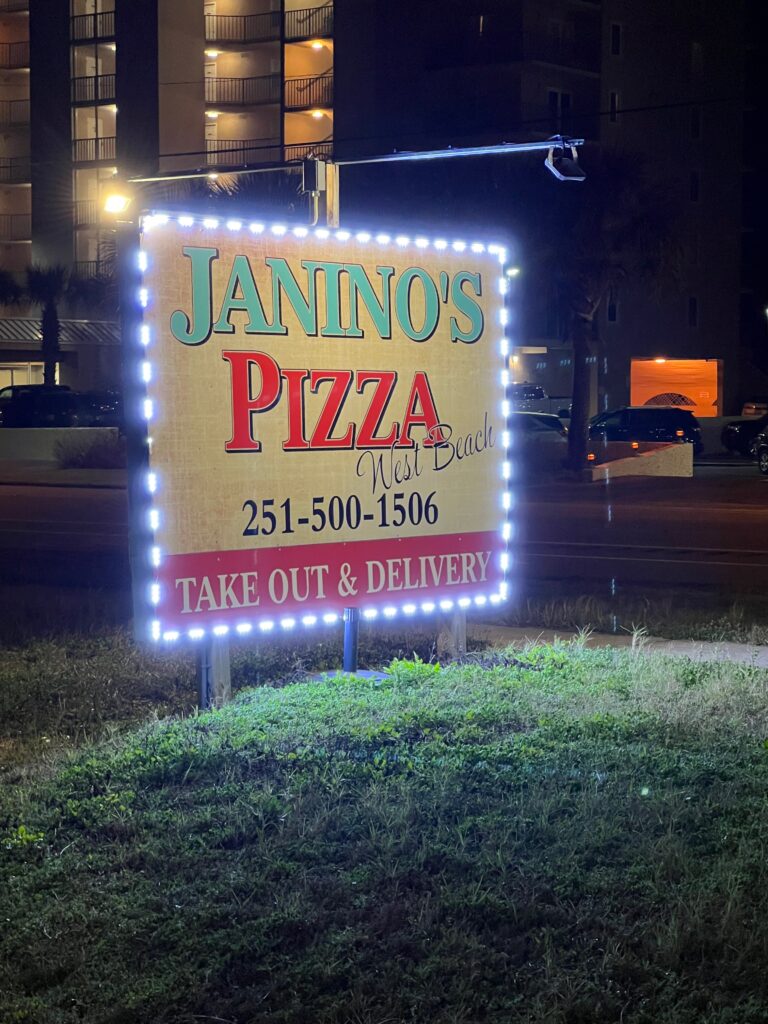 Good Lord, the pizza was huge. And it sure was delicious. We were thankful to have a full-size refrigerator that barely even fit the giant pizza box for leftovers.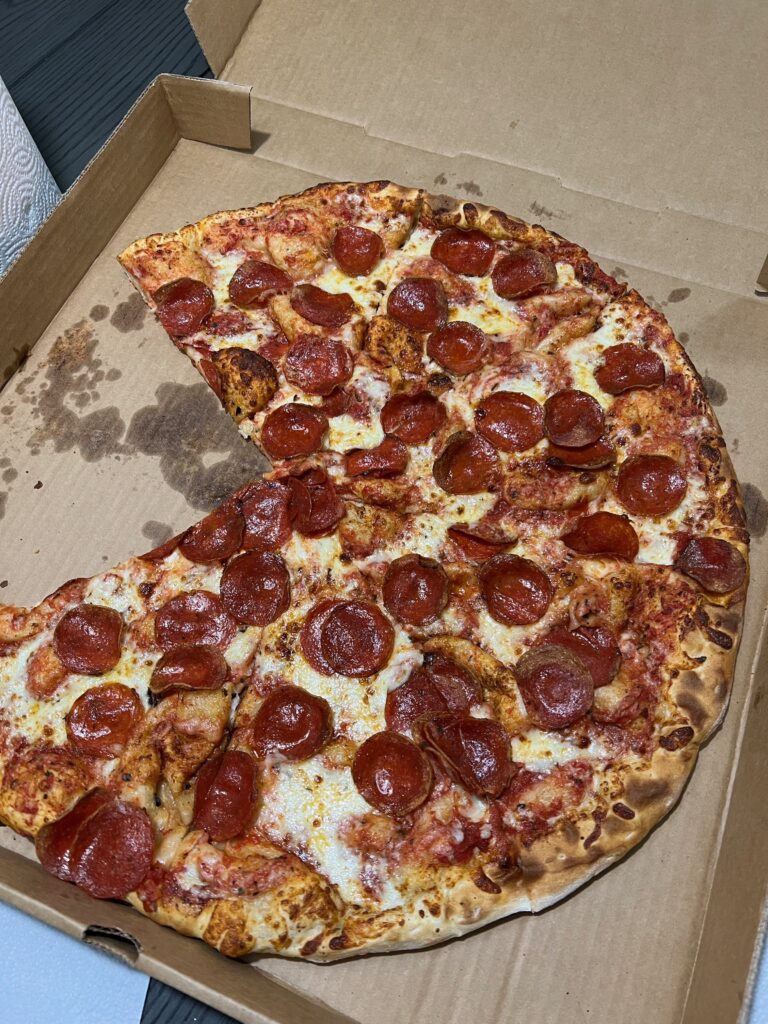 Big Mike's Steakhouse 25638 Canal Rd., Orange Beach, Fla., bigmikessteakhouse.com
It's no wonder Alabama's Cattlemen's Association voted Big Mikes Steakhouse Alabama's best steak. We had to raise our white flag the second time we came here. Our eyes were bigger than our stomachs.
But the point is…we ate here twice. Jason's ribeye steak and my chophouse burger were perfect.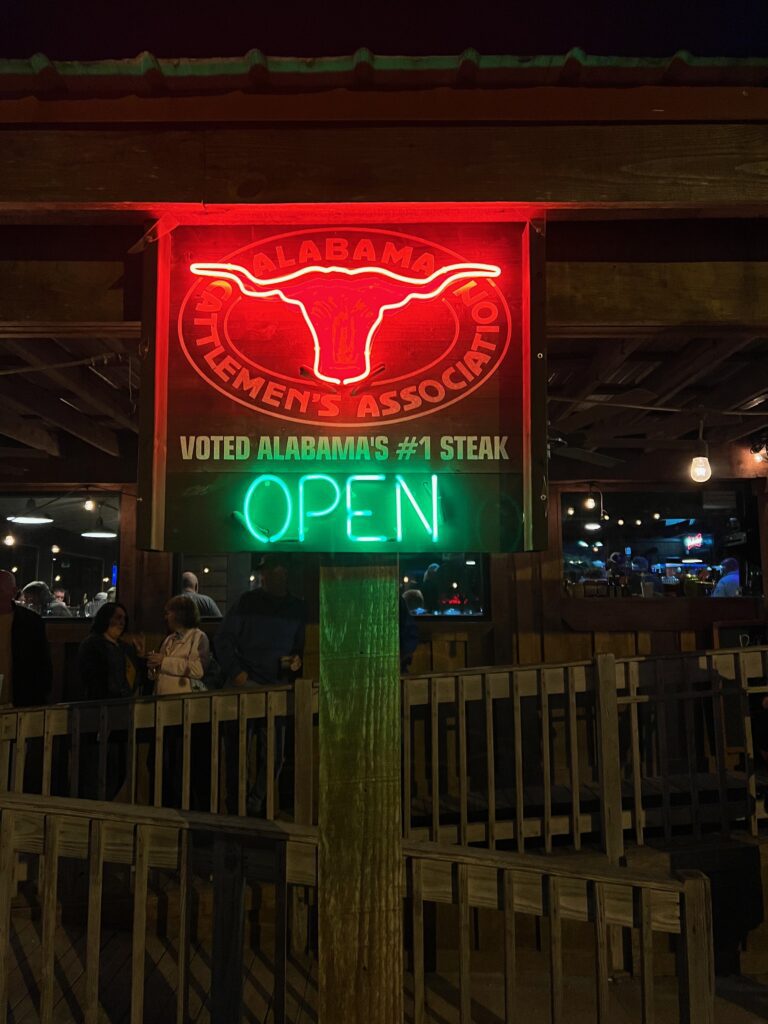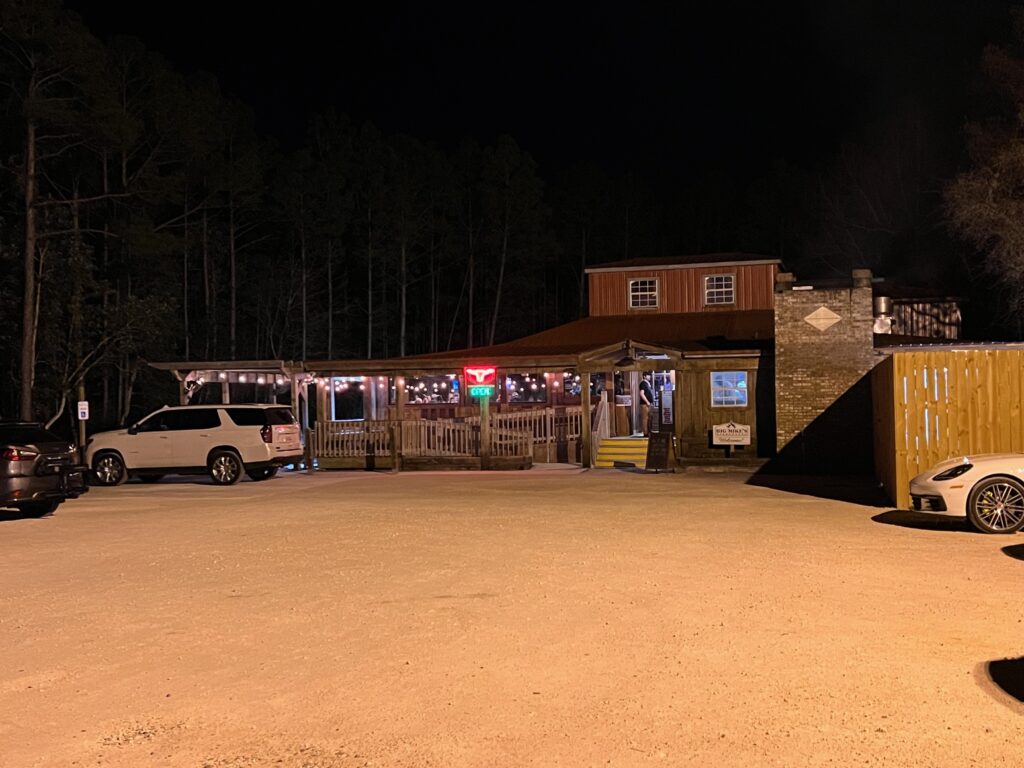 We ordered fried pickles at three restaurants. It must be the made-in-Alabama Wickles Pickles that made Big Mike's our favorite. I have since bought a jar of Wickles at a South Dakota Walmart.
The sides were all delicious—steamed asparagus, baked potato, twice baked potato casserole, steak fries. For the rest of the week I talked about wanting to go back just for the lettuce salad. Because, put it this way, we will now and forever toast pecans at home for our lettuce salads.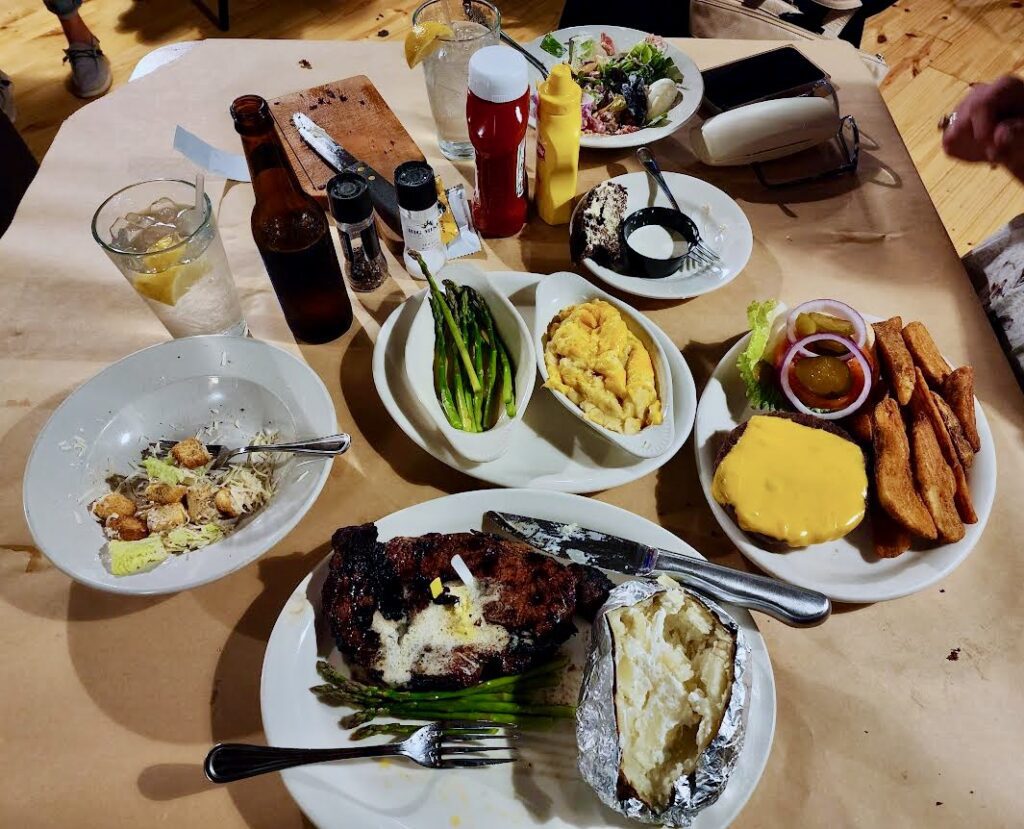 Here's what we want to know—what the heck is the brown bread Big Mike's Steakhouse serves with entrees? Because we want to make it at home.
We ate my caramel cake and Jason's cookies and cream cake on the beach on our birthdays, which were Monday and Tuesday of our trip.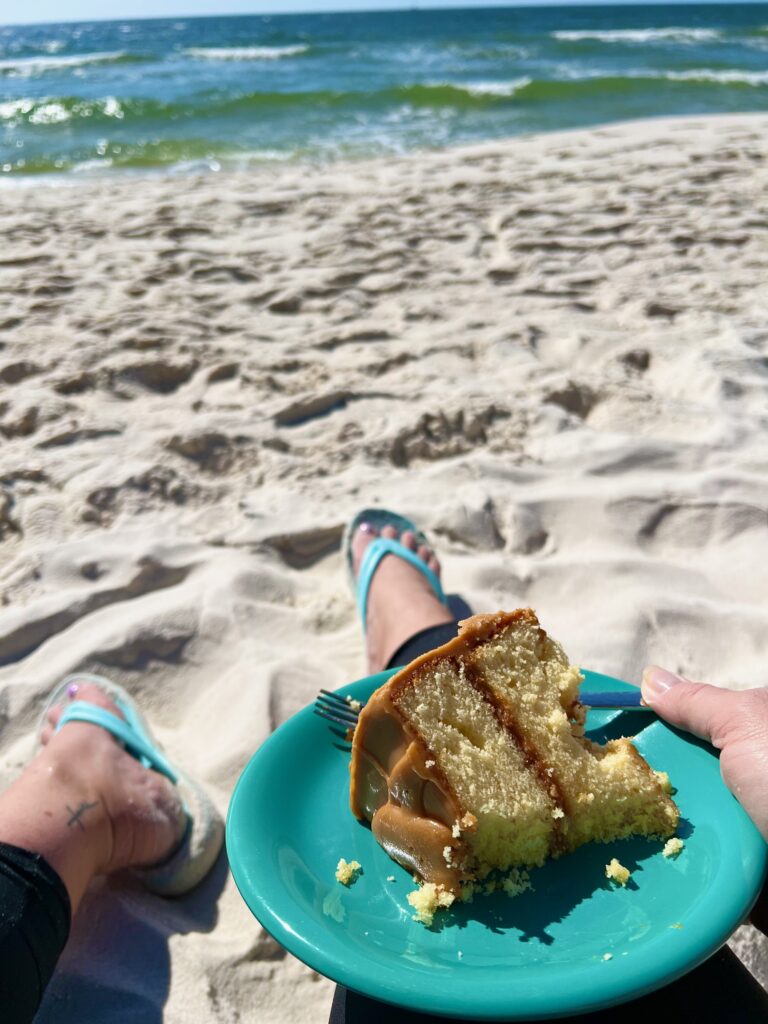 I make a good key lime pie, but the key lime pie at Ole River Grill is even better. Maybe it's because I didn't have to bake it and wash the dishes.
But even before we enjoyed dessert, Jason ate blackened fish tacos and I had the Alfredo mac and cheese with Parmesan, smoked Gouda, Monterey Jack, and cheddar.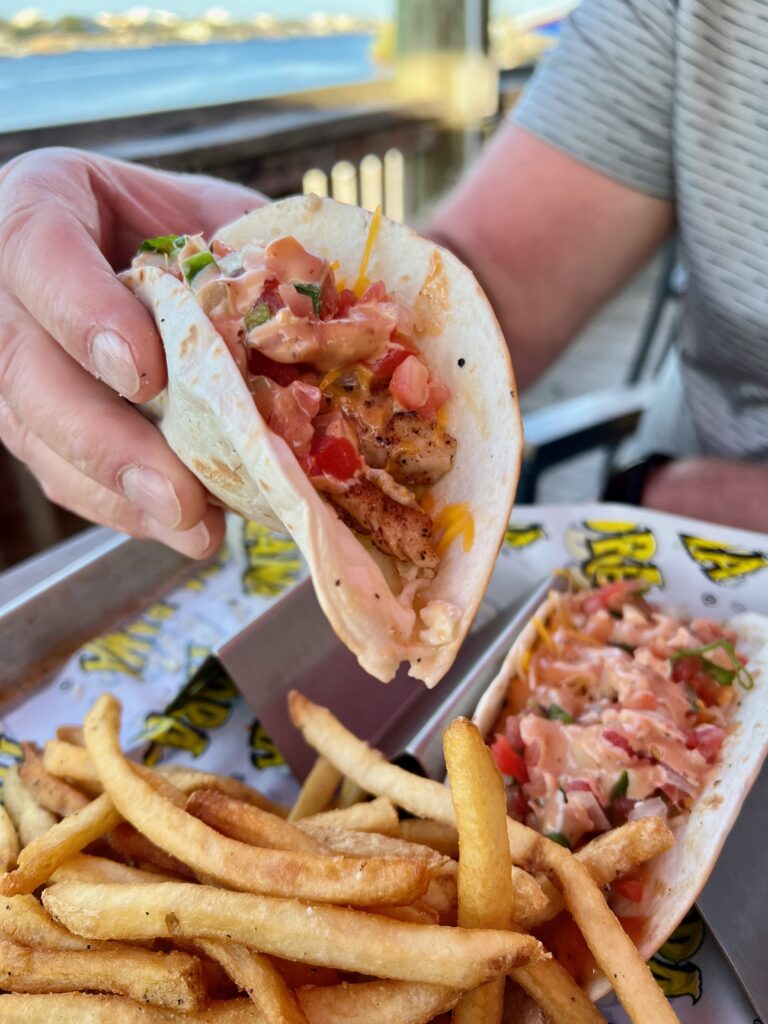 Dine indoor or take a seat on the balcony overlooking the Old River. If you're the girly drink type, order a few Island Girl cocktails. And then keep ordering them when you go across the street to Flora-Bama for the live music.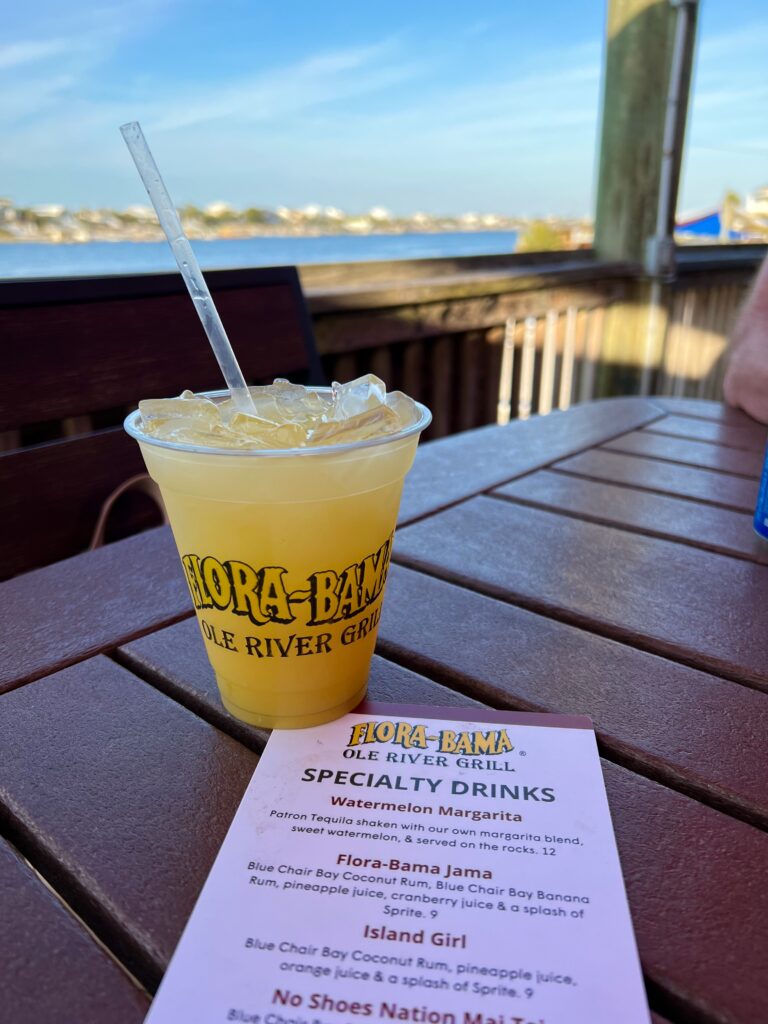 Sweet Treats & Snacks
Sweet Cone Alabama 26651 Perdido Beach Blvd., Suite C, Orange Beach, Ala.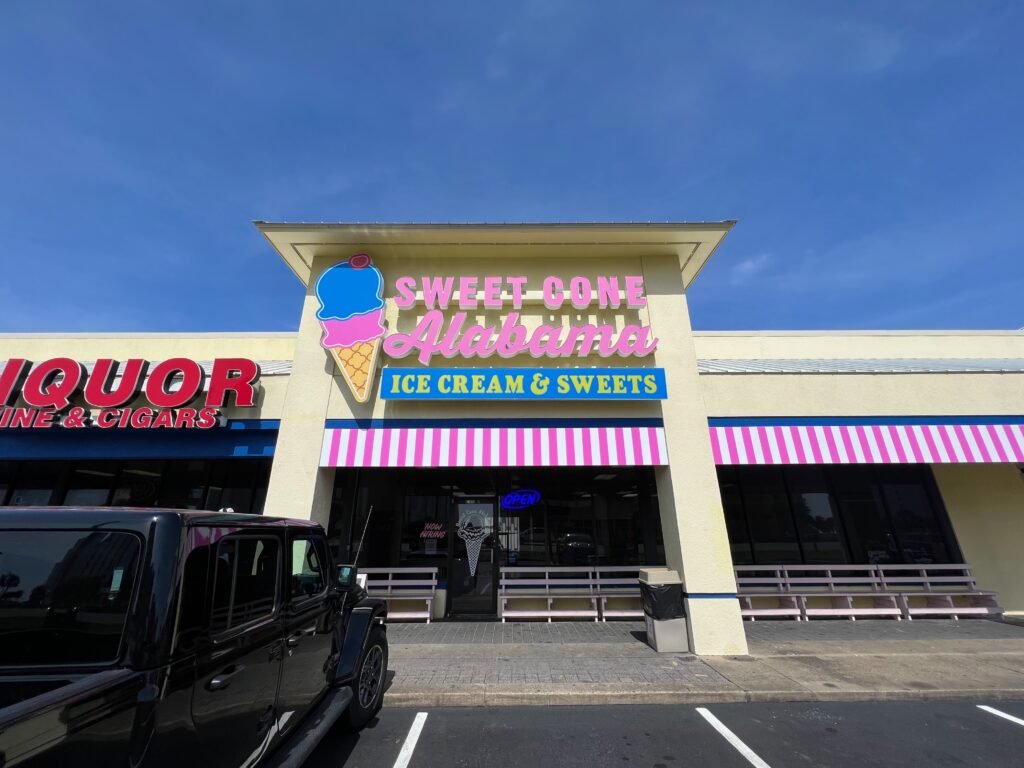 Great ice cream and friendly service. This was a great stop the day before we flew back home because we each got a bag of fresh taffy to eat on the flight home.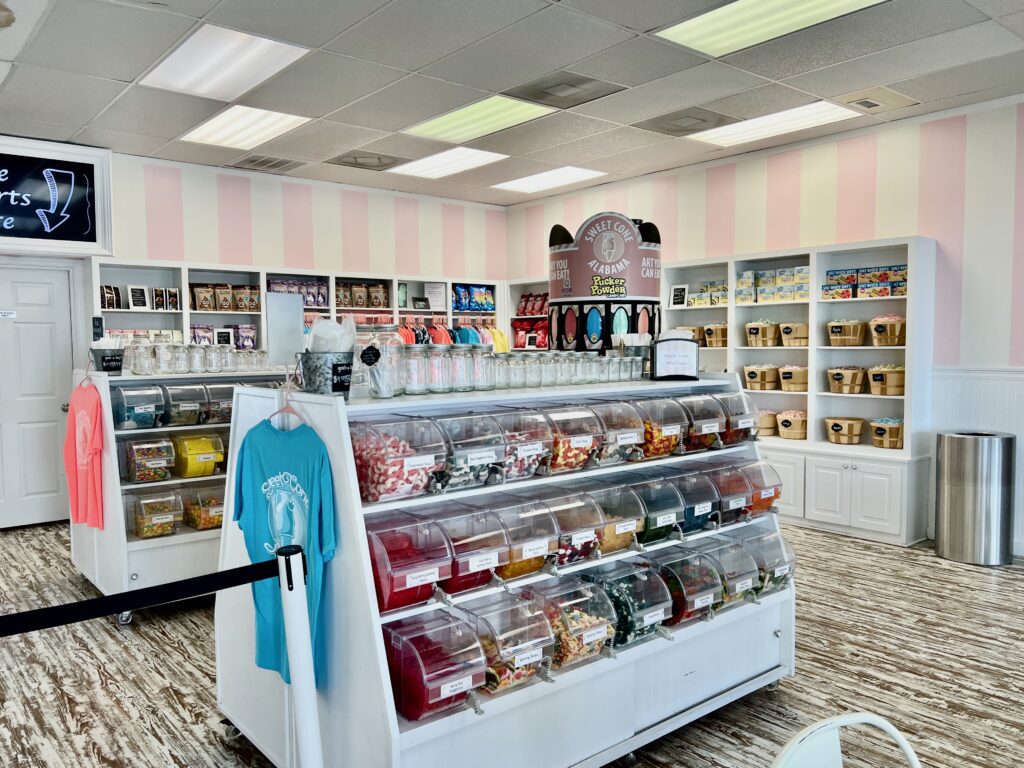 Pollman's Bake Shop 750 S. Broad St., Mobile, Ala., pollmansbakery.com
I forgot to share this bakery in a historic neighborhood of Mobile on the podcast. Pollman's Bake Shop is Alabama's oldest bakery. I enjoyed a few of their cookies and bars and this is where Jason got mini sweet potato tartlets. If you are in the area, I highly recommend stopping.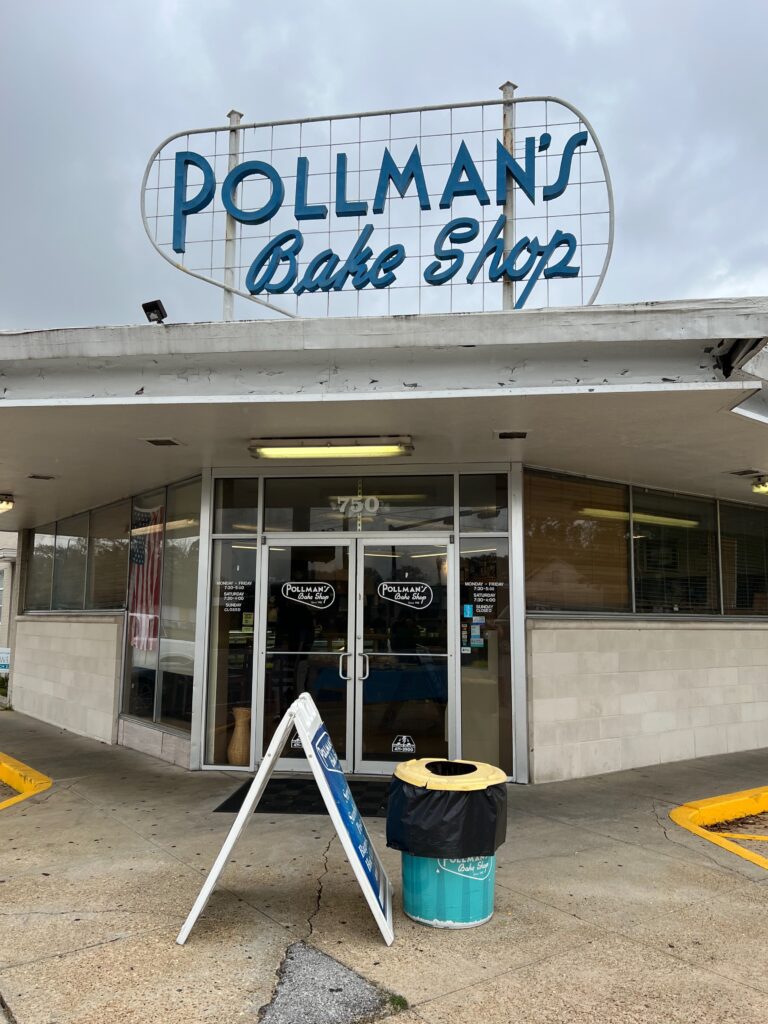 Punta Clara Kitchen 17111 Scenic Highway 98, Point Clear, Ala., puntaclara.com
You're in for a treat. Punta Clara Kitchen has been making homemade treats like fudge, candies, jams, pickles, cheese straws, pralines, and cake for more than 70 years.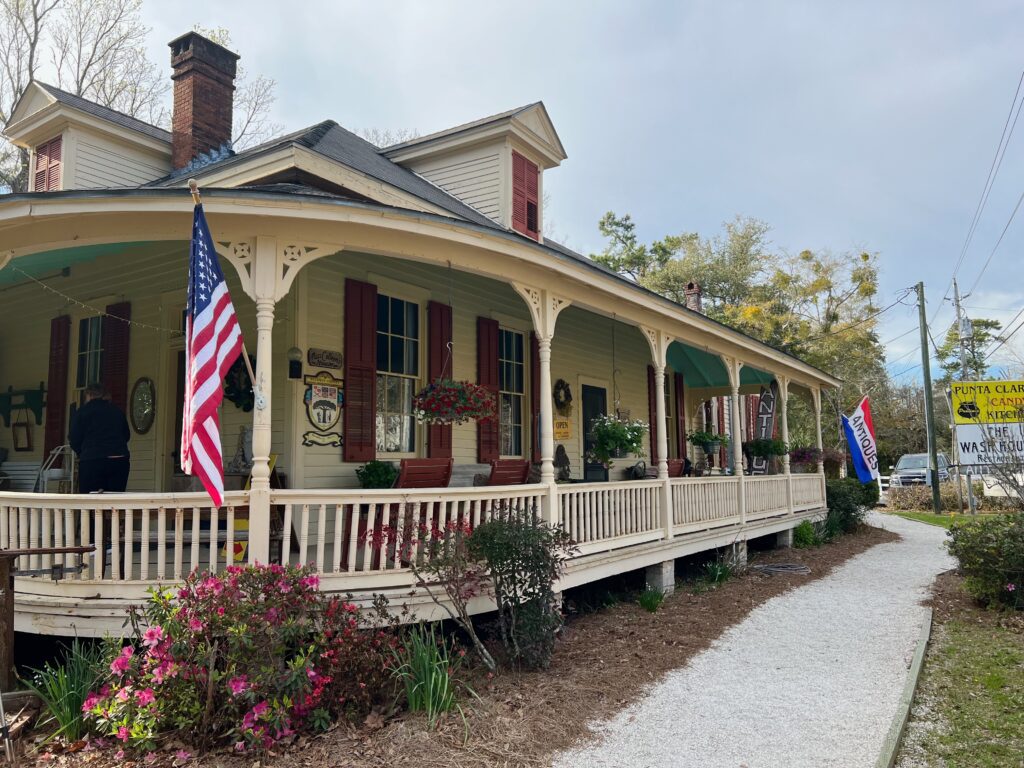 Is ice cream ever not a good late night snack? Scoops Ice Cream has your back.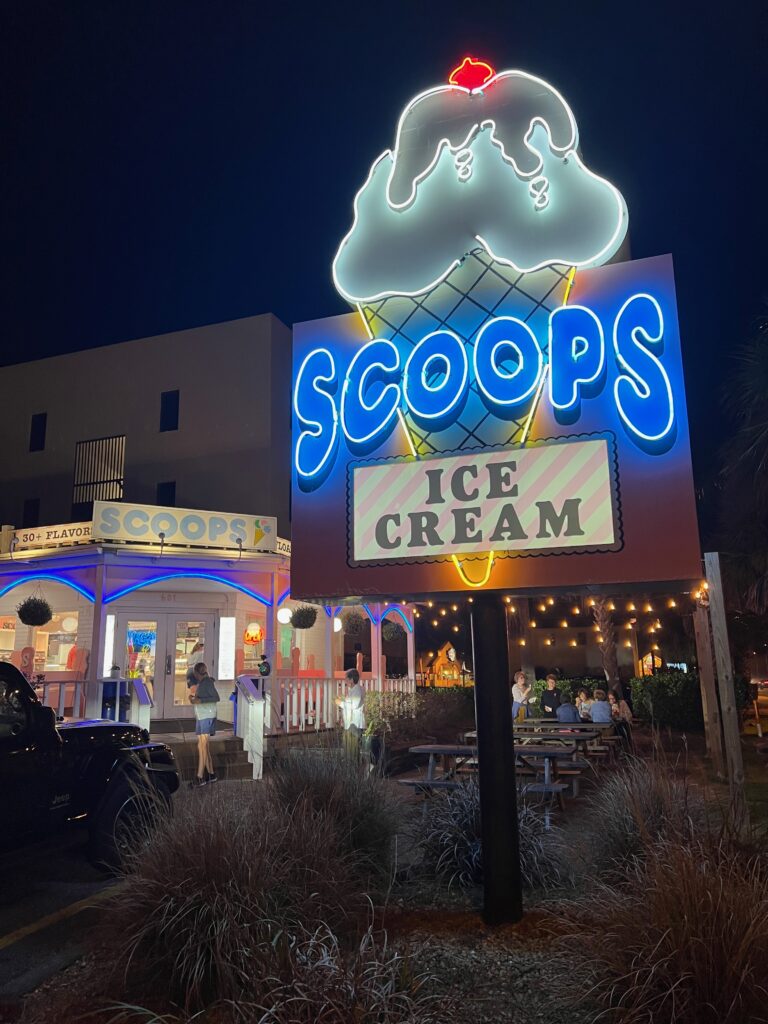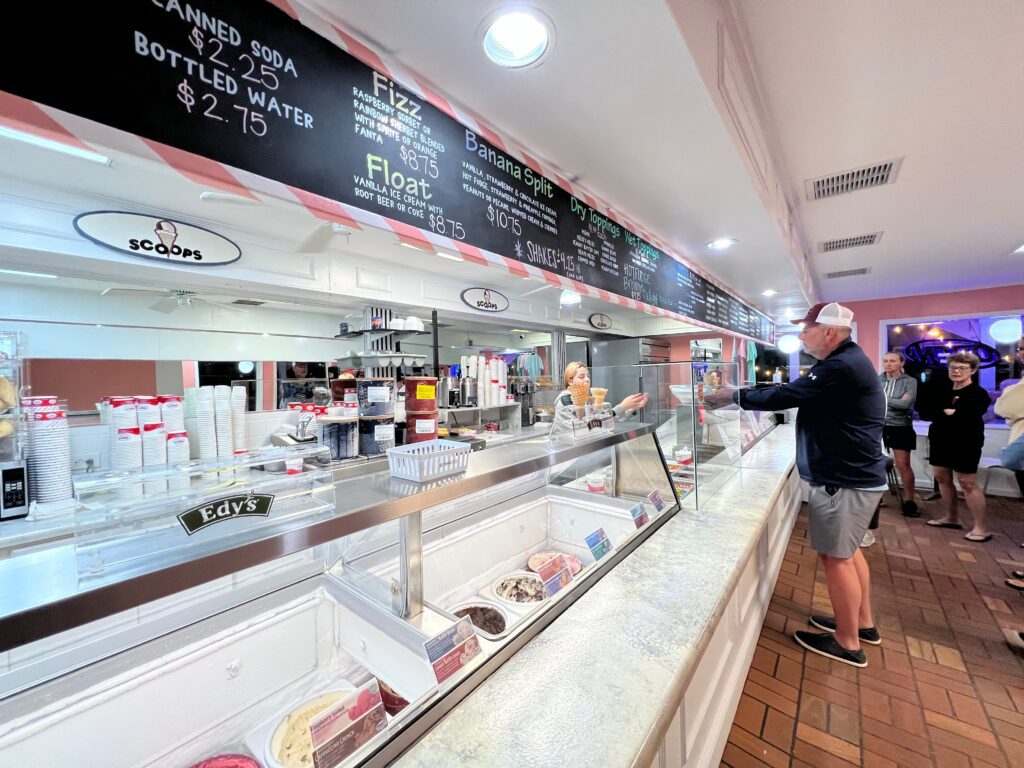 In addition to ice cream desserts, they also have truffles, giant rice crispy bars and other chocolate-dipped treats.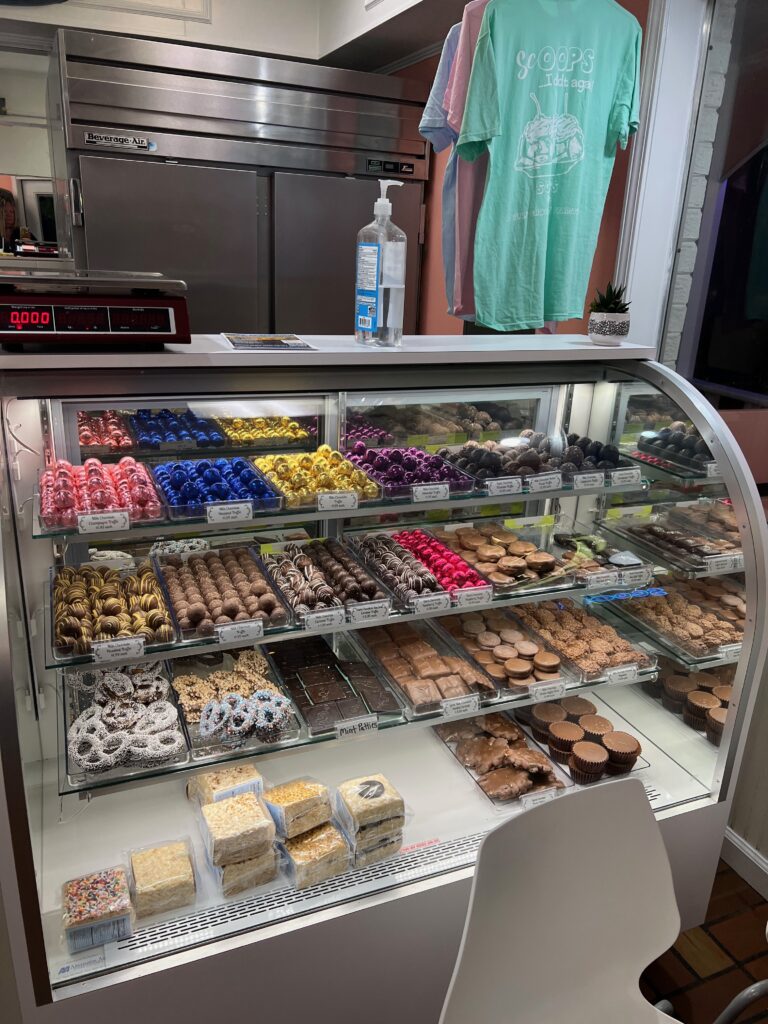 Boiled Peanuts at Gloria's Produce 3100 Laurendine Rd, Theodore, Ala.
You can't miss Gloria's Produce if you're driving from Dauphin Island to Mobile. I'd never eaten boiled peanuts and it seemed like a good Southern thing to do so we stopped. I don't know why I was surprised the peanuts were soft, like a cooked bean. But they were tasty. Too bad we were on the road—a beer would have been nice.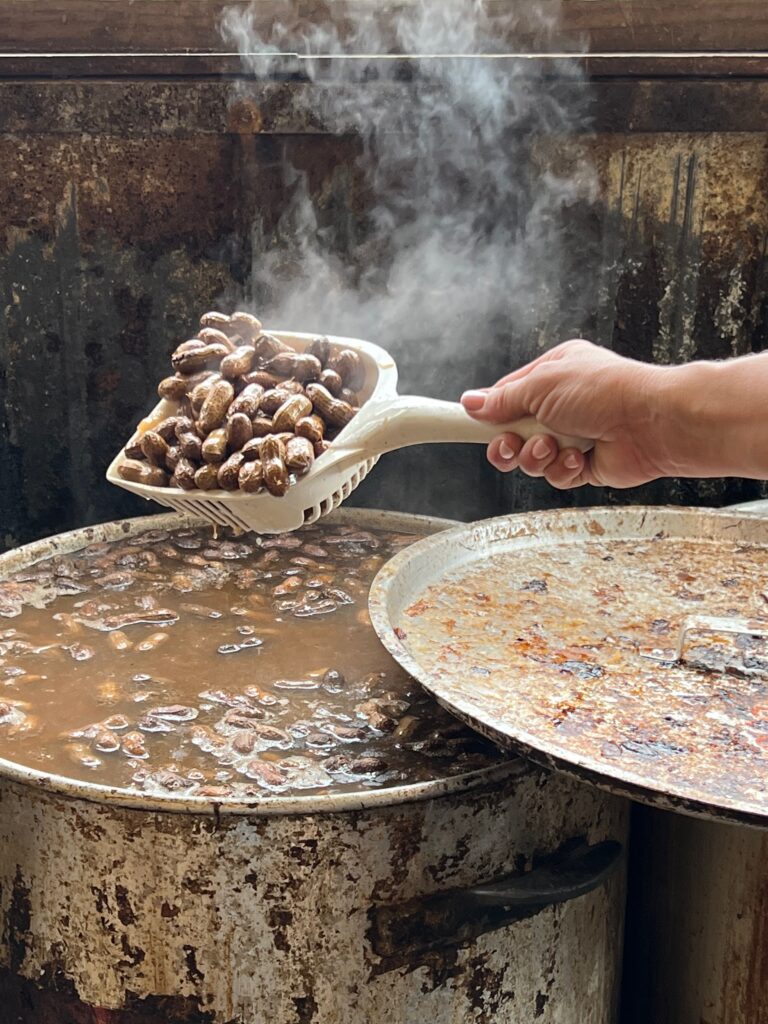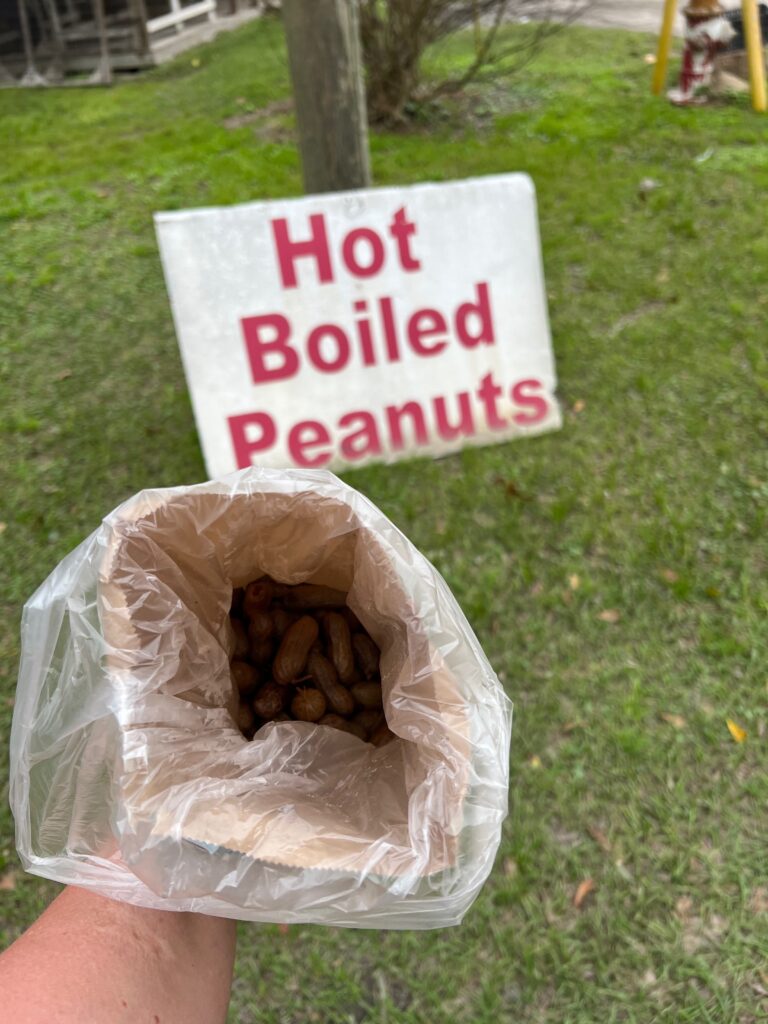 Towns everywhere were hosting Mardis Gras parades when we were there. We went to one in Gulf Shores and were introduced to our first-ever Moon Pies. We've since gotten some shipped to our house in Minnesota.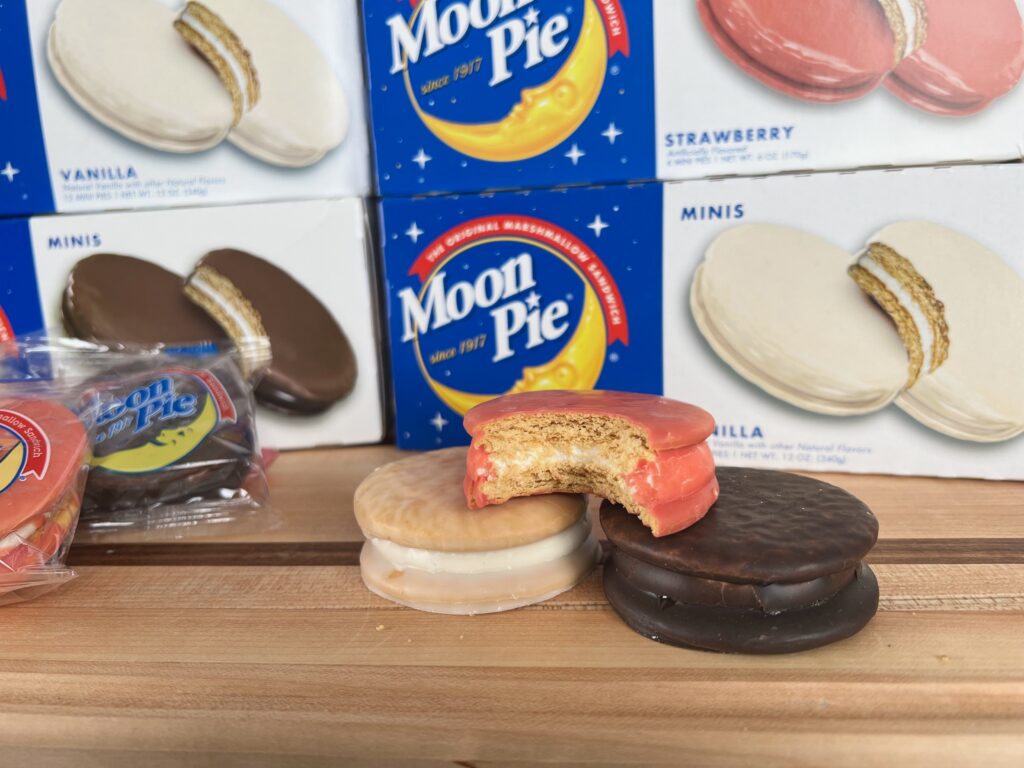 Places We Had Drinks, But Didn't Eat
As I mentioned in my previous blog post, Plan Your Coastal Getaway to Gulf Shores and Orange Beach Alabama and on episode 16, the following establishments are fun for all ages for food and entertainment.
On Our List But We Didn't Get To
Hope's Cheesecake 201 E. 20th Ave., Gulf Shores, Ala. hopescheesecake.com
Give me cheesecake over cake or ice cream any day. I'm kicking myself for not getting to Hope's.
A Sweet Secret Café & Bakery 1538 Gulf Shores Pkwy., Gulf Shores, Ala. facebook.com/asweetsecretbakery/
I accidentally referred to it as Sweet Spot in our podcast episode. When we went to the Gulf Shores Tourism Welcome Center, we asked where we could find a good sweet potato pie. They thought maybe A Sweet Secret would have it but we never made it there.
Brookman's Smokehouse 1544 Gulf Shores Pkwy., Gulf Shores, Ala. brookmanssmokehouse.com
Too bad we didn't get to Brookman's. I really wanted to try the smoked salmon—maple pecan, bourbon peppercorn and sesame teriyaki. And I'm guessing Jason would like the smoked ribs, brisket or pork. We would have gotten sides of smoked tuna dip, salmon spread and the pimiento cheese dip.
OK, so we will need to get at least two or three meals there next time. It's take-out only so you'll want to plan a picnic or take it back to your condo kitchen. And now that I see the address and look at a map, Brookman's is basically right across the street from A Sweet Secret Cafe & Bakery.
One last thing. Ole River Grill had the best key lime pie. But if you want to make it at home, I really love my recipe for the tart dessert. So here's my recipe for key lime pie with brown sugar pretzel crust.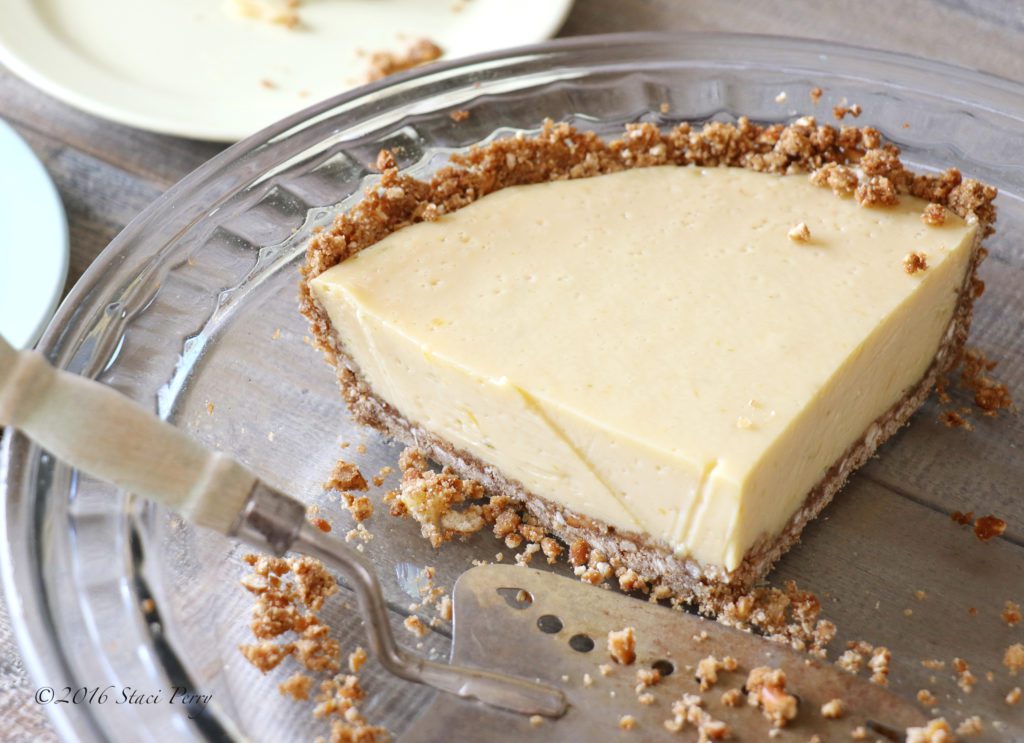 Thanks for reading all the way to the end! I hope you find a few new places for your next trip to the Gulf Shores area. Let me know what other places you like there. And if you haven't already listened, I think you'll enjoy Funeral Potatoes & Wool Mittens episode 17. Do you know which were our top five?
Sweet wishes,