In Memory of Store-Bought Snickers Bars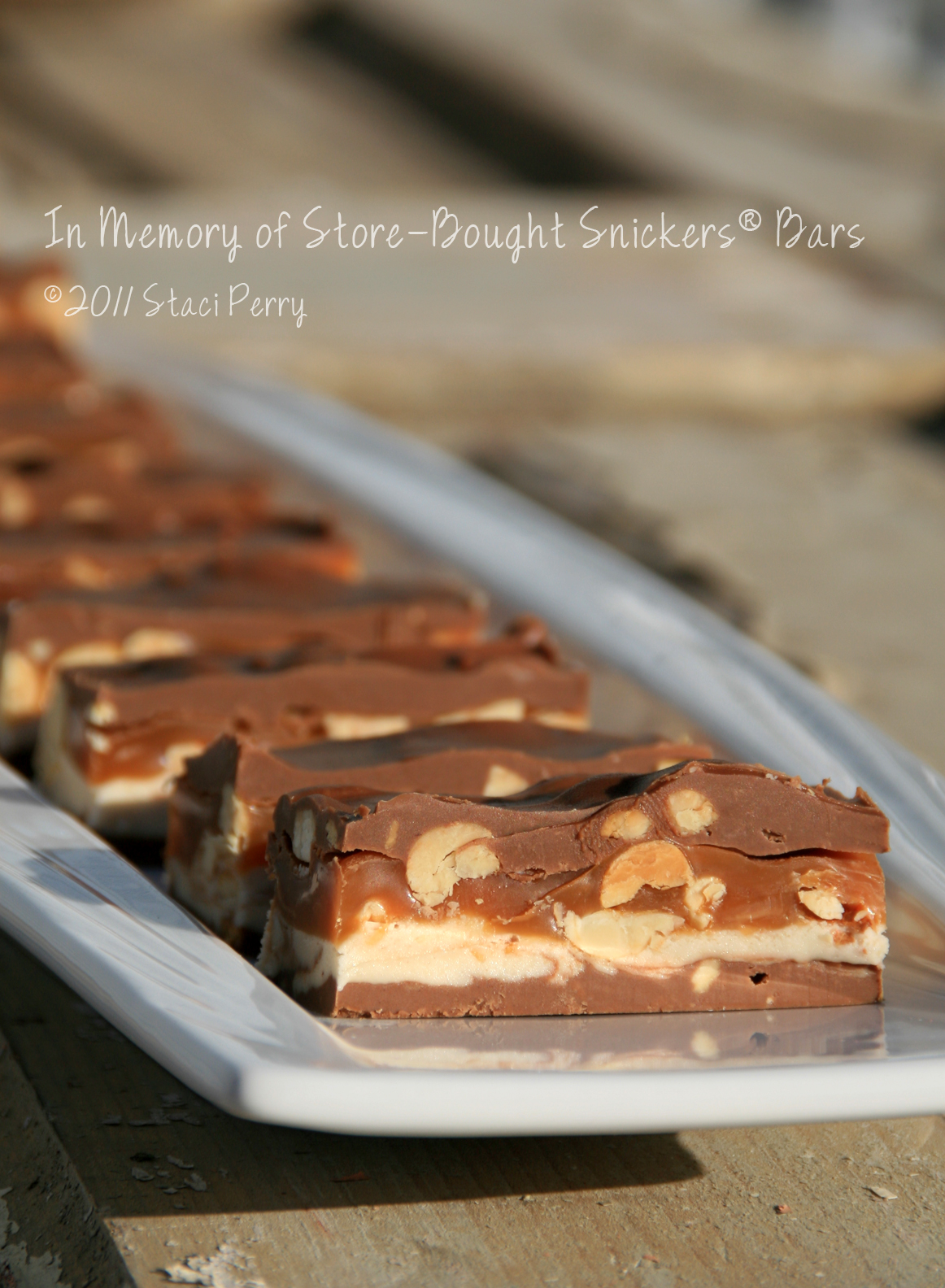 Gone are the days when you have to run to the store when you're hungry for a Snickers®. Eat one of these ooey, gooey chocolate caramel nutty treats and you may never again rip open a candy bar wrapper.
You probably already have most of the ingredients to make these.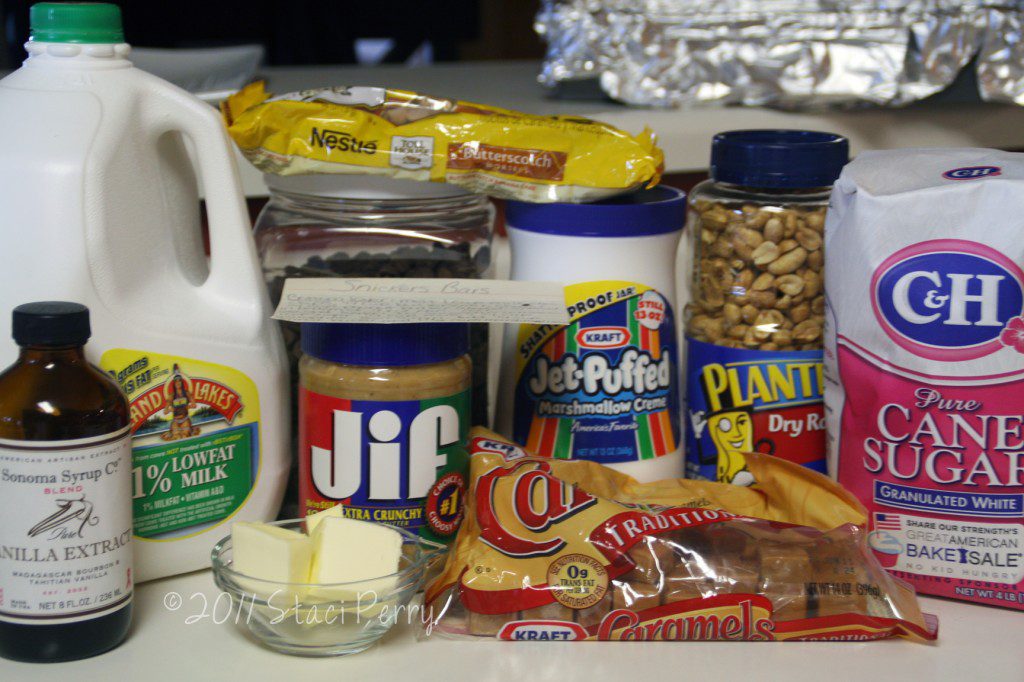 The easiest way to cut these into bars is to line your pan with non-stick foil or parchment paper first. (Pay no attention to the apples and bananas hanging out in the background—they really have no business being here.)
Start by shaping your foil over the upside down 9 x 13 pan and then insert it into your pan. Make sure the non-stick side is facing up when you have it inserted in the pan.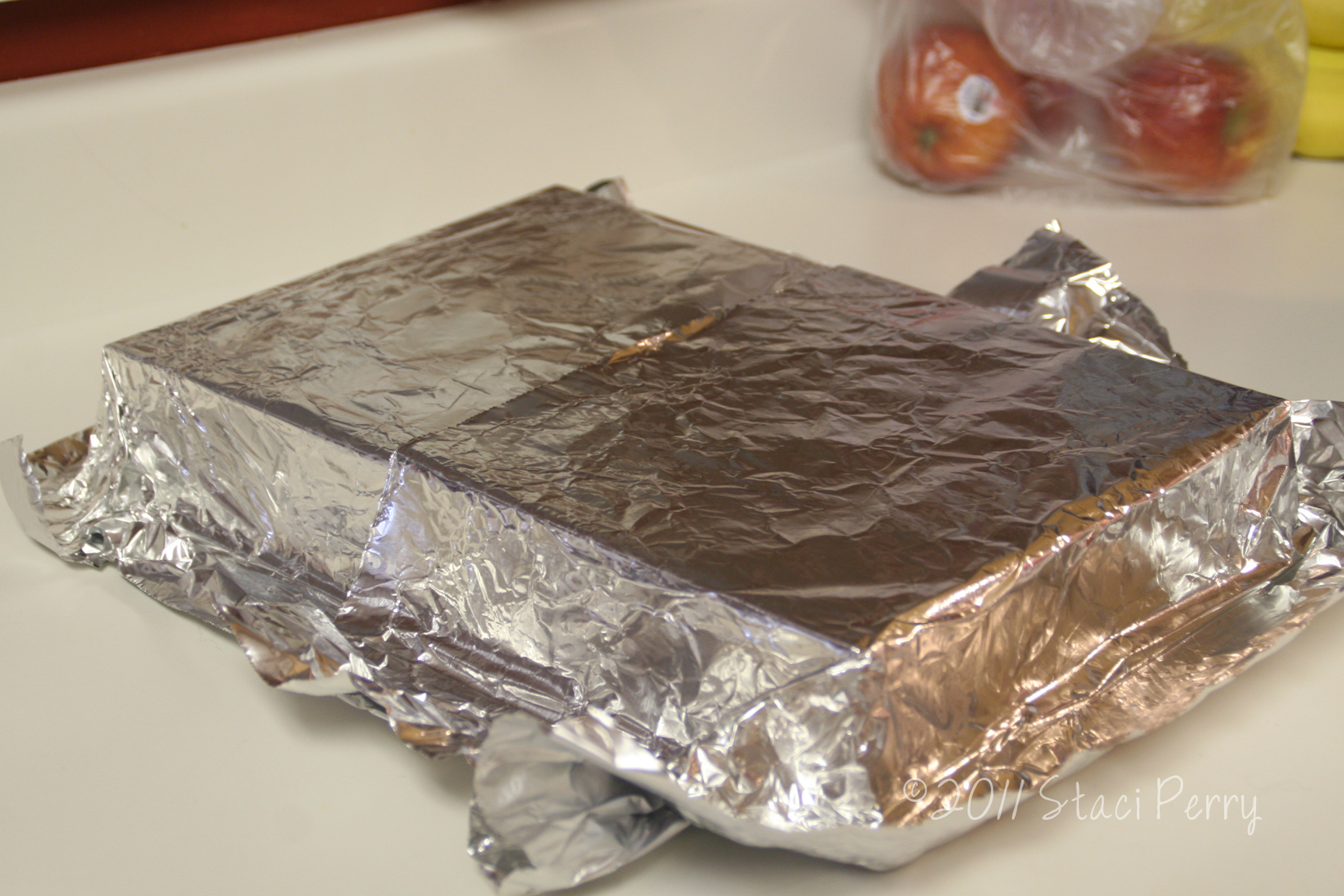 For the first layer, melt milk chocolate chips, butterscotch chips and chunky peanut butter together.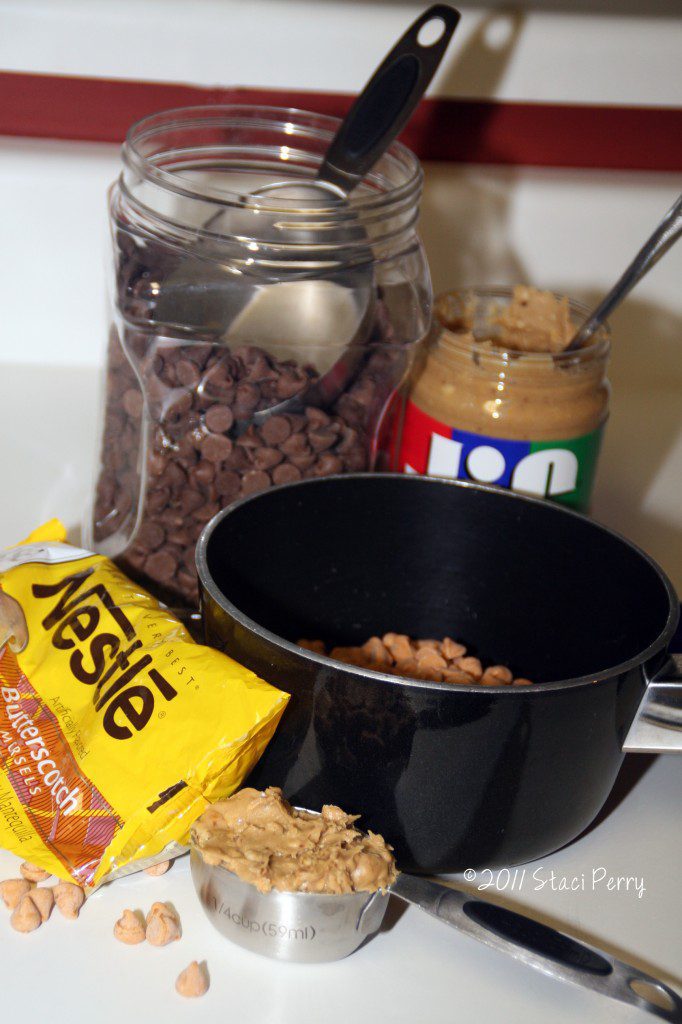 When you first pour the melted mixture into the pan, it may seem like it's not enough.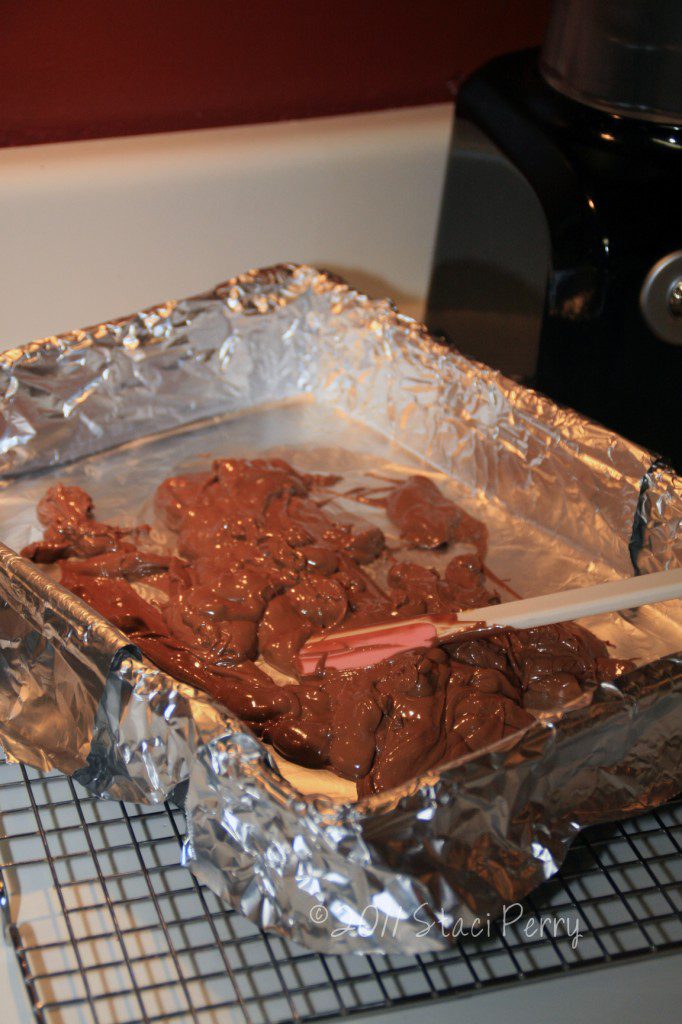 But it is just enough to cover the bottom of your pan. Set the pan in the refrigerator for about 30 minutes to cool and set.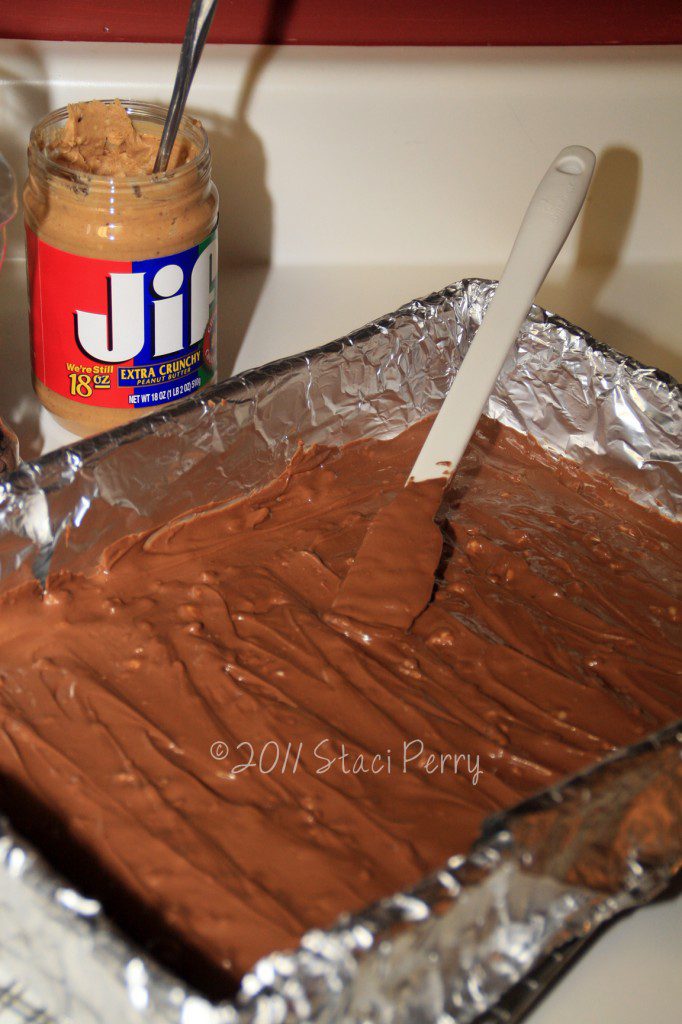 For the second layer, combine the sugar, milk and butter in a small saucepan and boil 5 minutes.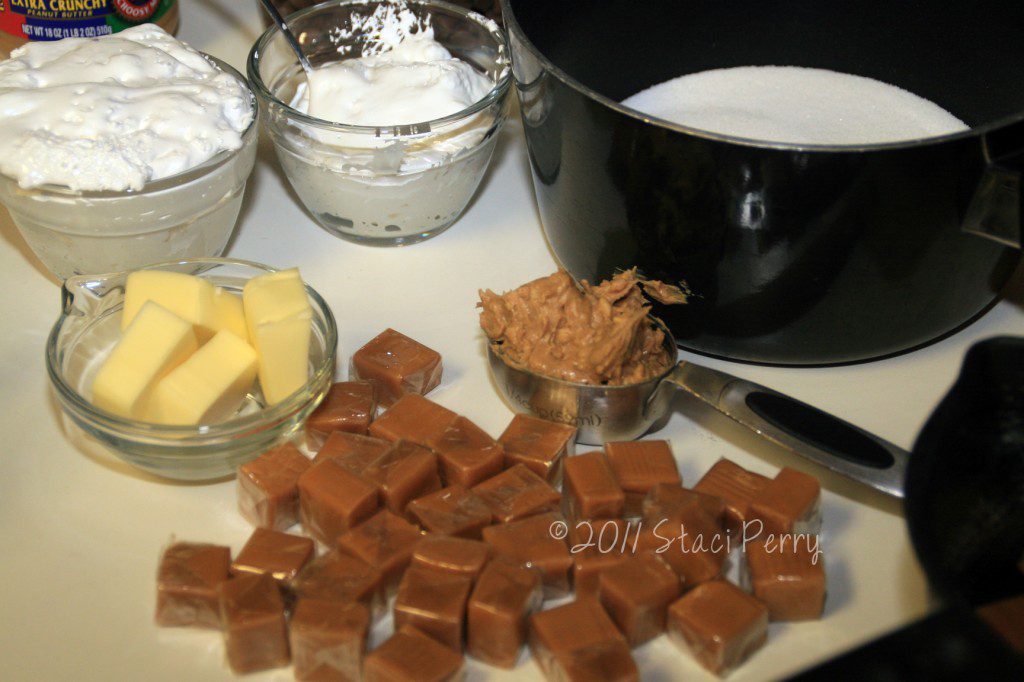 Add the peanut butter, marshmallow cream and vanilla to the boiled mixture. Stir until smooth.
Spread the marshmallow cream mixture onto the cooled chocolate layer
Cover the sticky marshmallow layer with dry roasted peanuts.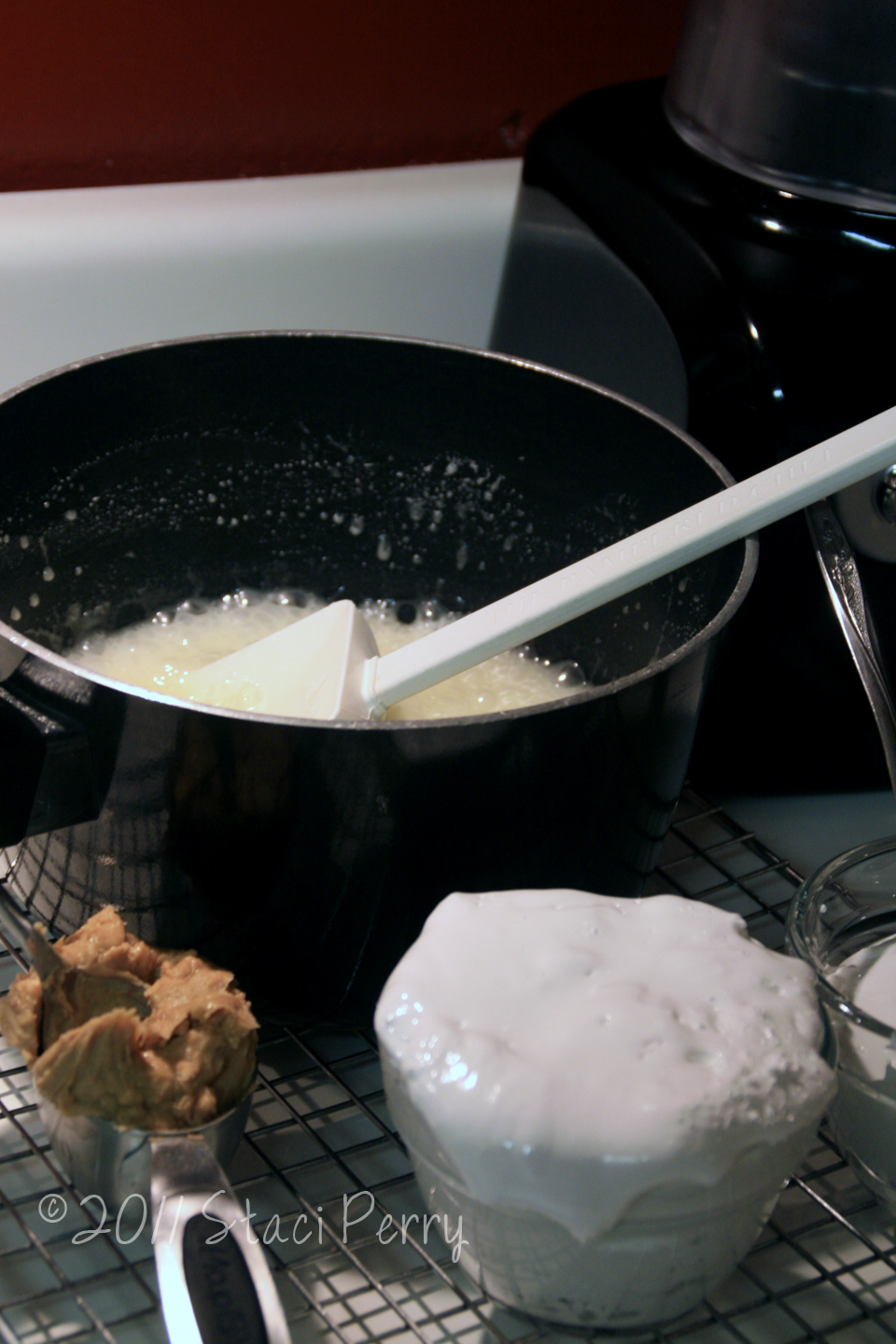 Melt the caramels and pour over the peanuts.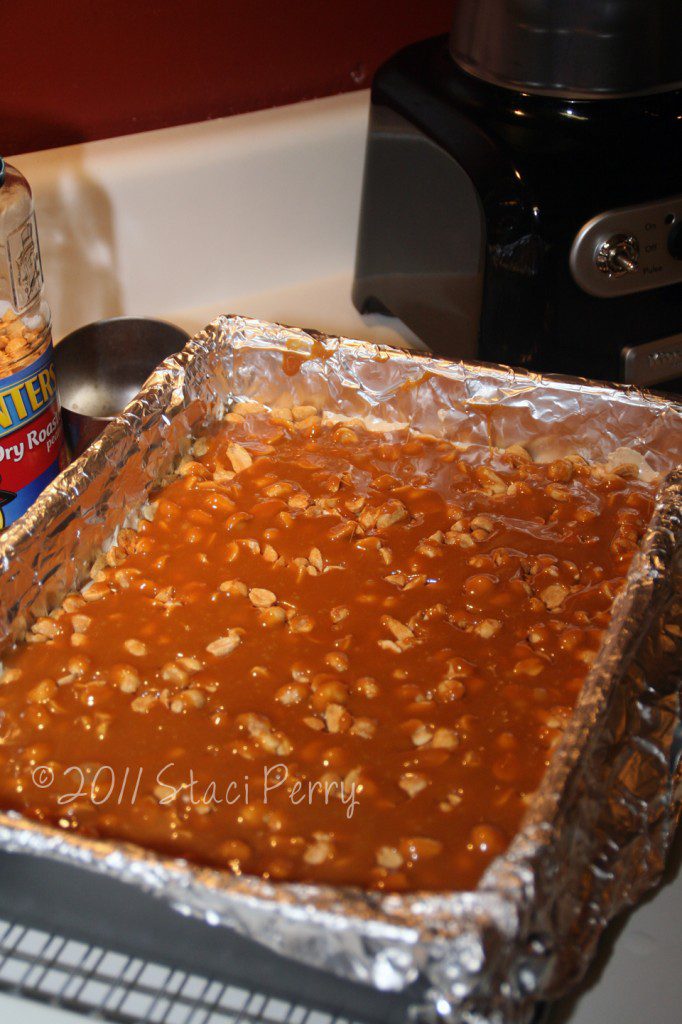 Repeat the first layer and spread over the caramel and peanuts. Cool completely.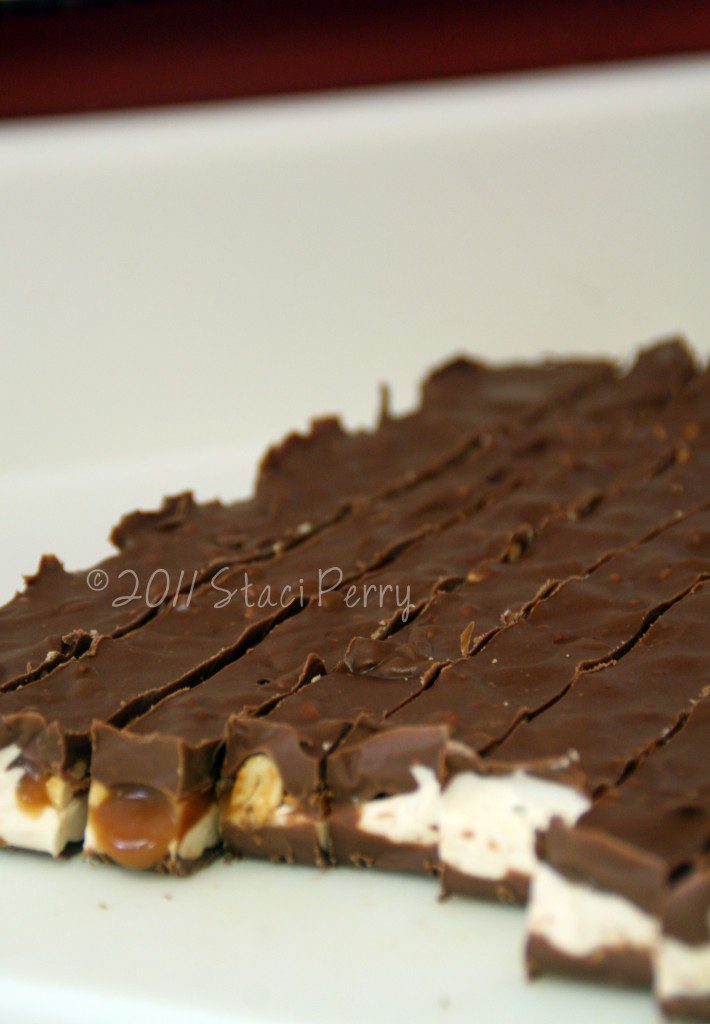 Cut into small bars.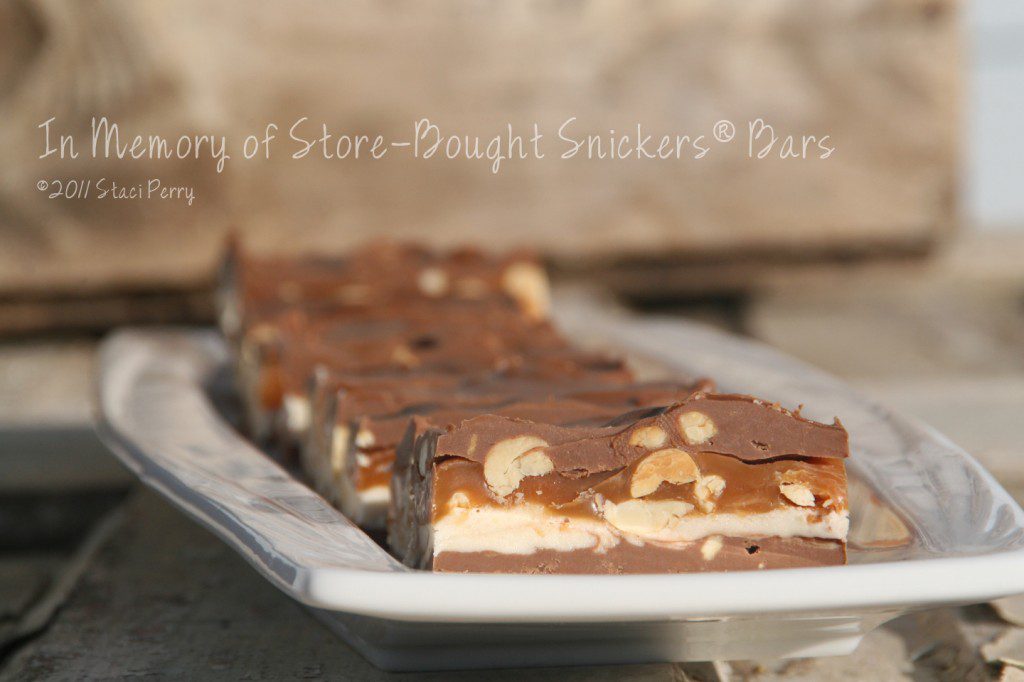 Use a few cups of the Snickers bars chopped up to make Snickers Apple Salad and Butterfinger Apple Coconut Salad.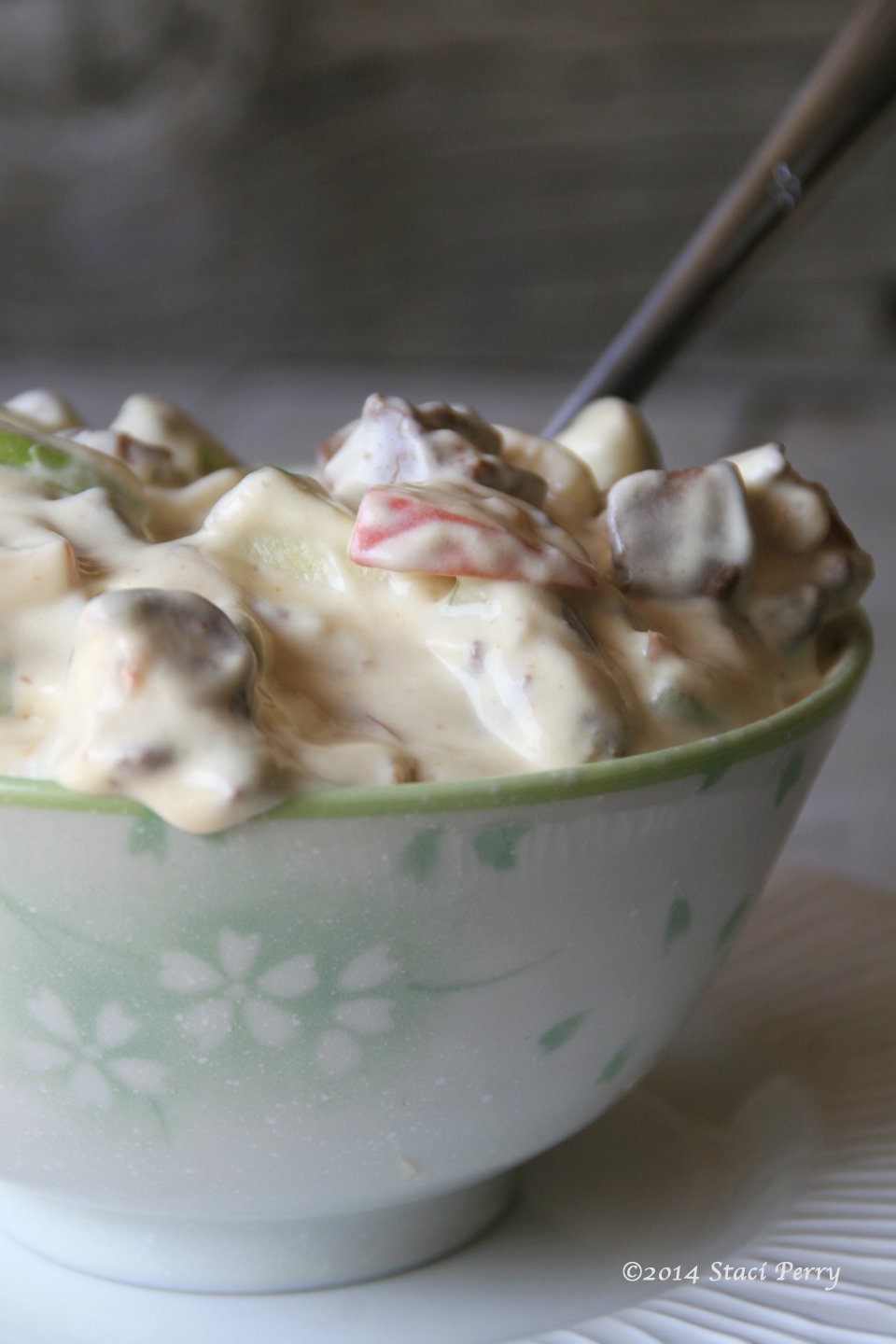 Sweet wishes,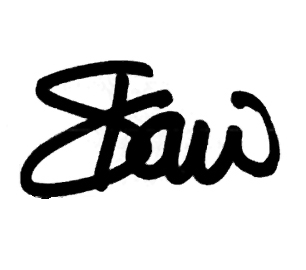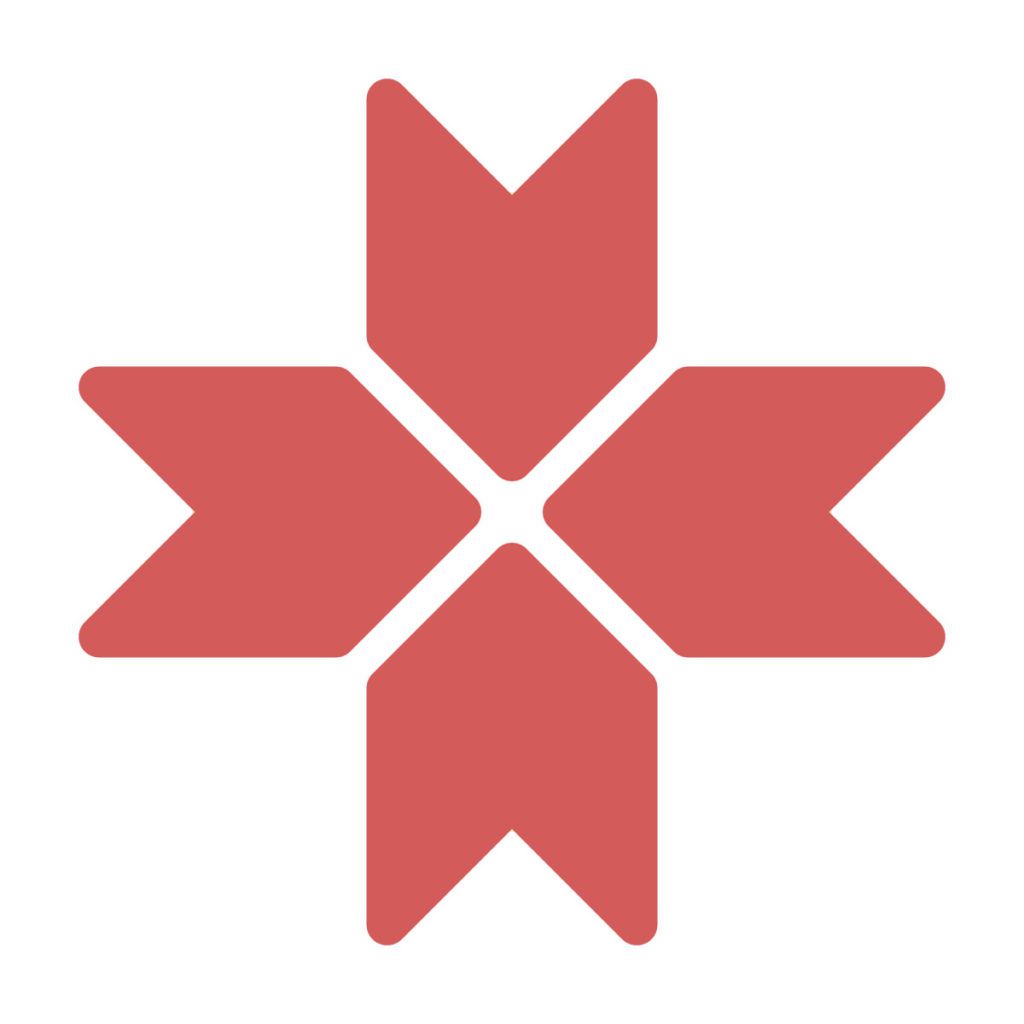 Email this recipe
No-bake Snickers Candy Bars
Layers of caramel, peanut butter nougat, chocolate, peanuts and hint of butterscotch—homemade Snickers bars are better than the real thing.
Ingredients
2

cups

milk chocolate chips, divided

½

cup

butterscotch chips, divided

¾

cup

crunchy peanut butter, divided

1

cup

sugar

¼

cup

milk

4

tablespoons

unsalted butter

1½

cups

marshmallow creme

1

teaspoon

pure vanilla extract

2

cups

dry roasted peanuts

12

oz

caramels, unwrapped

2

tablespoons

hot water
Instructions
Bottom Layer
Line 9 x 13-inch pan with non-stick foil or parchment paper. In a small saucepan, melt 1 cup milk chocolate chips, 1/4 cup butterscotch chips and 1/4 cup chunky peanut butter together. Spread in pan and cool in refrigerator for 30 minutes.
Second Layer
In saucepan, combine 1 cup sugar, 1/4 cup milk and 1/4 cup butter. Boil 5 minutes. Add 1/4 cup chunky peanut butter, 1-1/2 cups marshmallow cream and 1 tsp vanilla. Stir until smooth. Spread over cooled bottom layer. Sprinkle 2 cups dry roasted peanuts over marshmallow layer.
Third Layer
Melt caramels and 2 tablespoons of hot water together. Drizzle the melted caramel over the peanuts.
Top Layer
Repeat bottom layer and spread over caramel layer. Let set for about 30 minutes. Using a regular fork, lightly drag and zigzag up and down the bars to make a fun pattern in the chocolate.

Cool completely at room temperature. Lift bars out of pan and peel off paper or foil. Cut into bars on a cutting board with a chef's knife. These are best if stored in the refrigerator.
Notes
These bars freeze well. I suggest cutting into desired bars before freezing them.
Nutrition
Calories:
250
kcal
Carbohydrates:
32
g
Protein:
5
g
Fat:
13
g
Saturated Fat:
4
g
Polyunsaturated Fat:
2
g
Monounsaturated Fat:
5
g
Trans Fat:
0.1
g
Cholesterol:
8
mg
Sodium:
115
mg
Potassium:
140
mg
Fiber:
1
g
Sugar:
26
g
Vitamin A:
58
IU
Vitamin C:
0.05
mg
Calcium:
27
mg
Iron:
0.3
mg
All text and images © Staci Mergenthal • Random Sweets