Betsy's Kuchen, Mexican Corn, Pickle Dip, and Fried Knoephla & Pulled Pork with Sauerkraut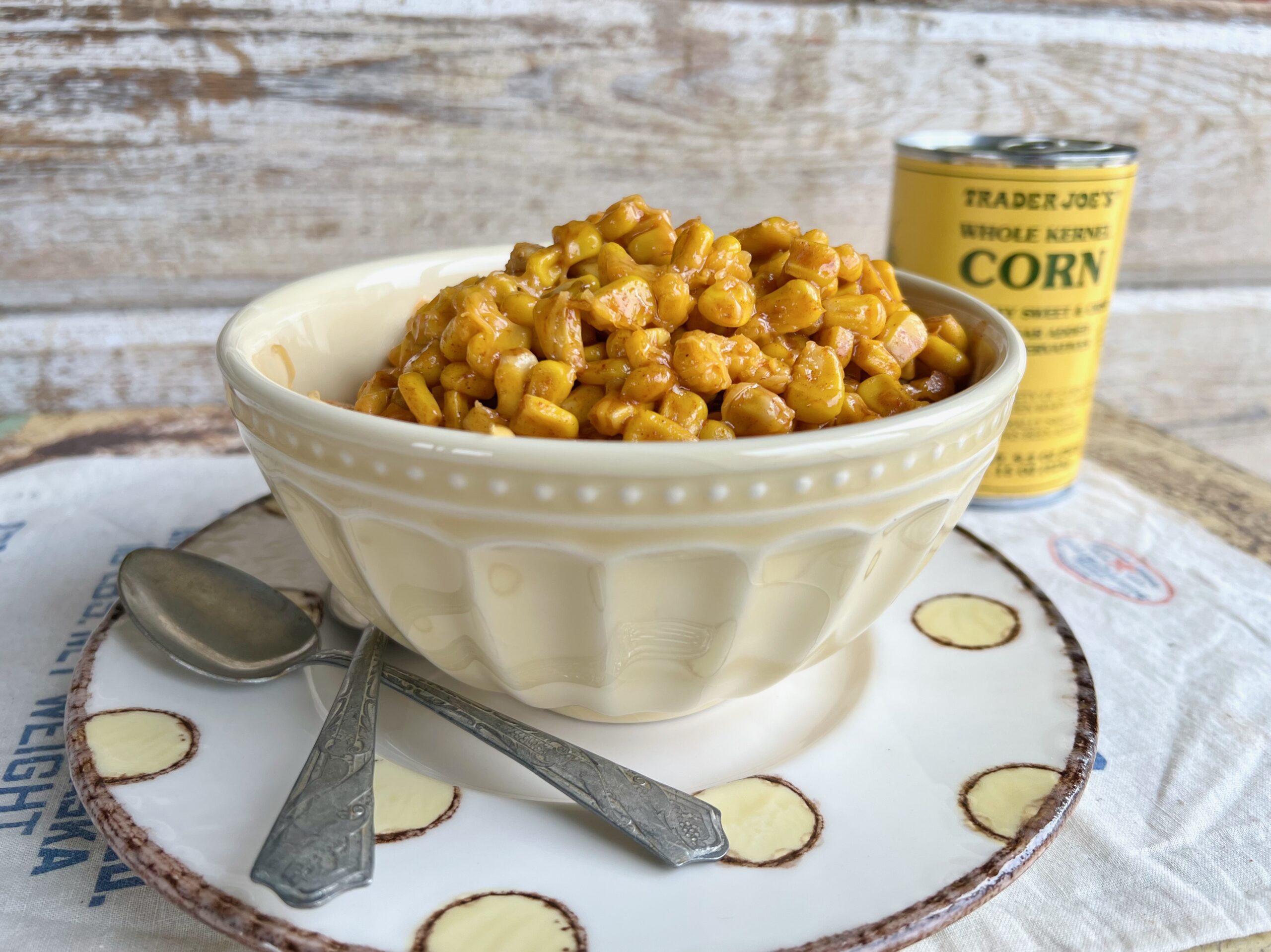 It's time for a new podcast episode and this week, my North Dakota sister-in-law Betsy Ziegler joins me to talk about the German dessert Kuchen, Fort Abraham Lincoln State Park, beloved maple bacon long johns at Bearscat, and cruising the Missouri River and drinking blood-red cocktail pouches from The Paddle Trap.
Listen to Funeral Potatoes & Wool Mittens in the player below or search for it wherever you get your podcasts.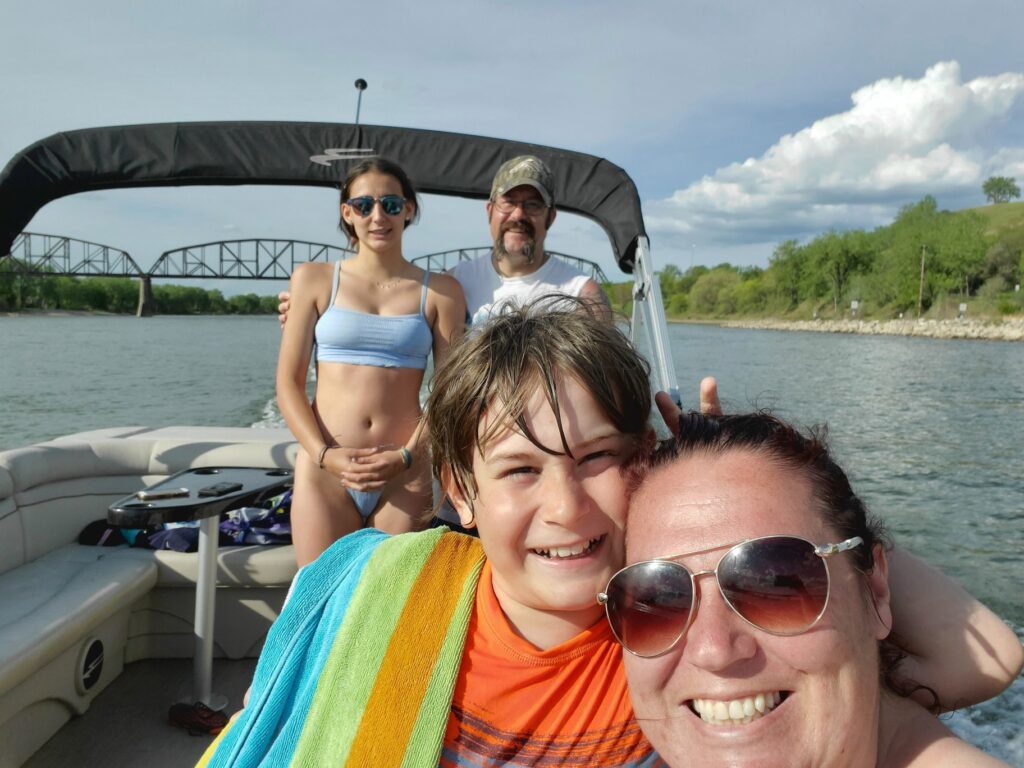 Betsy shares her recipes, most of them using the "eyeball" method, for a non-mayo-based German potato salad, bacon and cheddar ranch dip, chicken and wild rice soup that she makes using a box of Uncle Ben's wild rice and seasoning, Mexican corn, pickle dip, and smoked pulled pork and sauerkraut with fried knoephla, along with her secret to lightening up the "krautiness" of the sauerkraut.
If you listened to Funeral Potatoes & Wool Mittens episode 19, you already have Betsy's eyeball recipe for hash brown casserole.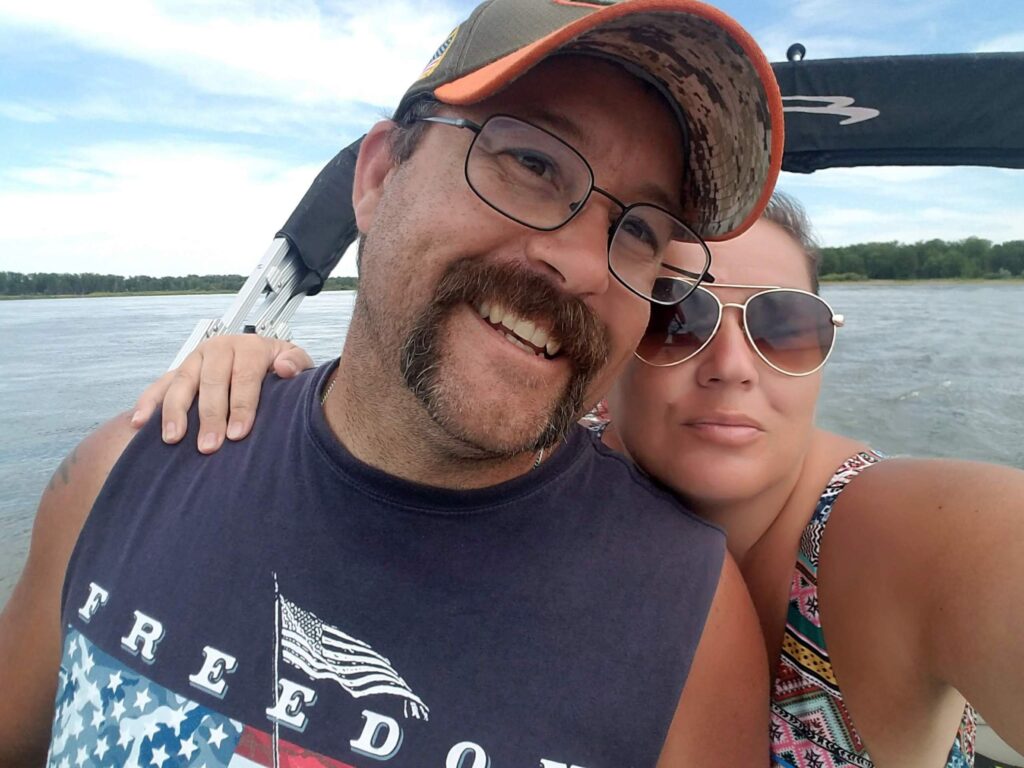 Cruising the Missouri River is such a blast. Some of the sandbars could fit a couple thousand people.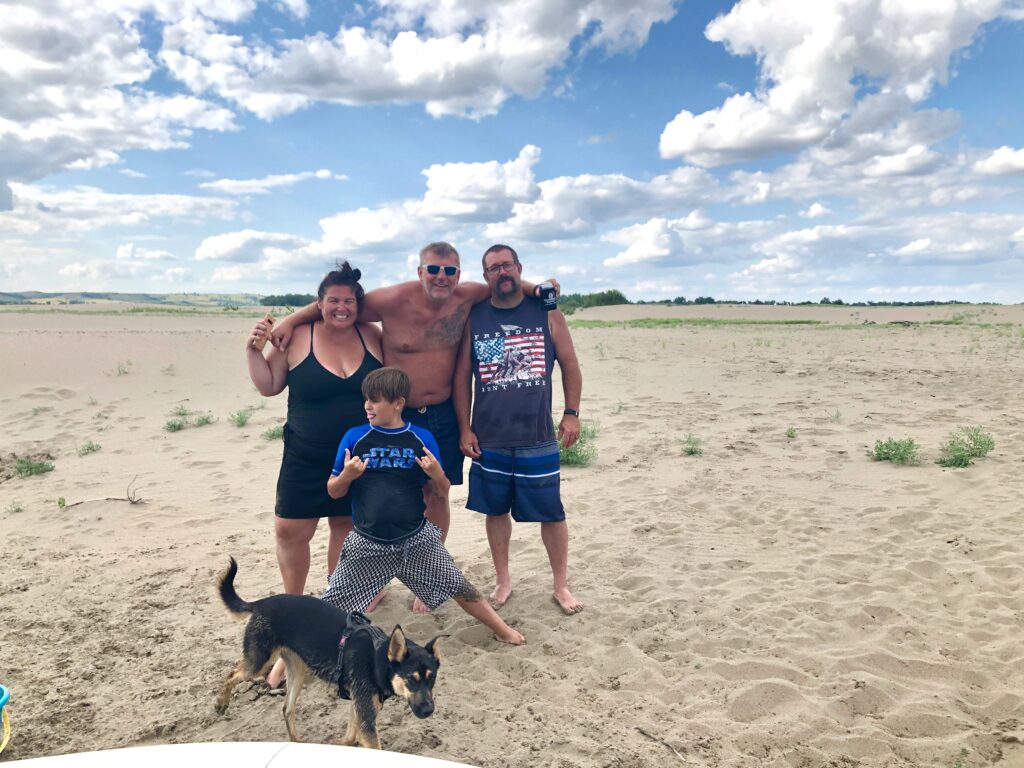 Fried Knoephla with Smoked Pulled Pork and Sauerkraut
Betsy came up with this twist on traditional kraut, kielbasa and knoephla (knefla). Instead of the kielbasa, she used smoked pulled pork and she fried the knoephla.
She shared her secret to lightening up the "krautiness" of the sauerkraut in the podcast—she doesn't go overboard with it, she rinses it and she adds it to the meat so it soaks up the juices.
My Scandinavian self talked about being hesitant and not too enthusiastic to try it, but my oh my…it was delicious! It reminded me I have plenty of German blood in me too. I can't believe I might actually buy sauerkraut for the first time in my life. Thank you, Betsy!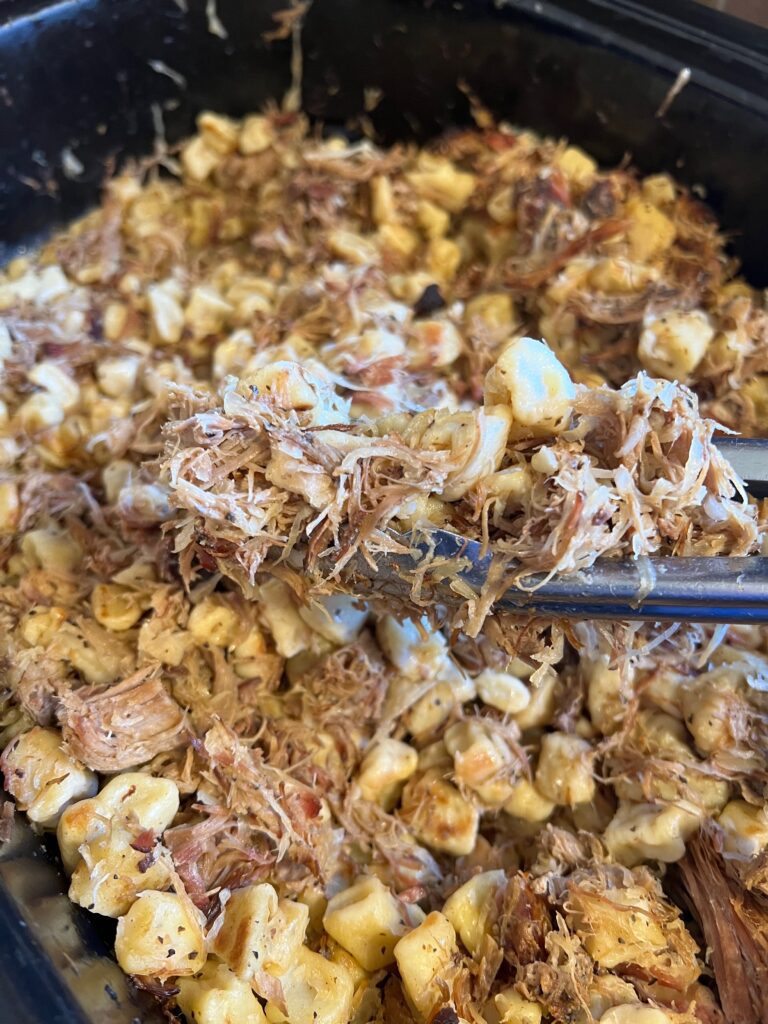 Knoephla soup is popular in North Dakota. Here's a recipe for you from The Norwegian American. https://www.norwegianamerican.com/knefla-soup-a-midwestern-tradition/
German Potato Salad
Betsy's German potato salad is a good option for her son, Russell Jr., who tries to eat gluten-free as much as possible. No need to get the mayonnaise and mustard from the fridge because she's only stirring in cooked potatoes, chives/green onions, sugar, vegetable oil and apple cider vinegar.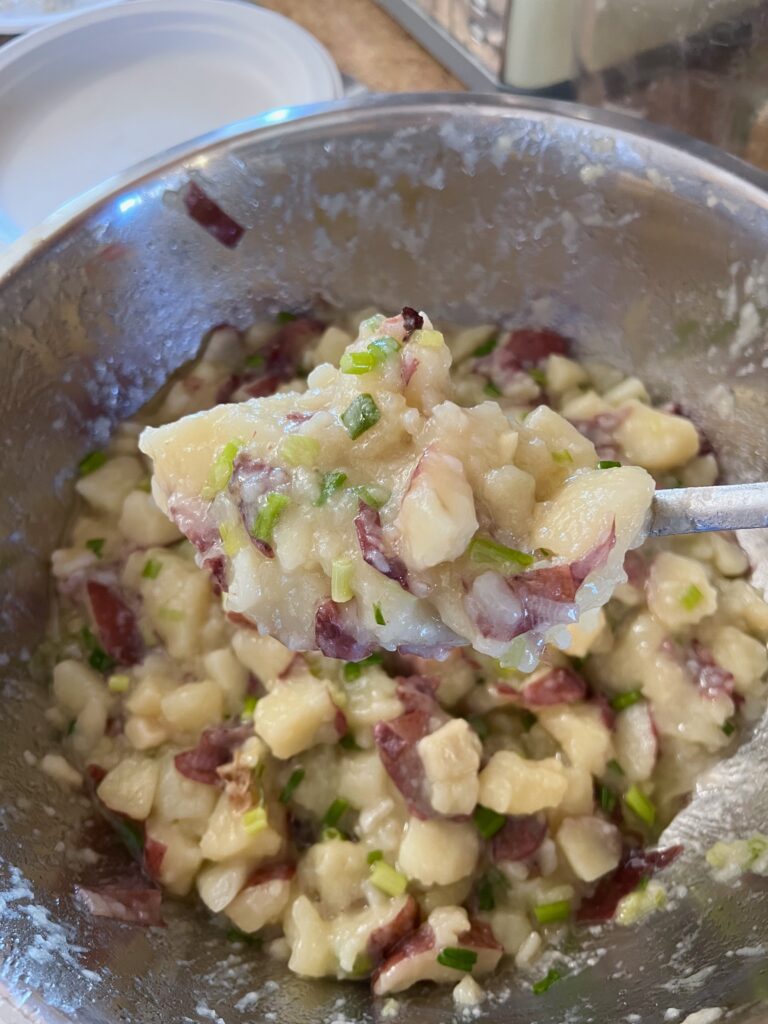 Kuchen
Although kuchen, a traditional German dessert, is the state dessert of South Dakota, North Dakotans love it just as much. The bottom layer reminds me of a cross between cake and pie crust and it's topped with fruit filling and a sweet, but not too sweet, custard.
When Russell and Betsy got married, Russell's aunt Henrietta made kuchen for their wedding reception in lieu of cake.
Pictured below is a slice of rhubarb kuchen from Grandma's Kuchen in Ashley, North Dakota. I could have eaten many slices! Here's all the places you can find Grandma's Kuchen in Iowa, Minnesota, South Dakota, and North Dakota.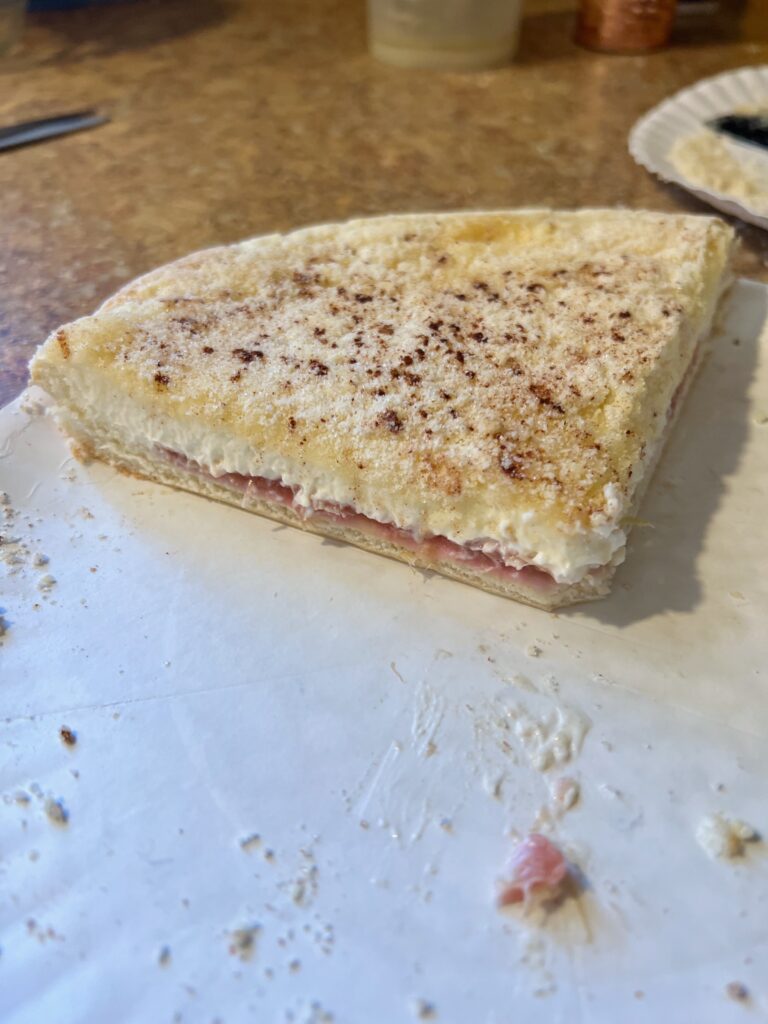 South-Dakota-made Pietz's Kuchen Kitchen & Specialties can be found at these locations. I just picked one up from the South Dakota Agricultural Heritage Museum in Brookings, South Dakota.
I haven't made kuchen myself, but now that I've eaten a few flavors at Betsy's place, I'm thinking I need to learn to make it.
There are thousands of kuchen recipes for all kinds of flavors like peach, apple, strawberry, rhubarb, blueberry, cottage cheese, cherry, plum and apricot. But I think I'll start with this German Immigrant Recipe from German Girl in America. Now I just need to forage for rhubarb.
Fort Abraham Lincoln State Park, Mandan, ND
Being a home school mom and history buff, Betsy is a fantastic tour guide for all things educational. She took us to Fort Abraham Lincoln State Park a couple of years ago and it was really cool.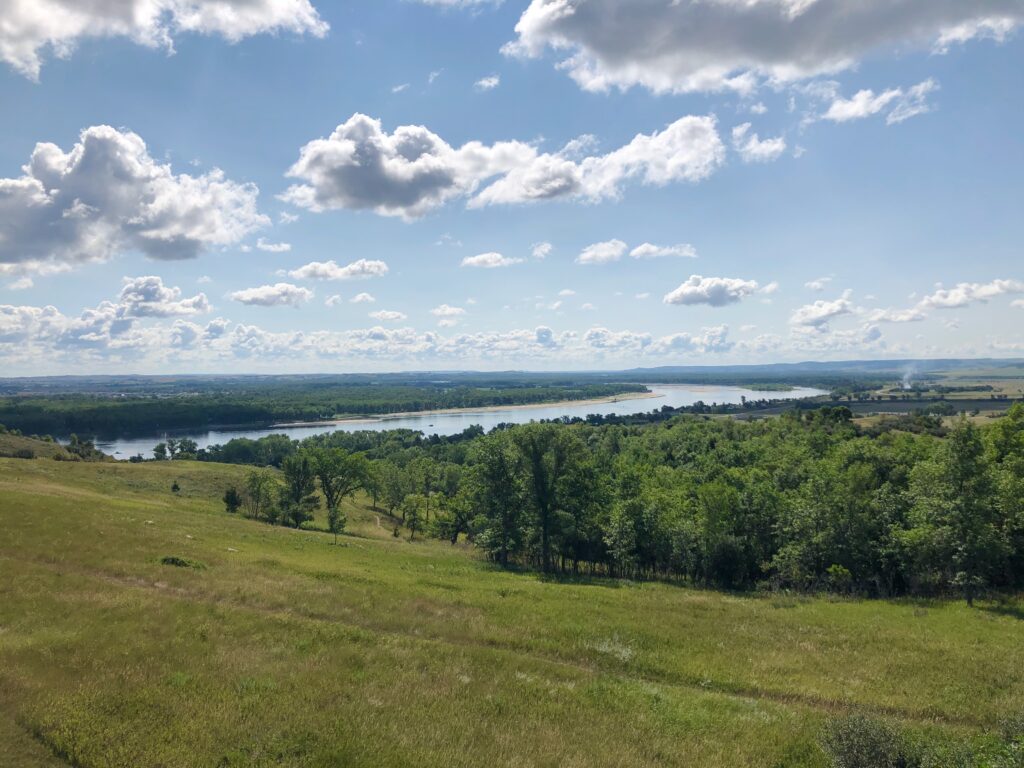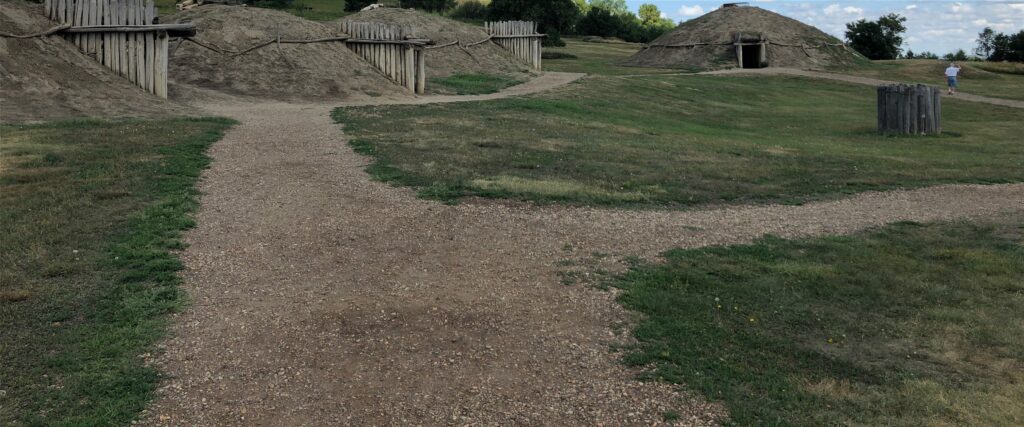 Also mentioned in this episode is Cattail Bakery in Red Lodge, Montana. And here's the recipe for grilled marinated kebabs that Betsy uses.
For Betsy's "eyeball" recipes for bacon cheddar ranch dip, pickle dip, chicken wild rice soup with the help of a box of Uncle Ben's Wild Rice, non-mayo non-mustard German potato salad, and her delicious fried knoephla with smoked pulled pork and sauerkraut listen to podcast episode 22 of Funeral Potatoes & Wool Mittens wherever you get your shows.
Sweet wishes,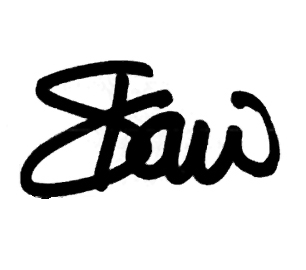 Betsy's Bacon and Cheddar Ranch Dip
Add bacon and shredded cheddar cheese to a package of Hidden Valley Ranch Dip Mix and sour cream and you have a veggie dip that all your guests will like.
Ingredients
1

package

Hidden Valley Ranch Dip Mix

16

ounces

sour cream

,

or 8 ounces of cream cheese if you like your dip thicker, like a spread

1

cup

pre-cooked bacon bits

1¼

cups

shredded sharp cheddar cheese
Instructions
Mix all the ingredients in a bowl. Cool in refrigerator at least 2 hours before serving. Store in refrigerator.
All text and images © Staci Mergenthal • Random Sweets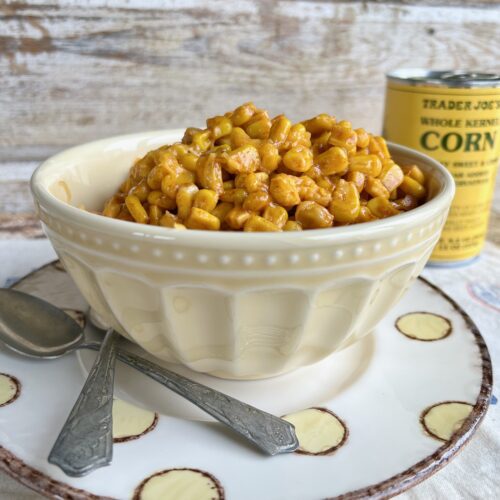 Email this recipe
Betsy's Mexican Corn
Jazz up a can of corn with butter and taco seasoning.
Ingredients
1

can

corn kernels

2

tablespoons

salted butter

1

tablespoon

taco seasoning

½

teaspoon

salt

½

teaspoon

black pepper
Instructions
In a medium sauce pan on medium heat, heat the corn, butter, taco seasoning, and salt and pepper.
Notes
This recipe is shared by my sister-in-law, Betsy Ziegler. 
Nutrition
Calories:
87
kcal
Carbohydrates:
8
g
Protein:
1
g
Fat:
6
g
Saturated Fat:
4
g
Polyunsaturated Fat:
0.5
g
Monounsaturated Fat:
2
g
Trans Fat:
0.2
g
Cholesterol:
15
mg
Sodium:
494
mg
Potassium:
75
mg
Fiber:
1
g
Sugar:
2
g
Vitamin A:
259
IU
Vitamin C:
1
mg
Calcium:
5
mg
Iron:
0.2
mg
All text and images © Staci Mergenthal • Random Sweets