Vintage Snow Frosting and Birthday Cake with My Mom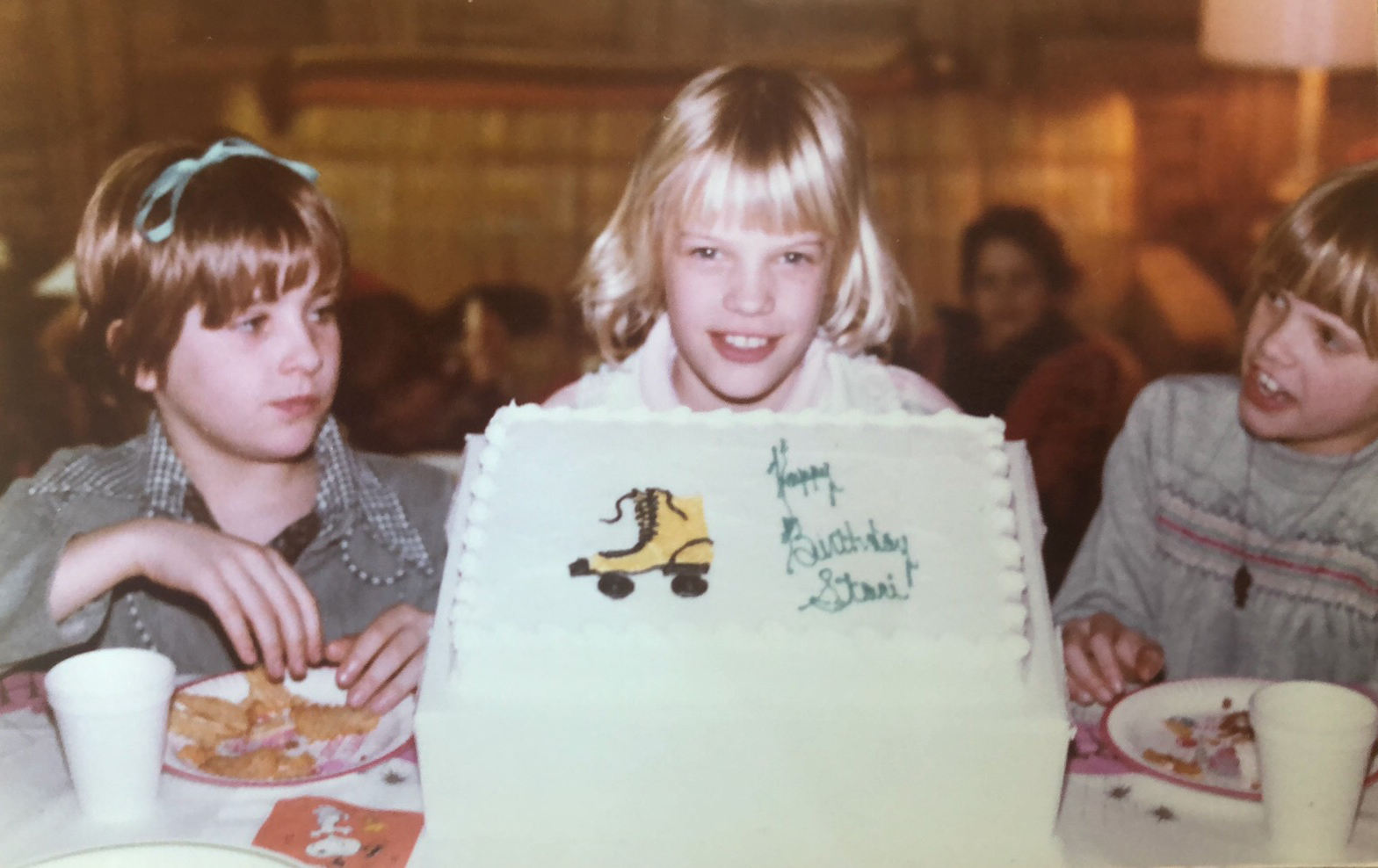 Raise your hand if you're a February baby. And if you live in the Midwest, raise your other hand if you've ever had a blizzard on your birthday. Both my hands, and my husband's, are high in the air. But a blizzard will never stop us from eating birthday cake with snow frosting.
My husband's birthday is the day after mine, so he is older than me 364 days of the year. This year, we are celebrating on the beach of Gulf Shores, Alabama. Yes, we ate cake by the ocean on February 20 and February 21 while our families were battling the grocery store lines in preparation of a massive Midwest snow storm.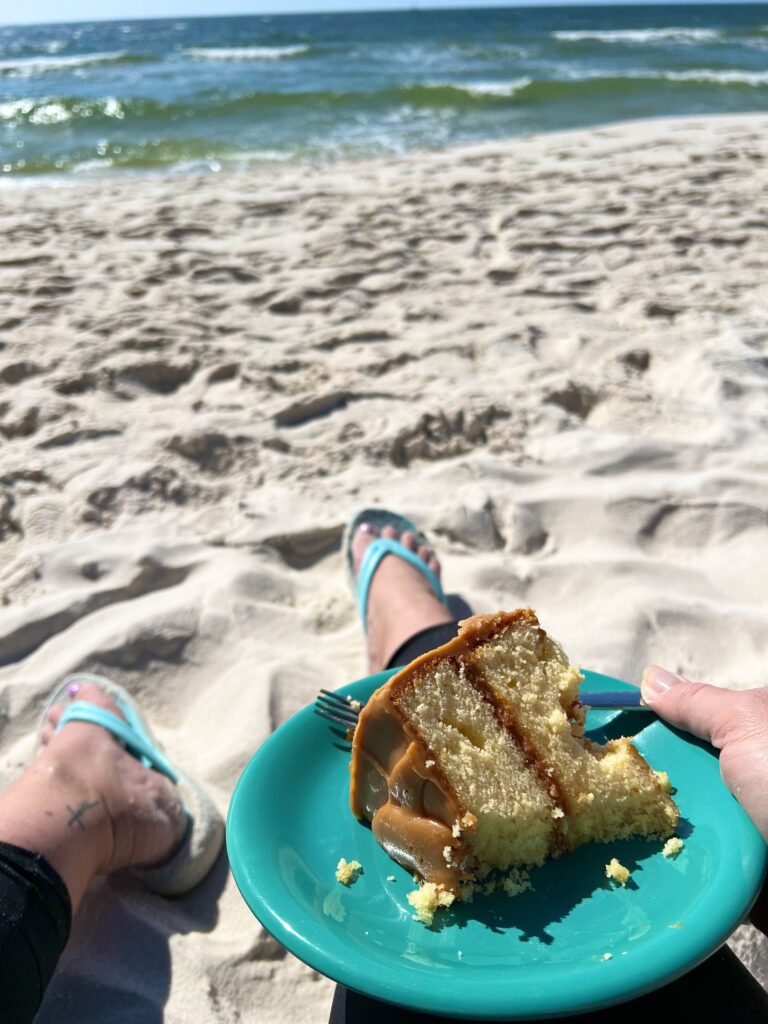 Before we left, I sat down with my mom, Linda Moe, in South Dakota and we talked all things birthday—birthday cake, my all-time favorite snow frosting, also known as 7-minute frosting, and barbecues for episode 12 of Funeral Potatoes & Wool Mittens.
She surprised us by making us our very own birthday cake! A classic, 9×13 chocolate with snow frosting, sprinkles and candy letters.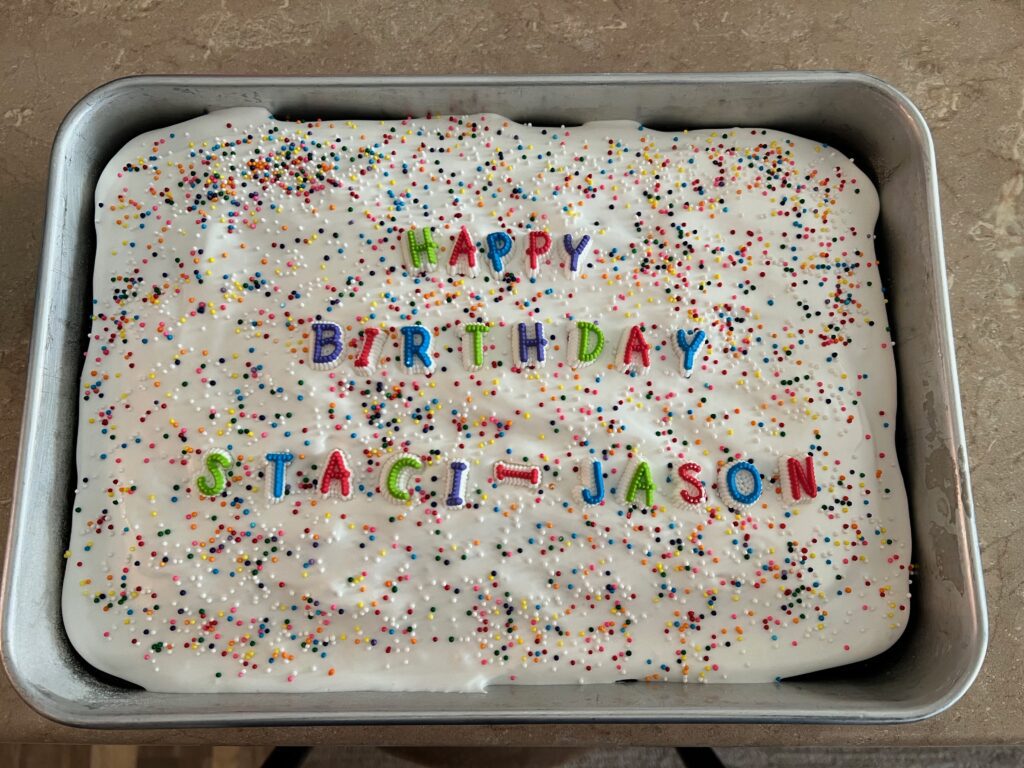 In the podcast, linked below, we walk through the steps to making vintage, sticky snow frosting which tastes somewhat like marshmallow frosting. I learned that my mom actually got the recipe from her mom, my grandma Janet Moe. Same with the cocoa fudge cake. And it was never a birthday party without my mom's barbecue meat on white buns.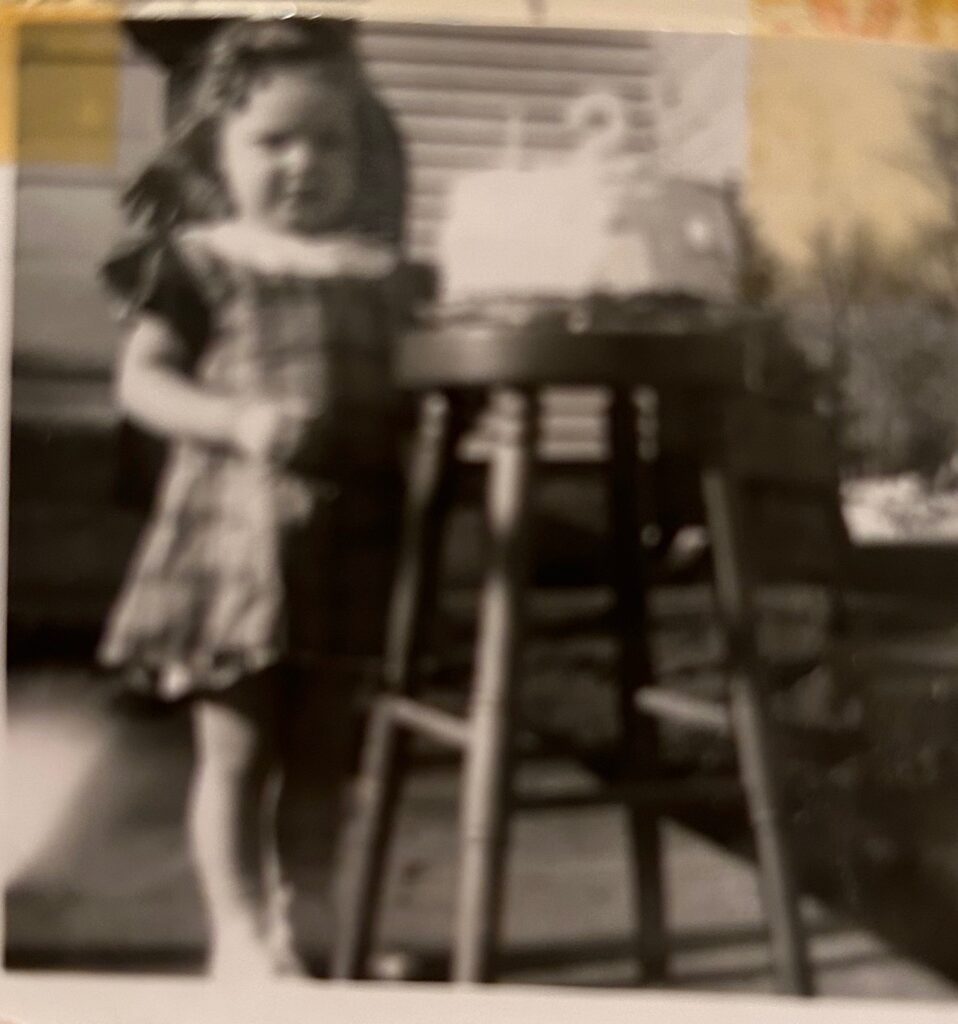 My mom explains when it's best to use the cocoa fudge cake recipe and how humidity affects the outcome of your snow frosting. If you're making a regular 9×13 cake and you like a more moist cake, I recommend making crazy cake or heavenly chocolate birthday cake (both recipes are at the end of this blog post).
My Grandma Janet used to make the cocoa fudge cake and snow frosting for my mom. We found a picture of mom with one of the cakes on her seventeenth birthday.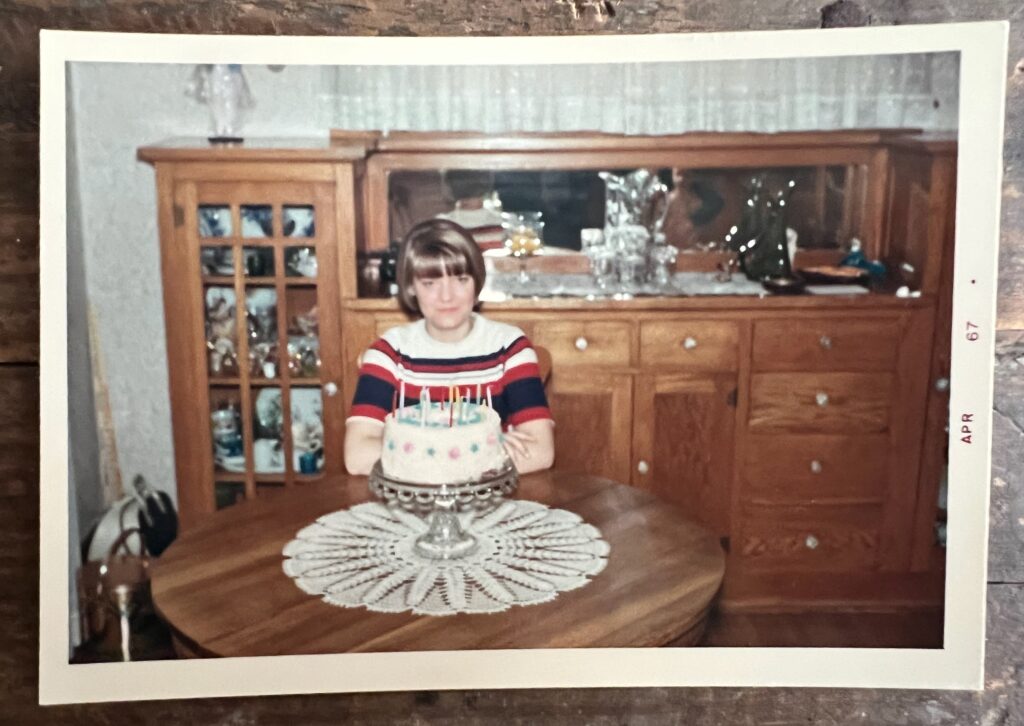 And those vintage hand beaters Grandma used to make the frosting when when my mom and uncle Norrill were kids? Mom still has them.
Over the years, my mom also made cakes for her grandpa Hulsebus, Grandma Janet's dad.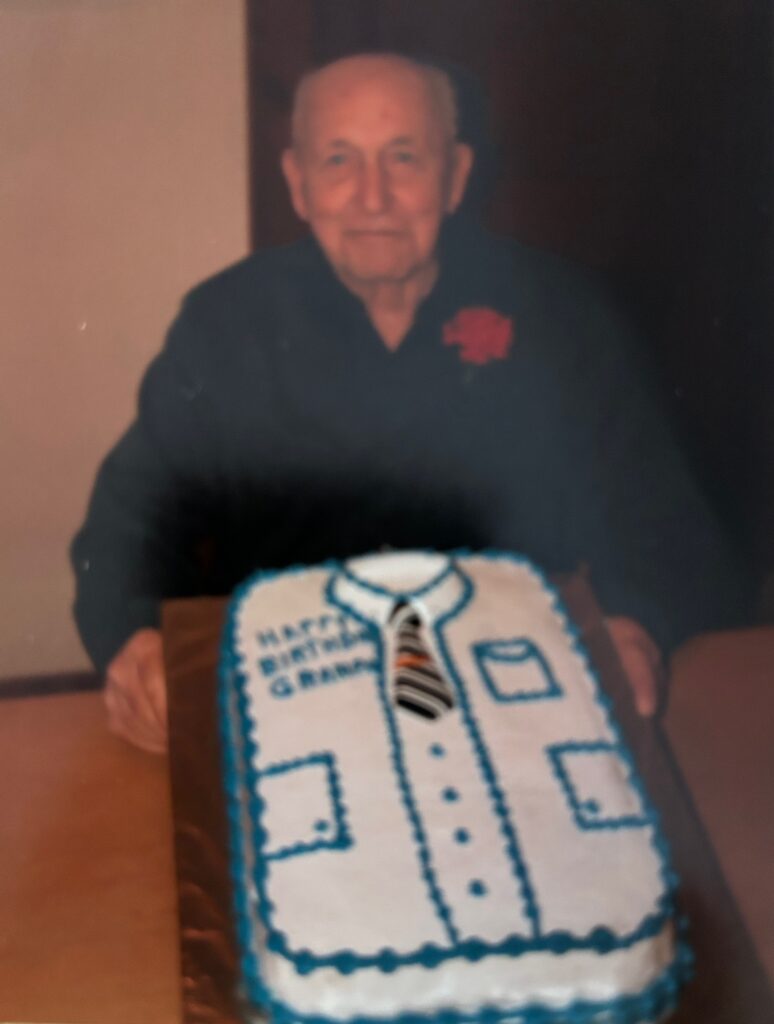 If you ever feel nostalgic about birthdays, you're not alone. I wrote this post about wishing I'd saved one birthday candle from each of my kids' birthday cakes.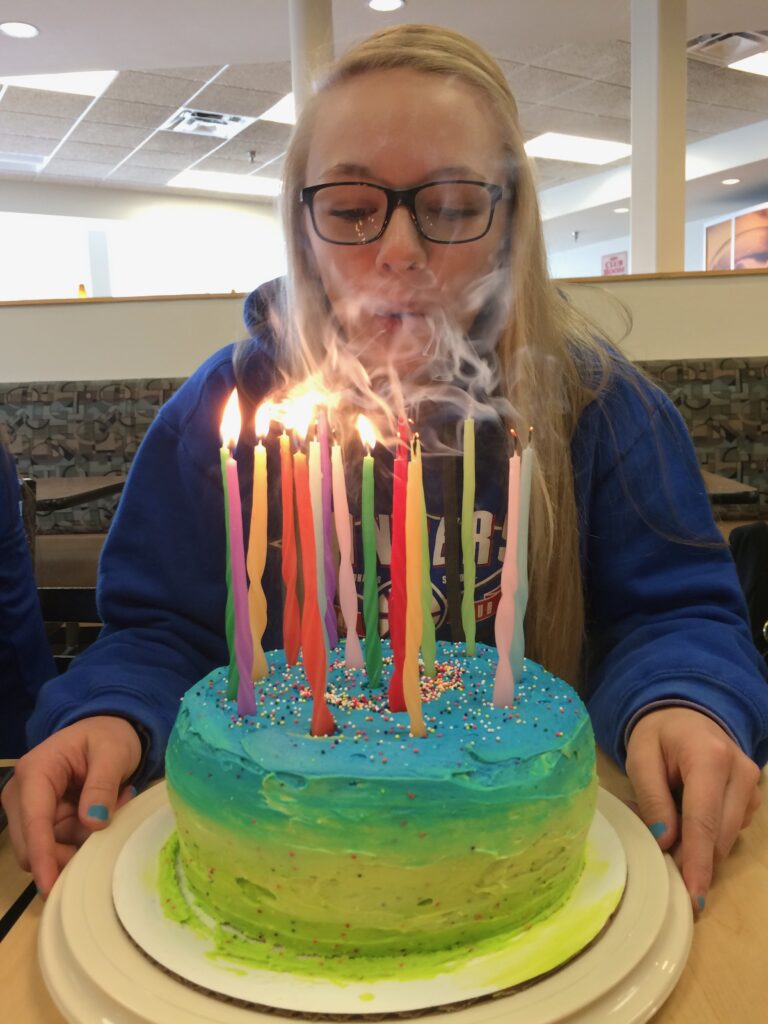 I wonder what memories my kids will have of their birthday cakes?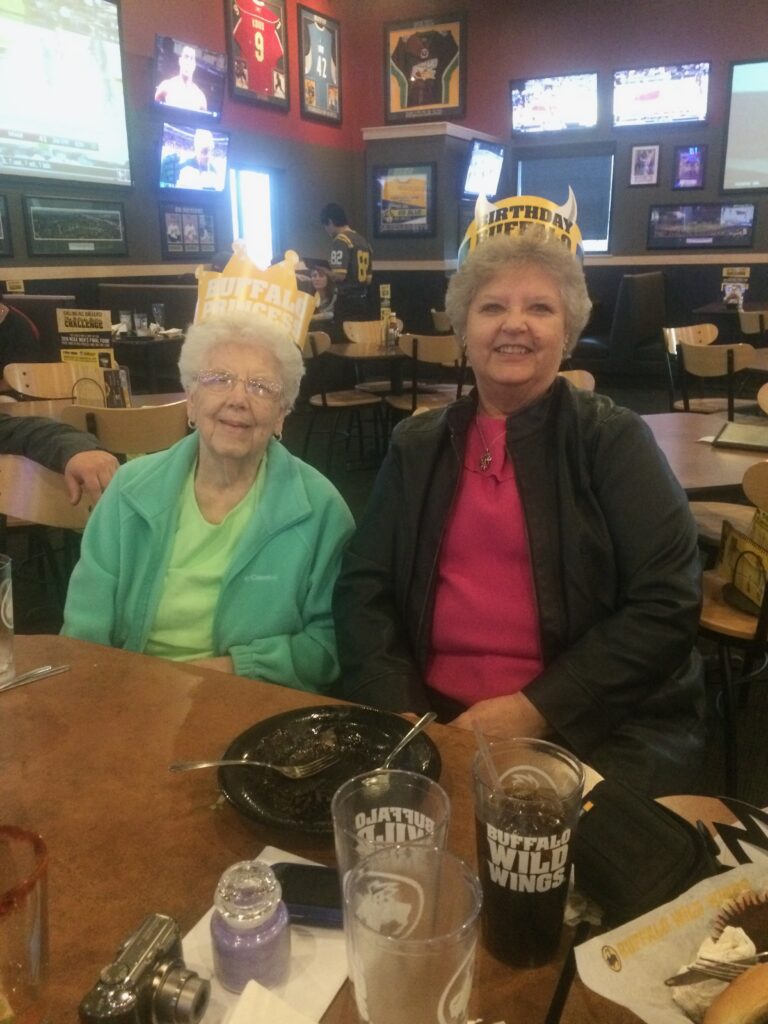 So I asked our moms to find a few bygone birthday photos of Jason and me.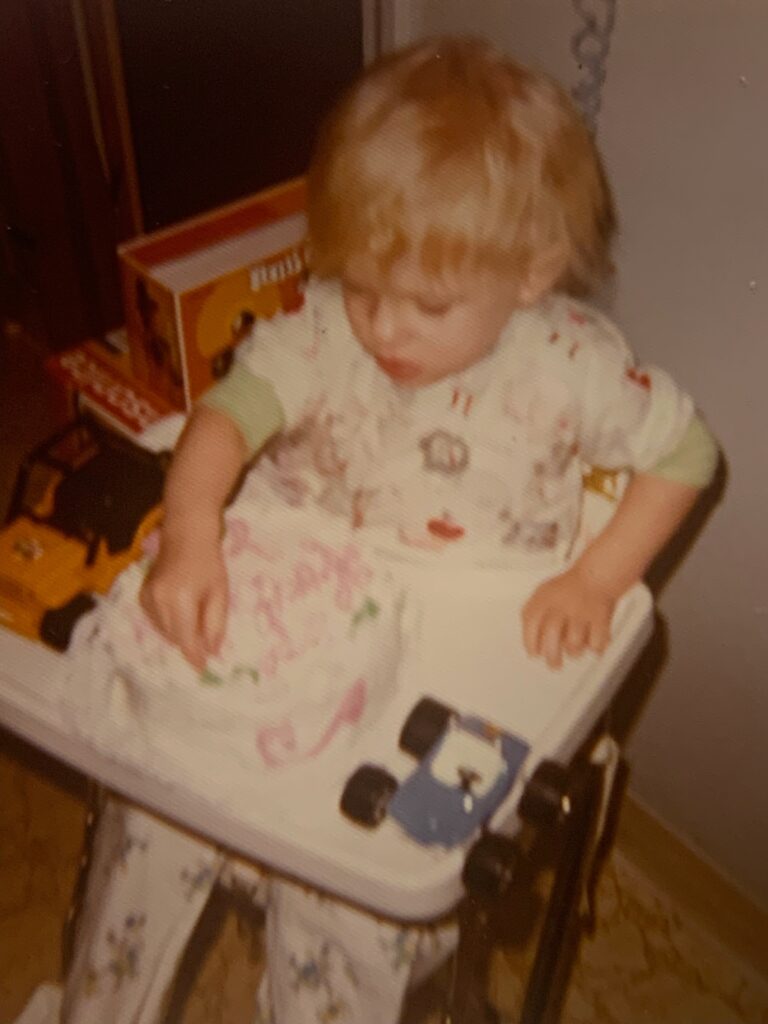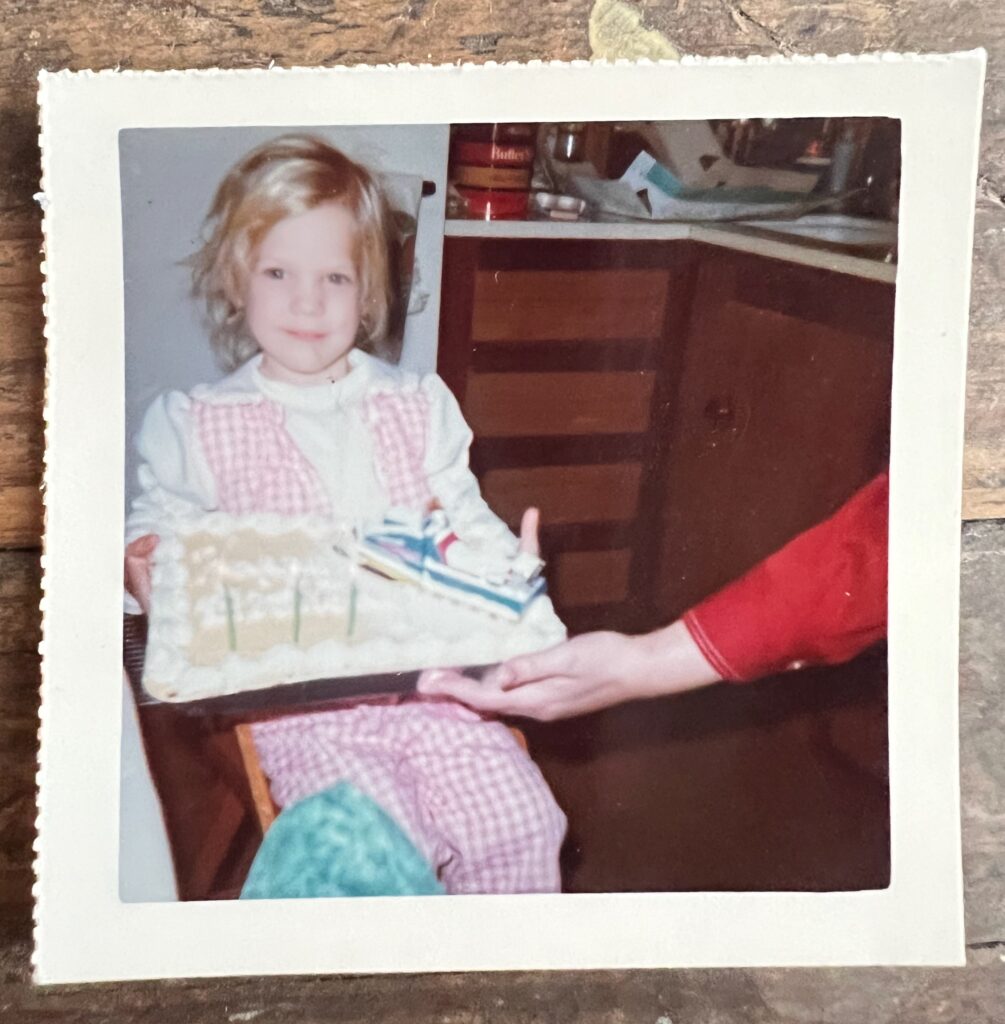 My mom recommends using a clear vanilla extract when making snow or 7-minute frosting so that it stays nice and white. Watkins is our preferred brand.
Sweet birthday wishes to you this year,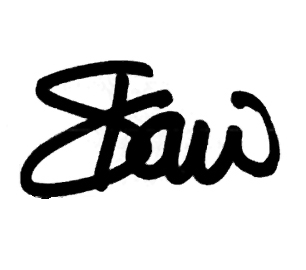 Heavenly Chocolate Cupcakes with Snow Frosting
Snow frosting, also known as 7-minute frosting, has been a birthday tradition in my family since I was a little girl. Now I top my moist heavenly chocolate cupcakes with it. Double the recipe for a layer cake.
Ingredients
Cupcakes
15.25

oz

chocolate cake mix

½

cup

unsweetened cocoa

3

large eggs

1⅓

cups

water

1

cup

Miracle Whip salad dressing
Snow Frosting
1

egg white

,

room temperature

¾

cup

sugar

dash of salt

3

tablespoons

water

1

teaspoon

light corn syrup

½

teaspoon

pure vanilla extract
Instructions
Cupcakes
Heat oven to 350°F. Grease 24 muffin cups or line with cupcake papers.

Combine all cupcake ingredients. Beat on medium speed until blended.

Pour into cupcake pans. Bake at 350° for 20-25 minutes or until toothpick or cake tester comes out clean. Cool completely before frosting.
Snow Frosting
In a small double boiler stir together egg white, sugar, salt, water and syrup before setting it over the heat.

Cook over soft boiling water (you don't want it to splash), beating with an electric hand mixer 7 minutes, or until frosting will stand in stiff peaks. Remove from heat.

Frost cake or cupcakes. Store in airtight container at room temperature.
Notes
For 9×13 pan: Pour into greased 13×9 inch pan. Bake at 350° for 30-40 minutes.
This recipe makes one 13×9 inch cake, two 9-inch round cakes or 24 cupcakes.
Double the snow frosting recipe for a layer cake or for more than 24 cupcakes. Can also substitute almond extract or another flavoring for the vanilla.
Nutrition
Calories:
124
kcal
Carbohydrates:
22
g
Protein:
2
g
Fat:
4
g
Saturated Fat:
1
g
Polyunsaturated Fat:
1
g
Monounsaturated Fat:
1
g
Trans Fat:
0.002
g
Cholesterol:
21
mg
Sodium:
244
mg
Potassium:
102
mg
Fiber:
1
g
Sugar:
15
g
Vitamin A:
38
IU
Calcium:
34
mg
Iron:
1
mg
All text and images © Staci Mergenthal • Random Sweets
Cocoa Fudge Cake
This is a nice, firm cake good for making layer cakes. It's a little more on the dry side for people who like it that way. It's my Grandma Janet's recipe.
Ingredients
¾

cup

vegetable shortening

2

cups

sugar

1

tablespoon

vanilla

3

eggs

,

well beaten

½

cup

cocoa

3

cups

all-purpose flour

1½

teaspoons

soda (baking soda)

¾

teaspoon

salt

1½

cups

ice cold water
Instructions
In the bowl of an electric stand mixer, or using a hand mixer, beat shortening, sugar, vanilla and beaten eggs.

In a separate bowl, mix the dry ingredients. (cocoa, flour, soda, salt)

Alternately combine the dry ingredients (cocoa mixture) into the wet ingredients (egg mixture), by alternating with the ice water. Start by adding a little of the dry cocoa mixture to the egg mixture, then add some of the ice water. Then add more of the dry cocoa mixture and then more of the ice water and do that until it is all combined into one batter.

Pour the cake batter into a greased and floured 9×13 pan. Bake at 350°F for 40-45 minutes or until a toothpick or cake tester comes out clean. Store at room temperature in an airtight container.
All text and images © Staci Mergenthal • Random Sweets
Crazy Cake
Also known as wacky or depression cake, crazy cake is moist, rich, chocolatey and surprisingly not too sweet. The top has a glossy, tackiness that makes it finger-licking good.
Ingredients
3

cups

all-purpose flour

2

teaspoons

baking soda

1

teaspoon

salt

⅓

cup

unsweetened cocoa

2

cups

sugar

¾

cup

vegetable oil

2

tablespoons

white vinegar

1

teaspoon

pure vanilla extract

2

cups

cold water

1

tablespoon

powdered sugar for sprinkling on top

berries for serving, optional
Instructions
Heat oven to 350° Fahrenheit. Grab a 9×13-inch pan. Do NOT grease.

Put the flour, baking soda, salt, unsweetened cocoa and sugar in the pan and whisk them around with a fork to combine. Make three separate wells in the dry ingredients – a large one and two small ones.

In the large well, pour vegetable oil. In the second well, pour in vinegar. In the last well, pour in vanilla.

Pour the 2 cups cold water over all of it and mix with a fork.

Bake 35-40 minutes or until a cake tester or toothpick comes out clean. Cool to room temperature. Sprinkle with powdered sugar before serving. Serve with berries if desired. Store in airtight container.
Nutrition
Calories:
186
kcal
Carbohydrates:
30
g
Protein:
2
g
Fat:
7
g
Saturated Fat:
1
g
Polyunsaturated Fat:
4
g
Monounsaturated Fat:
2
g
Trans Fat:
1
g
Sodium:
190
mg
Potassium:
36
mg
Fiber:
1
g
Sugar:
17
g
Calcium:
5
mg
Iron:
1
mg
All text and images © Staci Mergenthal • Random Sweets