Yes! Yes! Everyone Deserves a Gooey Caramel Brownie Recipe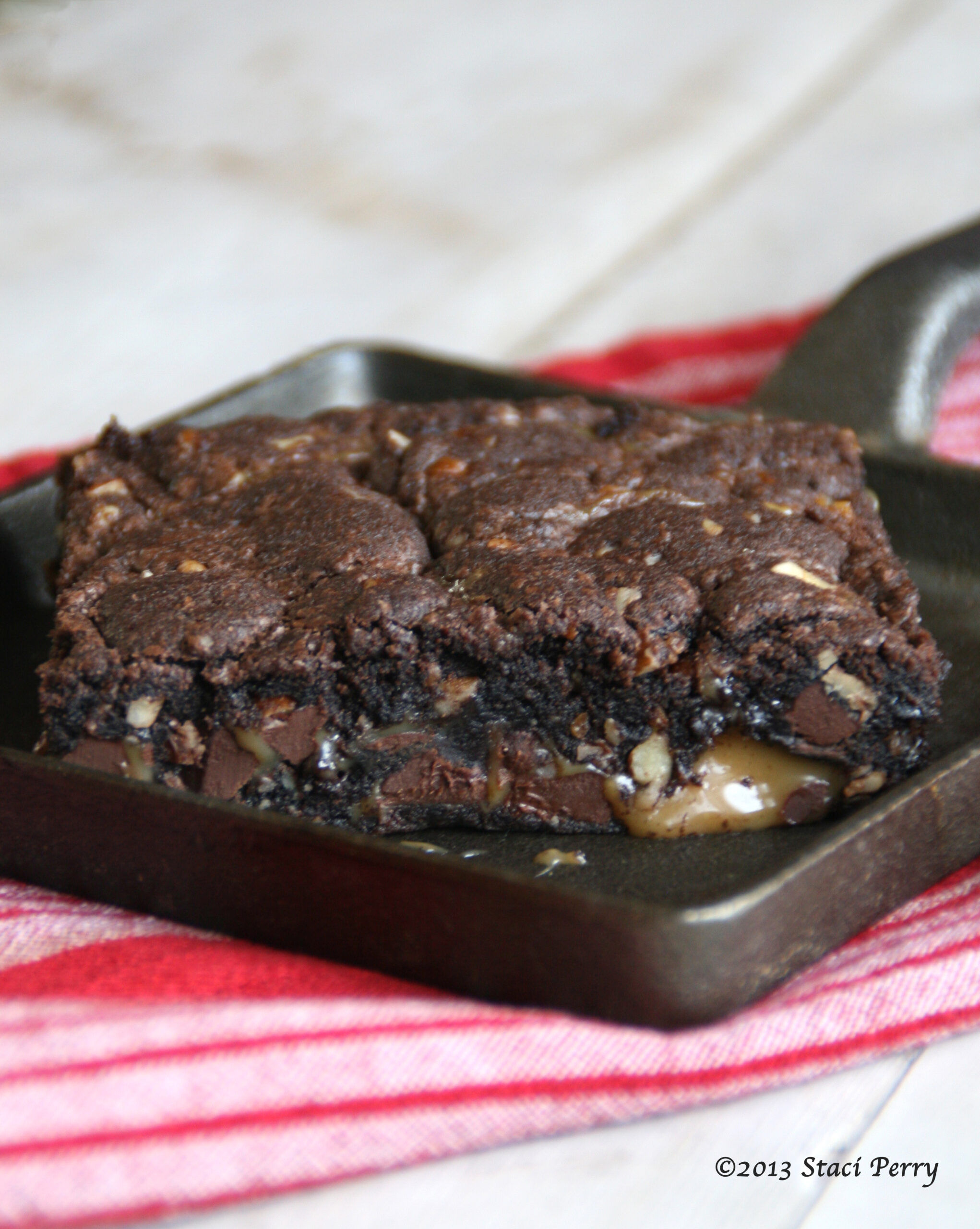 You may be as surprised as I was to learn that there are people who don't have a gooey caramel brownie recipe. Shocking, I know. But if you are one of them, let me share my Yes! Yes! brownie recipe with you. In under 45 minutes, you'll have a hot pan of gooey, caramel-stringy, could there be more chocolate, brownies on your kitchen counter.
The summer of 1990, I was just out of high school and I worked at 3M as a plant manager. Besides sorting smocks for laundry, I cleaned bathrooms, refilled vending machines in the cafeteria, and I watered the plants around the offices and lobby areas. So they jokingly called me the plant manager. It was during this stint that a co-worker, Judy Bos, shared these brownies. I'm pretty sure I begged her for the recipe.
Years, and years, oh my gosh, 23 years and 50 extra pounds later, my recipe card is bent and crinkled and the plastic protector is melted on the entire left side. When I bring these bars to work now, they disappear. But I never really thought there are people who don't have their own recipe for caramel brownies. So I didn't write about it on Random Sweet. I assumed people would be like, "What?! As if I don't already have a recipe like that." Boring…
Then one morning I almost fell off my couch when I was watching my favorite T.V. show and Ree from Food Network's Pioneer Woman showed the world how to make Knock You Naked Brownies. And I was like, "What?! I've been making those for years!" Not boring. And then I felt like there was no place for me in the blogging world anymore because anything I had to offer had already been done.
A few months later at work, my friend Mary said she was still waiting for me to blog my caramel brownie recipe. I told her I hadn't blogged it because I figured everyone had a similar recipe and didn't need mine. Mary didn't. She needed my recipe. And for you chocolate and caramel lovers out there, you know I really mean needed.
Since acquiring Judy's Yes! Yes! brownie recipe in 1990, I've reduced the amount of butter in the recipe. This is due to shrinkflation in the cake mix industry (well, all packaged foods really). Read this Taste of Home article, The Surprising Reason Why There's Less Cake Mix In Your Box. When I first started making this recipe, cake mixes were approximately 18 ounces and now they are closer to 15 ounces.
So now, I share it with you. And when you bake them for your friends and they beg you for the recipe, you will enthusiastically say, Yes! Yes!
A few years later, I used this caramel chocolate brownie recipe to create a new brownie—my Black and Yellow Brownies which won a Taste of Home recipe contest. Woop!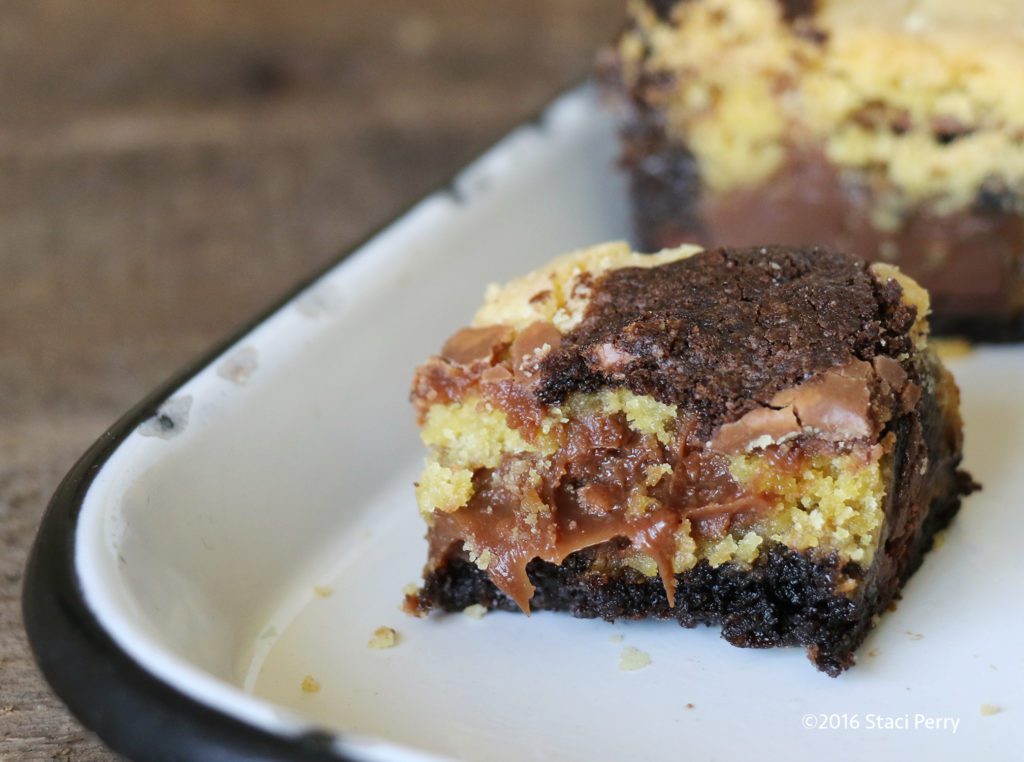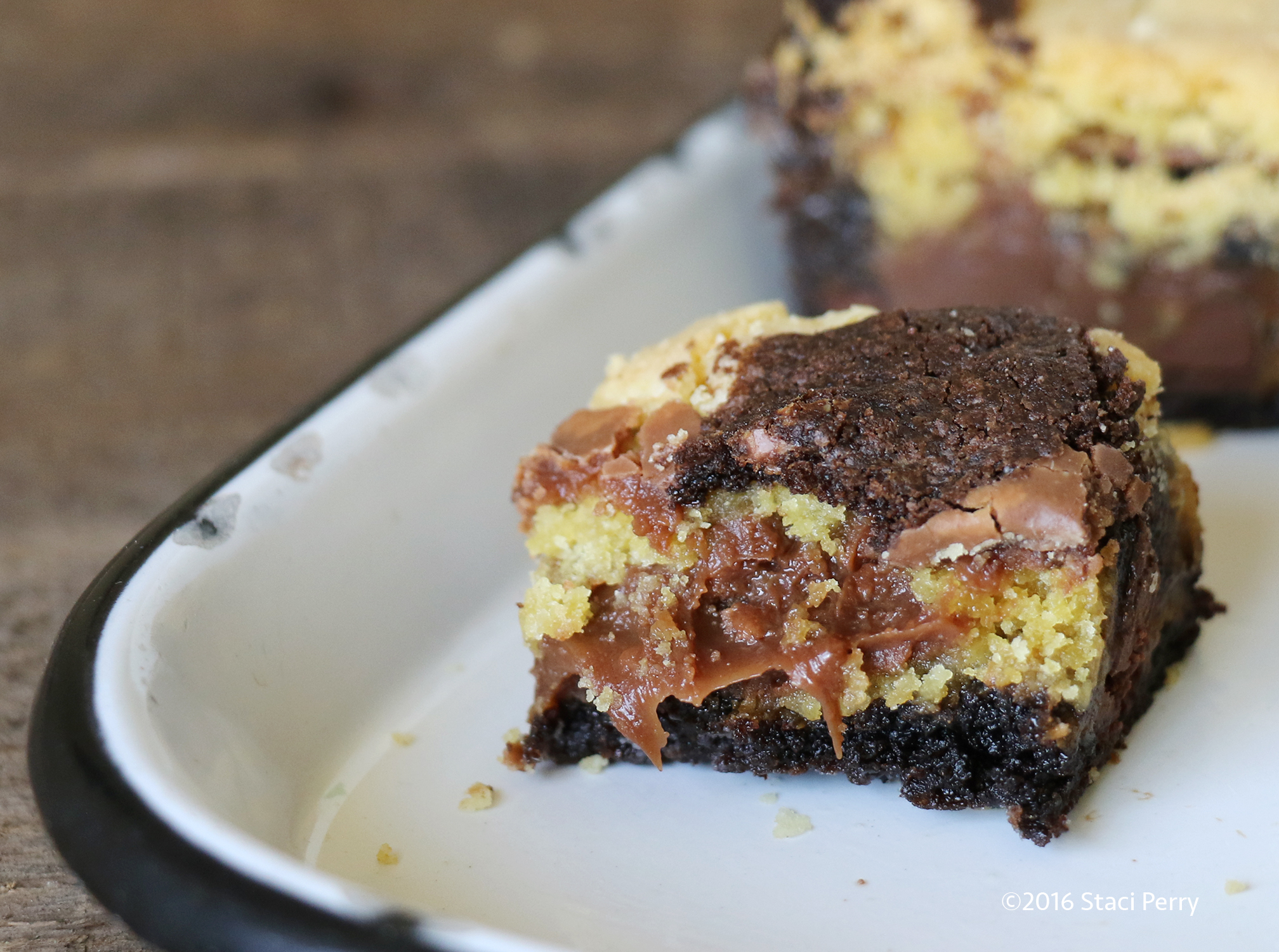 Sweet wishes,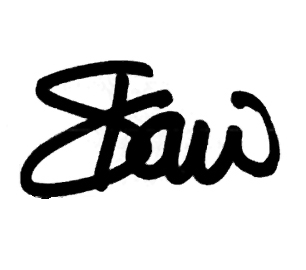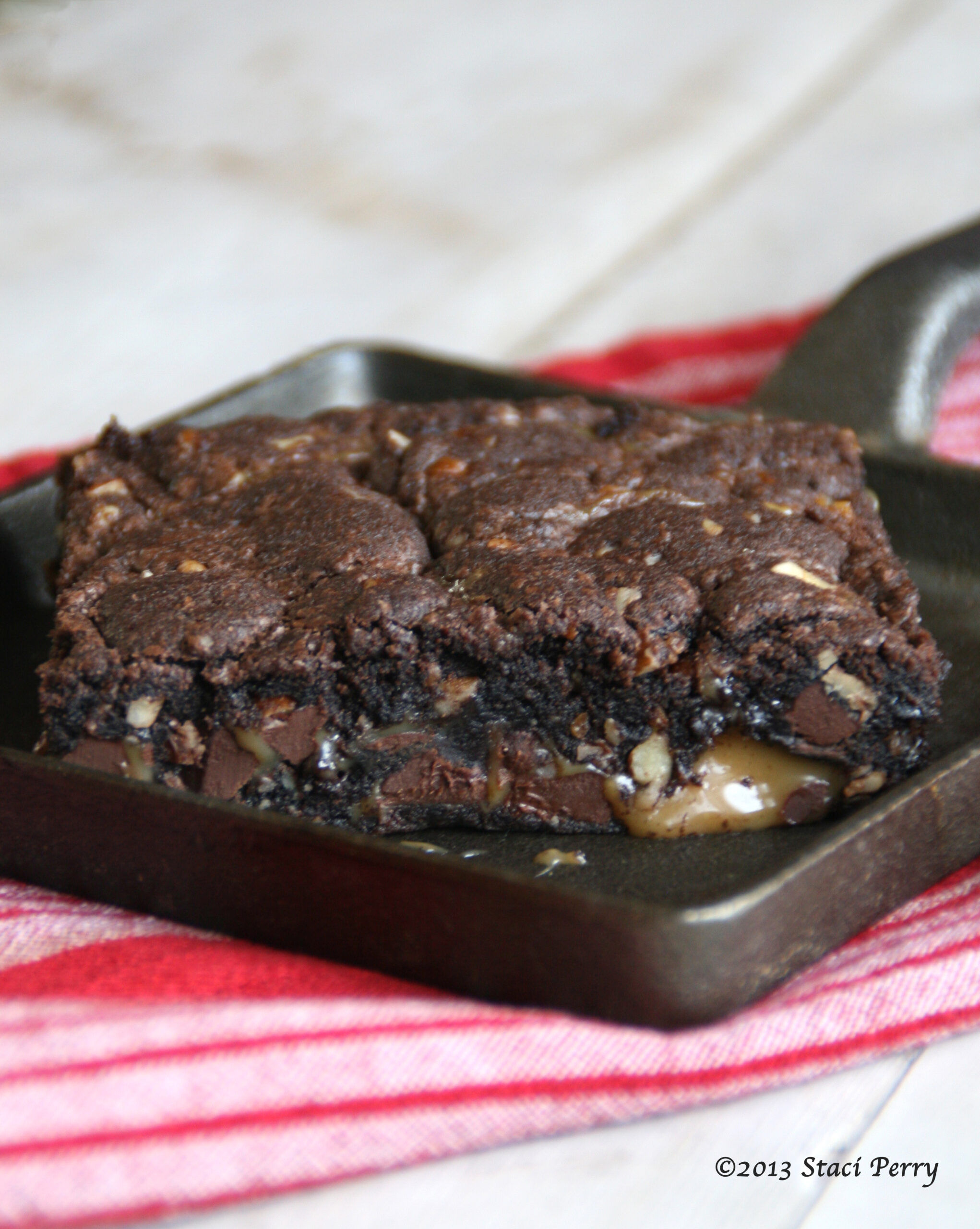 Email this recipe
Yes! Yes! Caramel Brownies
Every household should have a caramel brownie recipe. I hope this one becomes yours. You don't even need your electric mixer.
Ingredients
15.25

package chocolate cake mix

,

9×13 pan size

⅔

cup

unsalted butter

,

melted

5

oz

evaporated milk, divided into 2 (⅓ cup) portions

1

cup

semisweet chocolate chips

1

cup

chopped pecans, optional

13

oz

individually wrapped caramels, unwrapped

,

approximately 50 caramels
Instructions
Heat oven to 350°F. Grease 9×13 pan. (Or, use a 9×9 pan for thicker brownies.)

In a large bowl, mix melted butter, cake mix, 1/3 cup evaporated milk and nuts.

Spread ¾ of this mixture into 13×9 (or 9×9) cake pan. Bake 6 minutes. Take out of the oven.

Cover the hot crust with chocolate chips.

Melt caramels with ⅓ cup evaporated milk. Stir until creamy.

Pour the caramel mixture over the chocolate.

Top with the remaining cake batter. Bake the 9×13 pan for 20-25 minutes. (If using 9×9 pan, bake 25-30 minutes.)

Cool completely before cutting. Store in airtight container. 
Nutrition
Calories:
279
kcal
Carbohydrates:
35
g
Protein:
3
g
Fat:
15
g
Saturated Fat:
7
g
Polyunsaturated Fat:
2
g
Monounsaturated Fat:
4
g
Trans Fat:
0.3
g
Cholesterol:
20
mg
Sodium:
233
mg
Potassium:
185
mg
Fiber:
1
g
Sugar:
24
g
Vitamin A:
219
IU
Vitamin C:
0.2
mg
Calcium:
84
mg
Iron:
2
mg
All text and images © Staci Mergenthal • Random Sweets