Does Anyone Need a Recipe for Smoky Egg Salad Croissants?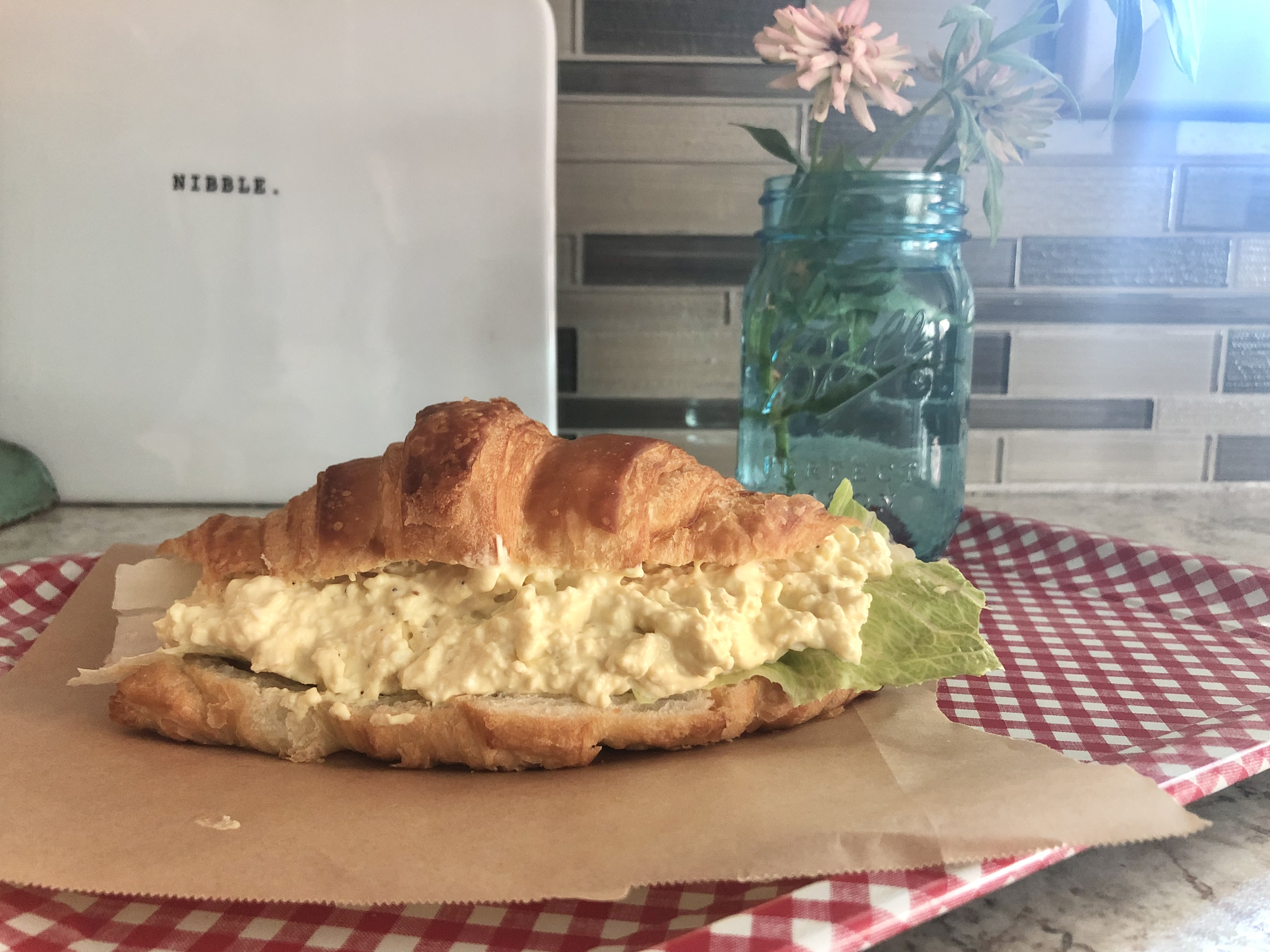 My daughter, Kalani, only eats the whites of hard-boiled eggs. She literally stands over the wastebasket and lets the yolk drop in because she doesn't even like to touch it. I, however, enjoy the yolk the most so I should be standing over the wastebasket catching her yolks so I can add them to my smoky egg salad.
So it really goes without saying that she doesn't enjoy eating smoky egg salad. And she'll eat deviled eggs as long as there is a minimal amount of filling. Uffda, that's a rarity here in the Midwest.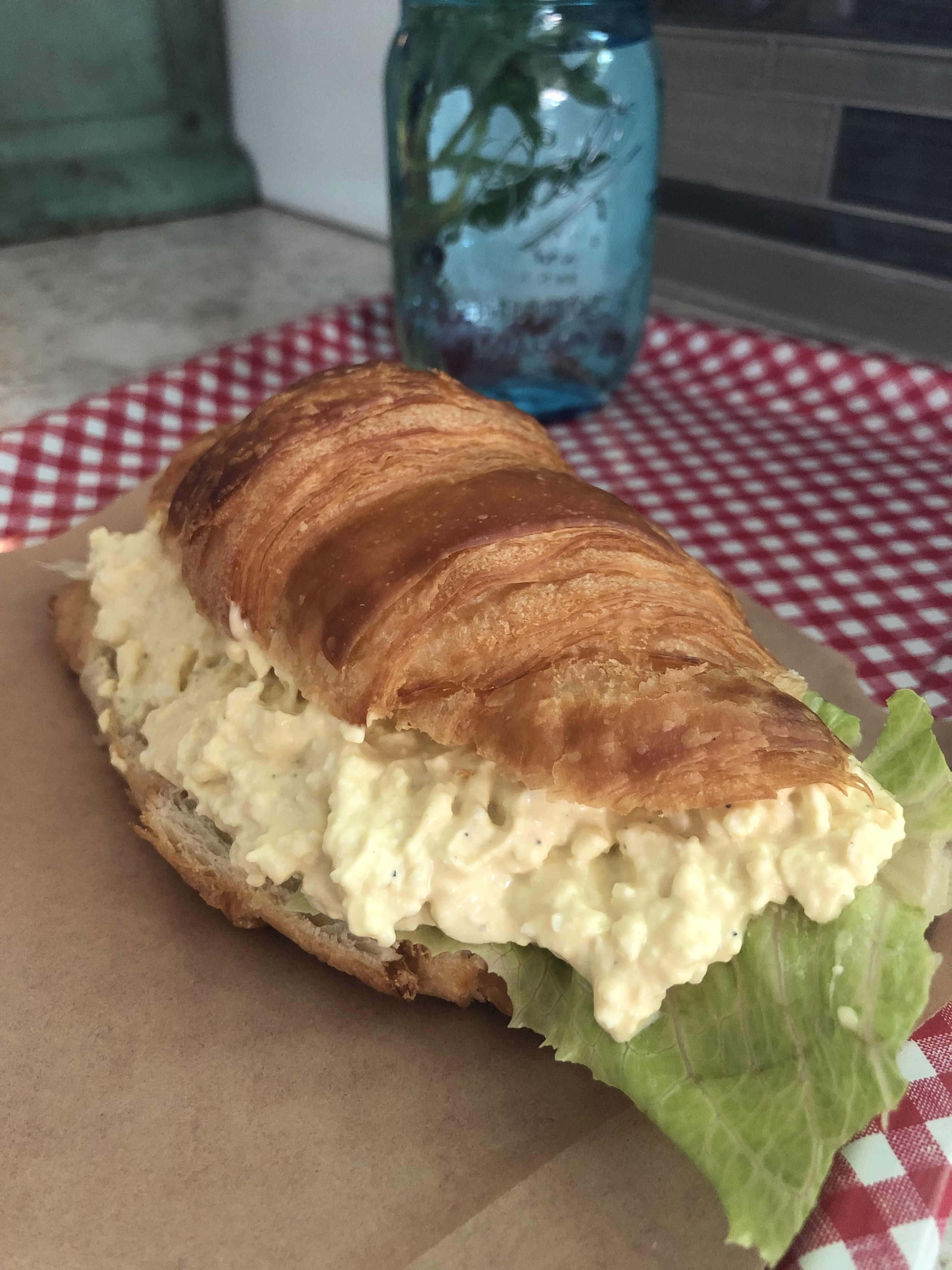 Why am I telling you this? Well, I usually try to envision who I'm sharing a recipe with as I write a blog post. I often think of the generation of Kalani, and my son Sajen and his girlfriend Sydney, my nephews Nick and his wife Mariah, Cody, Trav, and Garritt and his girlfriend Danielle, and my nieces Grace, Katera and Sidney because they are young adults who absorb probably 98% of their knowledge from online sources. (I super need to be on TikTok.)
When I thought about posting my recipe for smoky egg salad, I wondered, "is there anyone who really even needs a recipe for egg salad?" Either people already know how to make it, or like Kalani, they wouldn't even want to make it.
But maybe, just maybe there's someone out there who likes egg salad but doesn't know how much better it is when you add liquid smoke. So, I'm sharing my egg salad recipe, even though it uses the eyeball, no measurements method.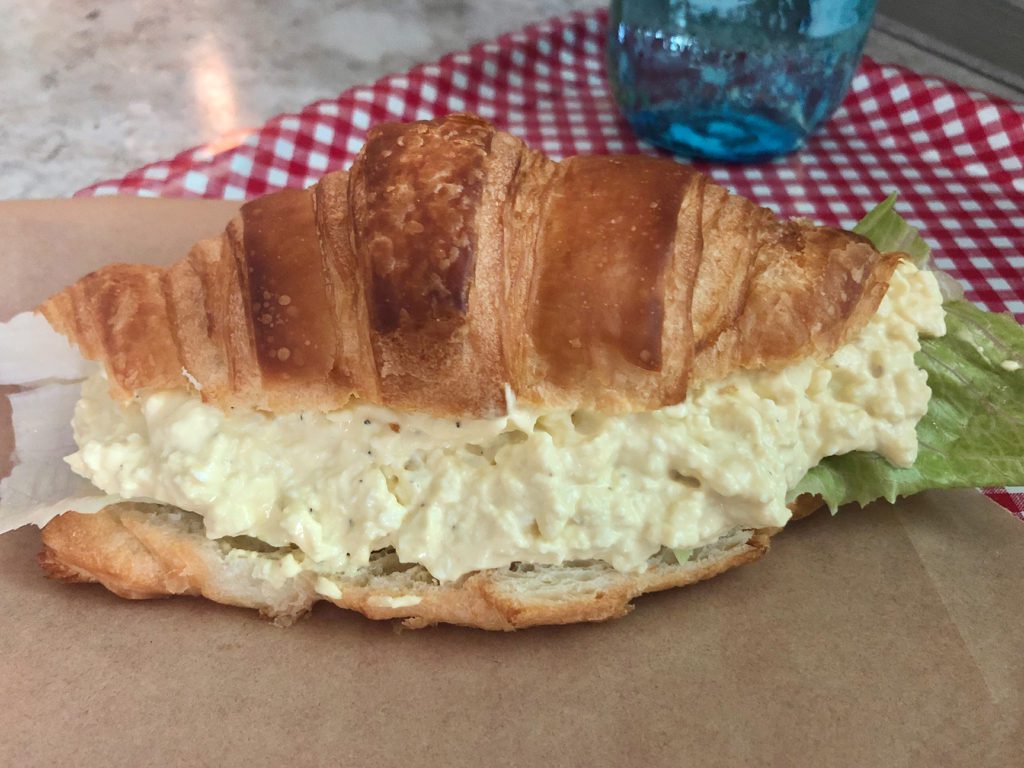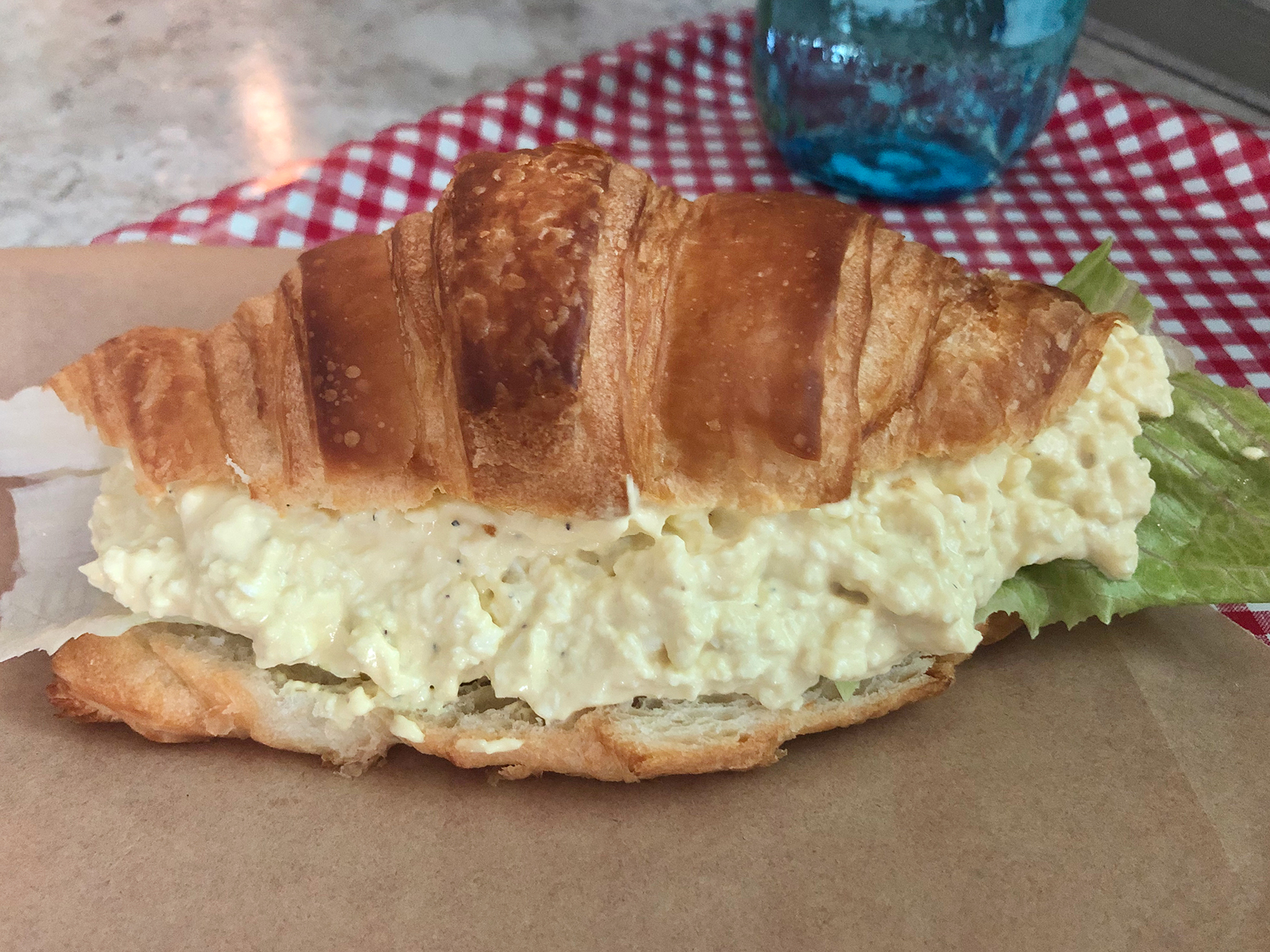 Here's what you need:
Ingredients for smoky egg salad
hard-boiled eggs
mayonnaise
prepared yellow mustard
liquid smoke
Worcestershire sauce
onion salt or onion flakes
garlic powder
salt
pepper
Interestingly enough, those are the same ingredients I use in my smoky deviled eggs, plus I add Bacon! Bacon! seasoning from Tastefully Simple, a Minnesota based company.
And I'm certainly not sharing a recipe for croissants because I've never made them homemade even though I love them. It's my favorite way to eat egg salad, next to on white bread or buns, which is funny because I mostly only like wheat grain breads and pumpernickel and rye. When I don't have access to fresh bakery croissants, I usually have a stash in the freezer from Costco. I've picked them up for around $5 for a dozen and they are quite large.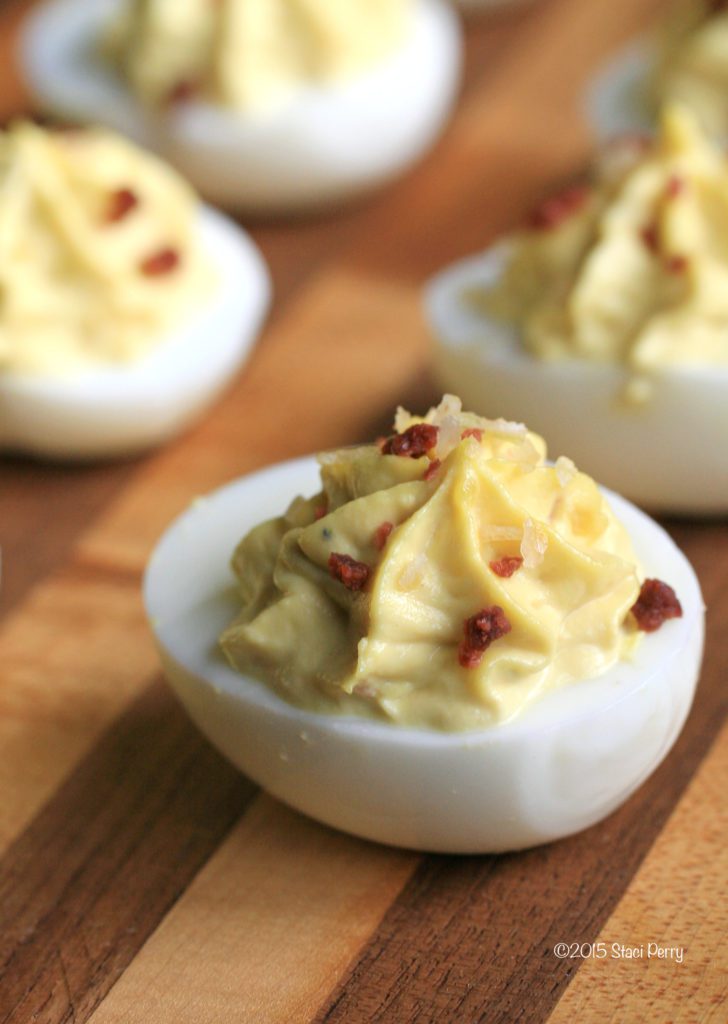 How to make hard-boiled eggs
I use the method and tips for making hard boiled eggs from Ina Garten in this article on Food Network and in this post from Dakota Layers, our local egg farm in Flandreau, South Dakota. Dakota Layers just donated 540 dozen eggs (that's 6,480 eggs!) to Feeding South Dakota just in time for Easter. Check it out here https://www.keloland.com/news/positively-keloland/dakota-layers-donates-540-dozen-eggs-to-feeding-south-dakota/.
I like to hear what ingredients people put in their egg salad so will you share with me in the comments below?
Smoky wishes,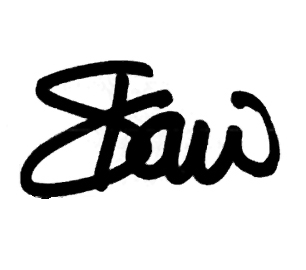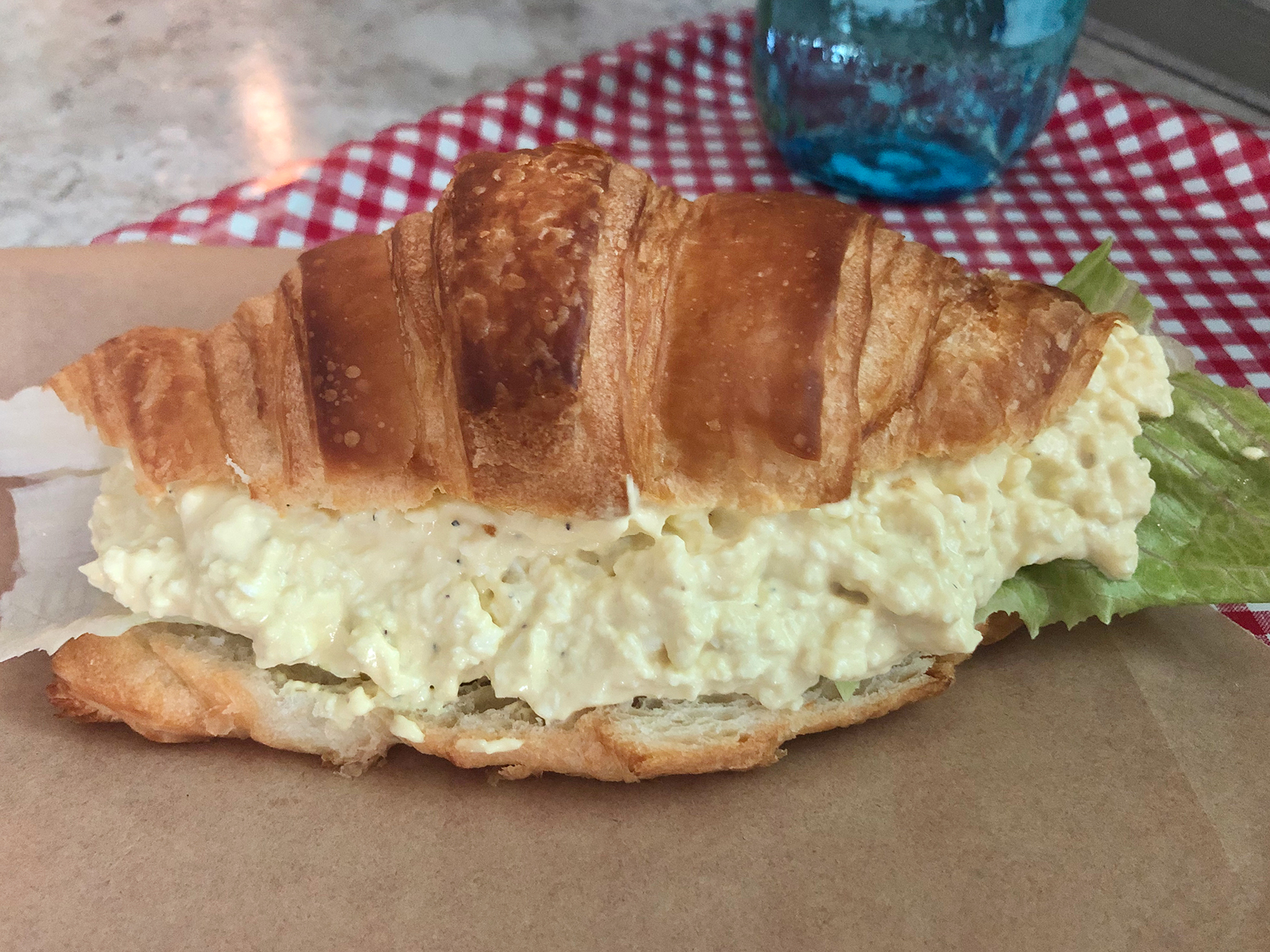 Email this recipe
Smoky Egg Salad
What's better than deviled eggs? Smoky egg salad on a soft and flaky croissant.
Ingredients
4

large eggs, hard boiled

⅓

cup

mayonnaise

,

amount depends on your preference for taste and consistency

1

teaspoon

prepared yellow mustard

½

teaspoon

Worcestershire sauce

½

teaspoon

liquid smoke

¼

teaspoon

onion salt

¼

teaspoon

garlic powder

½

teaspoon

black pepper

¼

teaspoon

salt
Instructions
Place peeled eggs in a bowl large enough to stir in ingredients.

Chop up the eggs with a fork. Stir in mayo. Add mustard, liquid smoke and Worcestershire sauce. It should be a little drier than you want it at this point still.

Stir in onion salt, garlic powder, pepper and salt.

At this point, taste test and see what you want more of – maybe it needs a little more mayo, salt or seasonings. I almost always end up dashing in more liquid smoke.

Serve egg salad on croissants, bread, buns, toast, or crackers. Cover and refrigerate leftovers up to 2 days.
Nutrition
Calories:
385
kcal
Carbohydrates:
2
g
Protein:
12
g
Fat:
36
g
Saturated Fat:
7
g
Polyunsaturated Fat:
18
g
Monounsaturated Fat:
10
g
Trans Fat:
1
g
Cholesterol:
343
mg
Sodium:
993
mg
Potassium:
156
mg
Fiber:
1
g
Sugar:
1
g
Vitamin A:
505
IU
Vitamin C:
1
mg
Calcium:
58
mg
Iron:
2
mg
All text and images © Staci Mergenthal • Random Sweets