Mary's Meatloaf and Beverly's Mac and Cheese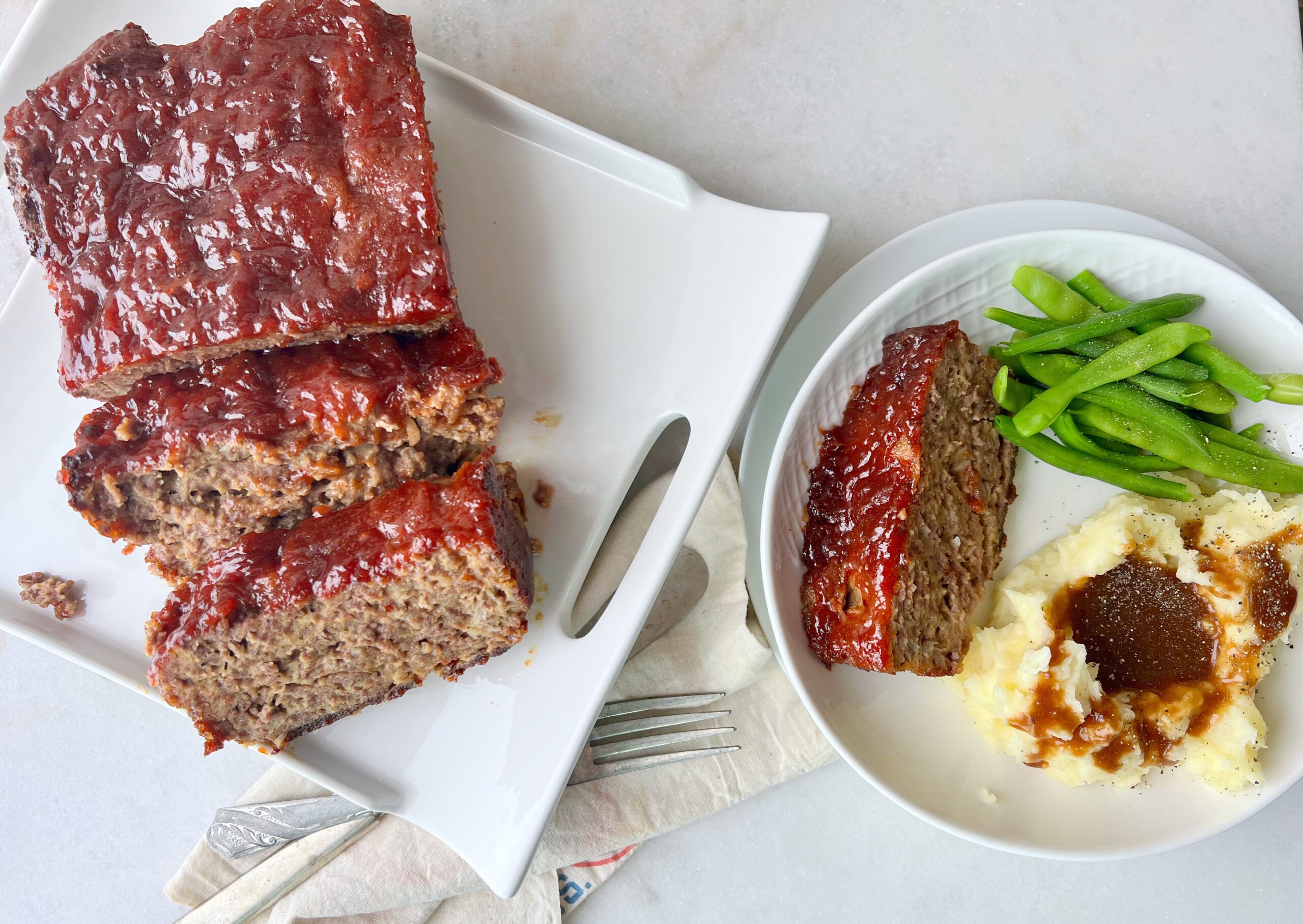 This week on Funeral Potatoes & Wool Mittens podcast, my friend Christianne Beringer shares her family recipes for two quintessential comfort foods—her mom's meatloaf and her grandma's macaroni and cheese.
Or, listen here or anywhere you get your podcasts.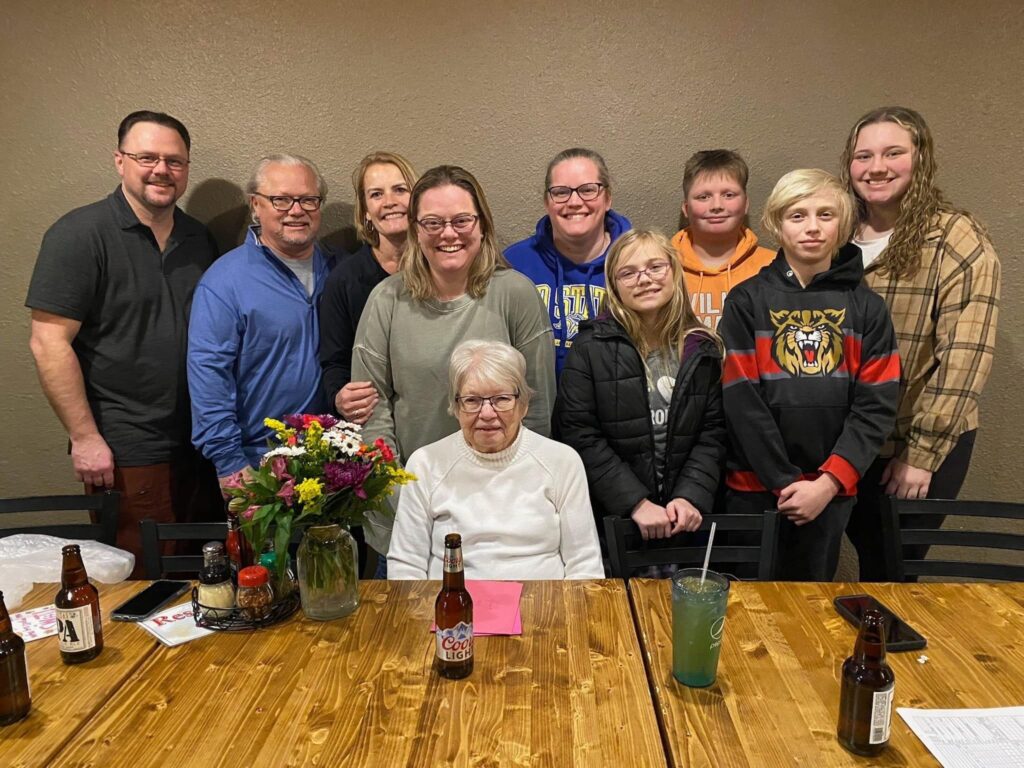 Welcome to supper on a school night.
Whether you like meatloaf or not, if you have ties to the Midwest, emotions of nostalgia will drench over you like ketchup just thinking about it.
Join us for a conversation about Midwest comfort food, the story behind Christianne's family's meatloaf recipe, how to make her Grandma Beverly's mac & cheese without a written recipe, who she got her love of cooking from, her version of funeral potatoes, how many books she read in 2022 and who her favorite author is at the moment.
Bonus, Christianne shares something on the podcast about Velveeta cheese that I did not know.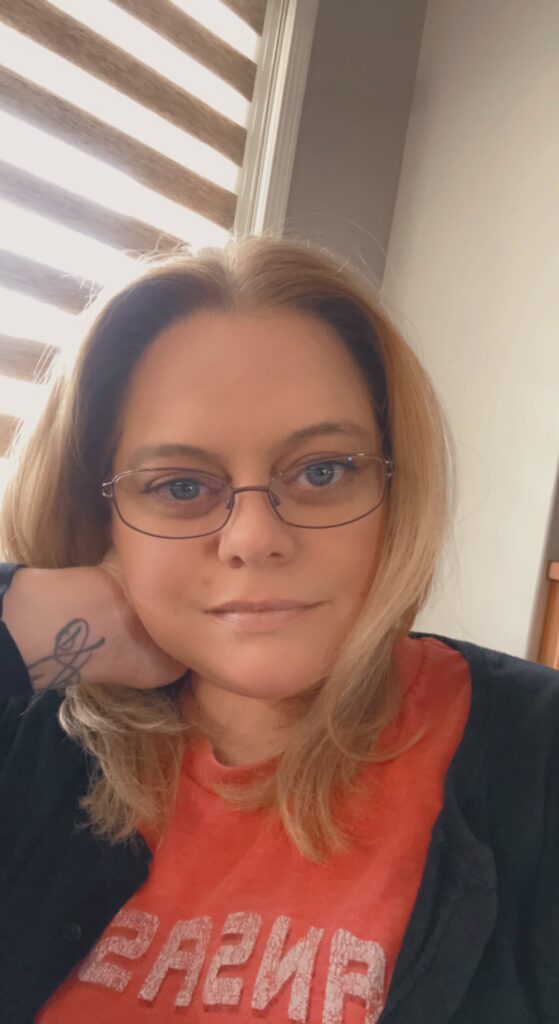 Two of my favorite side dishes to eat with meatloaf are homemade mashed potatoes and a vegetable. But now I'm thinking…how good would Mary's meatloaf be paired with Beverly's mac and cheese?!?!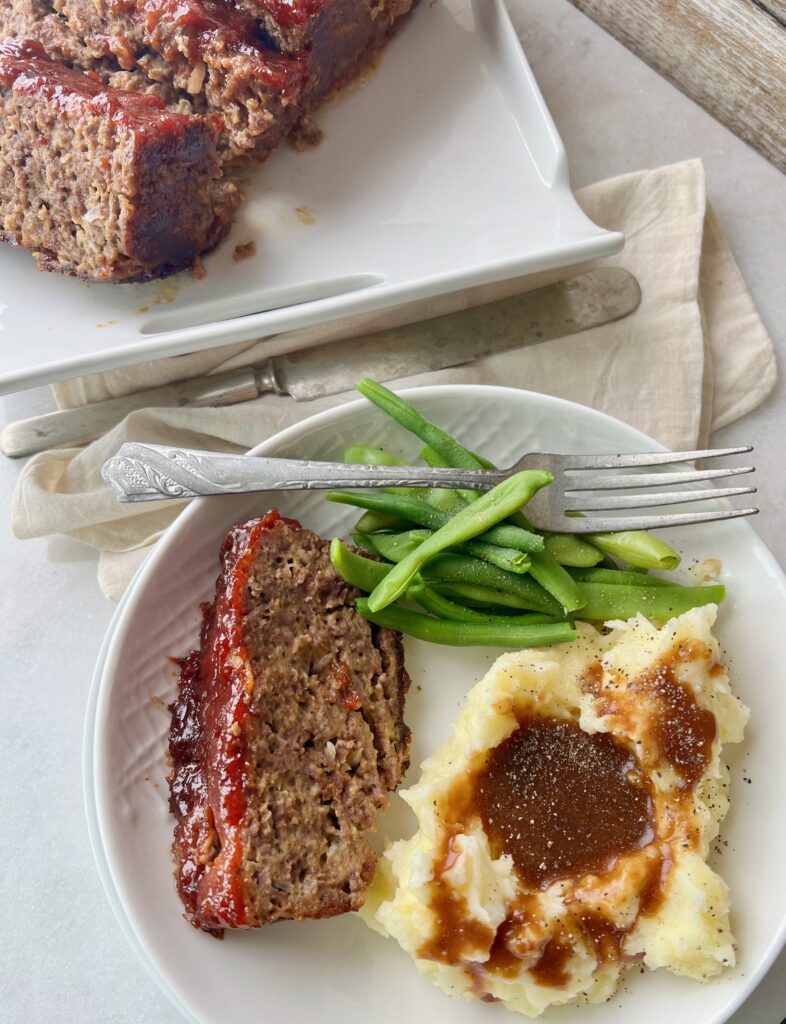 What is Meatloaf?
I grew up eating my mom's meatloaf which was a plain mixture of ground beef, ketchup, hardly any onion, milk, eggs, saltine cracker crumbs, salt and pepper all topped with a simple layer of ketchup—a common way of making it.
But Mary Bjerke's (Christianne's mom) recipe uses breadcrumbs instead of crackers, has more onion, and adds sage. Plus, instead of ordinary ketchup slathered on top, she makes a sweet and savory glaze made with ketchup, brown sugar, nutmeg and dry mustard which she adds for the last 30 minutes of baking and it becomes sticky and caramelized and glorious.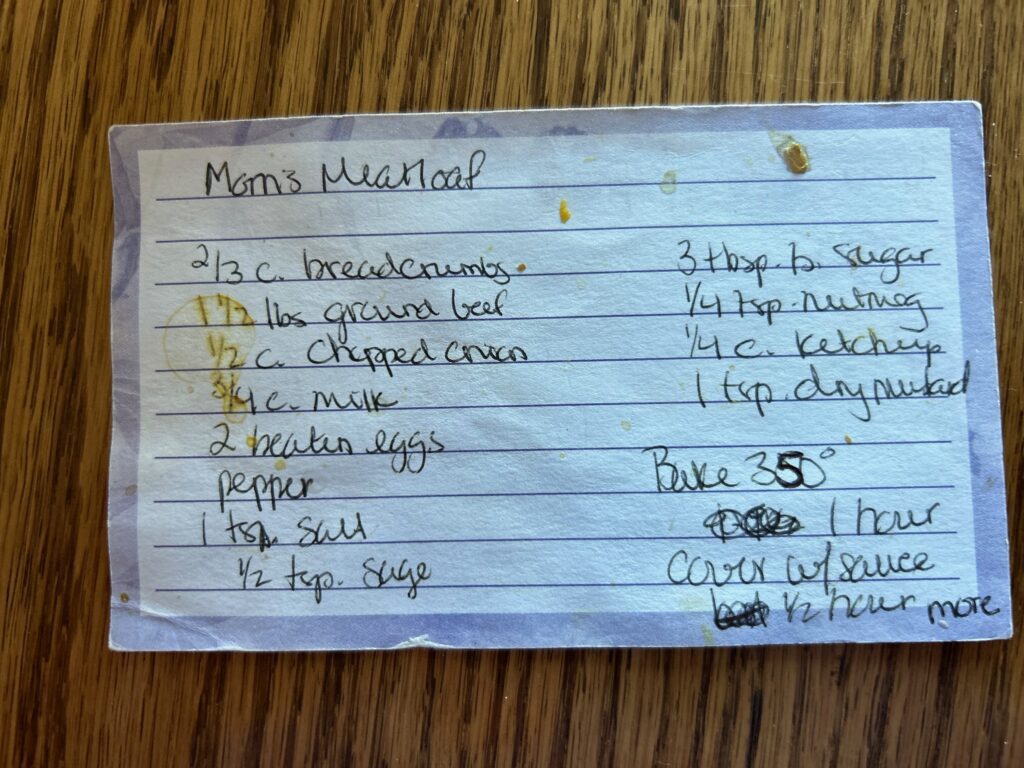 Yes, I said glorious in reference to meatloaf.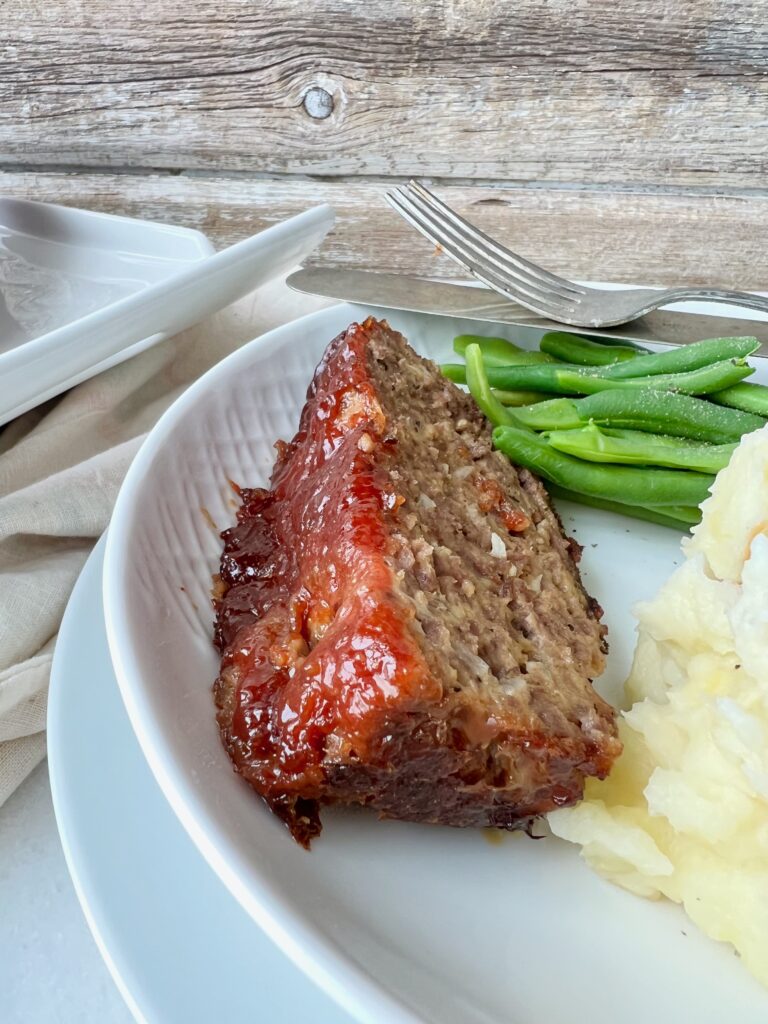 Some recipes use a mixture of ground beef and pork or veal. Either way, all of them combine meat, some type of binder using eggs and a liquid like broth, ketchup or milk, mixed with cracker crumbs, bread, stuffing mix or bread crumbs, seasonings, and oftentimes a veggie like onion or green pepper.
I've also seen people mix in onion soup mix such as Lipton.
Mary's meatloaf recipe is from a community cookbook from Volga, South Dakota. Katherine Algood is the original recipe submitter.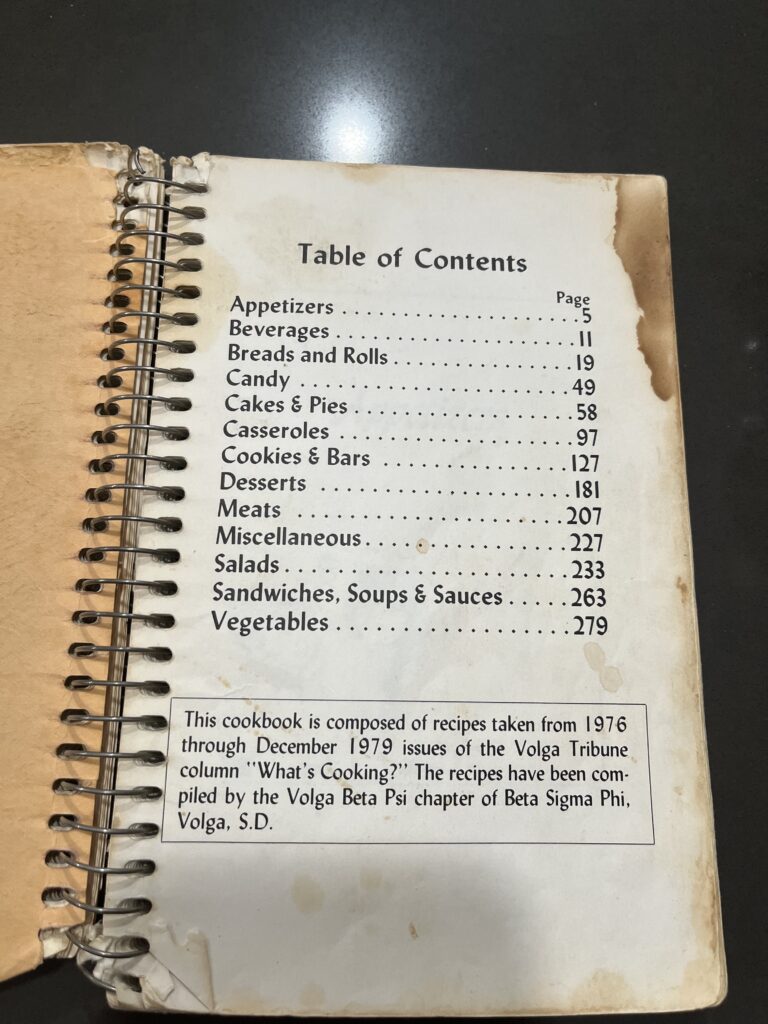 Although we may have a love-hate relationship with it, there's no denying that the one-pan dish which hit American kitchens heavily in the 1950s is here to stay.
For a fun history lesson and a recipe for Beef-and-Bacon Meatloaf, read this article from Bon Appétit.
Can We Call It Something Else?
Before recording the episode with Christianne, my daughter and I had a talk about meatloaf.
She wanted to know what's in it and said the name makes it seem sketchy. Like, why are we making a loaf of meat? What is hidden in there that you don't want us to see so you smother it with ketchup?
Well, it's not much different than meatballs.
So after making Mary's meatloaf recipe and frying slices in a frying pan to make them crispy, I decided to rename it Fried Hamburger Slices with Caramelized Brown Sugar Sauce. Now that shouldn't scare the kids.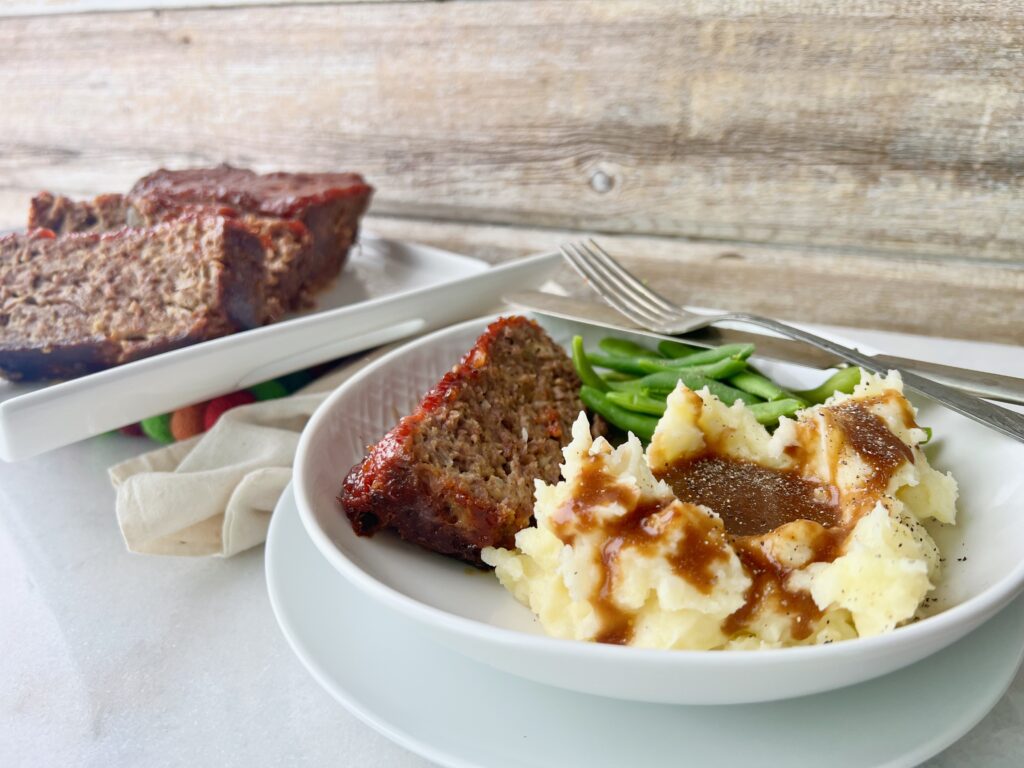 Making Meatloaf is Easy
There's not much to know about making meatloaf except whatever recipe you are using, you'll get the best texture if you combine the meat mixture with your hands.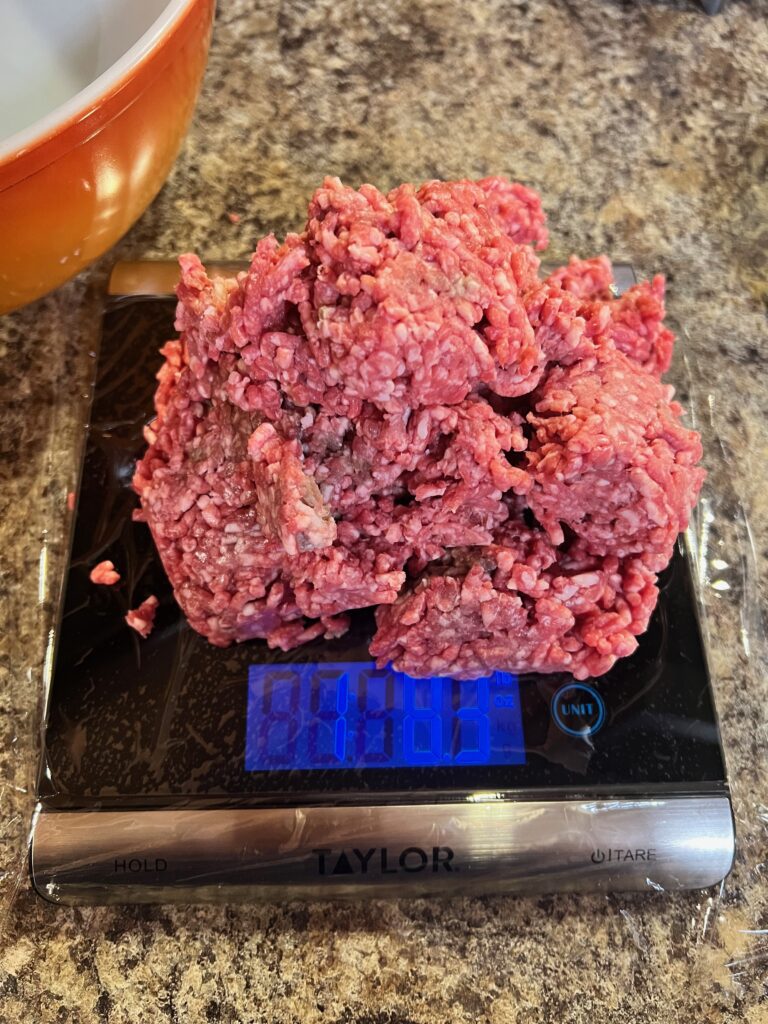 Mary's sauce is a mixture of ketchup, brown sugar, nutmeg and dry mustard.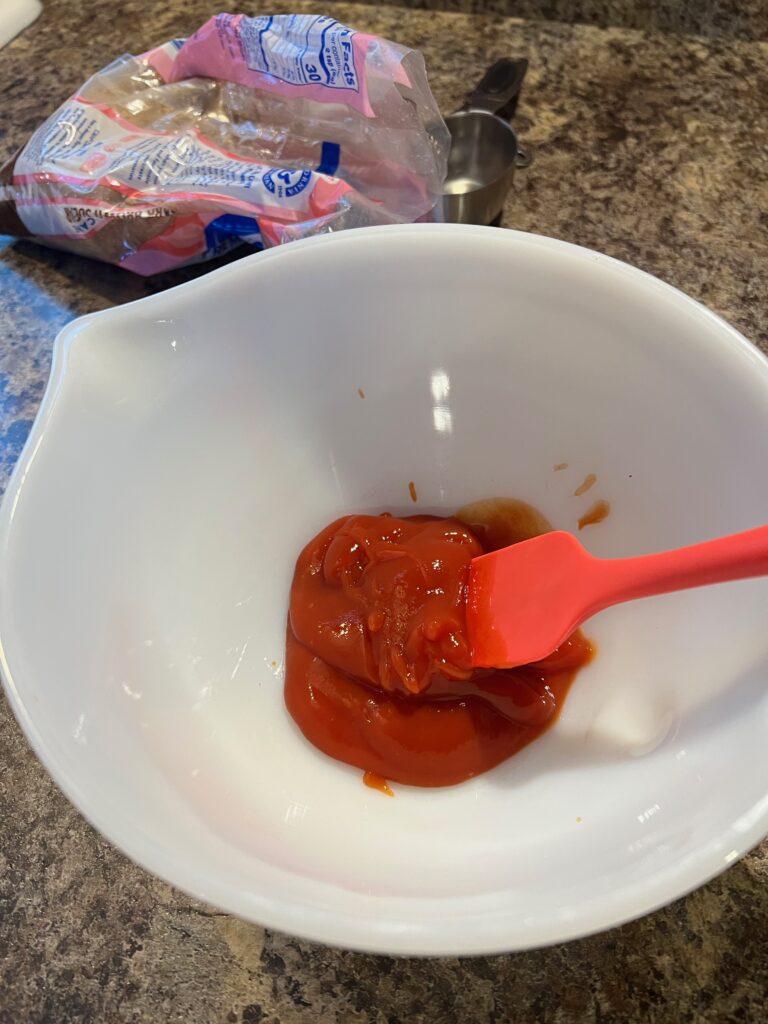 When it bakes, the sweet sauce becomes bubbly and caramelized.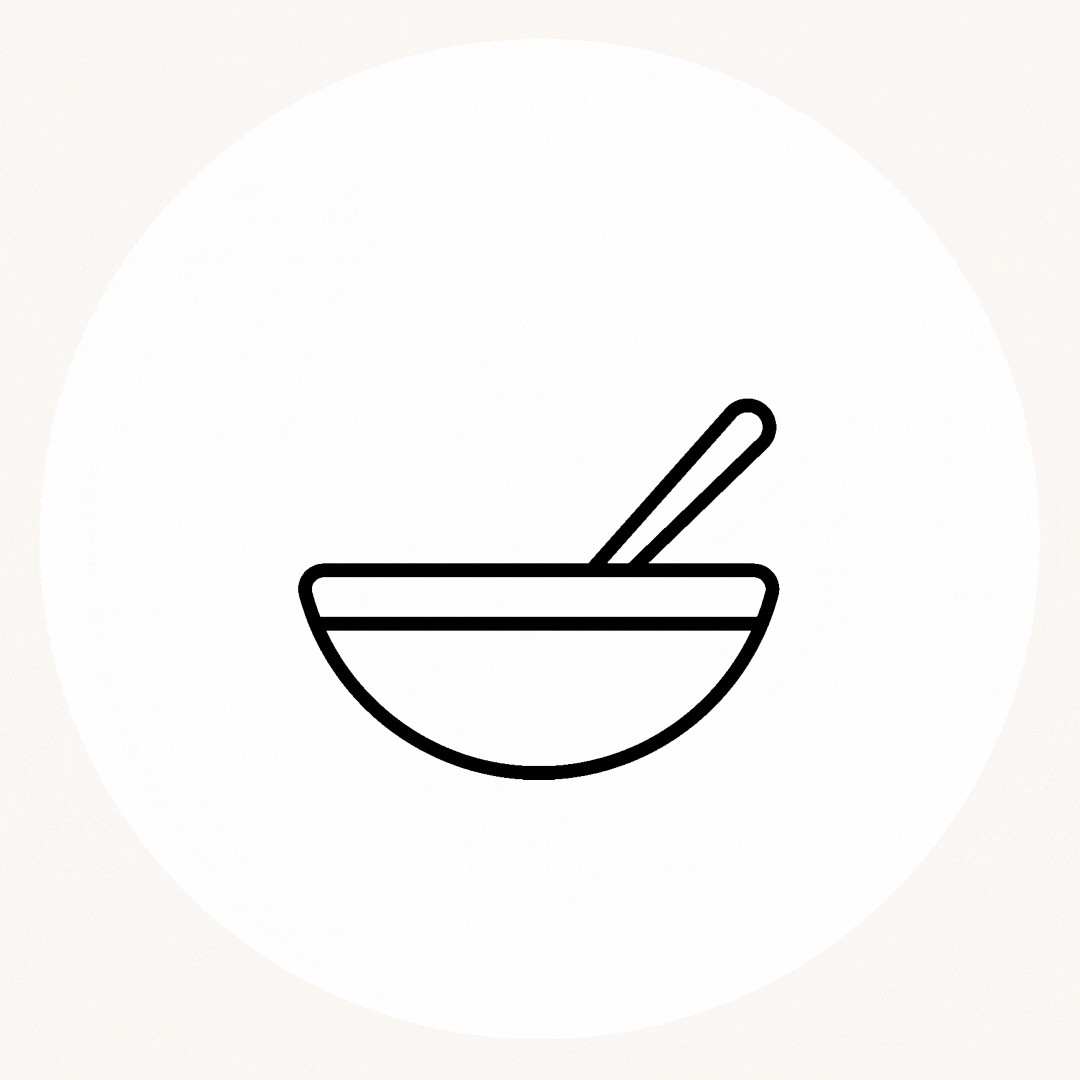 What You Need For Beverly's Mac & Cheese
Listen to Christianne walk us through how to make mac & cheese on the podcast
Elbow macaroni
Milk
Butter
6-7 American cheese slices (or 1 Fresh Pack of Velveeta cheese)
Make it: boil about 1/2 a box of elbow macaroni. In a small saucepan, stir in about 1/4 pan of milk, 3 tablespoons of butter and American cheese. Add the sauce to the pasta.
Also, because you'll likely have a partial box of Velveeta cheese if you make Beverly's homemade macaroni and cheese, my family's taco dip recipe will help you use it up.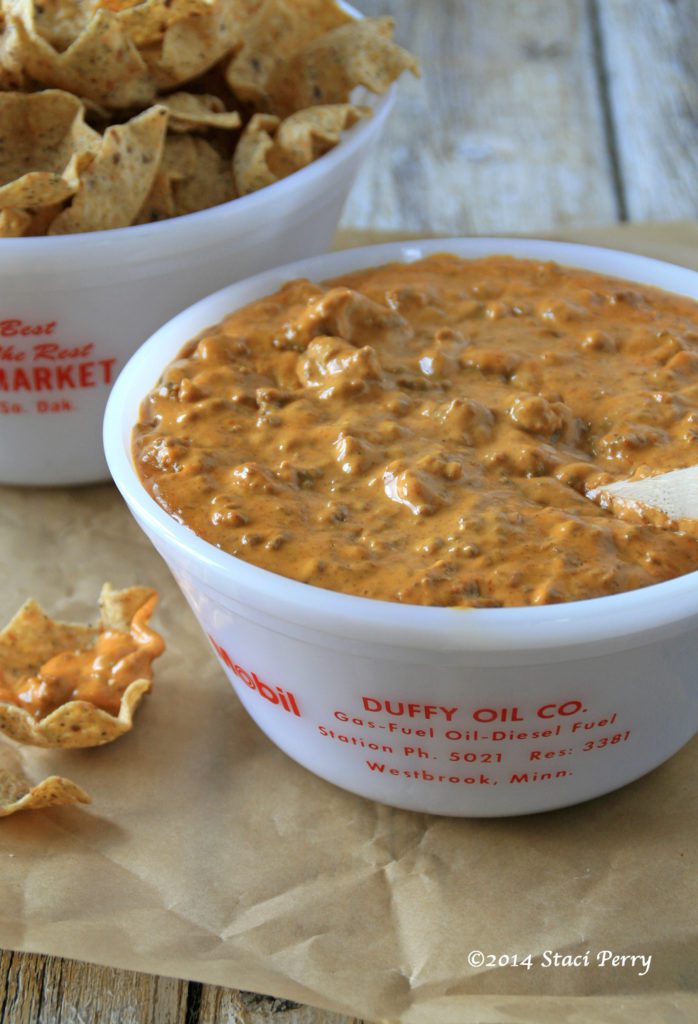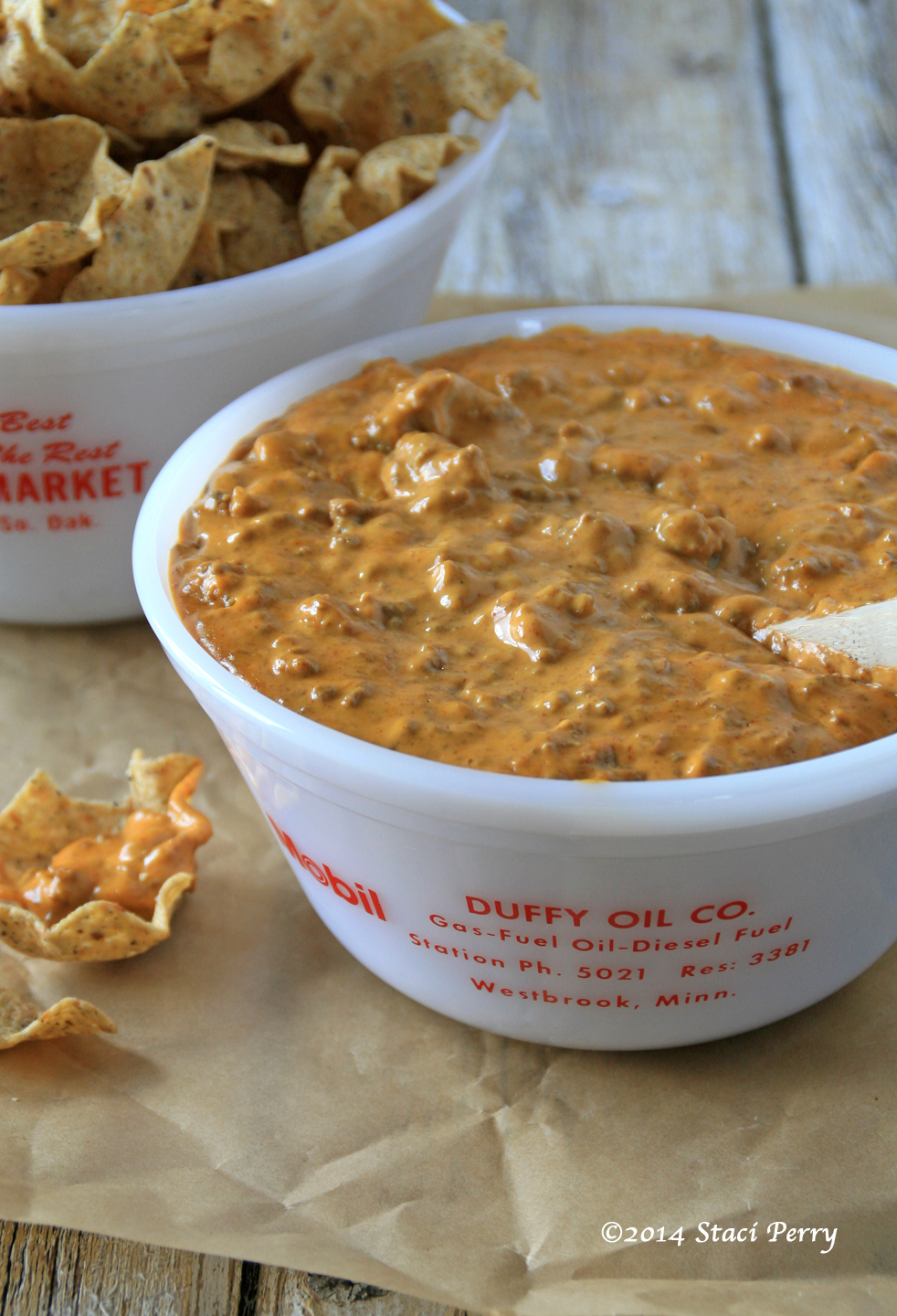 What's your family's version of classic meatloaf? Or, better yet, do you still make it?
Be sure to tune-in to Christianne's episode on Funeral Potatoes & Wool Mittens. She also reveals two of her favorite restaurants in the Brookings and Bruce South Dakota area.
Sweet wishes,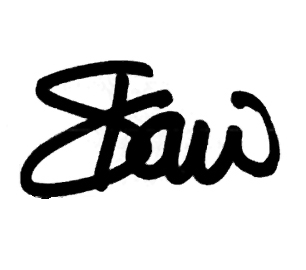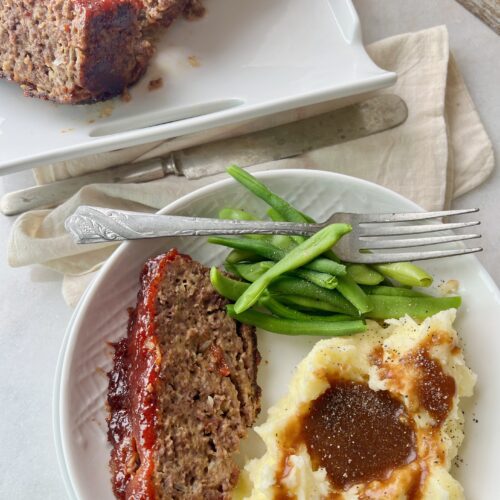 Email this recipe
Mary's Meatloaf
Elevate your classic meatloaf by topping it with a sweet and savory brown sugar sauce that caramelizes as it bakes.
Ingredients
Meatloaf
1½

lbs

ground beef

⅔

cup

bread crumbs

,

or panko crumbs

½

cup

chopped yellow or white onion

¾

cup

milk

2

large eggs, beaten

1

teaspoon

ground black pepper

1

teaspoon

salt

½

teaspoon

ground or rubbed sage

½

tablespoon

salted butter
Sauce
¼

cup

ketchup

3

tablespoons

brown sugar

¼

teaspoon

ground nutmeg

1

teaspoon

dry mustard
Instructions
Meatloaf
Place ground beef in a large bowl. Add the bread crumbs, onion, milk, beaten eggs, pepper, salt and sage.

Using your hands, gently mix the ingredients together until well combined.

Place the meat mixture in a buttered loaf pan.

Bake at 350°F for 1 hour.
Sauce
Mix together the ketchup, brown sugar, nutmeg and dry mustard.

Remove the meatloaf from the oven and spread the sauce over the top. Return it to the oven and bake an additional 30 minutes.

Remove from oven and let rest 10 minutes before slicing and serving. Store leftovers in an airtight container in the refrigerator.
Nutrition
Calories:
318
kcal
Carbohydrates:
15
g
Protein:
18
g
Fat:
20
g
Saturated Fat:
8
g
Polyunsaturated Fat:
1
g
Monounsaturated Fat:
8
g
Trans Fat:
1
g
Cholesterol:
106
mg
Sodium:
513
mg
Potassium:
344
mg
Fiber:
1
g
Sugar:
8
g
Vitamin A:
159
IU
Vitamin C:
1
mg
Calcium:
76
mg
Iron:
2
mg
All text and images © Staci Mergenthal • Random Sweets