Nordic Waffles: From Fair to Food Hall to Freezers Across the U.S. with Founder Stine Aasland and CEO Jeremy Ely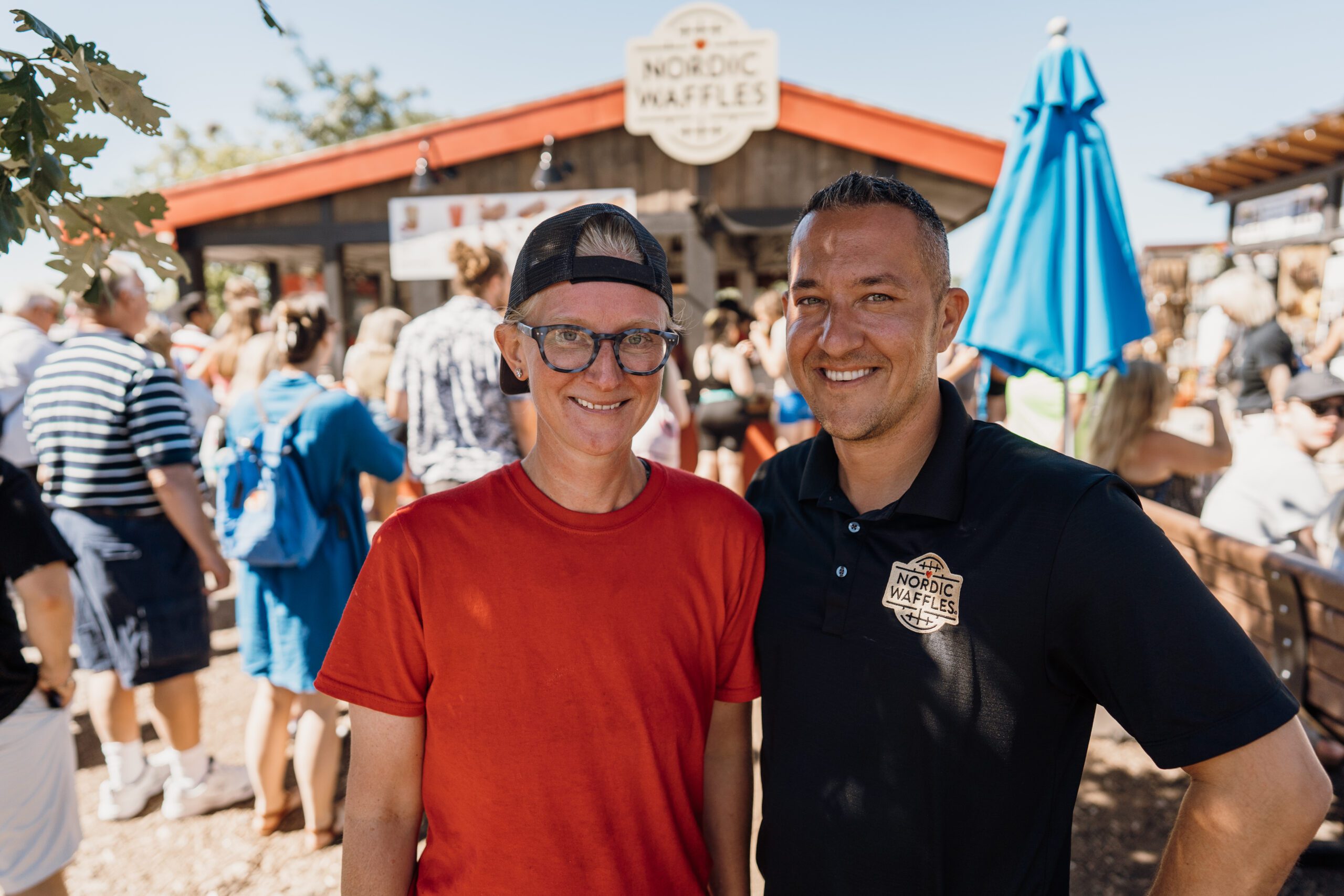 Put down your fork and leave the syrup in the fridge. Stine Aasland's dream of creating a Nordic Waffles Wafflelution has come true, and that means we get to delight in sweet and savory, handheld, heart-shaped waffles all day long. 
That's right, Scandinavian culture embraces eating waffles in between meals as snacks, not so much for breakfast, especially surrounded by people we love during hygge (pronounced "hoo-gah") moments.
In 2015, Stine, known as Norway's Waffle Queen, came to America with two suitcases, a waffle recipe and a dream.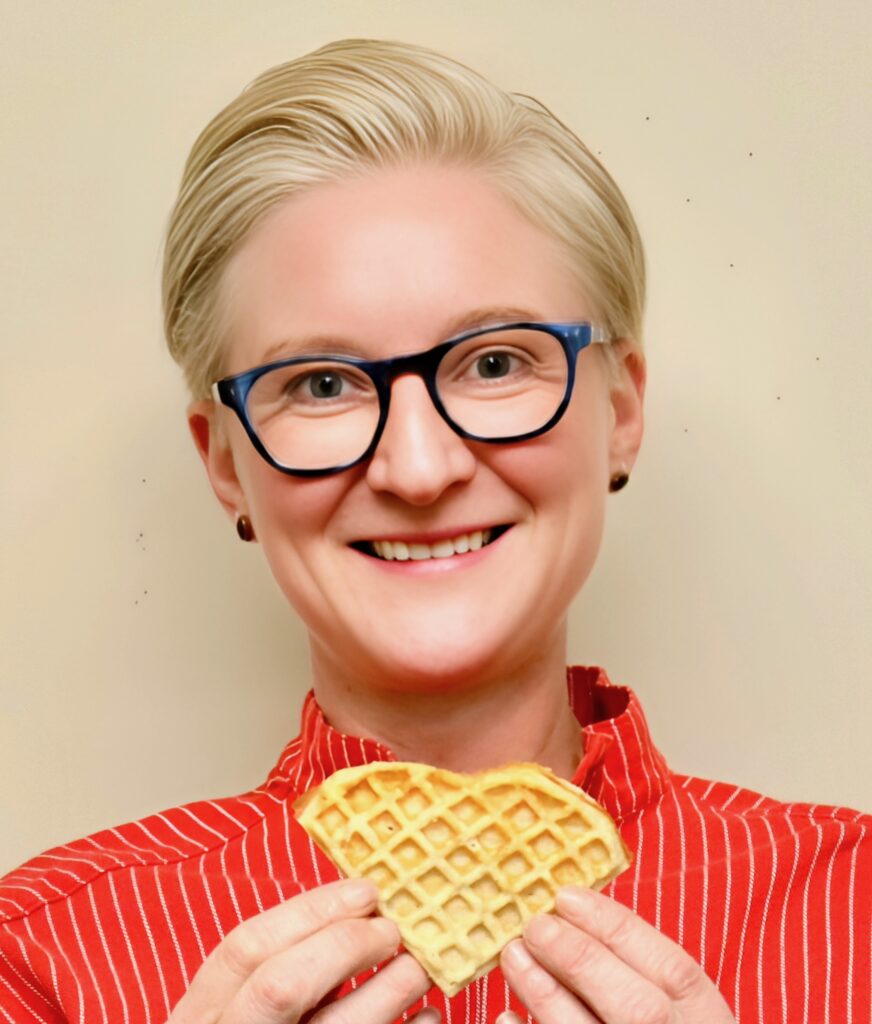 On this week's Funeral Potatoes & Wool Mittens show, Stine and Nordic Waffles' CEO, Jeremy Ely, join me to talk about everything from selling cozy, soft and thin waffles at Valleyfair to the Minnesota State Fair, to what happened when a pandemic shut down their main revenue stream, Stine's advice to people with a business dream, and why they like to partner with companies close to home. Plus Stine shares a waffle recipe.
Listen to Season 2 Episode 7 in your podcast app or in the link below.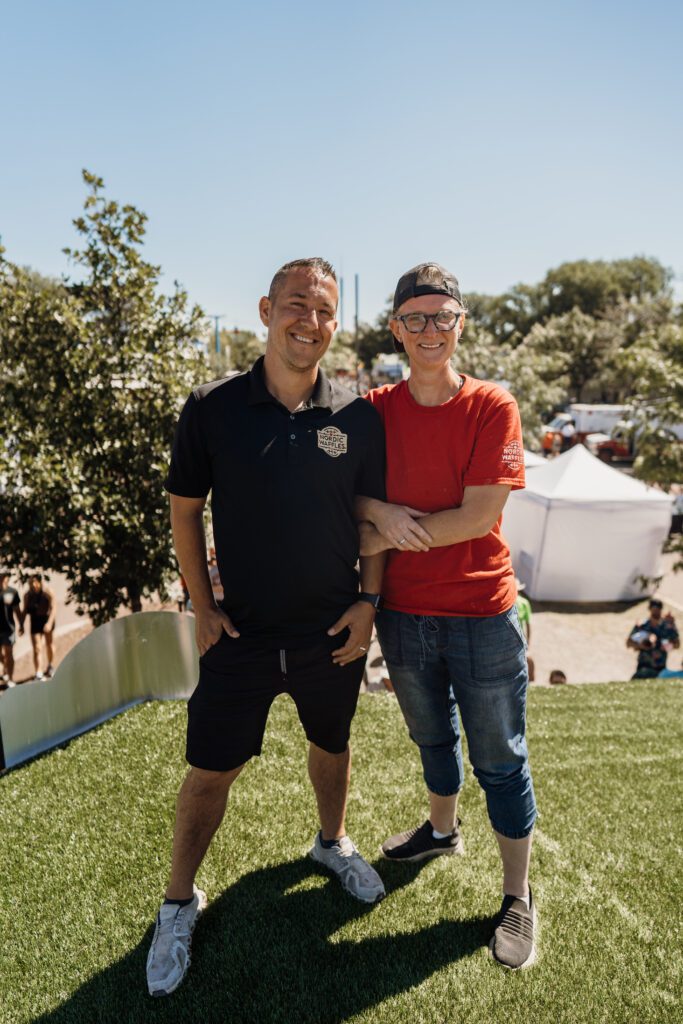 Nordic Waffles Flavor Selection
Nordic Waffles are currently available in 1,200 locations nationwide, and rapidly growing.
Where to Buy: https://www.nordicwaffles.com/locations. If you can't find them in your area, ask a manager to get in touch with Nordic Waffles.
Egg, Cheddar & Bacon
Egg, Cheddar & Sausage
Berries & Cream (Stine's grandmother's Norwegian vanilla custard recipe.)

Stine's go-to: Nordic Waffles Berries & Cream. Tip: she butters the outside of the waffle before she cooks it.
Jeremy's go-to: Nordic Waffles All-Day Breakfast Egg, Cheese and Bacon with his special chipotle mayo. His "by heart" chipotle recipe: half a cup of mayo, 1 tablespoon of Sriracha and 1 teaspoon of garlic salt. Adjust measurements to your liking.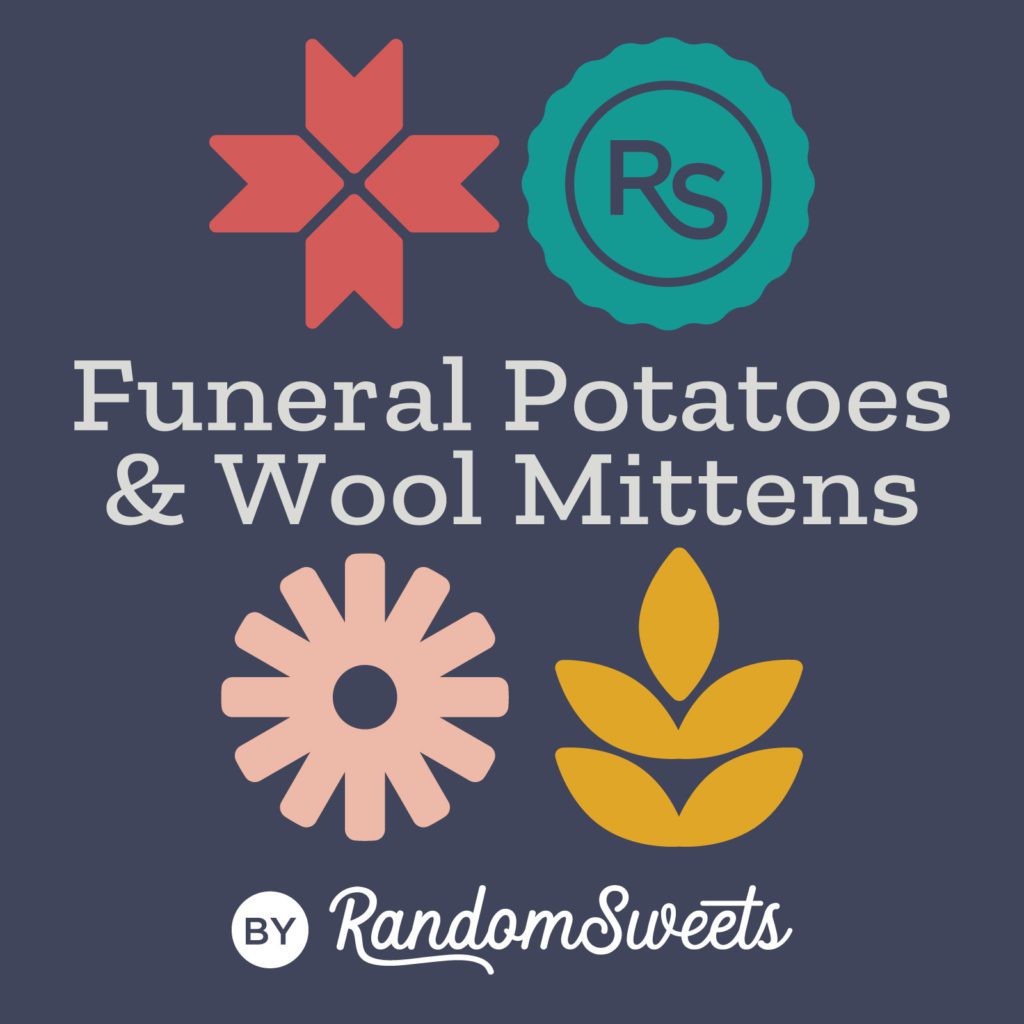 Funeral Potatoes & Wool Mittens S2 E7
Which ingredient scent takes Stine back to her grandma's farm kitchen where she used to bake? The cozy answer is at 28:48.
What's the only one ingredient Stine says is not very good on a Nordic waffle? Stine tells us at about 31:37 in this podcast episode.
Minnesota State Fair
Getting invited to be a food vendor at the 2018 Minnesota State Fair was an affirming moment for Nordic Waffles (they served more than 42,000 waffles that year!). They've grown their presence at the fair each year since.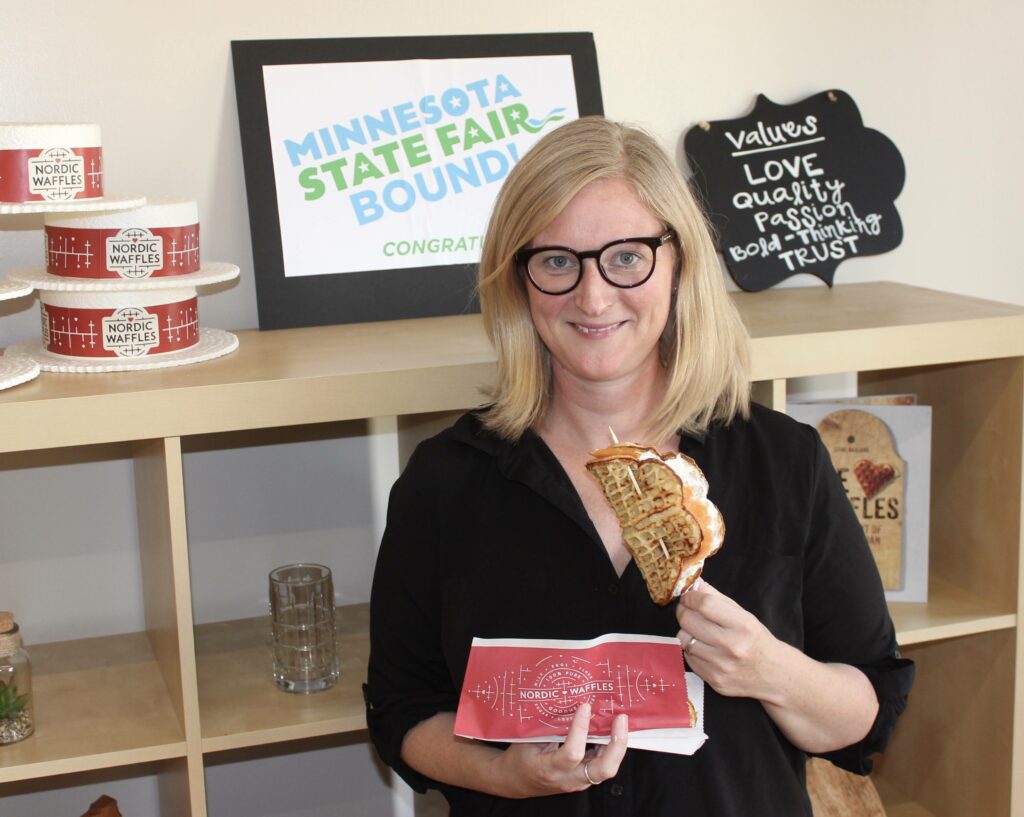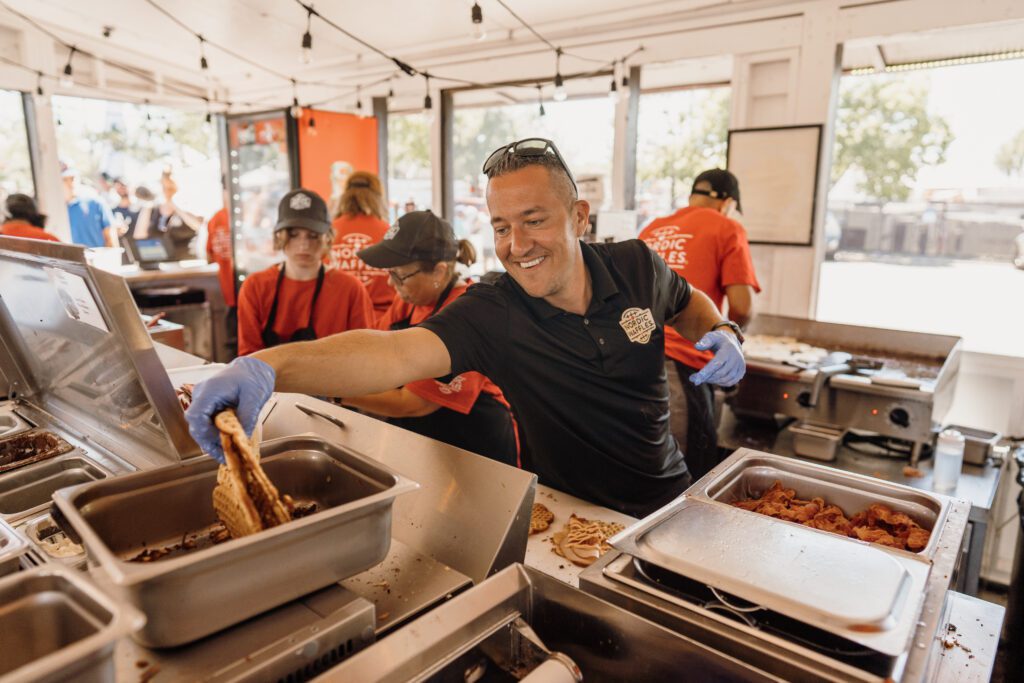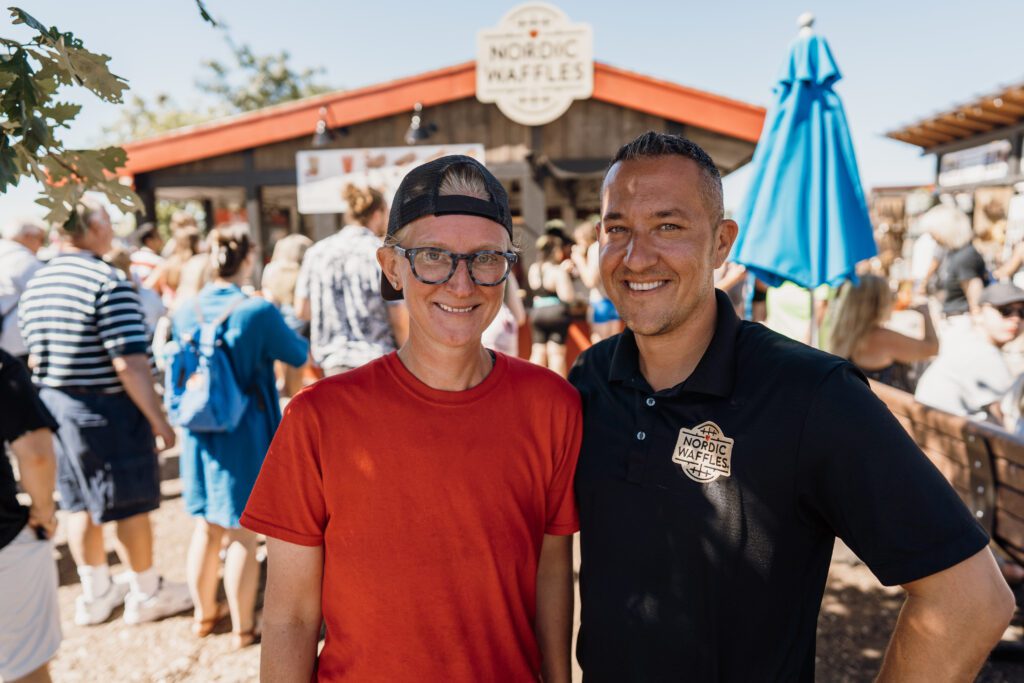 Meet Gnorman and Asbjorn the Goat
Hear what purpose Gnorman serves atop the Nordic Waffles cabin at the Minnesota State Fair.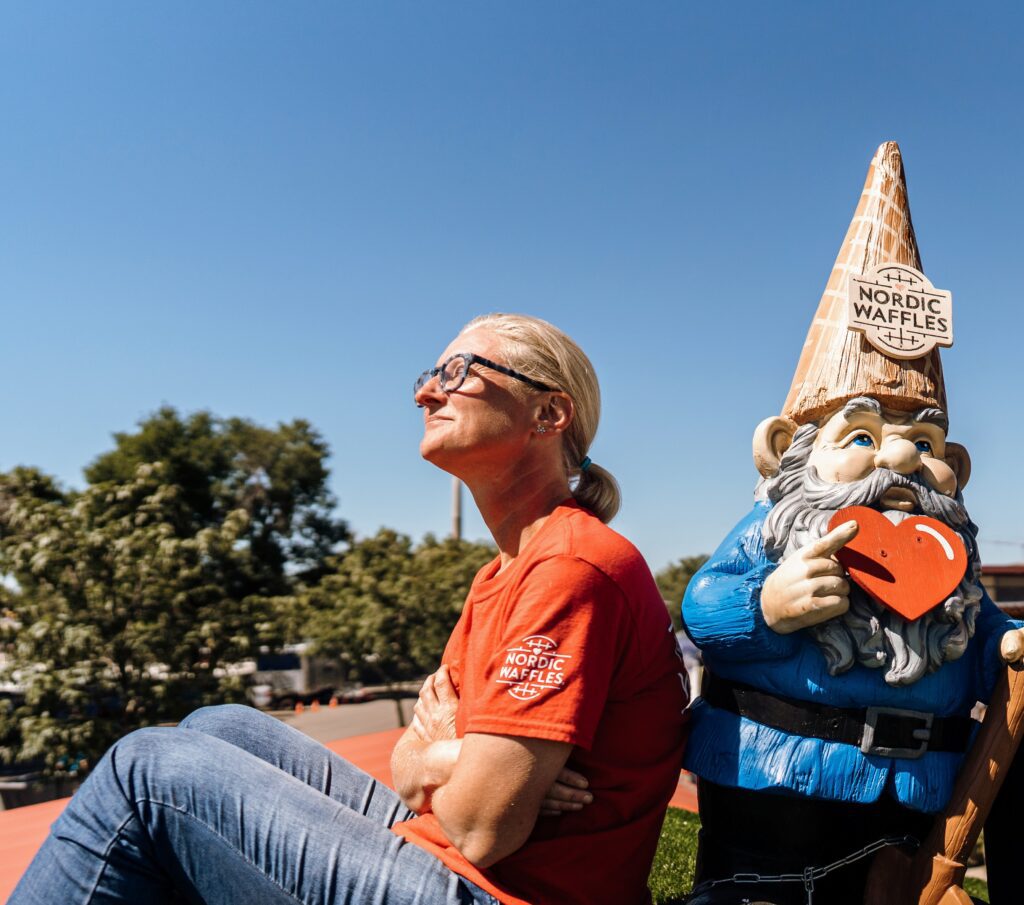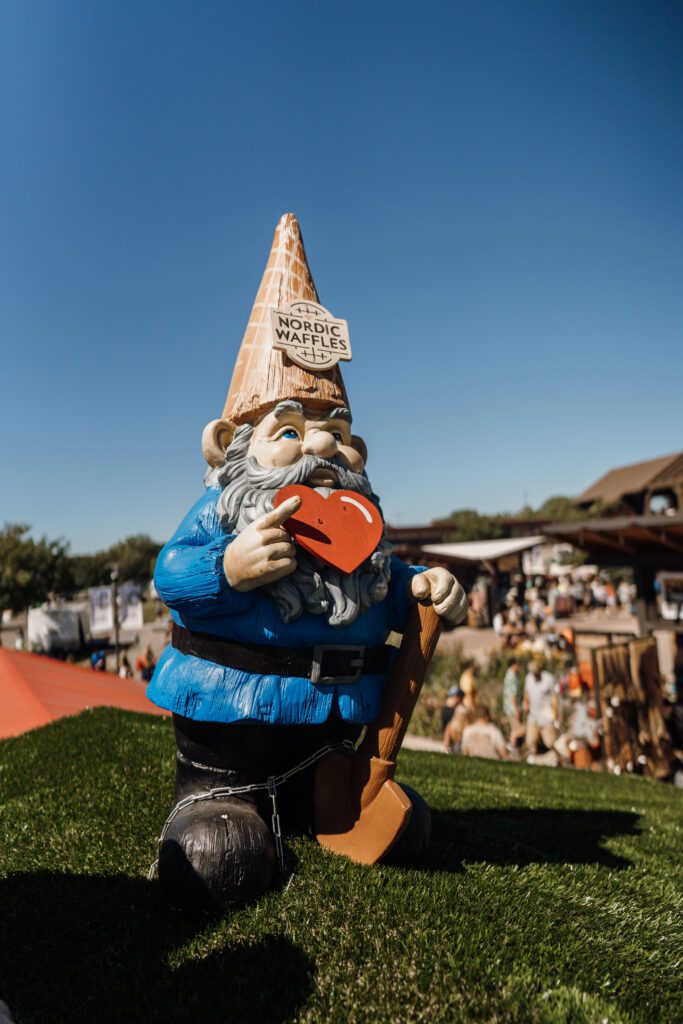 In addition, learn what inevitably happens to Asbjorn the goat every year, and Stine's plea for it to stop.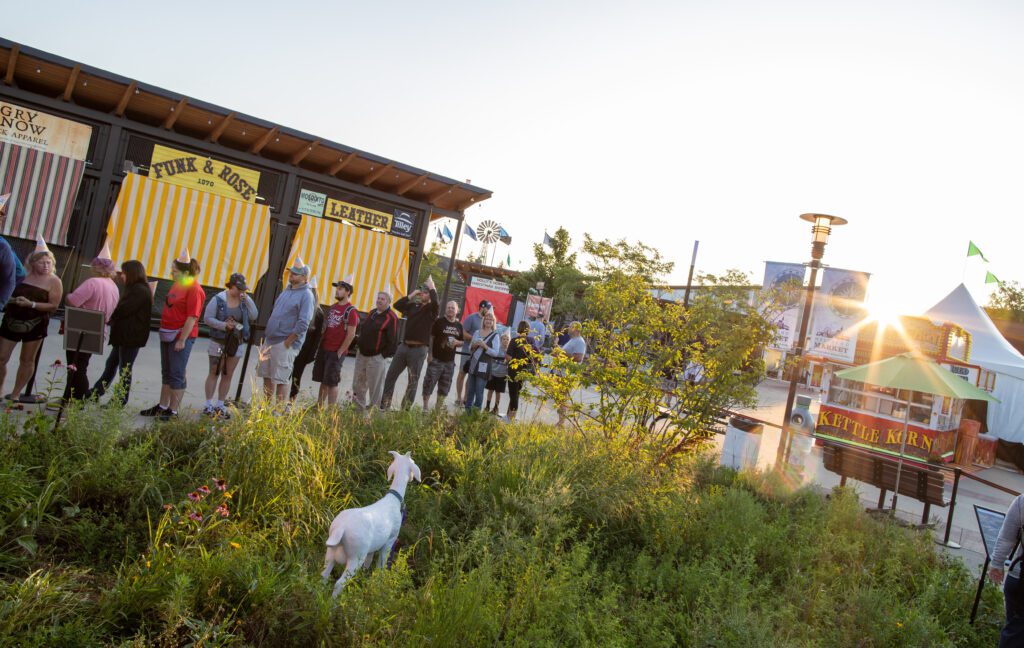 Fun Fact:
Asbjorn the goat is named after Stine's dad. I was lucky enough to meet him in 2022.
When the June press release comes out with the new food list, I'll come back and post it here. Fingers crossed…Nordic Waffles gets in (wink, wink)…I can't wait to see what new creation they come up with. Read more about them at the 2022 and 2023 fair: Where to Eat Authentic Nordic Waffles at the Minnesota State Fair and Most Anywhere.
If you have waffle or beverage ideas for the Minnesota State Fair, email them to hello@nordicwaffles.com. 
Stine Aasland's Basic Norwegian Waffle Recipe
I'm so excited and thankful Stine shared a waffle recipe with us (it's on the Pinterest and printer friendly recipe card at the end of this post). It's not the exact one they use at Nordic Waffles, uffda (huffda as they'd say in Norway), I wouldn't share it either. But knowing Stine, this recipe is about as cozy as it gets—it includes her two most special ingredients—cardamom and love.  
When Stine makes waffles at home, she likes to eat them with brown cheese, a Norwegian caramelized goat cheese, with a mixture of raspberries, strawberries and sugar on top.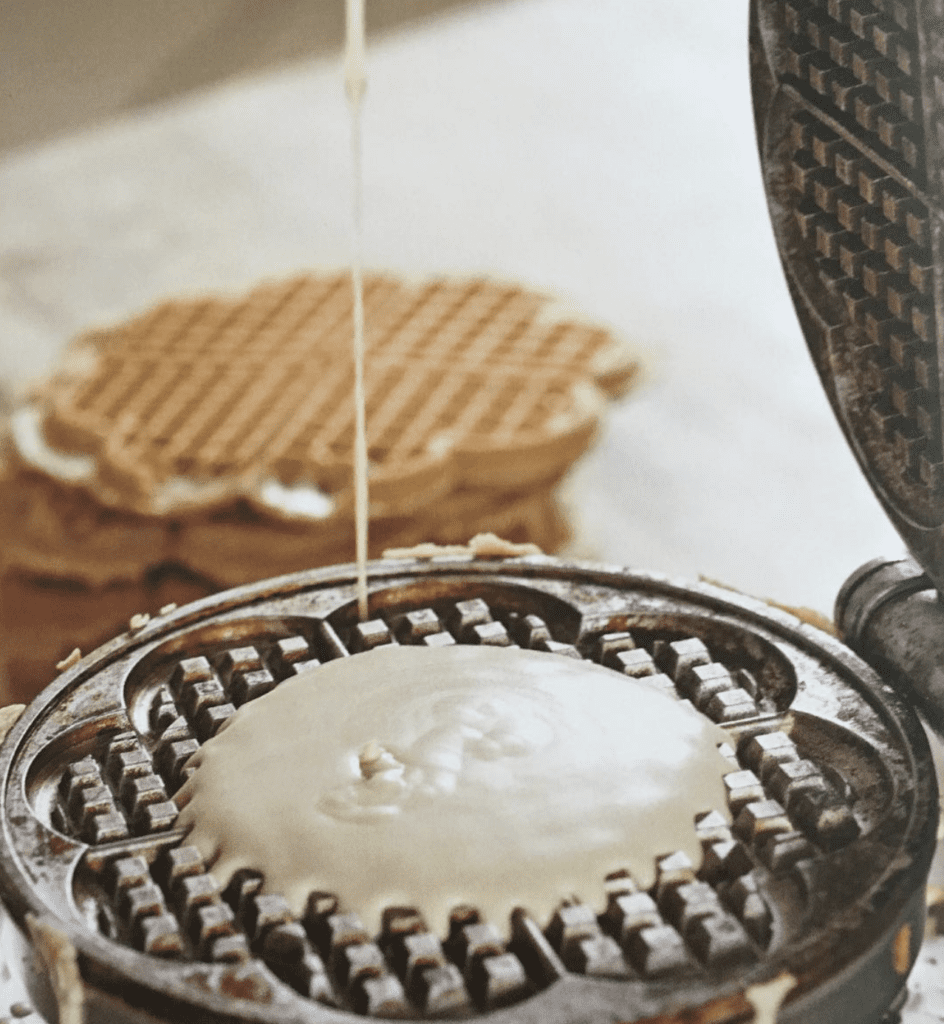 If you don't already have one, purchase a heart-shaped waffle iron from your favorite Scandi shop, or online or in store at these Midwest stores:
Two days prior to the Scandinavian region's March 25 Våffeldagen (Waffle Day), take a Nordic waffles class via Zoom through Vesterheim Norwegian-American Museum and Folk Art School in Decorah, Iowa with instructor Kristi Bissell.
Also mentioned in this episode:
Want More Nordic Waffles?
Stay connected with Nordic Waffles on social media because they are hoping to share exciting news in 2024…Jeremy refers to the announcement as, "…bringing the Wafflelution from Coast to Coast…"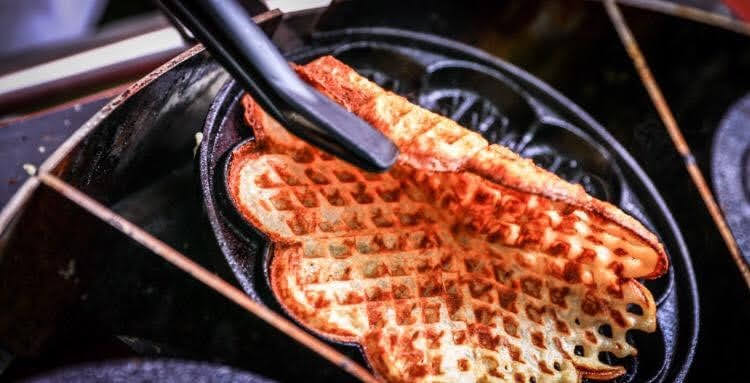 Listen to Stine and Jeremy on Funeral Potatoes & Wool Mittens Season 2 Episode 7 wherever you listen to podcasts. And enjoy Stine's basic Norwegian waffle recipe which she generously shares below.
Photos courtesy of Nordic Waffles.
Sweet wishes,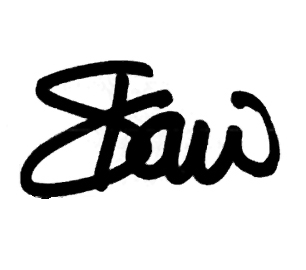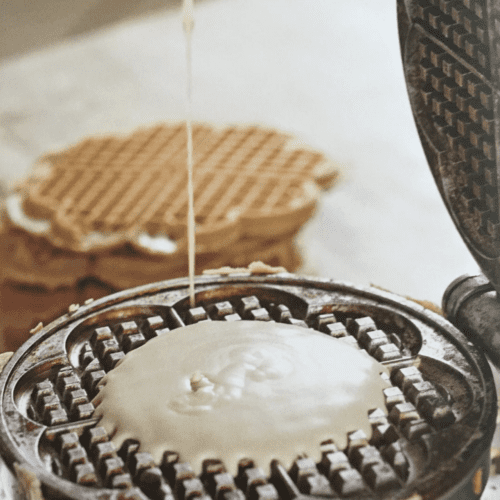 Email this recipe
Waffle Queen's Basic Norwegian Waffles
Always make with love, handheld heart-shaped Scandinavian-style waffles are meant to be shared as a snack between meals during a hygge moment with your favorite people.
Ingredients
3

eggs

,

large

½

cup

sugar

½

tsp

salt

4

cups

all-purpose flour

2

tsp

cardamom

4

cups

whole milk

¾

cup

sour cream

12

Tbsp

unsalted butter (¾ cup), melted

,

1 and ½ sticks

Love
Instructions
Beat eggs and sugar together until frothy.

In a separate bowl, combine salt, flour and cardamom.

In another separate bowl, whisk milk and sour cream.

Add part of the flour mixture to the beaten eggs/sugar mixture. Then add part of the milk/sour cream mixture to that. Repeat that again until both the mixtures have been added to the eggs/sugar.

Beat for 3 minutes. Slowly add the melted butter as you continue to beat the batter.

Let the batter rest for at least 15 minutes.

Heat the heart waffle iron. Grease the iron with butter. Continue with the batter as directed on the waffle maker's instructions to make waffles.

Serve as a handheld snack with sweet or savory fillings like bacon, egg and cheese, or berries and vanilla custard.
Notes
This recipe is courtesy of Nordic Waffles founder, Stine Aasland. 
Nutrition
Calories:
324
kcal
Carbohydrates:
38
g
Protein:
8
g
Fat:
16
g
Saturated Fat:
9
g
Polyunsaturated Fat:
1
g
Monounsaturated Fat:
4
g
Trans Fat:
0.4
g
Cholesterol:
77
mg
Sodium:
129
mg
Potassium:
177
mg
Fiber:
1
g
Sugar:
11
g
Vitamin A:
540
IU
Vitamin C:
0.2
mg
Calcium:
113
mg
Iron:
2
mg
All text and images © Staci Mergenthal • Random Sweets