5 Restaurants, 2 Shops, and Hiking for Your Weekend in Bemidji Minnesota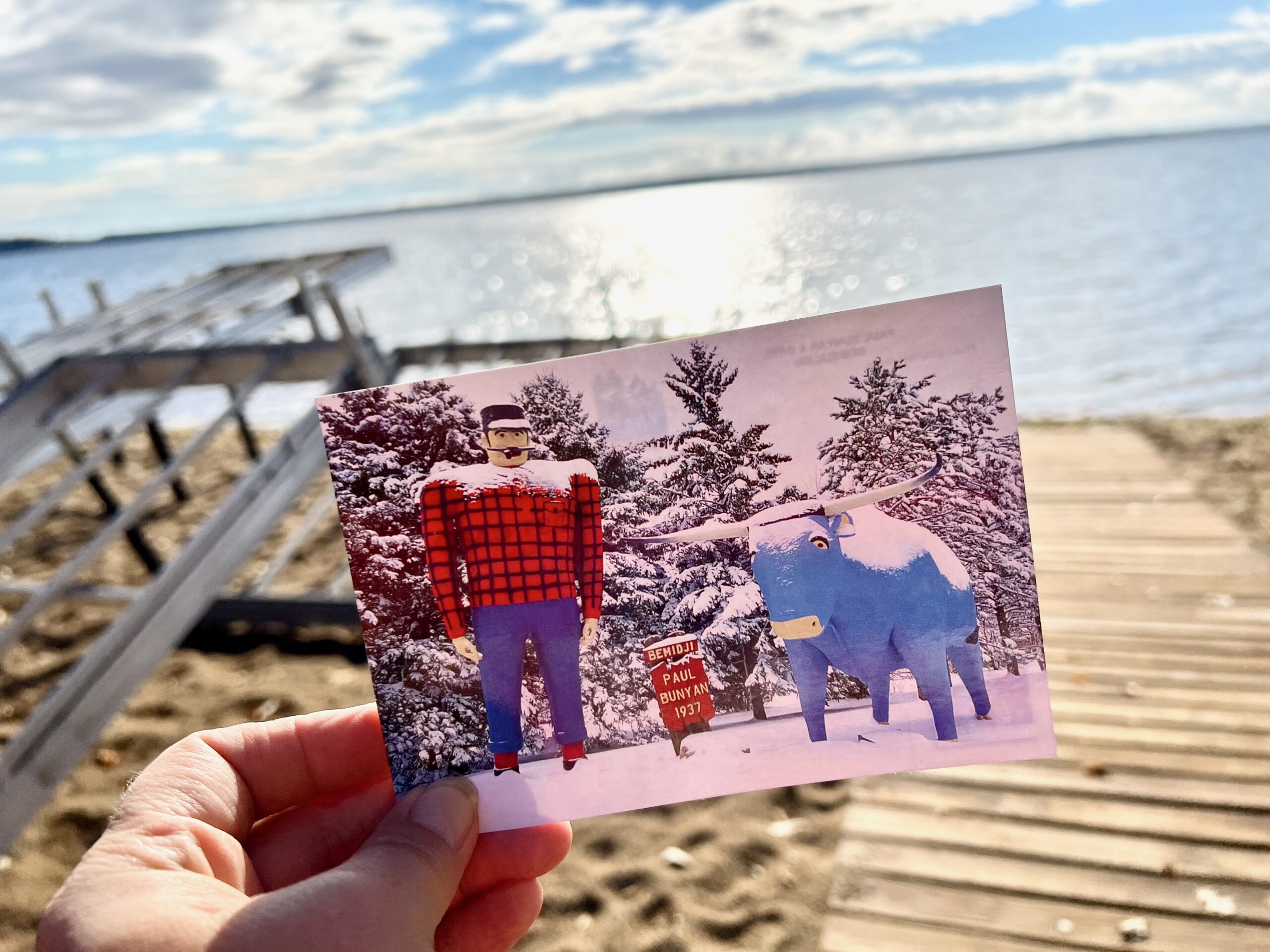 Planning a trip to Bemidji, Minn.? Bring your appetite for these five local restaurants and pack sturdy shoes to hike nearby wilderness areas at Neilson Spearhead Center and Itasca State Park. And don't skip the Four Pines Bookstore or the 103-year-old Bemidji Woolen Mills.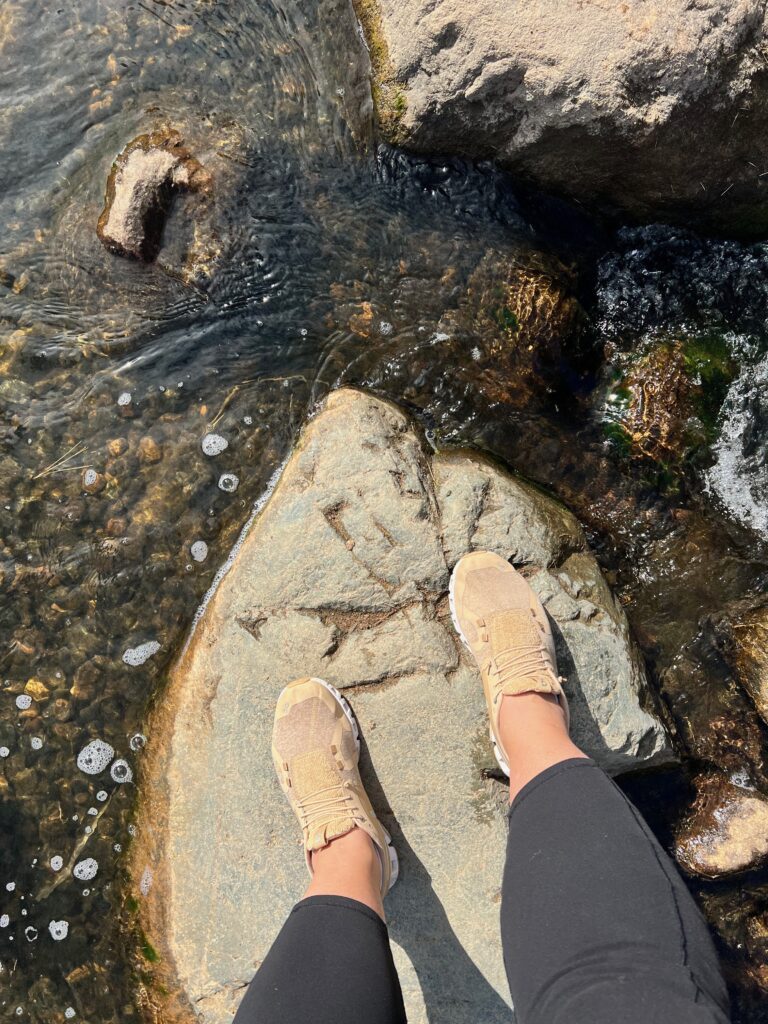 Jason and I recorded an accompanying Funeral Potatoes & Wool Mittens podcast episode about our trip. Listen on my podcast page or wherever you get your podcasts, or click the play arrow below.
In early October, my husband, Jason, and I took a weekend road trip to Bemidji to cheer on his alma mater Arizona State University Sundevils hockey team in a double-header against Bemidji State Beavers at Sanford Center.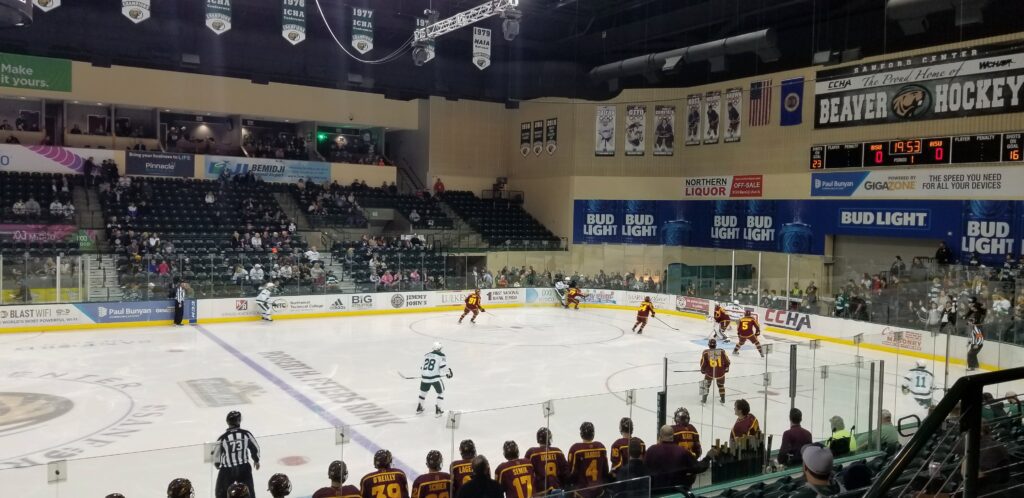 The games were exciting—ASU took down the Beavers 3-0 the first night and fought into OT for a 5-4 loss the second night.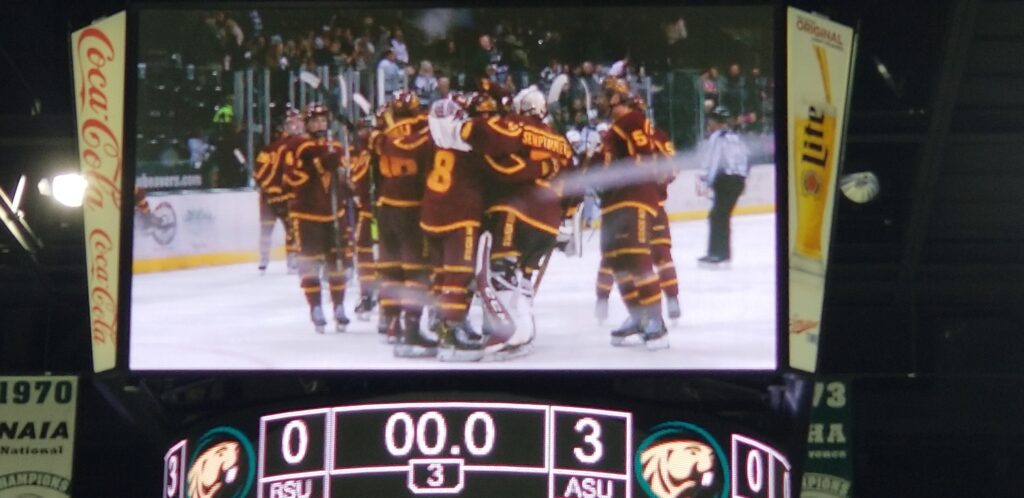 The fall colors in the trees were like nothing I've seen before. We live in southwest Minnesota and we get a little bit of the pretty fall colors, but we certainly don't have the density of trees like the Bemidji area does, nor do we have varieties like birch, aspen, Jack pine and white spruce. It was like a real-life Bob Ross painting. (My iPhone photos don't do the weekend justice when it comes to the fall colors.)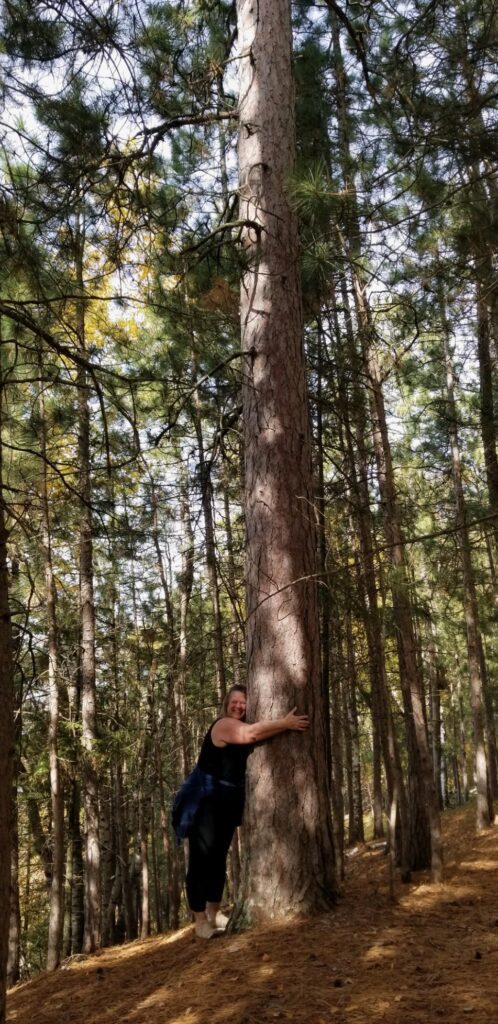 First and foremost, no matter the season or weather, you must take obligatory photos with the Paul Bunyan & Babe the Blue Ox statues located lakeside at Paul Bunyan Park. The park hosts the Paul Bunyan Inclusive Playground which looks really cool but I forgot to take a picture. You can see it on their Facebook page.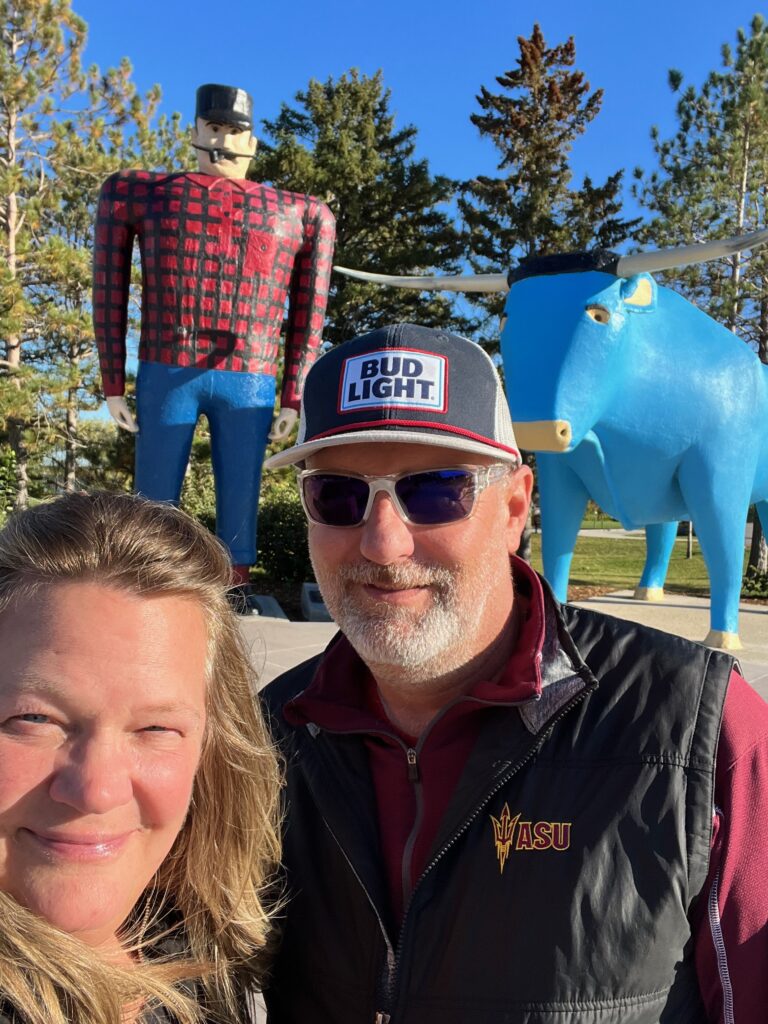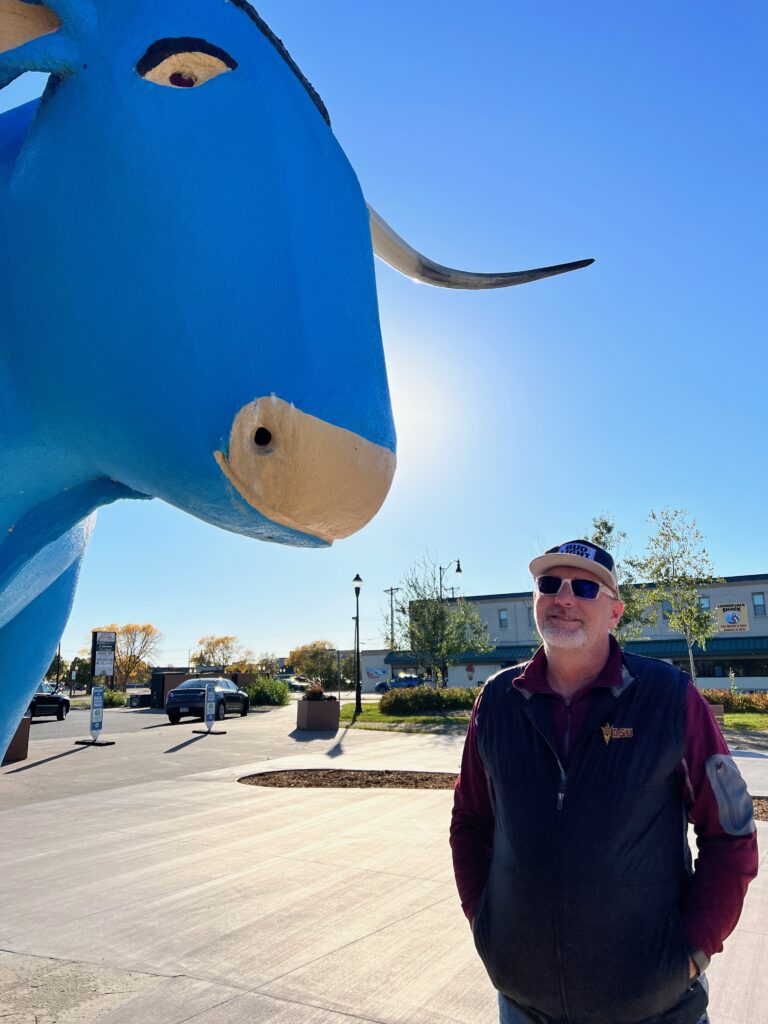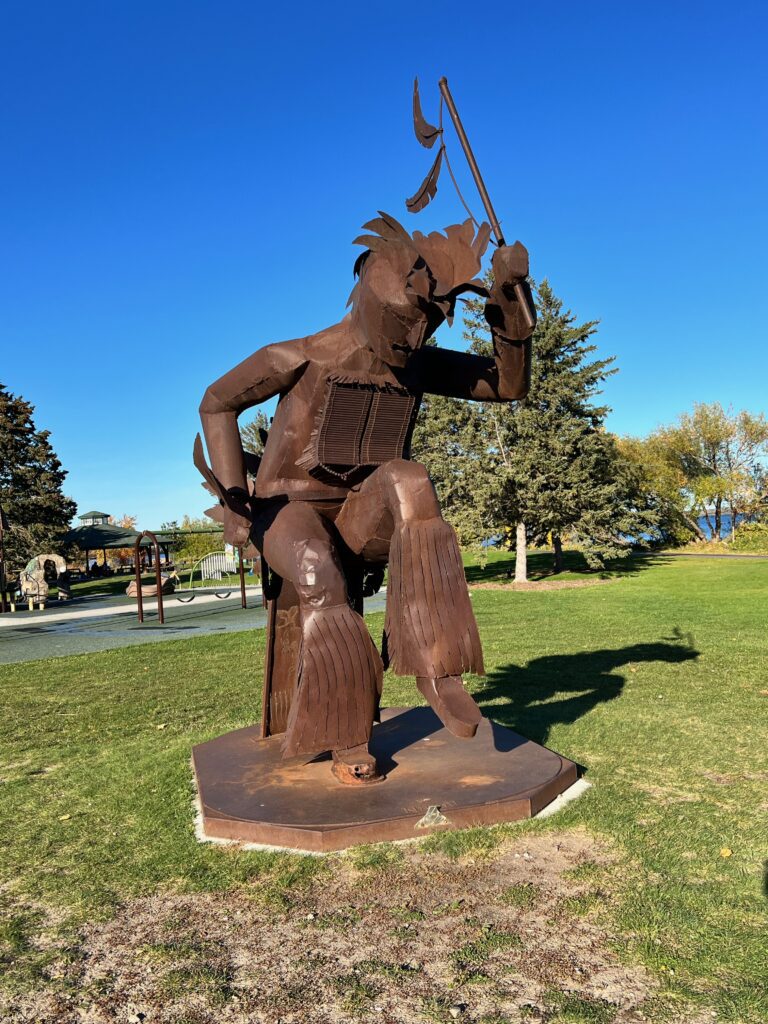 Where to Eat in Bemidji
For a state university town home to just over 15,000 people, Bemidji has a lot of options for restaurants and coffee shops. We thoroughly enjoyed the five we ate at so we wanted to share them with you just in case you are like me and feel better about trying a new place if it's been recommended by someone you know.
As soon as we booked our weekend, we started talking about which restaurants we wanted to check out in our short time there. Jason already had two places in mind from work trips he'd taken to Bemidji, and I started asking for recommendations and researching online. Hopefully a few spark your interest and you check them out when you are in the area.
Fozzie's Smokin Bar-B-Q
Go to Fozzie's with an empty stomach because your eyes will be bigger than your stomach—but order it all anyway. Read their menu online so you can make your game plan.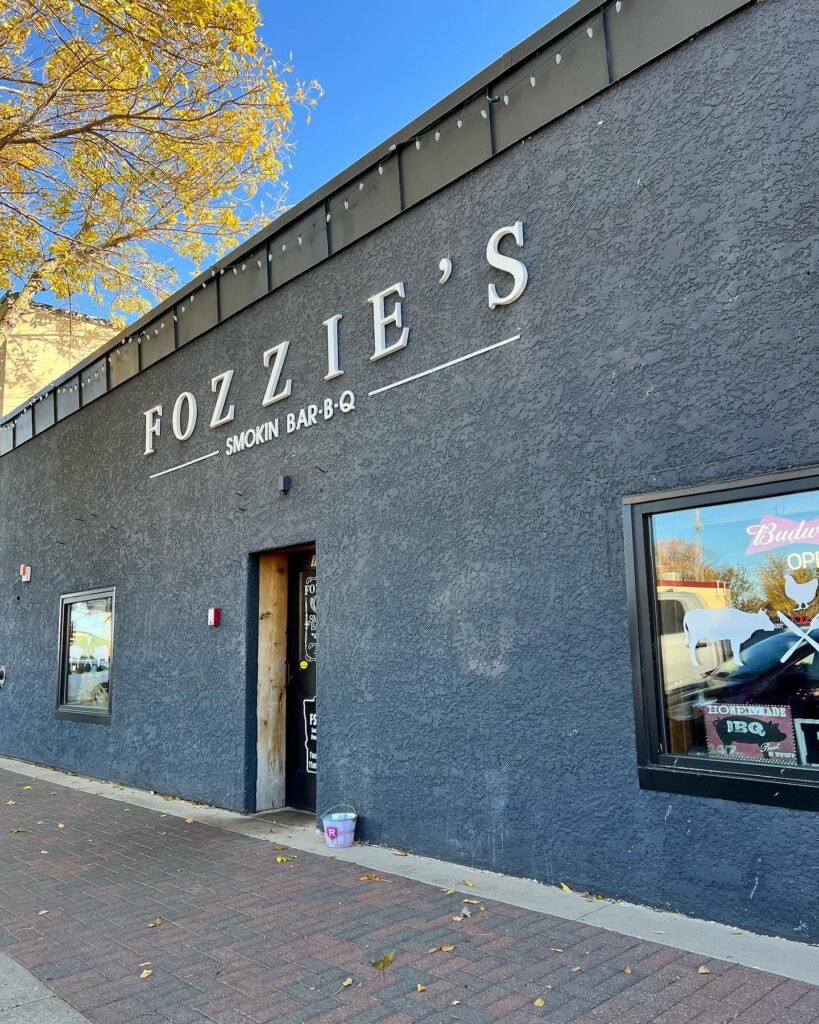 One time when Jason was in town, he smelled the smoked meats from a few blocks away and that's how we came to add Fozzie's to our list.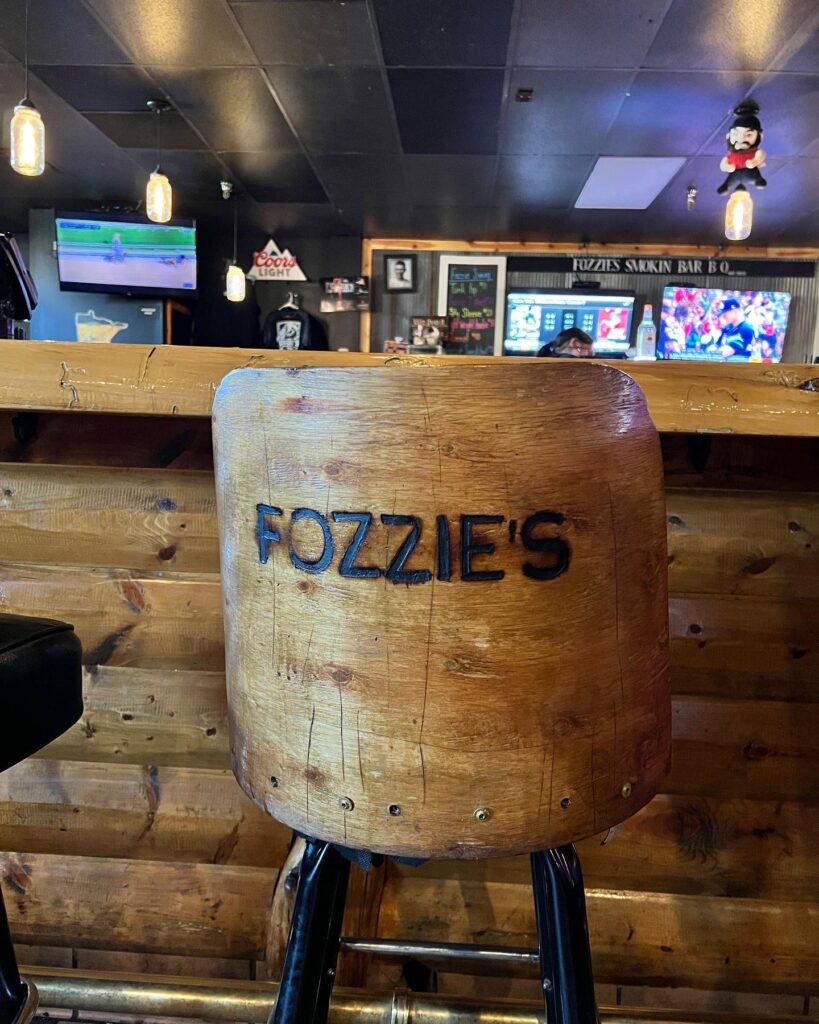 Portions are generous so this is the kind of place where we could have ordered two totally different meals and shared them with each other.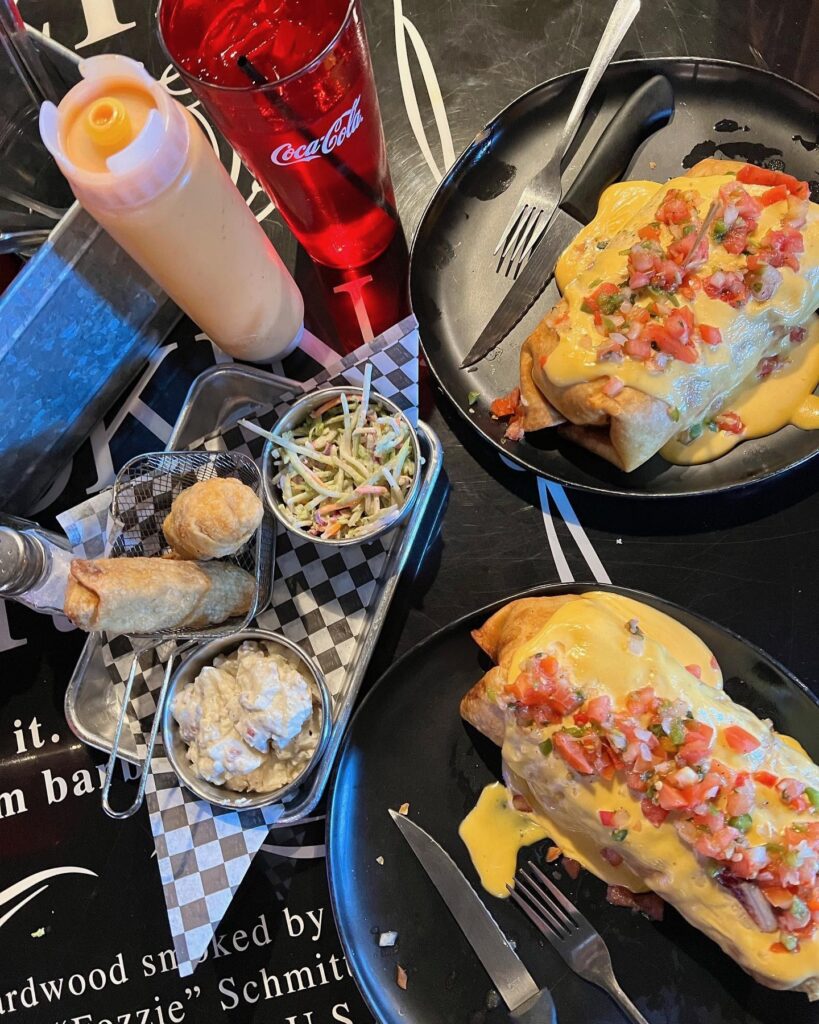 We didn't know that so we both ordered a chimichanga, brisket for Jason and chicken for me, and I could hardly eat half of mine. (Look at how teeny-tiny the fork looks next to this giant chimichanga.)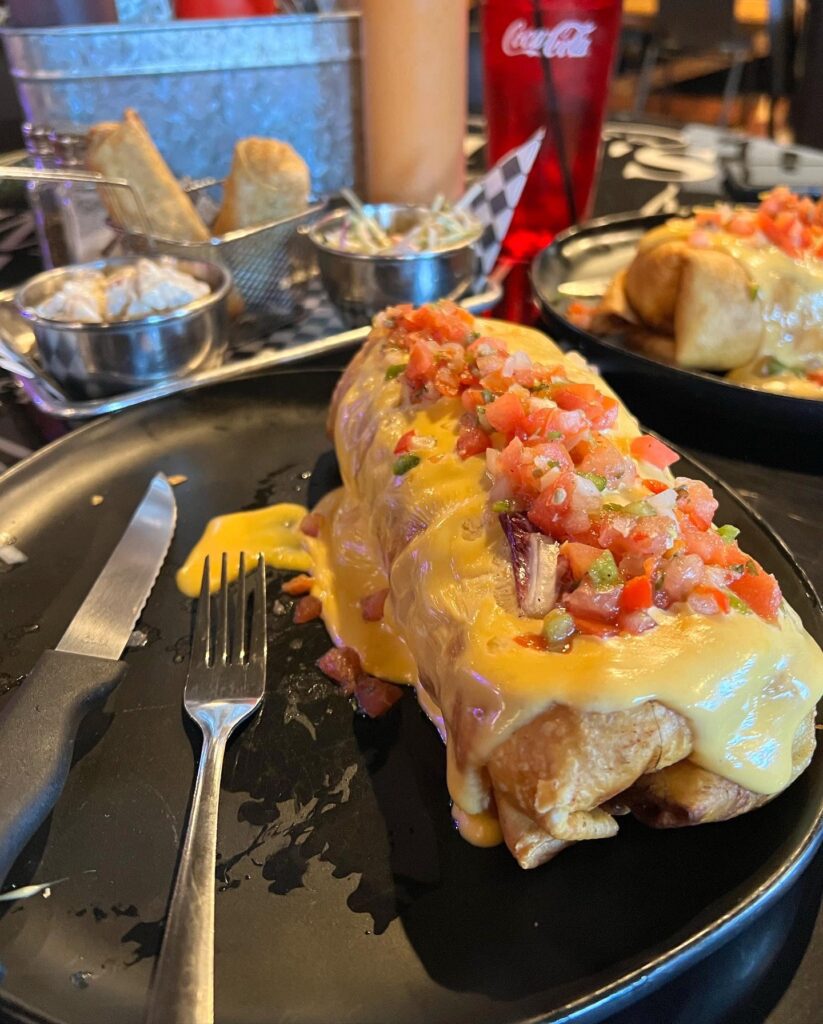 Of course, it didn't help that we started with an appetizer of bacon jalapeno mac & cheese egg rolls and added sides of coleslaw and potato salad.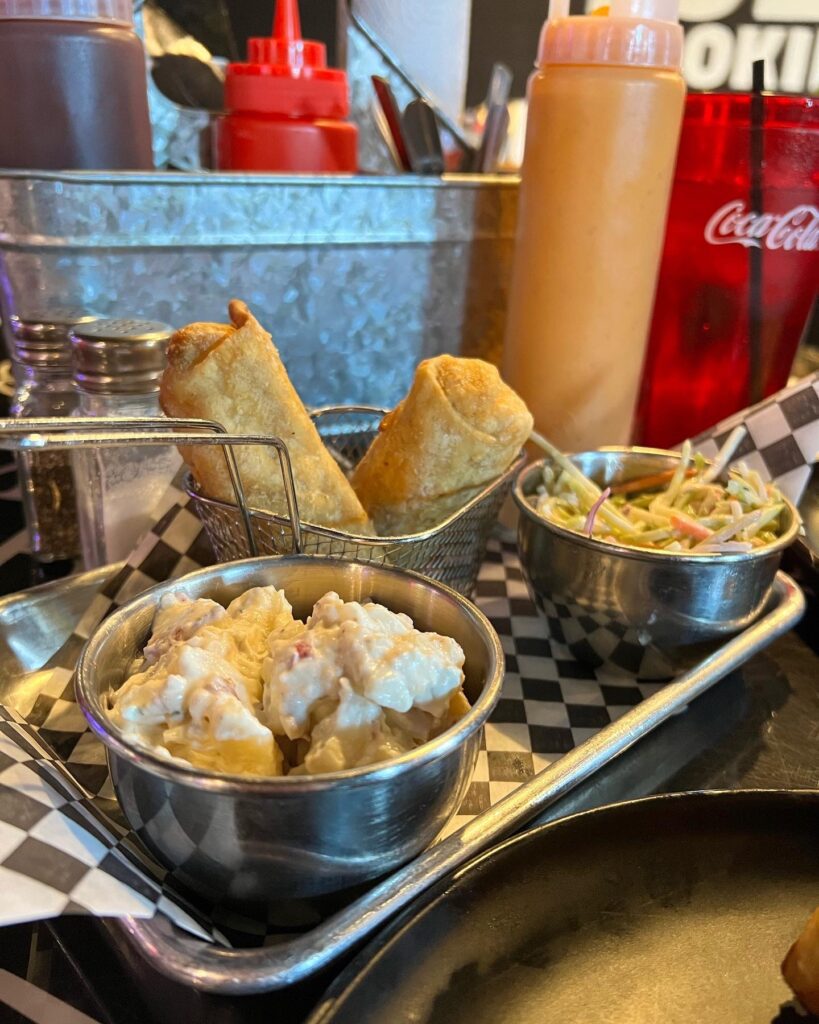 If I get the chance to eat here again, I'll order the pulled pork tacos or pitmaster alfredo. Or loaded pork mac. And I bet their Yukon gold mashed potatoes with garlic butter melt in your mouth too.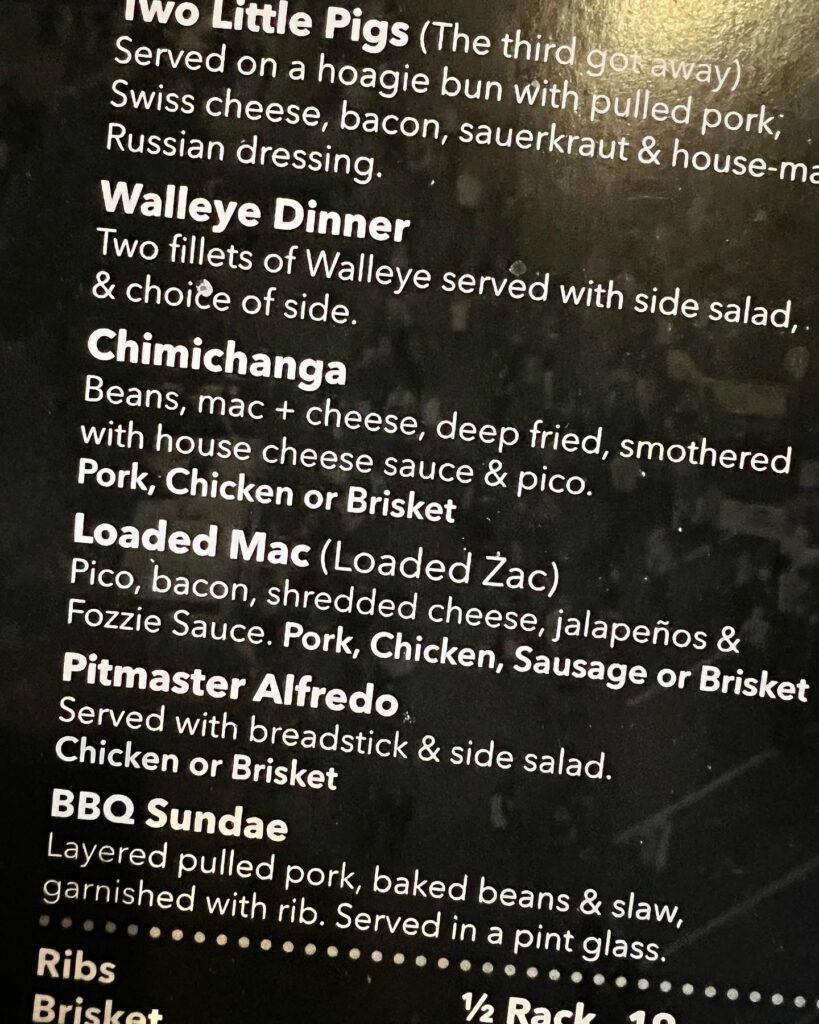 And maybe next time I'll actually eat my cheesecake, which they serve from The Ugly Cheesecake Company in Brainerd, Minn. Listen to my podcast episode to find out what happened to the slice of pistachio chocolate cheesecake I took with me.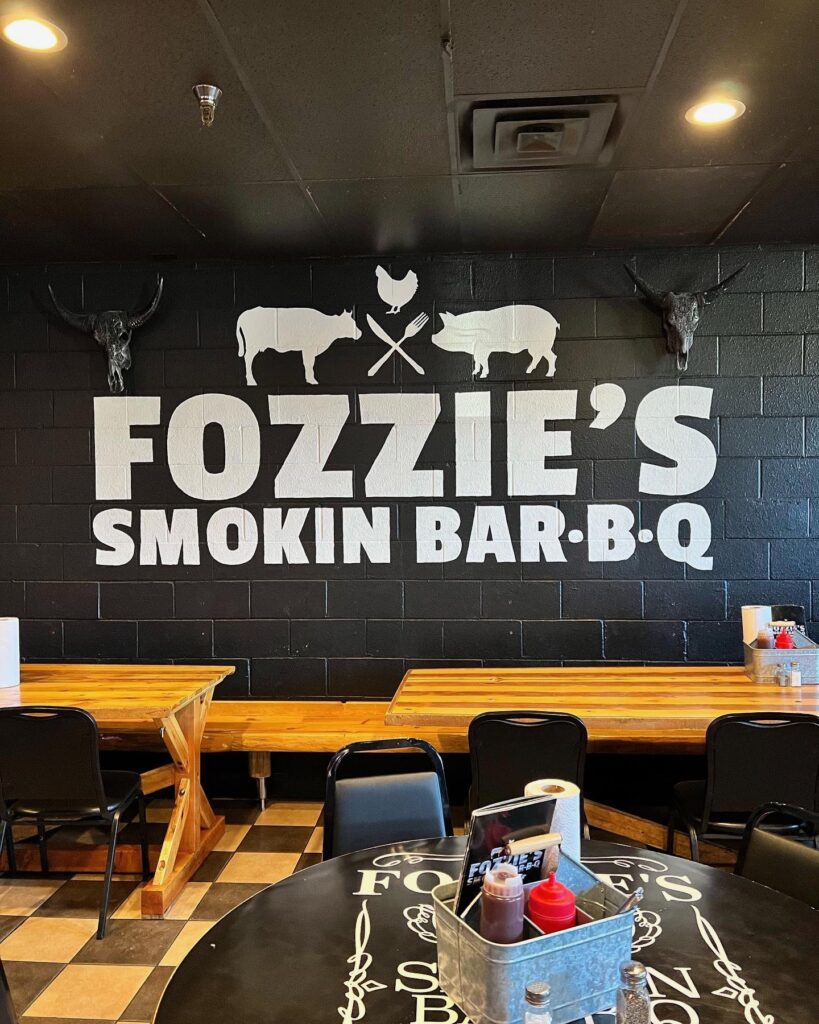 Fozzie's is located on 3rd Street NW, less than a block from Paul Bunyan Park. (Practically neighbors to Four Pines Bookstore.) There is a second Fozzie's location in Thief River Falls, Minn.
Lucky Dogs
Lucky Dogs Gourmet Hot Dogs was the first restaurant on our list. Jason had eaten here once before and told me all about the small corner shop and extensive menu of signature dogs and interesting topping combinations (featuring 100% beef Nathan's Famous Hot Dogs).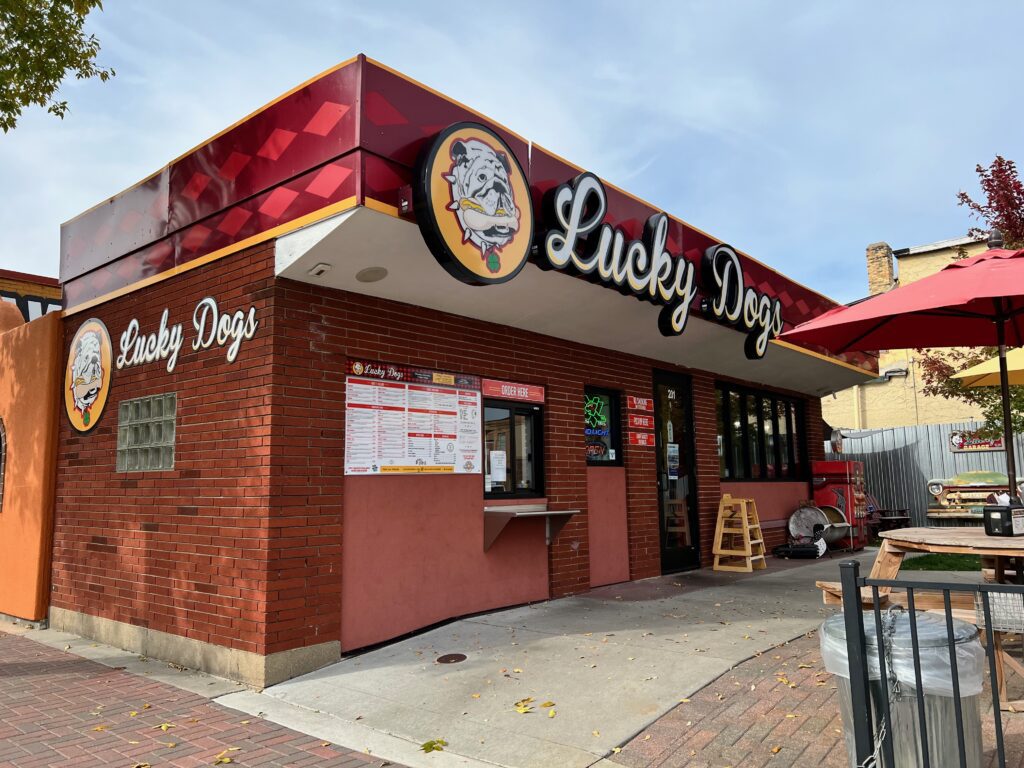 Jason ate the Maverick—mac and cheese, toasted bread crumbles and hot sauce with a side of coleslaw, potato salad and baked beans. I enjoyed the Route 66—chili, ranch dressing and Frito's corn chips with a side of coleslaw.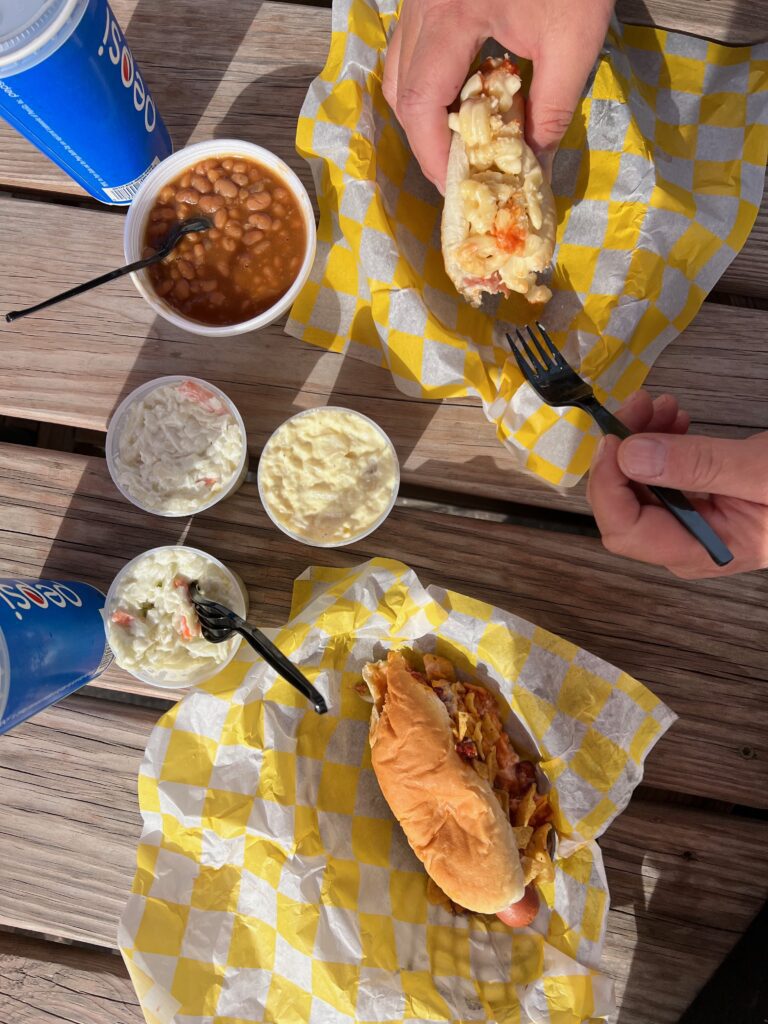 Next time we visit, I'm ordering the Gear Grinder—taco meat, crispy bacon, pepperoni, onion and grinder sauce. I have no idea what grinder sauce is but I'm guessing it's really good.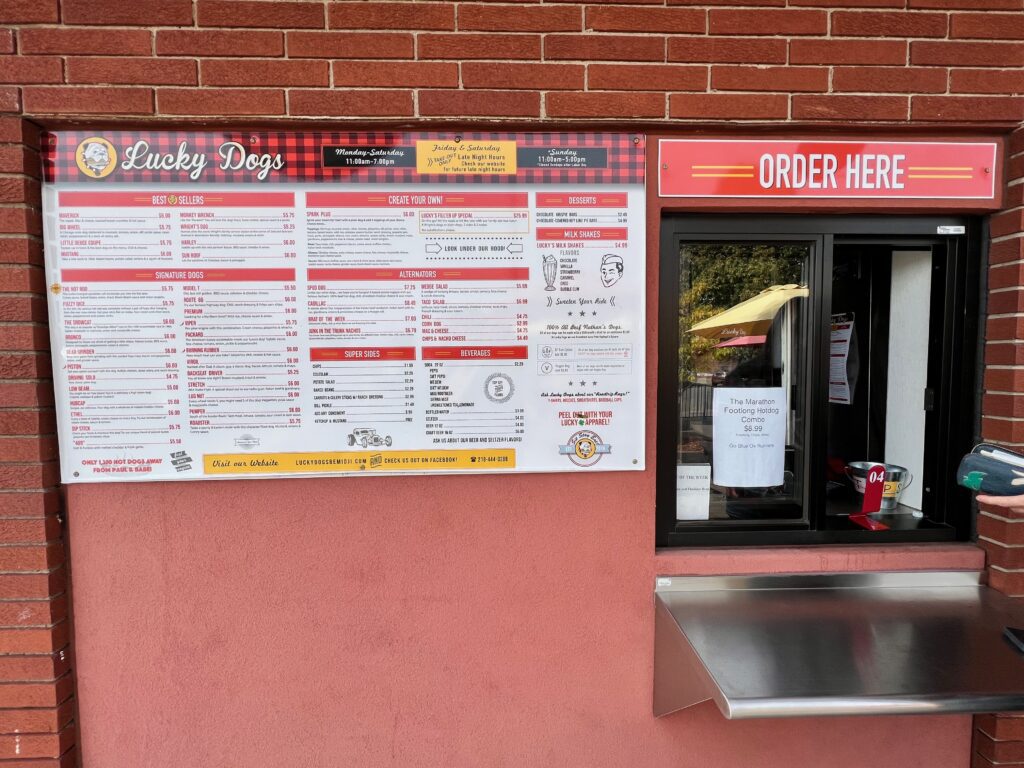 I think the oddest combination of ingredients on one of its signature dogs is the Dip Stick—a hot dog with peanut butter, jalapeno jam and banana slices.
Actually, maybe it's the Bronco—peanut butter, BBQ sauce, pineapple, pepperoncini, onion and cilantro. I've seen peanut butter on a burger, but not with bananas…and on hot dogs no less! And I certainly haven't seen peanut butter with pineapple. But there must be people who love them.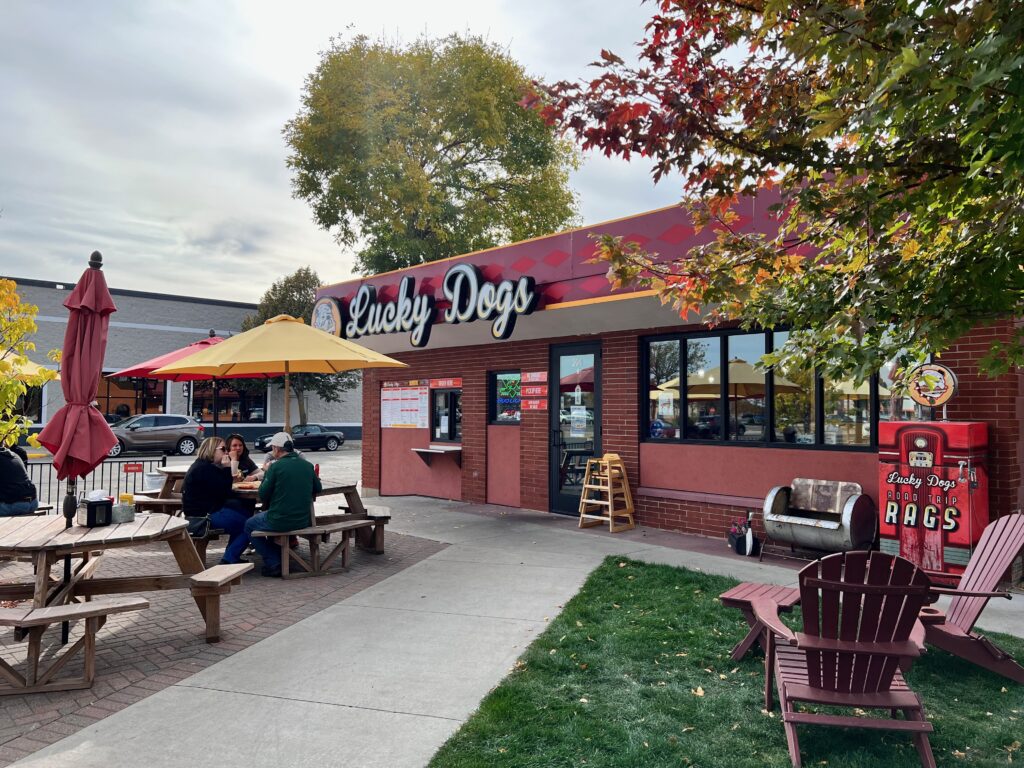 Lucky Dogs is open seasonally, their last day in 2022 was October 29. It makes sense that they aren't open during Minnesota winters because you order from an outside window and there is only a small amount of indoor seating, with the majority of the seating outdoors around picnic tables and Adirondack chairs.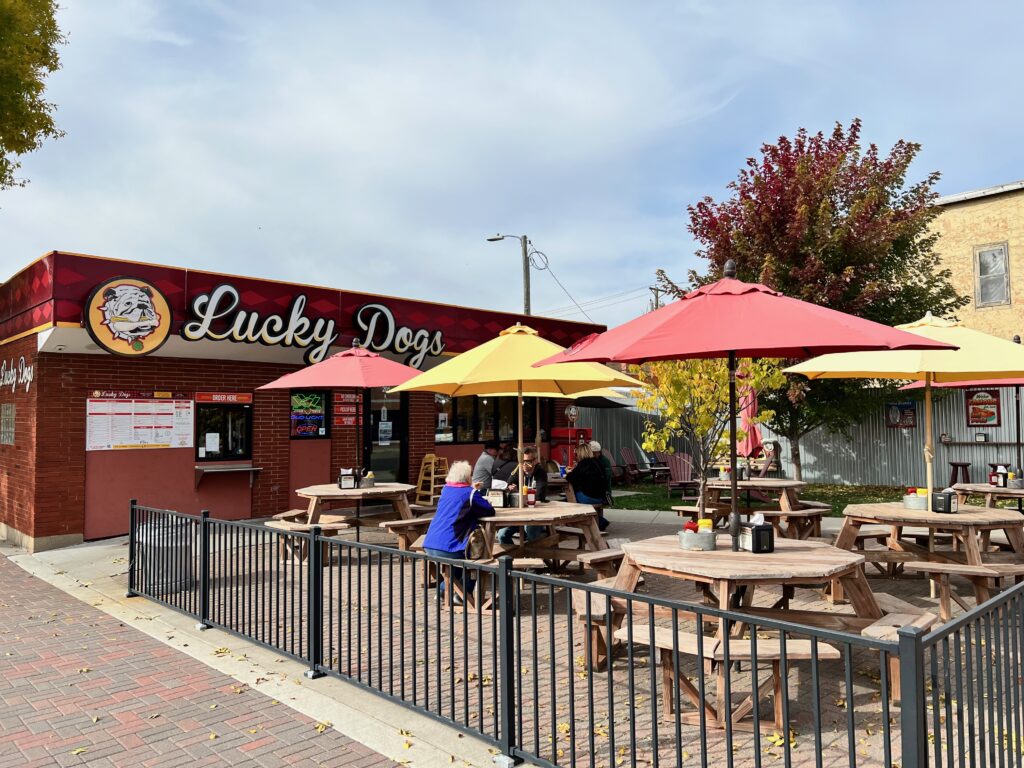 It is located on the corner of Beltrami Avenue NW and 2nd Street NW, less than a five-minute walk from the Paul Bunyan and Babe the Blue Ox statues.
Raphael's Bakery Cafe
Still downtown, but a few blocks away from Lake Bemidji, is Raphael's Bakery Café on Minnesota Avenue NW. I found out about Raphael's because Lucky Dog's menu says "…we use hometown buns from Raphael's Bakery." Just what I love to find!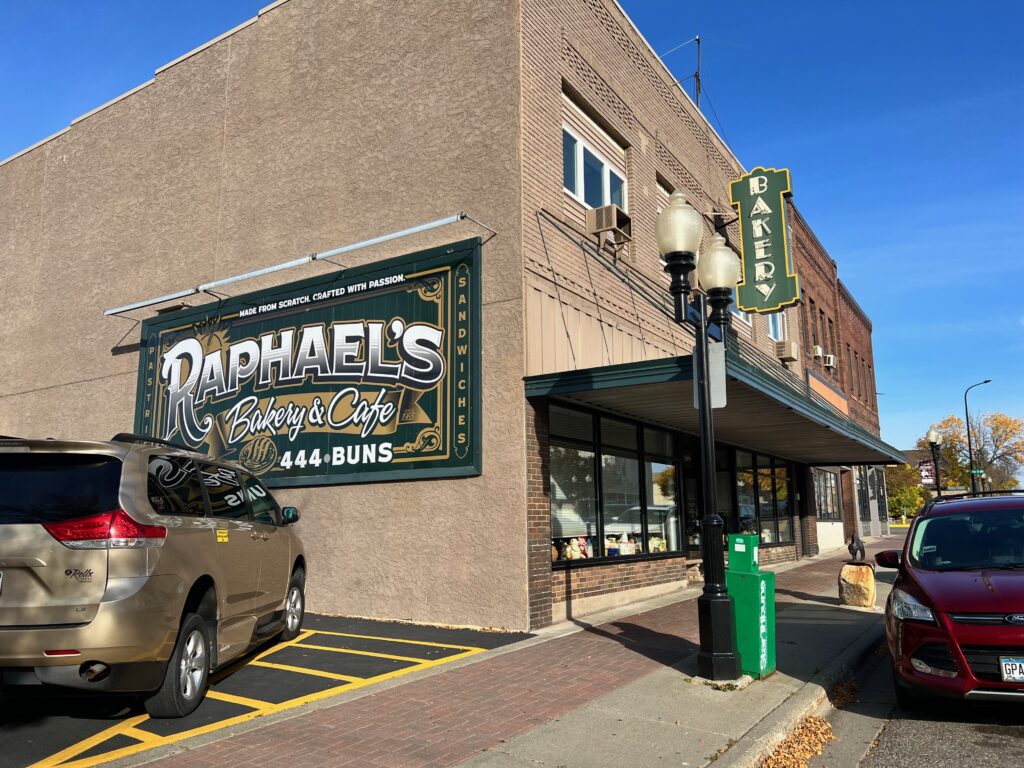 Hungry locals seem to flock here on Saturday mornings, which is comforting, so be prepared to wait a short time for a table.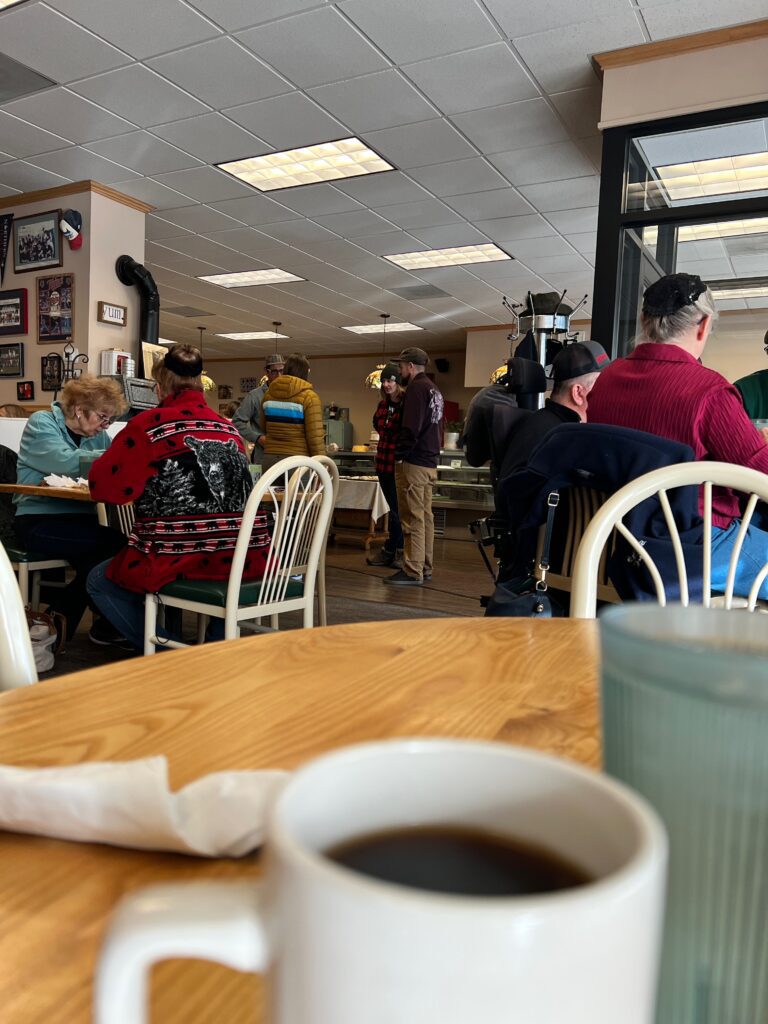 Local news clippings, sports teams, and family photos adorn the walls, along with the Lumberjack Award. If you sit near the windows, take note of the vintage cookie jars lining the storefront window.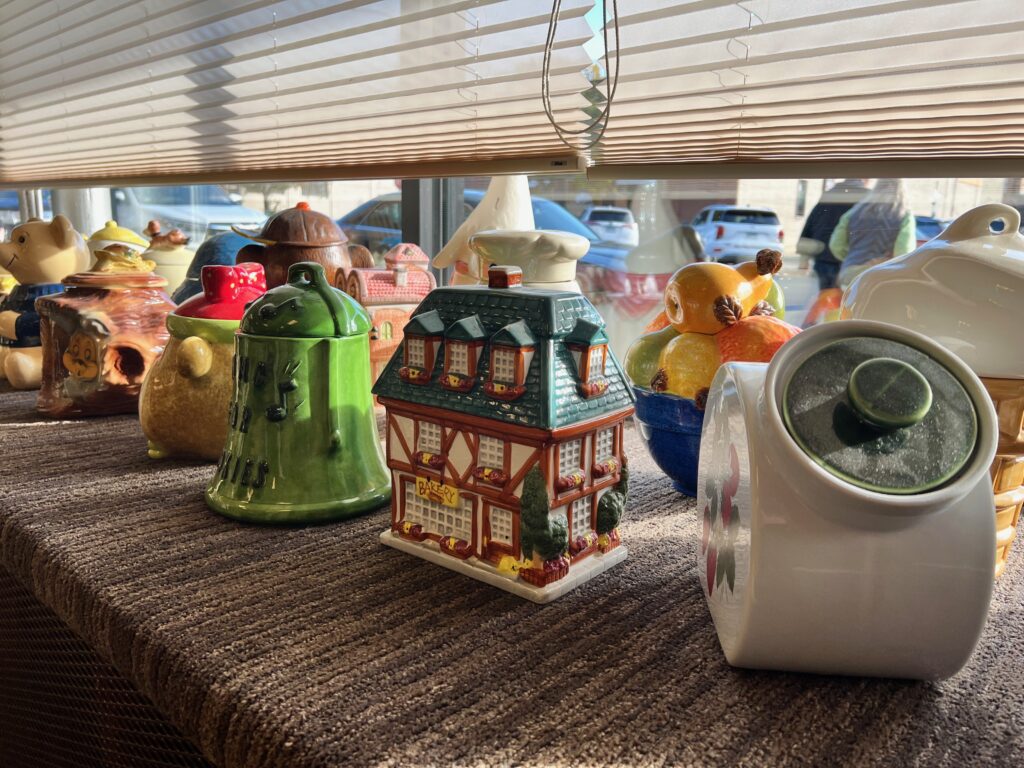 With Tiffany-style pendant lamps hanging over the many bakery cases, it all somehow goes together to create one of the most community-vibing spaces I've ever eaten at.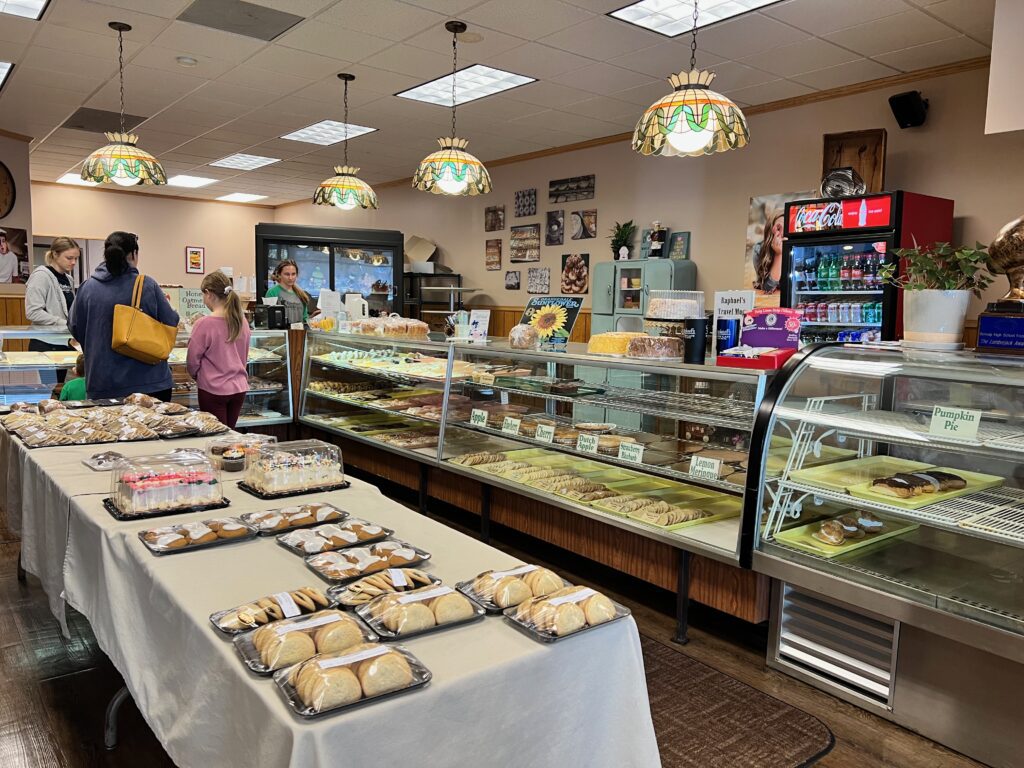 The menu has just the right amount of breakfast and lunch offerings, with an option to create your own sandwich on their bakery-fresh breads like pumpernickel, potato Dutch crust, onion rye, wild rice, sour dough, sunflower wheat and others. Raphalel's roasts their own ham, turkey and roast beef too.
Jason and I ate a light and basic breakfast, Jason had a sausage patty and cinnamon French toast, and I ordered ham and hash browns. Jason cracks a little joke about their Norwegian coffee in the podcast episode.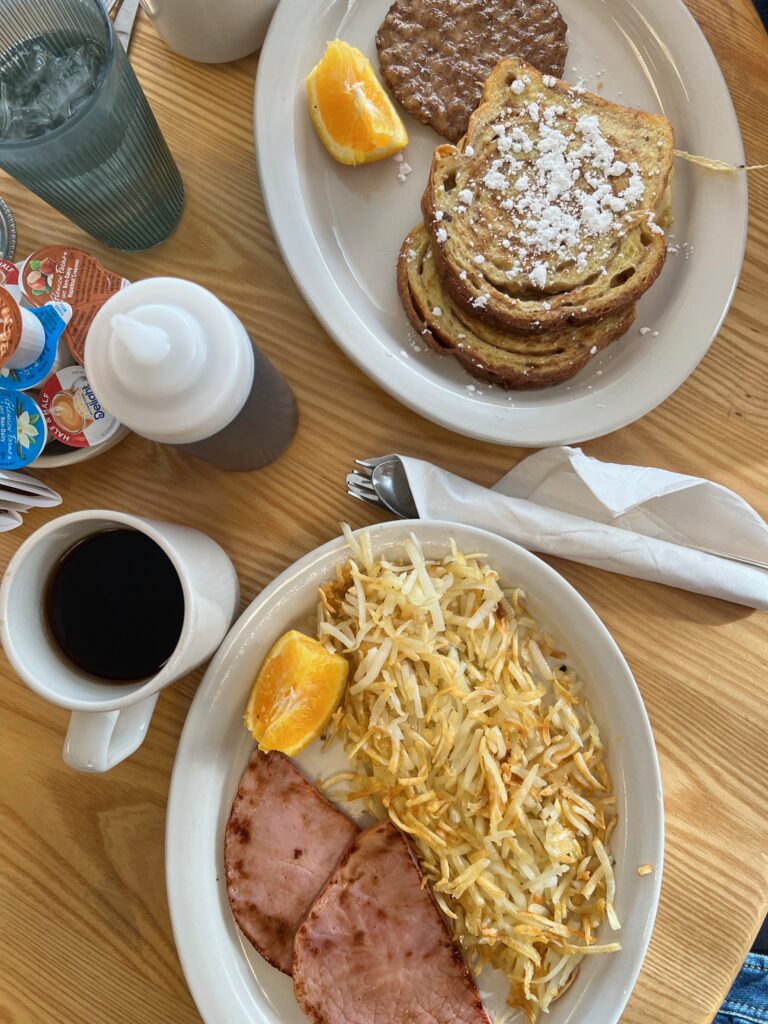 I didn't count how many bakery cases there are at Raphael's but there are maybe four, plus the middle section is lined with tables with fresh-baked goodies like cookies and cakes, and there are bread-filled racks against the wall.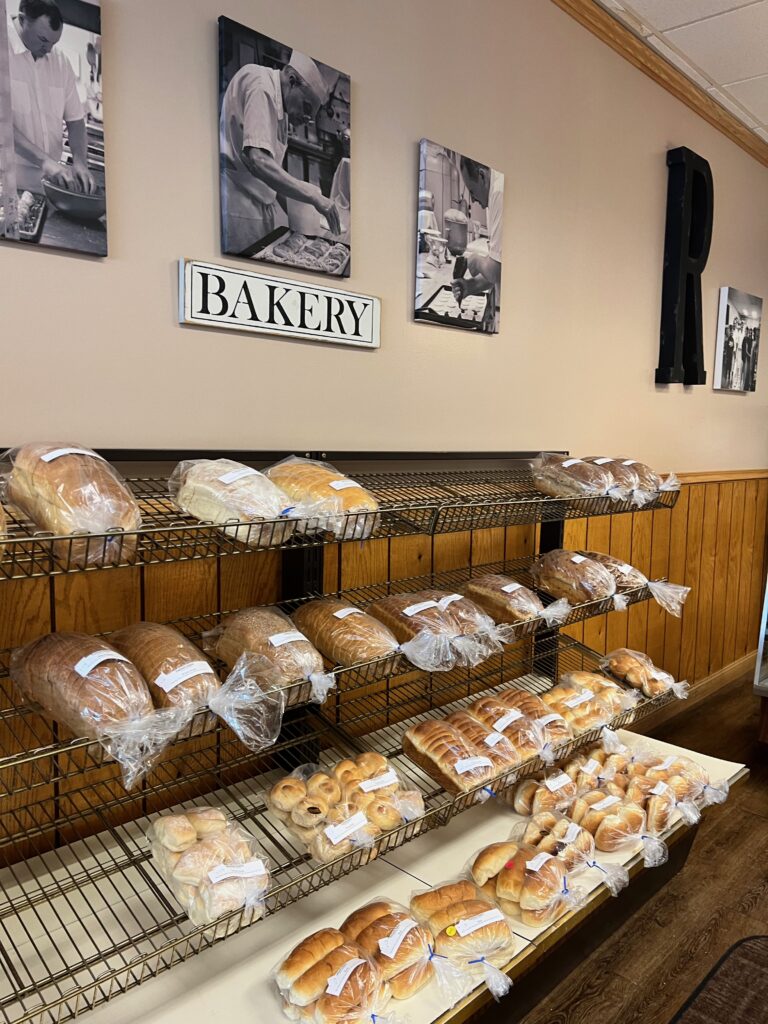 They had some of my favorite doughnuts, no, not blueberry (maybe they do but I didn't see them), they had whipped honeymooners, maple fried cinnamon, and at the time we were there in October, they had pumpkin cake doughnuts.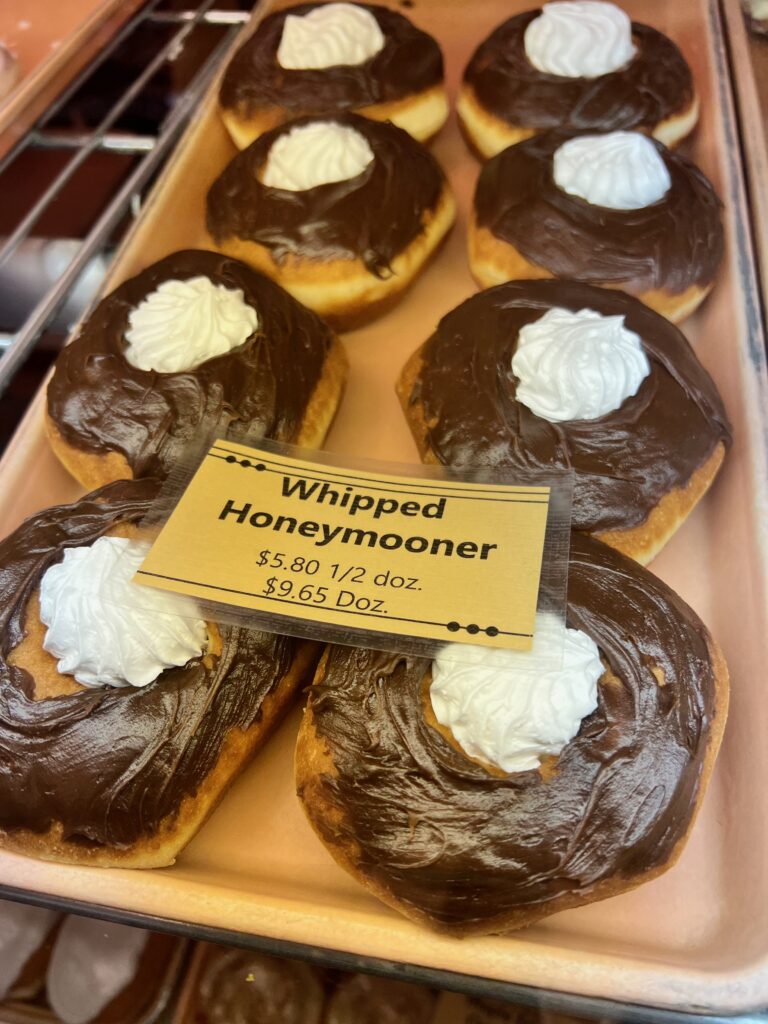 All were scrumptious.
Mi Rancho
If you're looking for good Mexican food, add Mi Rancho to your visit to Bemidji.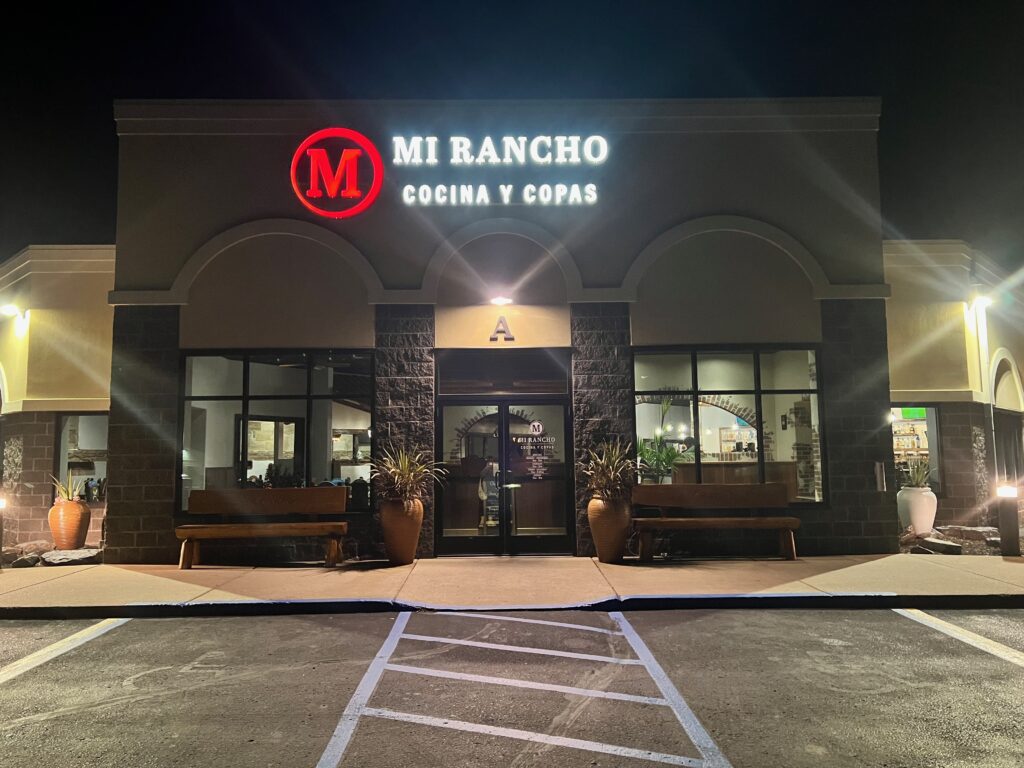 We raced there after the Saturday night OT hockey game. Even though it was shortly before the restaurant closed, they were welcoming and friendly and our meals were fresh and delicious.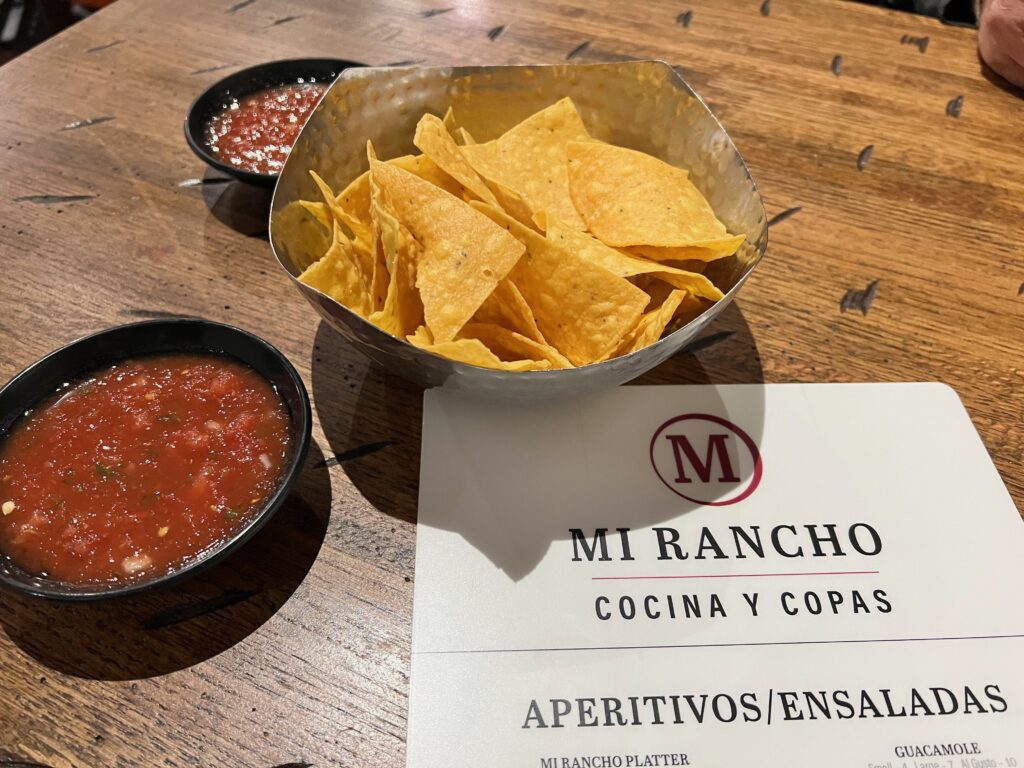 The chips and salsa were a great start. Jason ate a burrito or chimichanga and I ate what I could of a Tex-Mex platter which consisted of chicken and beef enchiladas, pork tamale, chicken taco, rice and beans.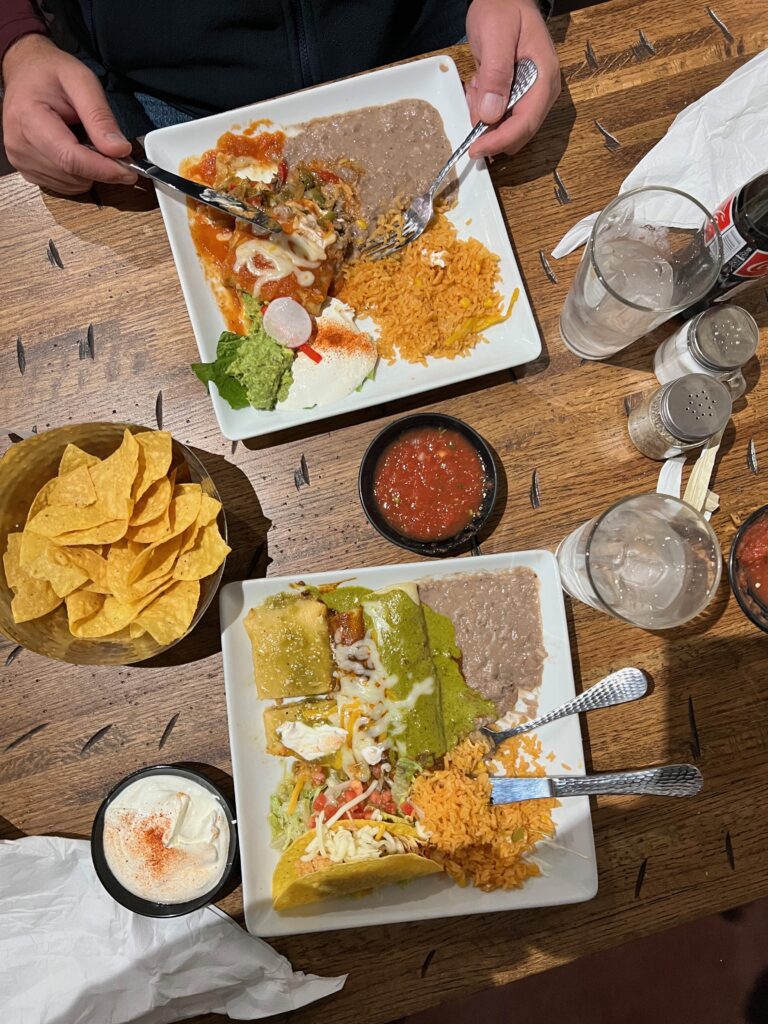 Minnesota Nice Cafe
We were able to squeeze in our last meal after attending early morning Mass at St. Philip's Catholic Church.
Minnesota Nice Café is your quintessential local, home-town café and I loved it! The menu choices, the friendly service, the food itself, the Sunday-morning crowd packing the restaurant, and the long waiting list that signified the locals weren't cooking at home and this was the place to be.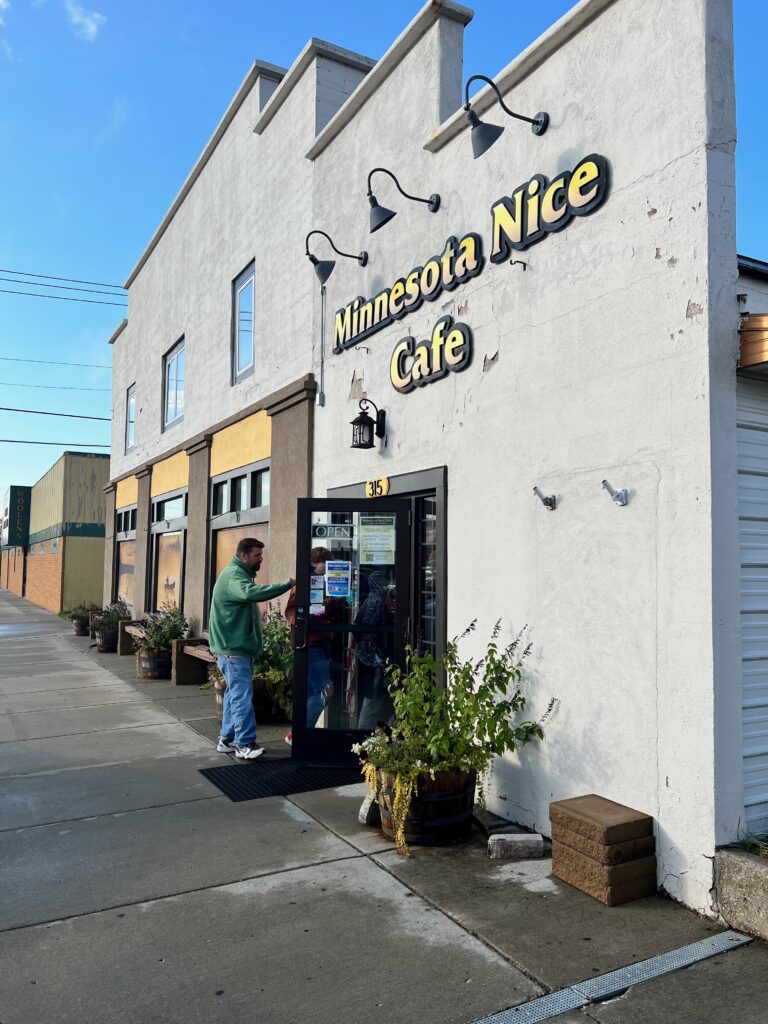 I could eat here 10 more times and still not order everything I'd like to try from the menu.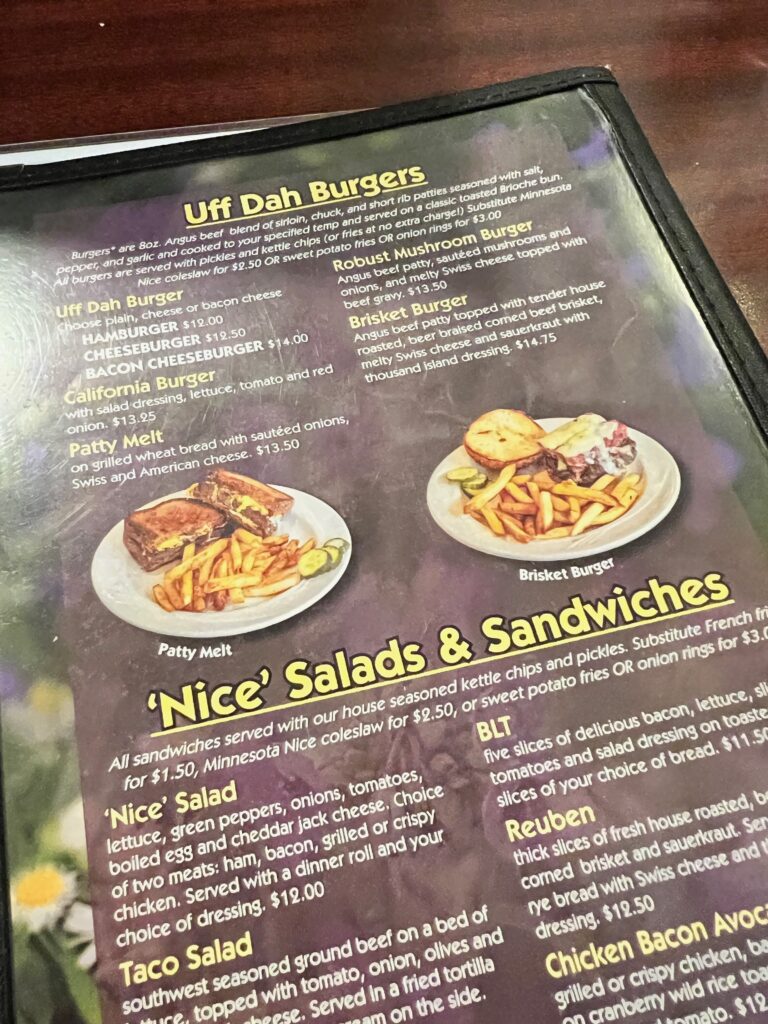 What we ordered: Jason ordered grits, and we both ordered the breakfast sandwich (grilled Texas toast, scrambled eggs, American cheese, Swiss cheese, and bacon), and hash brown casserole (yes, basically funeral potatoes!). We couldn't resist splitting an order of biscuits and gravy.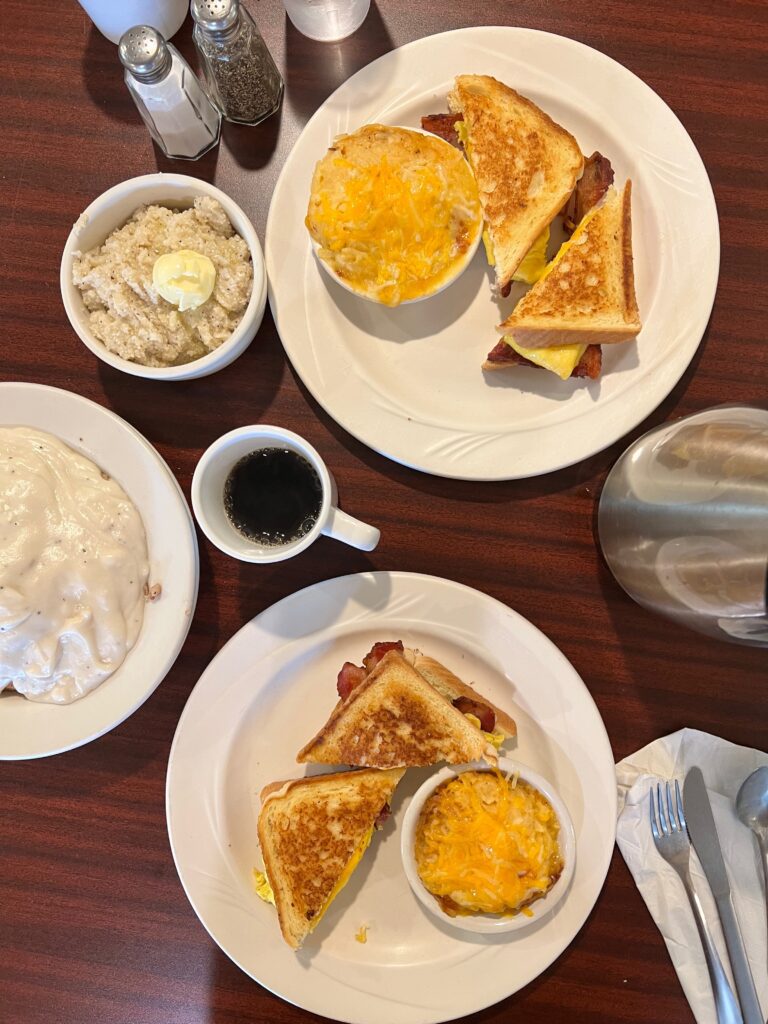 Portions are generous and the coffee carafe stays on your table. Nice. No hailing a server for coffee refills.
If you listen to this podcast episode, you'll see what significance I think the salt and pepper shakers have at a dining establishment. Because I bet you do the same thing.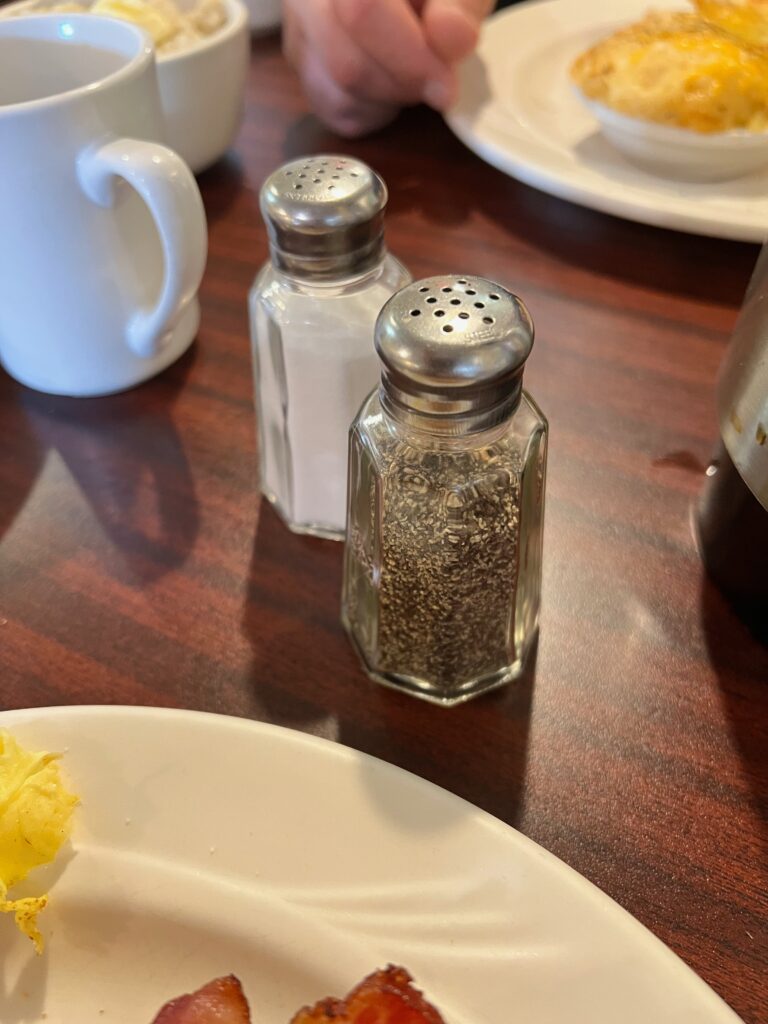 2 Places to Shop
We aren't much for shoppers, but we were excited to go to Bemidji Woolen Mills, which has been making woolen garments since 1920. Not only do they carry their own high-quality products, but they also sell everything from blankets, bedding, bags, hunting boots, and slippers, footwear, outerwear, and clothing for the whole family from brands like Filson, Pendleton, Smartwool, Dale Norway, and Turtle Fur.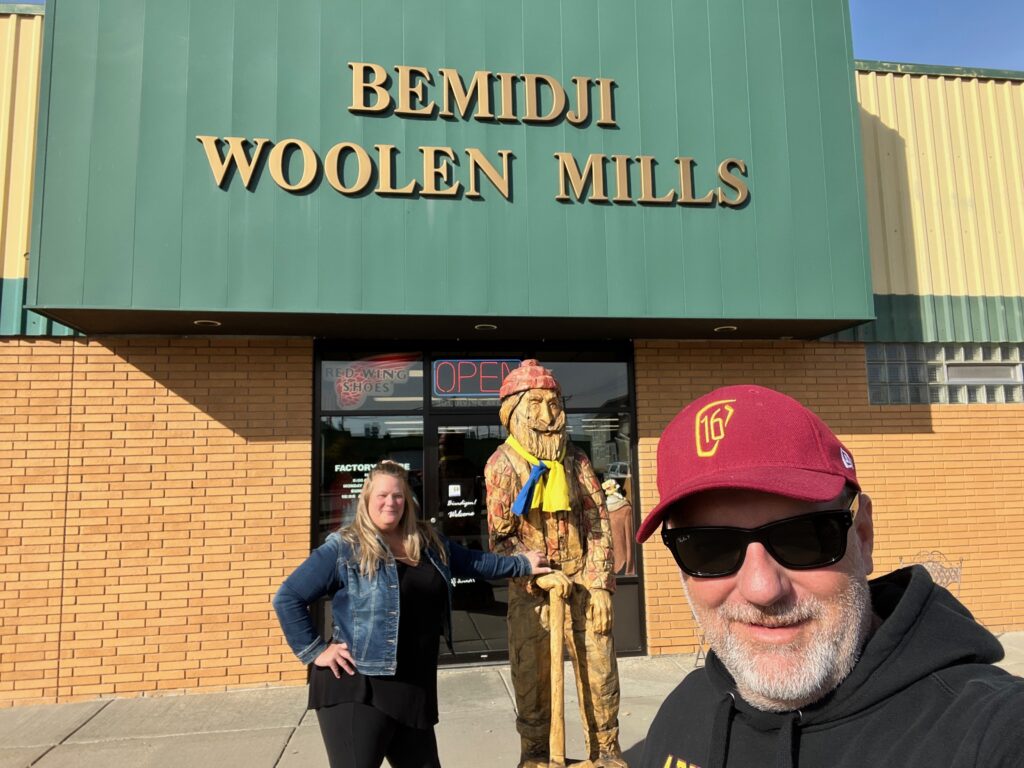 We met Bill Batchelder, fourth-generation owner and president and a real nice guy. He and Jason talked hockey for a while.
Jason bought a beautiful wool blanket which was made by the Faribault Woolen Mill, now Faribault Mill, but I don't see that brand on the list anymore so it could have been the last of their inventory of Faribault wool blankets.
We thought we were buying a blanket made by Bemidji Woolen Mills but we didn't look at the tag until we got home so that was our mistake. It's funny because we already have a pile of blankets from the Faribault Mill. But Jason's happy because he also got a locally-crafted wool shirt that will probably last forever.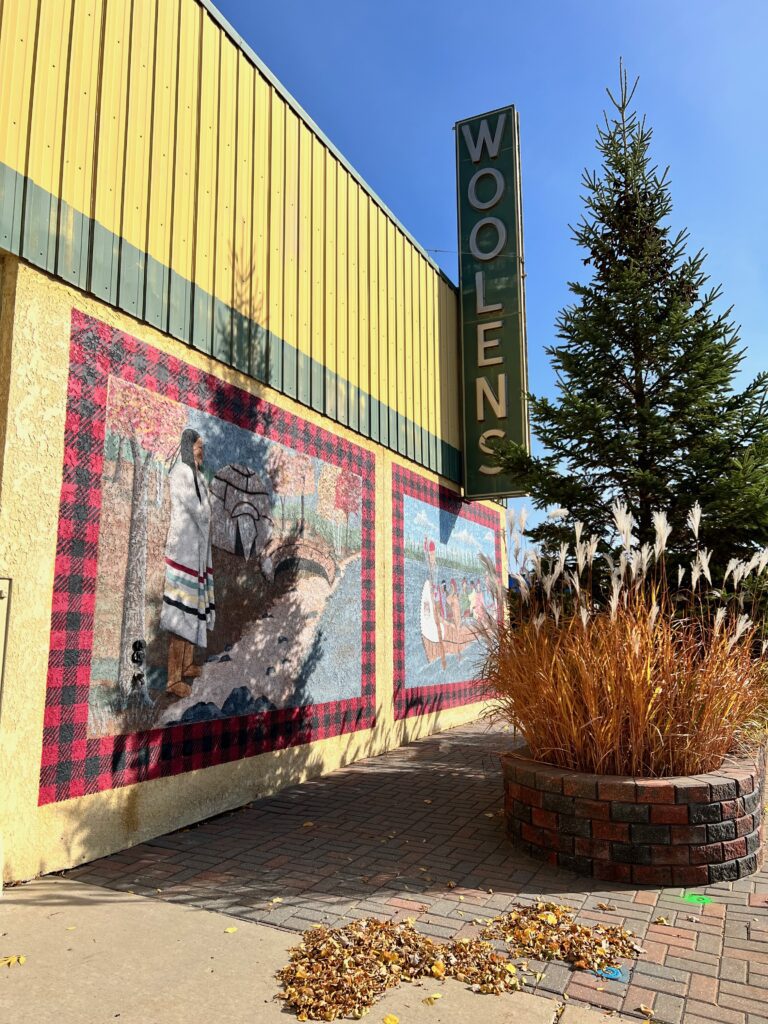 And you betcha, the wool mittens I got are keeping my hands warm this winter.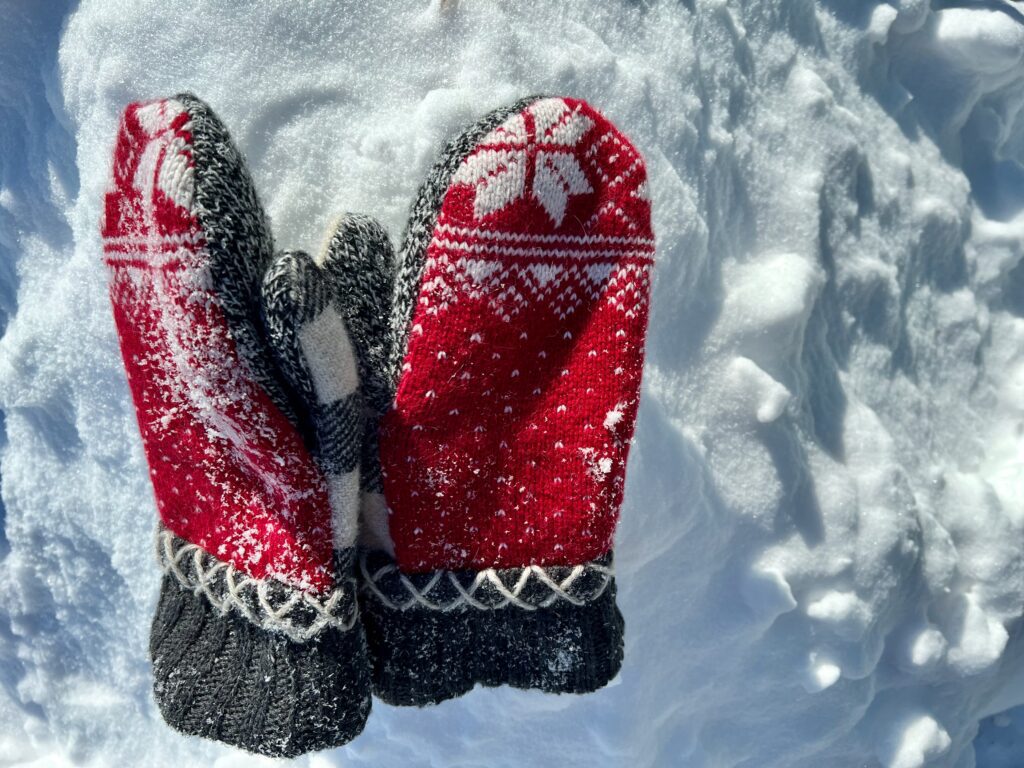 Bemidji Woolen Mills is a wonderful made-in-Minnesota option for gift buying because you can also shop online.
If you need Bemidji postcards, stickers or books, Bemidji Woolen Mills has a nice selection. The post office is just up the block if you need postcard stamps.
Meanwhile, if yarn is your thing, they have a room just for you.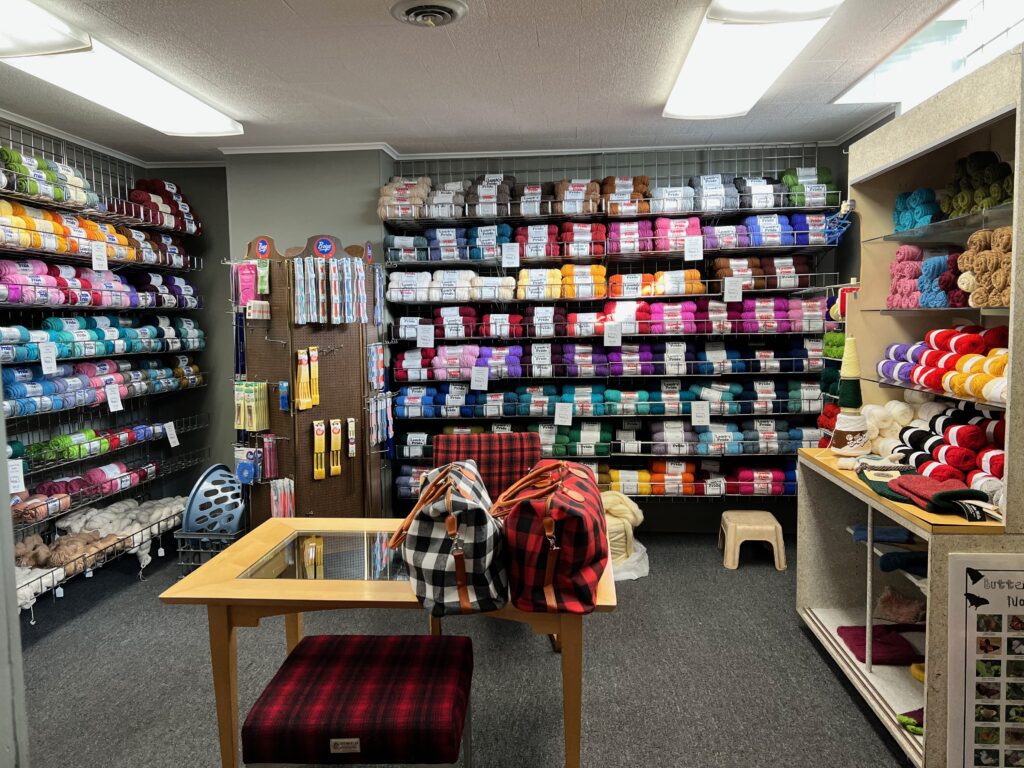 Four Pines Bookstore
Jason and I are both suckers for a good indie bookstore so we popped into Four Pines and bought a few books. No luck finding a community cookbook though.
Where to Stay Near Bemidji
If you're looking for nostalgic accommodations with a blend of rustic and contemporary, Ruttger's Birchmont Lodge is your place. You couldn't ask for a better lakeside setting for dining, drinks at the bar and cabins on the beach.
I'm sure Ruttger's Birchmont is a total blast in the summer.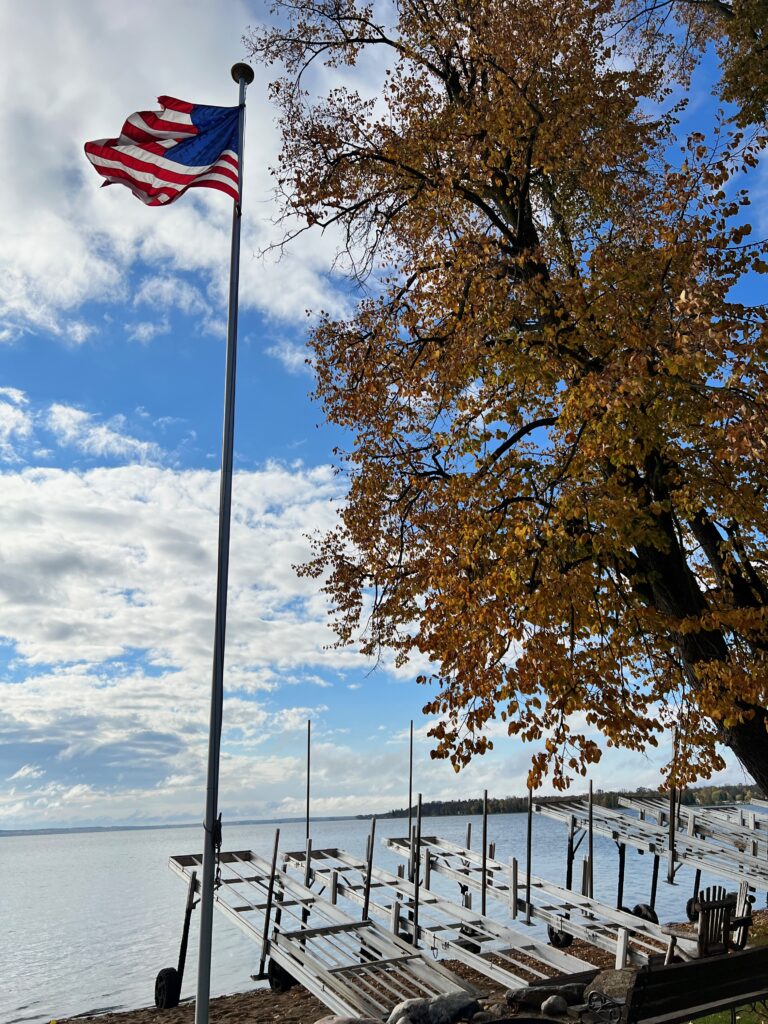 And even if it rains or snows, you can cozy up by the fireplace and play board games in the main lodge.
What I wouldn't give to spend a month here in the winter and do nothing but write.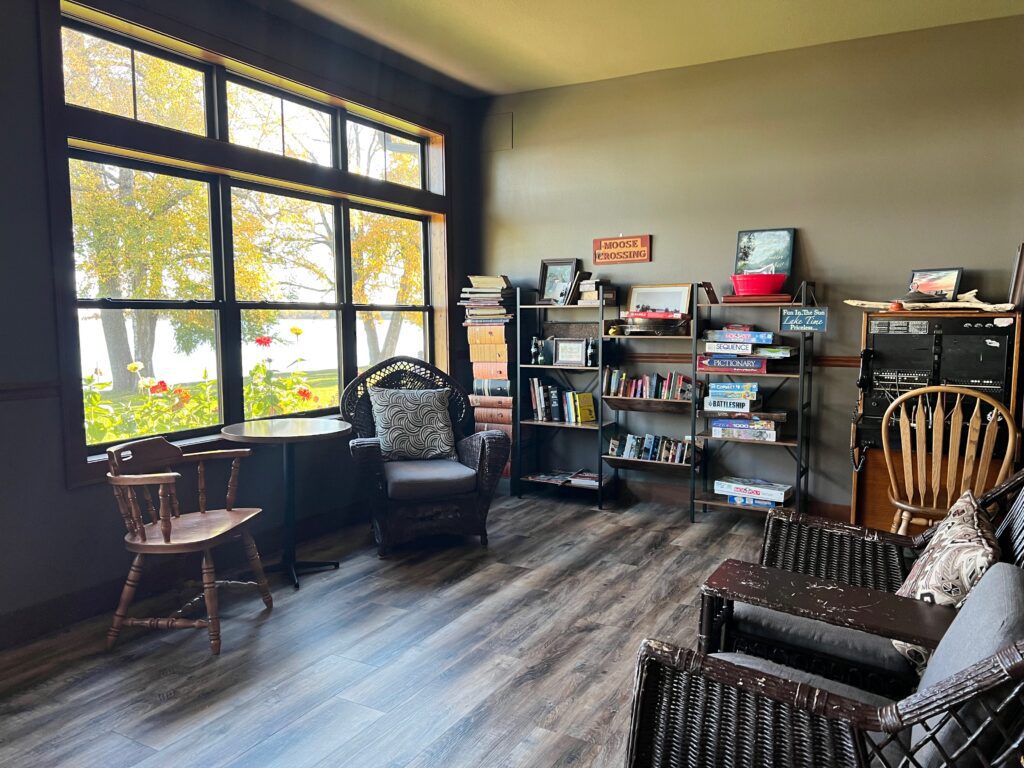 Plus if you are lucky, Reggie the house dog will cuddle up with you. I'm not staying anywhere else when I'm in Bemidji.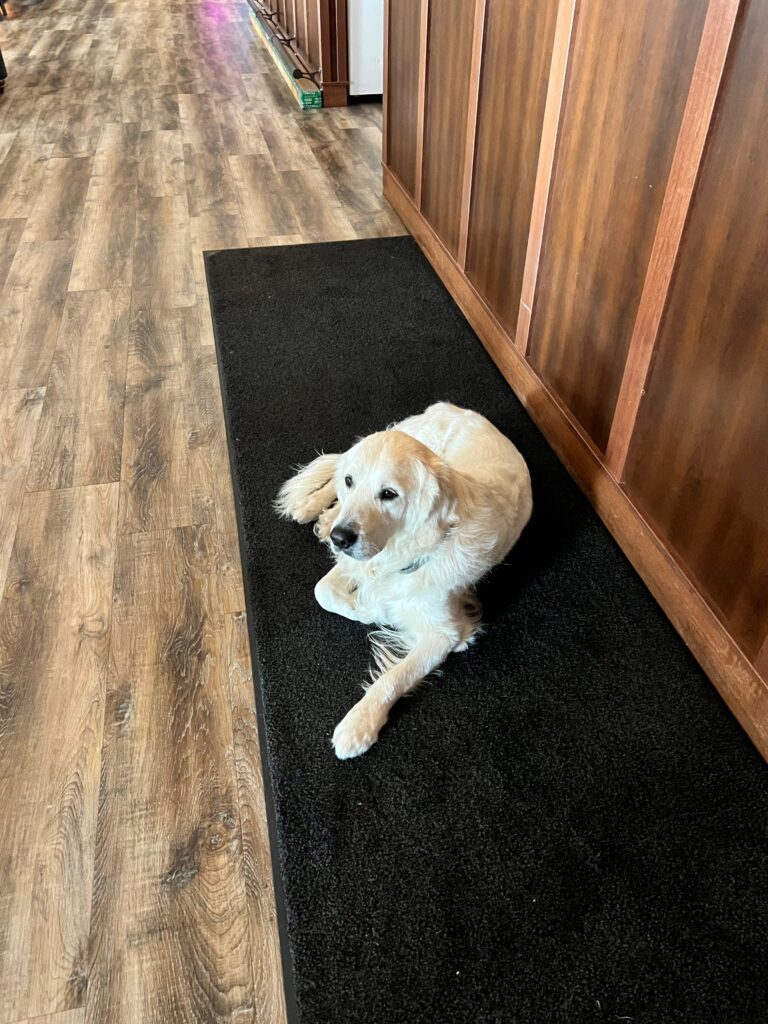 Outdoor Activities
Since we visited in October, I don't have a lot of recommendations for outdoor activities, other than Neilson Spearhead Center on Spearhead Lake (11 miles south of Bemidji) and Itasca State Park (about 40 miles southwest of Bemidji), both of which offer miles and miles of wilderness to walk, hike, bike and take in nature. However, these two places were a highlight of the trip for me, and I'd highly recommend them to anyone.
Neilson Spearhead Center
Off the country roads and tucked among the trees, we happened upon Neilson Spearhead Center. We'd seen a sign for a golf course so we'd been driving around for a while trying to find it.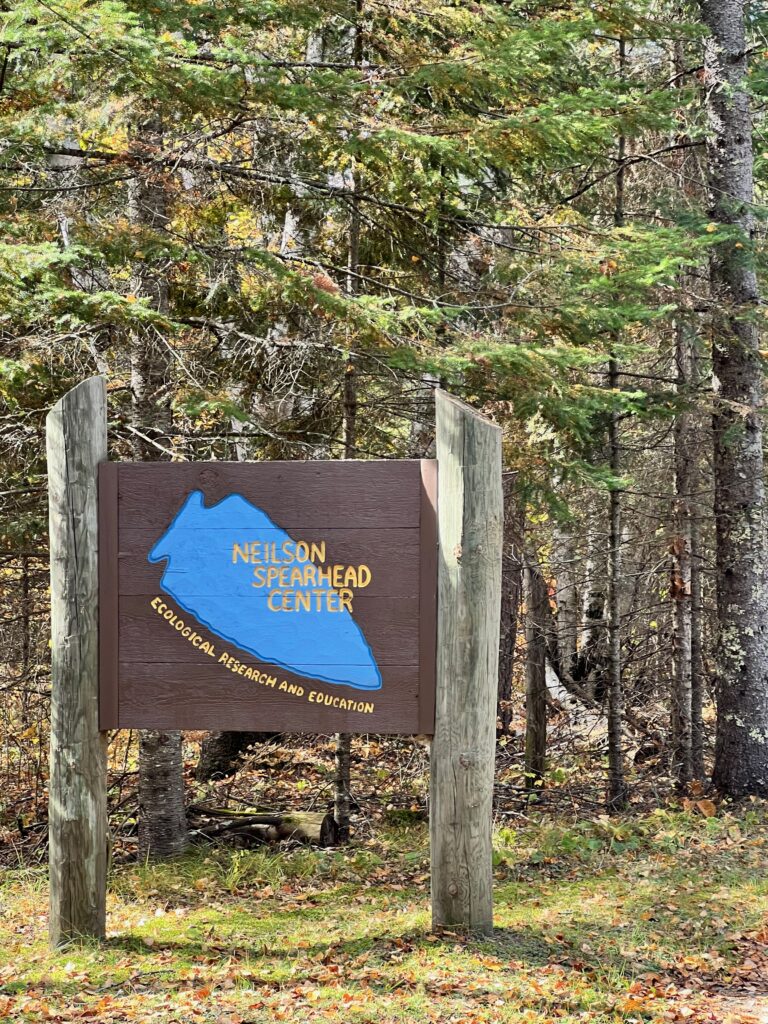 But what we found was so much better. It was my absolute favorite thing we did on this trip. I think mostly because we had this wilderness area all to ourselves—we didn't see a single person other than one of the caretakers who lives in the earthen home on the property.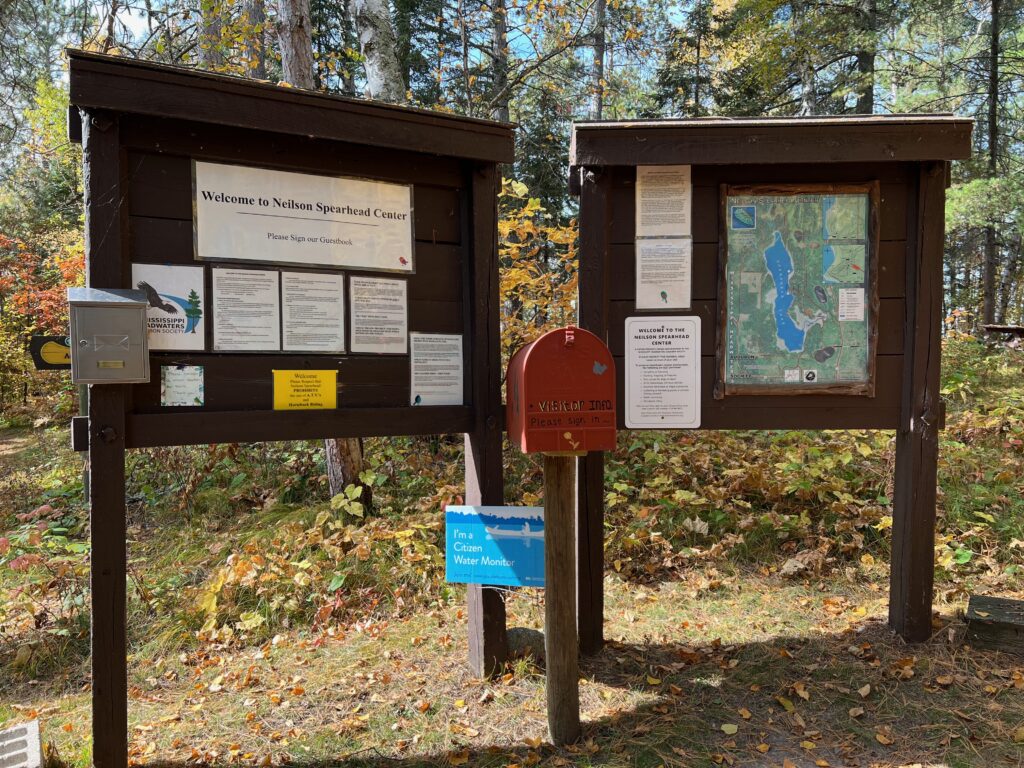 According to the center's trail map, you can hike much of the conservation's 460 acres surrounding Spearhead Lake.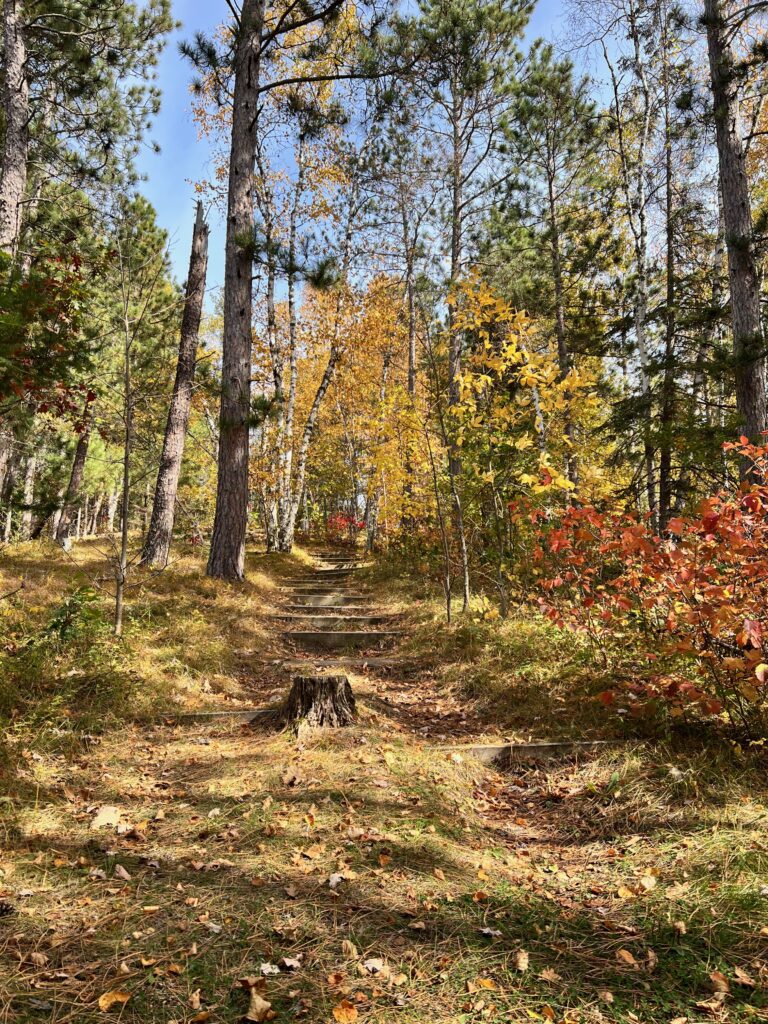 I'd like to pack a picnic and a book and come spend a day here exploring and relaxing in the shade of the trees and the scent of the pines.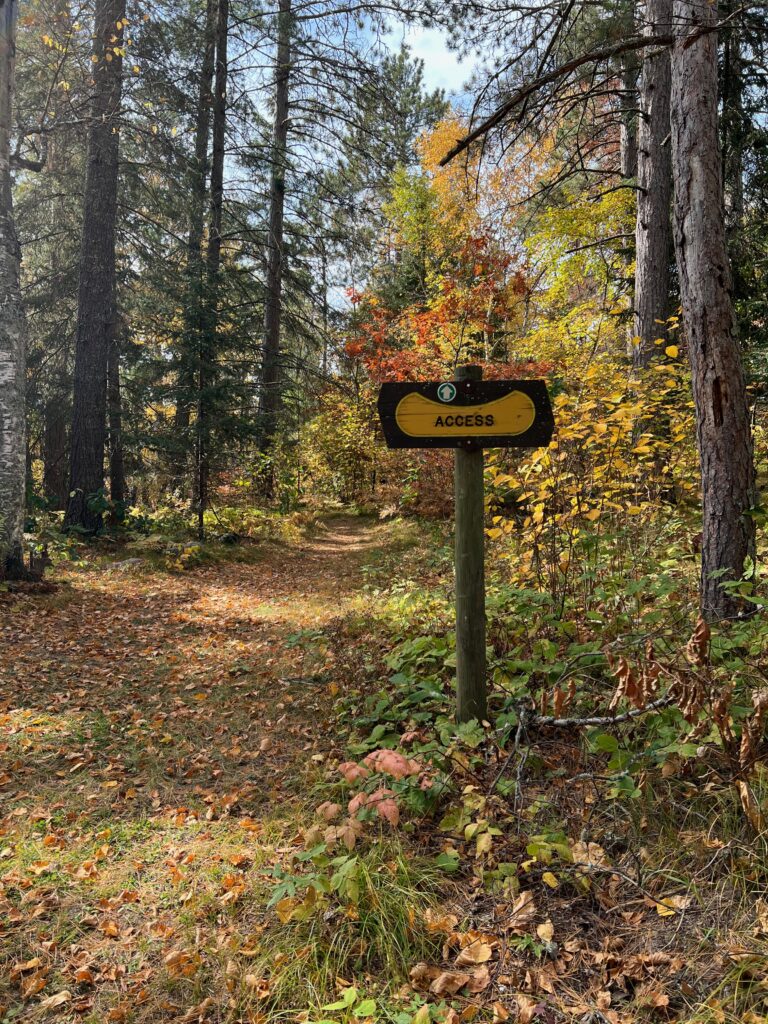 The fall colors will be etched in my mind forever. It was a beautiful, peaceful day out there.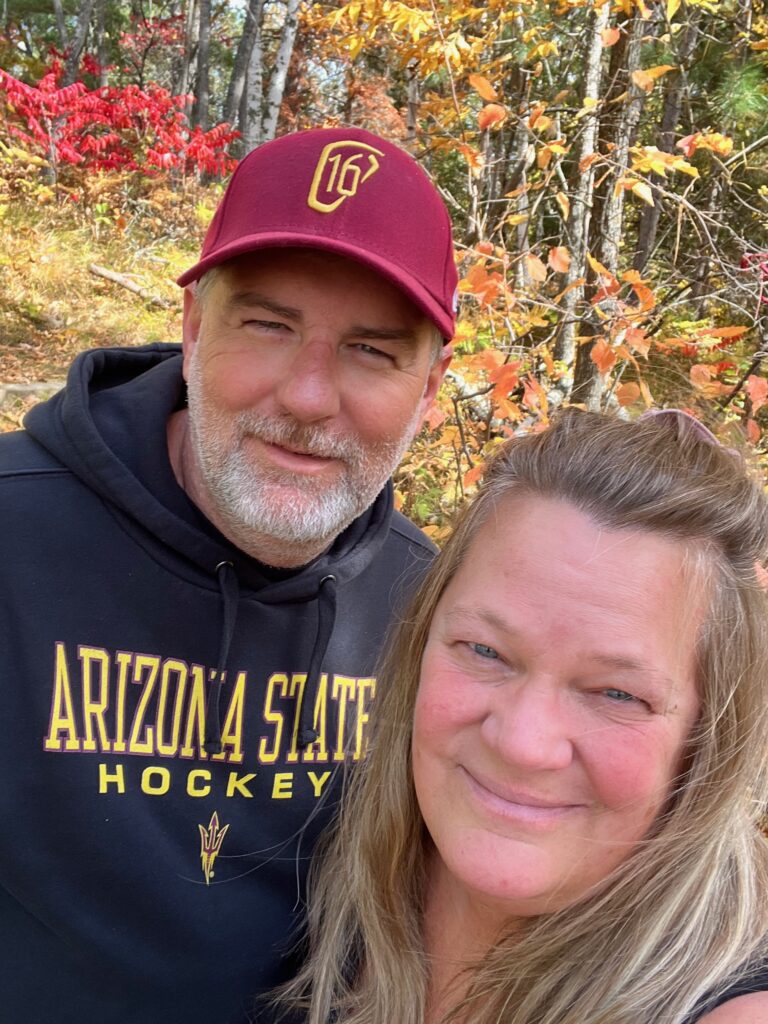 We spend a while exploring the forest and found the old Jeep shed.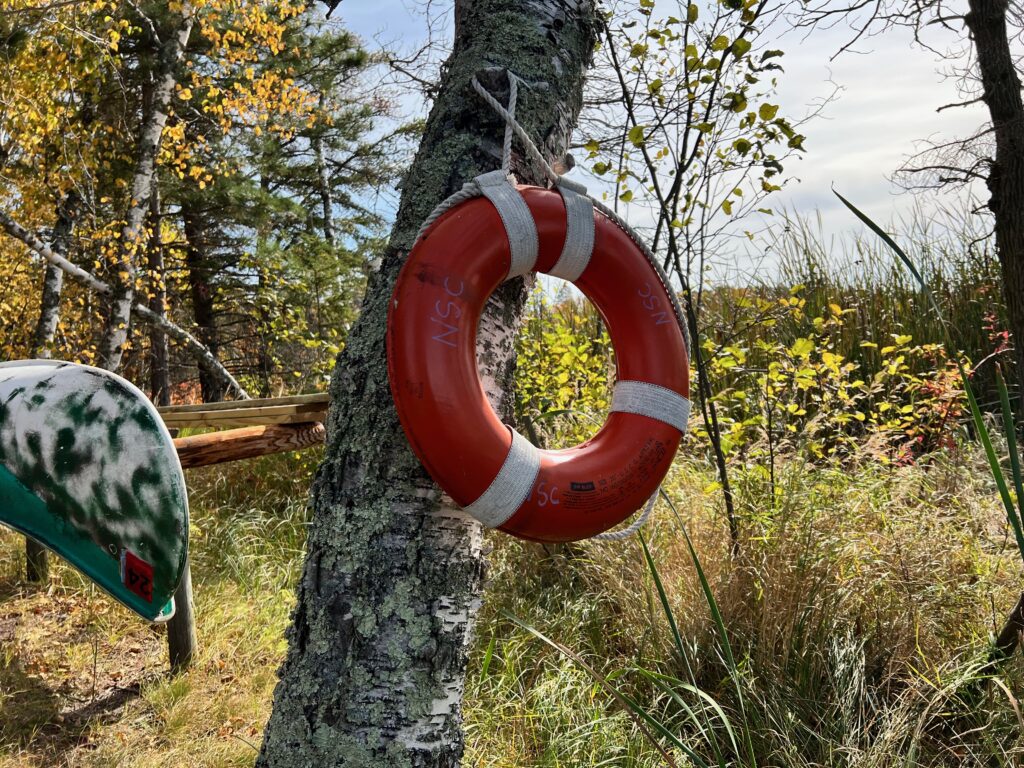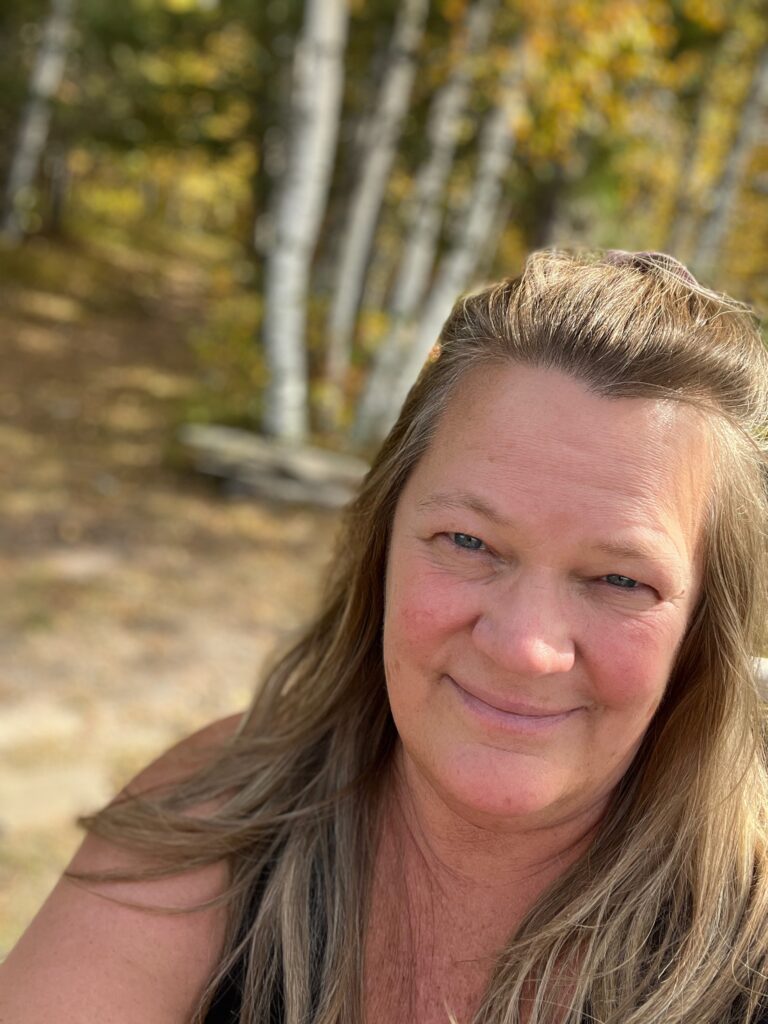 We talked to the caretaker lady for a while and learned a lot about the history and stewardship of the land, wildlife, and Lehmann Lab.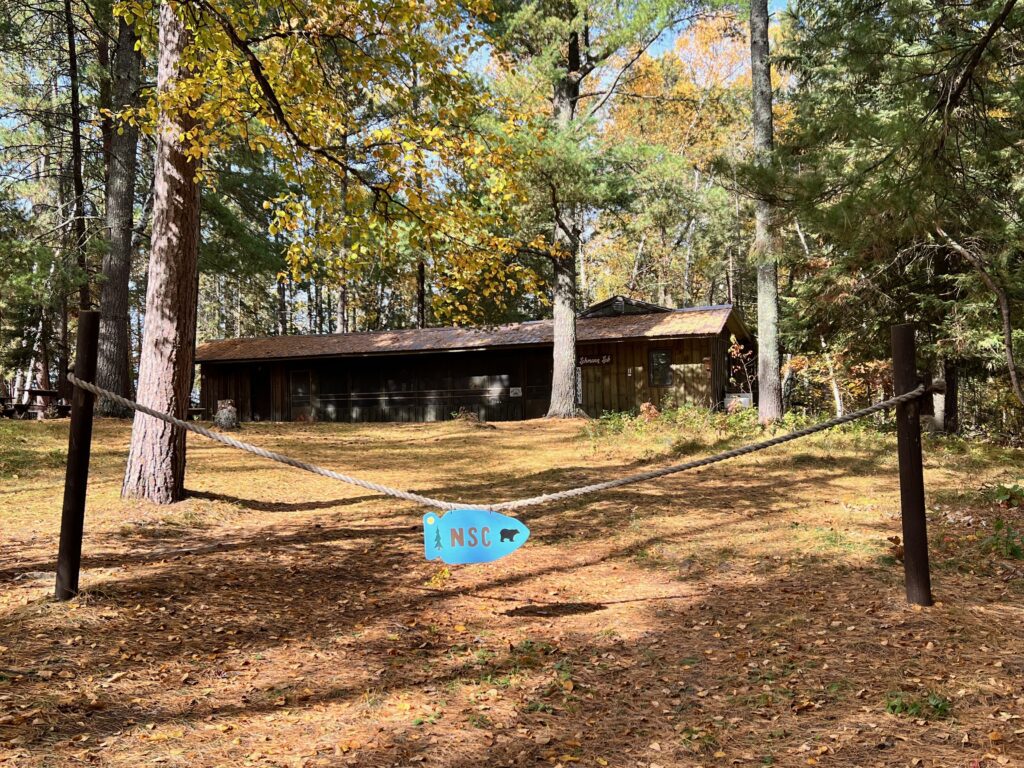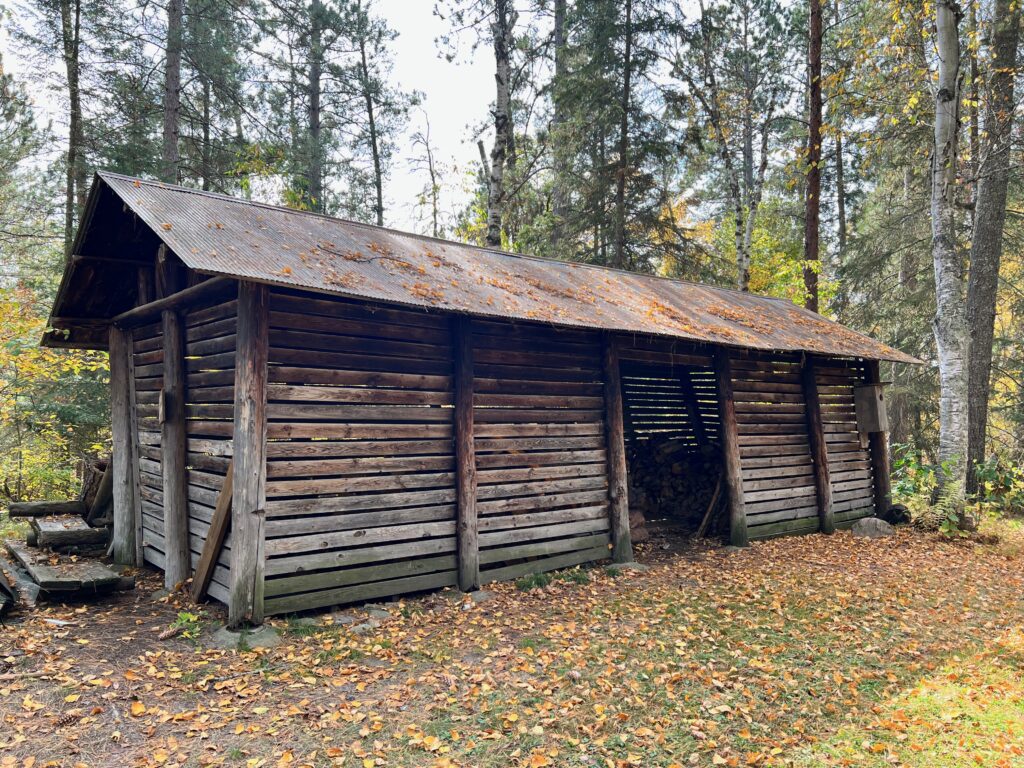 She told us she gave the outhouse a facelift this past summer. It was cleaner than most public restrooms I've seen!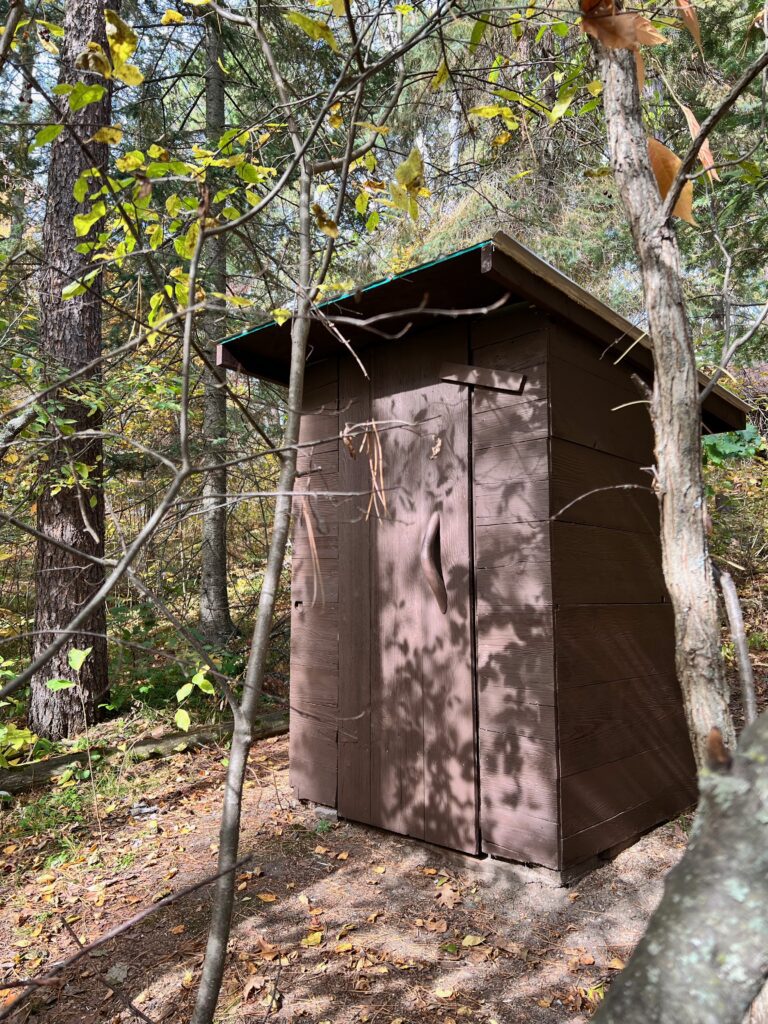 The Neilson Spearhead Center is a gem of a place donated to Minnesota by the Neilson family. I hope you feel how special it is too when you get here.
Itasca State Park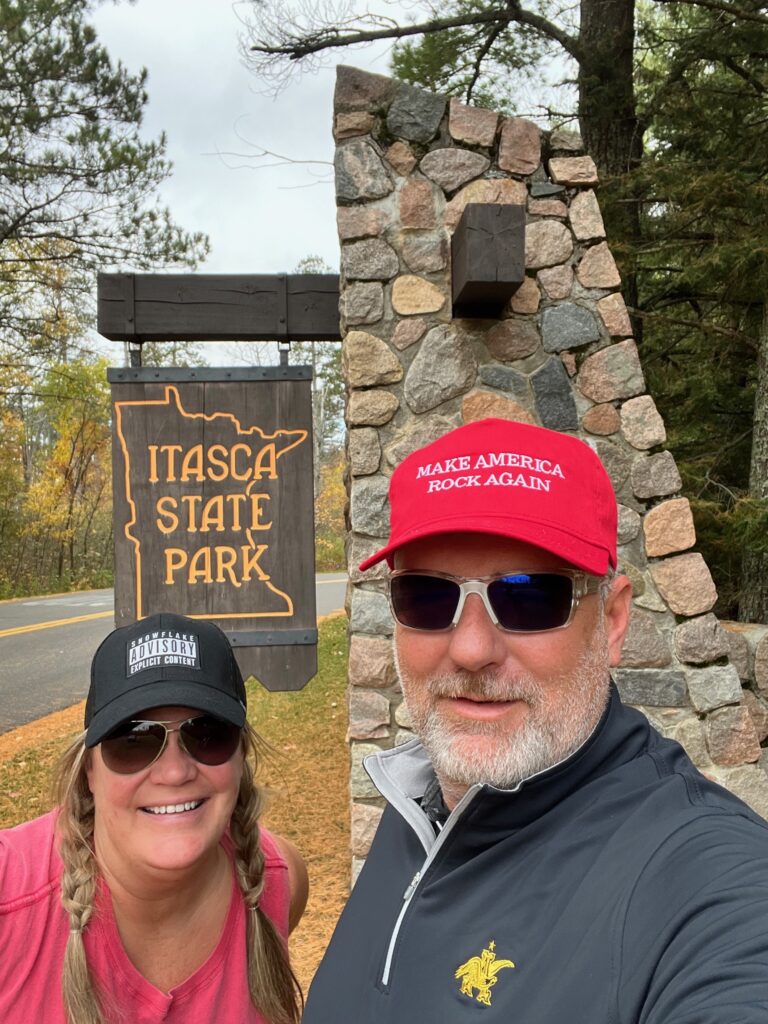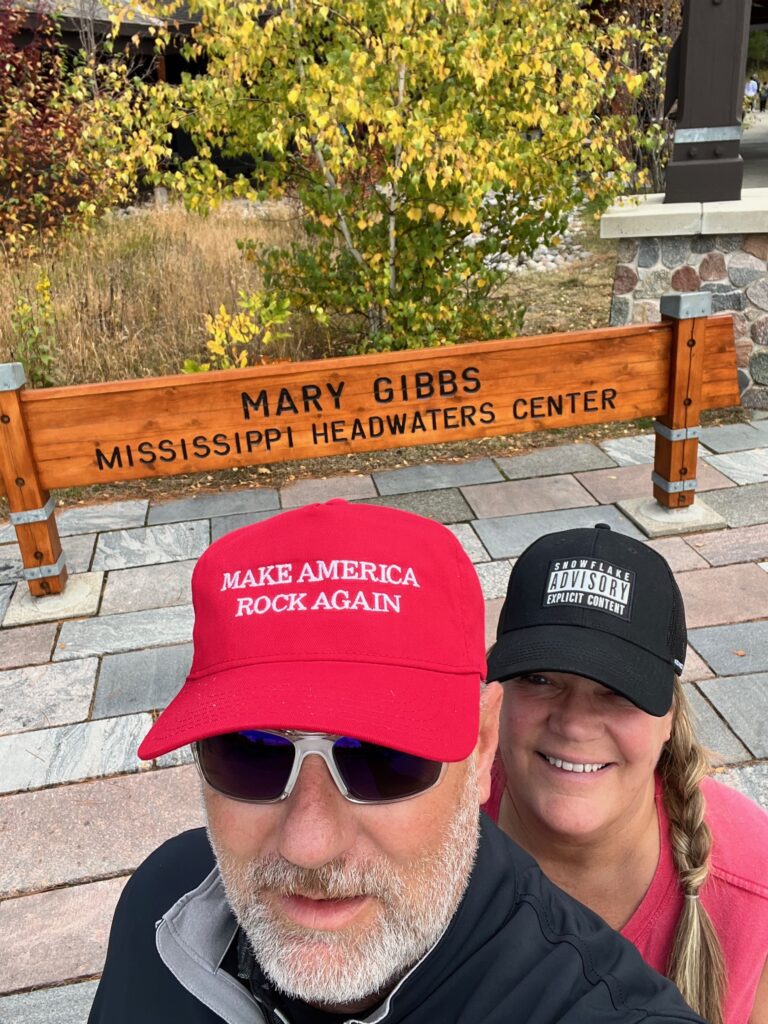 If you've ever wanted to walk across a river, you can cross the Mississippi here. It's a nice little walk from the Mary Gibbs Mississippi Headwaters Center in Itasca State Park. Thank you to Jason's sister Betsy who recommended this stop.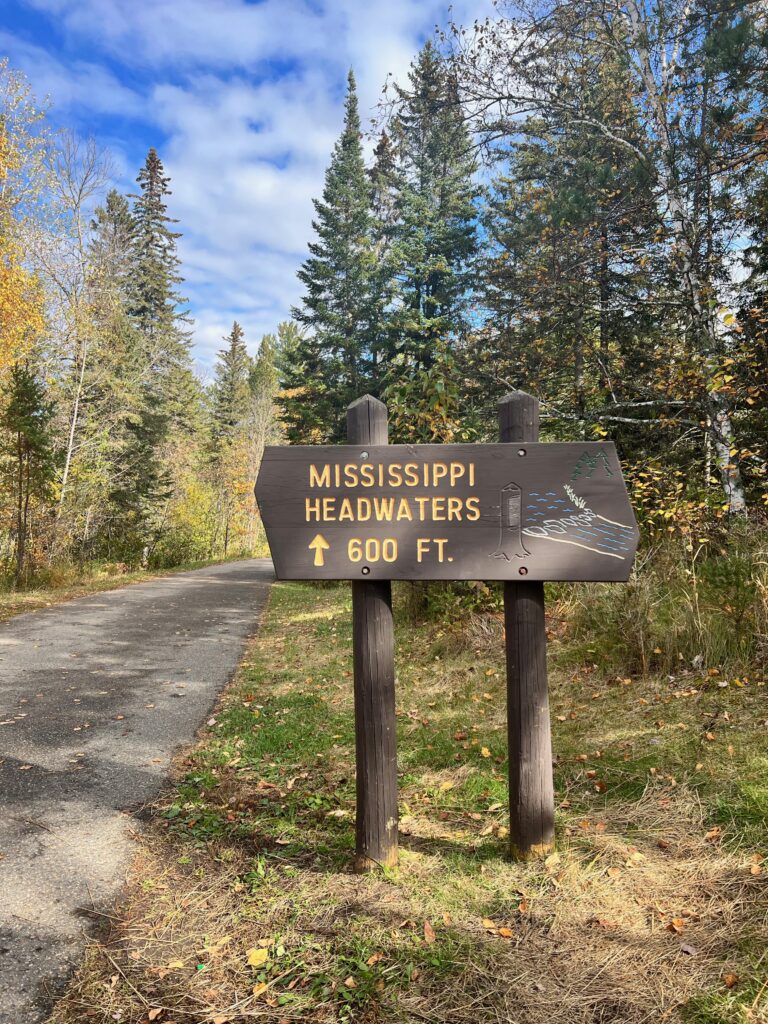 Take the long way back so you deserve an ice cream cone at the café.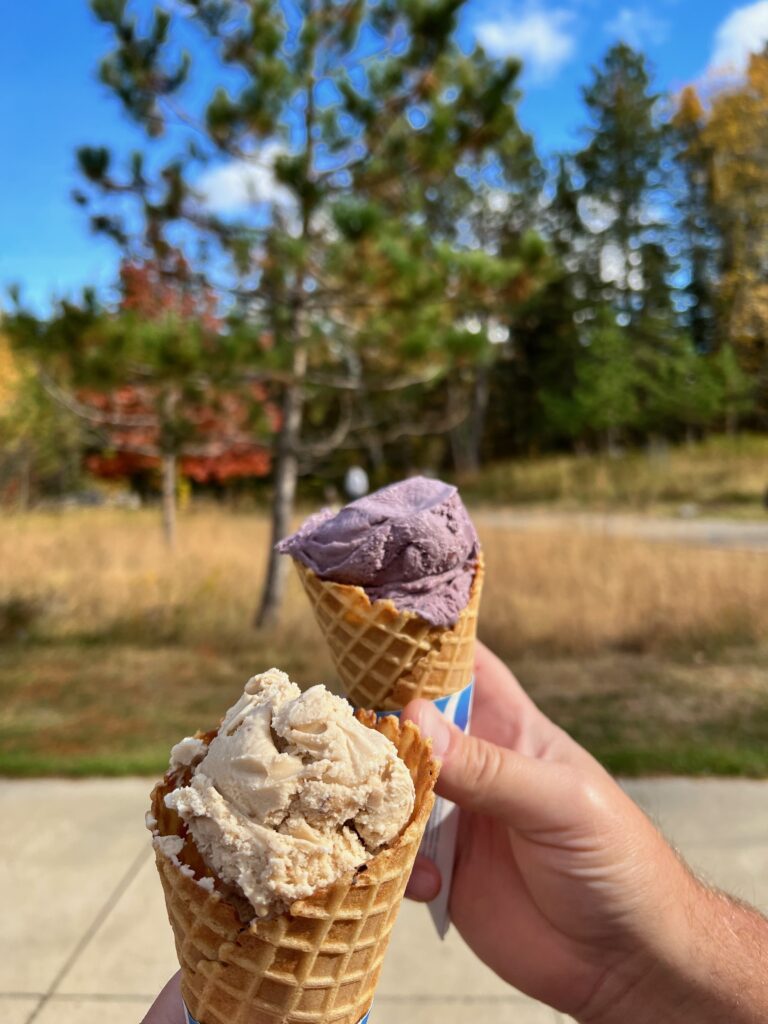 We spent time at the Jacob V. Brower Visitor Center which is open all year. There's a gift shop (more postcards and stickers!) and interactive educational exhibits. This is where Jason was surprised by a black bear.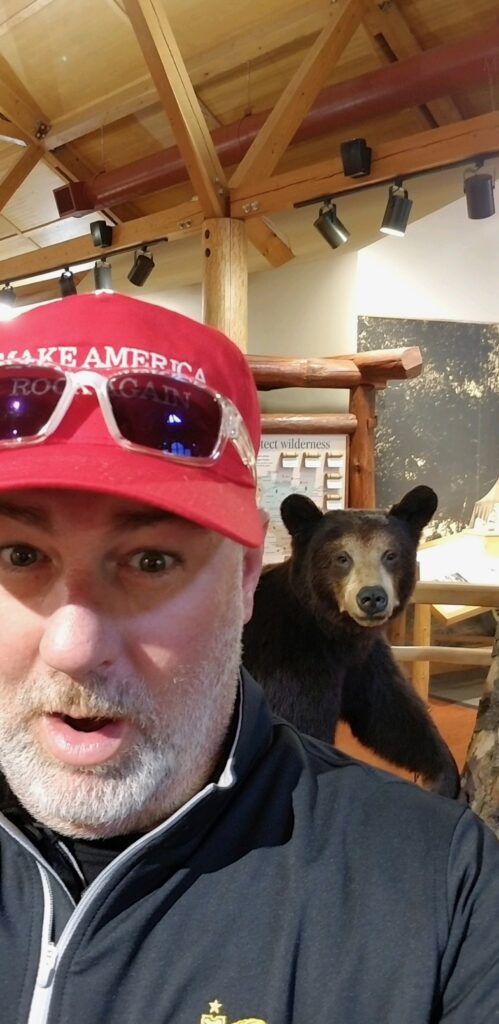 Outside the Jacob V. Brower building near the entrance, you'll see a mailbox painted in a fun motif. It's a real USPS mailbox that you can drop your stamped postcards into.
Although some of Itasca's services are closed in the winter, the park offers plenty to do like the winter trails for skiing, snowshoe and the Twinkle Light Trail.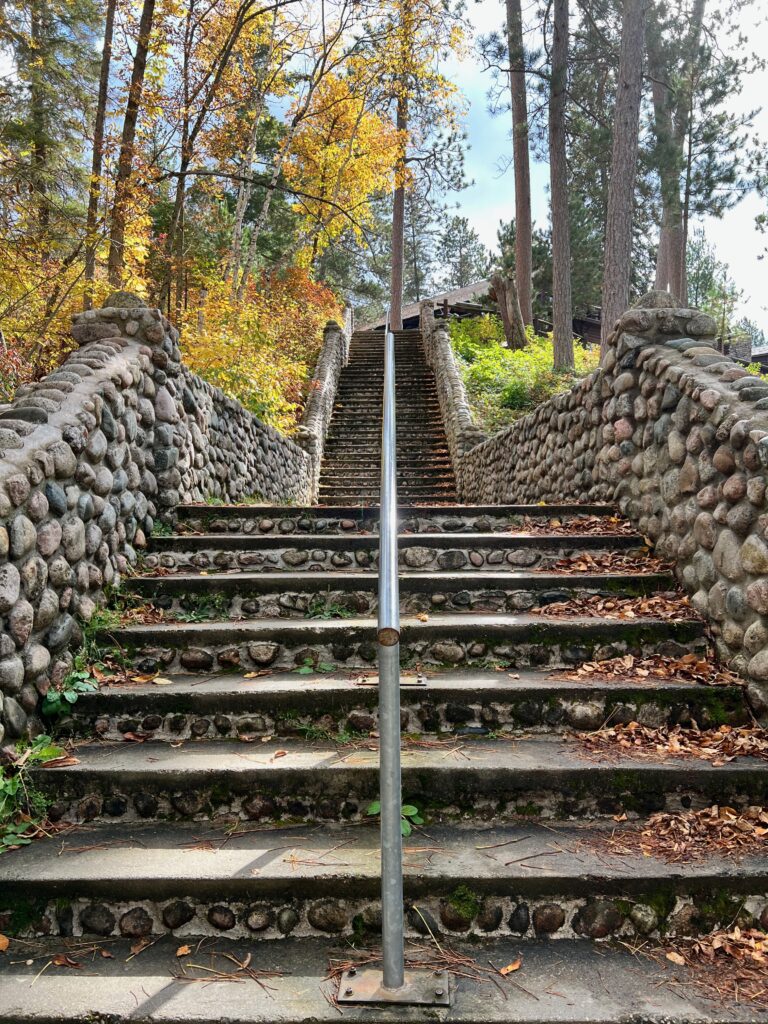 The Douglas Lodge and Restaurant were closed for the season but I would like to go when it's open and stay a night in the lodge and take a cruise.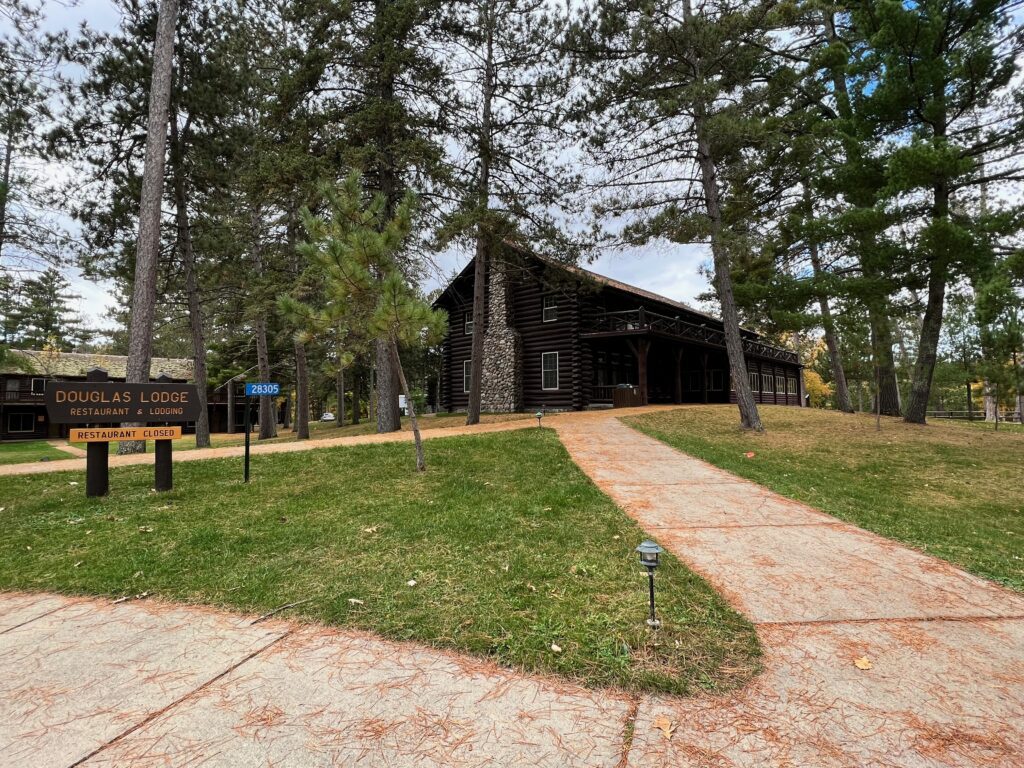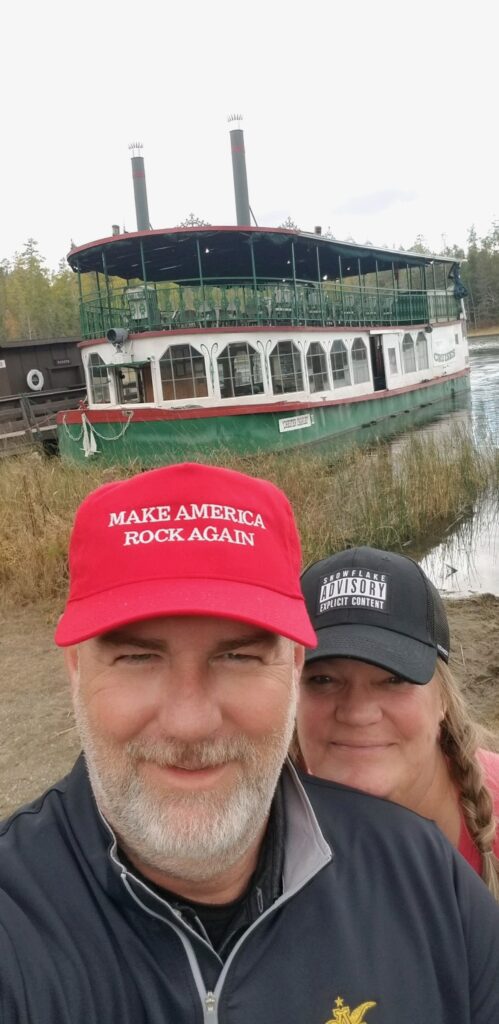 In the summer at Itasca State Park, there's tons of camping, swimming, playground fun, picnic areas, trails, naturalist programs, birding, wildlife, volleyball, boating, park tours, and fishing. Rentals like bikes, pontoons, canoes, kayaks, and paddleboards available in the park at Itasca Sports.
For a colorful drive out of the park, take the Wilderness Drive Scenic Route.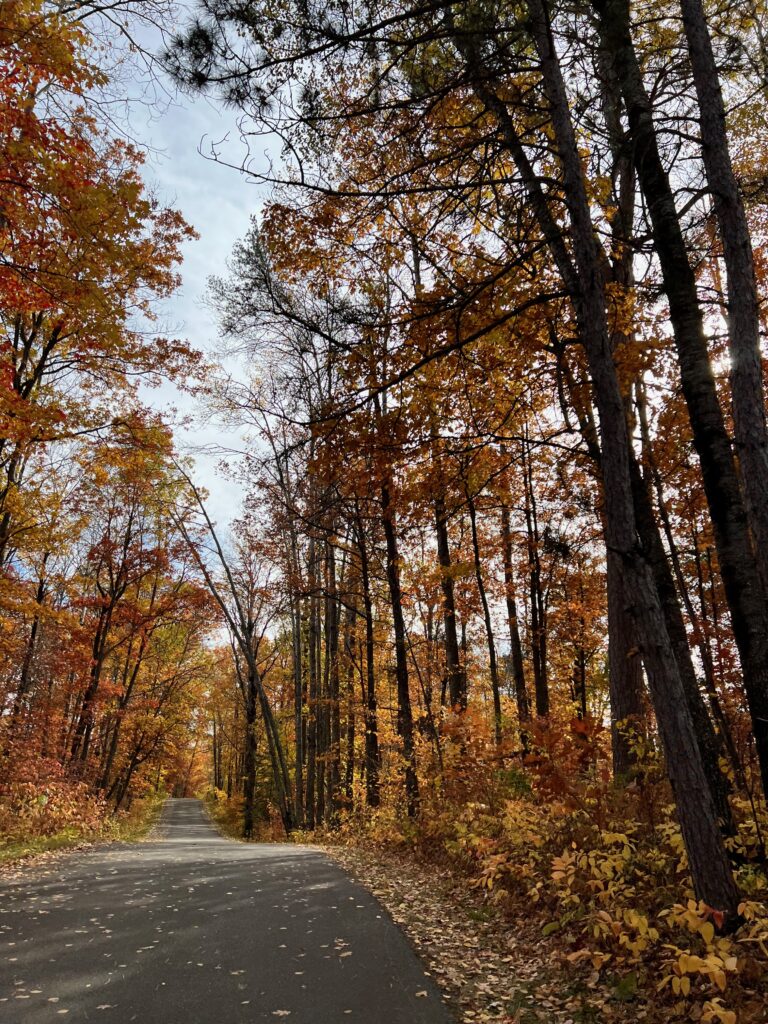 Maybe you'll get lucky and see a bear or wolves. We did not, even though we hoped to.
Have you been to any of these places? What other fun things do you do in the Bemidji area?
I hope you enjoy the Funeral Potatoes & Wool Mittens podcast episode where Jason and I talk all about our trip.
Sweet wishes and safe travels,