So What if I'm a Rebel: Dark Cherry Chocolate Cookies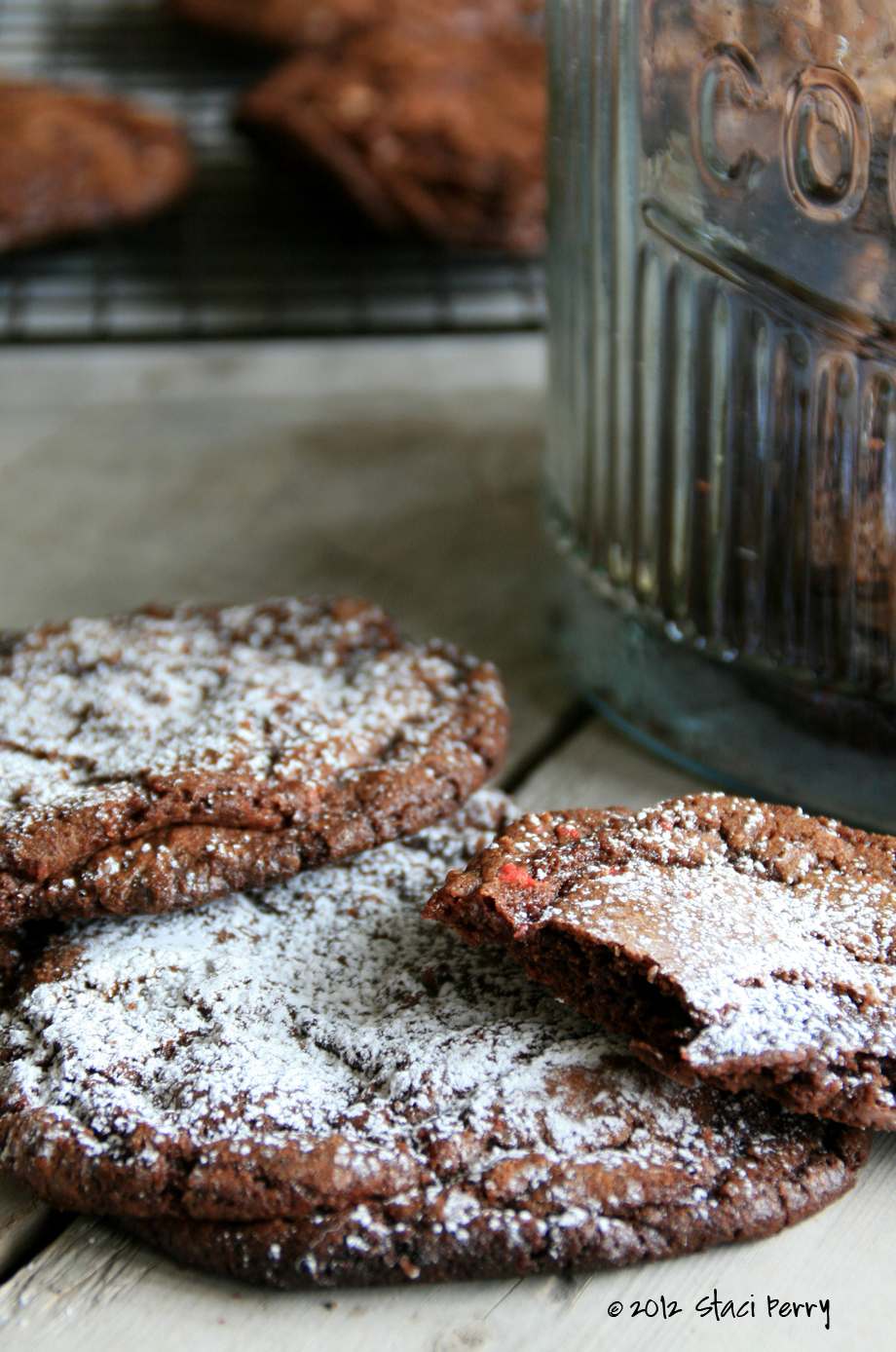 Is there a "rule book" in food photography that says you can't eat bites of your photo subject? Even if it is oozing warm chocolate? Because I just realized that I do it a lot, and after taking a quick surf through the cookies section on the Food Network and Betty Crocker websites, it doesn't appear that those people are hungry when they shoot photos of their sweets. Hmm. I guess I'll have to publish my own cookbook – with pages of scrumptious recipes and nicely lit pictures of scattered crumbs and dirty dishes. Just like at home. I've never been one to follow rules anyway.
The Chips
The only thing I ever knew to use cherry chips for was my mom's recipe for Cherry Bing Bars. So last year, I created a recipe for cupcakes using cherry flavored baking chips and black cherry soda. (Yum!) And now I have a new cookie to share with you. I use Gurley's Sweet Cherry Chips because since they are made in Willmar, Minnesota, I am able to find them at some grocery stores in my area.
Cookie Dough
I read a cookie baking study last year but I don't know where I saw it. Here's what I remember though – if you mix up a batch of cookie dough and bake them right away, they will taste good. If you stick that dough, covered, in the refrigerator for a day and then bake them, they will taste even better. But if you stir up a batch of cookie dough and let it sit covered in the refrigerator for two or three days, the cookies will come out more flavorful, more delicious than ever. After about four days or so in the fridge I think, they just don't get any better so you might as well bake at day two or three.
Sweet wishes,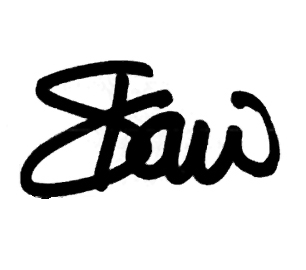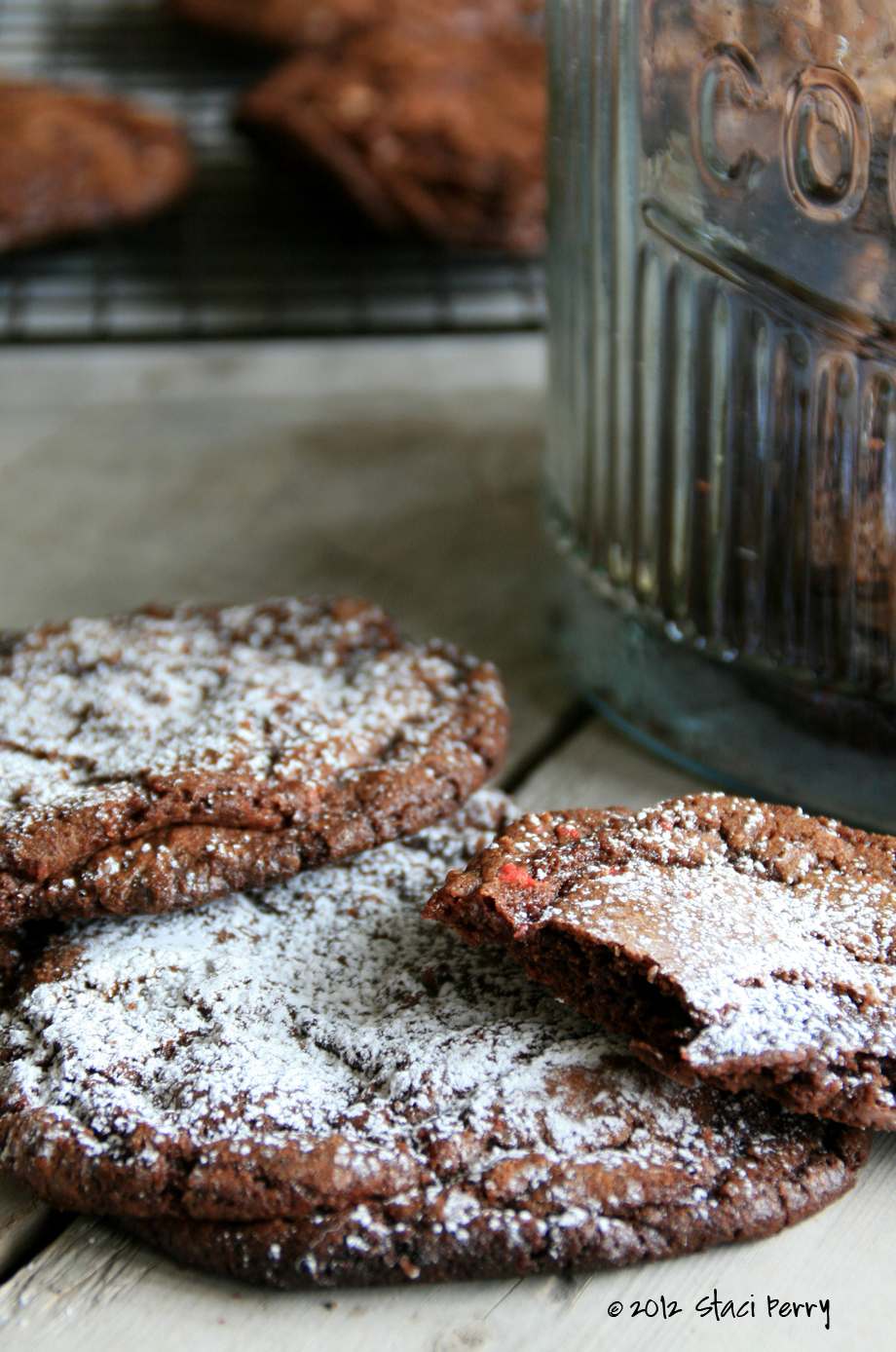 Email this recipe
Dark Cherry Chocolate Cookies
With deep chocolate flavor from cocoa and bittersweet chips, and a burst of cherry from the morsels and extract, these cookies are so much better than chocolate covered cherries.
Ingredients
1

cup

unsalted butter, softened to room temperature

,

2 sticks

½

cup

sugar

1¼

cup

dark brown sugar

1

teaspoon

cherry extract

2

eggs, large

2

tablespoons

light corn syrup

2¼

cup

all-purpose flour

½

cup

unsweetened baking cocoa

1

teaspoon

baking soda

½

teaspoon

salt

¾

cup

chopped cherry-flavored baking morsels

,

or finely grated

1

cup

60% cacao bittersweet chocolate chips

powdered confectioners sugar to sprinkle on top

,

optional
Instructions
In a small bowl, stir together flour, cocoa, soda, and salt.

In a separate large bowl, cream together softened butter, white sugar, brown sugar, and cherry extract until creamy. 

Beat in eggs until light and fluffy (about 2 minutes). Beat in corn syrup. Gradually beat in flour mixture until combined. Stir in the chopped cherry chips and the cacao chips.

Drop by extra-large teaspoons full onto a baking sheet. (Makes 6 cookies at a time on regular sized cookie sheets.) Bake at 375˚ for 15 minutes or until the edges are crispy and the middle is just set.

Cool on pan for 5 minutes and then transfer to wire rack. When completely cooled, sprinkle with powdered sugar.
All text and images © Staci Mergenthal • Random Sweets